Discord is a chat application that is similar to Skype and other communication apps. It is a free voice, video, and text chat platform. It is a very good digital space to socialize and know many like-minded people. Discord is also one of the very good social platforms for gamers.
It is not an algorithm-heavy app that gives you the scope to build relationships and find communities naturally. However, some miscommunication could lead to bigger issues. Maybe a discord user violates the community guidelines. In such cases, you can report users on the discord app.
Discord users find it quite complicated to report someone on discord. Breaking down the procedures, this article will give you a step-by-step guide on how to report someone on Discord.
Reporting People On Discord
If someone sends an inappropriate message or exhibits rule-breaking behavior, you can always go ahead and report them. It is important to understand that all platforms try to ensure the safety of the users. So whenever you find someone breaking a rule or sending any offensive content, you can report it, this will help maintain a safer place for other users.
There are two ways in which you can report someone's behavior or offensive message.
One, you can inform the server moderators of the relevant details. In case, there is no action taken, you can report to Discord directly. You can report the user to the platform's Trust and safety team.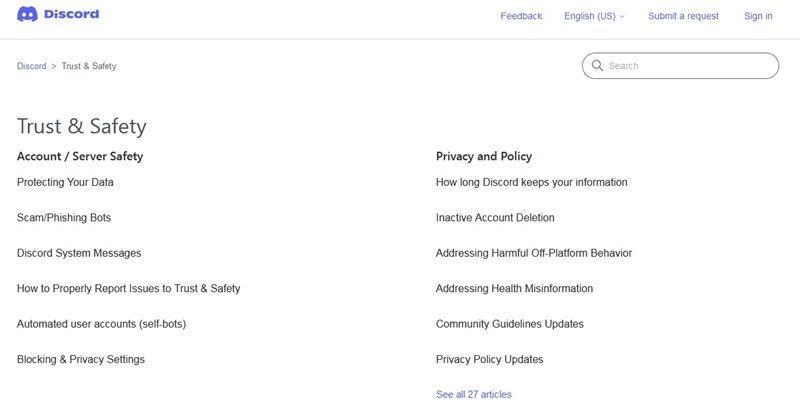 How To Report Someone On Discord To Server Moderators?
As earlier mentioned, it is good to report the issue first to the moderator. So each server has a moderator who is either a creator of the server or is a group of people. As for their powers, they can ban users and remove messages. So they are your go-to people.
You can check the moderator by clicking on their name. If it either shows the title moderator or admin or if there is a crown next to their name, it is the person you should report to.
You can send a specific message privately explaining whom you want to report and why. You should also provide evidence. This could be either a screenshot or you could tell them where they can check the issue.

When the moderator doesn't take any action, you can report it directly to the discord team.
How Can I Check If A User's Message Is Violating Discord's Guidelines?
It is vital to know that you can't report someone on discord just because you want to. Only when they violate Discord's community guidelines do you actually report them.
Several activities including harassment, spam messages, sharing child pornography, glorifying self-harm, threatening another user or sharing images of animal cruelty are some of the messages that are not tolerated on Discord.
If you still think that their messages are to be reported, it is best to talk to other users and the moderator. You can also block the user id to avoid seeing their content or contacting them.
How To Report Someone On Discord: The Easiest Way
You can report someone on discord by submitting a complaint to the safety team. To do so, you will require the user's id and the specific message link. Once you have these details, you can file the report by submitting it to the team along with a small explanation of what happened and why you would like to report the user.
How To Report Someone On PC?
When you are using a PC and want to report someone on the discord windows app, you can start by clicking on the server where the offender is communicating. You can right click the User ID and select copy id. Similarly, if you want to copy a message, hover over the message and click on the three dots that appear. A dropdown menu will appear, you can click the copy message link there. Now, report the user to the Trust and Safety team by submitting the IDs, writing a brief explanation about the reason, and providing your email. Once you click on submit, the report is filed.
In the case of the Mac App, you can select settings at the bottom of the screen and choose appearance from the left sidebar that appears. In the appearance menu, you will find "Advanced" category and under that, you can toggle the developer mode slider to on. Then, you can use the two-finger tap on the username to select copy id. Similarly, hover over the particular message, tap on the three dots that appear, and click on copy message link. Paste these IDs in the report and add an explanation, your report is good to go.
How To Report Someone On iOS?
Reporting user on the iOS app is the simplest of all the other ways. You can simply use your finger to press down, hold or long press the particular message and click on the report in the pop-up menu that appears.
There is another method to report spam or objectionable messages on Discord using the user id. You can report their account by enabling developer mode.
There will be a profile icon in the lower right corner of the Discord app. Open it and click on appearance. You will find the developer mode slider, you can slide the toggle on. You should now get the necessary information like user id, message id and server ID. You can get their user id by clicking on the three dots in their profile and choosing copy id.
Once you are all set, you can go to the Discord trust and safety center and submit the report.
How To Report Someone On Android app?
The process is very similar to reporting someone on iOS using the developer mode.
First, open discord and click on user settings in the app and click on the profile image. In the menu that appears, find app settings and open it. Click on Behavior category in the menu and scroll through to find "Developer mode" under chat behavior. You can now slide it on.
Similar to the process in iOS, you should now collect the details to report a user. You can tap on the user image which will open their profile. You can copy the ID from their profile. Later, you can hold the message and click on share. When it shows the different apps to share, tap on copy to clipboard. Then add these details to the Trust and Safety center, and describe your issue. You can submit the report and the team will take care of it.
How To Clear A Report From Discord?
In case you reported someone on discord but want to cancel it, you can send direct messages to Discord on Twitter. You can ask them to erase your report. For one, there could be several reasons why you want to retract a report. While this problem can be solved when you message to the Discord Twitter page, you have to make sure that you double-check the person's message id and report to the right person.
FAQ
Is there any other way to report someone on discord?
Yes, in case you feel the event requires urgent attention, you can send a mail to the Discord team to abuse@discordapp.com. You can enter the details of the issue, add a message link and send the mail.
How do I copy the message link on Discord?
When you discord report, someone, it is crucial that you include the message link. To do so, you can hold the desired message and you will get options to copy text, quote, etc. It is here you can click "copy message" link. In case you want the user id, you can select "copy ID" option.
Can I report someone even if I have deleted the message?
It is important to not delete the messages and keep them even if they are hurtful. It is evidence and it should be kept until the issue is resolved.
Why should I report issues on Discord?
Discord is a safer platform intended to help people have fun. So when someone breaks the rules, it might create harm to other users and affect everyone else's experience. So it is vital to report abuse or other issues on Discord.
How can I block someone on Discord?
You can block any user on discord and they can't send direct messages to you. You wouldn't be able to see each other if you have blocked the user. There are two ways.
If you want to block the messages alone, open privacy settings, which you will find next to the server's name. You will find "Allow direct messages from server members" option, you can toggle to disable that.
If you want to block a user, first click on the user's username and open their profile. Tap on the three dots next to "Send Friend Request" option and select block in the pop-up menu.
What should I do if I want to report multiple message IDs of the same user?
While you are filing the report, the message link is very important. So if you are reporting a lot of messages, then attach one message link in the report form and include the rest in the body of the report.