During the Covid-19, many teachers and coaches turned to social media to spread educational content to their students, clients, and the general public. As a result, TikTok became a place for short lessons and tutorials on various educational topics, from cooking to science and math.
The amount of educational videos grows day by day, but it is still a quest to find quality educational content among dancing contests and other entertaining videos.
So, are you ready to dig into the learning process? Here we will share some tips on how to find educational content on TikTok.
4 Tips on How to Find Educational Content on TikTok
1.  Check Popular Educational Accounts
Many teachers and mentors have TikTok accounts that post short educational videos. You can search whether an international organization, scientist, author, or reputable service has a TikTok account. For example, an academic writing service may share tips on how to write essays better. Big organizations like WWF and museums can also hold a TikTok account and share entertaining and educational short videos about nature.
We have gathered a list of popular TikTok educational accounts to start your educational journey. Follow accounts you like to send TikTok a signal that you are looking for creators who produce similar types of content.
Math
Science
Business and Economics
Languages
Medicine
Museums
@metmuseum – The Metropolitan Museum of Art shows short videos with interesting facts about art and history pieces.
@rijksmuseum – The National Museum of the Netherlands opens a window to current museum exhibitions and shows art pieces represented in the museum.
@blackcountrylivingmuseum – This museum has recreated historical costumes and music to create video pieces that show life in an English village through a historical lens.
2.  Experiment with the Search Toolbar
Which topic do you wish to explore? Or which question do you have? You can find the answers and lessons by simply inputting keywords in the search bar in your TikTok application. Follow the suggestions to make your request more specific. Like the videos you find helpful and follow creators of such content to teach TikTok algorithms about the type of content you want to see.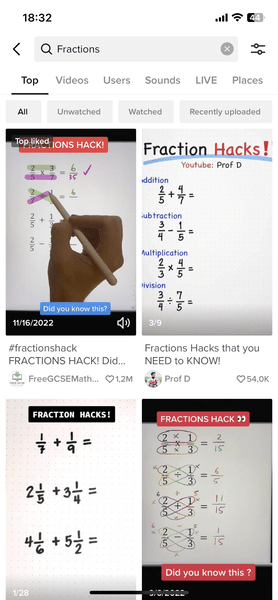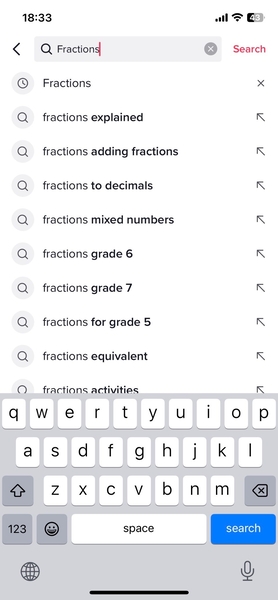 3.  Use Hashtags
Also, you can use the hashtag section in the search bar to look for videos labeled with a particular hashtag. Here is a small list of the most popular hashtags depending on your topic of interest:
Mathematics
#fractions
#exponents
#solvingequations
#basicfunctions
#negativenumbers
#mathproblems
#math
#calculus
#mathematician
#mathteacher
#algebra
STEM
#stem
#science
#steam
#education
#stemeducation
#engineering
#robotics
#chemicalreactions
English
#english
#learnenglish
#vocabulary
#englishteacher
#ielts
#grammar
#englishvocabulary
Science
#anatomy
#geology
#evolution
#chemistry
#astronomy
#scientists
#science
#biology
#sciencefacts
Space
#space
#nasa
#universe
#astronomy
#galaxy
Languages
#wordoftheday
#spelling
#grammar
#etymology
#languagelearning
#vocabulary
#publicspeaking
#pronunciation
Finance
#finance
#money
#business
#investing
#investment
#entrepreneur
#financialfreedom
#stockmarket
N.B. Consider that some TikTok accounts use popular education hashtags to promote videos far from the mentioned hashtag topic.
4. Look for Verified Accounts
TikTok has a verification system for popular and influential accounts. Verified accounts are more likely to have high-quality educational content. It's not a guarantee of 100% quality content, but there are more chances to receive accurate information from a trusted account.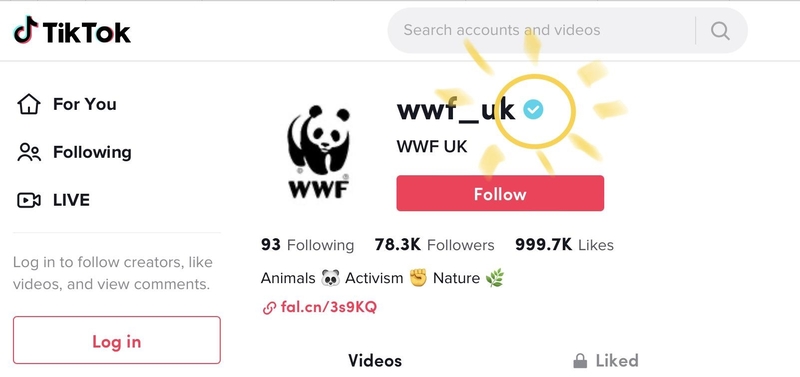 Wrapping Up
TikTok is a great and accessible place to educate yourself. Even if you have already graduated from school and university, being a life-long learner is always a good idea.
Pick the topic you are interested in and start exploring TikTok. But be careful. TikTok algorithms are not ideal. If you use scrolling to find similar educational videos, it's a high chance to stick to funny cat videos or other entertaining content.