Whether you are a full-time gamer or a hobbyist, having the right equipment at your side can make or break the entire experience and determine how well you perform.
This article is based on market research to give you the best heavy gaming mouse selection that you can find on Amazon.
Post 2 of 2 in the Mouse for Streaming
Best Heavy Gaming Mice
Reviews
Prized for their superb levels of balance and quality, finding a heavy computer mouse that will serve you for years is hard to come by as they are prized by e-sport and casual gamers alike.
This article delivers you the best heaviest gaming mouse.
QUICK OVERVIEW: Best Heaviest Gaming Mouse
32-bit ARM processor
TrueMove 3 optical sensor

Delta Zero sensor
11 programable buttons

SteelSeries Engine 3
Pixart PMW3310 optical sensor
1. SteelSeries Rival 650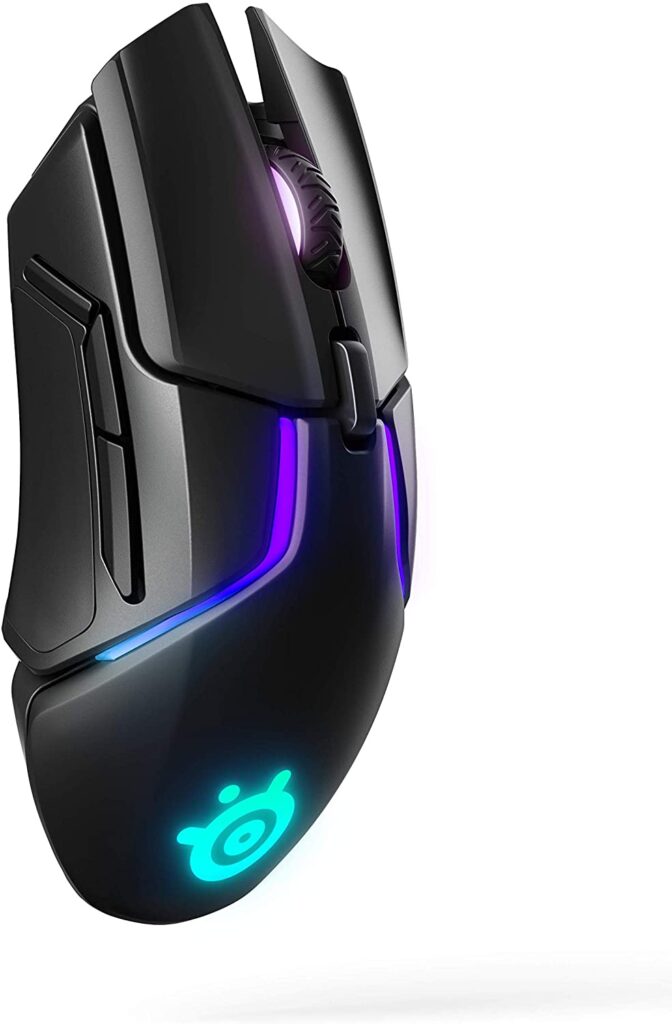 Coming straight from one of the most well-known e-sports equipment manufacturers, this is an example of one of the market's heaviest gaming mice made for professional gamers.
Who is it Best for?
This mouse is designed to meet professional gamers' needs and people who want to modify their mouse as much as possible.
Possessing 256 different weight options and compatibility with thousands of customization possibilities, this mouse's high-quality build enables optimal performance in all aspects of use.
This is an ideal heavy computer mouse for people who want precision and speed in every aspect of their weighted mouse.
Key features
Equipped with an ultra-sensitive sensor with the world's lowest lift-off detection that goes as low as 0.5mm, precision is one of this heavy mouse's best features.
The ARM processor locally saves every change you make for your mouse configuration that remains the same regardless of what computer it is connected to.
The powerful 32-bit processor also serves the function of completely eliminating lag.
What's even more impressive is how optimized and fast the charging is! This mouse can function for more than 10 hours of continuous game time with just a 15-minute charge.
The Rival 650 can last for more than 60 million clicks without any issue, marking its flawless performance with exceptional durability.
To add a cherry on top, this mouse is compatible with all the popular OS systems such as Windows, Linux, and Mac.
If high-end e-sports quality equipment is what you are looking for, this mouse is an ideal choice for surpassing all expectations.
---
2. Logitech G602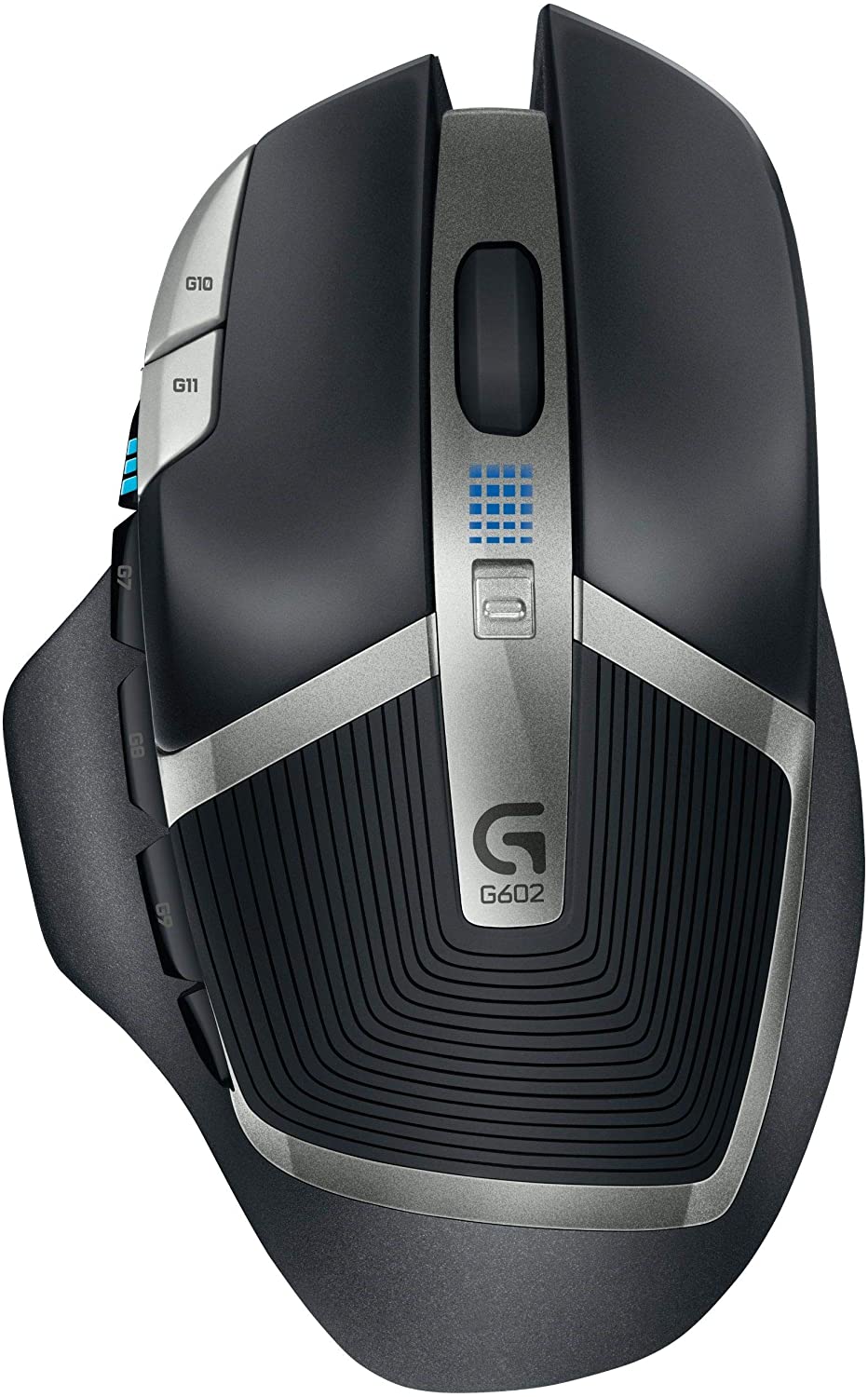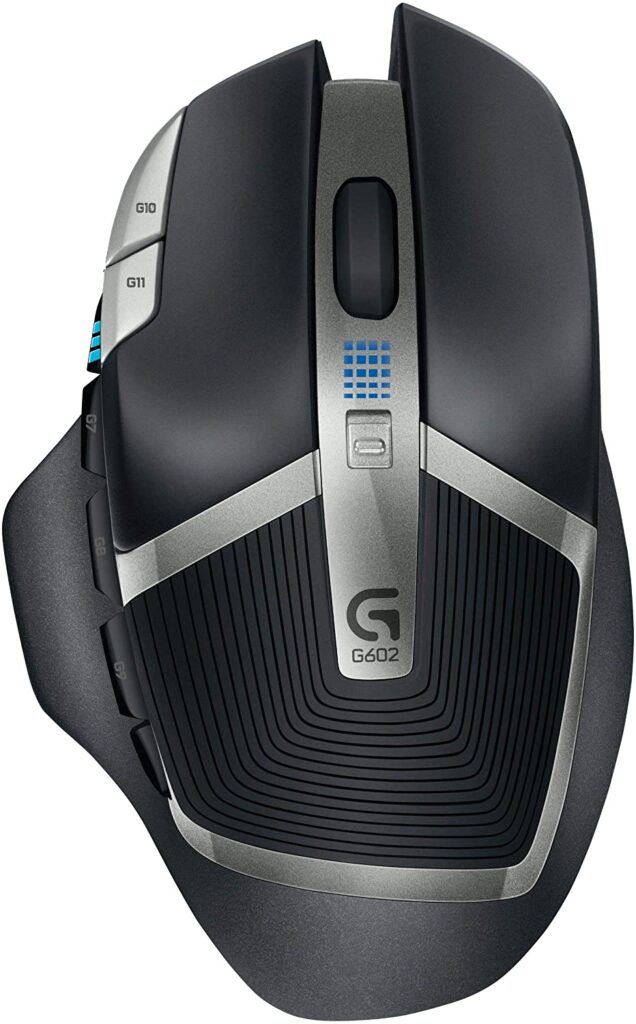 Logitech is perhaps the most common company people associate with high-end computer equipment world-wide, and it is easy to see why.
The G602 is a next-gen mouse model that features a wide array of options that make it a luxurious choice for every kind of pc user who wants the best mouse technology money can buy.
Who is it Best for?
The ergonomic design, standard AA batteries, and a multitude of customization options leave the options open for many types of customers.
While specialized for hardcore gaming, this heavy mouse excels in maximizing its value through quality in all aspects of its use, making it great in a wide range of situations.
It has a lot to offer for a modest price tag, and its features make it great for all activities.
Key features
You are in for quite a treat, as this mouse is constructed to act as a pro-gaming mouse or an office mouse with huge battery life.
This ability lies in its two operating modes:
Performance mode gives you up to 250 hours of use and extreme precision and speed.
Endurance mode gives you 1440 hours of battery life in exchange for a slight change in performance.
Its high-tech Delta Zero sensor technology blows away the competition with sheer precision alone.
With tracking up to 2500 dpi and a 3-meter wireless range, this weighted gaming mouse is a pleasant treat for anyone looking for an upgrade!
---
3. SteelSeries Rival 300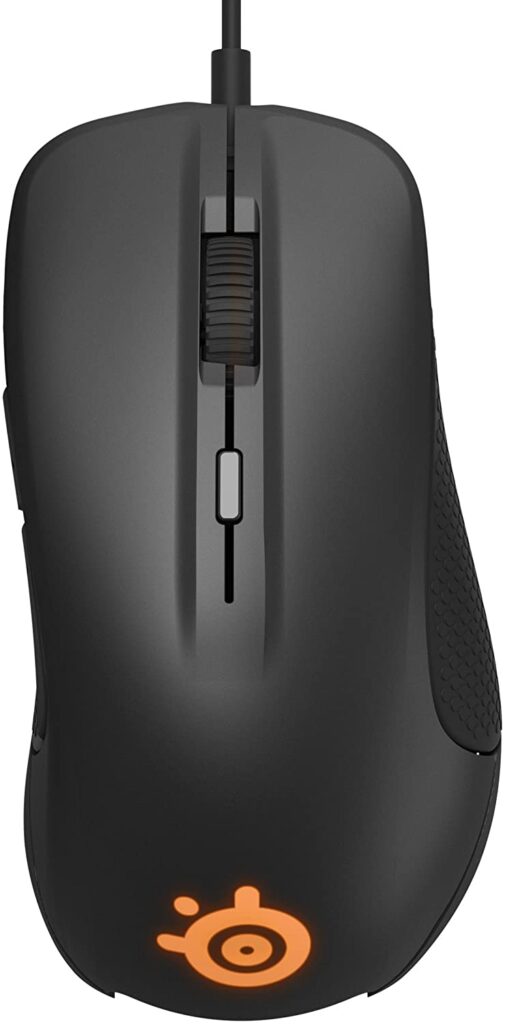 As SteelSeries's premium everyday optical mouse, the Rival 300 blazes through the competition by combining simplicity with a modern touch.
Who is it Best for?
Anyone who wants to invest in a mouse built with the beauty of classic design and high performance in mind!
Aside from the included customization software and buttons, you get your very own 3D printable nameplate!
The overall ergonomic design is present throughout the product's construction. All buttons are easy to reach, and the grips feel comfortable for the hand.
The ability to change absolutely anything on your mouse, from its response time to the lighting effects, is what truly makes it a dream come true for people who want to adjust their entire experience in every possible way.
Key features
The most vital asset of this weight mouse lies in its killer optical sensor and hardware acceleration.
The 1:1 tracking is supplemented with one of the best CPI adjustments from 50 to 6500.
The durability is top-notch, as every click has been tested to function for over 30 million clicks without a drop in performance.
The included software, SteelSeries Engine 3, comes with cloud syncing and a plethora of options that makes configuring this mouse intuitive and easy for absolutely anyone.
All of the specs come packing in a legendary design – an unprecedented offer of quality and style for a small price!
---
4. Logitech G502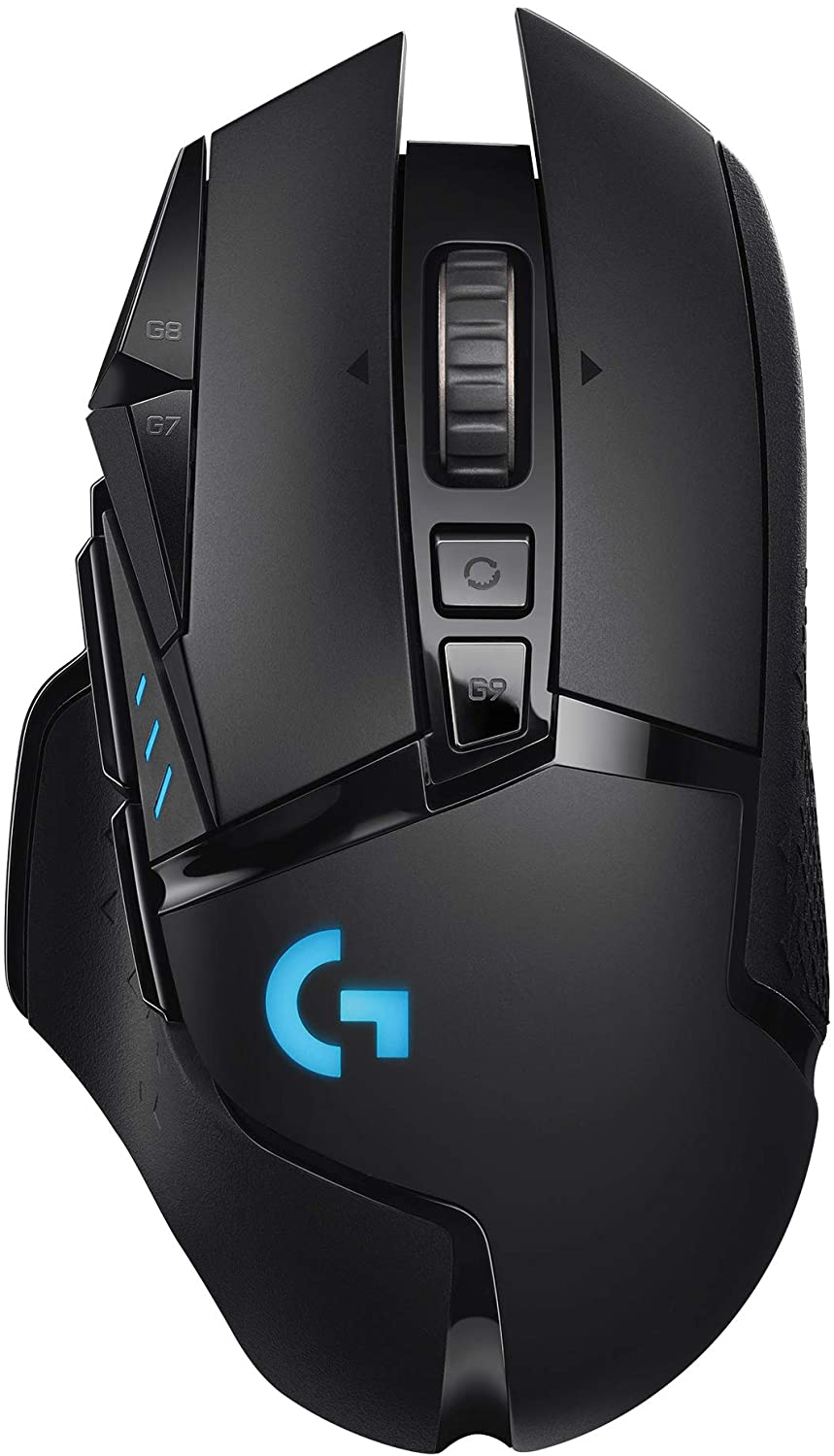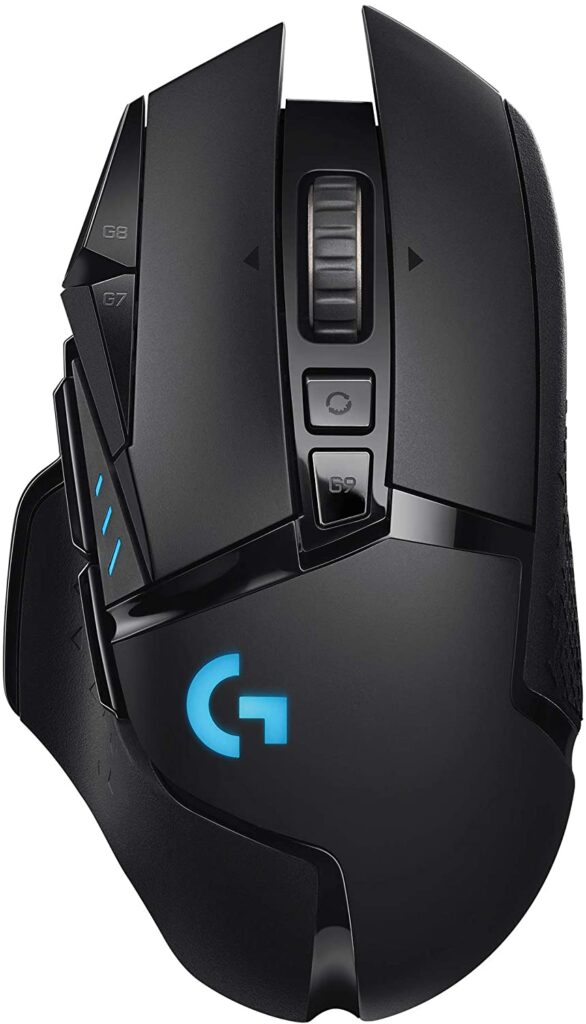 Robust, beautifully designed, and equipped with the latest mouse technology, this weighted gaming mouse is one of Logitech's prized models for professional gamers.
This model is tried and tested on Amazon and has seen fantastic success on the platform, marking it as a crowd favorite.
Who is it Best for?
When computer equipment is in question, it pays to spare no expense for getting the very best for yourself.
The revolutionary POWERPLAY system allows you to take full advantage of the growing adoption of mouse wireless charging technology.
In combination with a long-lasting battery and 1 ms wireless connectivity, you get a lightning-fast mouse that can function indefinitely!
The internal endoskeleton design builds into a lightweight frame, making it both durable and lightweight unless additional weights are added.
This is the best heavy gaming mouse as it encompasses everything you expect from a high-end mouse and still manages to amaze!
Key features
The workhorse of the whole product lies in the amazing Hero 25k sensor. It features 1:1 tracking, zero acceleration, 400+ ips, and adjustable DPI from 100 – 25,600.
The 11 programable buttons can be programmed through Logitech's famed software, Logitech G Hub, within moments!
The Lightsync RGB can showcase an array of 16.8 million different color sets to match your rig and room settings.
The built-in battery LiPo battery can continuously function for up to 60 hours of use without sacrificing performance. With the wireless charging pad, you don't even have to worry about battery life!
The adjustable weights allow you to convert your mouse into a true heavy gaming mouse with a comprehensive weight range that you can choose from.
---
5. ROCCAT Kone AIMO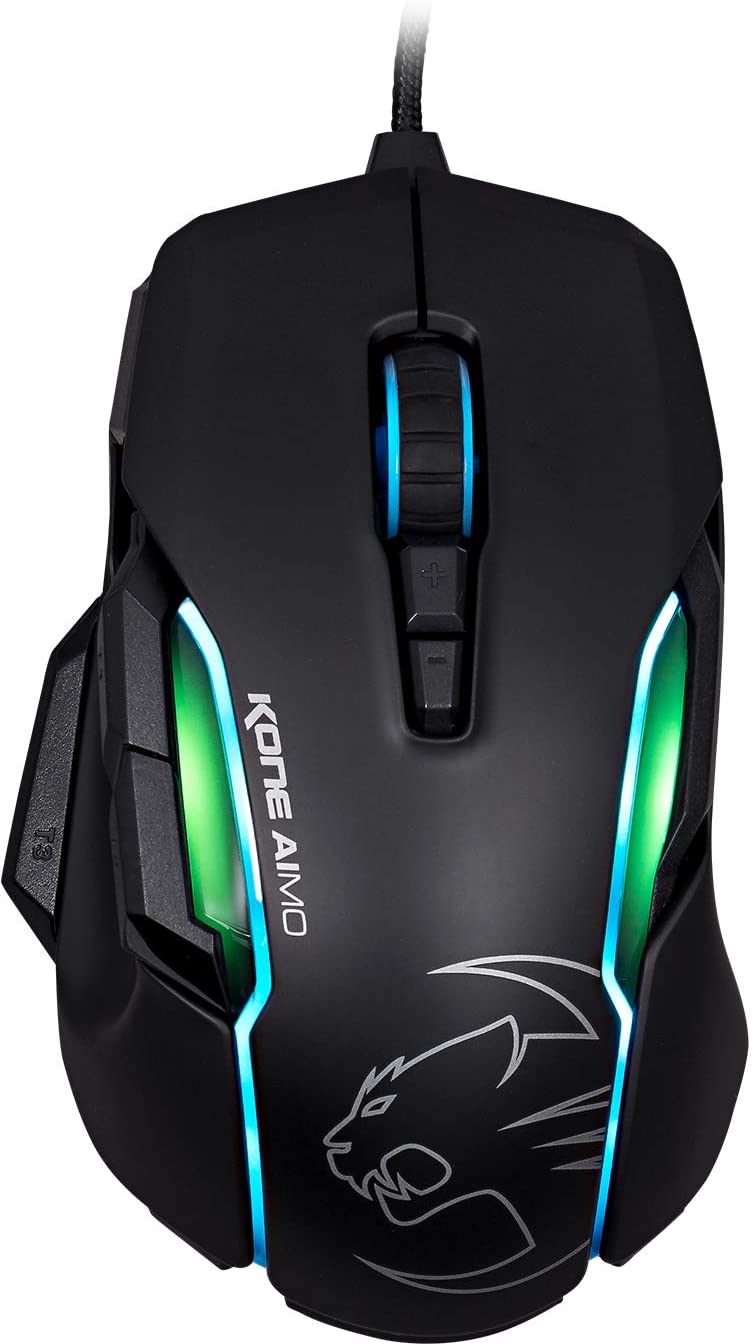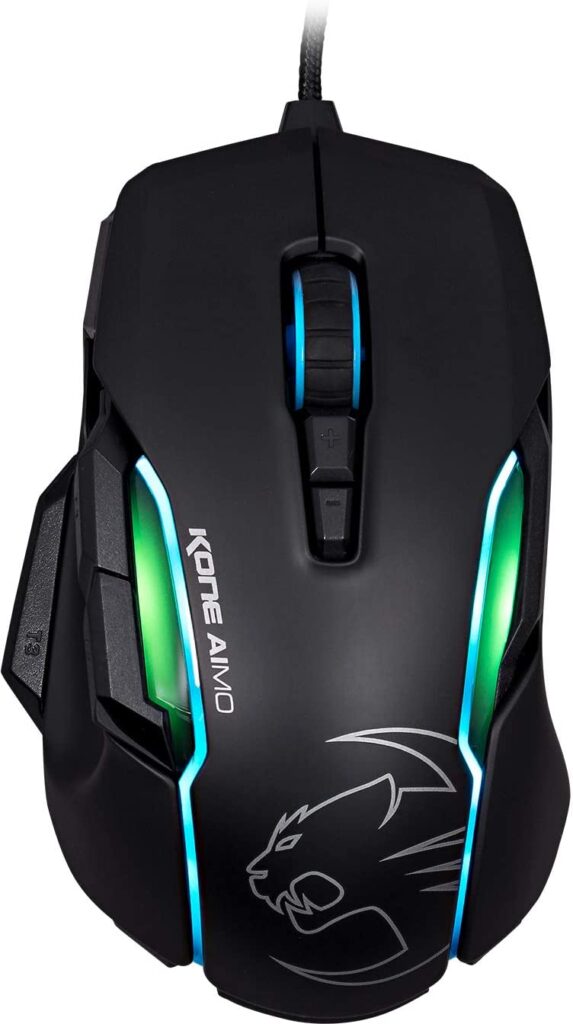 ROCCAT is one of Germany's leading computer accessory production brands renowned for sponsoring the titular e-sports organization "ROCCAT."
This mouse is a testament to their dedication to innovative engineering and consistency in quality. If you decide to get this mouse, you are sure to get great value for each penny.
Who is it Best for?
As one of the mice that encompasses a large frame (dimensions are 7.87 x 2.64 x 6.38 inches), this product suits more than just the standard hand size.
Both medium and large hands can comfortably grasp and use the mouse comfortably and for prolonged periods without issue.
Accommodating different sizes and offering an ergonomic design is just the tip of the iceberg for the number of features this product sets on the table.
The amount of options it possesses marks it as a favorite among pros that want a bright piece of equipment that has the endurance to last for years without a malfunction.
This high-end mouse rocks the market in terms of the competitive specs it brings to the table, genuinely showing why it is the definitive choice for e-sports gamers.
Key features
As the sensor's operating power and precision are often a dealbreaker, you will be pleased to know that this ROCCAT has a dpi that goes up to 12000.
The 4D tilting Titan wheel allows rapid levels of control that are further expanded by the number of programable buttons.
The RGBA offers superb illumination in four distinct zones, which can be customized with the popular ALIENWARE AlienFX system through ROCCAT SWARM.
---
6. Redragon M602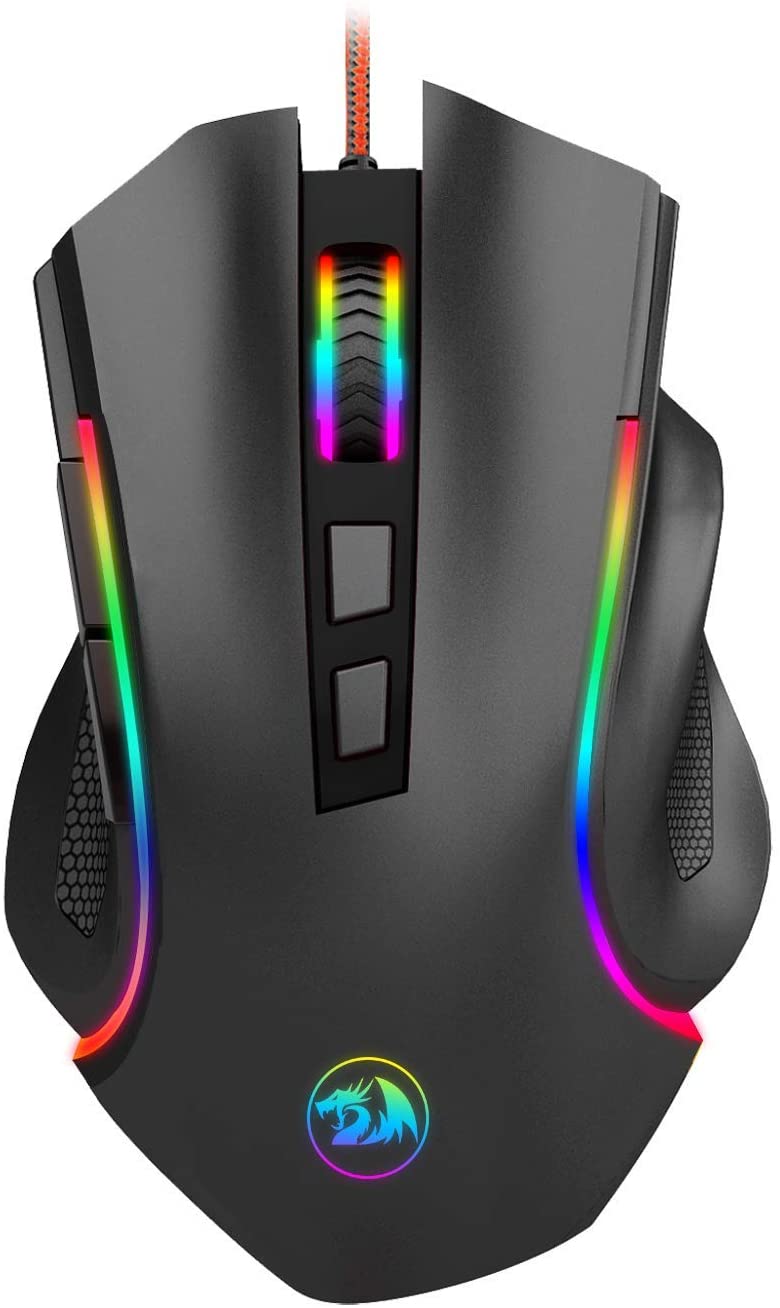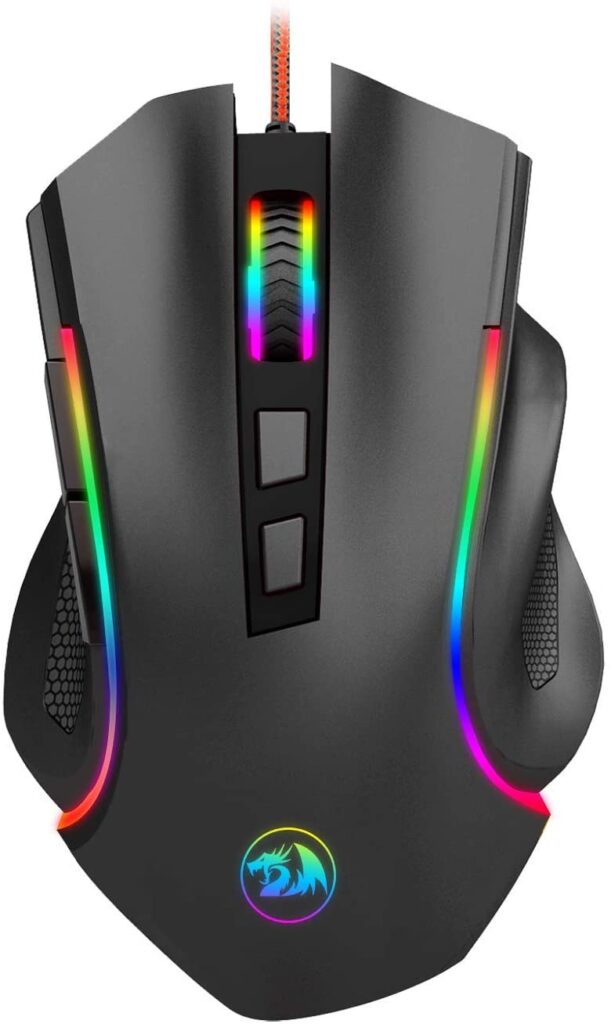 Coming straight from one of the leading gaming peripheral manufacturers with more than 20 years of experience, this is one of Redragon's most famed mice.
This particular mouse is affordable, ergonomic, and very impressive performance-wise. If an all-arounder sounds like it is right up your alley, picking this mouse is ideal!
Who is it Best for?
This heavy computer mouse is flashy and adjustable enough to adopt the role of a standalone gaming mouse while still retaining the qualities that make up the best office and home mice.
It is worth noting that the market has been more than pleased with this product, with over 17,000 reviews that left it 4.5/5 stars on Amazon and even more positive reviews being left to this day.
Alongside the fantastic reviews, it is highly sought after by consumers who want a taste of what Redragon has to offer without breaking the bank.
Key features
The first thing you might notice about this piece of equipment is that it is pretty flashy! With up to 7 distinct backlight modes, it is immensely fun to use in darkened rooms.
Whenever you feel like adding some weight, weight-tunning allows it to be both a lightweight and a heavy mouse.
It's quite durable, featuring an anti-skid scroll wheel, TEFLON feet pads, and a rugged plastic build. The 9 programmable buttons are easy to reach and can withstand continuous use for years to come.
It's fully compatible with all major computer brands, Windows OS systems, and Mac OS (limited). For an all-around mouse with outstanding value for a small price, you can't go wrong with this option.
---
7. Razer Naga Trinity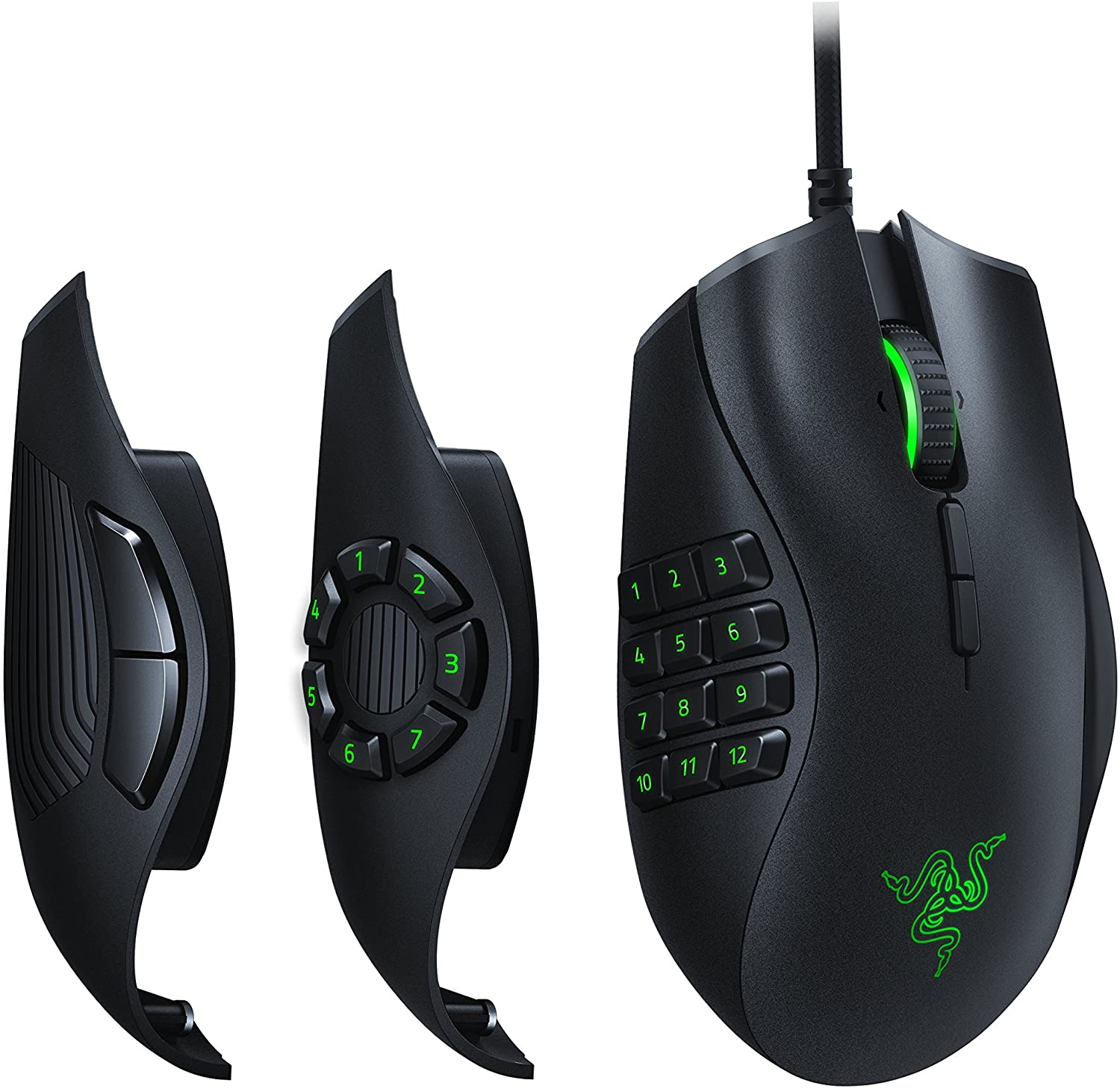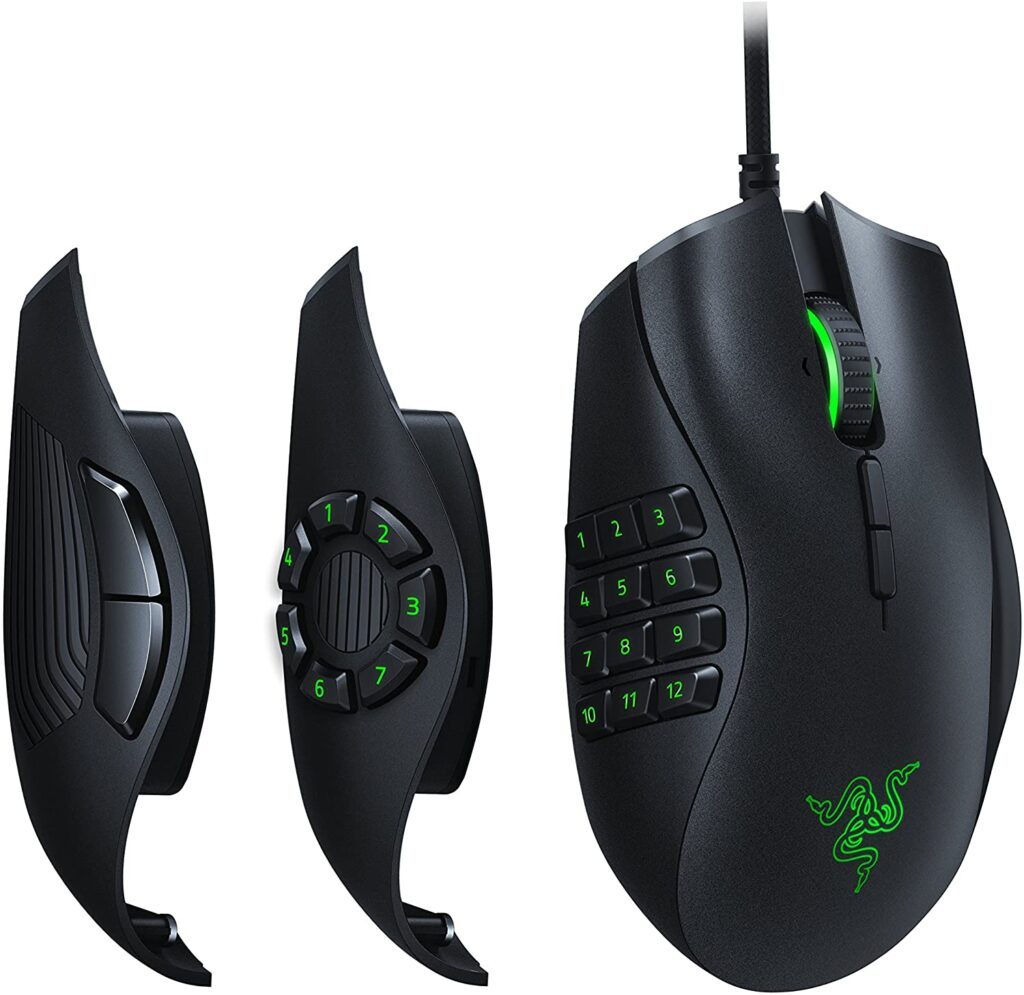 On the international marketplace that sells heavy gaming mice, Razer triumphs as perhaps the leading brand in the mouse manufacturing industry.
By bringing innovation and attention to detail almost entirely unmatched by its competitors, you can rest assured that you are buying from a brand that has earned the number 1 spot.
The mouse itself is as aesthetically pleasing as it is functional. If playing intense games with a top-performance mouse that looks and feels good is what you are looking for, this is a true gem that you won't want to miss out on!
Who is it Best for?
By now, you can probably tell that 19 programmable buttons are an exclusive feature reserved for professional gamers who need every possible advantage up their sleeves to come out on top, and you are absolutely right!
This mouse oozes potential just by looking at it. It features some of the highest customization levels on the entire market, allowing you to delegate more than half of your keyboard's functions onto it!
It is also worth noting that the product was also intended to be sold within a bundle. For those customers who want to get the entire gaming package Razer offers at a premium price, you can also get one of two high-end Chroma Keyboards or a uniquely- designed mousepad.
Key Features
The high-precision sensor can be modified within moments thanks to the included DPI buttons.
The fully modular nature of the mouse itself accomplishes fantastic feats of customization, with 19 programable buttons at your disposal.
The Chroma RGB Color Profiles support 16.8 million combinations that will lit the entire room up!
The ergonomic design is as beautiful as it is comfortable, making this a real bargain in every aspect of use.
---
8. WM-02 Wireless Gaming Mouse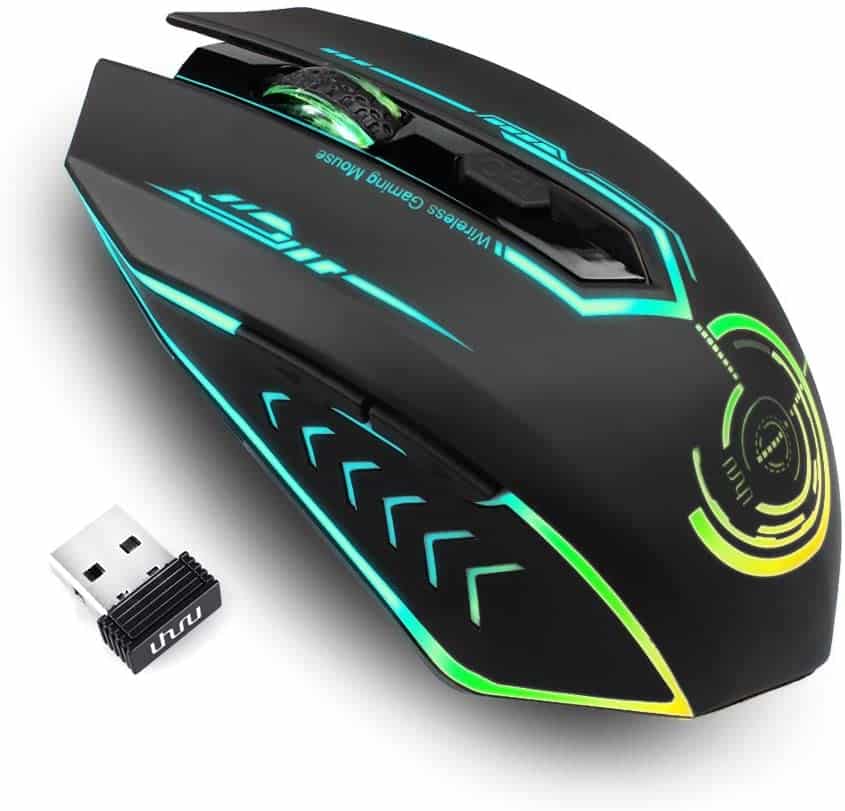 You may not have heard of Uhuru, but you did likely come across one of their products while looking up products online. While the company in question is still young, its potential is promising.
The same could be said about this product as it falls within the category of high-quality heavy gaming mice with its potent configuration, endurance, and inclusion of both wired and wireless play.
Who is it Best for?
Don't let the fact that this is a relatively new contender on the market fool you- this mouse is offered at a premium price with substantial backing in terms of overall quality.
This mouse is perfect when you need extra stability and precision in your gameplay, essentially marketing itself as a competitive-gaming heavy mouse that excels in terms of responsiveness.
Control how your product functions and program it to your heart's content while giving new market competitors a chance to show their worth to the public and earn their place!
Key features
The product supports a 50ft wireless transmission with no drop in performance and 5 distinct levels of DPI performance changes that can be switched during gameplay.
The 7 LED light colors automatically change during use. While not programable, the colors themselves give a soothing ambient light that provides this mouse with an entirely different aesthetic in the dark.
The 6 programmable buttons support macro editing and can function alongside drivers that you can find online.
The ergonomic design and wired/wireless modes allow for a great range of flexibility and comfortable gaming sessions wherever you are. For such a great price, the quality is absolutely mind-blowing!
---
9. UtechSmart Venus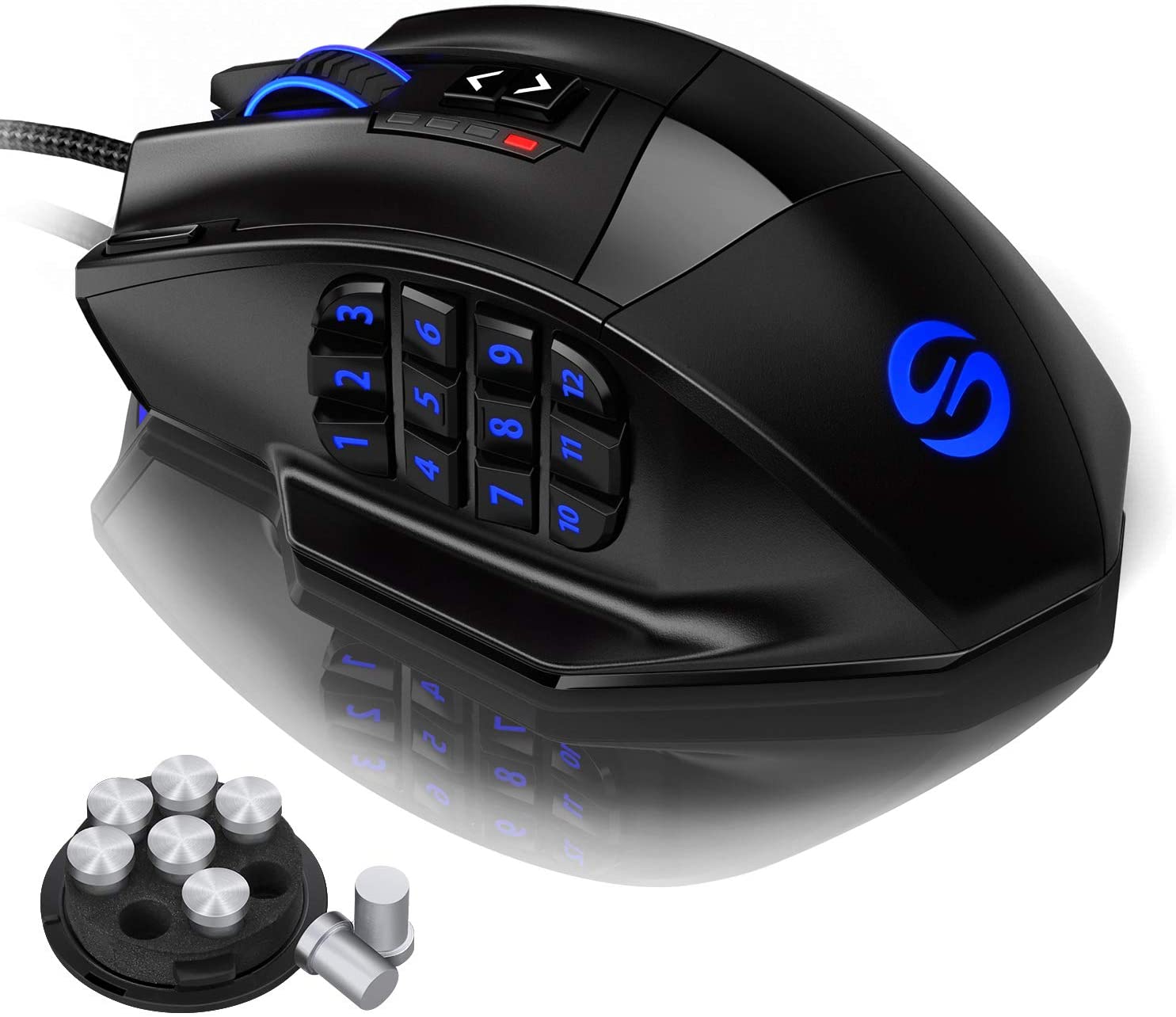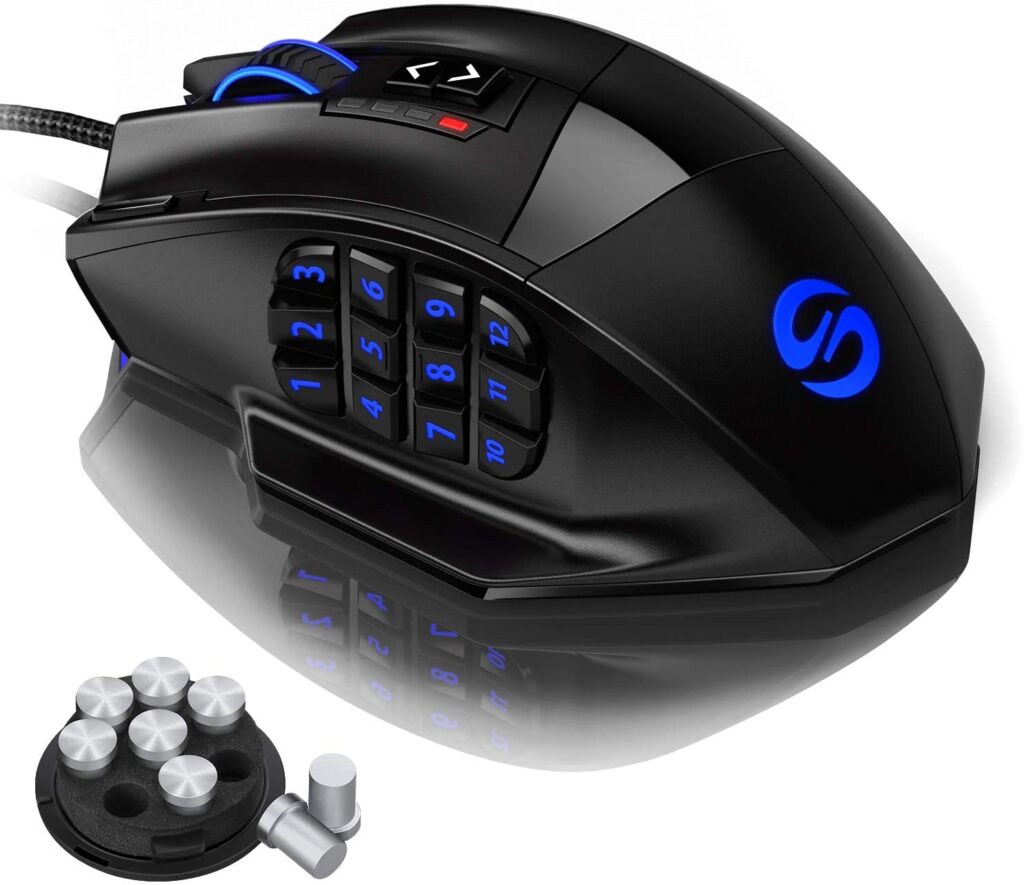 If you need a heavy computer mouse designed for marathon gaming MMO games for hours on end is what you need, you will be immensely pleased by this IGN recommended gaming mouse.
As one of the heaviest mouse products you can find online, this one takes the cake as a high-performance and fully customizable champion that you will most certainly adore!
Who is it Best for?
While mainly aimed at placing itself as an affordable yet almost superb MMO mouse, it can accommodate a broader range of gamers than most might think at first glance.
It a well-rounded heavy mouse with functions being diverse enough to satisfy the needs of most casual gamers outside of MMO genres.
While gaming-centered, it works well within professions that require precision and high levels of control, so it suits engineers and programmers as well as hardcore gamers.
Key features
Customization is the name of the game in the gaming world, and this mouse delivers on this function in spades!
It allows for its sensitivity levels to be adjusted on the fly from 200 to 16400 DPI. The mouse has a 1000 Hz polling rate, 100-150 in/s cursor speed, and 30G acceleration, making it as fast as it is precise.
The side buttons are incredibly responsive and enable quick controls within a moment's notice. The weight system is intuitive and allows for easy modifications, even in the heat of intense gaming.
The RGB backlit system beautifully shines on the aesthetics of this incredible mouse. With so much precision in your hands at a low price tag, it is hard to overlook this product.
---
Things to Consider when Buying a Heavy Gaming Mouse
There are a couple of things to look for in good heavy gaming mice. We will keep the list concise and point out the most essential details.
1. Laser Vs Optical sensor
Optical mice are ideal for casual gamers who don't need too much DPI to achieve fantastic results. They tend to be cheaper, usually have lower DPI, tend to be more precise, and offer better consistency.
Laser mice are fantastic for people who want to play on laptops or who expect to move around a lot. They can be too precise sometimes, which might impede control due to oversensitivity.
The higher Dpi, however, can make a big difference, yet optical mice tend to be a better option for static machines.
2. Grip styles
There are 3 main mouse grip styles:
Claw Grip
Fingertip Grip
Palm Grip
Claw Grip
The Claw Grip is designed for you to place your index and middle fingers in an arched fashion to form a shape akin to that of a claw, with the bottom of your palm resting on the back of the mouse.
This style is perfect for high-profile vertical mice as well.
Fingertip Grip
The Fingertip Grip places your hand in a slightly arched position to keep the palm in the air with only the fingers making contact with the mouse.
Your wrists and hand won't be strained when you make fast movements that make this style ideal for lightweight mice with a small profile.
Palm Grip
The Palm Grip is the most common and also most ergonomic style that a mouse can adopt. It allows you to rest your entire hand on the mouse, giving you full control as if it were an extension of your hand.
While mice that adopt this grip tend to be more comprehensive and usually heavier, they are heavily preferred by most hardcore gamers that play games for extended periods.
3. Wired vs Wireless
Wired mice have been a standard for years. They will continue to remain relevant due to the advantage of speed, lack of an external power source, and maximum performance.
Wired mice are often more expensive, with varied effectiveness based on range and the need for batteries. On the other hand, they are easy to set up, have a lot more freedom, and tend to be more attractive for tech companies to work on due to their potential. For traveling, they are ideal.
Best Heaviest Gaming Mouse – Conclusion
Picking the best heavy gaming mouse for your pc can be quite a challenge, especially if you haven't had experience with one beforehand.
In terms of overall value for the money, you can't go wrong with SteelSeries Rival 650, as it encompasses everything a perfect MMO weight mouse should have while being extremely customizable.
Frequently Asked Questions
We are sorry that this post was not useful for you!
Let us improve this post!
Tell us how we can improve this post?
Mouse for Streaming
If you need to find other streaming gear, make sure to look at our Streaming Gear page. Here, you will find everything you need!
Post 2 of 2