Finding a suitable model of the gaming mouse is a challenging task, but things get harder for large-handed gamers because conventional gaming mice are awkward and uncomfortable to use.
The best gaming mouse for big hands is ROCCAT Kone AIMO because of its ergonomic design, size, and powerful sensor that is built for gaming.
With this article, I'll try to cherry-pick some of the best available options on the market and discuss things you should look out for when acquiring a gaming mouse for big hands.
QUICK OVERVIEW: Best Gaming Mouse For Big Hands
Sensor of max 16K DPI
512kb of onboard memory

100-25,600 adjustable DPI range
Bluetooth and wireless dual-connectivity technology

18.000 DPI custom optical PixArt PMW3391 sensor
50G acceleration, 400 IPS high-speed motion detection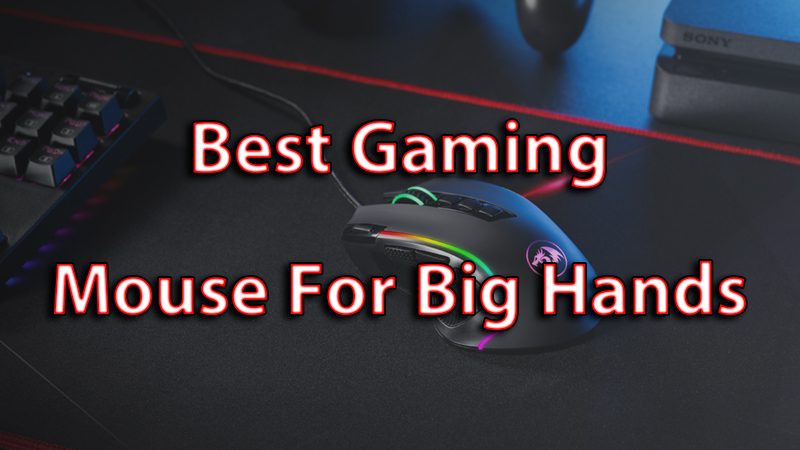 Best Large Gaming Mice
Tested & Reviewed
You will probably find that the market is not precisely saturated if you're searching for a large gaming mouse.
Fortunately, some companies thought about these problems that their customers face every day, so they've made a few different options available for people with larger hands.
I'll count down 8 of them below and hopefully help you decide what might be the best choice for your sensibilities.
1. ROCCAT Kone AIMO
Best overall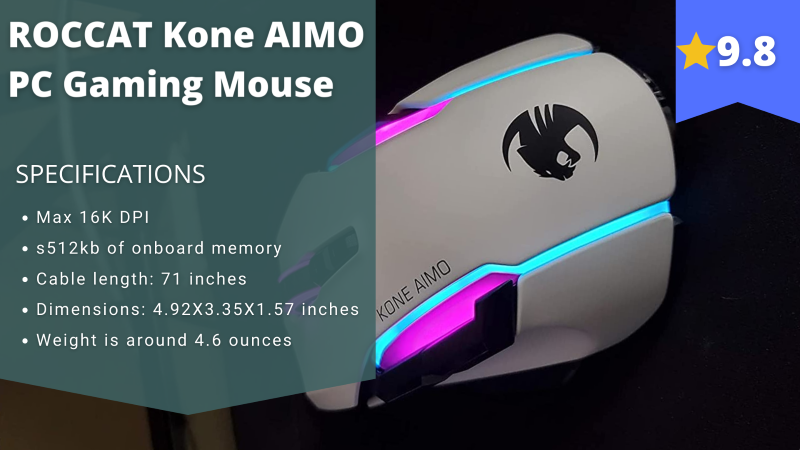 Stefan's Take:
It's hard to decide what the best feature of ROCCAT Kone AIMO is because this gaming mouse is packed with many great ones.
The design is ergonomic and practical, with 3 button thumb zones, 23 programmable buttons, and 24 functions.
Moreover, the performance is just as outstanding as the design: the owl-eye sensor is one of the most precise ones, and the mouse features 16000 DPI, low latency, and low lift-off distance.
| | |
| --- | --- |
| Number of Buttons | 10 |
| Sensor | 10 |
| Design | 10 |
| Value | 9 |
The first mouse on this list is the Kone AIMO remastered, a new and improved version of the original, from the Chinese company ROCCAT.
Why do I think ROCCAT Kone AIMO is the best among these?
It is a very competent wired mouse, jammed packed with many remarkable features, an excellent option for large-handed gamers.
But first, let's start with the design.
Kone AIMO features a legendary and recognizable Kone shape and ergonomic outline, with both the shape and size well suited for larger hands. It is coated with a durable, dirt-resistant performance finish layer for strong claw and palm grips, even in the most passionate of gaming sessions.
Moreover, it is a modern-looking but not overly flashy mouse, despite having 5 patented AIMO RGB light zones. These 5 RGB lighting zones are all independently customizable, and they work in synergy so that you can adjust everything to your liking.
This incredible mouse features a 4D titan wheel, an improved scroll wheel with the added right and left tilting clicks, and the standard vertical one, to give you additional control in your favorite game.
The tri-button thumb zone is what I enjoyed the most about this mouse regarding controls. An additional easy-shift thumb button unlocks a secondary function for each of the buttons, allowing you to assign a whopping 24 operations in total to your gaming mouse.
You can freely customize each button with the fantastic ROCCAT Swarm software, and you can store each preset you make in the mouse's 512kb of memory.
And finally, a word or two about the sensor.
Roccat owl-eye sensor offers impeccable precision for your pointer with 16,000 DPI, adaptable to 50 DPI increments, thus offering an excellent experience for high and low-sensitivity gamers.
As a package, this is not too shabby for a product in this price range, and Kone AIMO is the best gaming mouse in its class.
Pros
As many as 24 functions in total
Top-quality buttons
Reliable and unique sensor
Excellent software solution
2. Logitech G604
Gaming mouse with the best design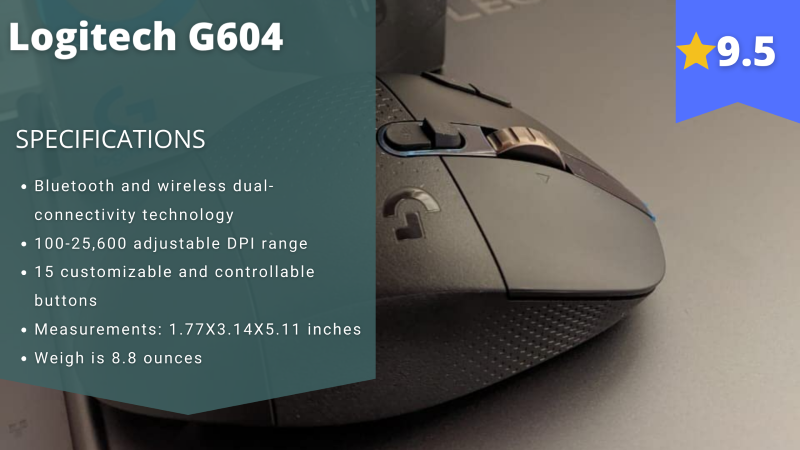 Stefan's Take:
In my opinion, the biggest advantage of the Logitech G604 is the tactical design. This was one of the most comfortable gaming mice to use – I got a good grip, and my hand and arm didn't start feeling sore after gaming for several hours.
Another great aspect of the design is the easy switch from Lightspeed to Bluetooth mode. Moreover, the mouse has 15 programmable buttons, and you can customize all functions to your liking.
| | |
| --- | --- |
| Number of Buttons | 10 |
| Sensor | 9 |
| Design | 10 |
| Value | 9 |
Next in line on this list is a giant wireless mouse from Logitech. The G604 gaming mouse is an excellent solution for people with large hands, undoubtedly serving you well in your next online battle.
G604 is one of the more massive mice available and a decent successor to the legendary G602 model.
Logitech G604 wireless mouse features what many would refer to as a tactical design, with a comfortable grip shape and a more than welcomed thumb rest area.
Overall it's a somewhat streamlined and restrained look, especially for the gaming periphery.
Still, it is refreshing to see something like this among all the light shows we get in mice nowadays.
With one short click, you can toggle between two connectivity options, Bluetooth via the included USB toggle and an ultra-fast 1ms LIGHTSPEED wireless connection.
This gaming mouse is powered by replaceable batteries.
G604 does not support wireless charging, but Logitech claims that only one AA battery life will last for quite a while and get you 240 hours and a whopping 5.5 months of non-stop gaming on a wireless LIGHTSPEED mode and a Bluetooth mode, respectively.
When it comes to controls, the G604 features 15 programmable controls, including a 6-thumb button setup, all fully customizable with the latest G-hub software.
Another thing that you can adjust in the said software is a dual-mode hyperfast scroll wheel. With this durable metal scroll, you can freely choose between hyper-fast and ratcheted scrolling, so it is effective in every situation you encounter in gaming and everyday work.
I have to admit that I found the new G-hub software not as good as the previous Logitech Gaming software, but G604 is not recognizable in the new one.
Logitech equipped this mouse with a new HERO 25K sensor, a great feature you get through a free update via G-hub. This sensor enables 400-plus IPS and 100 – 25,600 adjustable DPS sensitivity with zero filtering, smoothing, or acceleration.
Pros
Quality optical sensor
Versatile 6 thumb button configuration
Dual function, durable scroll wheel
Longlasting battery life
Cons
G-hub software is not an ideal solution
3. Corsair Nightsword
Best choice for professional gamers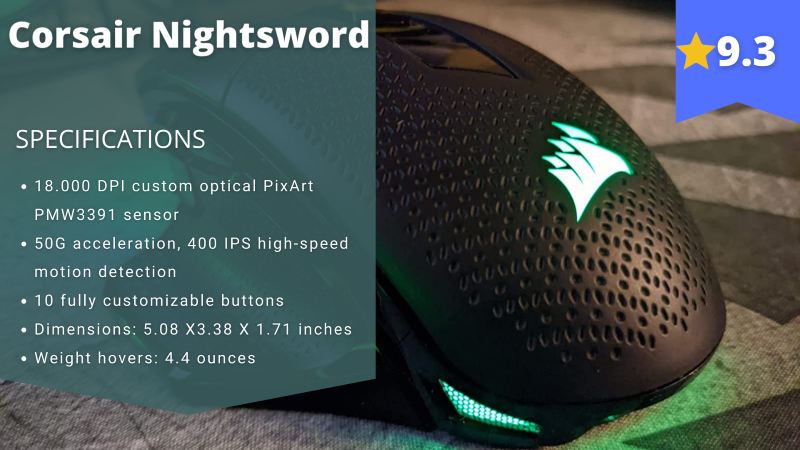 Stefan's Take:
I think this is a computer mouse built for gaming. The adjustable weight, RGB lighting, and gaming design will be appreciated by passionate gamers.
Corsair Nightsword features 10 buttons, which you can program as you need to, and even adjust the DPI to get ahead of your competitors. The storage of all commands and settings on an onboard memory is another nice addition.
| | |
| --- | --- |
| Number of Buttons | 9 |
| Sensor | 10 |
| Design | 9 |
| Value | 9 |
Corsair Nightsword is one of those great peripherals and certainly an excellent option for gaming if you have large hands to deal with in everyday life.
While the Corsair Nightsword features a gamer-like design thanks to 4 wisely arranged RGB light zones, it is by no means meddling to the eye.
The lovely comfortable contoured shape with a thumb shelf fits the hand naturally, while the rubberized side grips, inspired by pro sports equipment, stick firmly to your palm.
On top of that, the sturdy design of Nightsword is complemented by 2 ultra-sturdy Omron switches, rated for more than 50 million clicks each.
One of my favorite hallmarks is that this USB gaming peripheral comes with two sets of weights that you can place in 6 mounting locations, offering up to 120 balance configurations to calibrate the gaming experience fully.
Corsair exclusive software allows you to automatically detect the center of gravity in real-time and map each of the 10 available buttons to fine-tune this mouse to your needs.
Aside from that, you can also reprogramme and adjust every one of the 10 available buttons and change the DPI settings of your 18.000 DPI optical sensor in 1 DPI resolution step.
Every control and light preset can be safely stored on the onboard memory, alongside hardware macro buttons and lighting control.
Pros
Smart tunable weight system
Useful exclusive software solution
Extremely adjustable sensor
Cons
The cord is a bit too rigid
4. SteelSeries Rival 310
Best software for button customization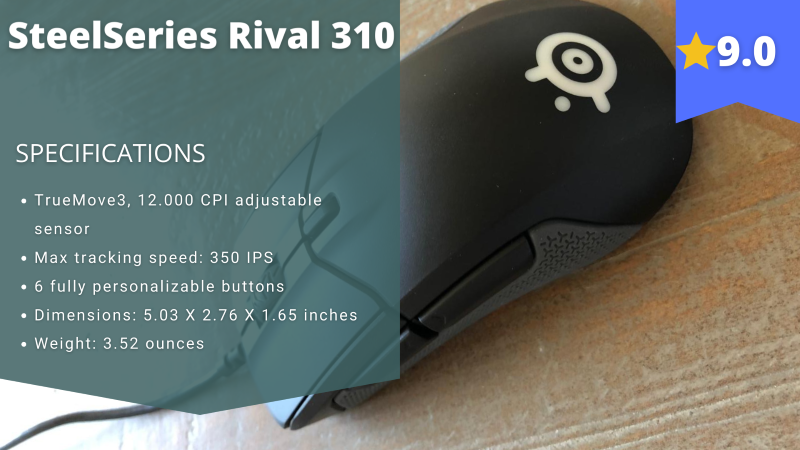 Stefan's Take:
SteelSeries Rival 310 felt comfortable in my hand, and while it is a bit bigger gaming mouse, all buttons and controls are easy to reach.
I took full advantage of the 6 programmable buttons. The SteelSeries software made setting up all controls much easier. The software was super intuitive and offered more functions and options than most other software.
I thought I would miss having sensor surface tuning, but once I set everything up and started gaming, I was proven that it's not a necessity.
| | |
| --- | --- |
| Number of Buttons | 9 |
| Sensor | 9 |
| Design | 9 |
| Value | 9 |
SteelSeries Rival 310 is a lightweight giant and a great gaming mouse that the team Evil Geniuses helped perfect everything from a prototype to a finished product.
This mouse has already won many major Esports tournaments worldwide, thus proving its worth in the gaming scene.
There is no funky business with Rival 310 with its simple, ergonomic design. Pure silicon gray grips and 5 inches long, lightweight frame enable an excellent feel and make this USB gaming mouse very sturdy and comfortable for all grip styles.
With 16.8 million colors of reactive prism RGB lighting, Rival 310 reacts to in-game events like kills, health and ammo loss, and more.
SteelSeries Rival 310 has industry-leading mechanical switches inside its body.
Its 6 buttons are fully customizable via the excellent SteelSeries software. You can save all the settings directly to the Rival 310 for later use on other computers and LAN gaming events.
And lastly, the highlight of this product, in my opinion, is the sensor. SteelSeries Rival 310 rocks an exclusive TrueMove3 1-to-1 tracking optical sensor with advanced jitter reduction ability.
With ultra-low latency, rapid-response tracking, and 3.500 to 12.000 adjustable CPI, this fantastic large gaming mouse provides the most fluid and most natural movement for an outstanding Esports performance. And all of these features cost just around $50!
Pros
Scroll and clicks feel good
Intuitive software
Affordable
Cons
It could be too light for some users
It does not have a braided cable
5. Razer DeathAdder V2
Gaming mouse with most connection options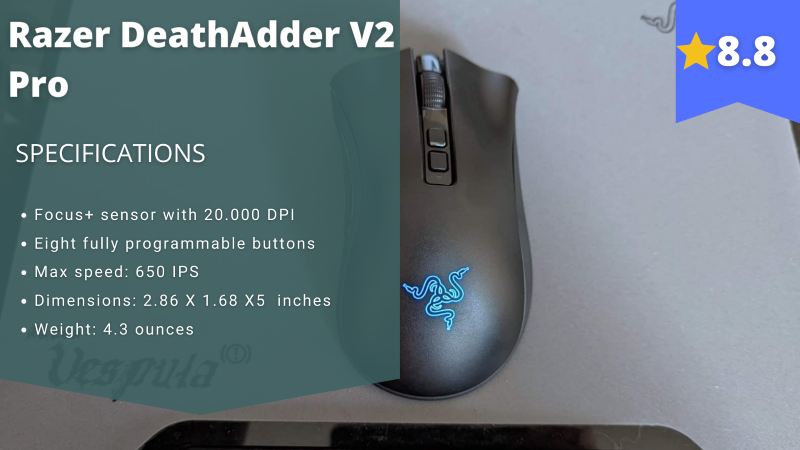 Stefan's Take:
Razer DeathAdder V2 was very comfortable to use, and while it has a bit simpler design, it still looks quite powerful. The optical sensor is one of the best I have seen, and eight programmable buttons allow you to store the most important functions and commands.
The feature I liked the most was the different connection modes. Wireless connection is fast and responsive, while for longer gaming sessions, you can use Bluetooth mode or connect your mouse to the Speedflex cable.
| | |
| --- | --- |
| Number of Buttons | 9 |
| Sensor | 9 |
| Design | 9 |
| Value | 8 |
The following product on this list is a Razer DeathAdder V2, one of the most successful gaming mice of all time, and Razer's take on what a mouse for large hands should represent in the gaming universe.
With over 10 million units sold, this high-end gaming mouse is an ideal peripheral to complement your gaming setup, as it is specially redesigned for better performance for FPS gamers.
Razer DeathAdder V2 looks streamlined and not overly flashy, but it offers award-winning comfort and handling thanks to its lightweight and iconic ergonomic form. It has mouse feet made from the highest grade of PTFE and injection-molded rubber side grips for secure swipes and easier control.
Chroma RGB lighting syncs with your gameplay, Razer Chroma-enabled peripherals, and Philips Hue products. It also supports up to 16.8 million colors with the included preset profiles.
My favorite thing about this product is that Razer DeathAdder supports 3 modes of connection, unlike most wireless mice.
You can enjoy lag-free gaming for around 70 hours with its patented Razer HyperSpeed wireless connection and 120 hours in a battery-life-prolonging Bluetooth connection. You can even game while charging your mouse via the special Razer Speedflex cable.
After you download and register to an official Razer Synapse 3 software, you can configure RGB lights and eight programmable buttons to your liking and save up to 5 profiles onto advanced onboard memory.
Razer DeathAdder features 2nd gen optical switches to eliminate unintended double-clicking and an improved 20K Focus+ optical sensor, with 99.6% resolution accuracy for reduced cursor drift from pretty solid lift-off distance.
Pros
Extremely fast and responsive in wireless mode
3 connection options
High-quality mouse feet
Excellent battery life
Cons
Valuable but still a bit pricey
6. Razer Basilisk V3
The most versatile gaming mouse
Stefan's Take:
At first glance, this gaming mouse seemed quite basic. However, once I programmed the buttons and started using it, I discovered its true power.
The best thing about this mouse is its versatility – even the mouse wheel can be customized. You can also create several lighting profiles, and I used a multi-function trigger to keep an eye on the chat.
Additionally, the sensor is outstanding and ensures precision, and fast response, with zero latency.
| | |
| --- | --- |
| Number of Buttons | 9 |
| Sensor | 8 |
| Design | 9 |
| Value | 8 |
Razer Basilisk V3 is a multiple-award-winning product and the best gaming mouse you can purchase in the 60 dollars price range.
It is a professional-looking mouse, ergonomically shaped with a thumb rest for comfort and optimally positioned buttons for easy and quick access, whether you prefer the palm grip or the claw grip.
Like most high-end Razer products, Basilisk is equipped with 100% PTFE mouse feet to run across most surfaces smoothly.
This USB mouse also features 11 RGB Razer Chroma lighting zones that you can fully customize with 16.8 million colors and numerous lighting effects.
With the Razer Synapse 3 software, you can save lighting profiles and fully customize 10 primary buttons and a multi-function trigger that you can use to assign simple keymaps, chat, item hotkeys, spells, or any other in-game commands.
On the other hand, you can save button layouts directly to Basilisk, and you can freely siphon through 5 of them using the appropriate programmable button located underneath the mouse.
Basilisk's 4-way mouse wheel offers three modes of functioning.
Free-spin lets you spin the wheel until you manually stop it, which is ideal for going through long documents or in-game lore and books.
Tactile scrolling offers more precision for cycling through weapons and game menus, while the smart-reel function automatically allows you to switch between them.
What cements Basilisk as perhaps the best gaming mouse, in my opinion, is its premiere sensor.
Focus+ offers an excellent response, zero smoothing, and pixel-precise accuracy with 26K DPI and intelligent functions such as motion tracking, asymmetric cut-off, etc.
Pros
Versatile scroll wheel
Solid build quality
Left and right clicks are usable 70.000.000 times
Cons
The software often doesn't detect games and fails to switch to the assigned lighting profiles.
7. ROCCAT Burst Pro
Great wired mouse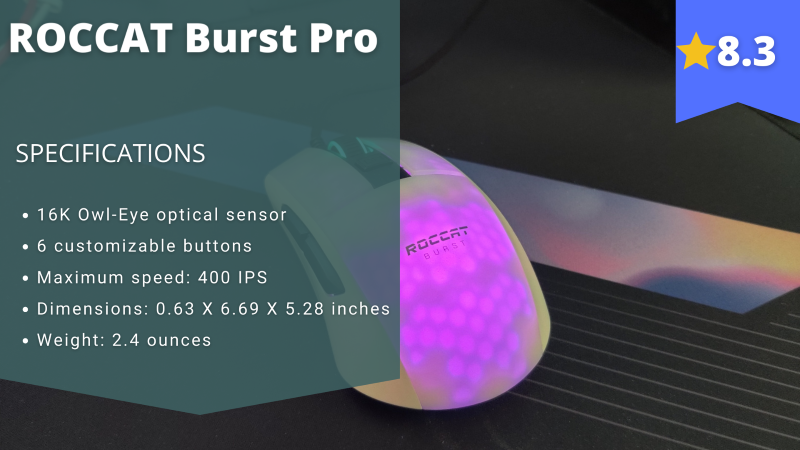 Stefan's Take:
This mouse has a great design, and the feature that amazed me the most was PTFE feet. I liked that the mouse can be used on any surface without worrying about it impacting its performance.
It's another gaming mouse with an owl-eye sensor that is precise and offers 16000 DPI.
I have to say that I'm a big fan of wireless gaming equipment, but I didn't feel like ROCCAT Burst Pro was limiting me in any way, even though it's a wired mouse. The cable is long, so setting it up should be an issue.
| | |
| --- | --- |
| Number of Buttons | 9 |
| Sensor | 8 |
| Design | 8 |
| Value | 8 |
I have yet another giant featherweight from ROCCAT, and that's a Burst pro wired gaming mouse, an exciting option for those with large hands.
ROCCAT claims that it feels instantly better than the rest, so let's see how it fares.
Unlike most gaming mice on this list, Burst pro features an ergonomic but symmetrical design with a durable but ultra-light honeycomb bionic shell, ideal for big hands.
That same honeycomb design looks as good as possible thanks to the ROCCAT AIMO illumination feature, 3 RGB lighting zones with 16.8 million vibrant colors available for your enjoyment.
The Burst Pro comes with pre-tuned, heat-treated pure PTFE mouse feet for smooth movements on every surface right out of the box.
With Titan, one of the best optical switches in the business, you can get more than 100 million clicks for both the right and left mouse buttons.
While I'm talking about clicks, the Burst Pro comes equipped with 6 programmable buttons but with only 2 thumb buttons on the side.
The mouse wheel is smooth and notchy and has an exquisite feel, but it doesn't allow for left and right clicks, which is a shame.
Using the downloadable Swarm software, you can tinker with DPI settings, button assignment, scroll speed, and many more default and advanced settings. With a dedicated DPI button, you can switch between the profiles you saved on the Burst pro's onboard memory.
Everything here is rounded up by a high-quality ROCCAT Owl-Eye sensor with 16.000 DPI, 400 IPS of speed, and 50 G acceleration, for precise tracking and a smooth experience.
With a price of 50 dollars, Burst pro is a competent and affordable mouse for big hands.
Pros
Modern and solid build quality
High-quality optical switch
8. BenQ Zowie EC1
Best plug-and-play gaming mouse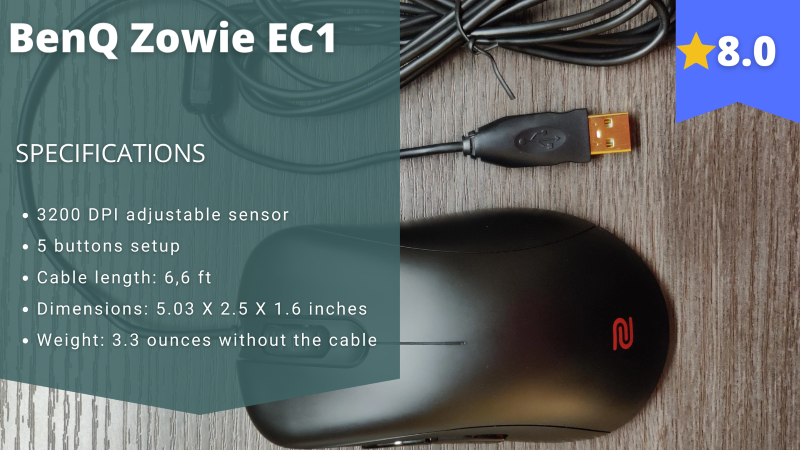 Stefan's Take:
I was a bit worried about what will driverless gaming mouse be able to do, but BenQ performed beyond all my expectations.
You cannot customize it entirely, but you can adjust the DPI and report rate.
Moreover, the design is ergonomic and suits big hands and all grip styles, so your hands don't feel sore when you're done gaming.
| | |
| --- | --- |
| Number of Buttons | 8 |
| Sensor | 8 |
| Design | 8 |
| Value | 8 |
Last but not least on a list of best gaming mice for big hands is a Zowie EC1 from BenQ, a peripheral optimized for Esports.
Zowie is the only driverless mouse in this article, and it is meant explicitly for FPS gamers.
The first thing to perceive about this mouse is how restrained it looks with its matte black color and the apparent lack of RGB lights.
Zowie EC1 is made in collaboration with top Esports players.
It features an ergonomic shape exclusively meant for right-handed players, and it's suitable and comfy for all grip preferences.
Whether you prefer a claw grip or a palm grip, Zowie C1 will follow the contour of your hand so that you won't feel any discomfort due to the mouse shape.
Zowie EC1 is entirely plug-and-play, so no drivers need to be installed after plugging the flexible, rubber USB cable into your computer.
That doesn't mean you are deprived of possibilities you can get in some other gaming mice for big hands.
The 3360 optical sensor is adjustable with 4 different DPI levels, enabling you to shuffle between 400, 800, 1600, and 3200 DPI, thus customizing your gaming performance without additional software.
This fact is further enhanced with a lower mouse button for setting the 125, 500, or 1000 Hz of report rate.
Lack of software comes with a price, which differentiates Zowie EC1 from the rest of the best mice in this category.
Neither the scroll wheel nor the buttons are fully customizable, but if you're willing to live with that design flaw, you'll get a pretty effective FPS mouse big enough never to hold your hand and fingers in a cramped-up position.
Pros
Comfy to use
Plug-and-play design
Adjustable DPI and USB report rate
Cons
No way to personalize buttons
What To Be Mindful Of When Getting A Gaming Mouse For Big Hands
You ought to look for certain things when looking for the best gaming mouse for big hands, and I broke it all into three subcategories.
1. Comfort and Ergonomic Design
Not all best gaming mice are created equal. The bigger, the better, is not the rule that always applies here.
You'd be wise to find a mouse that would be the most comfortable based on your hand's length, width, and shape, especially for potentially long gaming sessions.
That can require a little trial and error over the years, but through experience, you'll manage to recognize instantaneously a mouse that best suits your hand.
An excellent start is learning to measure your hand correctly to have at least one less factor to worry about in searching for your perfect mouse.
All you need for that operation is a pen and a piece of paper to draw your hand shape.
Everything smaller than 6.7 and 3.3 inches in length and width is considered a small hand.
Everything larger than 7.9 and 3.9 inches in length and width is regarded as a big hand. Everything in between is medium size.
3. Button configuration
Button number and layout is, of course, an important factor for any gamer. You don't have to look among premium gaming mice to get what you need.
What type and the number of mouse buttons you might need depends on what games you prefer to play and your habits as a gamer.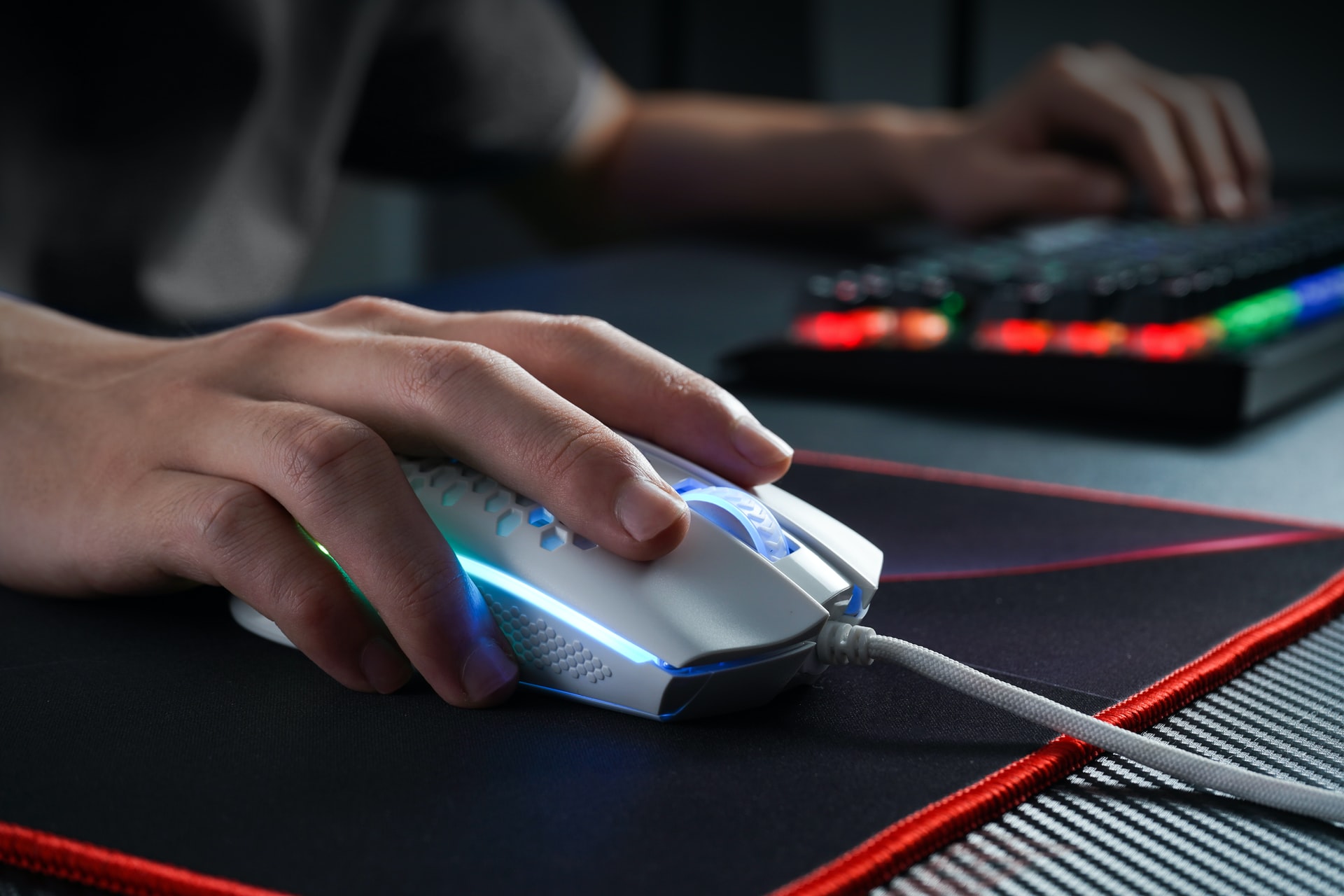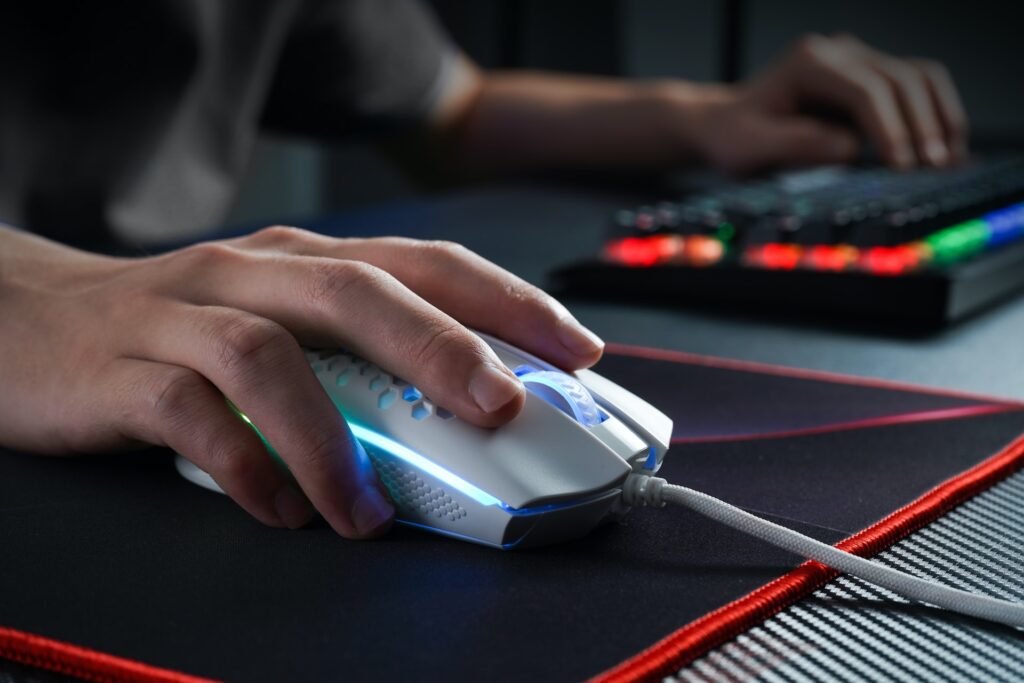 If you play MMO or RTS titles, you could benefit from more buttons since you'll likely need them constantly in a game like that, while something simple like FPS games may require fewer buttons to play efficiently.
There are no strict rules about it, of course, so you'll have to figure out 's the proper button configuration for your particular needs.
3. The Price
This category always seems to find a place in every list, but it is undeniably too important not to mention in the first place.
Now, colossal mice aren't necessarily more expensive than normal-sized ones. You can obtain a solid gaming mouse for a reasonable price even if you're troubled(or blessed) with big hands.
When searching for the best solution, you can be mindful of what you'll be using that mouse for in gaming.
You need to question yourself about what features you need for an enjoyable experience and do you require added top equipment like a high-quality sensor, charger mousepads, and such.
Those are the things that can seriously stretch your budget thin.
More demanding and competitive gamers naturally have to spit a few bucks more for additional quality to provide them the edge in online matches and Esport competitions.
If you don't particularly care for the RGB light show and top-of-the-line performances, you don't have to spend hundreds of dollars, and you might get away with a simple wired mouse for the best gaming experience.
Final Thoughts
Getting the right mouse can be a deciding factor for your performance in both competitive and casual gaming.
Hopefully, you'll get an easier time getting just the right kind of mouse to get you through your biggest gaming adventures and challenges, now and into the future.
Here is a quick summary of my top three choices:
ROCCAT Kone AIMO as the best gaming mouse for big hands,
Logitech G604 with the best design,
Corsair Nightsword as the best for professional gamers.
FAQ
Is an ambidextrous or ergonomic mouse shape better for gaming?
Ergonomic shape means that a mouse is contoured and shaped to fit and follow the flow and shape of your hand.
On the other hand, Ambidextrous mice feature a neutral shape and are usually perfectly symmetrical on both sides, and they often have additional buttons on both sides.
One is not necessarily better than the other in every given situation. Still, seeing how mice for left-handed people, for instance, are expensive and less common in stores, the ambidextrous shape can feel more natural to the lefties than some ergonomic mouse that is most often made with right-hand usage in mind.
Are more giant mice better for gaming?
This decision is mainly attributed to personal taste, but a larger gaming mouse has certain advantages over its more compact brothers.
You can grip and control the larger mouse more accurately because your hand naturally rests on it. Your palm won't drag on your desk or a gaming pad, and you won't have to twist your fingers awkwardly to use it more efficiently.
Not to mention that the larger the mouse, the more space there is on it to place all kinds of additional buttons and control features and RGB lighting, which is all the craze with gamers nowadays.
Are big gaming mice usable outside of gaming?
Absolutely! One of the more significant differences between conventional and gaming mice is that you can only effectively use the ordinary mouse for the most common operations. The gaming mouse is more than usable for both gamers and non-gamers alike.
Gaming mice are usually more durable because they were made with, let's call it, more abusive use in mind. Additional customizable buttons always come in handy even for everyday users, because you can reprogram them to fit your needs perfectly.
And while it's true that something like RGB lighting, a feature often present in these products, isn't exactly a perfect choice for a professional environment, that's something that you can quickly turn off and not use if you deem it inappropriate and unnecessary.