A useful Discord bot is a must-have for all Discord servers, especially for those with hundreds of active users.
Best Discord bots will add hundreds of different filters and features to your server, help you handle your moderator duties, and control the tone of the conversation on the server.
There are so many different Discord bots available on this platform that it can be pretty hard for users to make a final decision and choose the one that suits their needs the best.
For that reason, we have decided to gather some of the best Discord bots and help you make the right choice.
Post 4 of 4 in the Discord Tools
1. Dank Memer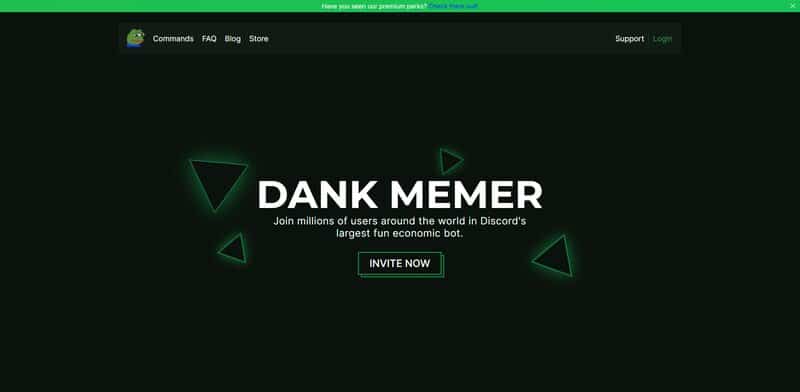 Dank Memer is definitely the most popular bot among Discord server members because it lets you reply to other people with memes whenever you want.
This Discord bot allows you to upload memes to any conversation during the streaming process and everyone will be able to see gifs and memes you are sending them.
All you will have to do is type a phrase connected to your meme in the search box and a related meme will appear.
It also allows you to create your own memes and share them with other gamers on your Discord server.
This is a great Discord bot for servers where there are people who know each other well and know how to have fun while playing games.
Dank Memer provides you with a so-called currency system that allows you to earn coins on the server by stealing from other users and gambling which can be a lot of fun.
When you gather a significant amount of coins, you can use them to make a purchase in their meme bot shop that can be used for playing more games or connecting to new users.
The best thing about this bot for Discord is the fact that all of its features are completely free and you are not required to pay for any type of membership.
However, you can donate to their Patreon channel in order to get access to more meme goods, get unique server features and server roles.
2. MEE6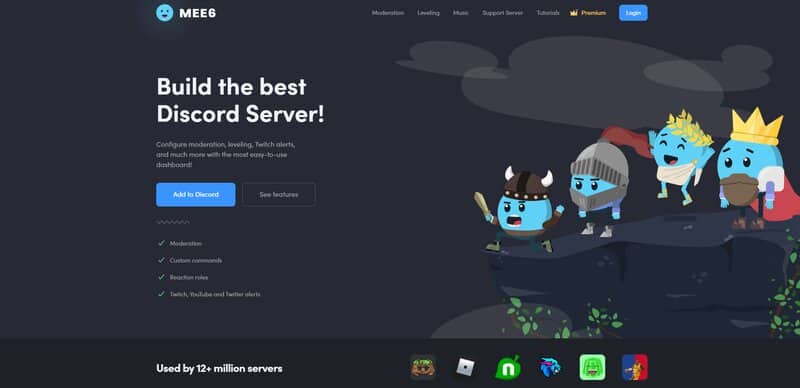 MEE6 is considered to be the best Discord moderation bot and it can be used for a variety of different things on your Discord server, especially during the live stream.
This bot can automatically scan your Discord chat on the server to see if there were any violations regarding the bad language, writing spam information, or revealing spoilers connected to the game.
You can use its custom commands in order to mute a user, ban him or kick him out of your voice channel or Discord server.
By default, you can also set for how long they will be removed or muted on the server, so you have complete freedom regarding this matter.
However, these are not all of its features and you can use MEE6 even if you want to upload music to your server or level up users to another role.
You can award users for their loyalty to the server and provide them with a higher level that will unlock access to exclusive server roles and premium bot.
3. Xenon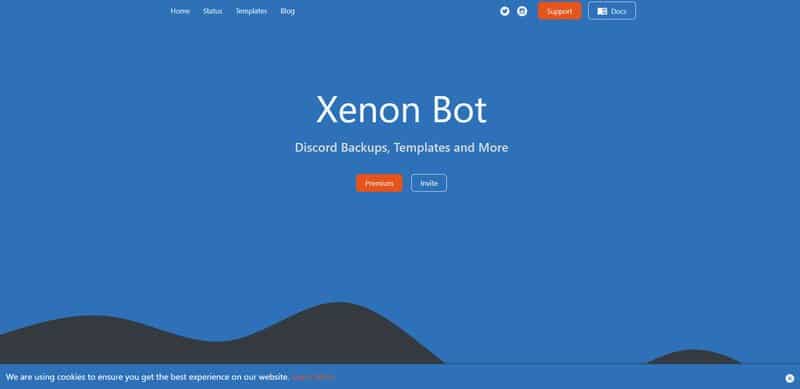 Xenon can be used for a variety of different things like backing up your Discord account and server, uploading a server template, transferring messages between several servers or Discord channels.
This Discord bot has a variety of different templates for both gamers, educators, and members of the fan community, so you can use it no matter what your interests are.
You use plenty of auto-moderation tools and this bot can take complete care of your server all the time.
It also allows you to create your own Discord roles, channels, and categories with ease and transfer the same message throughout all of your servers.
Xenon also gives you the backup option so you can choose whether you want automatic or manual backups.
The free Xenon membership provides you with 25 backups and 1 interval backup per server, but if you want to go premium, you will have to invest 15 or 25 dollars per month and get access to more Discord roles, leaderboard, and leveling systems.
4. Apollo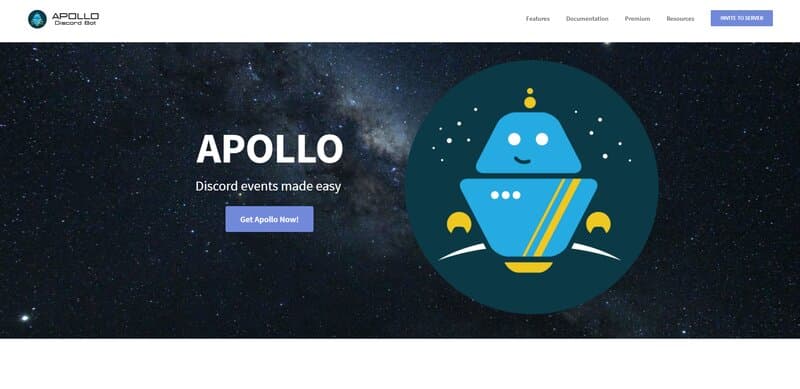 Apollo is the best option from this Discord bot list if you are looking for a scheduling bot that will create and start all of the events on your Discord channel.
This bot allows you to create an event while you are in Discord and it gives other members of the server the opportunity to make a choice and tell you whether they will be attending the event or not.
Apollo can also send private messages to everyone that is active in the event or the server in general.
When using Apollo, you will also be able to create automated recurring events which will save you a lot of time you would spend on setting up your event.
It is not really multipurpose, but it can be very valuable for everyone who is running a Discord server that a large number of active members.
5. Tip.CC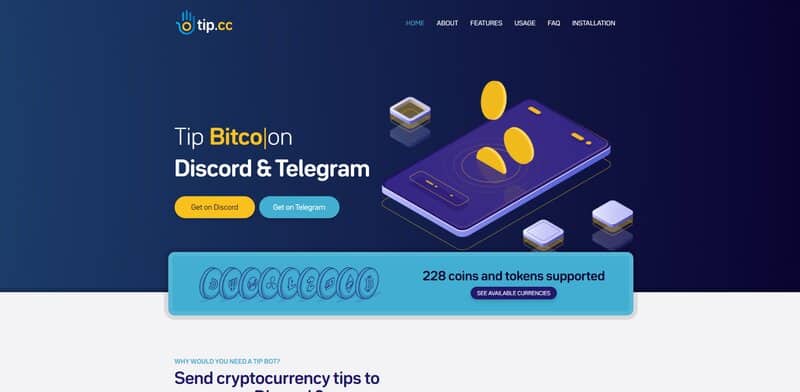 Tip.CC is one of the newest Discord bots and it allows you to exchange cryptocurrencies with people who are on the same Discord server as you.
Even though this is not a wildly popular bot, many new members love it and those from crypto servers are crazy about this option.
It makes trading with crypto a lot easier it is a very safe and good Discord bot that guarantees you 100% safety and privacy.
There are no minimum fees and it also allows you to send tips to other people, being able to send crypto to a dozen of people at the same time.
You can also use their advanced options and start withdrawing your money straight from Discord.
Over 129 cryptocurrencies are supported, and those that are the most used are Bitcoin, Tether, and Ethereum.
6. Mushroom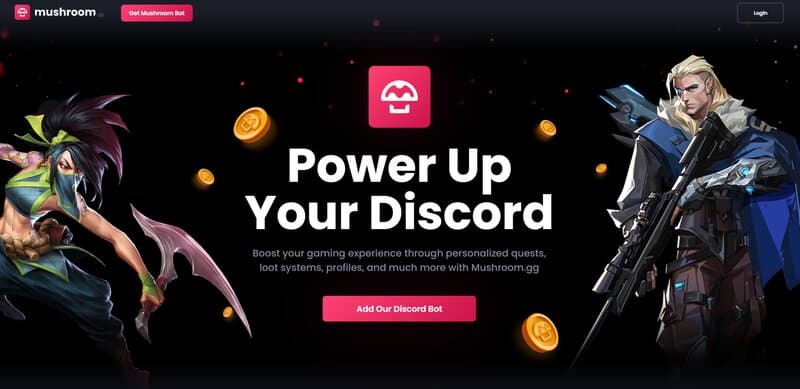 Mushroom is a multipurpose Discord bot that will allow you to boost your gaming experience immensely.
It creates personalized questing for more than 1000 games and it can easily be connected to Twitch and other game streaming platforms.
This is one of the Discord bots that is made mainly for gamers and their streaming activities, so all of its features and filters are altered in a way that will make their experience a lot more enjoyable.
You can create your own profile and post your game highlights, add friends, link your other social media accounts and even play your favorite music by connecting Spotify.
In my opinion, this is one of the best bots for Discord and I recommend it to everyone who uses this platform for gaming.
7. Groovy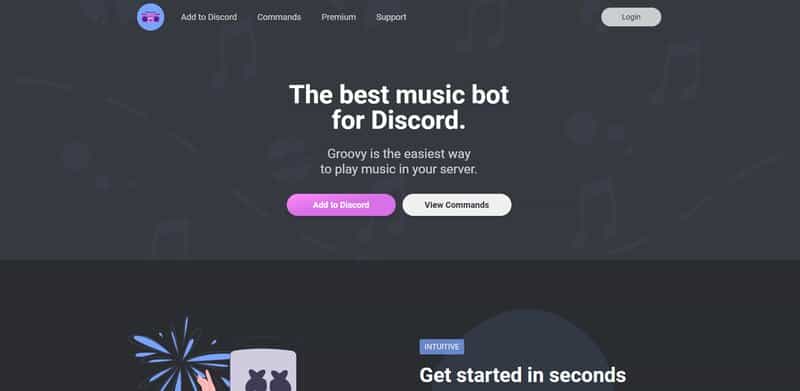 Groovy is a Discord.bot that will turn your Discord server into a real dance-off in a matter of just a few minutes.
This is a Discord music bot that allows you to connect with your Soundcloud, Deezer, or Spotify profiles and start sharing your favorite playlist with all the people on the server.
You can change the music and the rhythm with the tone of your conversations and you can also give your automod duties to other users and come up with new roleplay roles.
In case you are looking to add music to your Discord, this is the best way to do it!
8. GiveawayBot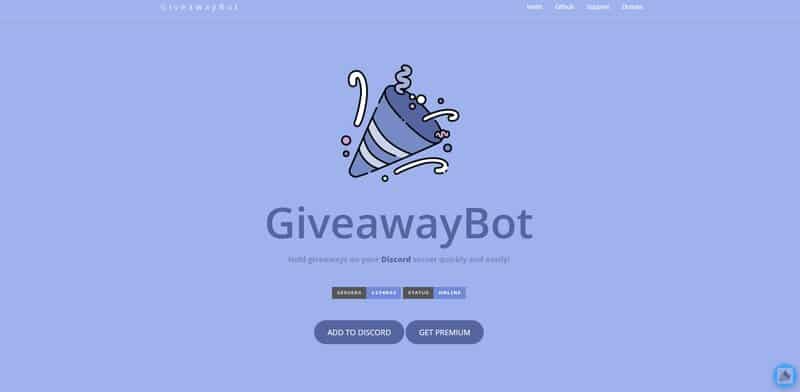 Its name is pretty much self-explanatory but this is one of the bots Discord that allows you to hold giveaways on your profile with ease.
GiveawayBot will start the giveaway by itself, search through all the comments to find the winner, and end the giveaway without you ever putting an effort into it.
All you have to do is add a bot to your Discord server throughout their website and create your giveaway.
It will also provide everyone entering the giveaway with a nice welcome message and update them regularly about the stage in which the giveaway is.
9. EmojiBot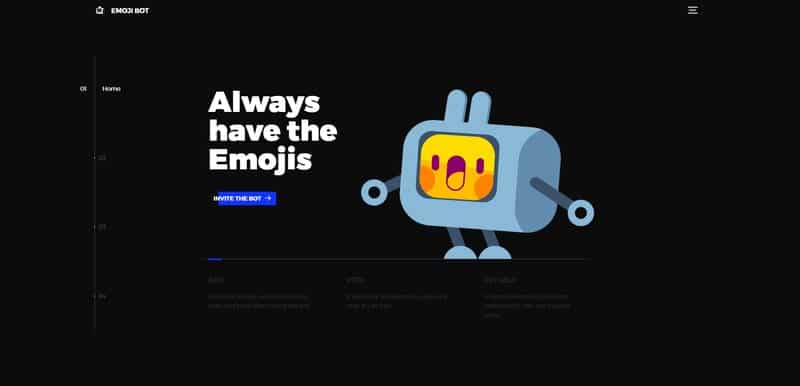 As you can see, EmojiBot is one of the Discord bots for emojis and it allows you to create your own emojis and avatars.
You can choose whether you want anime ones or classic reaction roles, but you can be sure you have complete freedom over creating your original avatar.
There are plenty of other emoji bots too so you can do a bit of research and choose the one that looks the most fun and interesting to you.
Related: Best Twitch Bots
Join our Discord Group. Ask questions, team up with fellow streamers, share memes, and more!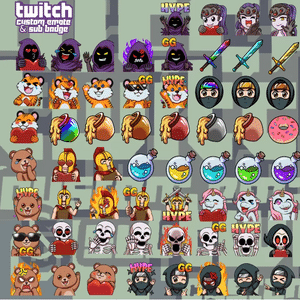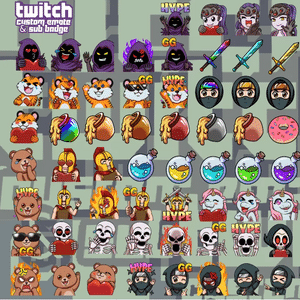 Claim for FREE:
FREE Emote PACKS
A book on growing your audience