On Discord, you have the ability to set your status and manually change it to whatever you want.
One of the things that can be manually set your status to is the invisible option.
What does invisible mean on Discord, can you use it even if you remain active, how to set the status to invisible, and whether you can see when someone else has the invisible status are just some of the things that I will talk about here.
So, let's get into it and set your custom status to invisible on Discord, in case you ever need it.
Invisible Status On Discord
So, what does the invisible status on Discord even mean?
When you set your Discord status on invisible, you will be appearing offline to other users, but you, as the invisible user, can stay active, open messages, and message other members of your server that you want to message.
Basically, this is a helping hand that Discord offers in case you want to avoid a particular user.
This means that if you set your status to invisible, you will remain invisible to people while you go through different channels and answer important messages on the social platform.
You will still receive notifications and still have full access to your friends' list while you appear offline to other members on Discord.
How To Set Invisible Status
Now that you know what invisible on Discord means let's see how to set your status on both the desktop app and the mobile app.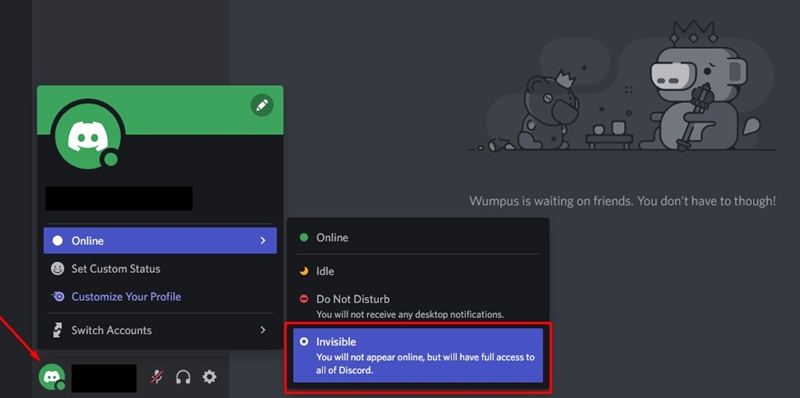 Set Status To Invisible On PC
Go to your preferred web browser and open Discord from there
On the bottom left of the screen, you will see your profile picture, and you should click on it
Once you click on it, a menu of several different statuses will pop up
Just choose the invisible status option
That's it!
Now you will not be visible to other users, and your Discord status will be changed.
Set Status To Invisible On Discord App
Setting your custom status to invisible on the Discord app on your phone is just as easy, so let's see what steps you need to take in order to appear offline and be invisible from your phone:
Open the app on your phone
On the right side of your phone screen, in the bottom corner, you will see your profile picture, and you should click on it
Once you do, you will be presented with a few different options, and you should click on Set Status
Just like it happened on the desktop version, Discord offers several different status options, and you should select Invisible
That's it!
Now, with your status set to invisible on Discord, you will appear offline while still having full functionality on your server as if you were online.
But, to your friends – and those who are not so much – you will not appear as active, so they will probably assume that you are offline, especially when you don't react to anything they chat about.
Different Status On Discord
As you probably already know, there are different statuses that you can choose on Discord, depending on whether you're logged in, as well as whether you are currently bothered to have conversations on your different servers or if you would rather not be disturbed.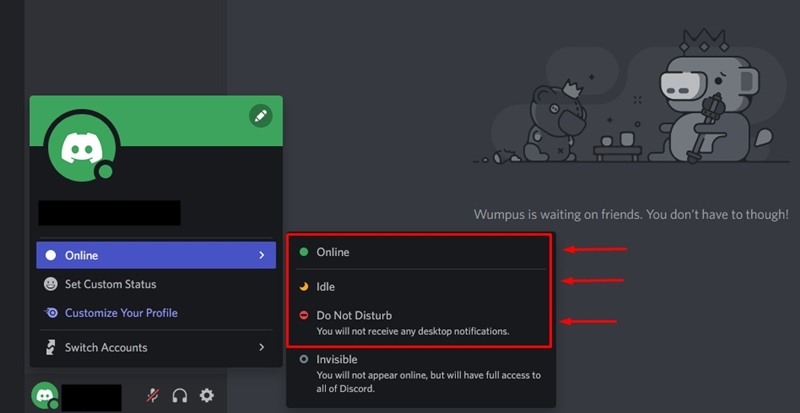 Here are different status options that you have on Discord:
Online – when you are online, other users will know that you are open for a chat, that you are logged in, and have access to your servers
Idle – this status means that you are online but away from the keyboard for a certain amount of time, so people will know that you aren't going to be able to answer from your account right away
Do Not Disturb – The Do Not Disturb status lets other members of your Discord servers know that while you might be online, you are not ready to have any conversations or to chat, and if a user tries to contact you, they will see a red circle next to your profile picture. It's just important to remember that to have the Do Not Disturb status on, and you have to set it yourself, same as the Invisible status
Besides using your custom status to appear offline or invisible on Discord to other users, you can now also have a custom, visible status message on your account, where you can write something about your day or how you are feeling, or basically anything.
You can write what you want and even add emojis and tell the world what's going on, usually with the hope that other people from the server will catch up with it and start talking to you – or avoid talking to you if that's what you've written.
Seeing If There Are Invisible Users In Your Server
Just as no one from several different channels will not be able to see that you have set your status to invisible, it's the same with you not being able to see when someone else has done it.
Even when you are an admin of a server, that doesn't give you the ability to see when users put their status to invisible.
If you are an admin and it's important for you to know when people are present on the server, then maybe you can consider sending people a message and asking them about it, but overall, this is not something that you can be aware of.
Can You Have Online Status In One Discord Server But Be Invisible On Discord?
In case your main reason for using the invisible status option is avoiding only a certain person, or a group of people, then it would be very useful if you could stay visible and online on some servers while appearing offline on others, right?
Well, the good news is that this is very much possible to do.
When you set the status to invisible, you will have the option to choose which servers you want to stay invisible in.
So, if you are only in the mood to talk to your closest friends and be online only on your separate server, but would rather avoid being seen as active on other, bigger servers, then you have the ability to do so.
Conclusion
The invisible status option on Discord is overall an amazing feature to have.
All of us have days when we would rather not be in contact with a large number of people but still want to browse things and stay in contact with a specific friend group.
Using the invisible status gives you exactly that, so next time the world feels a bit too much for you and you get overwhelmed from all the various conversations you might be having on Discord, remember that you have this option and use it.
And don't worry, no one will see that you have this on, not even admins and mods, so you can enjoy your quiet time in peace.
FAQ
Can you tell if someone invisible on Discord?
You can't tell when someone is invisible on Discord, and only that person can know that they set their status to invisible.
To you and all other users, they will appear online.
Is invisible the same as offline on Discord?
No, it's not, because offline is when someone is truly not there, but when someone is invisible, they appear to be offline to other users while actually being active.
Offline and invisible only appear the same to the public.
Does Discord invisible show what you are doing?
When you have your status on invisible, Discord won't show what you are doing at that moment.
The only thing people will see next to your name is just a simple grey dot, just as they would if you truly weren't there.