If you like spending your free time watching Streams on Twitch.tv, surely you encountered this annoying error before.
---
Namely, the Twitch machine got unplugged error 4000 is what we are talking about. Here are the best solutions:
1. Clearing Your Browser Cache and Cookies
2. Check Your Internet Connection
3. Background Applications
4. Update Your Device Audio Drivers
5. Try Using a VPN
---
Hopefully, here you will find the solution if you are having trouble with this error while trying to enjoy your favorite streams. Let's dive more in-depth in this topic!
Causes of Twitch Error 4000
With Twitch having hundreds of thousands of active viewers at all times, the technology behind that has to be massive.
With that in mind, a service that operates on such a large scale is bound to have errors and bugs of all kinds.
It is impossible for the service to operate without ever running into a wall here and there.
There can be many causes for the Twitch error #4000 in question.
It can range from outdated audio drivers on your desktop or laptop all the way to your own ISP (internet service provider) network and connectivity.
Luckily, we are going to help you troubleshoot some of the most common causes for the error code 4000 Twitch.
Browser Cache and Cookies
Network Connectivity Issues
Background Applications/Audio Playbacks
Outdated Browsers
Outdated Audio Drivers
Selection of the Proper Audio Output Device
Internet Service Provider Issues
Now let's check some of the best solutions to this problem.
Related: Twitch Error 2000 – 7 Simple Fixes
1. Clearing Your Browser Cache and Cookies
When you are using your pc to browse the internet, most of the applications you use store data into the cache.
This data is used to reduce the loading times of the applications in use.
Similar to that, websites you visit store cookies in your respective browser.
These cookies are used to hold information like your usernames and passwords for services that you register on.
But, over time, this data can become corrupted.
Therefore, this can cause problems with how your browser loads the information and can even cause your browser to crash.
Corruption of this data can often lead to the Twitch Media Source Not Supported error.
Google Chrome
If you are using Google Chrome and you want to clear your browser cookies here are the steps you need to take (Note: Please keep in mind that clearing your cache and cookies will permanently remove any saved credentials you may have in your browser):
Open Your Browser – First thing you want to do is open your browser.
Click on 'Customize and Control Google Chrome' – This button is located in the upper right corner of the browser and looks like three dots in a vertical line.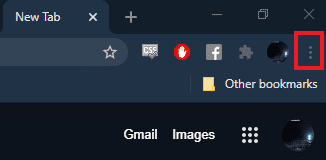 Click on Settings – When you click settings, it will take you to the settings screen.
Navigate to the 'Privacy and Security' Tab – Once the settings screen is opened, you want to scroll down until you see this tab.
Click on 'Clear Browsing Data'
Select the Appropriate Settings – Click on the 'Basic' tab and check all the boxes.
In the drop-down menu select 'All Time'.
This way we are completely clearing out the browser cache and cookies.
For more advanced control over which part of the cache you are clearing, click on the 'Advanced' tab.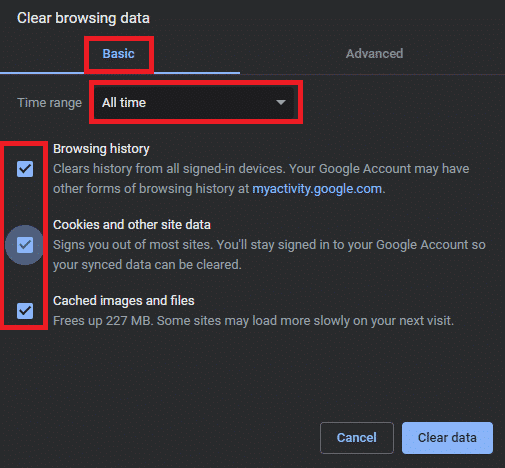 This will clear all the browsing data.
Open the website again to see if the problem persists.
Mozilla Firefox
If you are using Mozilla Firefox as your browser, the steps for clearing the browser cache and cookies are the following:
Open Your Browser.
Click on the 'Open Menu' button – It is located in the top right corner of the browser and it looks like three horizontal lines in a vertical line.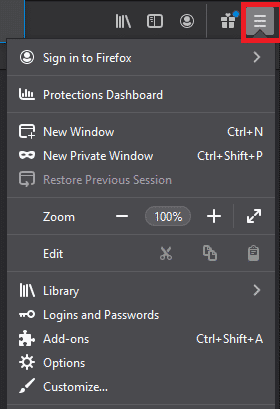 Click on 'Options' – Clicking this will take you to the options screen.
Once the options screen loads, click on the 'Privacy and Security' tab on the left side of the screen.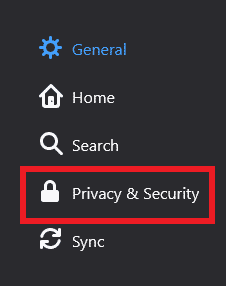 Navigate to 'Cookies and Site Data' – Scroll down until you see this tab.
You will have the option to click the button 'Clear Data'.
This will open up a pop-up window for you to configure which date you would like to wipe from the browser.
2. Check Your Internet Connection
Another reason why you might be encountering the 'Twitch Resource Format Not Supported' error is your internet connection.
This is highly unlikely, but you should inspect nonetheless.
You should check if your device is connected to the internet.
If there is a successful connection, try restarting your router.
After you have restarted your router and reconnected to the network, check to see if the problem persists.
If the resource format not supported error is still there, the problem is not caused by your network connectivity.
3. Background Applications
Sometimes, the audio feedback function on your device can struggle to determine which source to output.
Check your device to see if there are any running apps.
If an app is open, check to see if it is using your device's audio output.
Apps like Spotify, iTunes and similar can cause media resource not supported error on your stream.
4. Update Your Device Audio Drivers
Outdated audio drivers on your device are the most common cause of the error 4000 Twitch issue.
This error can happen if some of the installation files become corrupted.
Files can become corrupted during the installation or update if, for example, there is a poor internet connection.
To update your audio drivers, follow these steps:
Hit the Windows Key + R Key – This will open the Run prompt in windows.
Enter 'devmgmt.msc' and hit Enter.
This will open up your device manager.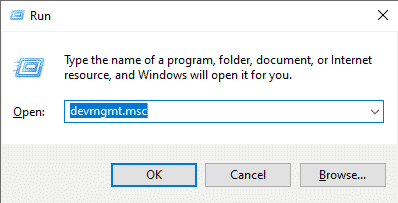 Expand the 'Sound, Video and Game Controller' menu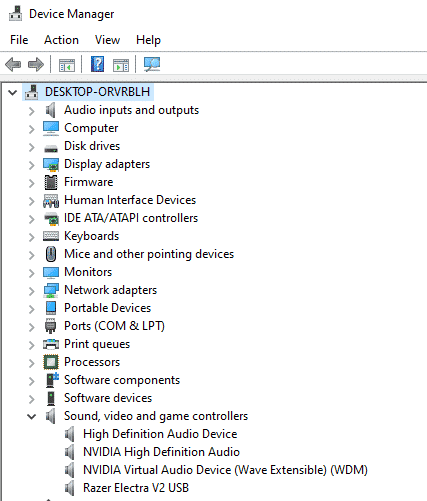 Update All the Available Drivers – Right click on each available device, and click on 'Update'.
After you have finished updating all of your drivers, restart your device and try loading the stream again.
If you encounter the error #4000 Twitch issue again, consider reinstalling your audio drivers from scratch.
If you want to reinstall your audio drivers, follow the same procedure that we used for updating.
This time, instead of 'Update', you will click on 'Uninstall'.
After you uninstalled your drivers, restart your device.
Once your device finishes booting up, it will automatically install and update your audio drivers accordingly.
5. Try Using a VPN
There have been many reports of users not being able to watch streams due to their own ISPs blocking the content.
Some ISPs do not allow a certain type of data to be flowing through the network.
This data can be crucial for your browser to successfully interpret the streams.
Try contacting your ISP and find out if it's a problem they can resolve on their side.
If they are not able to resolve it, you can always try using a VPN (virtual private network) There are a lot of good VPN services you can find online.
For example, you can visit NordVPN.
You can find all of the information you need to set it up on their website.
Conclusion
The exact root cause of the error #4000 is not pinpointed and with that, there is not a solution that will work 100% of the time.
If you have not been able to resolve the issue following the guides above, you should try contacting Twitch.tv official support.
Their support team will likely find a solution to your situation.
Good luck!