Everyone has, at some point in their lives, tweeted something that they regret. And since this is such a common experience, a solution had to be made!
This solution lies in the app called Tweet Deleter. As the name implies, it is used to delete tweets from your account.
---
Tweet Deleter is an app that lets you delete up to 3200 tweets from your Twitter account.
How to use Tweet Deleter
1. Log in to your Twitter account,
2. Open Tweet Deleter and allow it to access your Twitter account,
3. Select the tweets you want to delete,
4. Click on the "Delete" button.
Key features of the Tweet Deleter app
Auto-delete – Delete automatically any or all old tweets,
Rude word filter – Filter tweets with rude words and delete only them,
Media filter – Find the specific image, video, or other media among your tweets,
Tweet type filter – Filter tweets by likes, replies, mentions, etc.
Pricing
Standard – $3.99 per month,
Advanced – $4.99 per month,
Unlimited – $5.99 per month.
---
Let's take a closer look into why people use this app and how it works.
How Does the Tweet Deleter Function Work?
Tweet Deleter is a tool to delete multiple or all your tweets from your account. The tweet eraser platform will access your past tweets using Twitter's API. Afterward, you can scour through your old tweets and delete them.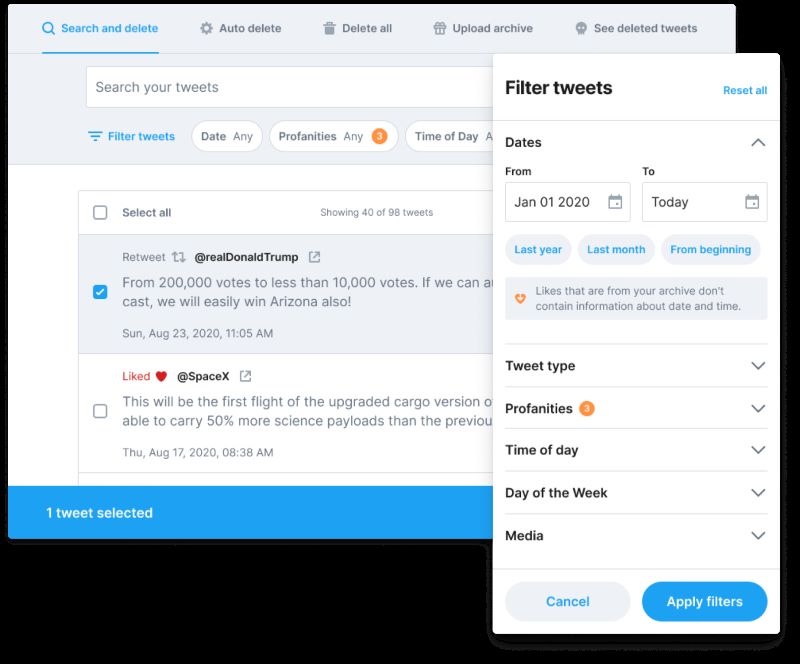 The maximum number of tweets that can be deleted using this app is 3200, and if you want to delete more than that number or archive all your tweets, you would have to download the Twitter archive eraser. Then, you would have to upload your personal Twitter archive to Tweet deleter and get your tweets deleted.
Why Do People Use This App?
There are many uses for Tweet Deleter.
You can delete all your tweets with complete ease! Or, if you want to wipe your account clean completely, you can choose to delete as many tweets as you wish, even all your tweets, from your Twitter account!
There is also an auto-delete option.
By using this feature, you can auto-delete the tweets that you no longer wish to have displayed on your account.
However, these deleted tweets will be saved in the Tweet deleter application for you to look through any time you want.
You will have easy access and a place where you can safely keep deleted tweets! This option is only available if you buy the full version of the app.
Another use for this app is the function that allows you to look through your old tweets. You can search tweets you posted years ago using just a few keywords.
But you cannot use this option with the app's free version. You would have to purchase the application to do this.
How to Use Tweet deleter?
If you want to delete tweets from your Twitter account easily, then follow this simple guide:
First, you have to open the Tweet application and log into your account,
Then, open the Tweet deleter app,
You will have to click on the authorize app button next,
Now you will have the option to choose how many old tweets you want to delete; you can also choose to erase specific tweets,
Lastly, you can choose to delete tweets that have been selected. Deleting old tweets will happen as soon as you click on the red "Delete" button.
Additional Features of the App
Besides the previously mentioned ones, this Tweet eraser has a few more very useful features that could come in handy upon installing the application, and those features are:
Rude word filter – This filter provides its users with the ability to delete any tweets that may contain rude or inappropriate words and/or phrases,
Tweet type filter – This feature is a particular tweet filter that lets its users search tweets, likes, replies, retweets, and also comments,
Media filter – This feature of the Tweet deleter application helps its users when it comes to searching for certain types of videos or pictures, and it also aids in filtering visual media.
How to Auto-Delete Tweets?
If the option of auto-deleting tweets sounds like something that you would like to enable, here is a quick guide on how to do exactly that:
You will firstly have to log in to your existing Twitter account using your username,
If the number of your tweets exceeds 3200, you will now have to upload your tweets to the Twitter archive eraser,
Upon doing that, you will now have to upload your Twitter archive to ensure that the tweet eraser app can access your old tweets,
Go to the page constructed for auto-deleting tweets and unliking tweets,
Establish your priorities and enable the auto-delete tweets option-You can choose to have your selected tweets deleted from your Twitter platform periodically at any period you want.
The Price of Tweet Deleter
There are a few options when it comes to paying for this application, and each of them has different benefits.
The first option is to use the free tier, but that will probably not be the most viable option for most people because this version of the application lets you delete only up to five tweets per day from your Twitter timeline.
The second option is a paid option that lets you delete tweets from your Twitter timeline in a larger amount. By paying just $3.99 a month, you can now easily delete up to 500 tweets every day! This option is called the Standard option.
The third option denotes the monthly payment plan of $4.99, and it is called the premium tier. With this payment plan, you can quickly delete up to 3200 old tweets in one day.
The last option's monthly cost is $5.99.
This is the unlimited tier, and, as the name denotes, you can delete an unlimited amount of your old or latest tweets from your Twitter account, making it extremely easy to wipe your account completely clean with just one click!
A bonus option that you can choose to pay for is the Save and keep deleted tweets option. This addition will cost you only $4.99 a month, and it will allow you to save all of the tweets that you have previously deleted.
If you decide to add this addition to your payment plan, you can easily look through your older tweets whenever you wish! But they will be permanently deleted from your Twitter platform.
If you at any point decide you do not want to keep paying for these additions, you can easily unsubscribe from your payment plan with no additional payment needed!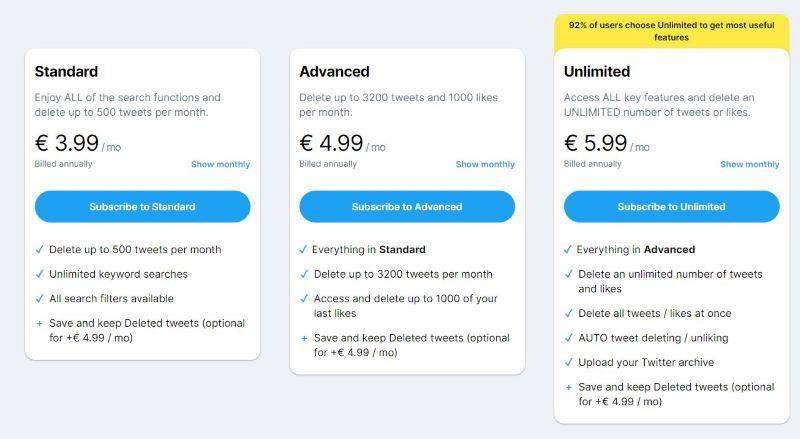 Third-Party Applications
Deleting tweets from your account one by one will probably take a lot of time you don't have to spend at all!
By choosing to use third-party applications such as this specific Tweets eraser, you will save yourself the hassle of individually deleting your old tweets.
There are a few other options for Tweet eraser apps, but we recommend Tweet deleter as it is proven to be very effective and easy to use for many consumers!
Conclusion
To sum up, this tweet eraser app is something all of us could find useful!
It not only helps you mass delete your tweets from your, maybe even multiple Twitter accounts, but it also provides an easy way to find specific tweets about a specific topic or article across all your devices!
There are many perks when it comes to using this app because it allows you to save a lot of time when deleting your tweets, and you can delete all your tweets using only one click!
This makes this application extremely useful to those of us who like to use Twitter but would like to start anew and completely reinvent ourselves!
All the tweets you choose to delete will be permanently erased from your Twitter feed, and you will never have to worry about them again!
Across all social media platforms, people have searched for ways to wipe their accounts clean, and the perfect solution has been created for all Twitter users simply by using this app!
FAQ
How many tweets can I delete?
Depending on your payment plan, you can delete thousands of unwanted tweets from your accounts!
However, if you are looking for a more permanent solution and the option of deleting the biggest number of tweets possible, then the unlimited tier is perfect for you as it lets you do that!
So, to sum up, you can delete anywhere between 5 and an infinite number of tweets per day!
Do I have to pay in order to use this application?
Well, it depends!
If you want to delete up to five tweets from your Twitter app, then no.
This is the rule for using the free version of the app!
However, if you want to delete multiple tweets that exceed this number, you will have to pay between $3.99 and $5.99 a month, depending on which one out of the three tiers you want to use.
Is this application safe to use for users?
Yes, this Tweet eraser application guarantees that it is completely safe to use.
They do not keep deleted tweets stored anywhere hidden from you, nor can they access any amount of bulk tweets that haven't been made public by you.
Also, when you decide to delete tweets using this application, they are gone forever and cannot be restored in any way to be put back on your Twitter timeline.
Can I browse and organize my deleted tweets?
Yes, you can!
Even if you decide to delete your tweets, you can still search through all of your tweets using the search filters in this application!
However, for this option to be available, you will have to be subscribed to one of the payment plans mentioned beforehand.