Discord, like Facebook, has a minimum age requirement for new Discord users. A person must be at least 13 years old to use Discord's app or website. Doing so ensures that the service's users will not come across any inappropriate content.
---
In this guide, we are going to talk about how to change your age on Discord.
1. Visit the Discord support page to send a request;
2. Enter your date of birth;
3. Provide your photo while holding your photo ID;
---
Users who wish to view explicit content through NSFW channels are subject to a stringent policy on Discord, in addition to the age limit. It is necessary to be at least 18 years old in order to access NSFW content on Discord.
Locked Out of Your Discord Account?
If you are under the age of 18, Discord may deactivate your account if you access an NSFW channel. Alternatively, you may be subjected to this if someone believes you are underage. Once your account is locked, you can no longer use Discord. In this situation, the only way to unlock your account is to prove your age and file an appeal.
Users can simply update their Discord account information, including their username, email, and phone number, by visiting the Account Settings page.
However, because of legal considerations, updating your Discord age or birthday is a more complicated process. However, for those who did not use a bogus date of birth when signing up, the process is a lot easier.
The one limitation is that you cannot modify your age on Discord without presenting proof of identification or other means of verification.
Now that we know how to modify your birthday on Discord, let's get started.
How to Change Your Age on Discord?
If you are over the age of 13 or 18 and have been locked out of Discord because of a violation of the TOS or an underage report, follow the instructions below.
You must make a request to Discord in order to have your age changed on the platform. You must complete the form with your date of birth and, if feasible, upload a photograph of yourself holding your identification.
Then, submit the request and wait for Discord to alter your age on its own initiative. Please keep in mind that if you do not supply all of the following pieces of information, Discord may not be able to update your age. To demonstrate that you are 18 years old or older, you must take a photo of yourself carrying your ID.
In addition, you must possess a piece of paper with your complete Discord tag printed on it in your hand. Unless you do this, Discord will not be able to validate your age or modify your date of birth on your account.
On Discord, you can modify your age by following these steps: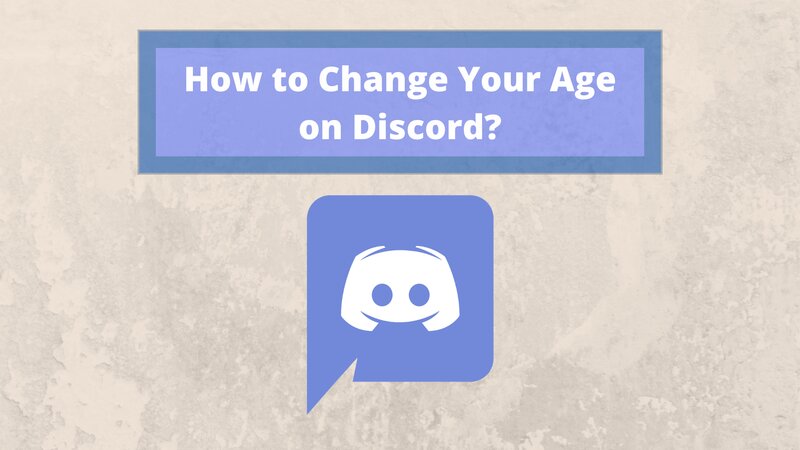 1. Submit a request to Discord servers
To get started, send a message to the Discord server.
Start by clicking on the "Submit a request" button. You can access the form on the Discord website. You'll notice a "What can we help you with?" dropdown box once you're on the form.
Select "Trust & Safety" from the dropdown box. In the "Trust & Safety" section, you'll find questions about your age, account/bot appeals, and other issues related to trust and safety. Please mention your Discord email address in this step as well.
In the "Your email address" section, type in your email. Go to the drop-down menu labeled "How can we help?" and select "Other". Select "Appeals, age updates, and other questions" from the drop-down menus.
2. Filling in your date of birth
Please scroll down this form once you select the "Appeals, age update, other queries" option." Click on the drop-down box for "Applications, Age Update, Other Questions." Multiple choices are available in the drop-down menu.
As a parent or guardian of a child, you have the option of requesting a policy question, appealing an action made on your account, or updating your age information. Select the "Update my age information" option if you want to modify your age on Discord.
Next, you'll need to provide your real birth date. Enter your date of birth (MM/DD/YYYY) in the "Date of Birth" section. Enter "02/02/2000" if your birthdate is February 2, 2000.
Check the "Please verify that you have attached the needed materials" checkbox. You must also include a subject line in your email. Changing discord user's age is an example of a subject line that might be used.
3. Include a photograph of yourself holding your photo ID (optional)
Scroll down the form after you've entered a subject line.
There is a "Description" field beneath the "Subject" box. Describe the difficulty you're having with Discord in the "Description" form. Given that you're attempting to modify your age, you'll need to explain why you entered the incorrect date of birth. Here is an example of a description: "Hello, my actual birth date is 02/02/2000, however, I accidentally entered 2005." Kindly assist me in changing it, thank you".
You'll see a "Attachments (optional)" header beneath the "Description" column. To begin, snap a photo of yourself with your photo ID and a sheet of paper with your Discord tag printed on it. This is a voluntary step, but it is required for Discord to validate your age.
After taking the photograph, click the "Add file" link. Then, choose the photo you took to attach it. Bear in mind that your photo ID and Discord tag must be legible. Additionally, you must transmit the photo through email using the email address linked with your Discord account. Finally, click "Submit" to complete the request.
After submitting the request, you must wait between one and three business days for Discord to update your age. If you are successful, you will get access to 18+ servers. If not, you should contact Discord support again.
And there you go, you've mastered the art of changing your Discord age!
What If You Don't Have Photo ID Card With You?
Another question people often have is how to change your age on Discord if you don't have your photo ID or birth certificate at hand? Well, in that case, this will be your only option.
Like with other social media platforms, if you don't have the required materials for age verification procedures, you won't be able to make an age update. If you want to put the correct age or to change your discord username, you'll need to make a new account.
You must establish a new Discord account if you want to change your age on Discord without using your ID and change your wrong date of birth on Discord.
By creating a new Discord account, you will be able to specify your date of birth to be at least 18 years old and have access to age-restricted servers.
You will, however, need to use a different email address for this purpose.
After you create a new Discord account and set your age to 18 or older, you'll be able to access adult content and all NSFW servers.