If you want to spice your stream up a little bit, using a heart rate monitor is a great way to do that.
However, many streamers would like to try something like that, but they don't know how to set up a heart rate monitor for their viewers to see.
That's why we created this simple guide, where we will break down the heart rate monitor setup process.
Post 6 of 6 in the Streaming Gear
How to Set Up Heart Rate Monitor for Streaming?
1. Put your heart rate monitor on
We assume that you have a heart rate monitor for streaming, so this would be the first step.
Just put the heart rate monitor around your chest and make sure that you don't feel any discomfort since it can really distract you during streaming.
If, for some reason, you still haven't decided which heart rate monitor to purchase, make sure you check out our list of heart rate monitors for streaming below.
2. Connection and setup
The next step would be setting up a heart rate monitor and connecting it to your stream.
For this, you will need an app or software that will help you connect your heart rate to your stream and that will make your heart rate visible on the stream.
3. Software and apps
One of the most popular software for heart rate monitor setup is GoldenCheetah which requires an ANT+ connection, so you'll have to be careful what kind of heart rate monitor you buy.
Then, there is a Cardia which is very similar to GoldenCheetah, but here you can connect your devices via Bluetooth since ANT+ is not necessary.
However, as our favorite, we would highlight the Pulsoid app.
For this app, you will need a simple heart rate monitor that supports Bluetooth and you need to make sure that your monitor is compatible with the Pulsoid app.
Afterward, you have to select your heart rate monitor in the Pulsoid app.
Pulsoid then gives you an option to change the appearance of the heart rate widget and customize the color, alignment, range, and font on their website pulsoid.net.
Finally, you just have to copy the link which can be found near the widget settings, to the widget, then add browser source in your streaming software and, lastly, paste the link to the widget as the source.
4. Final Choice
Whatever software or app you choose you won't make a mistake.
They all work very well and they can all help you provide great fun to your viewers and make a high-quality and entertaining recording.
Best Heart Rate Monitor for Streaming
Reviews
You want to intensify and upgrade your live streaming but you don't know how to do it?
Luckily, we know exactly what you need: a good heart rate monitor. But how to estimate which heart rate monitor is the best? Well, we are here to help you.
Thanks to the list we've conducted you will become familiar with all strengths and weaknesses of each heart rate monitor and, hopefully, you'll find it helpful when making a decision on which heart rate monitor to purchase.
Heart rate monitors are getting more and more included in streaming.
They give a completely different dimension to a stream, make it more interesting and realistic and definitely enhance people's impression of a certain streamer.
Therefore, if you want to buy a heart rate monitor, you sure want it to be very good and to serve you well.
You simply don't want to throw money down the drain.
Thus, if you are toying with the idea of getting a heart rate monitor, be sure to check out our list.
QUICK OVERVIEW: Best Heart Rate Monitor
ANT+ connection
Integrated memory

300 hours battery life
Bluetooth connection

Android operating system
Waterproof
1. POLAR H10


Polar is one of the leading brands in the field of heart rate monitor and technological innovations ever since 1977.
They claim their products will improve every user's athletic performance and rehabilitation process.
Additionally, their products help people to live healthier life and are sold in more than 80 countries.
As for POLAR H10, Polar describes it as accurate, powerful, comfortable, precise, and reliable.
Furthermore, they claim it's very adaptable and, therefore, can be used for various purposes.
Who is it best for?
This product is in the first place made for athletes and people who do sports regularly.
However, given that more and more streamers use heart rate monitors as a part of their equipment, they can also be used for that purpose.
Either way, POLAR H10 will do what's most important-give you accurate and precise data.
Key features
This particular heart rate monitor measures your heart rate and instantly sends the results to the Polar Beat app on your phone.
When it comes to the setup process, first you need to download the required app and fill out some information such as age, weight, height, etc.
An interesting thing is that you can use the app even if you haven't created an account.
However, if you plan to use the app on multiple devices, perhaps you should sign up.
Furthermore, when you put the monitor, you will need to moist the electrodes on the strap so that it can conduct the electricity and provide you proper results.
This fact is very important for streamers in the first place.
Namely, if you are an athlete who uses this monitor while practicing a sport, the electrodes will get wet from your sweat.
However, if you are a streamer, we can assume that you won't be sweating, so you should use water to make the electrodes wet.
As for the design and comfort, it is so comfortable that you will almost forget that you're wearing it.
Therefore, you will be able to fully enjoy the experience regardless of whether you are training or streaming, knowing that your heart rate monitor won't distract you.
The results you get will be very accurate since H10 uses ECG instead of optical technology.
In terms of connectivity and compatibility, the device and the app can be connected to iOS mobile devices which have iOS 11 and later.
As for Android, you'll need Android 5 or later with Bluetooth 4.0 capability.
Subsequently, you can connect H10 to two Bluetooth devices at the same time.
As H10's strengths, we would like to mention the fact that it is astonishingly accurate and that you need to have your phone only at the beginning of the recording.
After that, even if your phone is out of range it will sync and memorize the data later.
On the other hand, the weakness is also related to the phone.
Namely, H10 doesn't have a screen, so if your phone is away you won't be able to get the real-time feedback until you get your phone.
In case you use GoPro, there is a Hero5 option that provides you to overlay your heart rate data on any recorded video, which can be very useful for streamers.
The device has a regular coin cell battery which means that you won't have to charge it.
Additionally, the battery is very durable, given that it can last up to 400 hours and an interesting thing to mention is that this heart rate monitor is waterproof.
---
2. CooSpo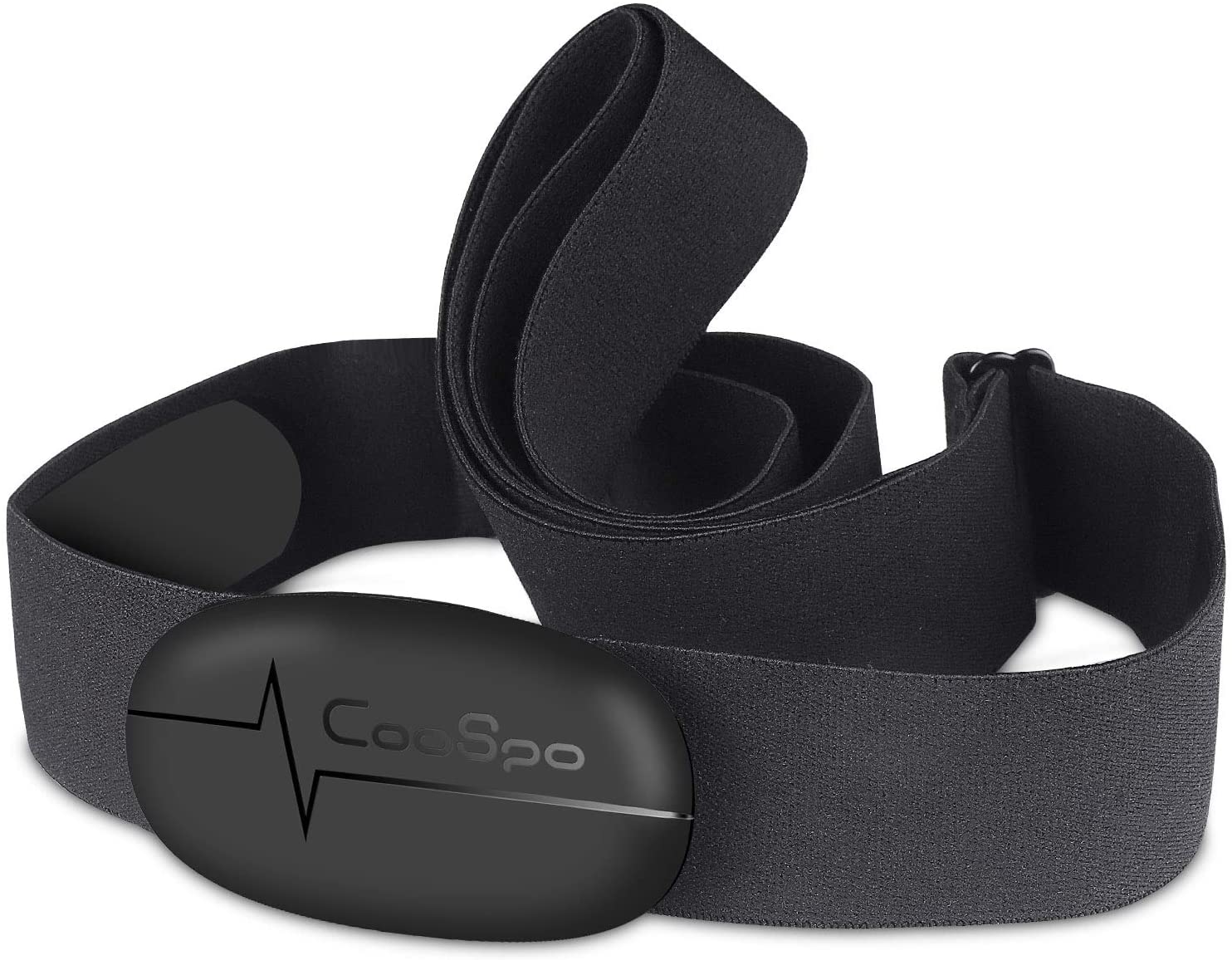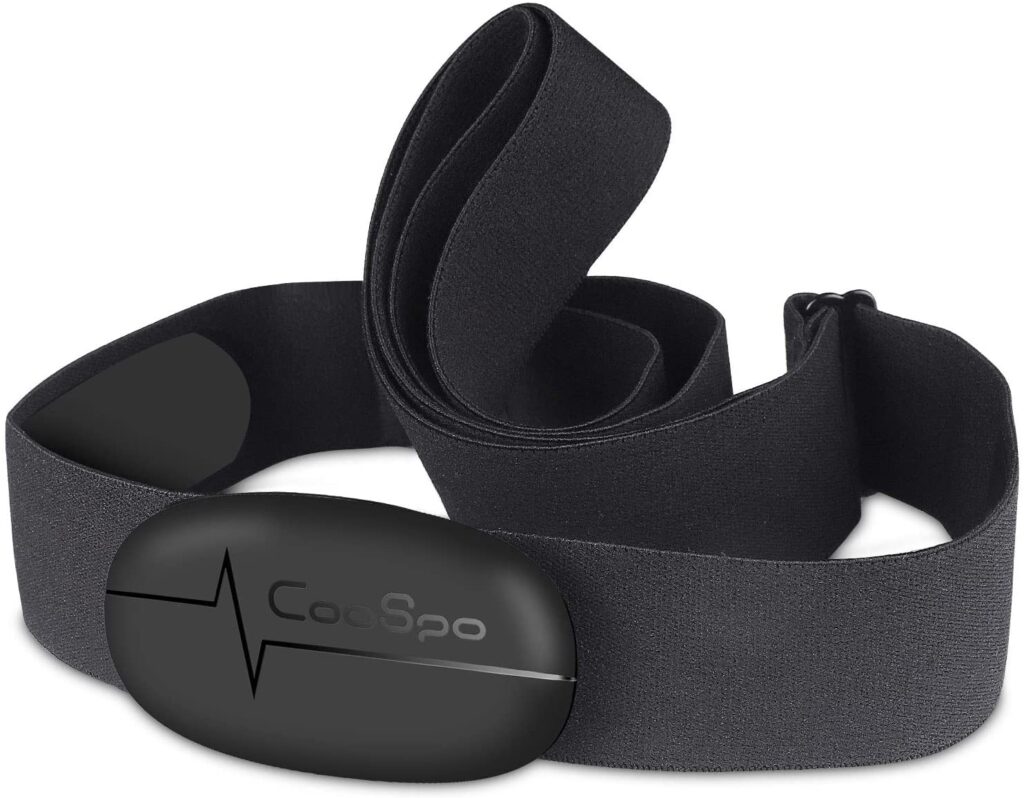 CooSpo is a Chinese company founded in 2011.
Apart from heart rate monitors, they mostly produce cycling equipment, such as GPS, indoor trainer, power meter, etc.
Their products are very popular and are distributed in over 50 countries, mostly in Europe, Australia, and North America.
CooSpo claims this heart rate monitor is soft, comfortable, and compatible.
Additionally, CooSpo heart rate monitor has very good 4.3/5 stars on Amazon, which shows that users are mainly satisfied with it.
Who is it best for?
As the previous one, this heart rate monitor can as well be used by anyone and for numerous purposes.
However, if you are a streamer who, let's be honest, needs a heart rate monitor just for fun, we believe that this one might be a better option for you since it is very cheap and can still do a good job for you.
Nevertheless, we are sure that CooSpo's reasonable price will draw many people's attention.
Key features
Apart from having a very good price-quality relationship, this device can also be proud of very accurate results.
CooSpo heart rate monitor is waterproof and our findings suggest that it is compatible via Bluetooth and ANT+ with various GPS devices, smartphones, and apps (such as Strava, Zvift, Wahoo, etc.)
Furthermore, you'll be able to see real-time heart rate, the strap is comfortable to wear, can be washed in the washing machine and its length is adjustable from 165 to 240 cm.
The battery doesn't have to be charged and the electrodes have to be wet when you start using the monitor as with the previous model.
And these mentioned things are the things CooSpo got right.
As for things they got wrong, there are several things to mention.
First of all, there is no integrated memory within this device, which means that you won't be able to check your previous heart rate results.
Furthermore, even though during our evaluation process we haven't come across this kind of problem, we have to mention it.
Several users argued that the device wasn't compatible with many apps and that only a few of them worked well with this monitor.
Furthermore, since we haven't used it for a long time, we haven't been able to collect the data regarding battery durability.
However, some users who used it for a longer period than we did, claimed that the device stopped working after only 10 hours.
So, it was our duty to warn you of these possible issues, and if these claims are true, then this device is definitely worse than expected.
---
3. Polar H7

As we already explained, Polar has been one of the most successful companies in the area of heart rate monitor production for more than 40 years and that speaks for itself.
When it comes to H7, Polar guarantees a lot of possibilities and great accuracy.
Additionally, they promise good connectivity, high-quality and reliable devices, soft straps, and excellent battery life.
Users seem to be satisfied since they awarded H7 with 4.2/5 stars on Amazon and we have analyzed all these claims and now we'll reveal our conclusions.
Who is it best for?
Unlike the previous heart rate monitor, this one can easily be used by both streamers and athletes, since it can meet all the expectations.
Normally, this monitor is more expensive, but you'll get much better quality.
So, to summarize, your decision will mainly depend on how much money you want to spend and how reliable device you want.
Key features
H7 uses only Bluetooth technology, unlike some rival heart rate monitors which use ANT+ as well.
Just like other Polar heart rate monitors, H7 also uses ECG instead of optical technology, and that provides more accurate results.
H7 uses a standard coin cell battery (CR2025) which, according to previous experience, guarantees at least a couple of years of use before the necessary replacement.
This kind of battery is easy to find and is very cheap so you won't have any trouble finding the replacement.
Apart from a durable battery, the main strength of this heart rate monitor is the Polar Beat app which is great, very easy to use, and provides you real-time results.
As for H7's cons, we can't find many of them.
The only one we've managed to discover is the fact that there are not many apps with which this device is compatible.
Wetting the electrodes before you start measuring your heart rate is necessary like with any other monitor.
In terms of design, H7 is a little bulkier than some other rival monitors.
The strap is comfortable, and as we could notice it doesn't cause irritation or any discomfort, and you can choose between three possible colors: black, pink, and blue.
The strap can be washed in the washing machine without a hitch and the device itself is waterproof.
In conclusion, we could say that this heart rate monitor definitely exceeded expectations.
---
4. CooSpo IP67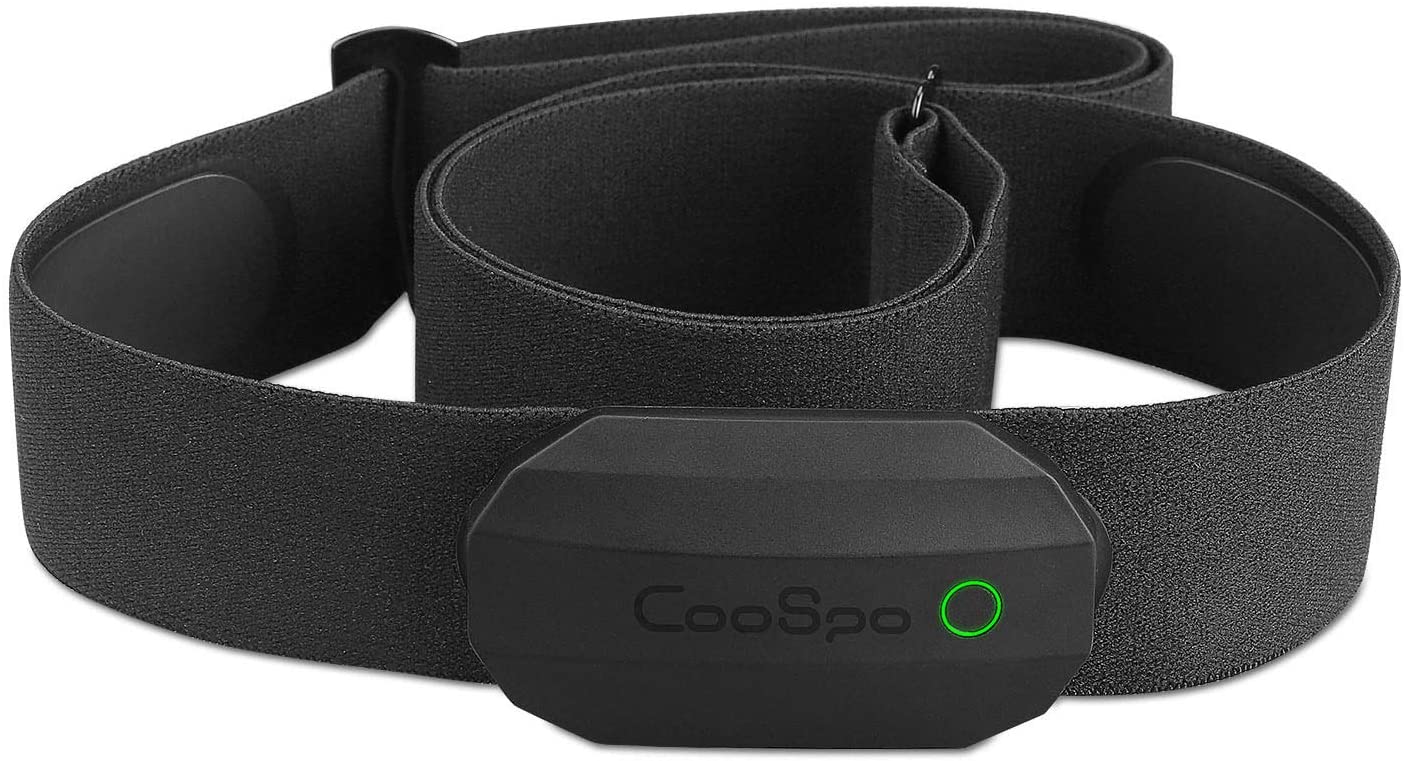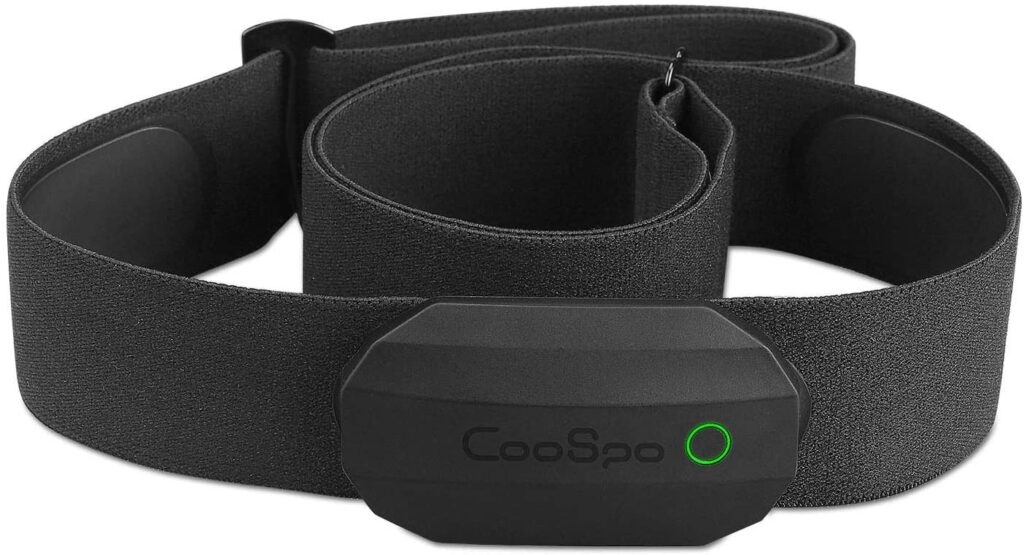 This is another heart rate monitor produced by CooSpo, interestingly with the same number of stars on Amazon as the previous one.
CooSpo describes it as accurate, efficient and, powerful.
They also claim that it's highly compatible with a number of apps and that it can be connected via several sources.
Finally, they assert that the strap is high-quality and comfortable.
Who is it best for?
Given that this heart rate monitor has solid performance regarding its price, we could say that it can work well as a twitch heart rate monitor.
Of course, it can be used for training as well, but we believe that you could find a bit better monitor for that purpose, since people who want to use a heart rate monitor for twitch streaming mostly need a durable battery, while athletes are more interested in actual performances of the monitor.
Key features
According to the data we've gathered, IP67 has good Bluetooth 4.0 and ANT+ connections which work really well and with no major issues.
With these connection options, you can connect this monitor to several devices, which is an important feature for streamers.
When you are connected and the device starts measuring your heart rate, LED light indicator will react and you will also hear a beep.
IP 67 is very lightweight and the strap is very comfortable, so you won't feel any pressure or pain even after a couple of hours of streaming and wearing it.
Perhaps the major strength of this device and an improvement compared to the previous one is a much faster connection.
So if you are in a hurry, you can be sure that this monitor won't slow you down.
On the other hand as an area to improve we have to point out a very serious problem with battery durability.
Even though CooSpo assures us that the battery can last up to 12 months, a great number of users had serious issues with the battery that lasted a month, a few weeks, or even only one week.
Since this feature is probably the most important feature for streaming, this device really let us down and proved that it's not a good option for streamers.
Of course, this is a big problem for any user of this device, regardless of the purpose, so, unfortunately, we have to determine that IP67 is worse than expected.
---
Things to Consider when Buying Heart Rate Monitor for Streaming
1. Accuracy
Even though as a streamer you will use the heart rate monitor for entertainment purposes, you still want to get real and accurate information.
Therefore, although accuracy might not be the most important feature to a streamer, it still is important enough to be on this "things to consider" list.
2. Compatibility and connection
This might be the most important feature for a streamer, given that you have to connect your heart rate monitor to your streaming device.
You'll definitely want your heart rate monitor to be highly compatible with as many devices and apps as possible and, of course, you have to know whether it supports Bluetooth or ANT+, or even both technologies.
3. Comfort
We are all aware that streams usually last at least a couple of hours and, thus, you need to feel comfortable throughout that time.
If a heart rate monitor's strap is uncomfortable and if it irritates and pressures you, then you won't feel well during the stream and that's one of the most important aspects.
Therefore, choose wisely, check out our list and pick a heart rate monitor with a soft strap.
5. Price
Price is always an important feature.
In our opinion, all devices on this list are affordable, but the final decision will be yours, depending on your financial status and on how much money you want to spend on a heart rate monitor.
Conclusion
First of all, we hope that you found this list helpful.
As our favorite heart rate monitors, we would highlight both Polar monitors on this list.
However, if we had to choose, we would probably buy Polar H10 since it has very good compatibility, supports both Bluetooth and ANT+ technologies, and, most importantly, supports GoPro Hero 4 and 5 options which can be a great possibility for a streamer.
Related: Best Streaming Deck
We are sorry that this post was not useful for you!
Let us improve this post!
Tell us how we can improve this post?