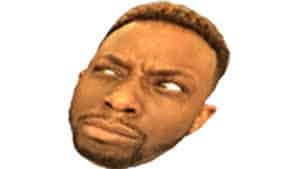 CmonBruh Emote Meaning
"Come on, bruh! What have you just done? I'm, like in visible confusion!"
Ah, where do we begin from with cmonbruh emote?
There are quite a few instances where you can use twitch emote cmonbruh, and believe it or not, not every of these is the right way to use the cmon bruh emote.
For starters, the plainest and simplest way to use twitch cmonbruh is to show others you are visibly confused by what someone did or said in the course of gaming.
Next, our emote here, frequently misspelt as comonbruh, may be used as a feedback to a racist comment or joke that someone made.
Now, beware the trap!
Cmon bruh twitch emote, if used incorrectly, will mark you as a racist for (gaming) lifetime! It's similar to TriHard emote. Make the mistake once, and you're doomed for good.
So, bewilderment and controversy are the two ideas carried through cmonbruh emoji.
The Story Behind
The next question on our agenda is – where did cmonbruh come from?
We would all like to pin this one down, but I am sorry to tell you cmonbruh emote origin is not quite so clear.
It is only known that it first showed up sometimes in 2016 (or, rather, it became popular around that time) and has been greatly in use ever since.
The next thing we know is that it picked up this racist undertone and we need to be extra careful when we use it.
The common belief, though, is that the face behind cmon bruh is the face of a Twitch staff member, but there's no way knowing for sure now.
Still, even though the cmonbruh origin remains unclear – who actually cares about it? – there's no reason why not to use it (as long as you're using it right)!