Videos have a 92% audience reach worldwide. They are considered the most powerful type of content that engages people on a much deeper level.
Videos bring value, build brand awareness, and significantly increase conversions. If they are good enough, of course. Creating an informative video is not enough. You also need to make it beautiful and immersive with the help of different instruments.
Below, we share 12 video editing software that helps to create engaging content for Instagram, Facebook, YouTube, TikTok, and other mediums.
Paid and Free Video Editors You Should Choose in 2023
These programs come in multiple shapes and sizes, suit all types of budgets, and cover a wide range of features. We are sure that after reading our comprehensive guide, you will find the best software to make videos that are not inferior to Oscar-quality movies.
1. Movavi Video Editor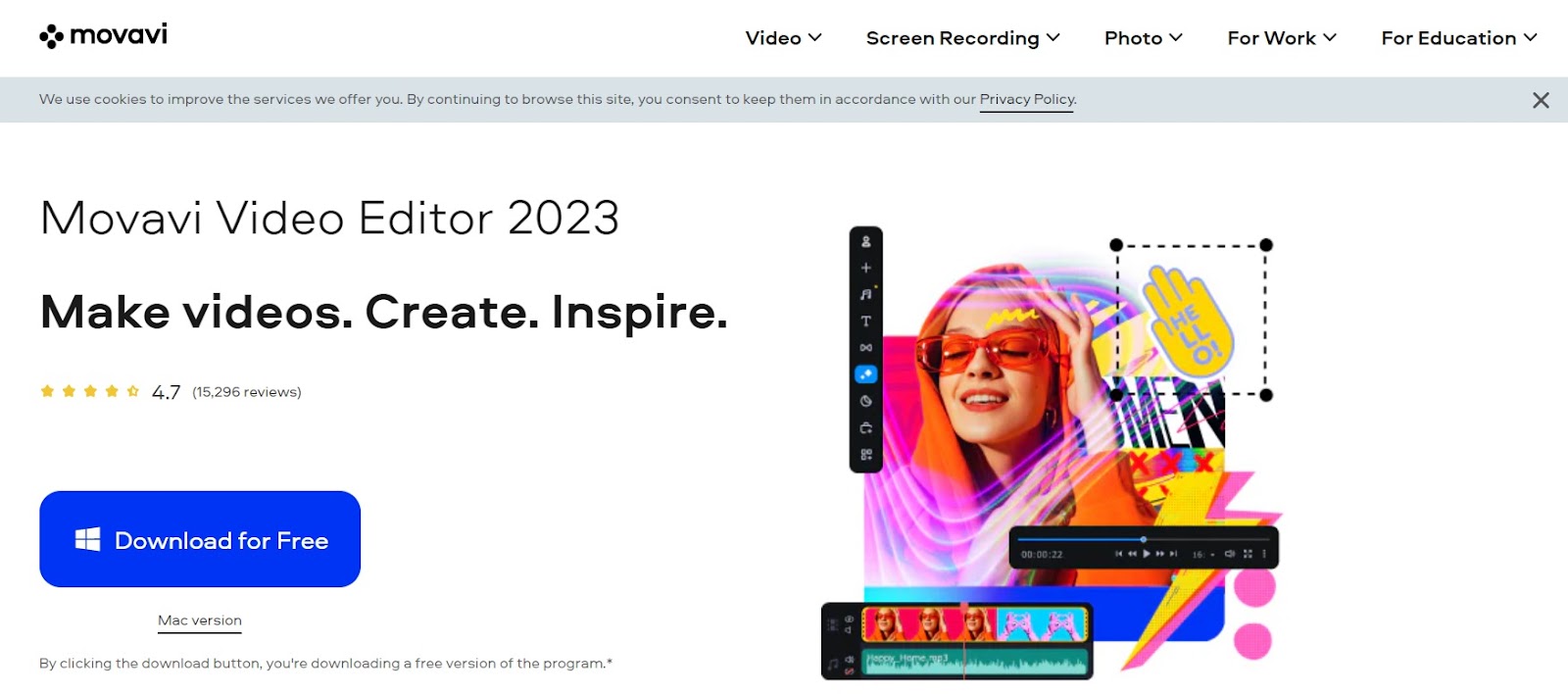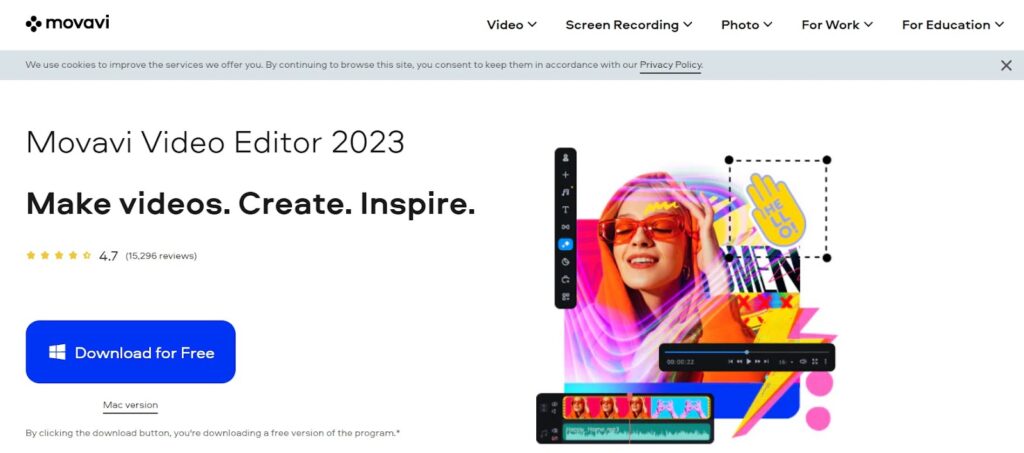 Price:
Free trial for 7 days
1-year subscription for $16.95
Lifetime license for $21.95
Compatible systems:
Windows and Mac
Movavi Video Editor is used by millions of people both for personal purposes and as a part of video content marketing to acquire leads.
Thanks to the clear design, reasonable prices, and constantly updated versions, this program becomes an irreplaceable instrument for creating engaging content.
Pros
AI background and noise removal
Direct upload to Google Drive, TikTok, Vimeo, and YouTube
Intuitive user interface
Movavi Effects Store
Quick video creation
Motion tracking
Cons
Rendering could be better
2. DaVinci Resolve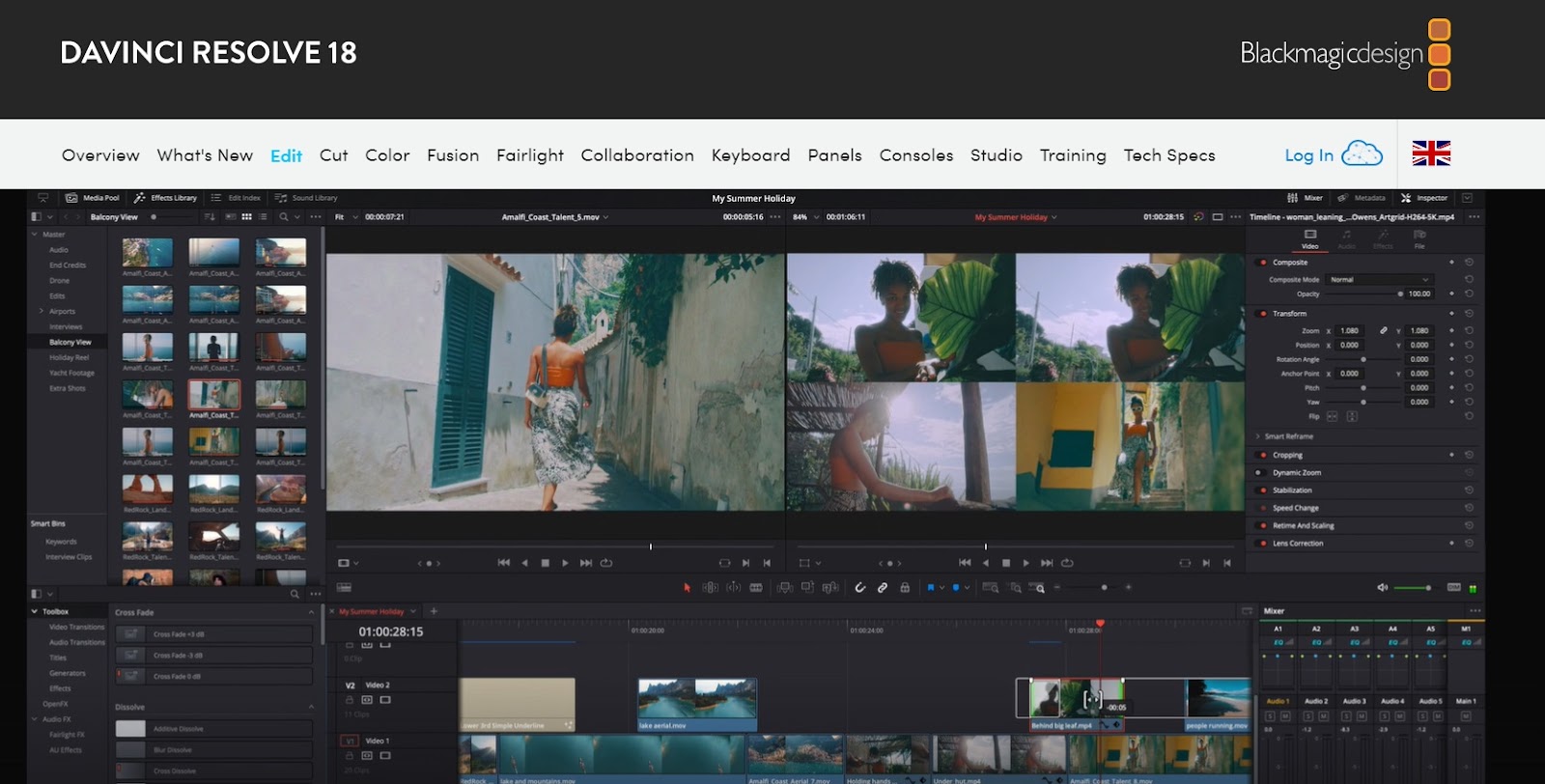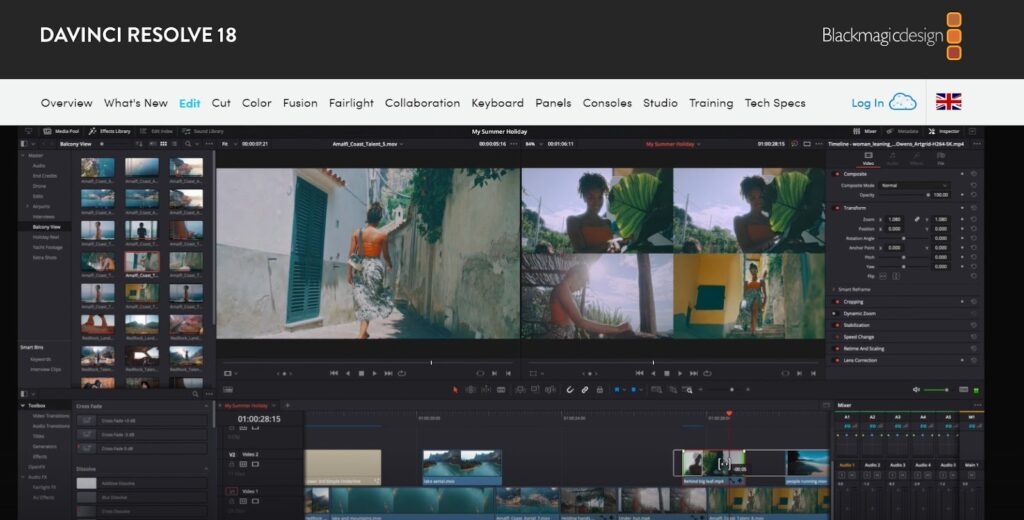 Price:
Free version
Premium offers for $295 lifetime
Compatible systems:
Windows and Mac
DaVinci Resolve is a good video editor suitable for experienced editors but beginners as well.
The basic version includes all standard features, so you can easily edit the video without spending a dollar. But be ready that it may take a while to master the interface.
Pros
Audio overlays and scrubbing
Adjustment clips
Multicamera editing
Closed captioning 
DaVinci Resolve Speed Editor and Keyboard
Cons
Only a lifetime subscription
Occupies lots of system resources
3. Shotcut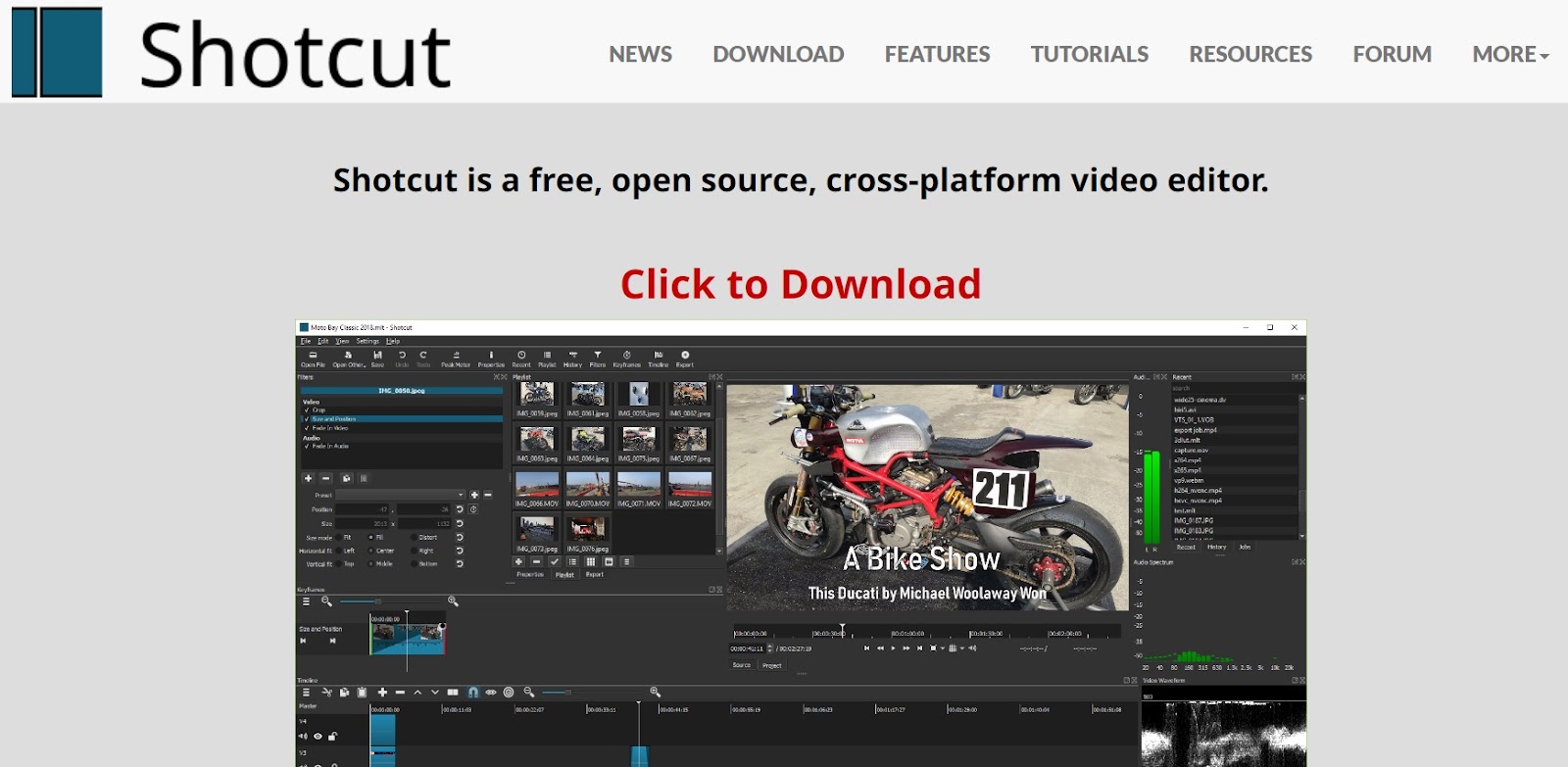 Price:
Free
Donation-based
Compatible systems:
Windows, Linux, and Mac
With the help of Shotcut, you can create engaging videos for LinkedIn, Instagram, and other popular platforms.
It is an open-source video editor with plenty of tutorials, so even beginners will easily understand how it works.
A significant number of supported formats, advanced tools, and bandpass features are only a small piece of what Shotcut can offer.
Pros
Supports FFmpeg, ProRes, 4K, and other formats
Native timeline editing
AVI encoding and decoding
Webcam and audio capture
Network stream playback
4. KdenLive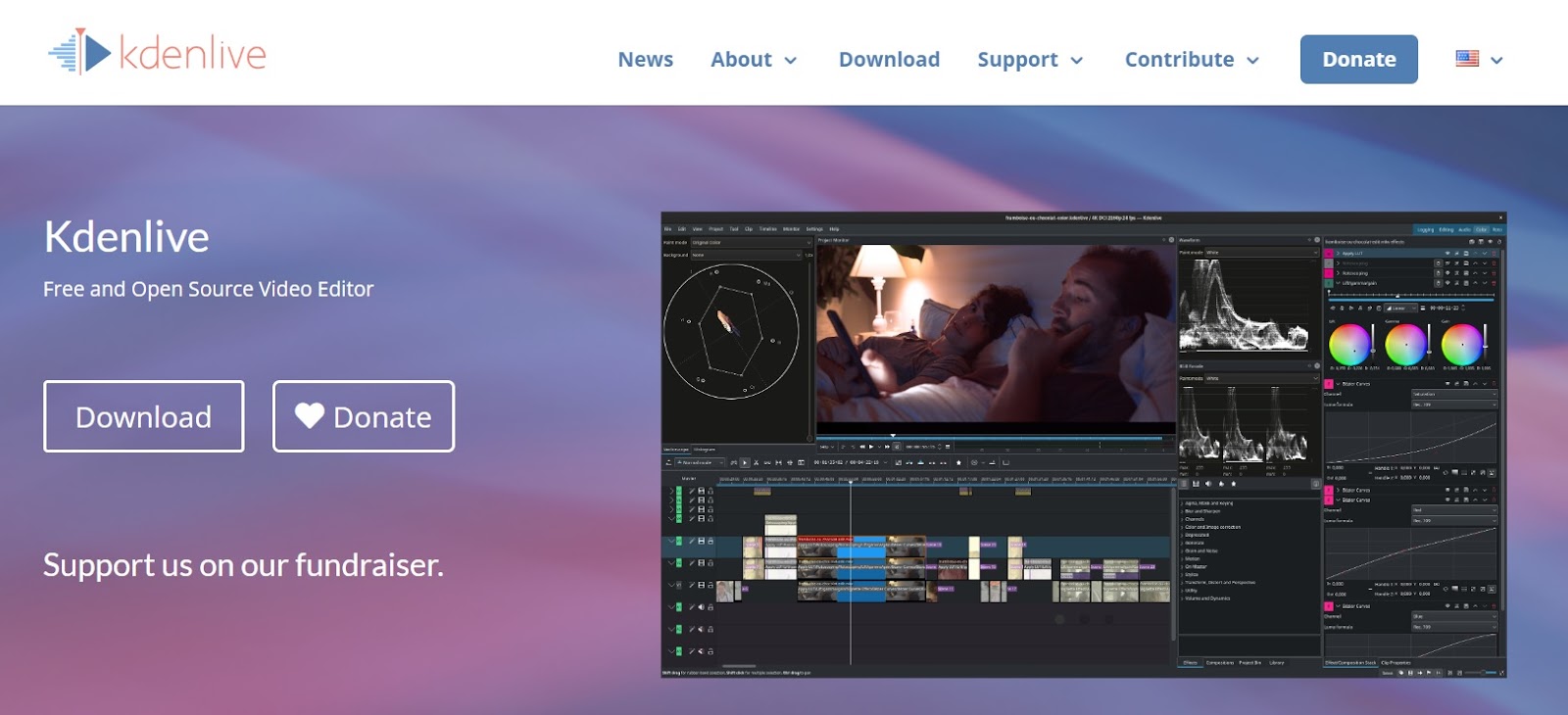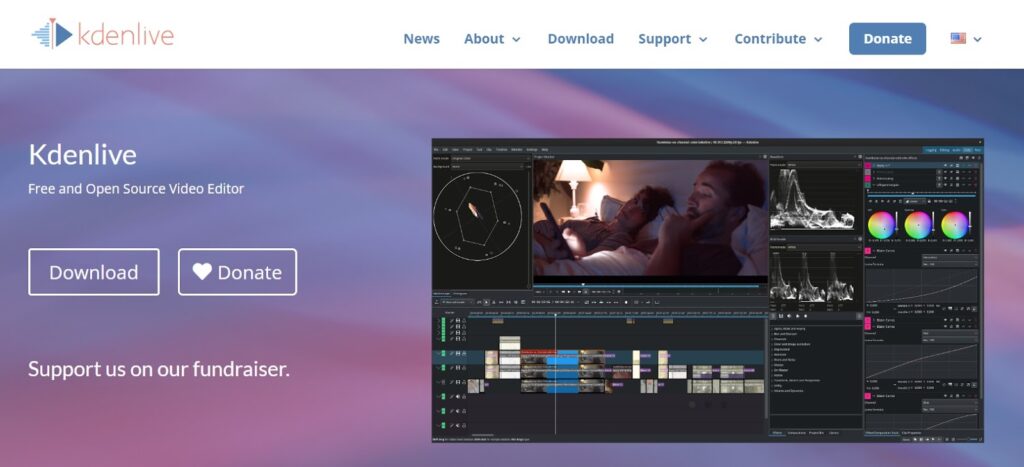 Price:
Free
Donation-based
Compatible systems:
Windows, Mac, and Linux
KdenLive is another open-source video editing software that is free to use.
You can thank developers with a donation that helps the program grow and evolve. Video processing is mostly done by the MLT Framework.
Pros
Audiometer, histogram, and vectorscope 
Proxy editing
Automatic backups
Timeline previews
A variety of interface themes
Cons
Relies on other open-source projects 
5. HitFilm


Price:
Free
$349 for Pro Version
Compatible systems:
Windows and Mac
If you want to understand how to create cutting-edge videos, consider using HitFilm. It is usually used by more advanced editors but the result is definitely worth the effort.
When using a free version, HitFilm asks for a social media status update during each download. The list of features this editor offers is truly amazing.
Pros
3D effects
Motion tracking and cropping
Numerous transition tools
Composite shots
Audio mixers
Auto stabilizer 
Cons
Mostly targets advanced users 
The pro version is pricy
6. Kapwing


Price:
Free
$24 monthly or
$192 annually for the Pro version
Compatible systems:
Any web browser
Kapwing is a rather unusual video editor, as it targets teams, not individuals.
With this collaborative software, teams can embed YouTube videos in Outlook, create presentations, and do many other things.
The free version allows unlimited exports with a watermark, auto-subtitles for up to 10 minutes per month, and 720p quality.
Pros
Videos up to 120 minutes
4K quality
AI editing instruments
Custom fonts
Limitless cloud storage
Cons
A limited set of features in the free version
7. VSDC


Price:
Free
$19.99 for advanced features
Compatible systems:
Windows
VSDC Video Editor is good for beginners and those who don't want to spend much time creating engaging content.
It can fix the footage rather quickly with motion tracking, color correction, and other useful instruments. The number of VSDC users exceeds 5 million.
Pros
Mask tool
Green screen
Chroma Key functionality
Post-production effects
3D templates
Cons
 No acceleration features
Clunky interface
8. KineMaster


Price:
Free
$3.99 monthly paid plan
Compatible systems:
Android, iOS, and Chromebook
KineMaster is an affordable but still powerful video editor for those who prefer working on the go.
With its help, users can record a video, edit it, and upload it to the required platform in a matter of minutes.
There are over 2,500 downloadable effects and transitions to achieve outstanding results.
Pros
KineMaster store with fonts, stickers, effects, and sounds
4K videos
Automatic backups
Blending options
9. Wave.video


Price:
Free
$16 -$48 per month
Compatible systems:
Any web browser
Wave.video is a convenient and user-friendly editor with plenty of extras like video marketing, thumbnail creation, and live streaming.
There are numerous video tutorials and articles about each tool and feature. If you want a no-watermark video, you'll need to purchase the advanced version. 
Pros
Stock library with millions of templates and images
Automatic subtitles
Background removal
Video hosting
Screen sharing
Cons
Absence of a downloadable version
10. SoapBox

Price:
Free trial
Annual packages start from $228
Compatible systems:
Any web browser
SoapBox is a free Chrome extension that is used to catch screens and videos and make them more appealing with the help of multiple editing instruments.
SoapBox is an irreplaceable tool for startups and influencers who need quality talking heads, product demos, and tutorial videos.
Pros
Browser-based screen recording
Intuitive video trimmer
Video CMS
Custom Video Player
Cons
Expensive compared to other editors
11. CapCut


Price:
Free
$7.99 monthly or
$44.99 annual subscription
Compatible systems:
Windows and any web browser
CapCut is an all-in-one video editor that has both an online and a downloadable version.
You can enrich your videos with more than 500,000 audio files, 4,600 stickers, and 200 filters.
CapCut also has social media tools to create and edit TikTok, YouTube, Facebook, and Instagram videos.
Pros
Many templates
AI tools
Speech to text
Background removal
Video resizing
Cons
60 FPS maximum frame rate
12. Lightworks


Price:
Free
$24.99/month for Pro Version 
Compatible systems:
Windows, Mac, and Linux
Lightworks has been on the market for over 30 years and remains one of the most popular video editors in the world.
Its Pro version was even used in Hollywood movies like 'The King's Speech' with Colin Firth. Lightworks is a bit complex but has an introductory guide with the main features covered. 
Pros
Background processing
Real-time sharing
Speed optimization
Simple multi-camera editing
Cons
Exports of up to 720p in a free version
Conclusion
Video editors are among the best content creation tools as they let the audience experience a full immersion into the process.
And you don't need to be a professional video editor because modern online programs are intuitive and easy to use. You already have a list of top-12 free and paid video editors, so it is the right time to make the first step toward the content of your dreams.