Streaming has become more than just a hobby; it's a passion, a career, and a way of life for many. Along this journey, I've tried countless audio tools, always searching for that perfect sound. Then, I stumbled upon the Maono Caster C2 NEO.
Its sleek design immediately beckoned, promising a blend of form and function. As I unboxed and set it up, the anticipation was palpable.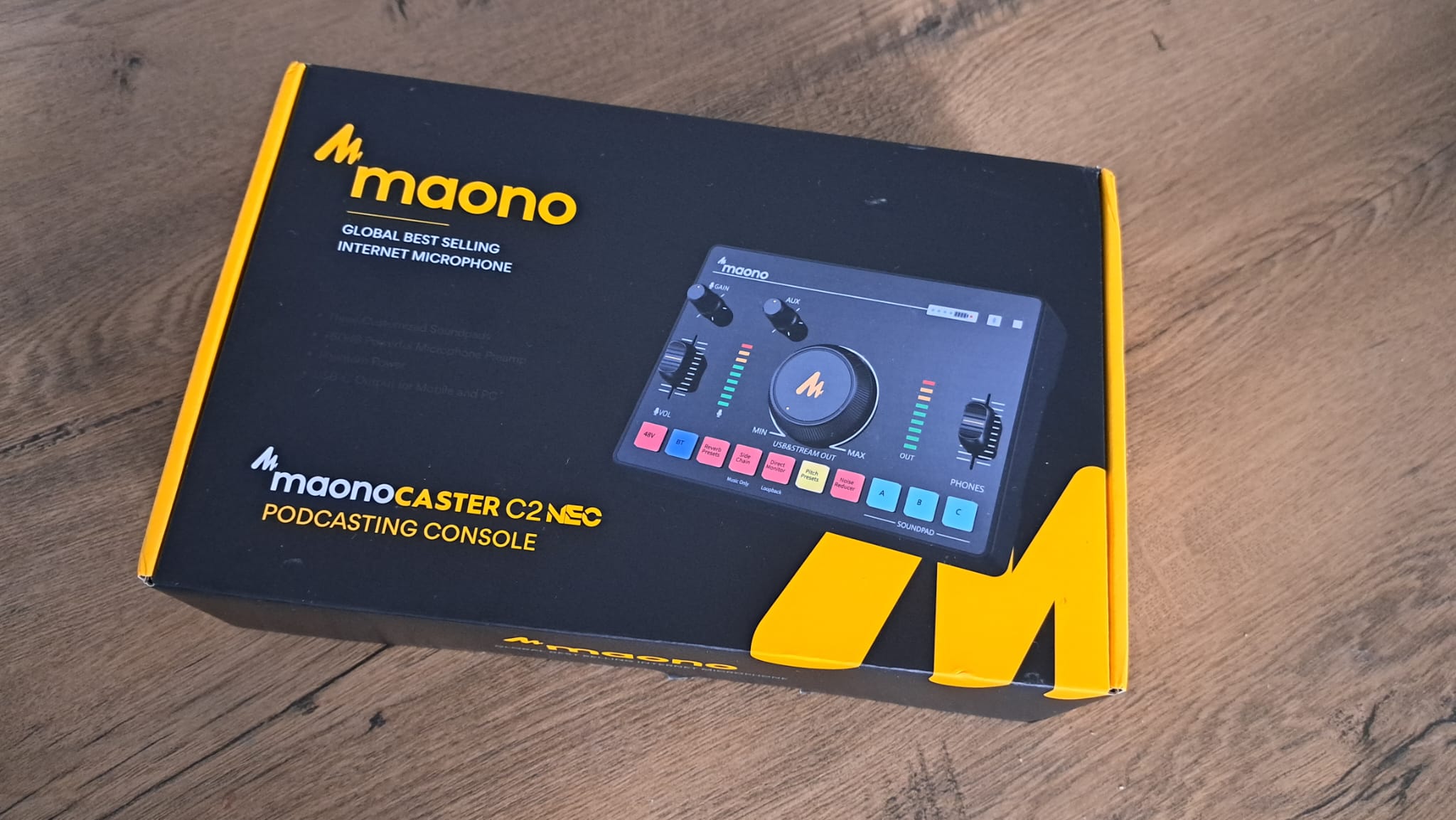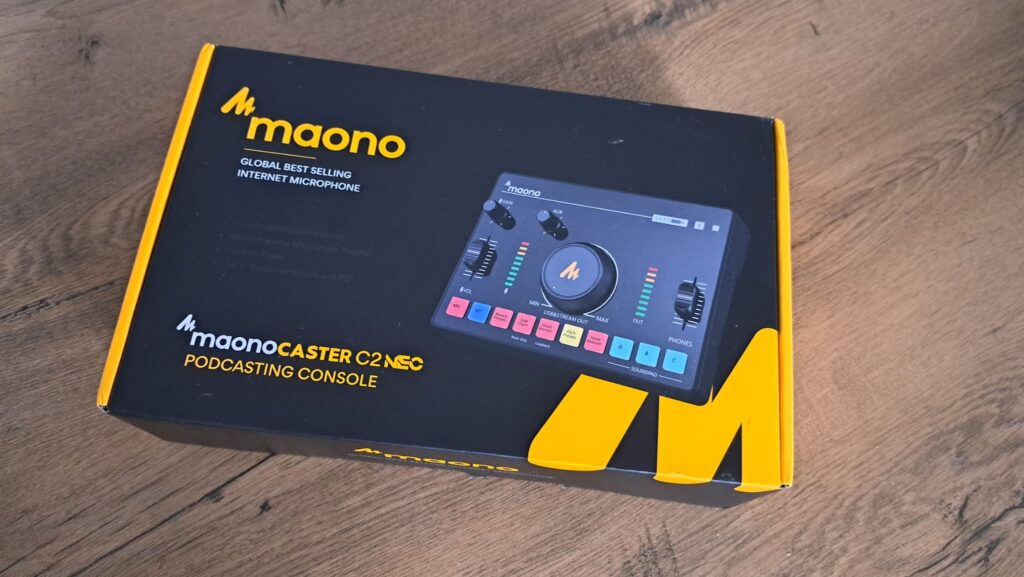 After weeks of rigorous testing, I can confidently say: this isn't just another audio mixer on the market. It's a game-changer.
Design and Build Quality
At first glance, the Maono Caster C2 NEO exudes a sense of sophistication. Its sleek and compact design makes it not just a functional piece of equipment but also a stylish addition to any setup. Perfect for those tight desk spaces or on-the-go streams, it's a testament that good things often come in small packages.
The matte finish isn't just about aesthetics, either. Beyond giving it a modern and refined look, it cleverly resists smudges. No more constantly wiping away fingerprints, which, if you're anything like me, can be a pet peeve.
But let's talk durability. This isn't a device that just looks good; it feels sturdy in hand. Built with high-quality materials, it's evident that Maono didn't cut corners. Every edge, every button feels designed to last, promising longevity for those long streaming sessions and beyond.
Features and Functionality
Sound Customization
When it comes to sound customization, the Maono Caster C2 NEO truly stands out. First off, its ability to support up to 60dB of ultra-low-noise gain for dynamic mics, along with offering 48V of phantom power for condenser mics, ensures that your audio remains crisp and clear.
The device's noise reduction capabilities are further elevated with its 2-level intelligent noise reduction function. Whether it's the hum of a fan or a distant conversation, unwanted background noise is effectively minimized.
The real-time monitoring feature is an absolute boon, allowing instant adjustments. The interface is beautifully user-friendly, offering independent controls for microphone gain, volume, monitoring, output, and accompaniment input.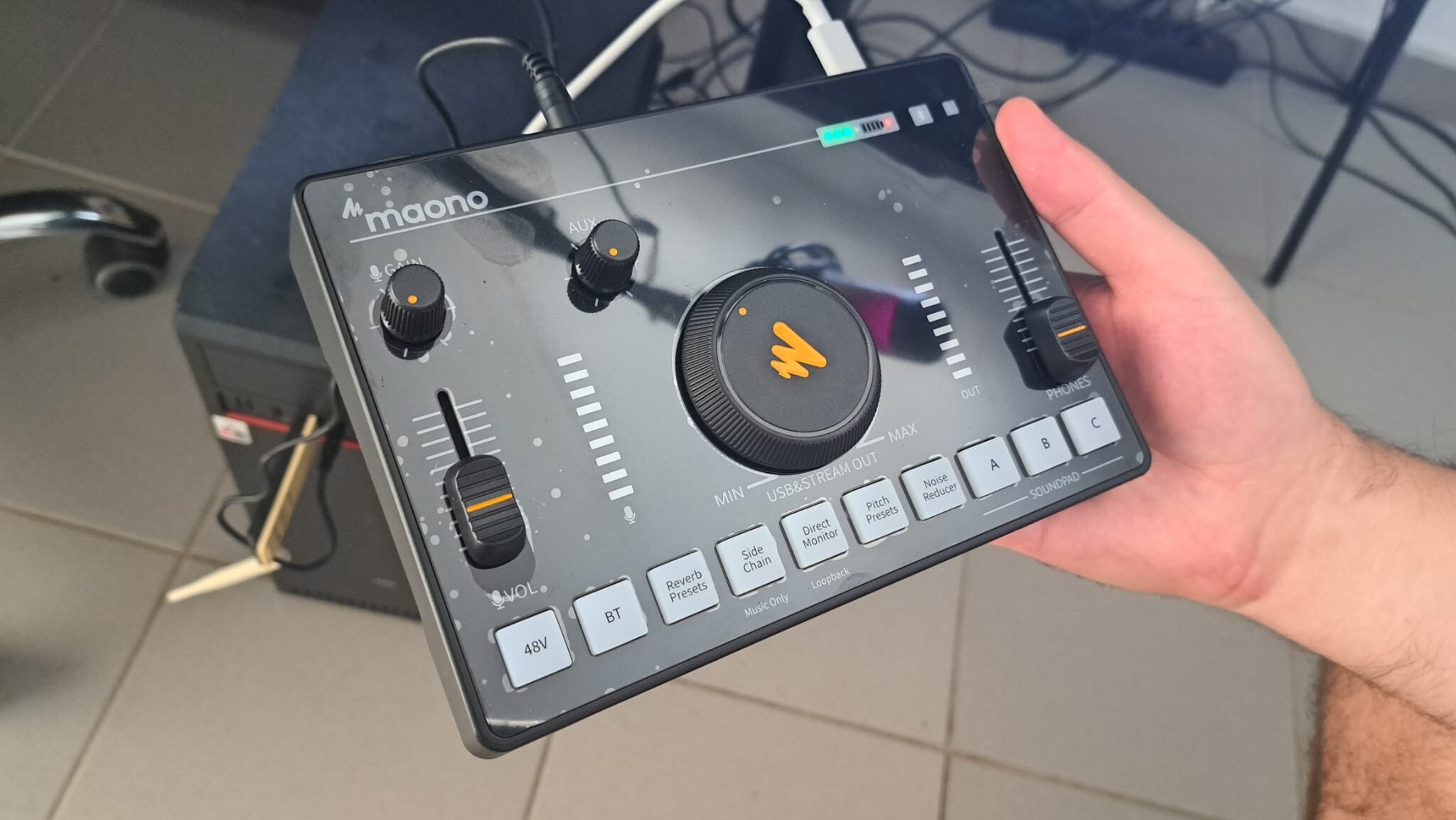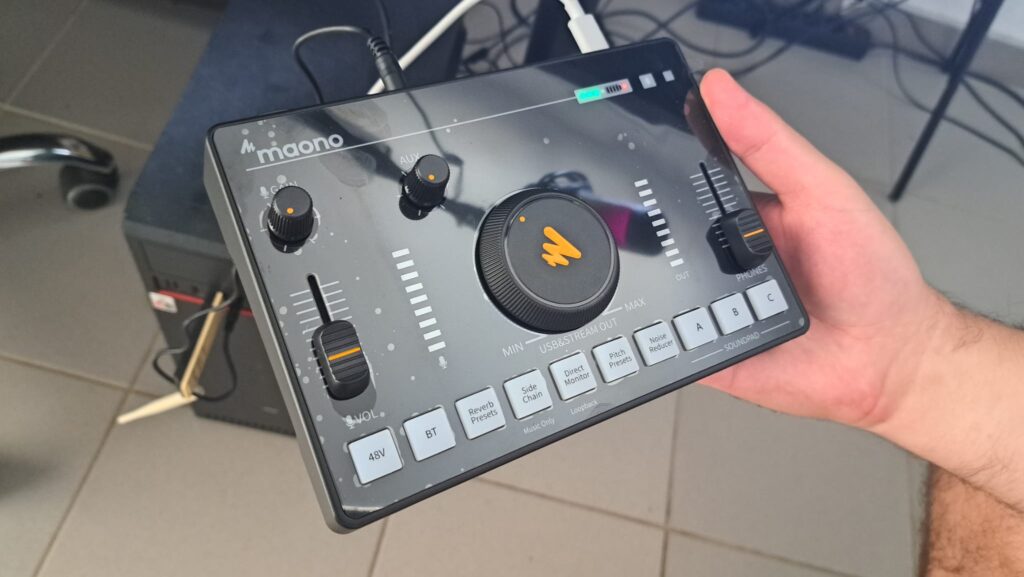 Microphone Support
Microphone support with the C2 NEO is top-tier. Its versatility in microphone compatibility ensures that whatever your microphone preference is, the device has you covered. The real-time monitoring feature not only ensures that your voice remains clear but also that you're always in control of your broadcast's sound quality.
Noise Reduction
Diving deeper into noise reduction, the two-level background interference minimization truly stands out.
It's not about simply reducing noise; it's about refining your audio, ensuring that your voice remains crisp, clear, and front and center, free from any distractions.
Bluetooth and Connectivity
Lastly, in today's wireless age, Bluetooth and connectivity are paramount. The C2 NEO understands this. With its wireless Bluetooth input, connecting to various devices becomes a breeze.
Whether you're streaming from a phone, tablet, or computer, this device seamlessly integrates, ensuring that you're always connected and ready to go.
Performance and Sound Quality
The Maono Caster C2 NEO doesn't just talk the talk; it walks the walk. One of the first things I noticed while using it was the adjustable gain. The ability to tweak up to 60dB of ultra-low-noise gain offers a flexibility that's invaluable, especially during those crucial moments of a live stream or recording.
This device's compatibility with high-end microphones is another commendable feature. Whether you're using a dynamic microphone that needs that extra gain boost or a top-tier condenser microphone requiring 48V of phantom power, the C2 NEO ensures your sound is captured with precision. This compatibility underscores the mixer's dedication to delivering unparalleled sound quality.
But what truly sets the C2 NEO apart is its overall sound output quality. Every word is crisp, every note is clear, and every sound effect resonates with clarity. Background noises are a thing of the past, ensuring that your voice stands front and center. From podcasts to music streams, the consistent audio quality ensures that your content always sounds professional, making the C2 NEO an indispensable tool for any content creator.
Comparison with Other Products
In the vast sea of audio mixers and interfaces, the Maono Caster C2 NEO confidently holds its own, especially when compared to some of the notable names in the industry.
Maonocaster E2
While the E2 targets streamers desiring an all-in-one audio studio experience, the C2 NEO stands out with its 12-step auto-tune, six reverb modes, and customizable sound pads. The C2 NEO's emphasis on high-end dynamic mics through its ultra-low gain XLR inputs, coupled with its +48V phantom power capability, gives it a slight edge for those prioritizing microphone versatility.
Focusrite Scarlett 2i2
 The Scarlett 2i2 is renowned for its music recording prowess and podcast mixing capabilities. It excels at producing clean recordings with minimal fuss. However, where the C2 NEO shines is in its dedicated features for streamers. From built-in reverb effects to the AMC NEO Audio Engine technology, the C2 NEO is tailored for those who need a mixer that understands the unique demands of streaming.
Behringer Xenyx Q802USB
The Q802USB might boast a variety of input types and comprehensive EQ settings, but the C2 NEO isn't far behind with its sound customization capabilities. While the Q802USB offers a broad range of inputs and comprehensive EQ settings, the C2 NEO focuses on delivering unparalleled sound quality, noise reduction, and seamless Bluetooth connectivity.
While each of these products has its strengths, the Maono Caster C2 NEO uniquely positions itself as a versatile and feature-rich solution, particularly for streamers and content creators looking to elevate their audio game.
Packaging and What's Included
Unboxing a new piece of tech is always a thrill, and with the Maono Caster C2 NEO, the experience doesn't disappoint. The packaging is both robust and compact, ensuring that the mixer reaches you in impeccable condition. It's clear that Maono has put thought into the packaging, emphasizing both aesthetics and protection.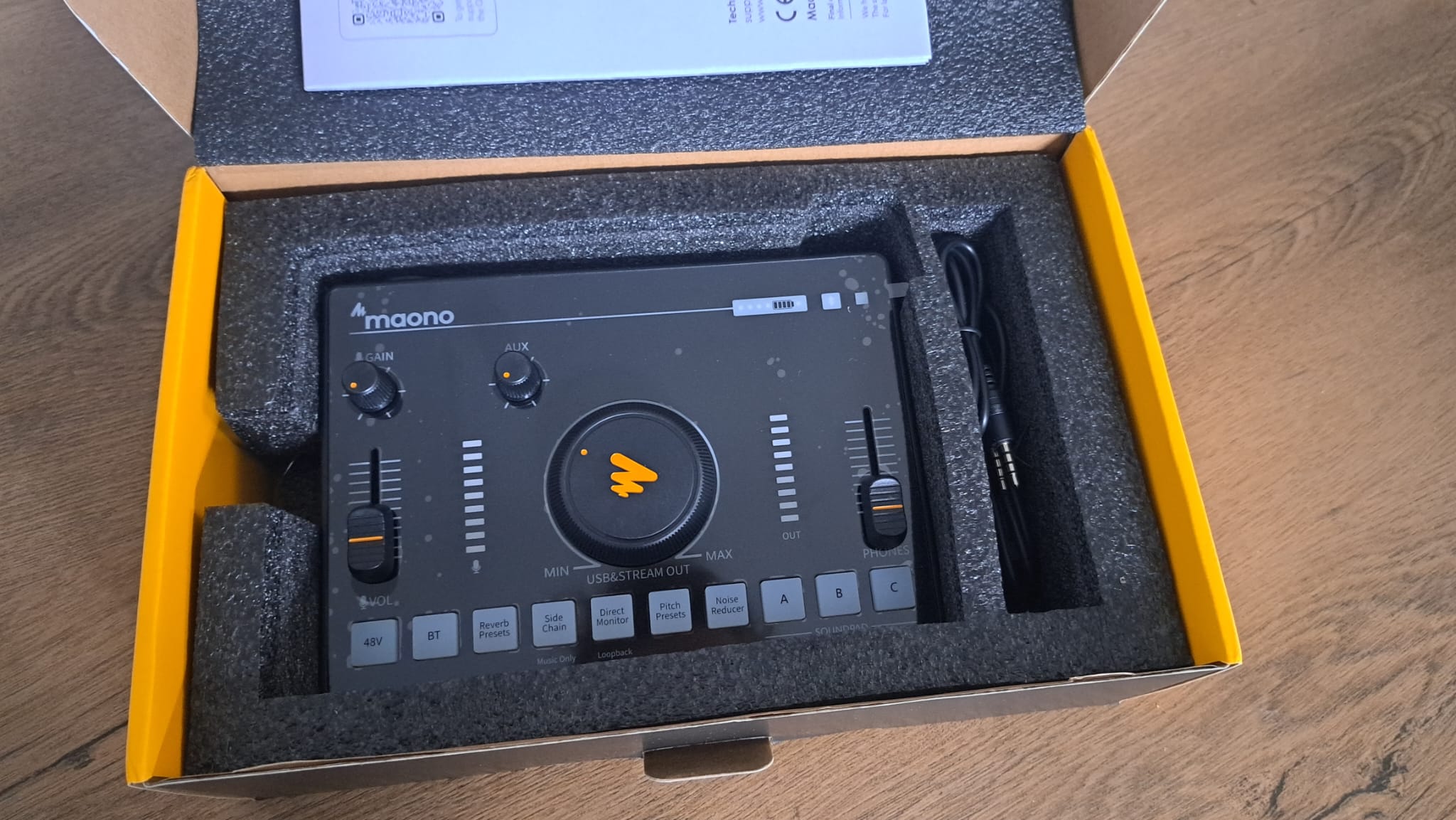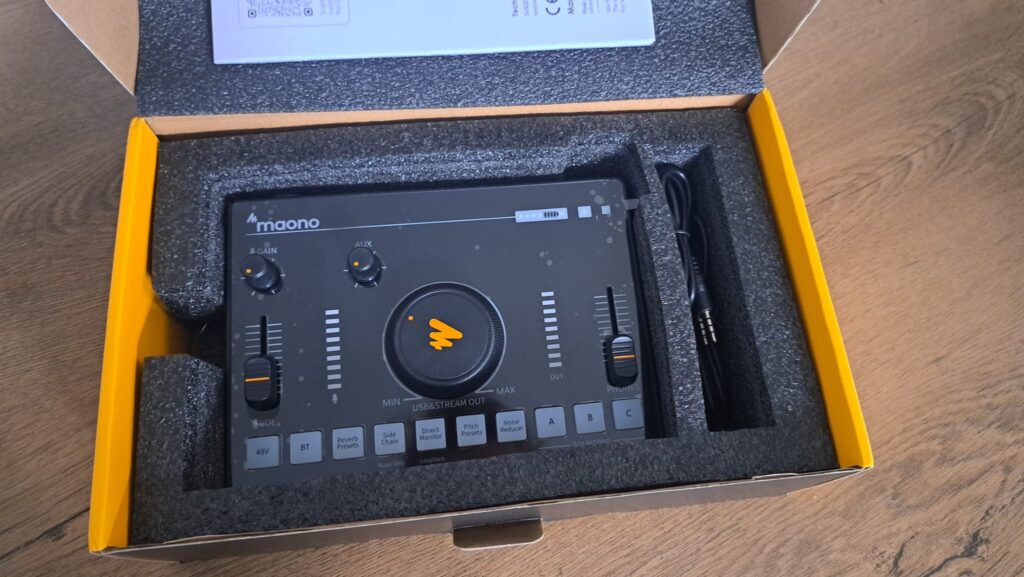 Inside the box, the contents are neatly arranged:
The Maono Caster C2 NEO Streaming Mixer: Compact, yet packed with features, it's the star of the show.
USB Cable: Essential for connecting the mixer to your computer, ensuring fast and reliable data transfer.
Audio Cable (3.5MM): A versatile male-to-male cable suitable for various audio setups.
User Manual: Comprehensive and clear, this guide ensures a smooth setup and operation process, even for those new to audio mixers.
Value Proposition
In the world of audio mixers, the Maono Caster C2 NEO offers an undeniable value. When weighing its affordability against the plethora of features it brings to the table, it's clear this device punches well above its price point.
But it's not just about the price. The C2 NEO boasts a user-friendly interface, ensuring that even those new to the world of audio mixing can navigate its features with ease. The intuitive controls, coupled with its feature-rich design, make it an attractive proposition for both novices and seasoned streamers.
Moreover, with the rising costs of quality audio equipment, the C2 NEO stands out as a beacon of affordability without any compromise on quality or functionality. For budding streamers or content creators on a budget, this mixer offers a blend of performance and value that's hard to beat.
In essence, the Maono Caster C2 NEO isn't just a purchase; it's a smart investment in your audio future.
Final Thoughts and Recommendations
Having spent considerable time with the Maono Caster C2 NEO, it's clear that this device isn't just another audio mixer in the market; it's a revolutionary tool for streamers and content creators. From its sleek design to its exceptional sound quality, every feature feels meticulously crafted.
For those looking to elevate their streaming sessions, podcasts, or any form of digital broadcasting, the C2 NEO comes highly recommended. Whether you're a seasoned pro or just starting out, this device caters to all. Its user-friendly interface, coupled with its rich feature set, ensures that you're always in control of your audio experience.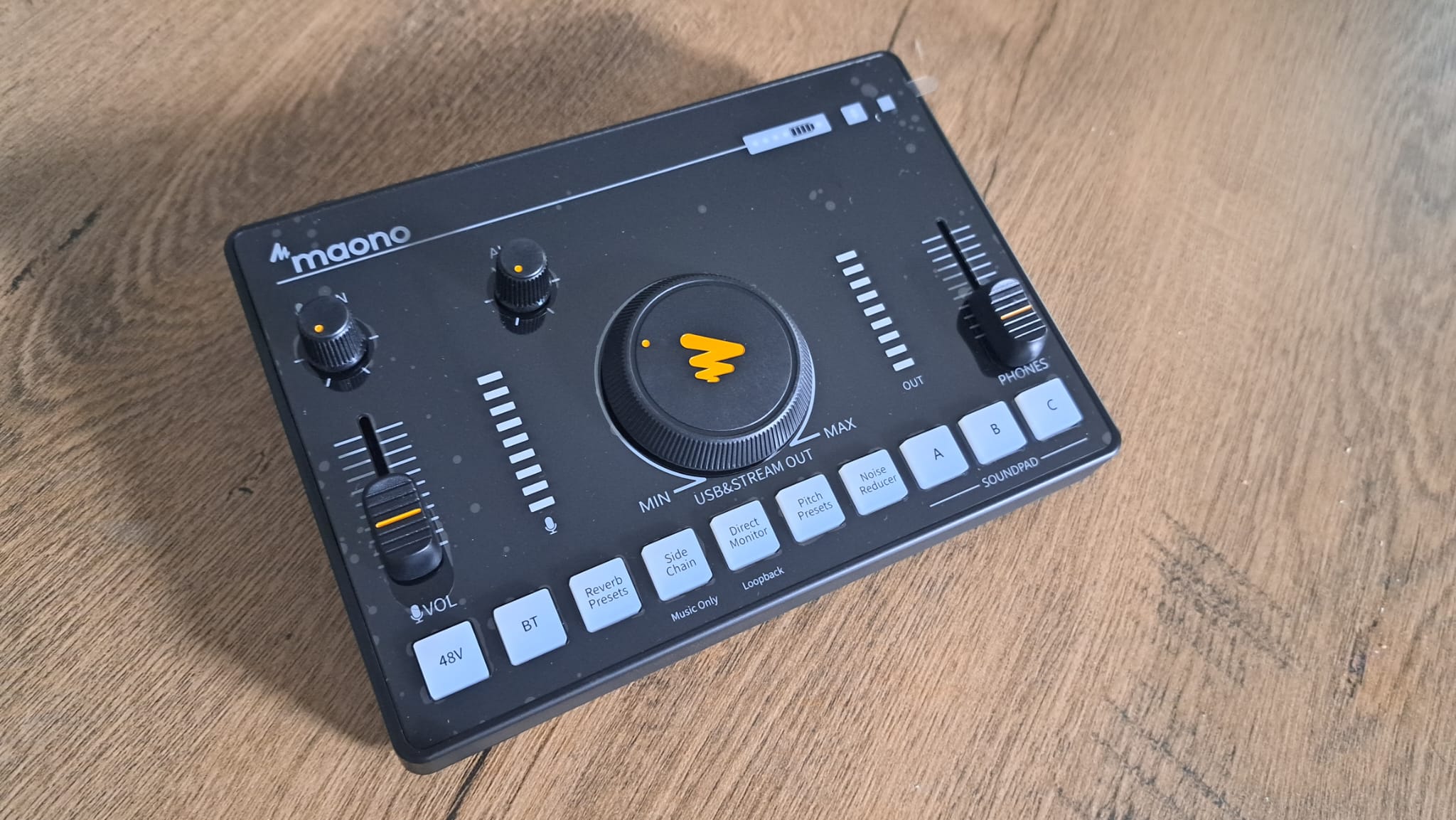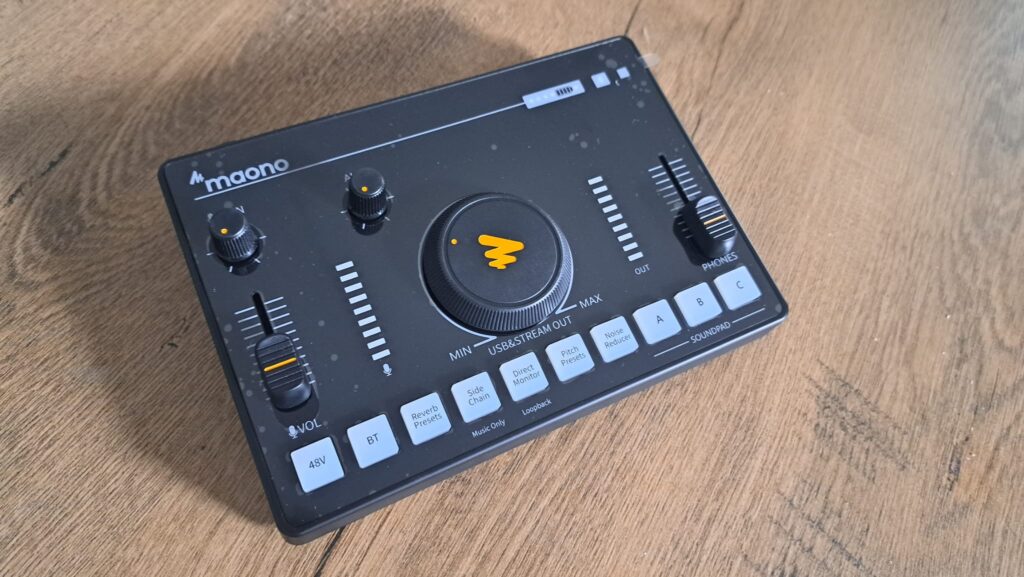 Ultimately, the question is, who stands to benefit the most from the C2 NEO? The answer is simple: anyone serious about their audio quality. If you're looking to make a lasting impression on your audience, to truly engage and captivate them, this device is your ticket.
In a nutshell, the Maono Caster C2 NEO is more than just a piece of equipment; it's a game-changer, a worthwhile investment that promises to significantly enhance your broadcasting experiences.
Conclusion
In the ever-growing world of content creation, standing out can be a challenge. But with the right tools, like the Maono Caster C2 NEO, you're already a step ahead.
This review has delved deep into its features, performance, and value, highlighting how this mixer is not just about the tech but about the experience it offers.
Compact yet powerful, affordable yet feature-rich, the C2 NEO is a testament to Maono's commitment to delivering quality. For those on the fence, remember: in the realm of audio, every detail counts, and with the C2 NEO, you're always in the best hands.