If you aspire to become a professional streamer, XSplit can help you make quality streams and videos.
This streaming software has many editing tools, stream features, and cool widgets for creating unique Twitch content.
Want to know more? Continue reading this Xsplit review!
Post 2 of 2 in the Software Review
XSplit Overview
XSplit is mostly used for YouTube gaming, but now more and more Twitch streamers are switching from other streaming software to this one.
Your options with this software are numerous. It is compatible with Twitter, Facebook, and Mixer as well, which means that your audience can follow your work on any platform.
Now, let's get into the review – I will start with some general requirements for XSplit, so you can check whether your computer meets all of them.
Related: XSplit vs OBS – Which One Is Better (2022)
General Requirements
If any of these criteria are not met, software probably won't work so well.
So, before you download it, and pay for a membership, make sure that the computer can support the program.
Firstly, you have to use Windows – it would be best if you have Windows 7 or another newer version. XSplit should work on XP and Vista as well, but Windows 7 or newer versions are the most recommended.
If you own a Mac, you can install it by previously installing Boot camp. With Boot camp, you can get Windows on your Mac, and then installing the software shouldn't be a problem.
You will also need version 7 of Internet Explorer and Adobe Flash Player.
Moving on to hardware requirements.
These are quite reasonable, so streamers do not have to get the latest hardware to run XSplit.
Check whether you have an i3 CPU and at least 4 GB of memory.
How to Set Up XSplit
Now that you are familiar with system requirements, we can talk about how does XSplit work.
If you own a Mac, installed Boot camp, and got Windows, you can follow these steps as well.
There are different XSplit versions – if you only want to try out the software, get the free trial.
Streamers that are already familiar with it can go ahead and purchase one of the subscriptions.
Firstly, choose the version you want to use – Broadcaster or Gamecaster.
Click on the download link and then just follow the instructions of the installer.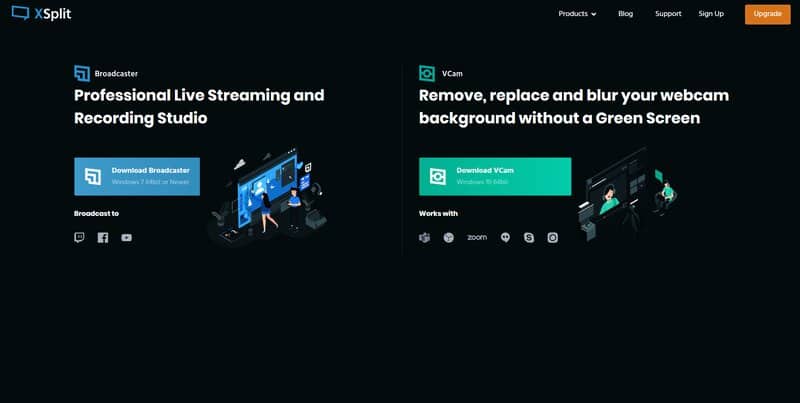 When the preferred version is installed on your device, you can sign in to the streaming platform.
As said, XSplit supports streaming on different streaming platforms, so log in to all you plan on using.
If you have been using OBS, you can transfer scenes to XSplit.
When you open XSplit, you will see how easy it is to set up.
There are a bunch of tutorials for beginners, as well as templates and pre-made scenes. Also, there is a setup wizard which can pick the best settings for streaming, so you do not have to tweak anything manually.
More experienced streamers can start tweaking the settings and making these scenes on their own from scratch.
Before the stream, connect external devices such as a microphone or webcam, and make sure that they are recognized by the software.
Then add images, widgets, and overlays.
Ease of Use
When it comes to XSplit design, it is quite straightforward and intuitive.
The dashboard is simple and everything you need is placed on it.
Each scene has its own set and you can add a scene by clicking on the "+" button.
Also, the Stream chat is placed on this main screen as well, so it is easy to see the audience's reaction to the stream.
The setup wizard also significantly helps with the setup process – if you aren't sure which resolution or bitrate would be the best, the wizard will automatically pick the optimum settings.
So, for streamers that want a program that is easy to navigate and practical, XSplit is a great choice.
Features
What else does XSplit have to offer?
Well, this software has everything – you won't have to search for other programs to add chat or alerts to your broadcast.
Here is a list of the best XSplit features:
1. Endless sources
Streamers use Twitch, Facebook, and other platforms to show their creativity, and XSplit doesn't want to limit you in any way.
So, you can add an unlimited number of sources.
If you own multiple webcams, you can connect all of them, and show all angles.
Also, it allows you to add as many overlays and widgets as you want.
Speaking of widgets, let's check them out.
2. XSplit Widgets
XSplit has different widgets for different streaming platforms.
For example, if you plan on using Facebook gaming for streaming, you can get widgets created for only this platform.
The same goes for Twitch and YouTube.
Besides these widgets, there are four universal ones – these can be used on all platforms.
These are widgets for the Image and Media slideshow and playlists.
3. Simultaneous streaming
Keep in mind that simultaneous streaming is a paid feature – you need to have a premium account.
This feature allows you to broadcast your video on more than one platform at once. For example, your Facebook and Twitch audience get to watch the stream at the same time.
If you do not get Premium XSplit, you will be able to stream only on one of the platforms, and then upload the recorded video on another.
4. Affiliate Programs
XSplit allows you to earn money by live-streaming – you can share affiliate links or set up donations.
Donations are available for Twitch, while YouTube gamers can use Super chat and stickers.
Price
Let's talk about how much does XSplit cost. As mentioned, there are different versions of XSplit.
Some have to be bought, while others can be used for free.
However, the free version has many limitations and you do not get the full XSplit experience with it.
For example, without a license, videos are watermarked. If you wish to remove a watermark, you have to use 30 FPS and 720p resolution.
Also, you cannot earn money via XSplit or create more than four scenes per stream.
As you can see, free XSplit is limiting your creativity, and luckily the license isn't expensive.
The prices are based on duration and any membership gives you full access:
3 months – $24.95
12 months – $59.95
36 months – $149.95
You can also purchase a lifetime license for $199.00.
These prices apply to both Gamecaster and Broadcaster. Wondering what you get with each? Let's check out both versions.
XSplit Gamecaster
I will start with the Gamecaster. So, what is XSplit Gamecaster?
This version is made for gamers and allows you to record quality videos while not interfering with the game performance.
All of those aforementioned overlays are available with Gamecaster, and you can get access to other amazing features as well.
For example, if you come across a problem, there is active support that consists of professionals.
There are also tutorials, manuals, as well as a quite detailed FAQ, so all problems are quickly fixed and you have all the software information.
One of the disadvantages of the Gamecaster is the lack of customization.
For example, when it comes to frame rates, all numbers are fixed, and the highest frame rate that can be set is 60 FPS.
XSplit Broadcaster
Even though the Gamecaster is made for gaming, I would still go for Broadcaster.
This version gives you more versatility.
Remember those unlimited sources, overlays, widgets? They are integrated into XSplit Broadcaster.
Also, it is easier to add media to streams with the Broadcaster.
All you have to do is download an image, save it on your computer, and drag and drop it to Broadcaster. Then you can resize it and move it around.
The options are endless, so even though Gamecaster is designed for gaming, Broadcaster gives more tools to work with and create better-looking videos.
Keep in mind that if you are a beginner, you might struggle with navigating the Broadcaster at first, but just keep exploring the program.
Conclusion
Whether you choose Broadcaster or Gamecaster, you won't be disappointed.
Streaming and editing tools on both platforms are amazing, and the design is awesome as well.
With multistreaming and endless sources, XSplit is the unmatchable streaming software.
Join our Discord Group. Ask questions, team up with fellow streamers, share memes, and more!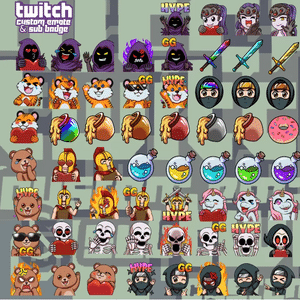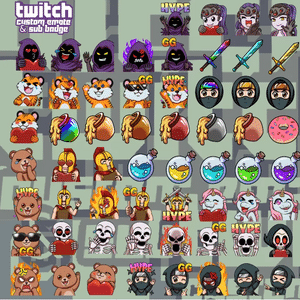 Claim for FREE:
FREE Emote PACKS
A book on growing your audience