Recording a podcast or streaming an event has become all the rage on the internet nowadays.
If you want to do this and have a lot of followers, you will certainly want to have the best XLR microphone you can get.
We did extensive research and will present to you 7 mics to choose from for your must-have list. You will also read the answers to some FAQs including what is an XLR microphone.
Post 6 of 11 in the Microphone for Streaming
Best XLR Microphones for Streaming
Reviews
Nothing ruins a recorded sound as much as the irritating background noise. Therefore, it is great news to know that there are XLR mics that are designed to isolate this noise. And do much more.
Read on for the list of best XLR microphones for streaming.
QUICK OVERVIEW: Best XLR Microphone
<!—INSERT CODE BLOCKS BELOW—>

Impedance: 150 Ohm
Voltage: 1.12 Millivolts

Frequency Response: 75 to 18,000 Hz
Sensitivity/SPL: -56dB ±2dB

Sensitivity/SPL: 44.1kHz, 48kHz
Connectivity: USB, XLR
1. Shure SM7B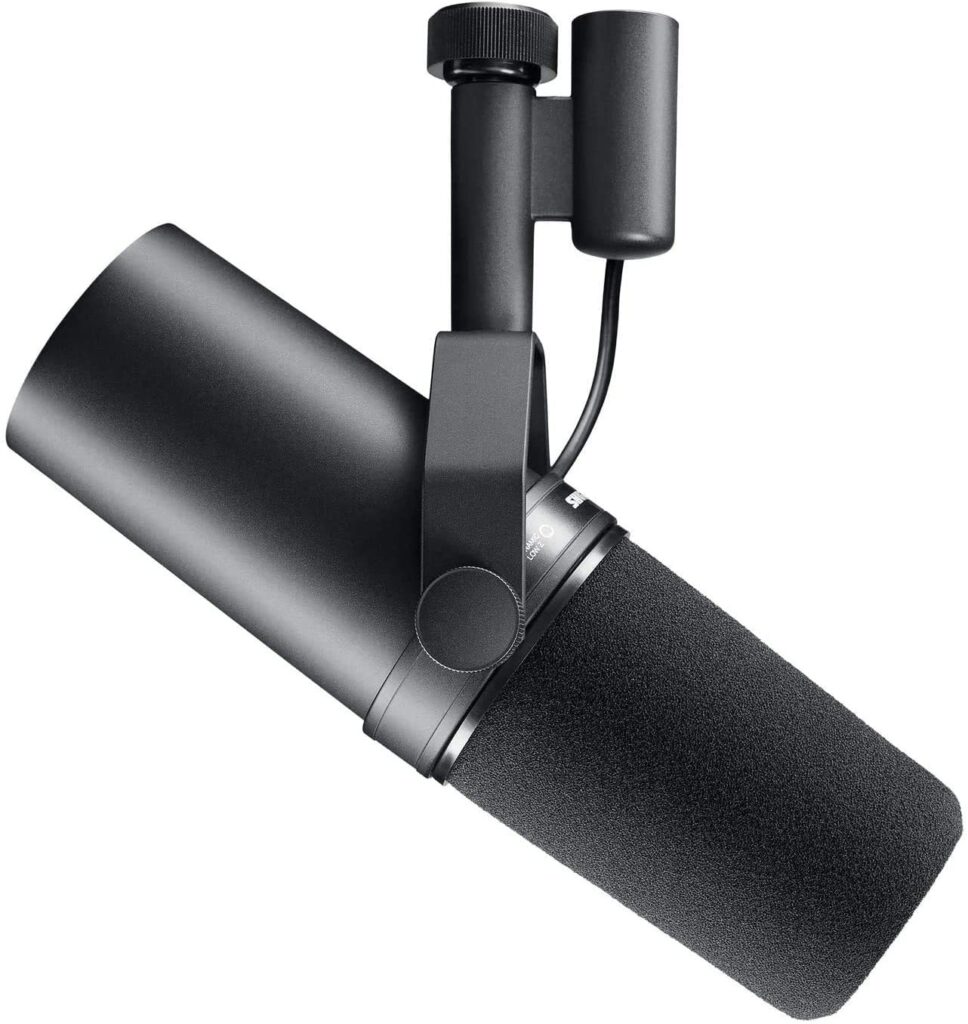 Shure Incorporated is a producer of audio products from the USA. It was founded almost a century ago and has always been dedicated to making high-quality items, at first for radios and now for any kind of voice transmission.
Shure SM7B Cardioid Dynamic Microphone is one of their best-rated products on Amazon. It is a dynamic cardioid mic that shows the great quality of recorded voice, even when talking directly into it. The quality is excellent and the price is not excessive. It seems that a great number of customers are interested in buying it.
Who is it Best for?
Anyone who deals in recording their voice can be very satisfied with Shure SM7B Cardioid Dynamic Microphone. It is very useful for close-talk into the mic as it has multiple ways to isolate various types of unnecessary noises, including electromagnetic hums, explosive mouth sounds, and mechanic sounds.
This microphone is suitable for both beginners and experts. However, beginners are advised to seek help from someone with experience in order to set up the mic for the best work possible.
Key Features
In contrast to some of the previous products, the Shure SM7B Cardioid Dynamic Microphone has a better rejection of electromagnetic hum, which results in clear and natural reproduced sound. Its frequency response has quite a wide range and it is useful for recording both voice and music.
As computer monitors emanate broadband interference, this mic is designed to protect against it. Moreover, the mechanical noise that may come from microphones is isolated from getting recorded together with the sound.
A pop filter, which is added to the microphone, disables recording explosive sounds that are often a problem when speaking, especially close to the mic. Now, the buyers also get a detachable windscreen, which adds extra protection against these plosive mouth sounds.
The mounting bracket makes it easy to put on, take off, and control the position of the mic while recording. It takes 1 Lithium Ion battery and no phantom power is required for this mic to work. If there is phantom power, no worries, it will not interfere with its function.
---
2. Rode Procaster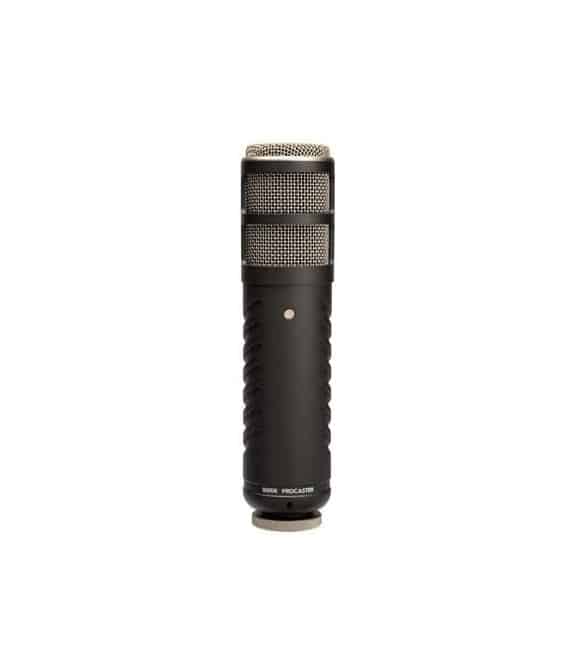 Rode Microphones, as its name suggests, is a producer of microphones. It has been in business for over 50 years, making sure its customers get the best mics they can create. They are based in Australia, though they have offices in the USA, UK, China, and South Korea and sell in 117 countries.
The Rode is one of the best budget XLR microphones in their offer. It is an exceptional choice for broadcasters as it is designed to reduce the plosiveness of spoken sounds and thus to improve the experience of listening to recordings. It is a choice of good quality for beginner streamers and podcasters.
Who is it Best for?
This microphone was designed and created for recording and streaming broadcasts. The features that a successful 21st-century broadcaster needs from a good XLR mic for streaming are included in this model.
It has an affordable price so even those with a lower budget can afford to have a piece of equipment that can do solid work. It is a great choice for beginner podcasters and broadcasters.
Key Features
The frequency response and the polar pattern for the Rode Procaster Broadcast Dynamic Vocal Microphone are chosen so as to attune for taping voice. Also, the reduction of plosives is achieved by the built-in pop filter.
The microphone isolates sound from the background to achieve the best possible voice reverberation. It also does not allow for the noise that is produced by handling the mic to be recorded.
Its construction is all metal and it comes with a firm stand for a fixed position while taping. A 3/8 inch adaptor is included and a zip pouch for safe storage. With online registration, a warranty of 10 years can be obtained.
---
3. Shure MV7
This is another product by Shure Incorporated, a US producer of audio equipment. Its one-century business should give a potential client a guarantee that they create high-quality products. Read here about one of their best XLR mics for streaming.
The Shure MV7 USB Podcast is not only an affordable but also an exceptional XLR mic for streaming both a single person talking and group talks. It is a dynamic mic with excellent isolation of unnecessary noise and a sturdy physical structure.
Who is it Best for?
This dynamic mic has proven great for recording dialogues and podcasts, and for similar types of streaming. It does not pick up much of the surrounding noises, even without the ShurePlus software that can be used for free.
It is very useful even for beginners as many users have reported a near-pro sound quality.
Key Features
This microphone is made for two sorts of recording – digital and analog. This is achieved by a USB/XLR output. The mic is equipped with a USB-A cable and a USB-C cable, both 10 feet (3 meters) long.
A touch panel is there for manual adjustment of the volume and headphones, muting and unmuting the mic.
The ShurePlus Motiv Desktop Application is there for controlling gain and compression and adjusting EQ filters and the limiter.
The app makes it possible to save desired presets and load them automatically when the USB mode is turned on. This app can be downloaded without charge from the Shure website.
The yoke which is joined with the mic allows for precise positioning, while the strong metal structure makes it stand stably and reliably on any microphone stand.
---
4. Electro-Voice RE20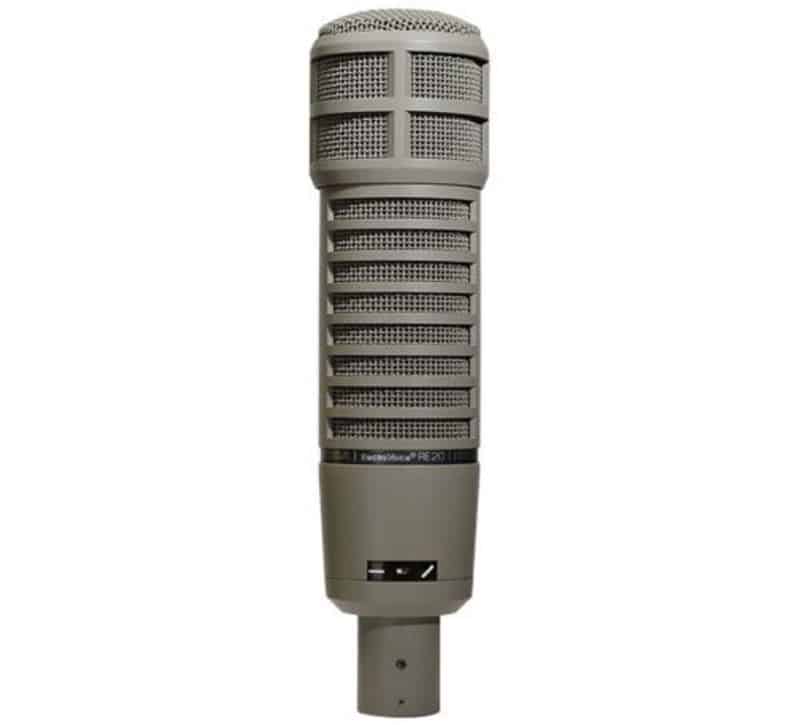 Electro-Voice is another long-lived company that produces sound equipment. They have been in business for 90 years so far. Generations of experts have been working here to produce every component needed for their products.
The Electro-Voice RE20 Broadcast Announcer Microphone with Variable-D is one of Amazon's most highly-rated mics.
Though it is not one of the cheapest, it isn't expensive either, making it quite affordable and giving both the performers and their audience a great experience.
This mic, with improvement over time, has been on the market for several decades and still is one of the best.
Who is it Best for?
The RE20 has been used from the 1960s onward, very much in the radio industry, and they have always been regarded as one of the best for this purpose.
The features of this microphone make it an excellent choice for podcasts and broadcasts. Recording audiobooks or voiceovers is a successful endeavor with it. It can also be used for music production – both for singing and instruments.
Key Features
This is a wired dynamic cardioid XLR mic for studio recording. There is an internal filter that reduces the explosiveness of speech sounds and the shock-mount that impedes vibration noise from ruining the taped sound. Also, the mic's steel housing reduces magnetically created hum.
Electro-Voice has special Variable-D technology for making microphones. It reduces the differences in the recorded sound when the source, i.e. the mouth or an instrument, moves away or toward the mic.
It has proven to tape instruments successfully. It records sounds independently of their angular location. Despite that, the ambient sounds are successfully isolated. Also, it works flawlessly even in harsh weather such as high temperatures or in humid rooms.
---
5. Blue Ember XLR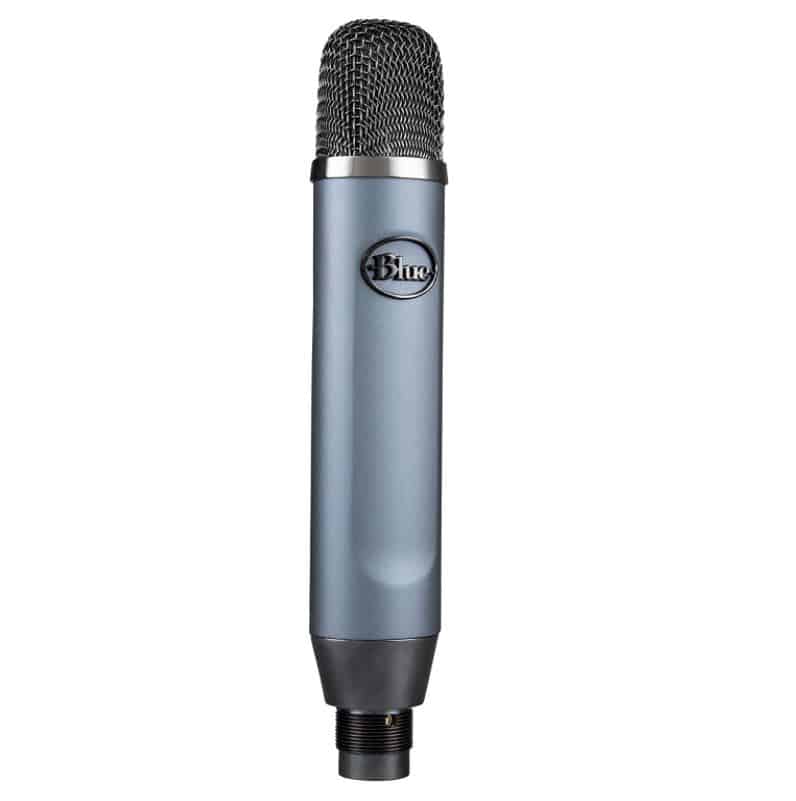 Blue Microphones, as the backronym for Baltic Latvian Universal Electronics, is a company that makes equipment for recording. It is based in the USA and owned by Logitech. It is a younger company, founded in 1995, but the fact that Logitech owns it goes in favor of trusting its products.
Blue Ember XLR Condenser Mic for Recording and Streaming, Custom Cardioid Capsule and Mic Stand Mount is a smaller, budget XLR microphone that is perfect for home recording and for those who are yet to dare and spend a lot on a mic.
Who is it Best for?
It is great for streaming online content and recording gaming sessions, as it picks up sound at the front part and not at the end.
It is also recommended for users who are not advanced in their knowledge of audio equipment because it reduces the noise from the surroundings and gives a clear and detailed sound.
This well-rated XLR microphone is suitable for those with a limited budget, especially since its benefits go way past its price. It can be an exceptional asset for gaining listeners even at a small price.
Key Features
The condenser capsule of the Blue Ember XLR microphone makes the recorded voice sound very clear and deep, giving it a natural touch. It is built especially for taping voice: for example, video streaming or gaming commentaries.
The sound of the room around the speaker is minimized, due to the polar pattern of the mic. The XLR connection works well with mixers. As this mic requires phantom power, the circuit was designed to give it consistently.
This mic is compact and receives sound at the front end. That is why it is great for shooting videos and streaming other online content. Also, not much processing is necessary for then recording to sound great.
---
6. Electro-Voice RE320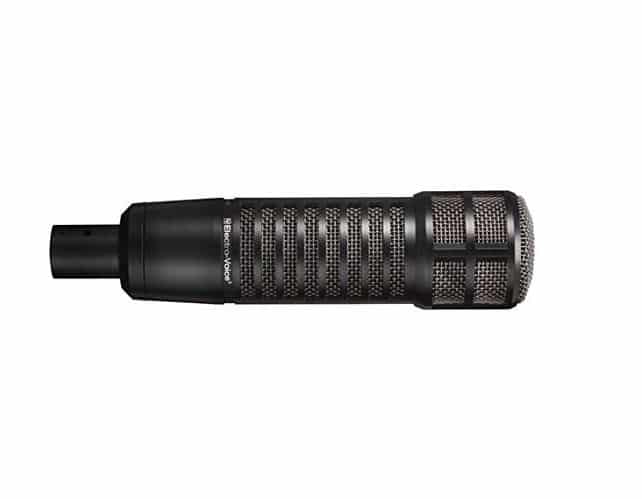 Electro-Voice is a company that makes audio equipment and has a long history of business – over 90 years.
They have been making microphones for the needs of radio and television for decades. They take pride in the fact that every piece needed to make their products is produced by themselves.
The Electro-Voice RE320 Large Diaphragm Dynamic Vocal Microphone was produced for capturing sound from both voice and instruments, for apps that need a very low level of noise, and for reinforcing sound. What makes this microphone special is a switch that changes the frequency response so that it fits your needs.
Who is it Best for?
This is one of the best XLR mics for both studio recording and live performance on radio and tv.
It has proven to be excellent for voiceovers and live streaming, as it removes background noises very successfully. Also, for everyone who must have their cell phones with them during recording, this mic will not pick up the radio-frequency interference.
Key Features
Electro-Voice has designed a special technology – Variable-D – that annihilates the changes in a tone that come from varying the physical proximity to the microphone. The frequency response of 180° off-axis gives recordings a stable, not-changing sound.
The interference from electromagnetic waves, for example from cell phones, is also taken care of by the same technology used in the RE20 mic described above. Integrated is a pop filter as well.
There is a frequency response switch that changes the performance curve to best fit the sound source. The left position of the switch enables the kick curve which is ideal for kick drums. The right position enables a linear curve excellent for taping voice and a number of other instruments.
Many customers claim that it is as great as RE20 and that these two make a great combination.
---
7. Electro-Voice RE27N/D
Once again, Electro-Voice is a long-lived company creating audio equipment. It has been a supplier of microphones for numerous radio and TV shows for decades now. What the people of this company are most proud of is the fact that they produce every single component for their products.
The Electro-Voice RE27N/D Dynamic Cardioid Multipurpose Microphone is the most pricey of the three Electro-Voice products we have chosen for this list. This is another Variable-D mic great for broadcasting. The Neodymium element was used to make this mic more sensitive and this makes the recorded sound even finer than most other mics out there.
Who is it Best for?
This mic is an excellent choice for broadcasters and podcasters. It has extra sensitivity and excellent filters that remove any unnecessary sound, such as ambient noise or electromagnetic hums.
Sound engineers all around the world recognize the value of this mic. It gives depth to the recorded voice and instruments, so it is a great choice for studio recording as well as for live performance.
Key Features
This microphone gives a great reproduced sound that is open, clear, and detailed. Neodymium was used to make this mic, and because of that, more sensitivity is added for an even better sound. Also, wind and blasts are taken care of by the integral filters against them.
It has a three-position switch that allows for different filters, depending on how you want the voice to be shaped. The normal, high-frequency, setting gives clarity to the voice. The other two are low-frequency settings with different decibels and frequencies to match various instruments.
It gives quite a brightness to voice, so those with a higher-pitched voice may find it slightly too bright. On the other hand, for those with a lower voice, this mic is incredible.
---
Things to Consider When Buying an XLR Microphone
1. Type
There are two basic types – dynamic and condenser mics. A dynamic mic is a type that people use when they speak or sing, for example, singers, comedians, or hosts during a performance, but also with kick drums and bass guitars. They work well when the surrounding is noisy because they pick up only the sound that reaches a small coil that is inside the mic. The electrical signal is created when the soundwaves move the coil.
A condenser mic uses something called the capacitor plates, so it works differently from a dynamic mic. The short story is that this kind of structure makes the mic more sensitive to quieter sounds and small changes in voice. For that reason, this type is great for an audiobook or voiceover, for recording a podcast, or singing in a studio.
2. USB or XLR
Even though we are talking about XLR mics, here is a short reminder of the difference between the two.
First of all, USB mics are usually cheaper than XLR mics. But there is another difference that is worth noting here. A USB output in a microphone has only one channel for both the electrical currents that come to the mic and those that go out. An XLR output, on the other hand, has two channels that allow currents to flow independently of each other, thus giving a clearer and less distorted sound.
3. Polar Pattern
This refers to the space around the mic from where it can pick up sounds. Probably the most widespread is the cardioid polar pattern. It is very similar to unidirectional and both pick up sound from the front of the mic.
A bidirectional pattern picks up sound from two directions – from the front end and from the rear end. An omnidirectional pattern picks up sound from all around the mic.
4. Frequency Response
Basically, this feature refers to how well the sound is reproduced. A mic picks up some sound, changes it to an electronic signal, then transfers it to the recorder. There is always some difference between the original and the recorded sound because a small amount of vibrations doesn't get picked up or gets lost along the way. That is why this feature is important for choosing a mic.
5. Sensitivity and SPL
This should be understood easily. Sensitivity refers to the quietest sound a mic can pick up; therefore the lower the number, the better this feature is and a quieter sound can be in a recording.
SPL is the opposite: it shows the loudest sound a mic can pick up. We use decibels to measure this.
6. Impedance
This tells us how well a mic receives electrical currents or audio signals. The lower the impedance, the better audio quality is given by a mic when a cable of more than 16 feet (5 meters) of length.
Conclusion
There was a list of the seven best XLR microphones for streaming. Probably the most versatile and praised mic is the Electro-Voice RE20 Broadcast Announcer Microphone with Variable-D.
It has been in use for decades. It has a great scope of sounds it picks up perfectly and works well in high temperatures and humidity.
But in the end, the customer is the one who decides what is the best XLR mic for their needs. Have fun exploring these mics and find something great for your studio.
Related: Best Streaming Mic Under $50
Frequently Asked Questions
Is an XLR mic worth it?
The answer is definitely yes. Though they are somewhat more costly than USB mics, their construction gives a better sound. The reason is that an XLR cable allows the electrical current to flow via two lanes, one for the current leaving the mic and another for the current entering the mic. They do not collide or mix and the sound has no chance to be distorted.
What does an XLR mic need?
A basic set of components includes:
– A mic of choice. (Note that a condenser mic needs phantom power as well, while a dynamic mic doesn't.)
– XLR cable. (Usually comes with the mic, but check before buying it, just in case.)
– A mic stand or holder. (Doesn't come with every mic)
– A mixer or a preamp. (This goes into a computer, usually via USB.)
What is an XLR microphone and why do I want one?
XLR stands for External Line Return. This type of connector was made for bigger electrical currents to pass through. The benefit of XLR is those audio devices with this connector transfer and reproduce a cleaner and better sound. These mics are used by professionals, on radio and TV, during live performances, and now they are available for amateurs as well.
Join our Discord Group. Ask questions, team up with fellow streamers, share memes, and more!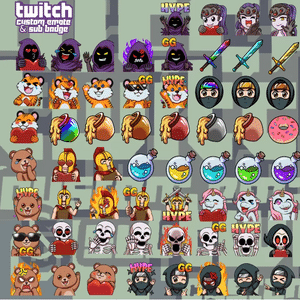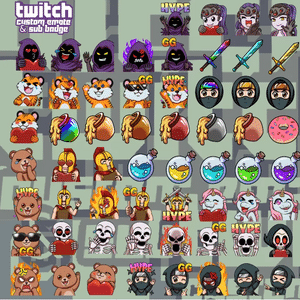 Claim for FREE:
FREE Emote PACKS
A book on growing your audience