Tfue is a very young but extremely popular professional Fortnite player and Twitch streamer that streams on a daily basis but also creates original Youtube videos.
Even though he has not been in the gaming industry for a long period of time, he has managed to build a name for himself and become very popular.
He invests a lot of money in high-quality equipment and shares all the devices in his setup with his audience.
If you were asking what Tue's favorite gaming and streaming products are, then you are definitely in the right place and need to check out this list. It will showcase Tfue streaming setup.
Post 2 of 18 in the Professional Setups
What Headset Does Tfue Use?
Sennheiser HD 660 S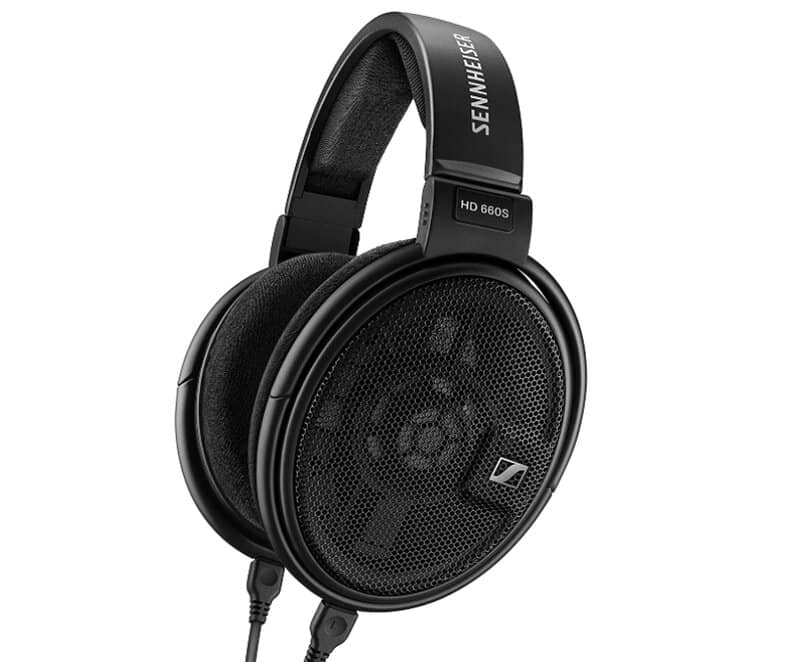 Tfue has been using the Sennheiser HD 660 S – HiRes Audiophile Open Back Headphones for a really long time because they are both comfortable and provide him with clear sound.
These headphones have transducers of the latest technology that provide you with very low harmonic distortion and allow you to precisely select the left or right matching tolerance.
The accuracy of these headphones is really amazing and they have a great number of different stereo spatial characteristics.
All Sennheiser headsets come with two different connection cables, and those are one with a 6.35-millimeter wide stereo plug, the other a 4.4-millimeter balanced stereo plug from Pentaconn.
You will also receive a .35 millimeter to 3.5-millimeter adaptor, and you should know that these headphones are compatible with all PCs, gaming devices, and smartphones.
This headset will cost you around 300 dollars which is, in my opinion, too much money even for professional gaming, and there are many similar devices you can find on the market for half the price.
Even though they are very expensive and popular, not all users are satisfied with them, and many of them claim that the clarity of sound is amazing, but they break easily.
For headphones that are this expensive, this is something that definitely should not happen, no matter what the circumstances are.
Related: Best Wireless Headset for Streaming
What Keyboard Does Tfue Use?
Ducky Mecha Mini Keyboard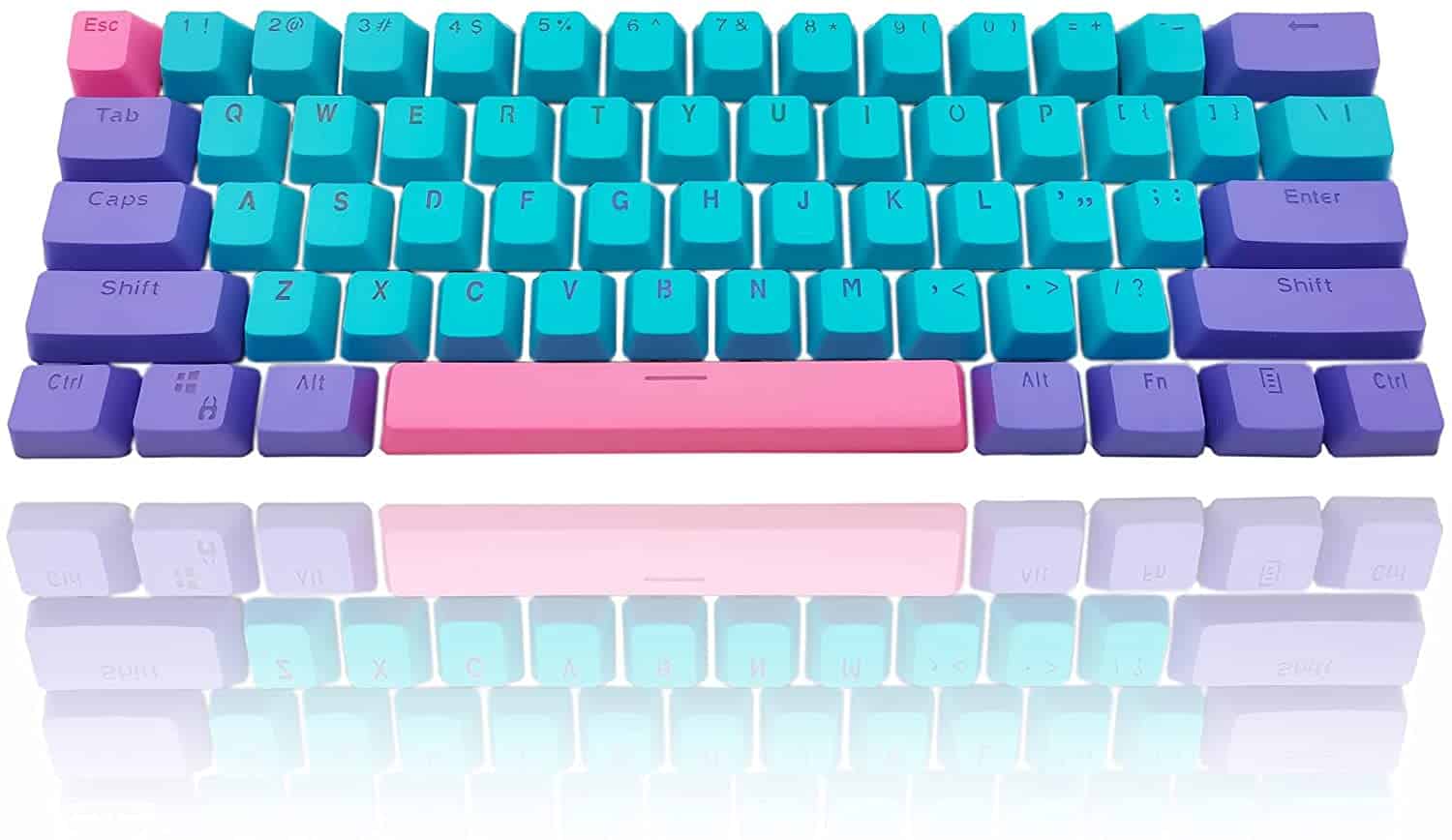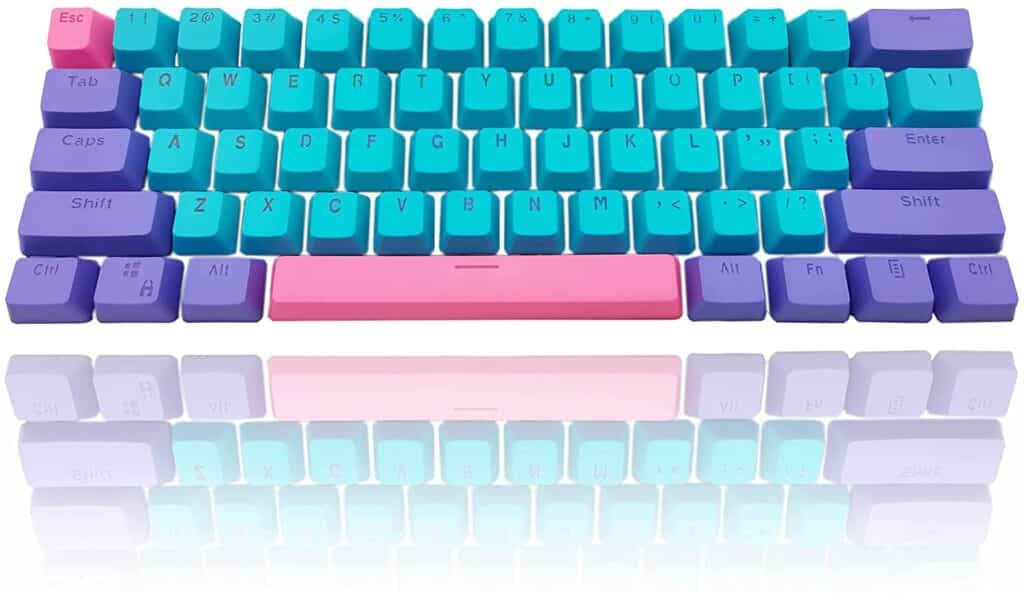 Tfue is a big fan of the Ducky Mecha Mini Keyboard with Tfue Keycaps that comes in a variety of different designs and colors.
Even though this is one of the products that was made in collaboration with Tfue, and he is definitely using it because he needs to promote it, this is a great gaming keyboard, especially in this price range.
It has an OEM profile and is compatible with all PCs, gaming devices, and smartphones available on the market these days, so you can purchase it without doubting whether it can connect to your device or not.
This keyboard has red alphas, purple and pink modifiers, and a really good RGB technology that makes it change colors instantly.
At a price point of 59 dollars, this is one of the best and cheapest gaming keyboards on the market, and I believe there is no way you will be able to find another professional keyboard that is this cheap.
However, users have complained about it not being too responsive and having to click on a button several times in order to active something, so you should take some time and try it out before you decide to stick with it.
Related: Best Quiet Gaming Keyboards for Streaming
What Mouse Does Tfue Use?
Finalmouse Ultralight Pro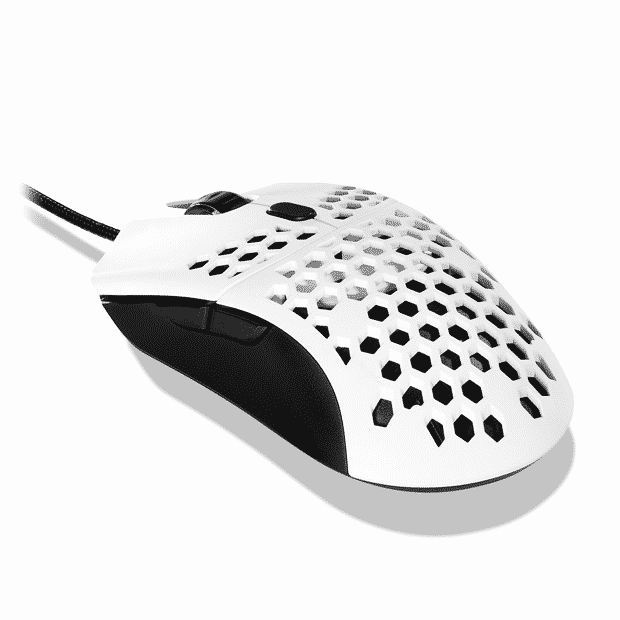 The Finalmouse mouses are some of the most popular among all gamers and streamers, so Tfue is loyal to their products too.
He has been using the Finalmouse Ultralight Pro mouse – white for years now and claims it is the highest quality mouse on the market.
This is one of the gaming products that is basically sold out all the time, and it can be very hard to get your hands onto it, even though it is not very cheap and will cost you more than 80 dollars.
It has hyperglides that allow you to move the mouse through your mousepad easily, making the whole gaming experience a lot easier and more enjoyable.
Just like all Finalmouse products, it comes with removable and replaceable side buttons, so in case they irritate you, you can take them off or replace them with those that feel better and easier in your hand.
However, even though it has hyperglides that made him so popular in the first place, users complain that it is really not that fast and does the same job as other, cheaper mouses you can find on Amazon.
It is also not compatible with all devices, and you can never really know whether it will get connected and installed to your PC or not.
Related: Best Lightest Gaming Mouse
What Microphone Does Tfue Use?
Shure SM7B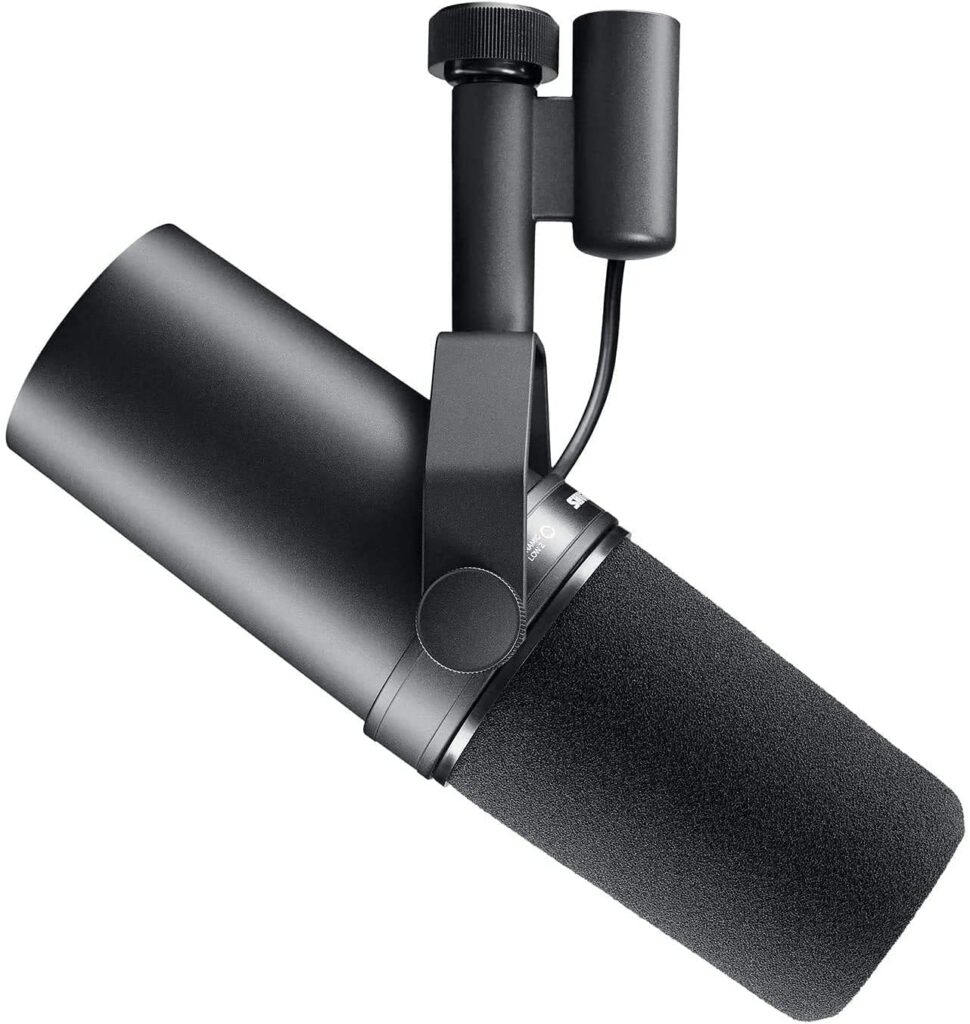 Shure SM7B Cardioid Dynamic Microphone is one of the very good microphones that are not really popular in the gaming and streaming industry, but Tfue loves it.
This is a so-called all-in-one microphone, and it can be used for studio or home recording, podcasting, streaming, and basically anything you can need a microphone for.
If you are streaming professionally, then this is the go-to microphone for you because it captures an exceptionally clear and natural sound and has an integrated SM7B technology,
Shure microphone also offers you a professional XLR connection that, in combination with its audio interface for streaming allows you to gain complete control over your sound and produce the sound of the highest quality.
The SM7B Cardioid Pattern is designed to reject Off-axis audio, and you can speak at any angle you find comfortable, and it will still capture the sound perfectly, without any coloration and background noises.
Even though overall ratings on this microphone are amazing, you should know that it will cost you at least 500 dollars, and even pre-owned ones are priced at 300 dollars, so this is one of the most expensive mics on the market.
In my opinion, unless you are already a professional streamer, gamer, or podcaster, this is definitely something you should not be spending your money on.
Related: Best ASMR Microphones
What Monitor Does Tfue Use?
Alienware 25 inch Gaming Monitor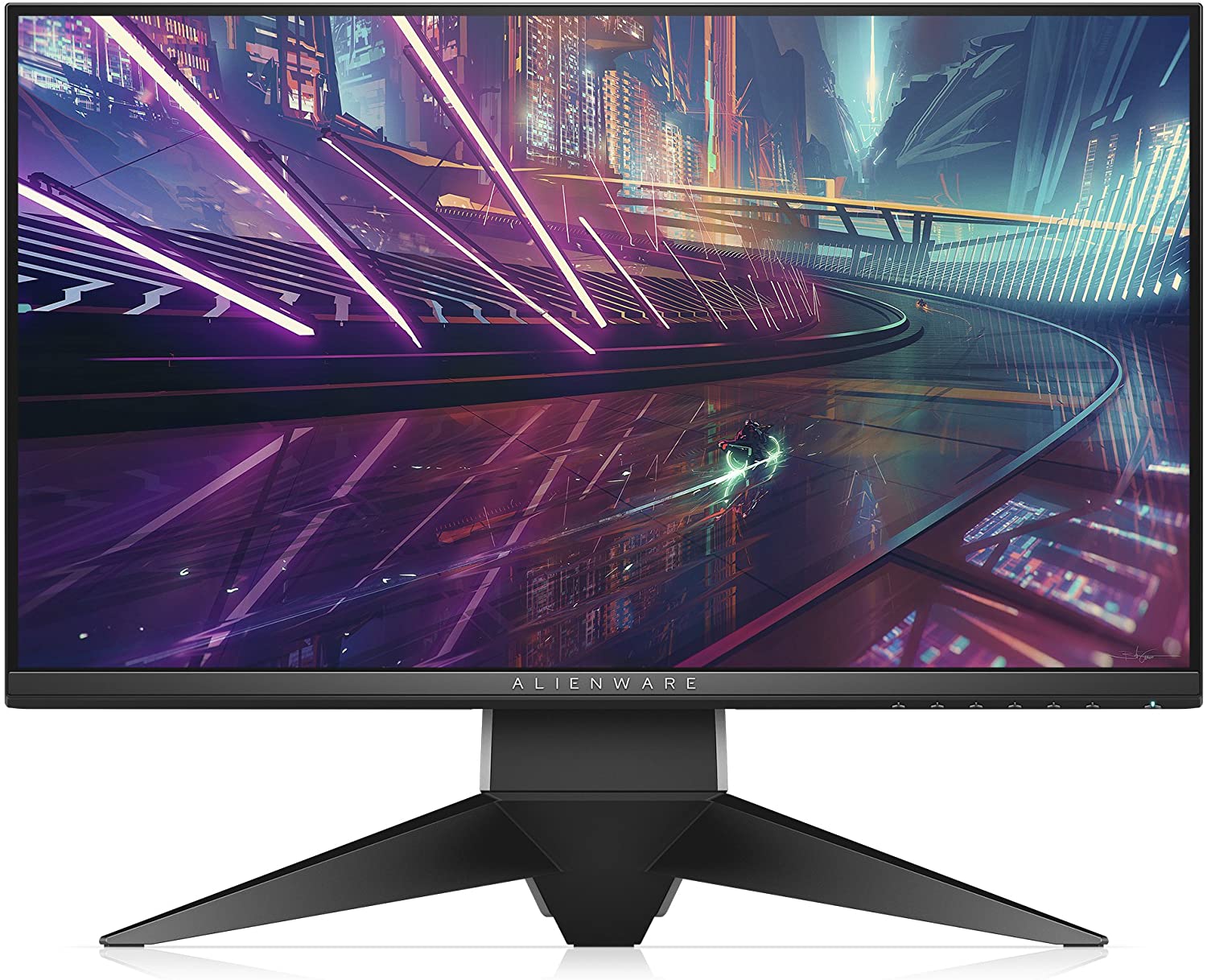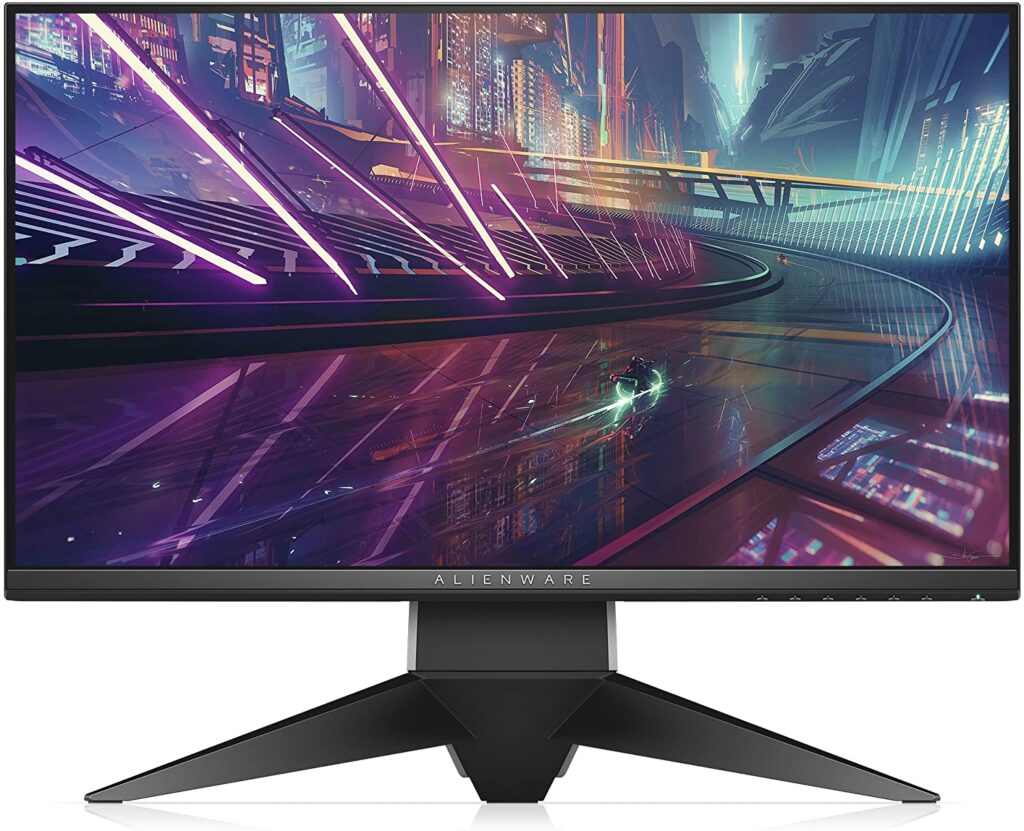 You have probably heard about the Alienware 25 inch Gaming Monitor, which is one of the most popular monitors among all gamers and streamers, including Tfue too.
This product was made exclusively for gamers and streamers, and it has a 244hz refresh rate that will allow you to stream or game for hours without any obstacles.
Even though the graphics on this monitor may not be that amazing as you would expect them to be, streamers and gamers choose it because a fast and high FPS are a lot more important than the perfect picture.
This monitor also has an integrated NVIDIA G-SYNC display technology that completely eliminates screen tearing and minimizes all potential Display stutters and input lag that may occur.
There is also an amazing on-screen Display design made specifically for gamers and streamers to eliminate all potential problems and a very flexible height-adjustable stand you can set up in a way that works for you the best.
This monitor will provide you with smooth and perfect gaming performance, and you will probably forget about other monitors immediately.
There is also a high frame rate included which is something that is important for all gaming monitors and allows them to perform well.
This Alienware monitor also provides you with more than one connectivity option, so you can do it through and USB upstream cable, DP cable, or with a regular power cable.
Overall the reviews on this monitor are very good, and people claim that it is a lot better than other monitors within the same price range, so if you are really looking for a high-quality gaming monitor, then this is the right choice for you.
Related: Best Streaming Monitor – Top 7 Products and Reviews
What Webcam Does Tfue Use?
Logitech BRIO Ultra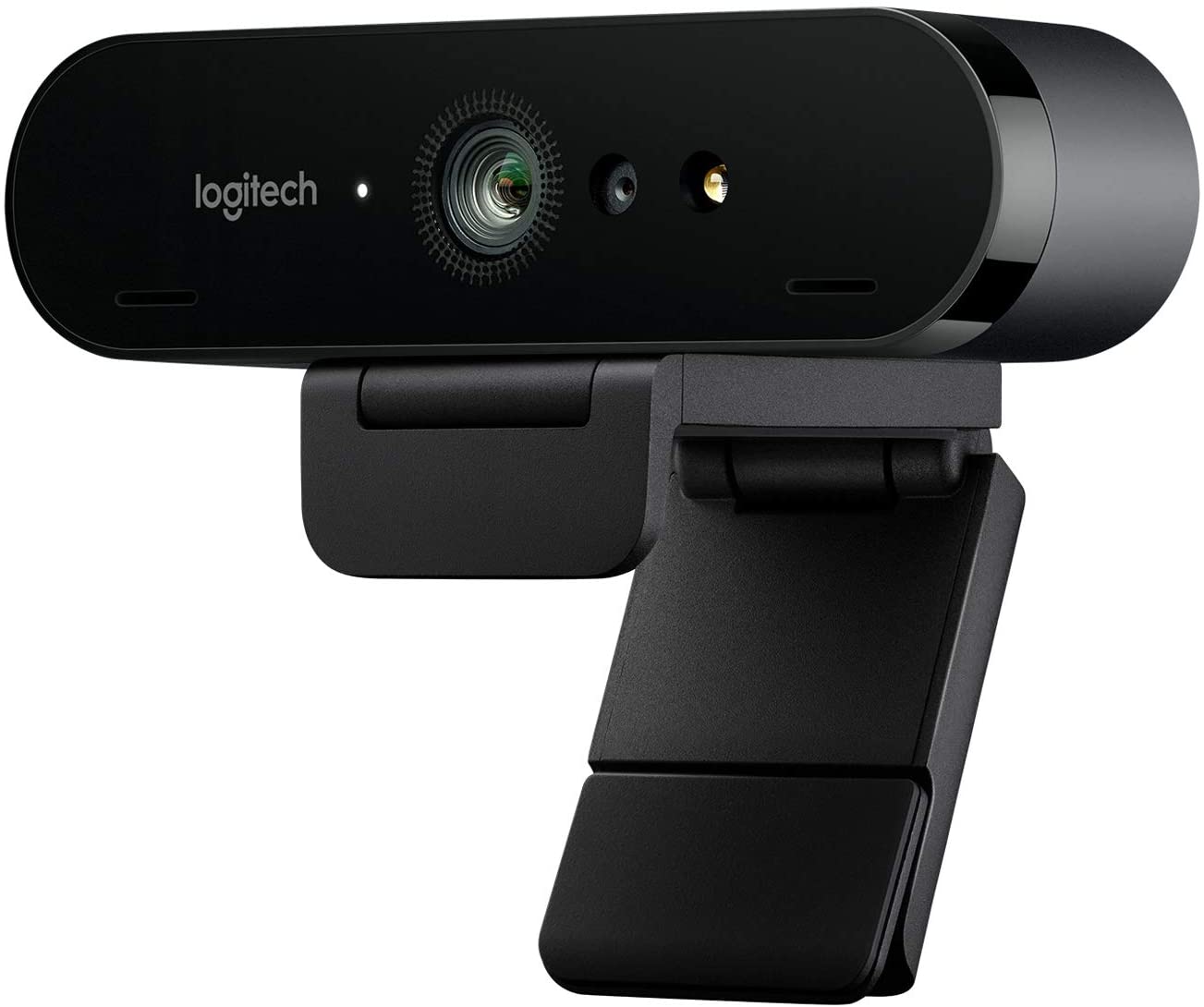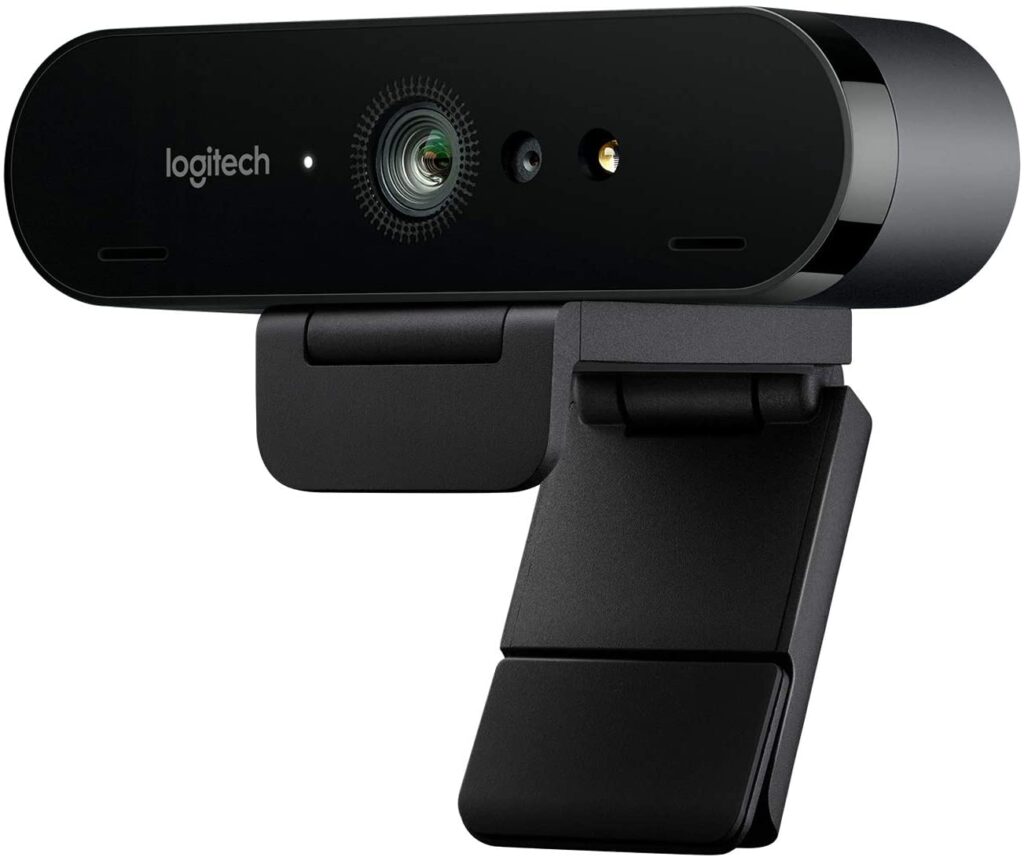 Logitech is a common choice for gamers, especially when it comes to webcams, and Tfue and has been using the Logitech BRIO Ultra HD webcam for quite some time.
This webcam has grown to become one of the most popular products in the gaming industry, and many people use it for real-time streaming.
Since this is the first 4K ultra high-def camera that offers 5x digital zoom and RightLight™ 3 with HDR in the Logitech offer, it has managed to become one of the most popular webcams in a really short period of time.
There is also 3 meters long cable included that will allow you to connect the webcam to whatever your device is easily and move it throughout the whole room without any obstacles.
Overall, people brag about having great experiences with this webcam, but the main problem is that it is very expensive and costs 180 dollars, or even 220 dollars on some online retailers- so it is definitely not something you will be purchasing unless you are a real professional.
While I do believe that everyone that has enough money should buy one, Logitech has plenty of other webcams with similar specifications that are a lot cheaper, so you can try out some of them too.
Related: Best Webcam for Streaming
What Graphics Card Does Tfue Use?
ASUS ROG STRIX GeForce 2080TI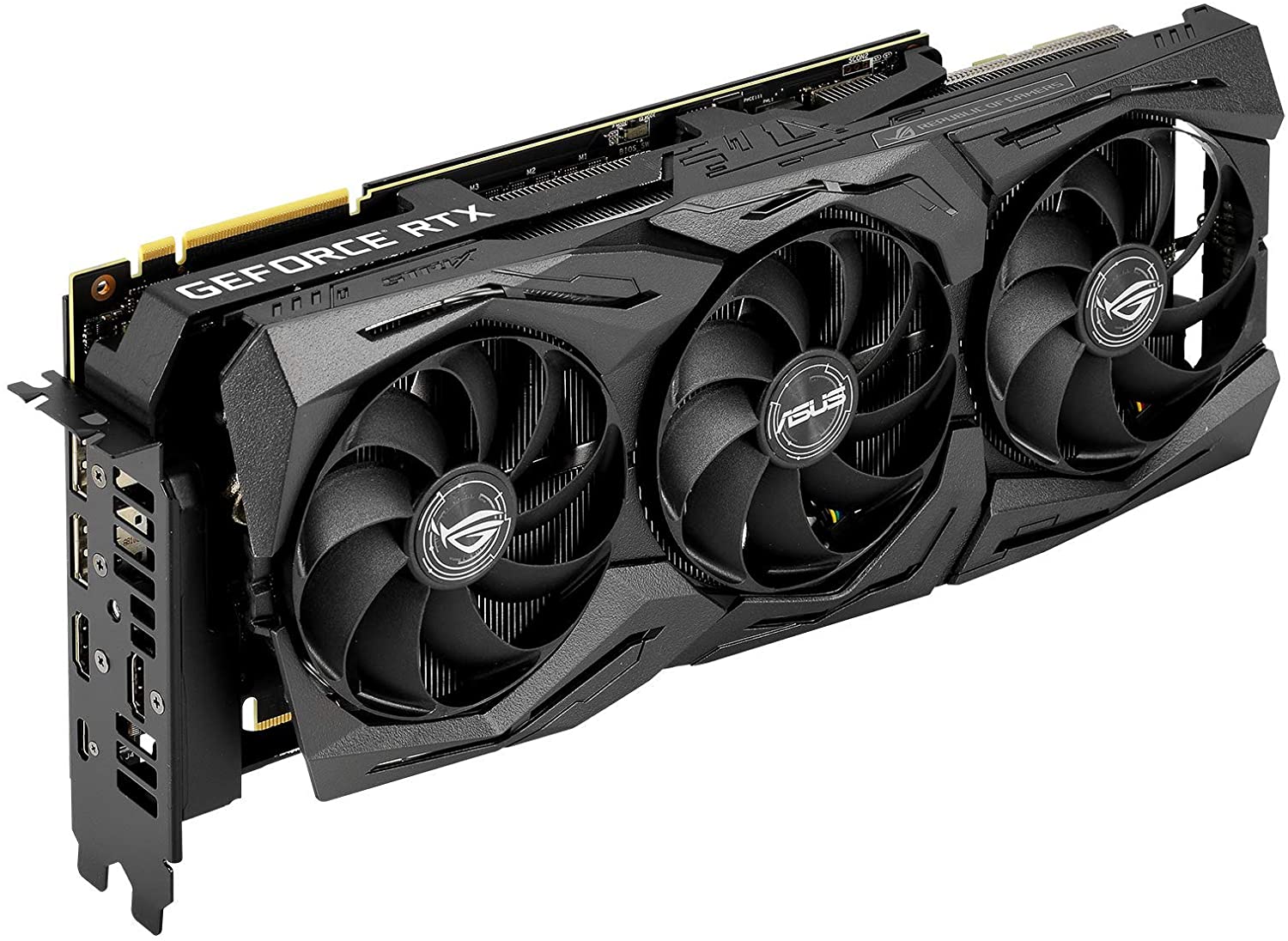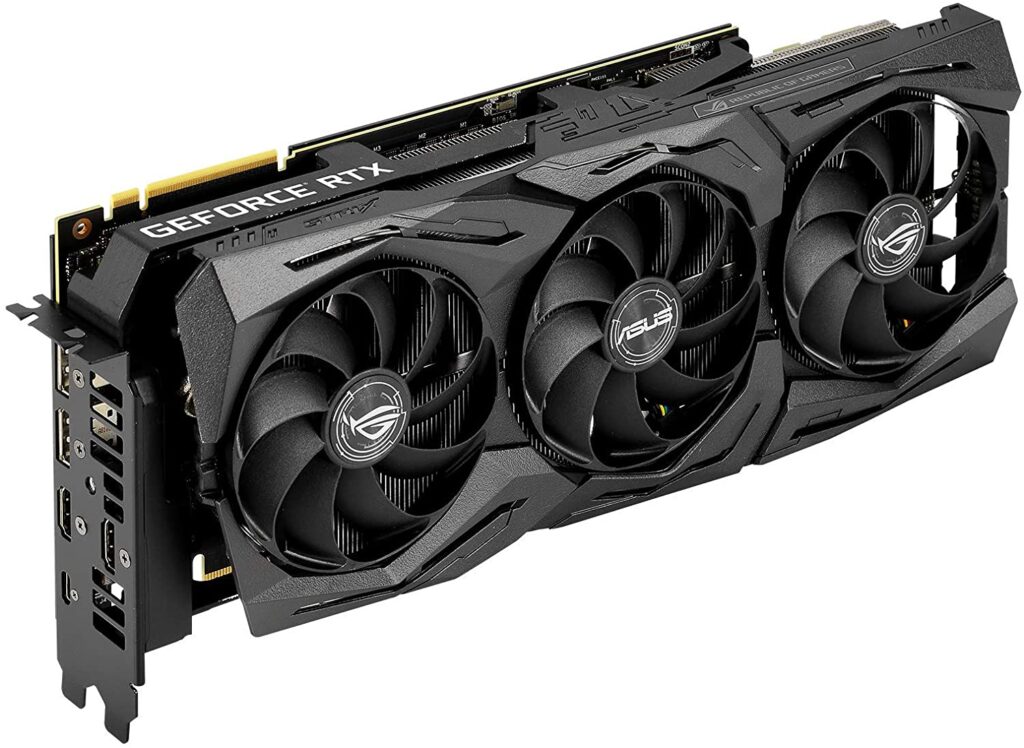 The Asus ROG STRIX GeForce RTX graphics cards are definitely the most popular graphics cards, not only among gamers and streamers, and it is Tfue's choice too.
This graphics card is powered by the amazing NVIDIA Turing with 1665 MHz Boost Clock (OC Mode) and 4352 CUDA cores which make it one of the strongest graphics cards on the market and an absolute favorite among all professionals in the gaming industry.
With a high operating voltage and 11GB GDDR6 memory in a 2. 7 slot form Factor, this is the first Asus graphics card this strong.
You should know that this graphics card is one of the rare ones that can support up to 4 monitors at the same time, which is something that makes it a favorite among gamers.
Its extreme Auto technology and Max-contact technology enable it to deliver premium quality and reliability so you can always be sure that your gaming and streaming experience will be of the highest quality.
The ASUS Aura Sync RGB lighting has an endless spectrum of colors that is able to synchronize different effects on AURA Sync enabled products providing its users with the picture of the highest quality and showing all shades of the color.
The GPU Tweak II is also integrated, and it makes controlling the performance and streaming in real-time easier than ever, and you will also receive access to other amazing software like Game Booster, X Split Game caster, and Quantum Cloud
This card usually costs around 2000 dollars, and it is completely worth it because it is the best graphics card on the market and it will last you for years, providing you with the performance of the highest quality.
However, this graphics card is supported only by very strong and professional gaming PCs, so you will not be able to install it properly on a regular computer.
Related: Best GPU for Streaming – Top 7 Products and Reviews
What Processor Does Tfue Use?
Intel Core i9 9900K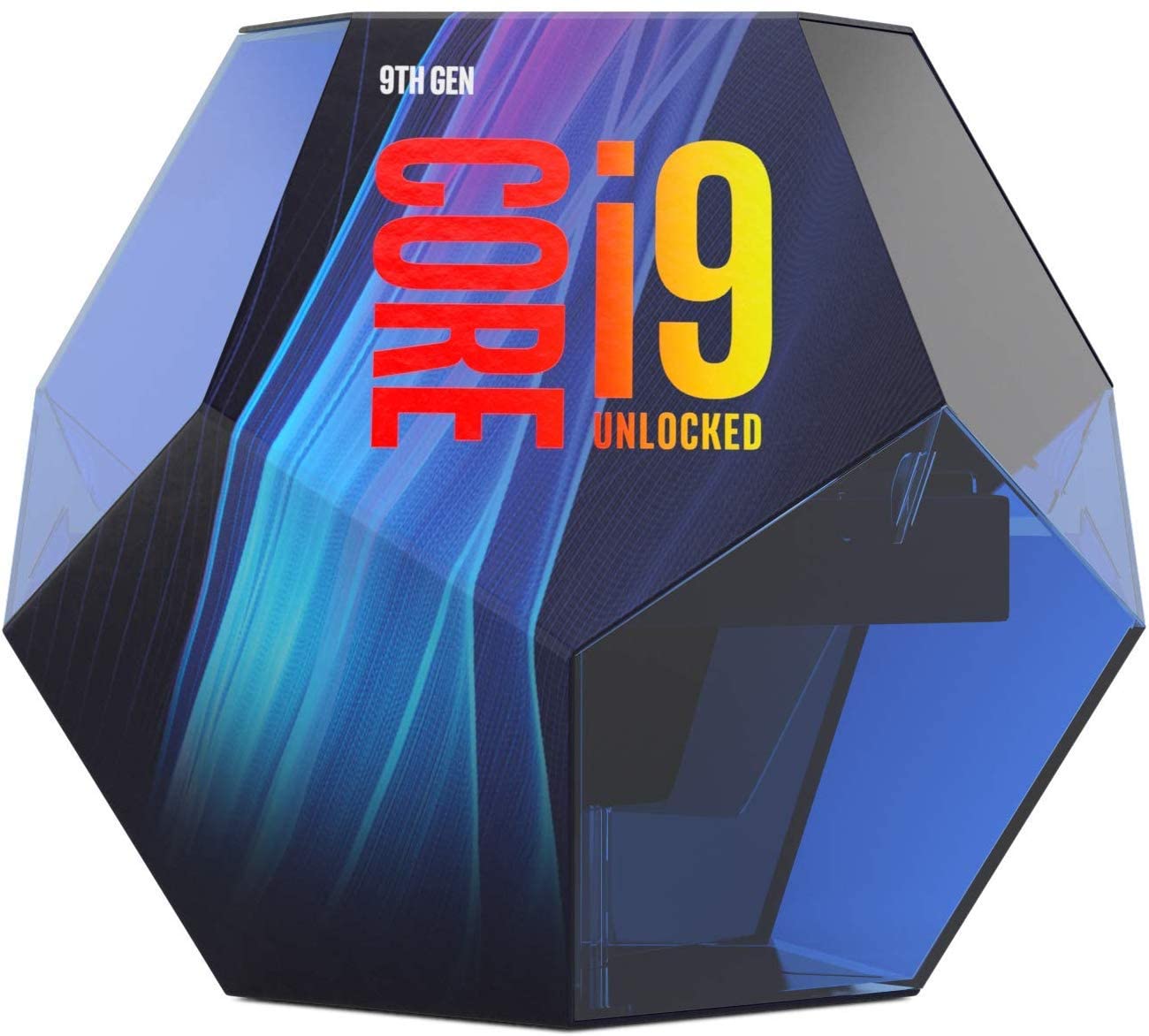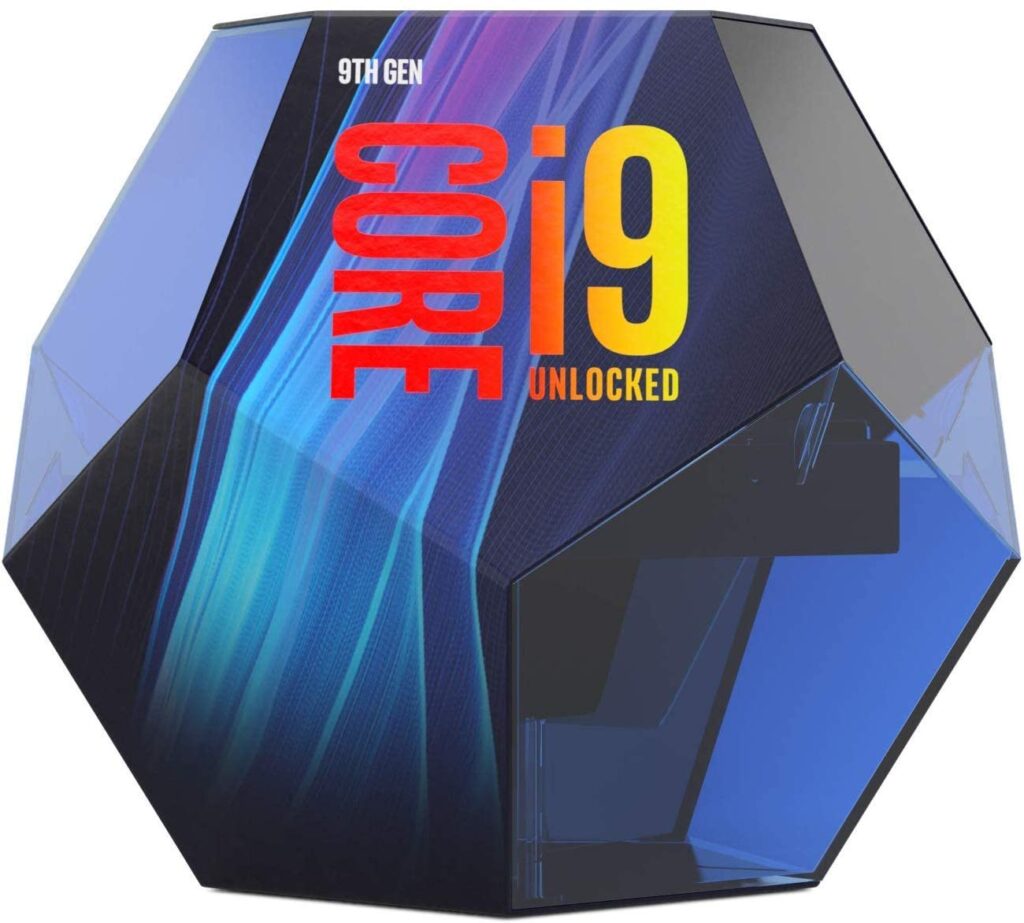 You already know by now Intel processors are the most popular ones among gamers and streamers, and Tfue is also the one that has been using Intel Core i9 9900K Desktop processor with 8 cores for years.
This amazing processor has 8 cores and 16 threads that allow it to work without any problems making it the best choice for all professional gamers and streamers.
It has an Intel Graphics 630 card integrated, and its speed is usually ranging somewhere from 3.60ghz to 5.0 GHz, which is better than most processors.
However, Intel claims that it is compatible only with Motherboards based on Intel 300 Series Chipsets, so you are basically required to purchase this motherboard once you get this processor.
On the other hand, most users and also professional gamers combine with completely different motherboards, and it seems that it continues to work perfectly fine.
The other problem is that this processor can be very hard to get because it is sold out all the time, both in-store and on online retailers, so you really need to dig deep to find one for yourself or opt for a pre-owned one.
Related: Best CPU for Streaming on Twitch
What Motherboard Does Tfue Use?
ASUS ROG Rampage VI Extreme LGA2066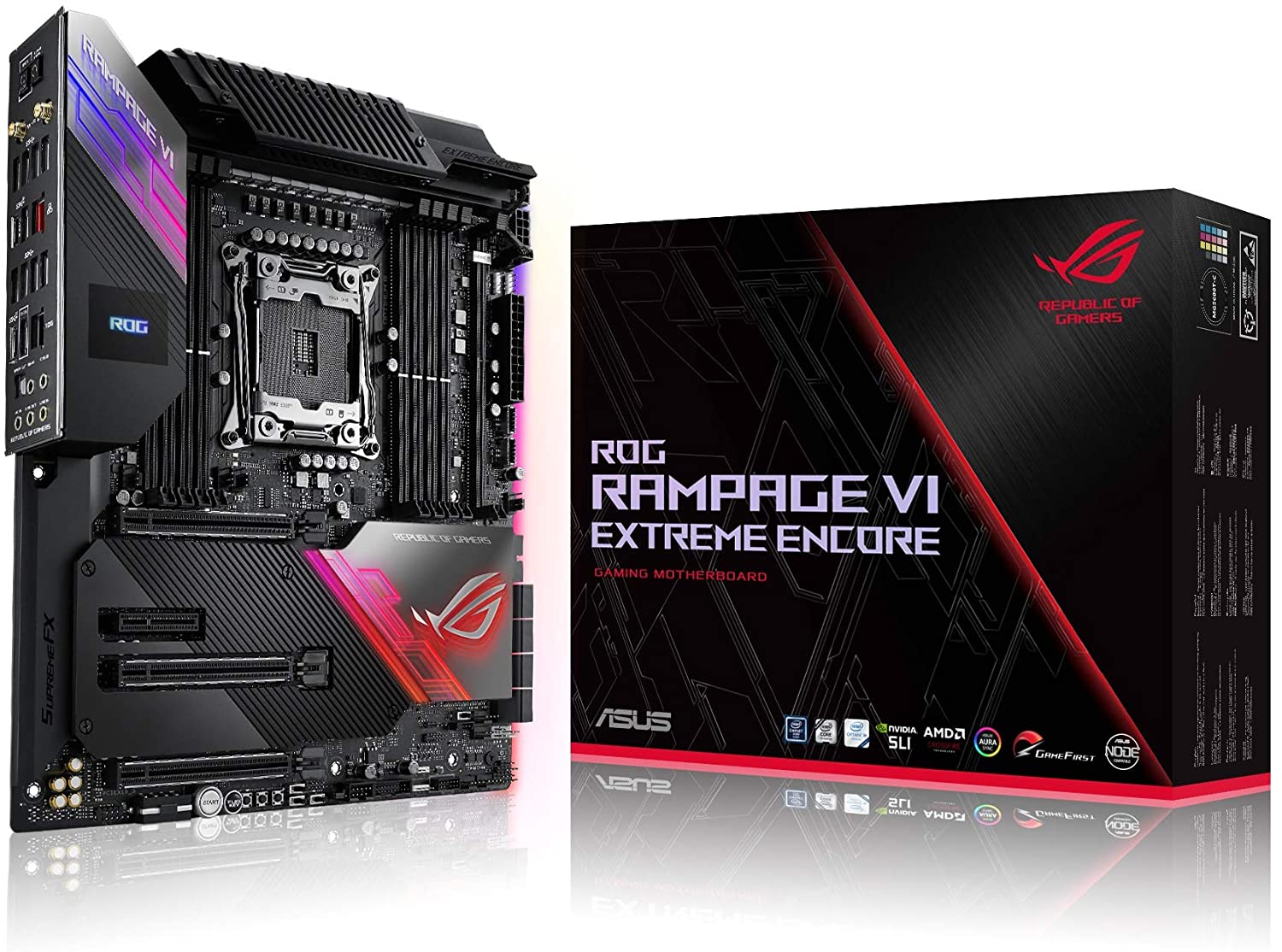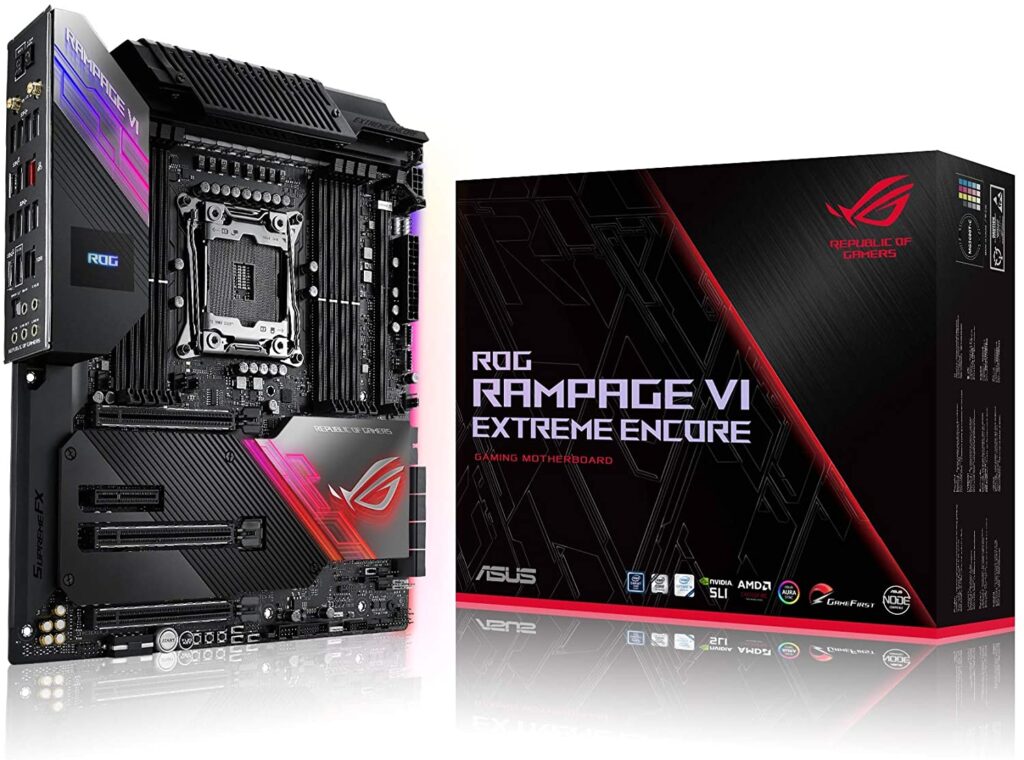 Even though he has an Intel processor, Tfue opts for the ASUS ROG Rampage VI Extreme LGA2066 Motherboard.
However, this motherboard claims it is compatible and designed for 7th generation Intel Core X-Series processors that maximize connectivity and speed with U.2 port and tend to have up to three M.2 drives,
This motherboard is built for high-performance networking and features onboard 10G LAN and 802.11AD WiGig Wifi for future wireless VR.
It offers a 5-Way Optimization that features Auto-Tuning and FanXpert 4 that deliver automatic overclocking profiles for maximum OC performance.
The good thing is that it comes with a while thermal sensor and water-cooling headers that provide dynamic system cooling, so you will not have to purchase a cooler separately.
With AURA Sync RGB lighting, including two additional RGB headers, one addressable header, LiveDash OLED, and a customizable backlit nameplate, you will be able to personalize your motherboard and turn on your favorite colors and shades, which is a pretty cool feature for streamers and looks great on camera.
The Integrated I/O shield reduces installation time and increases contact with ports for improved connectivity, so you should be able to connect the motherboard to all of your devices in a matter of just a few minutes.
Unfortunately, many users complain that this motherboard did not last them for too long, so even though it looks like a great product and has plenty of cool features, you should definitely read the reviews and see whether this is a good fit for your needs or not.
Related: Best Motherboard for Streaming – Top 9 Great Products
Join our Discord Group. Ask questions, team up with fellow streamers, share memes, and more!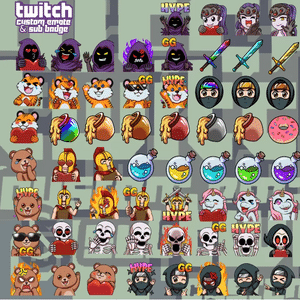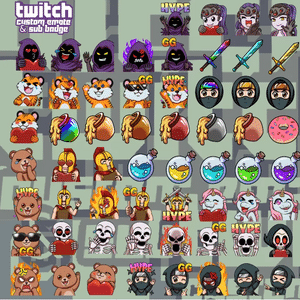 Claim for FREE:
FREE Emote PACKS
A book on growing your audience