Mason Lanier, known as Symfuhny is a very young and popular American streamer who has managed to gather a loyal audience throughout the years.
He played almost any game you can think of, like World of Warcraft, different versions of Call of Duty, and of course, Fortnite.
This guy has millions of loyal followers on all social media, and his streams are one of the most-watched streams on Twitch.
If you want to see what device makes up his setup, then you are in the right place because here, we have gathered all of his favorite streaming devices. Let's take a look at Symfuhny streaming setup.
Post 13 of 18 in the Professional Setups
What Headset Does Symfuhny Use?
Sennheiser HD 660 S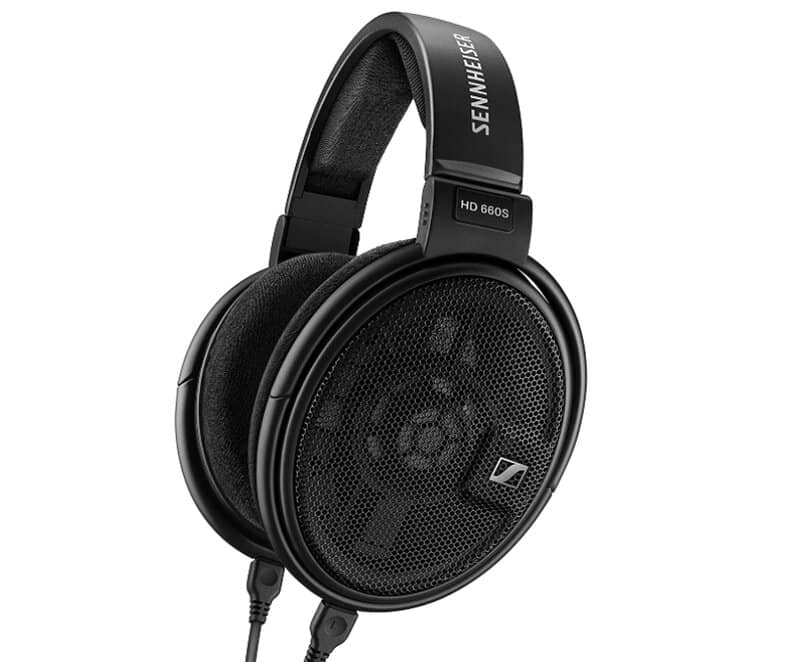 Symfuhny is a big fan of the Sennheiser HD 660 S – HiRes Audiophile Open Back Headphones, and you could see him using it for quite some time because they provide him with high-quality comfort sound, all at the same time.
These headphones have transducers of the latest technology that provide you with very low harmonic distortion and precisely create perfect right and left matching tolerance.
They are also very precise, and they have an impeccable presentation of stereo spatial characteristics.
All Sennheiser headsets come with two connection cables, and those are one with a 6.35-millimeter stereo plug, the other a 4.4-millimeter Pentaconn balanced stereo plug.
You will also receive a .35 millimeter to 3.5-millimeter adaptor, and you should know that these headphones are compatible with all PCs, gaming devices, and smartphones.
This headset will cost you around 300 dollars which is not that much money for a professional gamer, but there are definitely several headphones of much better high quality within the same price range.
Even though they are very expensive and popular, not all users are satisfied with them, and even though they love the clarity of sound is amazing, they claim these headphones break easily.
For headphones that cost this much, this definitely should not happen, no matter what the circumstances are.
Related: Best Wireless Headset for Streaming
What Keyboard Does Symfuhny Use?
Symfuhny x Matrix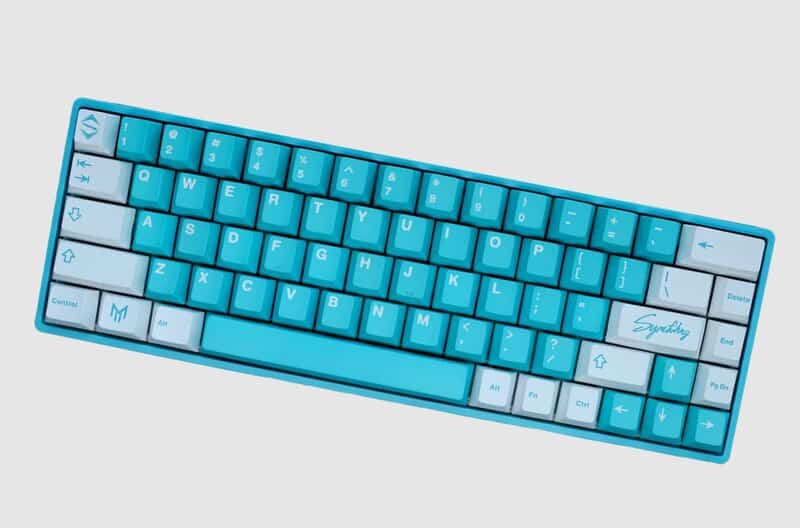 Symfuhny uses one of the keyboards from the collection he created with the Matrix company, and it is usually a popular product among his loyal fans and supporters.
This is a solid keyboard with PBT keycaps of very high quality and gateron switches in many different colors like silver, blue, green, and brown.
Even though it was made in collaboration with Symfuhnny, you can be sure he didn't have much to do in this whole process, and he was there just for the design, so I believe this keyboard is not that good as a professional keyboard should be,
The keyboard is also water-resistant, but those who have used it claim that this is a false statement and that in case it gets overloaded with water, it will stop working, just like most regular keyboards.
This keyboard may look cool and appear to be interesting to other people watching your stream, but in real life, it is not of much use, especially for professional gamers.
Those who have bought it claim that it is good if you play or stream out of the hobby, but in case you plan to spend hours every day using it, then you should definitely opt for something else.
For a price of 140 dollars, this is a pretty bad keyboard, and there are so many keyboards that are of way better quality and more enduring, so I recommend skipping it.
Related: Best Quiet Gaming Keyboards for Streaming
What Mouse Does Symfuhny Use?
Logitech G Pro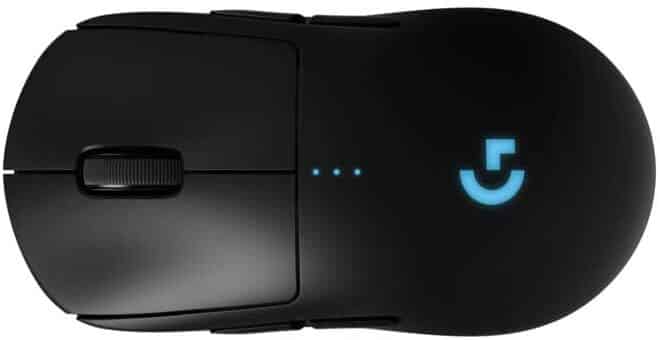 Many gamers and streamers love  Logitech products, and the same goes for Symfuhny, who has been using the Logitech G Pro Wireless mouse for quite some time now.
This product was made specifically for gamers in collaboration with the Pro Gamers company, and it is a result of years-long research and work with several professional gamers who were trying to come up with the best gaming mouse.
It combines the newest technologies, comfort, and an ultra-lightweight design to make the hours you spend gaming a lot easier and more enjoyable.
The Pro-grade mouse is nothing like traditional mouses, and it manages to deliver the amazing 1-millisecond report rate connection, making it one of the fastest mouses on the market.
There is also an integrated Hero 25K sensor with up to 25,600 DPI and 10 times bigger power efficiency than the previous generation of Logitech mouses that provide you with an amazing gaming speed and responsiveness.
The Po Grade mouse has a very lightweight design that provides you with a very thin but also very strong outer shell, allowing you to move it through the mousepad with ultimate ease.
However, at a price point of 130 dollars, this is a very expensive gaming mouse, and although it can be a worthy investment for professional gamers and streamers, this is something I recommend investing in only if you are making some money from this.
Related: Best Lightest Gaming Mouse
What Microphone Does Symfuhny Use?
Shure SM7B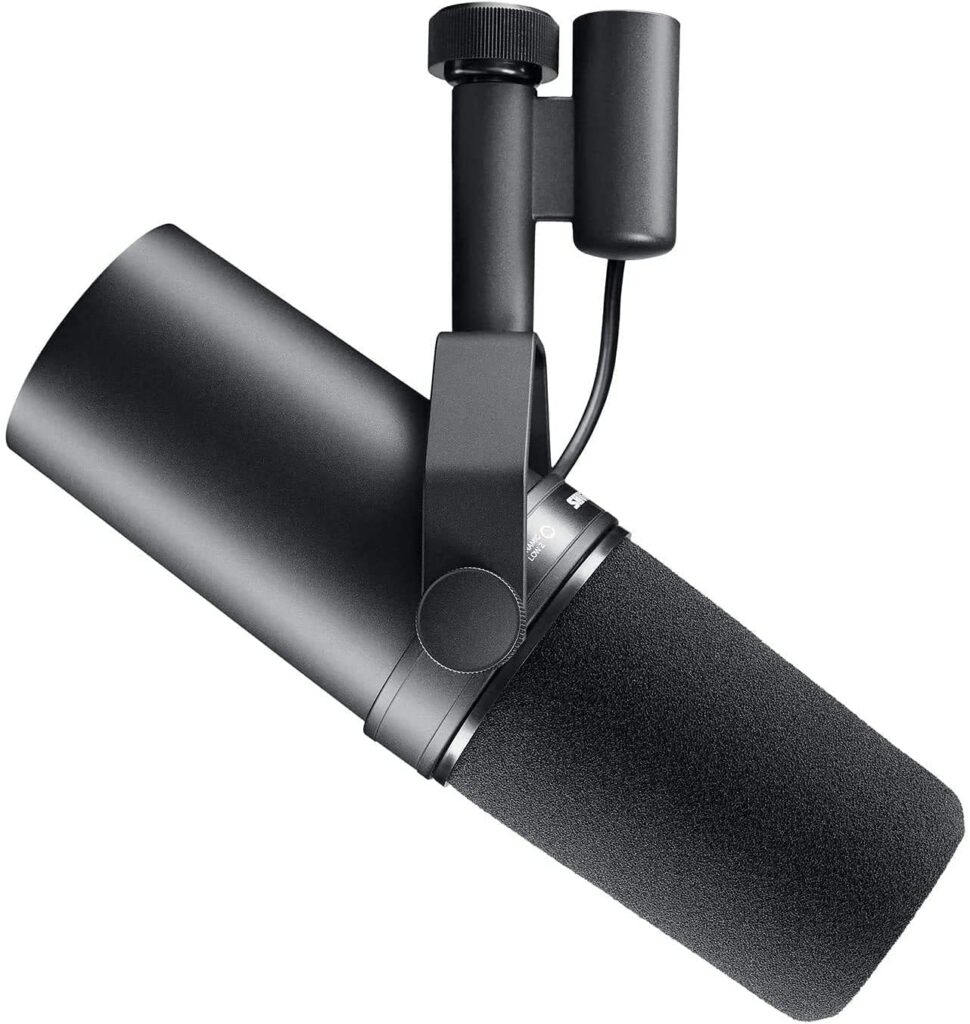 Symfuhny has been loyal to the Shure SM7B Cardioid Dynamic Microphone for quite some time now, and this mic makes an appearance in almost all of his videos.
This is a so-called all-in-one microphone, and it can be used for studio or home recording, podcasting, streaming, and anything you can need a microphone for.
If you are streaming professionally, then this is the go-to microphone for you because it captures clear and natural sound in an amazing way, and it also has an integrated SM7B technology,
Shure microphone also offers you a professional XLR connection that allows you to gain complete control over your sound and produce the highest quality sound.
The SM7B Cardioid Pattern is designed to reject Off-axis audio, and you can speak at any angle you find comfortable, and it will still capture the sound perfectly, without any coloration and background noises.
Even though overall ratings on this microphone are amazing, you should know that it will cost you at least 500 dollars, and even pre-owned ones are priced at 300 dollars, so this is definitely one of the most expensive mics on the market.
In my opinion, unless you are already a professional streamer, gamer, or podcaster, this is definitely something you should not be spending your money on.
Related: Best XLR Microphone for Streaming
What Monitor Does Symfuhny Use?
Alienware 25 inch Gaming Monitor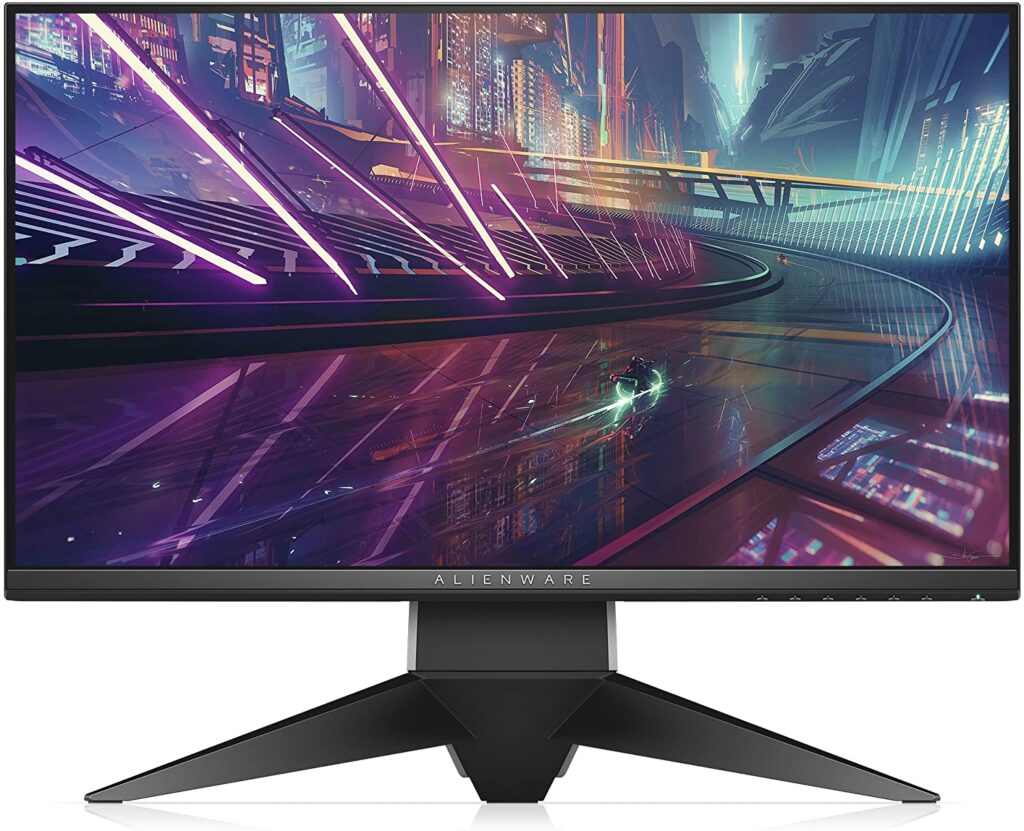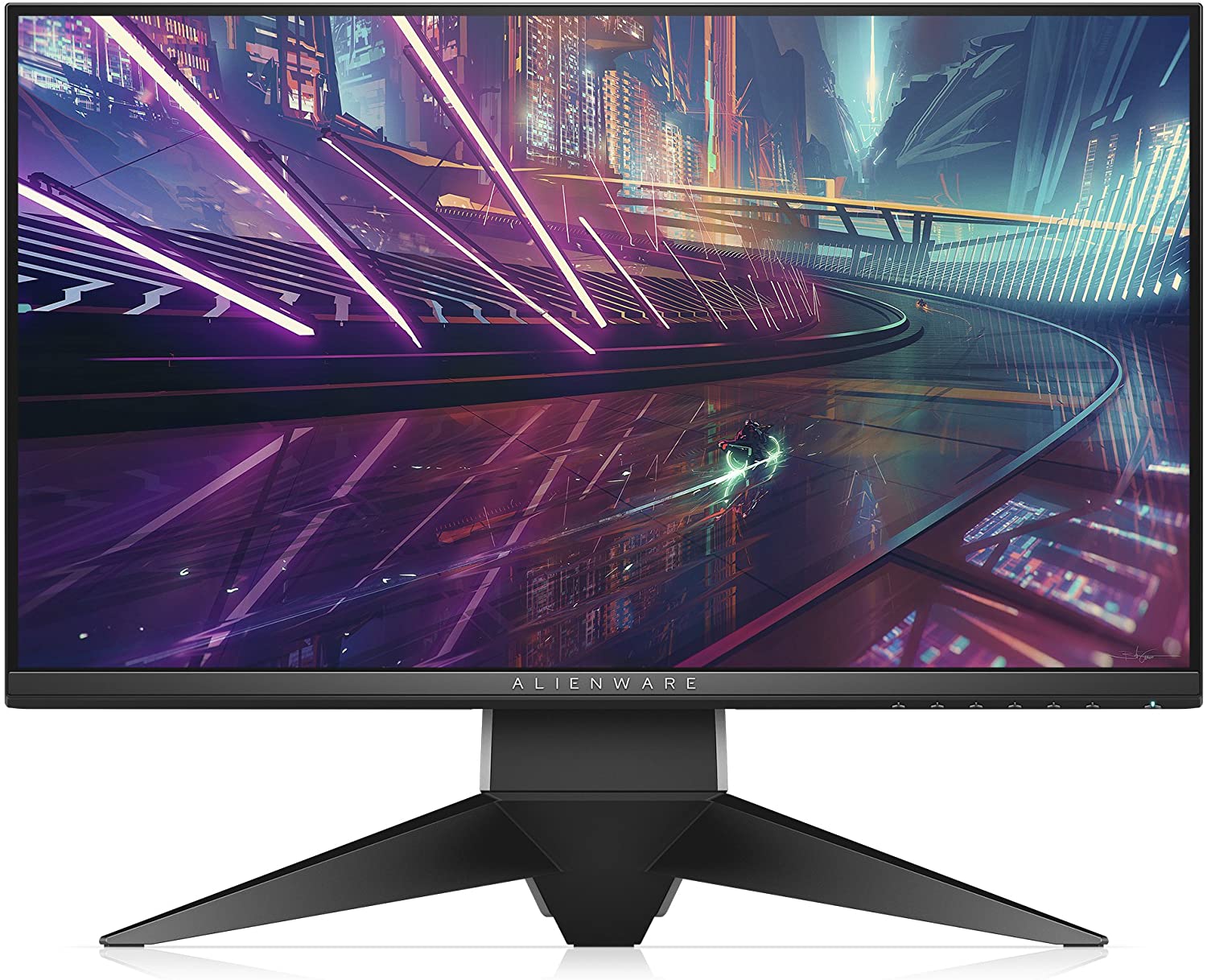 Symfuhny has also been using the Alienware 25 inch Gaming Monitor for the past few years, and this has become a very popular product among streamers.
This is a monitor made exclusively for gamers, and it has a 244hz refresh rate which is suitable for all the people who stream for hours.
Even though its graphics may not be that amazing, streamers choose this monitor because they value a fast and high FPS more than a completely perfect and clear picture.
It also has uses the NVIDIA G-SYNC display technology that eliminates screen tearing and minimizes all the Display stutters and potential input lag.
There is also a specific on-screen Display design made specifically for gaming and streaming and a great height adjustable stand you can set up however you like the most.
The gaming performance with this monitor is so smooth and perfect that you will probably forget about other monitors immediately, and it also has a high frame rate which is something you can't really find on regular monitors.
Alienware monitor also provides you with several connectivity options so you can do it through and USB upstream cable, DP cable, or with a regular power cable.
Overall the reviews on this monitor are very positive, and people claim that it is a lot better than most other monitors that have similar specifications, so if you were wondering what is the best monitor according to popular streamers, then this is something you should give a try.
Related: Best Streaming Monitor – Top 7 Products and Reviews
What Webcam Does Symfuhny Use?
Logitech HD Pro c920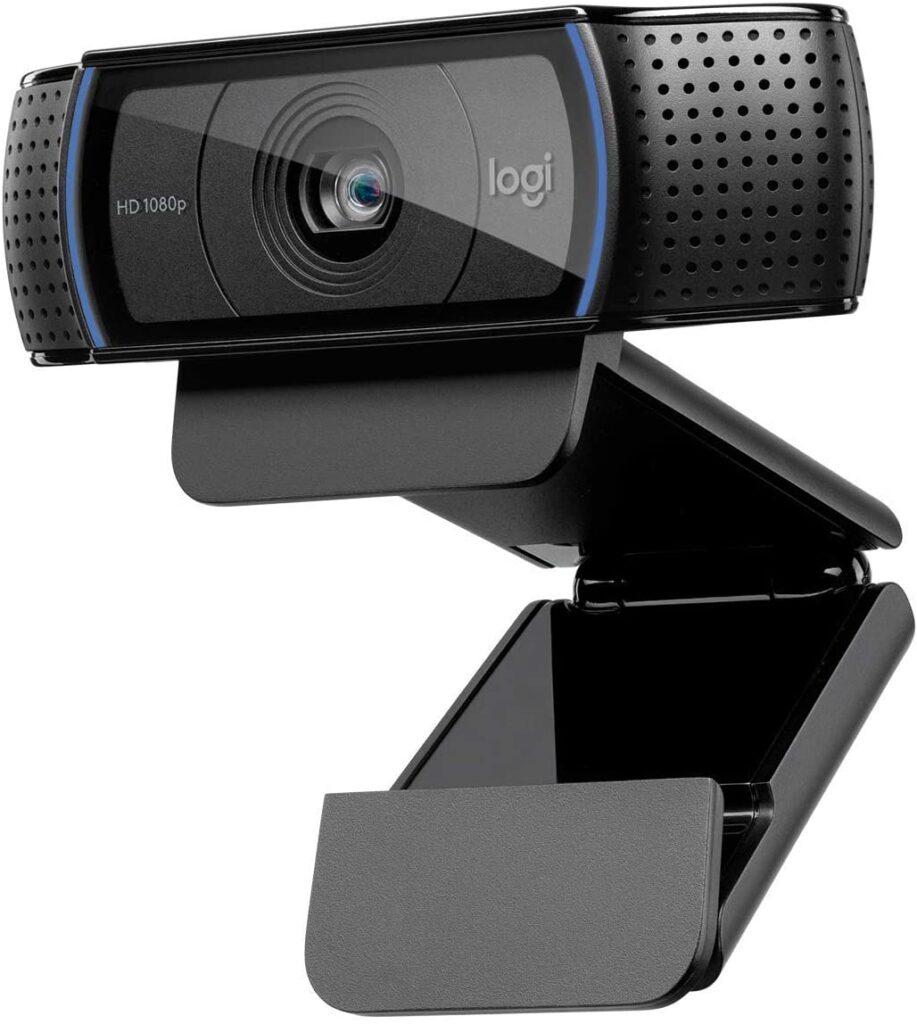 Symfuhny prefers the Logitech HD Pro c920 webcam that is made specifically for creating different kinds of live streams and video chats.
This webcam provides you with 1080p HD streams which are pretty rare for a webcam that is not a professional camera all in one, and it also allows you to modify the quality of the stream according to the strength of your internet connection.
There is also the option of automatic correction of low light and you can also choose to do the premium autofocus.
It is compatible with all sorts of PCs and laptops, and the installation process will not take you more than 5 minutes.
For 100 dollars, this is a great webcam, and it really provides you with a picture of decent quality, but if you are someone who is a professional in this field and makes a living from streaming and gaming, then you should probably invest a bit more money and buy a better one.
Related: Best Webcam for Streaming
What Graphics Card Does Symfuhny Use?
EVGA GeForce RTX 3090 FTW3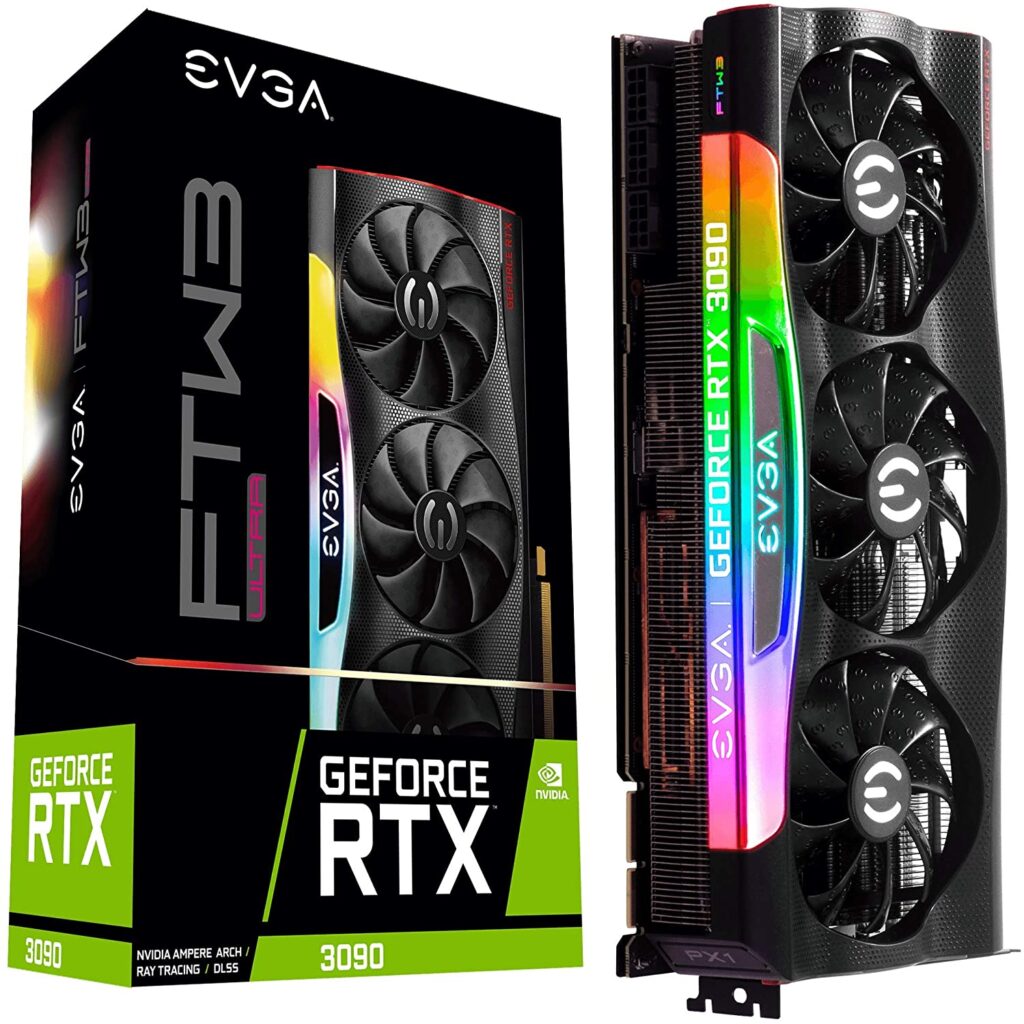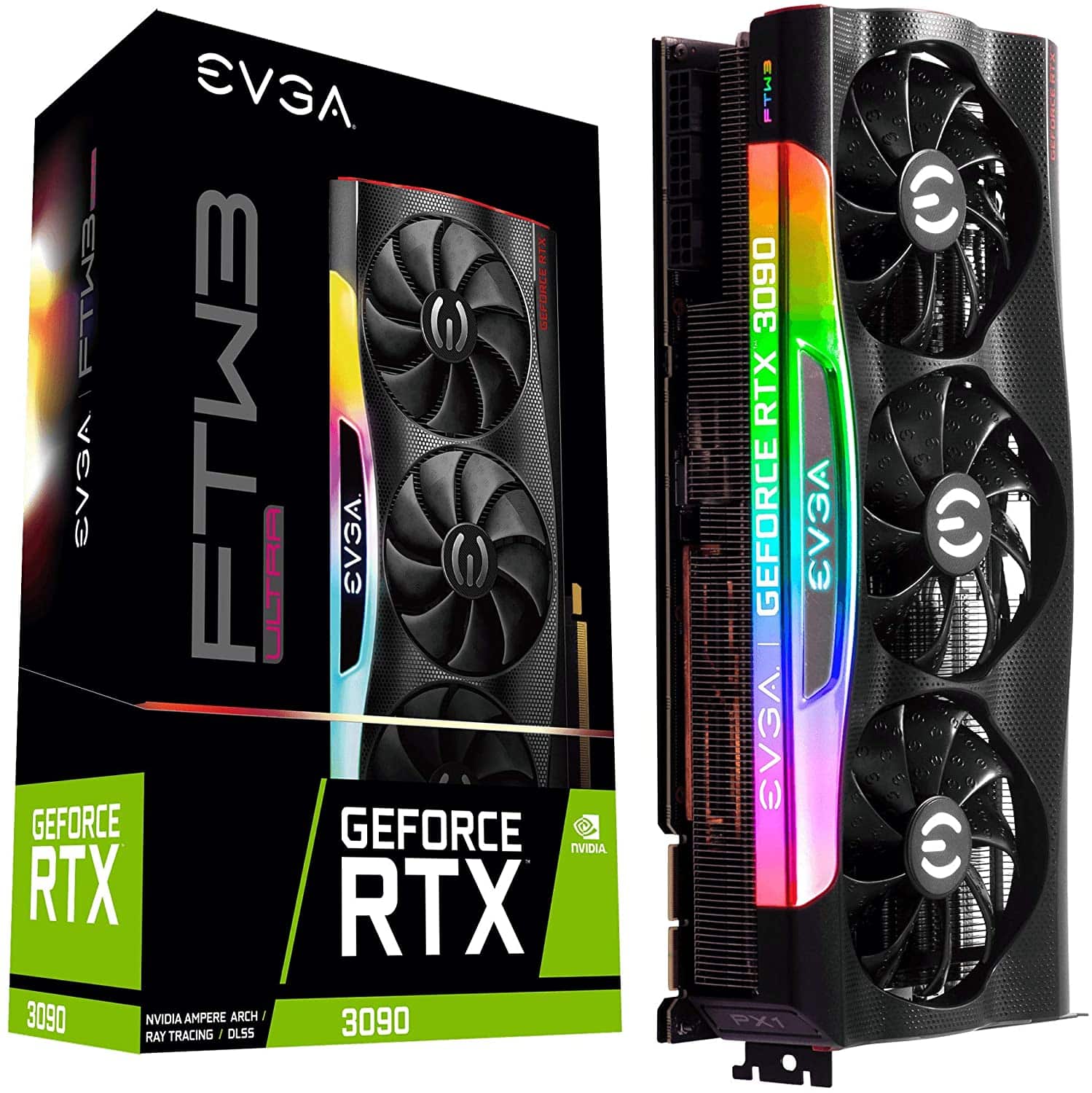 Symfuhny is a big fan of the GeForce RTX 3090 graphics card, and he has been worshipping this device in many of his videos.
This graphics card has Titan class performance and is powered by several different architectures like NVIDIA and RTX that provide you with first-class performance.
Its design is very modern, and it has several Ray tracing cores, a few tensor cores, and several of the newest multiprocessors that help level up your experience.
The RTX graphics card is made mainly for gaming and streaming, which is something that is pretty much obvious from its 24GB of G6 memory.
You can also expect an amazing 8K resolution which is something most other graphics cards do not offer to their users, and you can be sure the resolution will never fall down from this.
There is also the Shadow play feature that allows you to capture different moments from your game and save it to your memory or share it with your followers in real-time.
It is considered to be the graphics card with the best responsiveness and fastest performance, so many gamers, and streamers are switching from ASUS graphics card to this gem.
This graphics card is in the same price range as most of them, so I believe that investing 2500 dollars on this graphics card is a lot better than investing in some of the older ones.
However, you should know that this card is compatible only with newer PCs, and you will, not be able to install it unless you have a high-quality gaming computer.
Related: Best GPU for Streaming
What Processor Does Symfuhny Use?
Intel Core i9 9900K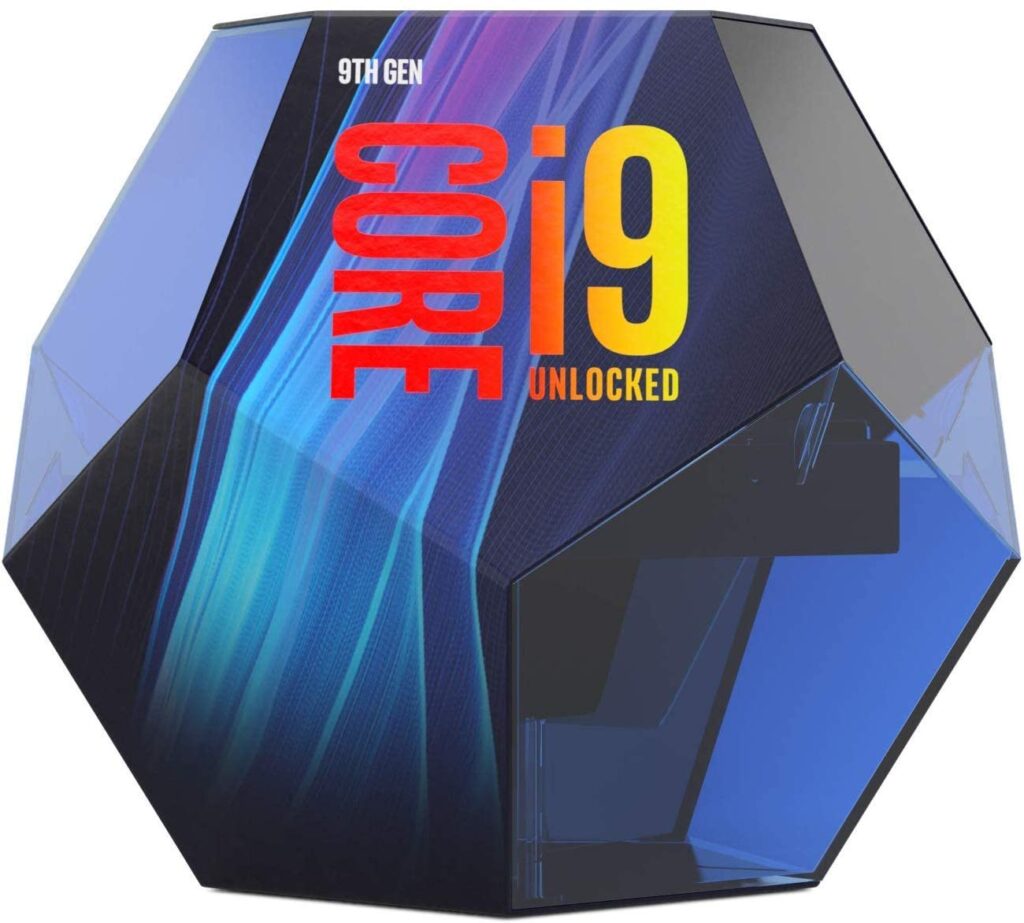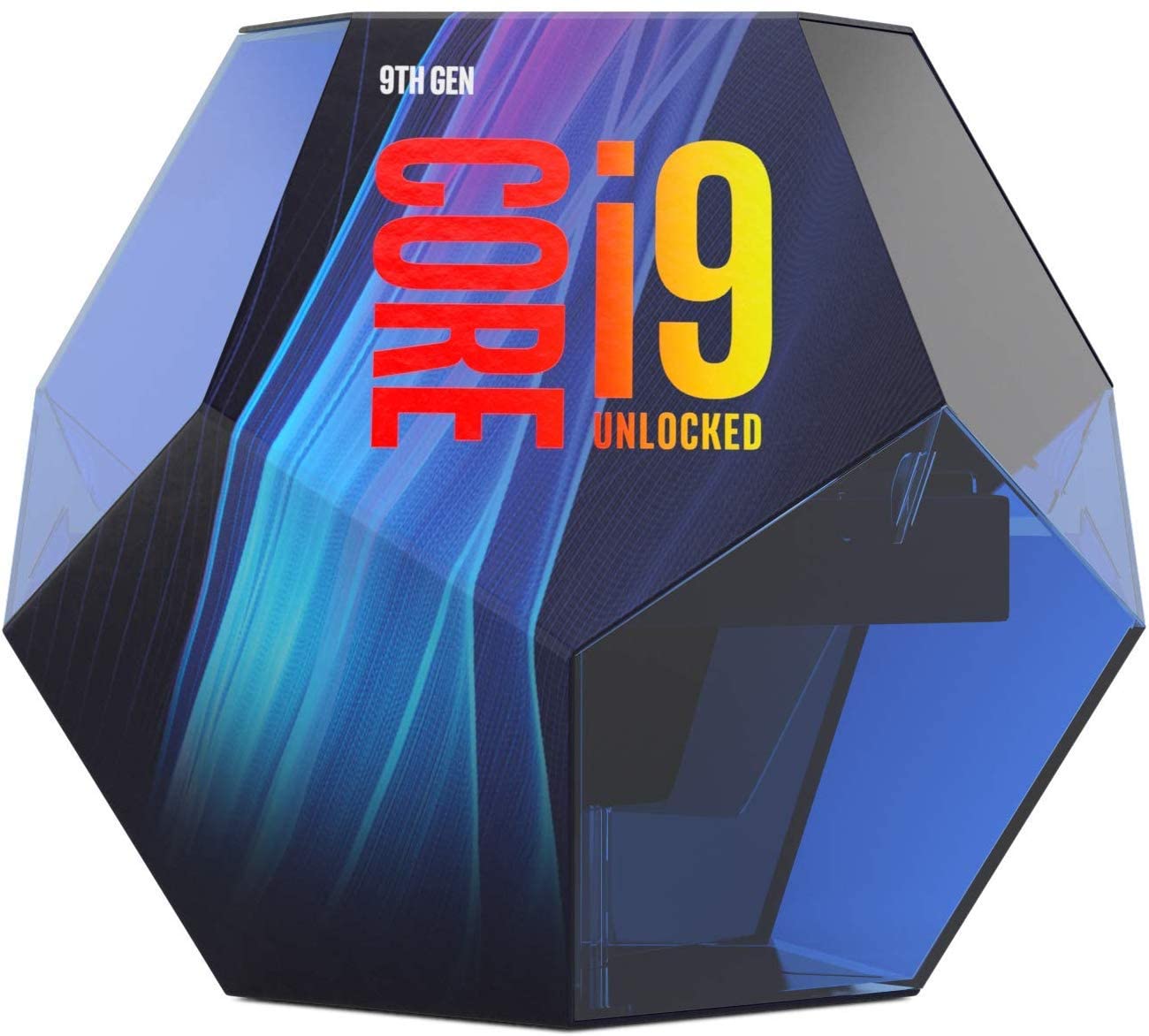 Just like basically any other gamer, Symfuhny has also been using the Intel Core i9 9900K Desktop processor with 8 cores for years now, and you can be sure that this is the best gaming processor on the market.
This is an amazing processor that has 8 cores and 16 threads which is a complete must if you want to have a high-functioning PC that will allow you to game and stream all the time.
With an integrated Intel Graphics 630 card and its speed is ranging anywhere from 3.60ghz to 5.0 GHz, this is one of the fastest working processors that allow you to game for hours without any obstacles-
However, Intel claims that this processor is compatible only with Motherboards based on Intel 300 Series Chipsets, so it sounds like you are required to buy another product from Intel in order to make this processor work.
However, even though this sounds like a big problem and a huge investment, most gamers and streamers use this processor without any problem in combination with other motherboards that are in no way connected with the Intel company, so you can do that too without any fear-
Unfortunately, this processor is always out of stock, and you really need to dive in deep in order to get your hands on it because it gets sold out all the time.
A good option, in my opinion, is buying a pre-owned one because it will save you a lot of money, and you will still be able to get your hands on this amazing processor easily.
Related: Best CPU for Streaming on Twitch
What Motherboard Does Symfuhny Use?
ASUS ROG Maximus XI Hero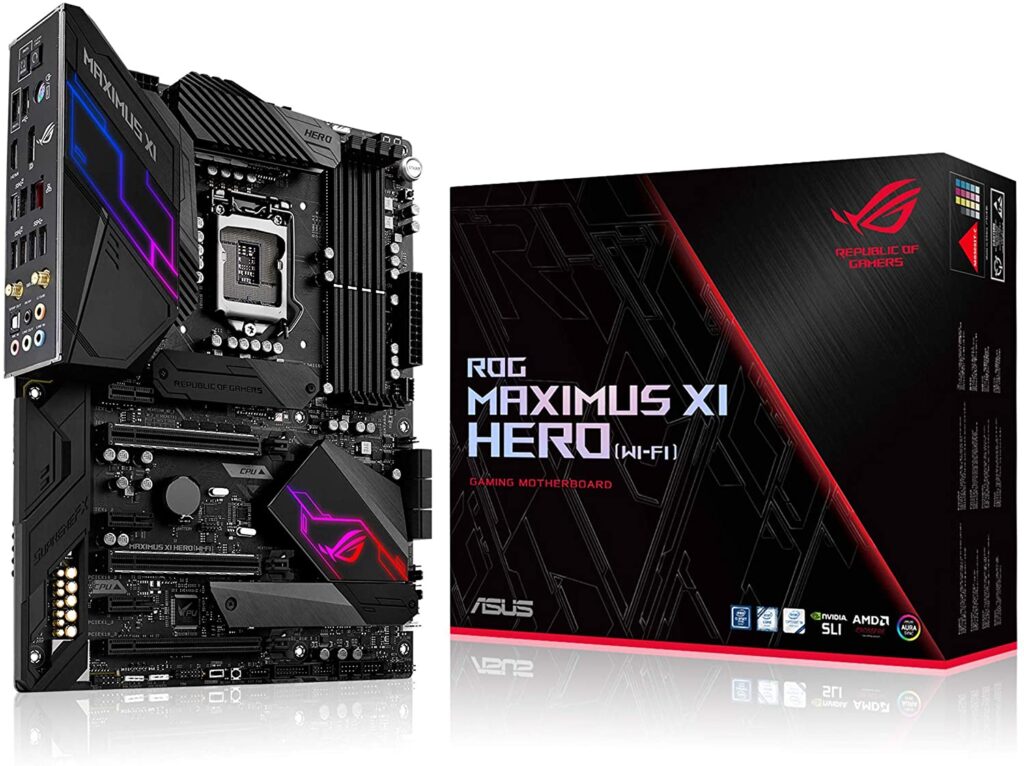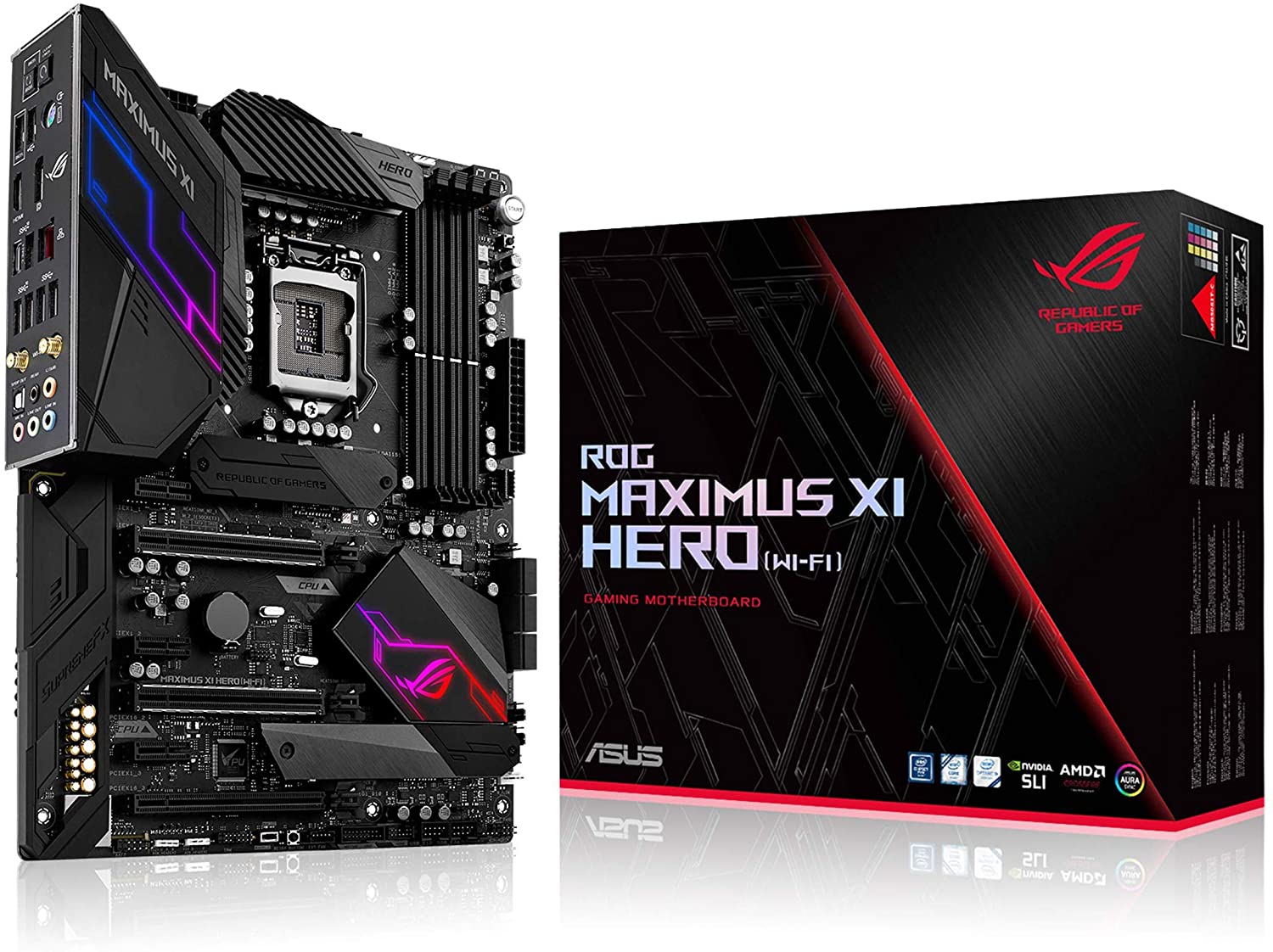 Even though he is using an Intel processor that requires a compatible Intel motherboard, Symfuhny has been using the ASUS ROG Maximus XI Hero Wi-fi gaming motherboard for years, and it seems to be working just fine.
This device has a great synchronized RGB lighting technology that will make your device look very cool on the stream, and it allows you to choose the colors you want to see.
Even though it can heat up a lot, this is one of the rare motherboards with an integrated cooling system that does its job.
Its integrated cooling system consists of a very good M-2 heatsink and several fan controls that will make your experience a lot easier and more enjoyable.
When it comes to gaming connectivity, it is quite flexible, and it is compatible with different processors and PCs, so you can be sure it will be able to work without problems.
This motherboard has maximum gaming durability, and when it comes to this, it is considered one of the best on the market.
Unfortunately, this product is also rarely available, and many people buy it pre-owned, so you should do some research and choose the most affordable option for yourself.
Related: Best Motherboard for Streaming