Once you decide to turn your hobby into a job, you have to start thinking about getting the proper equipment.
Well, if your goal is to become a pro at live streaming, you have to invest in the right streaming software.
There are many available on the market, so deciding which to get is often a hassle.
This time, I will be reviewing Streamlabs Pro – the software similar to OBS.
Continue reading this Streamlabs OBS review to find out is Streamlabs OBS good?
Post 1 of 2 in the Software Review
Requirements for Streamlabs
Before I start this Streamlabs review with talking about the program in general, let's see whether your computer meets all of the requirements.
One of the biggest advantages of Streamlabs is that it isn't so demanding – just like OBS.
The software works fine on almost all computers and in most cases, all you have to do is just tweak some settings to get the best video and sound quality.
So, let's begin with the operating system.
When it first came out, Streamlabs only worked on Windows computers.
Mac users had to use Boot camp, but fortunately, they do not have to anymore.
Now, Streamlabs is available for both operating systems.
When you go on their website, just pick the version suitable for the operating system you own on your computer.
Can you use Streamlabs on phones?
Furthermore, Streamlabs isn't just computer software.
Many have installed it on their Android devices and iOS smartphones as well.
So, as you can see it offers a lot of versatility and you are not tied down to using it only on desktop, but can share the content from your phone as well.
Also, it is compatible with multiple streaming platforms (Twitch, YouTube, etc.) which means that you can build an even larger audience.
When it comes to streaming resolution, it allows streaming in 1080p.
This is the maximum resolution, and not many streamers have the equipment that will support smooth streaming in 1080p. Still, at least you will have the program that will follow your progress if you decide to upgrade and buy new equipment.
Here is a short overview of some basic requirements:
Operating system: Windows and Mac
Mobile app: Yes, for Android and iOS smartphones
Streaming resolution: 1080p
Streaming platforms: Supports Twitch, YouTube, Mixer
What Can You Do via Streamlabs?
Currently, Streamlabs is mostly used for recording and streaming.
Twitch streamers and YouTube gamers are the majority of users.
It is appealing because of its simple, modern design, and many features.
Also, Streamlabs is beginner-friendly – there is an Auto Optimization feature, so if you aren't sure which settings to pick, the software can choose and set the best Streamlabs settings for either streaming or recording.
Of course, some features have to be set manually but do not worry – the program is super intuitive, so you will quickly learn how to set them up and change them to match the theme of your streams.
Related: Streamlabs OBS Game Capture Black Screen – Top 8 Best Fixes
Streamlabs – Computer Setup
Before I get into the setup process, I have to mention a few things.
Here is a list of things to check before download:
1. Visual C++
Streamlabs does require a few extra files to run.
So, if you do not have Visual C++, download it and then get Streamlabs.
Both 32 and 64-bit versions will work.
2. Drivers and Software
Other things you have to check are drivers and software – if these are not updated, Streamlabs won't work.
Make sure that you have the latest versions, and once you are finished with the updates, restart the computer and then go to the Streamlabs website to download or update Streamlabs.
3. Firewall and Anti-Virus
Windows Firewall is the most recommended one, but you can install any you prefer.
With the firewall, you will get access to all Streamlabs features – if you do not have it, then you might have trouble setting up some widgets.
Also, make sure that anti-virus isn't scanning all of the Streamlabs features. Whitelist it to prevent this.
As I said, I will talk about the setup in this Streamlabs review. After download and installation, you will have to tweak the settings. All of them are placed in the Settings tab – you will see a few different categories, and here are some recommendations:
4. Resolution
This setting is located in the Video tab.
There are two resolutions: base and output.
As mentioned, Streamlabs does allow 1080p streaming, but it might slow down your computer.
I would stick to 720p just to make sure that everything is running smoothly.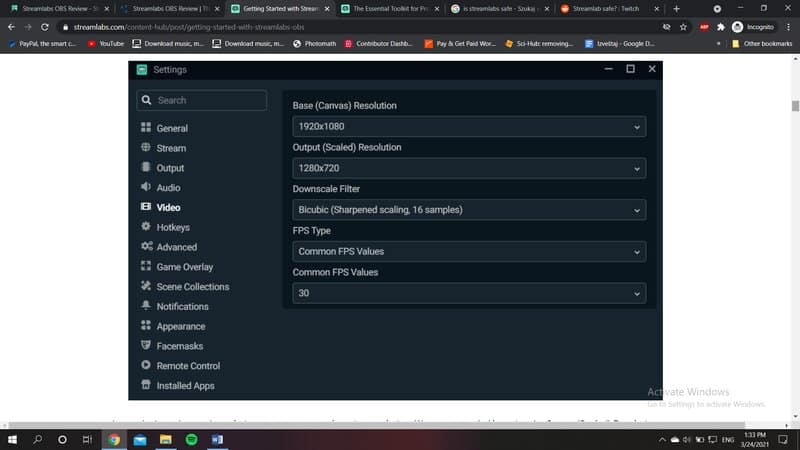 5. Encoder
If you have an NVIDIA graphic card, I would recommend using NVENC.
For any other case, stick with x264 – it uses the CPU more, but it is a better choice for people without NVIDIA.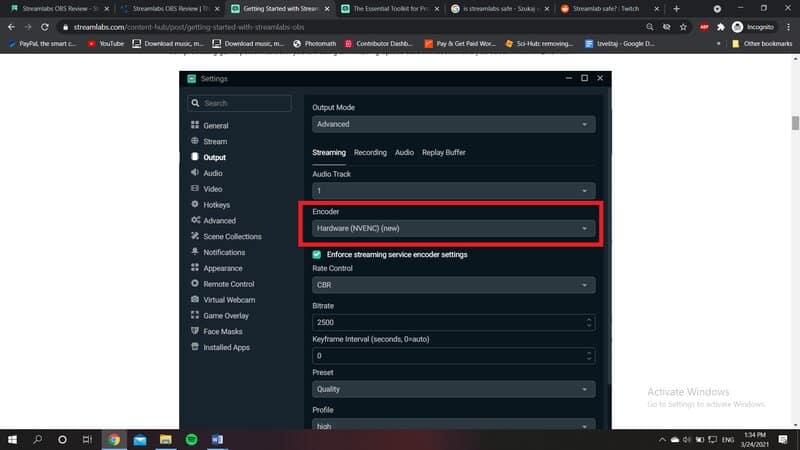 6. Preset
You will find Preset in the same tab.
Choosing a Preset is tricky, so I recommend testing out each option.
Firstly, set it to Quality, start streaming and see if everything works fine.
Then change it, start recording again, and if there are any delays or other problems, go back to Quality.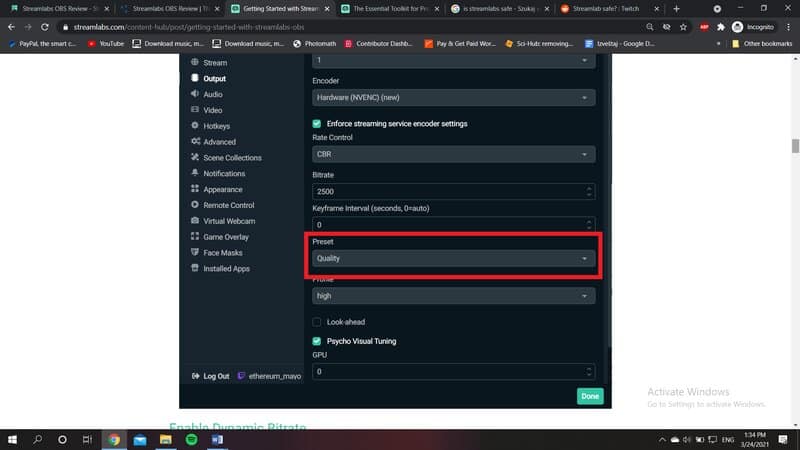 7. Bitrate
There are two ways to set up Bitrate – the software can choose the best one by itself or you can do it manually.
If you aren't sure which one to pick, then just select Dynamic bitrate.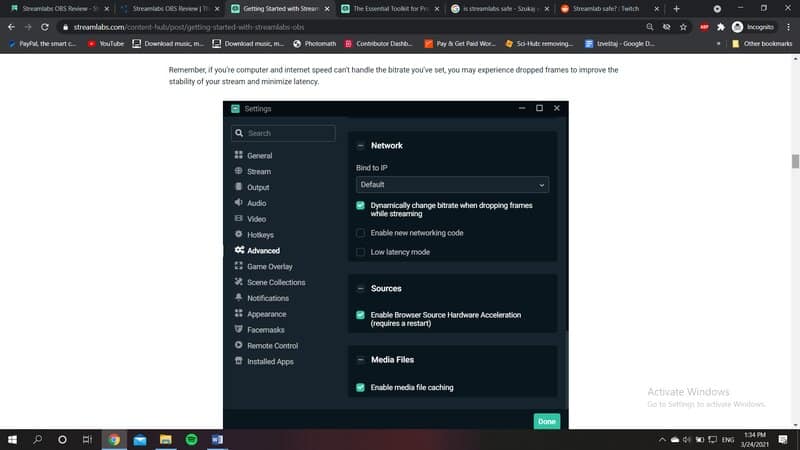 Sometimes picking the best settings is tricky, especially for beginners, so if you aren't sure what you are doing, just turn on Auto-Optimization.
In this way, you will get the best video quality, without any delays, frame drops, and similar problems.
What to Expect from Streamlabs – Features
Streamlabs incorporated all features needed for streaming, so you don't have to search for third-party programs.
Let's see what it has to offer:
1. Overlays
One of the most important things is branding – viewers should easily spot your content and recognize it, and branding is mostly done with overlays.
Streamlabs has a rich overlay library, so you can pick the one that suits you the best and that will make your content stand out among others.
2. Alerts
Alerts are an important part of any stream.
Firstly, this is another way to brand your channel and account.
Secondly, it allows further interaction with the audience.
You will be notified whenever someone subscribes, follows you, or makes a donation.
Since many find adding alerts tricky, here is a short tutorial on how to do it:
Alerts are Sources, so in the Sources tab, add a new one by clicking the "+" button.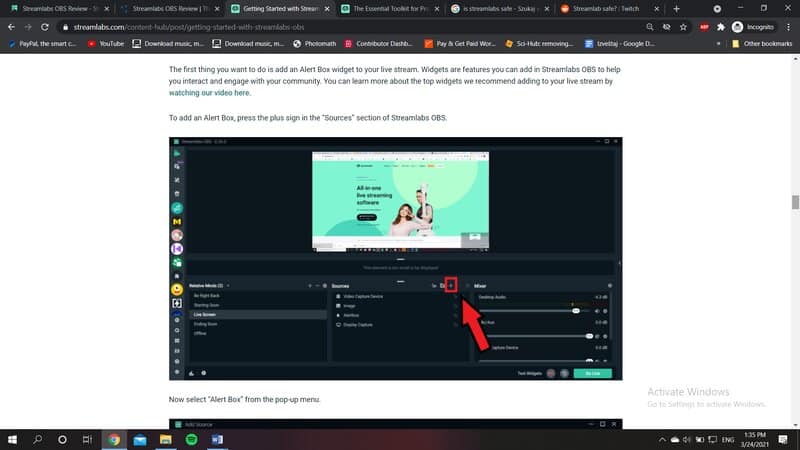 In the Widgets tab, find the Alert box – it should be on top.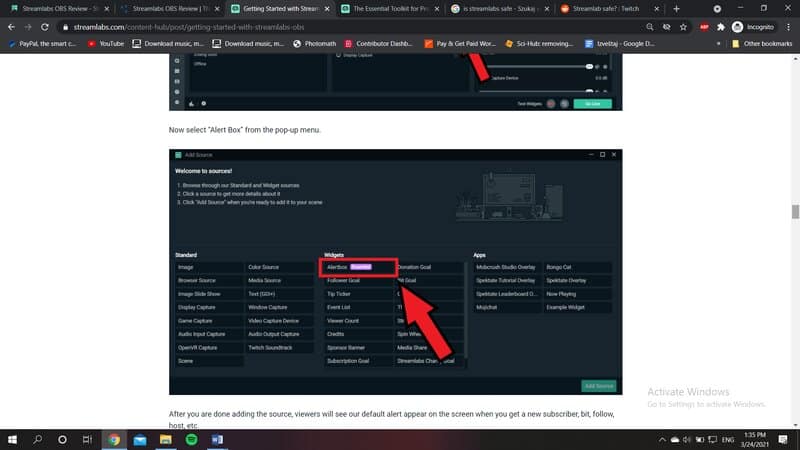 Customize the widget to match your style. Open the dashboard and choose "Alert box".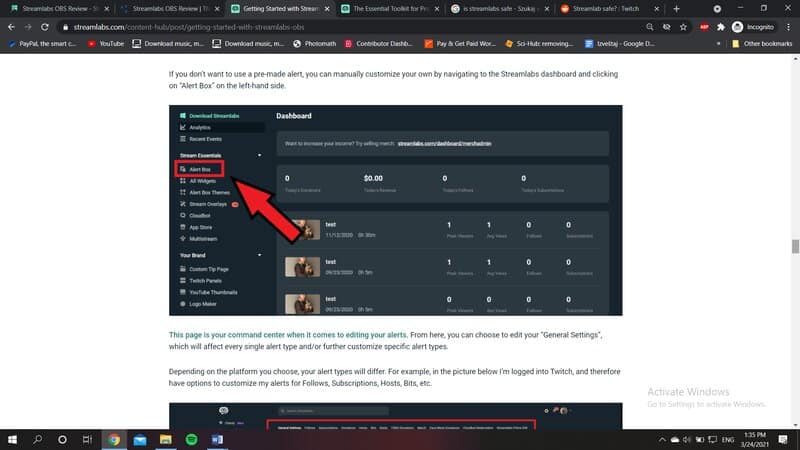 Select the alerts you want to customize – for example, OBS alerts for new followers or donations.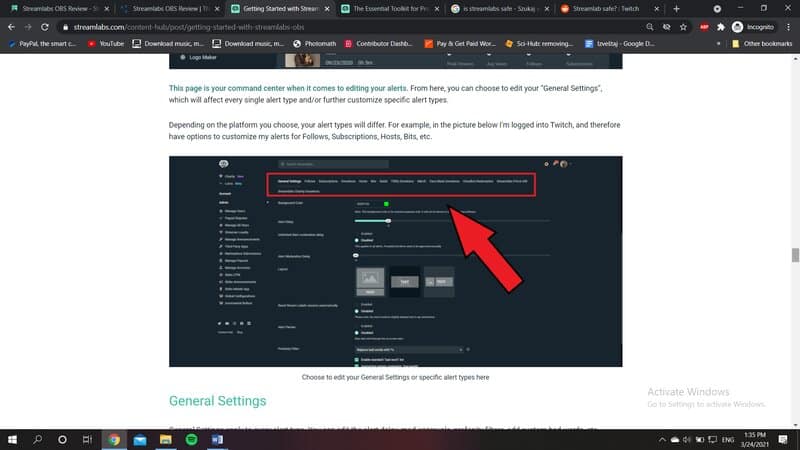 In the General tab, choose the length of the delay as well as filters and mods.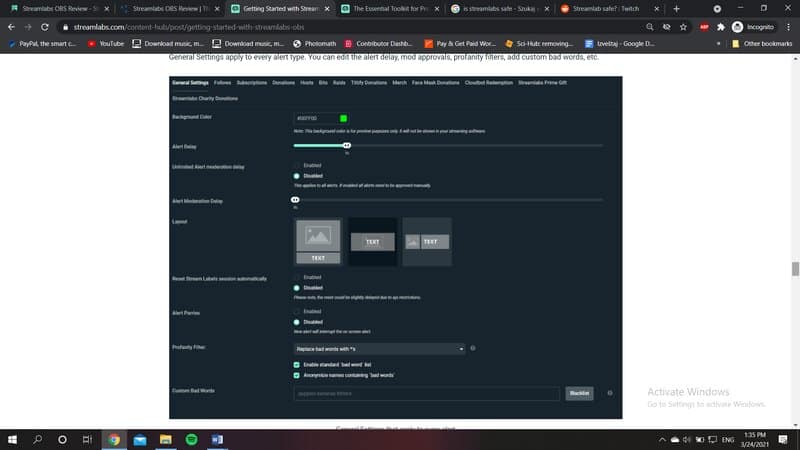 If you want to add any specific image to any alerts, just open the settings for the alert you want to alter.
When it comes to variations, you have to set up a name and then add a photo or animation that will follow it.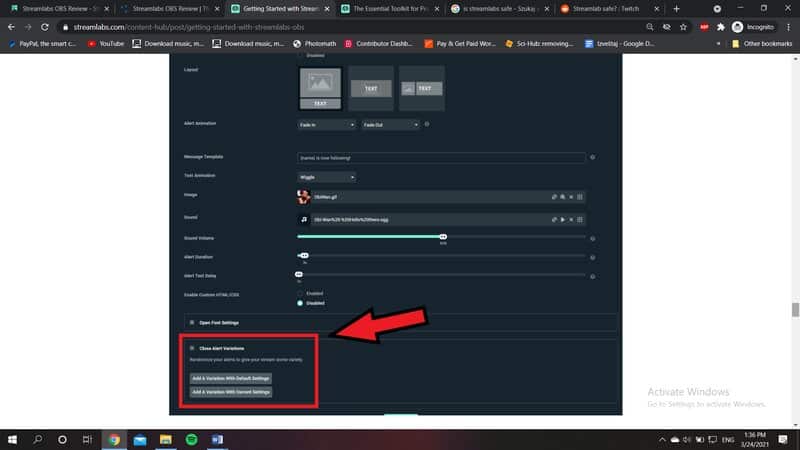 If you do not want to customize the alert box manually, just select one of the premade widgets – there are hundreds of different designs.
3. Multistreaming
Viewers like to follow the gameplay in real-time, so live-streams have more views than uploads.
Luckily, Streamlabs allows you to stream on many platforms at the same time – both Twitch and Facebook viewers can enjoy the show!
4. Donations
Streamers earn money via donations, so it is best to stick to the software which incorporated them, then use third-party programs.
There are different ways to earn money, so just choose the one most suitable for you – five paying methods are available, and one of them is PayPal.
The money you receive is entirely yours. Streamlabs doesn't take any cuts, so you do not have to worry about losing some amount.
Furthermore, the alerts you've previously added will inform you about every new donation. These alerts can be further customized, so for amounts over a certain limit, a different alert can be used.
5. Apps
Streamlabs has also enabled apps.
These aren't like mini-games for viewers, but apps that will help you improve your streams.
Some of them can help you get more sponsors, incorporate music or interact with the audience.
6. Merch
With Streamlabs, it is all about branding, so they enabled merch as well.
You will bunch of different products and put your own design on any, so your followers and viewers can further support your work by purchasing these items.
7. Lucra
This is a special feature designed to help you earn more money from streams.
Through Lucra, you are selling tickets for broadcasts and only people with tickets can watch the gameplay.
Since these events are typically smaller, it will be easier to interact with the viewers.
Streamlabs Price
Unfortunately, all of those amazing features aren't free.
I have to state that there is a free version, so you do not have to worry about paying for a program and Streamlabs refund in case you do not like it.
So, I encourage you to test the free version and then purchase the software if you liked the features.
Keep in mind that this free version doesn't give you full access – some of the best features won't be available to you, but you can still learn a lot about the software.
For Streamlabs prime, you will have to put aside $19.00 every month. Compared to the prices of other software, it isn't too much and you will probably earn the money needed for a subscription via donations and tips.
When it comes to Streamlabs Pro cancel option, I would suggest doing it during the first 60 days of the membership. During that period, you can receive a Streamlabs Pro refund.
The money will be given back in a few days after cancelation.
What Do Users Have to Say?
Since this is one of the most popular streaming software on the market, the reviews are mostly positive!
Both Twitch and YouTube gamers are satisfied with the program, even with the free version that doesn't have as many features.
So, like all of them, you probably won't be disappointed if you choose Streamlabs.
What Are the Best Alternatives?
If you aren't quite happy with the software, here are some alternatives:
1. OBS
This two software are similar. OBS doesn't have as many features as Streamlabs, but it is still a great software.
Also, it is even less demanding than Streamlabs, so it will probably be easier to figure out how to add a new feature, set it up, etc.
2. XSplit
XSplit is also software that has it all.
It can be used for creating high-quality videos of any kind, not just streaming.
However, when it comes to customization, you will have more options with Streamlabs.
3. Wirecast
Wirecast can be implemented in many fields.
It is often used by teachers, during conferences, and different broadcasts.
However, the software is more complex, and I wouldn't recommend it to beginners.
Conclusion
Streamlabs is beginner-friendly software with a variety of features that will allow you to create quality streams.
With the ability to brand your channel via Streamlabs, you will most likely increase the number of followers and subscribers easily.
Hopefully, this guide has answered some of your questions!
While you are here, check out the FAQ below!
Frequently Asked Questions
Is Streamlabs worth it?
Yes, it is quite cheap (only $19/month) and gives you full access, which means branding, merch, app store, multistream, and many other features will be unlocked.  If you aren't pleased with this version, you can ask for a Streamlabs Pro refund in the first 60 days of getting it.
Will Streamlabs take a cut from my donations?
No, Streamlabs won't take a penny from the money you make via tips or donations. Keep in mind that if you are receiving money via PayPal, that platform will take a small cut.
Is Streamlabs free?
There is a free version – you can try some of the features because with this version you are getting limited access. It is a great way just to test whether this software suits you or not.
Is Streamlabs safe?
Yes! Many streamers never had any issues with the software, and many are even using it to earn money by streaming, so there is nothing to worry about.
Join our Discord Group. Ask questions, team up with fellow streamers, share memes, and more!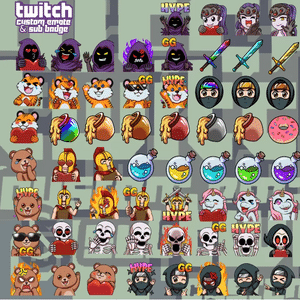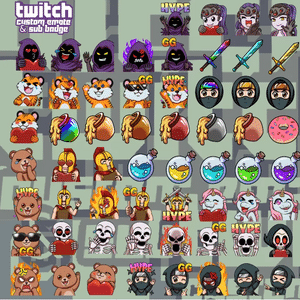 Claim for FREE:
FREE Emote PACKS
A book on growing your audience