Professional streamers usually focus on finding the right webcam and lighting setup that will make their streams look perfect but rarely take time to find a good microphone that will also significantly impact your performance.
For that reason, they usually have amazing video quality, but their sound quality tends to lack a lot, and it makes them very unattractive to other users on the network.
Finding the right streaming mic can really be a challenging process, especially if you are on a tight budget, but never underestimate the power of it.
Today we have decided to review one of the most popular microphones on the market – the Shure MV5 microphone that is the choice of many successful streamers.
Shure MV5 Review
Features, Software, Audience, and Price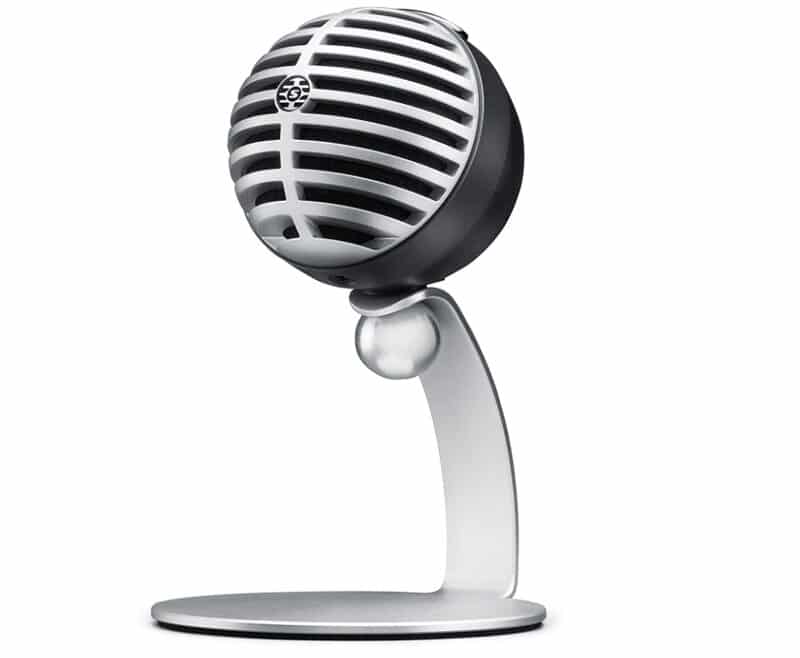 The Shure MV5 microphone is one of the most popular microphones on the market these days, and the Shure brand has managed to establish itself as one of the best companies when it comes to streaming.
This is a professional microphone that can easily be used with USB ports, and it provides its users with the amazing audio quality signal you don't come across too often.
Its design is pretty interesting and retro, and although it does a great job in recording streams and podcasts, it also looks pretty cool in your video stream.
The frequency range of this product is also amazing, and although it is not good as the Blue Yeti microphone, it is still an amazing choice for all professionals in the streaming field.
It comes with three DSP modes,s and all of them will sound amazing on any type of headphones and speakers, but even if the vocals don't seem to sound good, you can correct that through the control panel.
The microphone is also compatible with different apps for voice editing, like the Garage Band app that will allow you to edit everything, including the vocals and the instruments.
In my perspective, this is a really great microphone, and its build quality is pretty good for a microphone as cheap as this one.
Even though it is not the best option for professional streamers and podcasters, it will be a great option for all beginners,s and it will definitely allow you to develop some volume control skills.
Overall, it is a decent microphone that has a lot of great features, and it is a condenser microphone, so it will definitely provide you with great sound output.
Software Installation
In order to install the Shure MV5 microphone on your Windows PC or laptop, you will have to download their special Motiv app that will allow you to gain control over the device.
Once you connect your Shure microphone to your device, it will get recognized by this free app, and it will allow you to do real-time monitoring and control the volume dial throughout the recording process.
It will also allow you to do the video review and make sure the sound recording and the video perfectly match.
Shure microphones are connected to these devices through a USB cable, and the good thing about them is that they will work well with Android phones or your iOS device too.
Key Features
1. Condenser mic
This Shure MV5 microphone is actually a condenser mic that will provide you with both great sound input and output.
The recording quality on condenser microphones is a lot better and higher than on the same microphone that doesn't have this feature.
Since it is about the same price as most regular microphones, this is really a great investment because it is of decent quality and it will provide you with an amazing sound quality that many expensive mics can't guarantee you.
2. Frequency range
The frequency range on this microphone is also pretty high, and it is usually somewhere between 20 Hz and 20 kHz.
You can count on a frequency range like this even if you are using it on your Android or iOS devices which is really an amazing thing not many mics can provide you with.
It also helps the recording quality to be a lot higher, so I highly recommend choosing it, even if you don't plan on streaming or filming through your smartphone.
3. Motiv recording app
Your Shure MV5 microphone will work the best with the Motiv audio app that is designed specifically for their USB mics and allows you to access multiple recording modes.
This app will allow you to choose flat or instrument modes while recording and make sure you get high-quality audio with minimum effort.
USB mics like this one usually give the best results when using a flat mode, so this is an option I highly suggest, especially to podcasters.
However, I believe this whole thing could have been executed better, especially because it is an XLR mic, too, and it could really give amazing results if all of these settings were matched properly.
This app will also allow you to choose the vocal mode that will sound the best on your desired headphone volume and help you create a recording of great quality.
When using this app, you will really get an amazing sound and its quality and clarity compared to that of much more expensive microphones are pretty much the same, so I would say it is a great purchase.
4. Headphone jack
This microphone also has a built-in headphone jack which is a really great thing and something you don't come across too often, even on very expensive mics.
It would perform and sound a lot better if it was paired with a pop filter, but you will get great results this way too.
Unfortunately, it doesn't have a mute button which is much more important than you probably think, especially if you are a professional streamer.
And, if you are using it on a Mac device, not two people can speak at the same time, but only one person, and if you are using an iPhone, you will have to make sure your Motiv app is open so the mic can connect directly.
The good news is that they plan on solving these problems they have with Mac devices, so you will definitely be able to record easily on your Mac computer soon.
Target Audience
This Shure microphone is aimed at people who stream or podcast out of a hobby or for those who are complete beginners in the industry and still don't know what the right settings and options are.
Since it only needs its original Motiv app in order to work well and provide you with all the benefits, it really is an amazing product that will work great even for some more important things and recordings.
It also doesn't have too many recording modes, and it will not provide them with mic gain nor a good back panel, so it is really a product reserved for amateurs.
However, I still believe it is a great tool for podcasting and streaming, and I believe you will be able to get great results while using it.
Price
Starting at 85 dollars, this is a very cheap microphone that really has a lot of features and filters, and even though it is not considered to be a professional one, it is still a lot better than many more expensive mics.
Shure microphones are really of great quality, and they will allow you to record anything and everything for a very small amount of money, so I really believe they are a worthy investment for everyone who wants to step their foot into podcasting or streaming niche.
Frequently Asked Questions
Is Shure MV5 a professional microphone?
No, the Shure MV5 microphones are not professional studio microphones, but they are rather products made for amateurs in streaming and podcasting.
Does the Shure MV5 mic come with a mic stand?
Unfortunately, the only additional equipment you will receive with your Shure mic is the lighting cable and the USB cable. It doesn't come with a special mic stand, but it usually works fine with all the mic stand you can find on the market these days because its design is pretty simple.
Conclusion
Even though the Shure MV5 microphone is definitely not a professional studio mic, it will still serve as a great tool for everyone who is into streaming or podcasting.
It has its own app that allows you to control every piece of your audio, and it can really help you transform your vocals.
These products may look too simple and dull for a professional streamer or podcaster, but it is in a lower price range, and it still has some extra features, so I would really consider buying it.
It may not be the professional Blue Yeti mic, but it is certainly one of the best products you can find on the market, especially within this price range.