Finding the right microphone is certainly a nightmare for most streamers, and even though there are hundreds of different devices on the market, it still seems like it is extremely hard to find the one that works well for you.
Not all microphones are a good choice for our fellow streamers, and it takes some time and knowledge before you can make the right decision and choose the device that will work perfectly for you.
For that reason, we have decided to do the Samson Meteor mic review and see whether this popular microphone is a good option for streaming or you can avoid it.
Samson Meteor Mic Review
Features, Software, Audience, and Price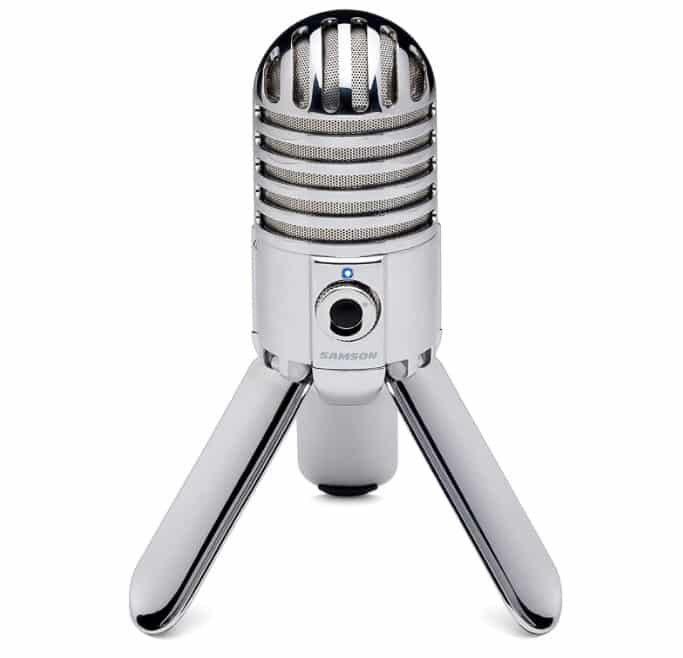 The Samson Meteor microphone is a professional studio USB mic, and it is known for its beautiful and practical design, which made it a best seller and a favorite among streamers.
It will be able to provide you with a smooth sound, and it guarantees a flat frequency response; and it also has a mute switch which is something that you don't come across often on mics, especially on USB mics.
The microphone operates on the cardioid pickup pattern, and it is very sensitive so that it will pick up on any sound in your environment.
Since it is compatible with different computers and laptops, but smartphones too, this Samson Meteor mic can easily be installed and used for various things – from video chats to podcasting and live streams.
It operates on a simple plug-and-play technology, so you will need to connect it through the USB cable to your device and launch the software.
This is also a condenser microphone with a čarge diaphragm and cardioid pattern, so it can be suitable for singing too, which is not something USB microphones are usually made for.
The microphone is also pretty simple, and although it will provide you with great sound quality, you will be able to navigate it easily and choose the settings and options you prefer with just one click.
This USB microphone is also in the medium price range, so I would really recommend investing some money into it because it will pay off in the future and it really gives fantastic results.
If you are looking for a good microphone that is not a too expensive mic at the same time, then this is definitely the right choice for you, and it will provide you with all the settings you may need.
Software Installation
The software installation on this Samson Meteor mic is pretty simple, and it will make creating podcasts, streaming, and making music a lot easier for you.
You don't need to install any specific software to your PC or laptop if you want to start using this microphone – all you will have to do is plug in your microphone to your preferred device, and it will get automatically recognized.
This condenser mic uses plug-and-play technology, so after you plug in the USB cable to your device, you will have to launch the DAW program.
After you have launched DAW, you will have to select the Meteor mic both as your input and as your output device.
If you have completed these steps, you have managed to install the microphone successfully, and no, you will have to choose the options and filters that work the best for you.
There are many different options for recording vocals, recording musical instruments, or recording several people simultaneously, so you can really find the option that will provide you with the best results.
After that, you will have to choose the mic level and set the mic gain – give it a test, and if everything seems to be working fine, you are ready to start using it.
The Samson Meteor mic sounds are compatible with all types of PCs and laptops, but you may need a USB adapter if you plan on connecting it to your Mac computer.
It can also be installed on smartphones, so it is really a versatile device with amazing recording quality and many audio settings.
Key features
1. Perfect frequency
This Samson Meteor mic may not be the most luxurious microphone on the market, but it will provide you with the perfect frequency and 48kHz resolution.
The frequency response rate is around 16-bit, which is, in my opinion, really enough for all types of recording, even if you are recording an acoustic guitar on your mic.
Even though many people recommend it for podcasting, it worked just fine for all types of streaming and gaming, and I have seen people recording great covers with this device.
Your voice will really sound completely natural, while the instruments will sound like they were played right next to your every time you use your headphones.
It also has a cardioid pattern, so the best audio quality is guaranteed, and you will be able to hear that right from the first recording.
There is a 1 inch 8 mm headphone output and a headphone volume knob will give you complete control over the audio recording.
It also has a boom arm, but you can use some pop filter, too if you want to make sure your new mic will give you great results.
The headphone jack also does a great job, and the flat frequency response is definitely guaranteed so that I would recommend this Samson Meteor mic to professionals from different fields and industries.
Overall, it is a real great mic when it comes to sound quality, and I would highly recommend it because it has one of the largest condenser diaphragms too.
2. Allows you to control its position
Probably the best thing about this microphone is that it is easy to put in the right position because it is very flexible and can be used in many different ways.
The microphone comes with a mic stand, so you can choose to have it in front of your computer, or you can mount it on top of your desktop or a desk next to you.
Its rubber feet and nice weight really make it suitable for different types of workspaces, and you can keep it wherever you believe your voice will sound the best.
Since it operates on plug-and-play technology, you can easily move it around, but make sure your cable is long enough.
This microphone has an integrated mic stand adapter that will allow you to keep it wherever it works best for you while keeping your audio quality high.
The Samson Meteor mic USB has the best mic stand I have ever used, and you can not only move it around your room but also around your house and it is very practical for people who tend to travel or move around a lot, which is the case with most creators.
I have brought this mic stand everywhere with me, and it really made using the microphone a lot easier; I definitely prefer this one over a simple mount, even though that may look more practical.
It has folding legs, so it is very easy to pack it in your bag and suitcase and just take it with you wherever you want.
3. Mute button
Not too many microphones have a mute button on them, but Samson Meteor mic is definitely something else.
This is one of the rare microphones that has a mute switch on itself, and that is definitely something that makes it a worthy investment, especially if you are a professional podcaster.
It is also a very useful feature for all streamers and gamers, especially because you also receive a USB studio with it, and you can manipulate the recording however you want.
All in all, it has a feature that is very important for both streamers and podcasters, and even though it may look like an irrelevant thing, it is definitely something you should keep an eye out for.
Even though it can create some problems with the audio, this Meteor mic is the best device you will find within this price range, and an asset like the mute button is very valuable.
Target Audience
Even though it is not that expensive as most professional studio microphones are, the Samson Meteor mic is aimed at professionals from many different niches.
This USB microphone can be used for recording music, so many people who do covers love it, but it is also a great option for recording artists who are at the beginning of their careers.
If you are a podcaster, it will also be the right tool for you because it will eliminate the background noise and create the perfect environment for you and your guests.
People who are into voice and earn a living from this also love to use it, so it is really a versatile mic that will provide you with good audio at all times.
Overall, streamers love it too because it has a great volume knob, and it is practical because it operates on a USB connection.
It also allows them to gain control over the recording any time they want, so it really is an excellent microphone for professionals in many different industries.
You have probably read many reviews about this device before, but I really believe it doesn't get the recognition it deserves, especially because it is a lot more affordable than most professional studio equipment on the market.
If you are looking for a great microphone that will give great results in your home office and provide you with high-quality audio, then this is definitely the right choice for you.
Since it is quite affordable, amateurs in some of these things can use it too because they will definitely be able to enhance their performance and become a lot more successful while using a device like this, and it will pay them off in a short time.
Price
Starting at 70 dollars, this is one of the cheapest professional studio microphones you will come across on the market, and it has a better performance than some of the most expensive devices, for example, the Blue Yeti mics.
It is very hard to find a good mic at a lower price like this that would work well in your home studio, and the Samson Meteor mic USB is definitely one of a kind on the market.
If you are lucky enough and decide to shop for your microphone on a Christmas sale or Black Friday, you will probably be able to get it for 20 or 30 dollars less, so you should definitely keep your eye out during this time of the year.
Overall, this is really a reasonable price for a condenser microphone with zero-latency monitoring and a cardioid pickup pattern, and I highly recommend anyone to invest in it.
Frequently Asked Questions
Is the Samson Meteor Mic good for singing?
The Samson Meteor Mic is not an XLR microphone, so it is not as powerful as most people would want it to be, but it can still be a great tool for singing too.
This is a condenser microphone with a cardioid pattern, and even though it may not be the greatest option, its large diaphragm allows you to record your voice without any obstacles.
If you are looking to record amateur covers and your own songs just for fun, then this will definitely give you great results. However, if you are looking for something more professional, you will definitely need to look somewhere else and purchase a better professional microphone.
Are Samson mics good?
Samson microphones are pretty good devices, especially if you consider how cheap they are compared to most other mics on the market. They may not be the perfect professional microphones, but they will still be able to provide you with great sound quality.
And the fact that they can be connected to any device through a USB cable makes them even better. In my opinion, the Samson mics are an amazing investment, and they are definitely the best microphones you can get within this price range.
How do I boost my Samson Meteor Mic?
Samson Meteor Mic tends to pick up on everything in the surroundings, and it can be quite frustrating to use it sometimes. However, that is the nature of cheaper microphones, and you shouldn't be too surprised about it because these problems can be solved easily.
The most important thing you need to know if you want to boost the performance of your Samson microphone is to know how to position yourself the right way.
It would be best if you never were neither too close neither too far away from your microphone because it will pick up on other noise and voices from the surroundings and provide you with an unclear recording.
There is also an option to install programs that will help you enhance your voice recordings and create a much clearer sound so that they can be very helpful too.
I would also recommend utilizing the headphone jack as much as you can because it is a crucial feature for every microphone, and it can really enhance your performance drastically.
Conclusion
If you are looking for a microphone with a cardioid pickup pattern that will work great in any environment and be able to work great on your desktop stand, then the Samson Meteor Mic is the right choice for you.
This great mic is not only very affordable, but it also provides you with dozen of different options, settings, and filters and can make your whole recording or streaming process a lot more enjoyable.
The USB input is amazing, and it will also provide you with an impeccable headphone output that will sound perfect on any headphones your viewers may be using.
You can be 100% sure you will be provided with perfect sound quality while using it, and you can always count on the integrated pop filter to solve the problems you may be having with noise.
It is suitable for people from many different industries, and overall, if you plan on investing in a good streaming microphone but don't want to spend hundreds of dollars, then this is definitely the best choice you can make.