Even though most people believe streaming is a very simple process and all you have to do is turn on your webcam and start recording, the truth is, everything is quite the opposite.
Finding the right studio equipment and managing to stay within your budget can be a really frustrating and exhausting process, and any type of information is valuable.
If you are looking for a USB microphone and want to find a device that will provide you with great sound quality, then you should definitely check out some of the Samson Go microphones because they are probably exactly what you were looking for.
We have decided to review the Samson Go microphone that is one of their best-selling products and seems to be a favorite among many different streamers and gamers.
Samson Go Mic Review
Features, Software, Audience, and Price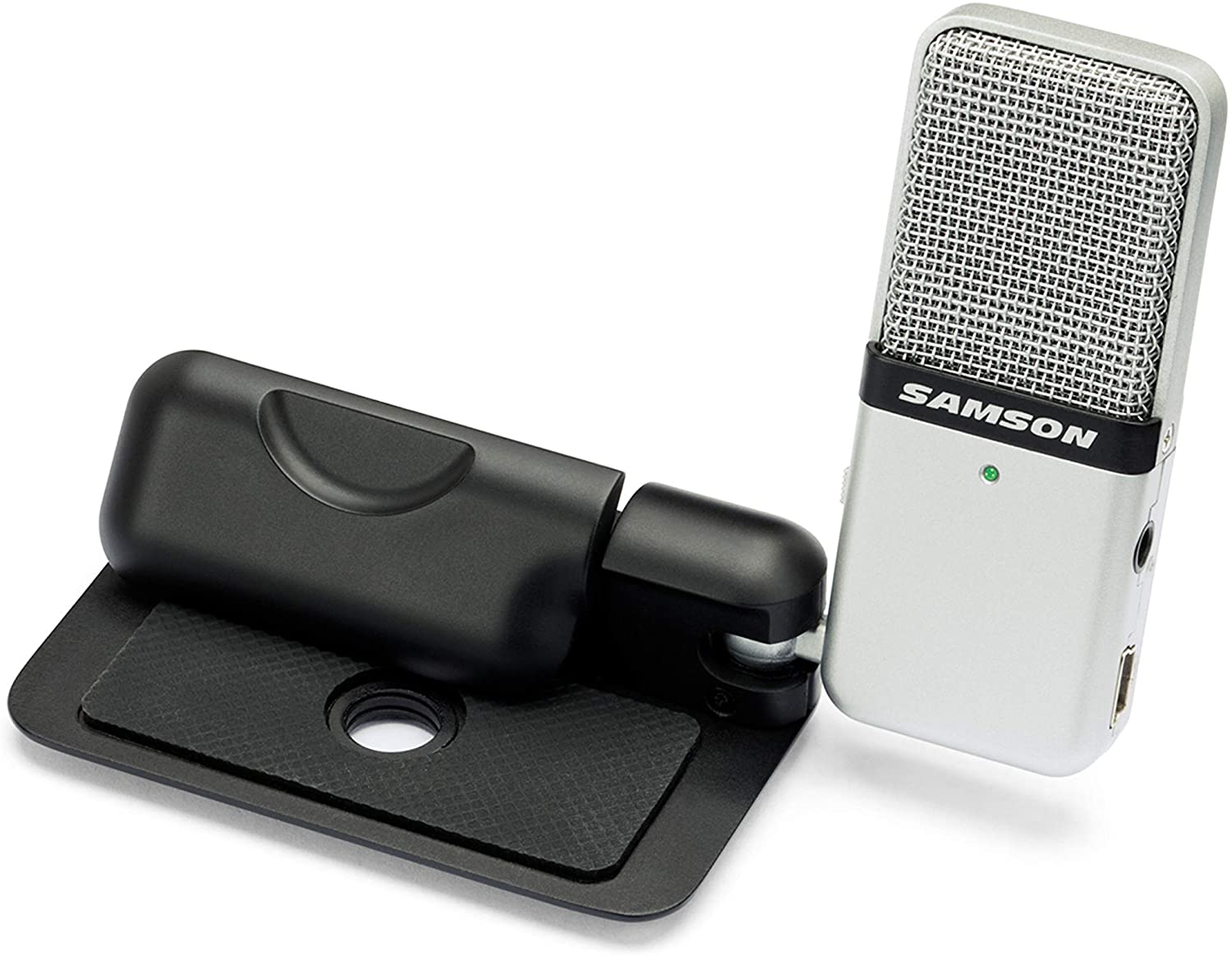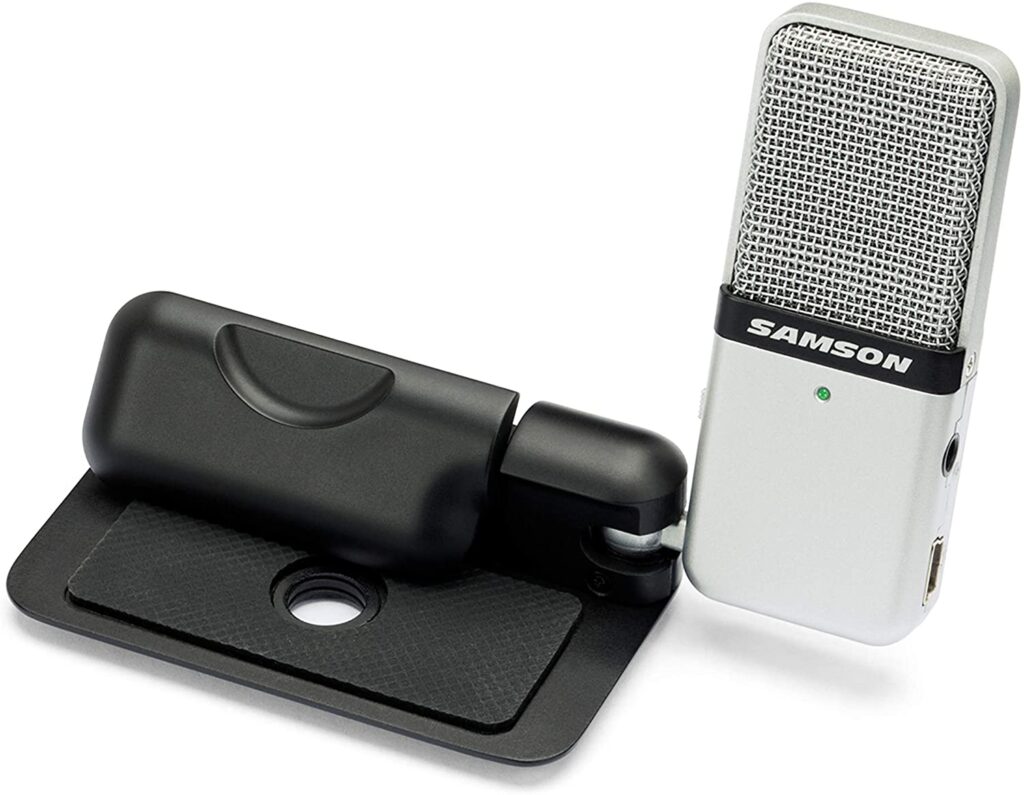 Samson is a company known for producing many different types of microphones, and most of them simply connect with a mini USB cable, just like this one.
Just like most of their other devices, this little microphone also operates on the plug and play technology, and it is completely a USB mic, so you will only have to connect it to your computer or laptop through the USB cable.
Even though this device was released more than 10 years ago, the sound quality it can provide you with is unmatchable, and it is still one of the best USB microphone devices from this company.
It may not give you the professional quality and eliminate the background noise completely, but it will definitely provide you with good sound quality and allow you to film everything from songs to live streams with it.
The digital audio you will get while using it is really not the best, but it is a great option for vlogs, zoom meetings, and live streams.
Many people claim that this Samson Go mic is the best option for travel bloggers and content creators that are always on the go, so its tiny design makes it very portable.
It does have a cardioid pickup pattern, and you can switch between several different modes during the filming, so I really believe it will be useful for you.
However, even if you don't use it too much, this microphone is extremely cheap, and of very compact size, so you can always use it occasionally when you are on the go and keep it in its box throughout the rest of the year.
The build quality is also great for that amount of money, so I really believe this is a mic worth investing in, even if you don't use it more than 5 times a year.
Software Installation
Just like most other Samson microphones, this one also works on the plug and play technology, and you don't need to go through a software installation setup.
You can easily plug in this Samson Go mic to your computer or laptop through the USB port, and I believe it is always best to use the original USB cable you have received with the device.
The moment you plug the microphone in through your USB mini cable, you will be able to start using it – you will need to go through a simple installation of the DAW audio software on your laptop screen.
Since this is a pretty old microphone, it is not compatible with Mac devices, and there is basically no way you can connect it to your MacBook Pro laptop.
However, the built-in mic on your Mac laptop is definitely a lot stronger than this Samson GoMic, so you probably won't even need to use it and connect it with this device.
The laptop mic on Mac devices, especially on the latest ones, is very strong and their audio quality is a lot better than that of most cheaper microphones, especially of those who have been released 10 years ago, like this Samson Go mic.
If you already have a program for editing digital audio like Audacity or Adobe Audition, the microphone will appear in there the moment you connect it to your PC, and you can set it up easily while having the option the control the sound all the time.
Key features
1. Several polar patterns
As I have already mentioned, even though this is an entry-level microphone that is mostly reserved for absolute beginners in streaming and podcasting, it still has several polar patterns that will provide you with decent audio quality.
If you want to make sure you will receive a good quality sound, I recommend using the cardioid mode at all times because this little mic works the best with it.
The cardioid mode will eliminate all the background noise and provide you with the best headphone output, and overall, people will not really realize you are using a cheap entry microphone.
It also has the omnidirectional mode that is the best option for filming podcasts and streams where there are several people talking at the same time.
The Omni mode will help to pick up all the voices in your environment, and the voice recognition software will allow it to record those that are actually meant to be recorded clearly.
It can provide you with a voice resolution of up to 44 kHz or 16 bit, and it also has a zero-latency frequency response which is also decent.
The pattern switch can easily be done through the sounds switch you will find on the left side of your mic.
It doesn't have a headphone jack which is the only con, but it is also something you can't expect to get with a microphone as cheap as this one.
Even though I was a bit skeptical when I was testing this small microphone, I was really surprised when I turned on the Omni mode and have heard how good the sound is, especially when you speak loudly.
If you are on a tight budget and need a mic that will provide you with a decent sound and allow you to film streams or podcasts, then this is definitely the right choice.
2. LED indicator
There is something you would definitely never expect to receive with a 40 dollars microphone – a real LED indicator.
This is usually a feature reserved for more expensive, professional studio microphones, but this little guy really seems to have it all.
The LED indicator will warn you of the power supply and signalize the clipping, so every time you see it is blinking red, you know the noise is too loud, and you should let only one person talk or stop the field recording.
3. Design
This is really a tiny microphone, and it can fit into any bag – even the laptop bag is too big for a microphone like this.
Since it is very tiny and functional, it is a great option for people who are on the go, and its unique fold-up design allows you to keep it even in the tiniest bag possible.
It is zinc molded, so it should be able to eliminate the noise in the background well, but this, unfortunately, is not really the case with it.
The mic also has a shock-absorbent pad that will try to minimize the vibrations as much as it is possible, and it also works great as a clip for computers and a sheath for your microphone.
This USB mic works great, and even though it can't provide you with the perfect sound quality, I believe this zinc mold may negatively impact it.
The background noise really won't be eliminated, so the fact that it is zinc molded really doesn't mean too much when it comes to this Samson Go mic.
However, it is very flexible and highly portable, and it is a tiny mic, so it is a great option if you need a microphone while traveling or filming some travel vlog.
It doesn't come with a desktop stand, and the best way you can mount it somewhere is through its clip because it is way too small for any mic stand.
After all, you don't even need a setup for it, and you can always keep it attached to your t-shirt and speak into it throughout the game.
4. Compatible with different programs
Even though this is a very old microphone, it is still compatible with many different audio programs like Audacity, for example.
This way, not only will you be recording good quality, but you will also get access to post-processing features and the ability to connect to audio programs through the plug and play technology.
Recording quality may not be the best, but you can always improve the sounds you have created with this Samson Go mic through some of these programs.
Target Audience
This portable USB condenser microphone is not made to be your first and only microphone, and you have probably realized that from our mic review so far.
The sound you will get while using this Samson Go mic is not CD-quality but is still very decent so that you can use it for many different things.
It is mostly aimed at professional Youtube and video creators who need a small microphone that will allow them to start recording during their vacations or in real-time from some event.
This little microphone is the right choice for that, and the Samson Go mic can work great for people who are working from home too.
Its audio quality is pretty decent, and you can engage in Zoom calls, Skype calls, webcasting, and set up different meetings on Google Hangouts with it.
The quality may not be perfect, but it is definitely good enough, and this device comes at a great price, so you really should consider investing in it.
I have also seen many streamers using it while streaming from different gaming tournaments, so it can be a good option when you need to depict the sounds from these happenings realistically.
Overall it may not be the best Samson Go mic, and it is not made to be your only microphone, but it will provide you with good sound, and it can be used occasionally, and you can bring it with you everywhere.
It has a cardioid pattern so that the sound will work well, and everyone will be able to hear you without problems.
Price
This Samson Go mic starts at a price of 40 dollars which is extremely cheap, and there is no way you will be able to find a mic for sound recording cheaper than this.
It is a USB mic that may not have a variety of features and filters, but it is very practical, and it is a great option when you need to be filming on the go.
For a price of 40 dollars, you can't really expect to get a headphone jack, pop filter, and similar features, but you can be sure you will be provided with decent sounds quality and a setup that will work well in any environment.
I believe this is really a worthy investment, especially for professionals in the Youtube or Twitch niche, because they can use it when they are traveling, and they don't need to bring their whole, high-quality set up everywhere.
It will provide you with decent quality and allow you to record simple audio, so I really believe you should get one.
Beginners should also consider this one, especially if their budget is pretty tight because it can be a great tool for starting out your streaming or Youtube career.
Frequently Asked Questions
Is Samson Go Mic good for singing?
Unfortunately, this Samson Go mic really can't provide you with the best audio quality, and your built-in mic on the laptop probably can record sounds a lot better. The recording quality of this Samson Go mic is not the best, and it is certainly not a good option for singing, even though it has an omnidirectional setting.
None of the polar patterns can improve the sound quality of this little mic, so if you are a garage band or an artist striving to record his covers, I suggest avoiding this device.
Is Samson Go Mic good for gaming?
If you are looking for a microphone that can be used during the live streams, this Samson Go mic can definitely be a great fit because its sound quality is decent for these types of things.
It may not be the best for recording music, but your streams will definitely sound well, and even though this is not a new mic, it will be able to provide you with great audio. Your voice may not sound too natural, but you will definitely be heard well, which means that the quality is really more than decent for these things.
How does Samson Go Mic work?
This Samson Go mic operates on plug-and-play technology, and it is able to record your voice the moment it is connected to some device, whether that is a PC or a smartphone.
As you could already read in our Samson Go mic review, this is a good option when you are streaming or recording on the go, and it can provide you with a good audio quality no matter where you put it. Since it is too small, I would recommend keeping it in your hand while recording because this way, you will definitely get the best sound.
Does Samson Go Mic need a pop filter?
While the pop filter is not a must for this microphone, it could still use a bit of it so the sound can be more natural and the background noise gets eliminated. You can choose whether you want to add some pop filters or not, but I believe it will sound just fine without them too.
Conclusion
As we have already mentioned, this Samson Go mic has a very practical design, and it is very small, which makes it the perfect choice for people who are always moving around and traveling.
However, it can't provide you with the best audio quality, and it really can't be your first choice, but it is a valuable asset, and it can help you immensely in some situations.
If you are looking for a microphone you will use for streaming while you are outside or filming vlogs, then this Samson Go mic is the best choice for you, but if you are looking for a professional studio one, you should definitely avoid it.
USB mics tend to be very expensive, and this little mic is an affordable version, so even if it doesn't give the best results, it is a great option for beginners, and I highly recommend it, but be aware that it can never replace a real studio microphone.