RGB strips or RGB strip lights can be found everywhere. Almost every piece of modern technology contains them.
Billboards, phones or computers need LED strip lights in order to create all kinds of coloured lighting.
But let us explain first what RGB stands for. Namely, it is created from the first letters of colour names-Red, Green and Blue.
There are four leads in each LED light, which means it has one lead for each colour. Moreover, it has a common cathode (-) and common anode (+).
The longest lead is the anode lead.
RGB LED strips have many dovetailed RGB LEDs.
Therefore, all kinds of coloured lightings are available.
Post 1 of 7 in the Light for Streaming
Best RGB Strips for PC
Reviews
Generally, the RGB strips are great because they can produce all types and nuances of a single colour.
Like we said in an introduction, RGB LEDs have three colours in them – red, green and blue.
The fun fact is that each RGB strip can produce around 16.7 million colour combinations.
But enough with generalities.
Here we will try to help you choose the right type of RGB strip for your device. So what do you actually need?
If you are a gamer, you will need the RGB strip to set and adjust the brightness of your PC.
Therefore, you should try to modify RGB lighting to put you in the right mood for gaming or any other thing you are going to do with your computer.
Because we know that RGB lights are hugely popular among gamers, we have decided to make a list of the best RGB strips for PC.
Moreover, this list is not only for gamers but for every person who likes light strips.
We hope that we will make your choice of PC RGB led strip easier.
QUICK OVERVIEW: Best RGB Strips for PC
<!—INSERT CODE BLOCKS BELOW—>

Power Input: 12V DC
Size: 2 x 16 inch

Voltage: 12V
Light Source Type: LED

Powered by CAM
Dimensions: 10.1 x 0.39 x 0.11 inches
1. Airgoo PC RGB LED Strip Light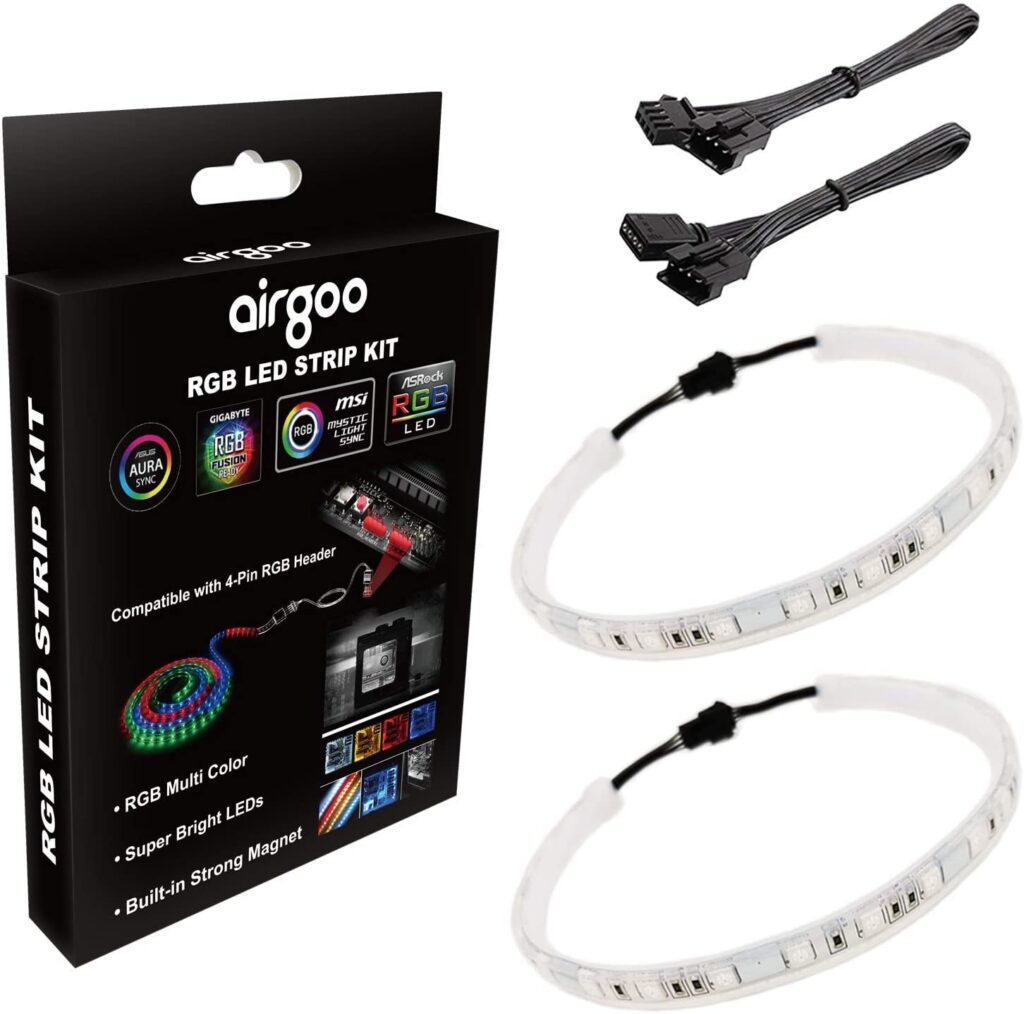 Specs:
Airgoo PC RGB LED strip light is a basic RGB LED strip.
There are no RGB controllers in this RGB lighting kit. This RGB LED strip comes with a pair of 16-inch LED strips.
For easier placement, you can use 20-inch, 4-pin RGB extension cable.
You only have to plug the strips into respective ports on the motherboard, or daisy chain them up to four available ports.
If your motherboard displays a 4-pin RGB controller, you are okay to get started.
We can say from our experience that the installation of this RGB lighting is pretty easy. It does not demand too much effort like some other RGB lighting kits.
Why is it easy?
First of all, because it has built-in magnets that will hold onto every PC case made of steel.
However, if you do not have a PC steel case we strongly recommend you take 3M adherent installation strips. That would do the job you need.
It is well-known that the RGB lighting is bright, so you will be able to see them even through the case.
You will be able to create whatever RGB colour you want, but it is important to know that it has to be supported by your motherboard.
Now the best part for gamers. Namely, you can use these RGB light strips with sync technology, so you can create whatever lighting patterns or lighting effects you want.
Moreover, if you play a game, and want specific lighting modes, you can arrange that it follows the course of your game.
Airgoo has a 12-month guarantee, which protects you.
Therefore, we can say that it offers not only a solid RGB led light and proves to be a good lighting kit, but it has a guarantee that you can change or return it if any manufacturing mistake appears.
---
2. Phanteks Multi Colour LED Strips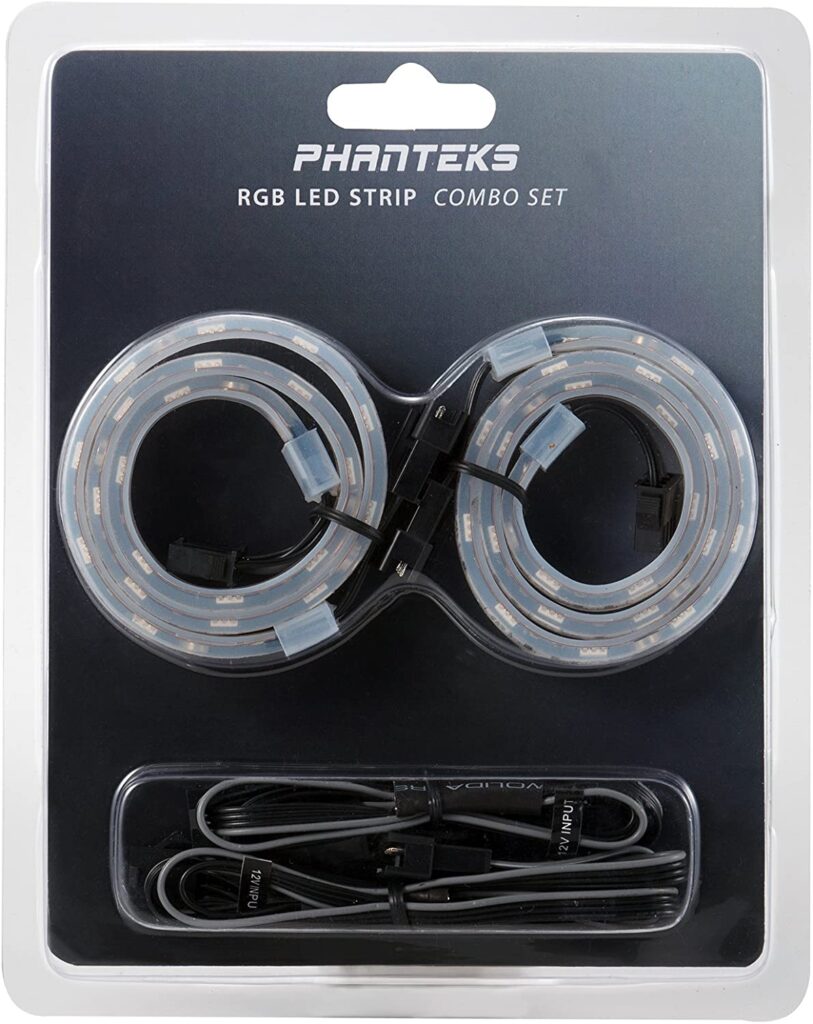 Specs:
Phanteks is a young but already renowned and well-known Dutch manufacturer of computer equipment and accessories.
People who are into computer equipment may have heard for them because they have come into the spotlight when they produced excellent processor coolers.
Afterwards, they have started to produce fans and fans in a series of cases.
And then, the time has come for LED strips.
Phanteks multicolour LED strips are stylish digital addressable RGB LED strips with a white cover.
It has two 40cm long strips that are equipped with a 3-pin socket and a 3-pin plug. Both of them can be connected to compatible remote control or hubs from Phanteks.
5VDG adapter for compatible motherboards and an extension cable are included in the package, as well.
Thanks to the adapter and the extension cable you can adjust and control the RGB light strips via different types of software like Gigabyte RGB Fusion, ASUS Aura Sync, ASRock Polychrome Sync, MSI Mystic Light Sync and Razer Chroma.
In addition, you get a variety of different guides or brackets with 90 or 180 degrees. They serve you to get better placement inside the case. Generally, they make your life a lot easier.
The LED strips can be easily mounted along with PCIe slots, around fan slots or along with the power supply cover.
So, you do not have to worry, your PC case will get the best of your RGB light strips.
Finally, if you have been wondering how to attach the mounting brackets and get your lighting strips in place, do not worry anymore.
Double-sided adhesive tape is included, so you can attach your brackets without any problems at all.
However, many people were complaining about the quality of the adhesive tape, so the guys from Phanteks decided to change something.
Namely, nowadays packages with double-sided adhesive tapes are pretty rare. Actually, nowadays you get the tape only by mistake.
The adhesive tape is replaced with the integrated magnets that are located in the silicone housing.
Therefore, it is more durable and it proves that they listen to the critics and reviews.
We need to say that their price and quality are completely in line. So, our verdict is that this RGB led light strip is going to be a good choice for any PC setup.
---
3. NZXT Led Strips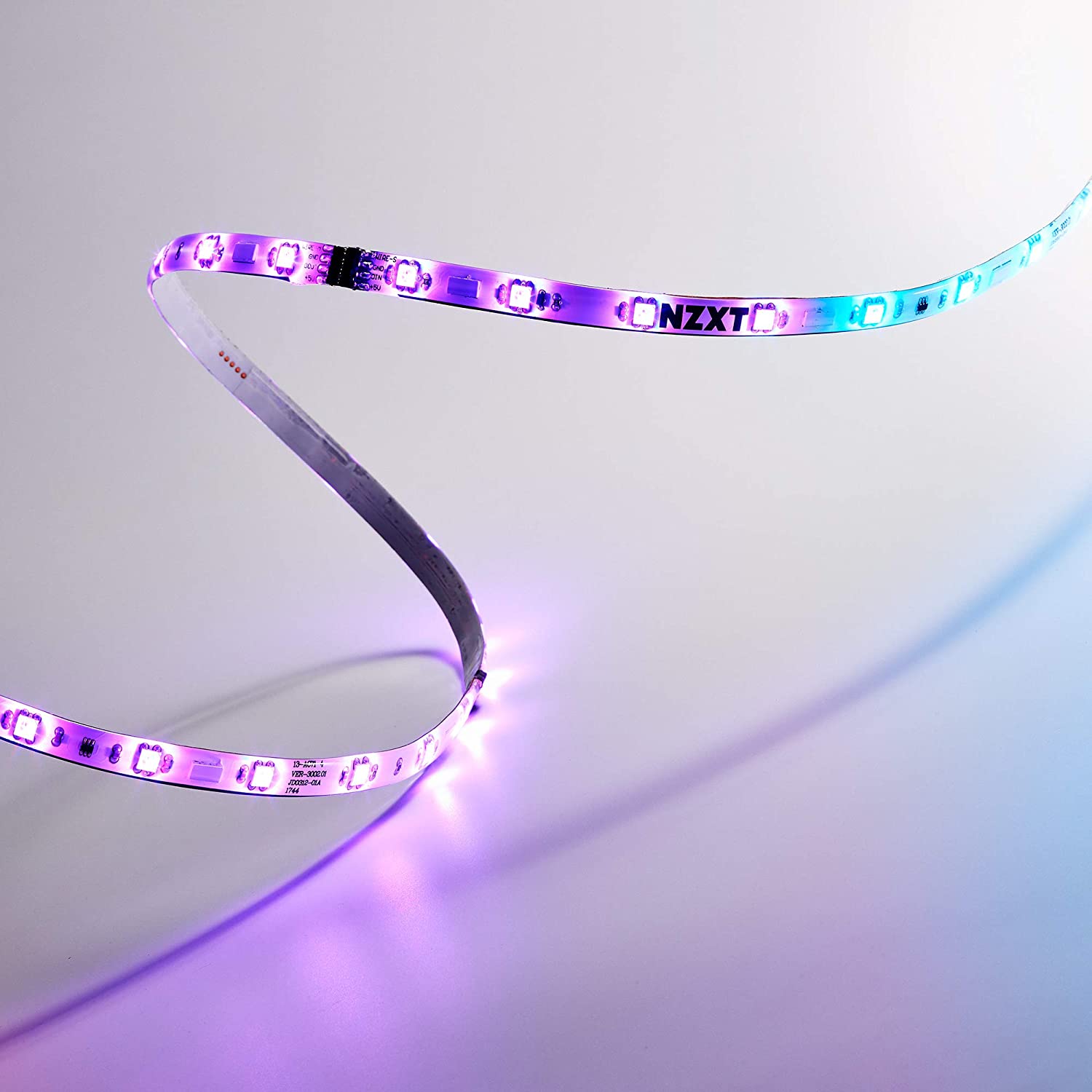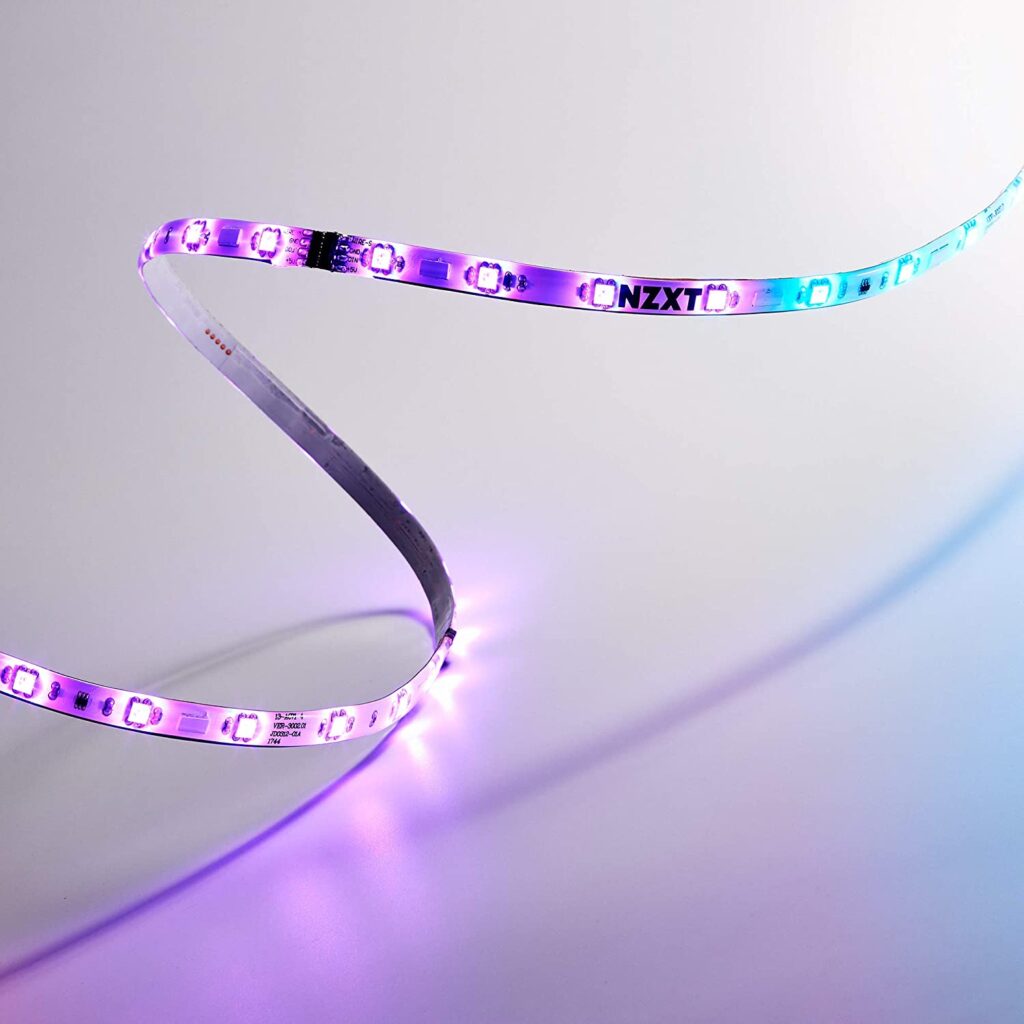 Specs:
We know that gamers and avid computer users like to have the best customization possible in their hands.
So we have decided to include led strips that fulfil their needs.
NZXT Led Strips are great because it is easy to control their led lighting and the led controller allows you to control them all individually.
Its led lighting can be controlled in every possible way, so it is great for users who like their led strips to follow the overall mood of games or projects they are doing.
Illumination customizations such as fading, pulsating, breathing static are all available.
The led lights are easy to attach because they have Neodymium magnets positioned on the led strip, so you do not have to worry if they will attach to the metal case of your computer.
Be what may, if you have any problems with attaching it to the surface use the 3M attached tape to put it on a nonmagnetic surface.
Thanks to CAM's Overlay functionality and Smart mode these led lights react to the changes in FPS of your system.
Moreover, Smart mode can react to the changes in CPU or GPU temperatures of your system. Therefore, it can be configured to react in the way you want.
Thanks to the brilliant configuration system, you have an option to assign the system to do two different actions simultaneously.
That is because the controller has two different channels that can control up to four different LED light strips.
The installation of a controlling unit is simple, the only thing you need to do is to connect the cables. If you want, you can connect the extension cables, as well.
But, bear in mind that you are going to need them only if you have a tall case.
NZXT has done something revolutionary, as well. Beta audio mode is available, so led strip lights can react to the music too.
Generally, the control over the RGB led strips and the speed of the movement from one particular moment to another is impressive.
However, this RGB LED strip has its flaws.
Namely, if you have a limited budget, then you will try to save up every cent you can, so the price of this product might be a little above the moderate.
Secondly, we know the cases where people were disappointed with the bending capabilities of the product, so they have decided to save some money and buy a lighting kit that has not only the better-aforementioned capabilities but the company's cam software, as well.
---
4. Aiyide RGB LED Light Strip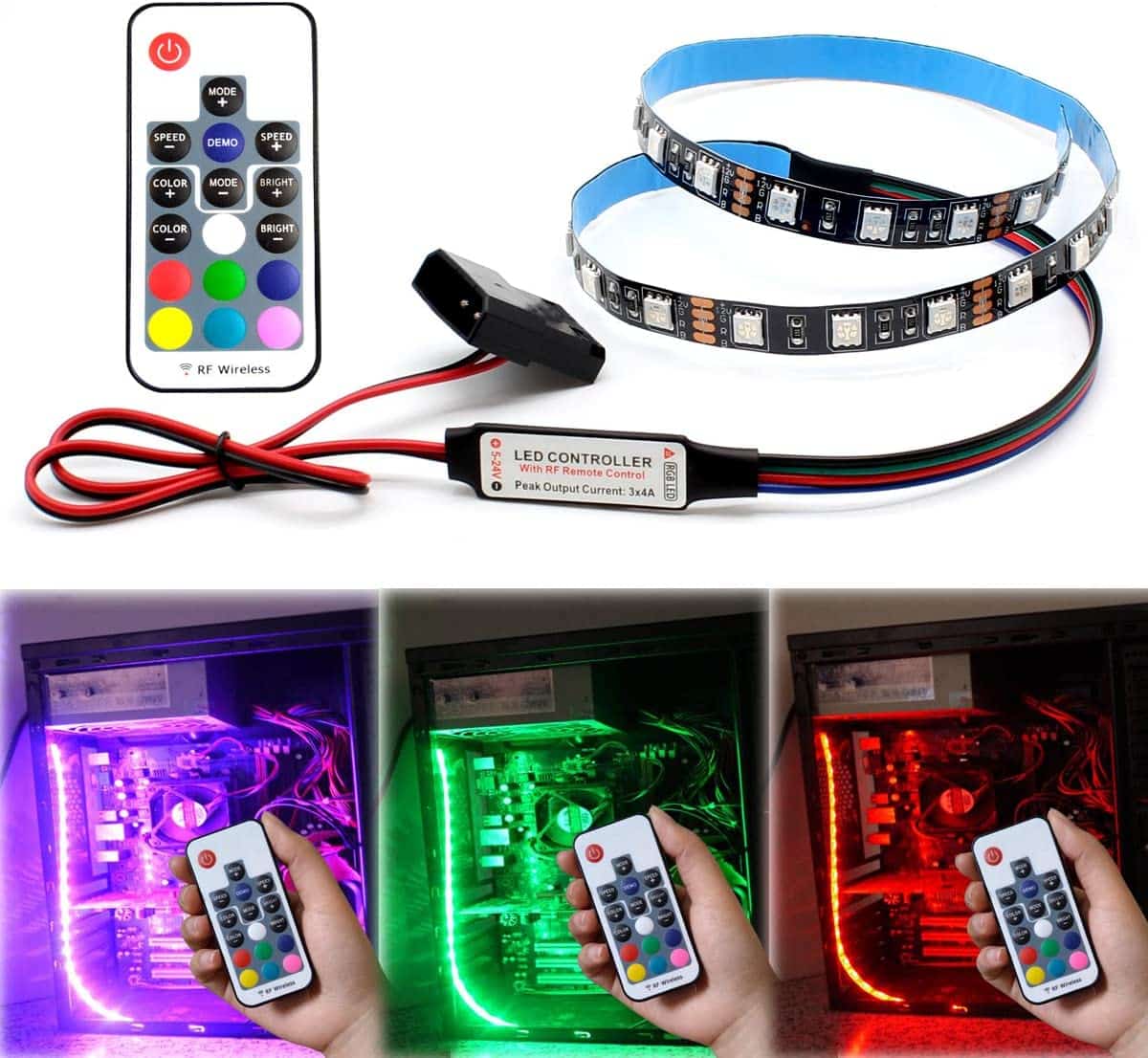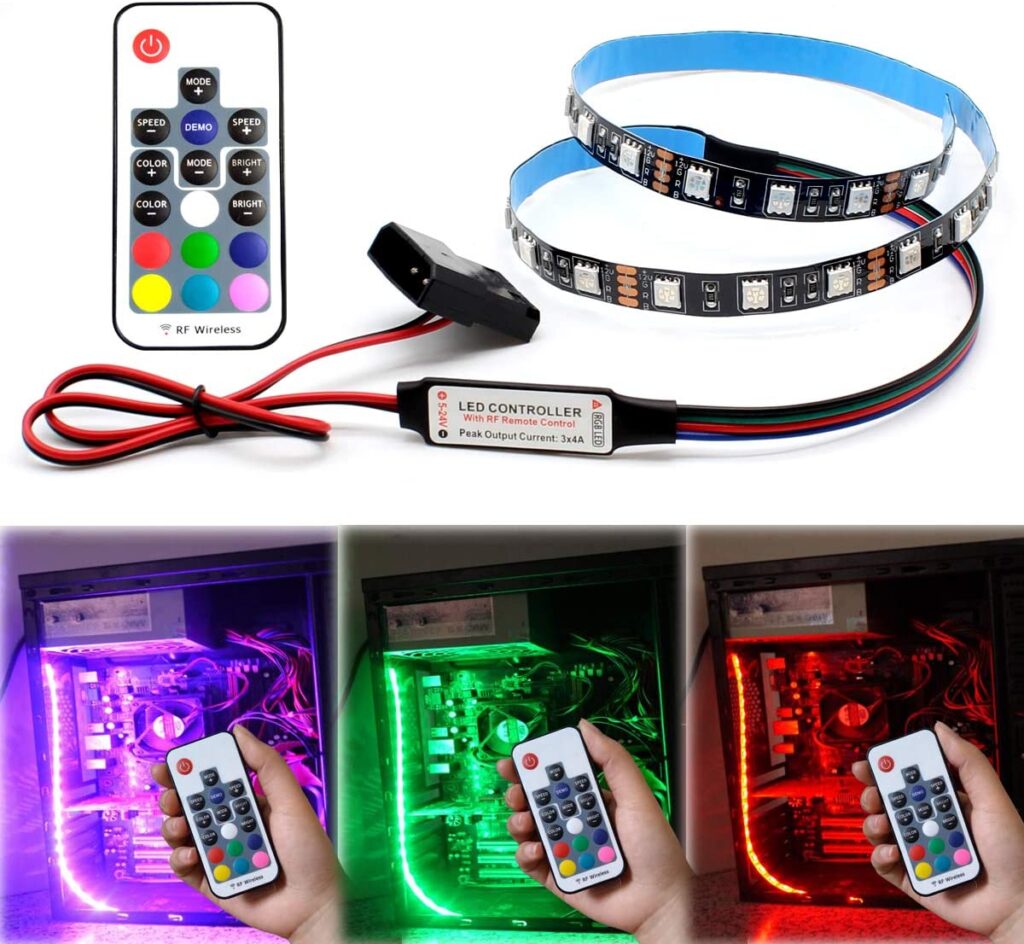 Specs:
Aiyide has produced wonderfully designed light strips.
One of the most important advantages of this LED light is its pre-programmed controllers for, of course, great remote control.
Lighting for your ordinary or gaming PC is great.
Wonderful nuances of every colour that can be controlled thanks to the remote control (17 key RF remote). It controls the multi-colour features of the RGB LED strip.
When it comes to the installation we can say that it is pretty easy.
Unlike some others, more contemporary and advanced RGB LED strip lights this one has adhesive tape.
Thanks to it, in a limited space you get the great stability of your light strips.
However, many would think that the best RGB lighting kit needs to have built-in magnets. Therefore, DIY gamers would probably prefer other types of case lighting.
When it comes to the LED controller of this light strip, we have to say that it is pretty simple, and after all similar to the aforementioned ways of control.
Aiyide light strip is controlled by RF remote control with 17 keys.
Colour changes are okay but do not count on great colour changes while playing games.
Many gamers would say that these strips for PC are great for gaming, and after all for decoration of a case and desktop.
Now a few words about the disadvantages of this model of LED strip lights. The strip lights are limited to the static modes only. As we said, it can create a certain mood for gaming, but nothing more.
The dynamic modes of the led strip do not follow the rhythm of the game, but instead, it is just repeating or flashing the same colour over and over.
That is something that the best RGB LED strips must not do.
And finally, within this RGB LED strip lighting kit you get a cable, Molex connector, LED strip, 17 keys remote controller, user guide and package box.
---
5. Airgoo Addressable RGB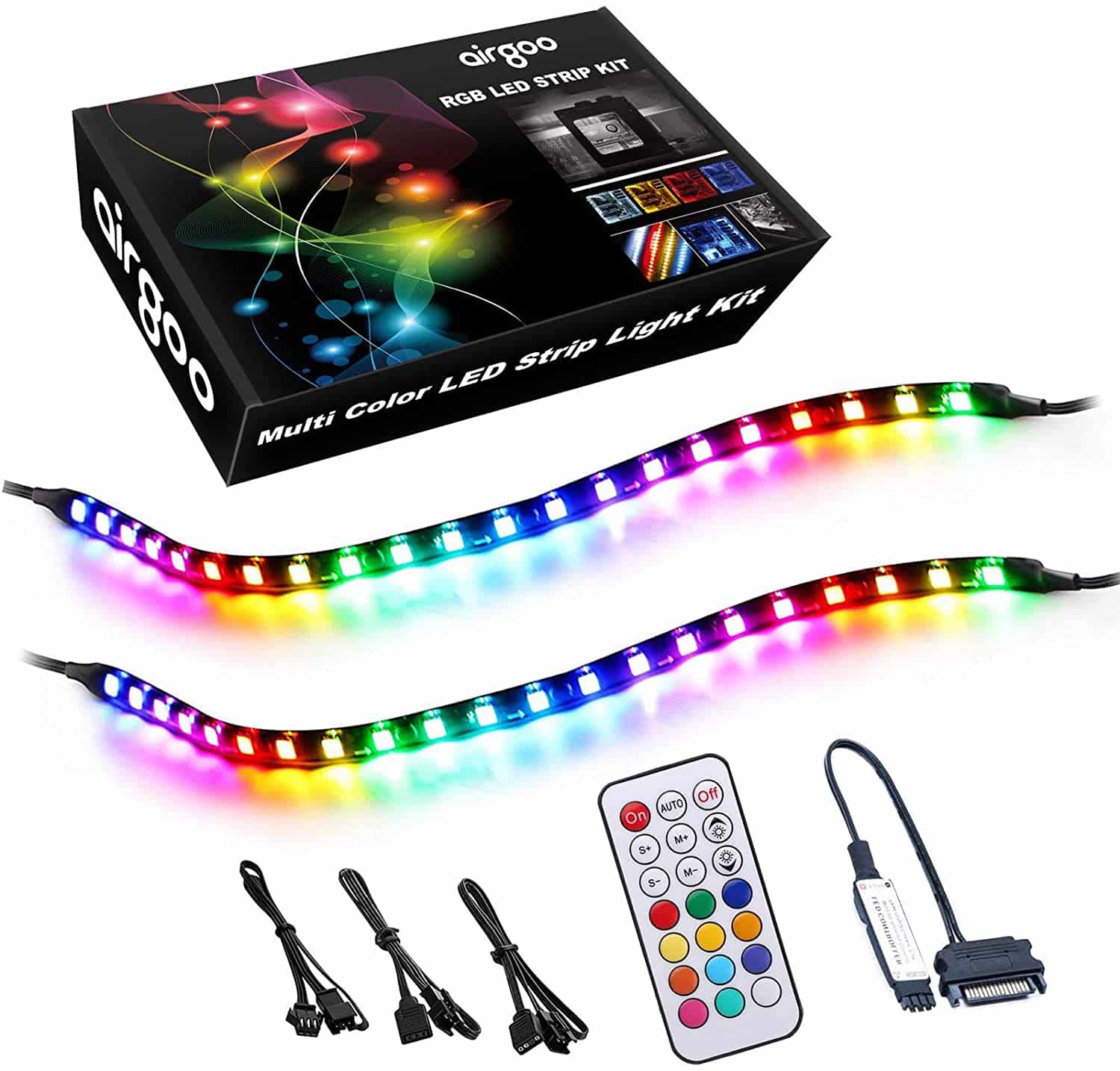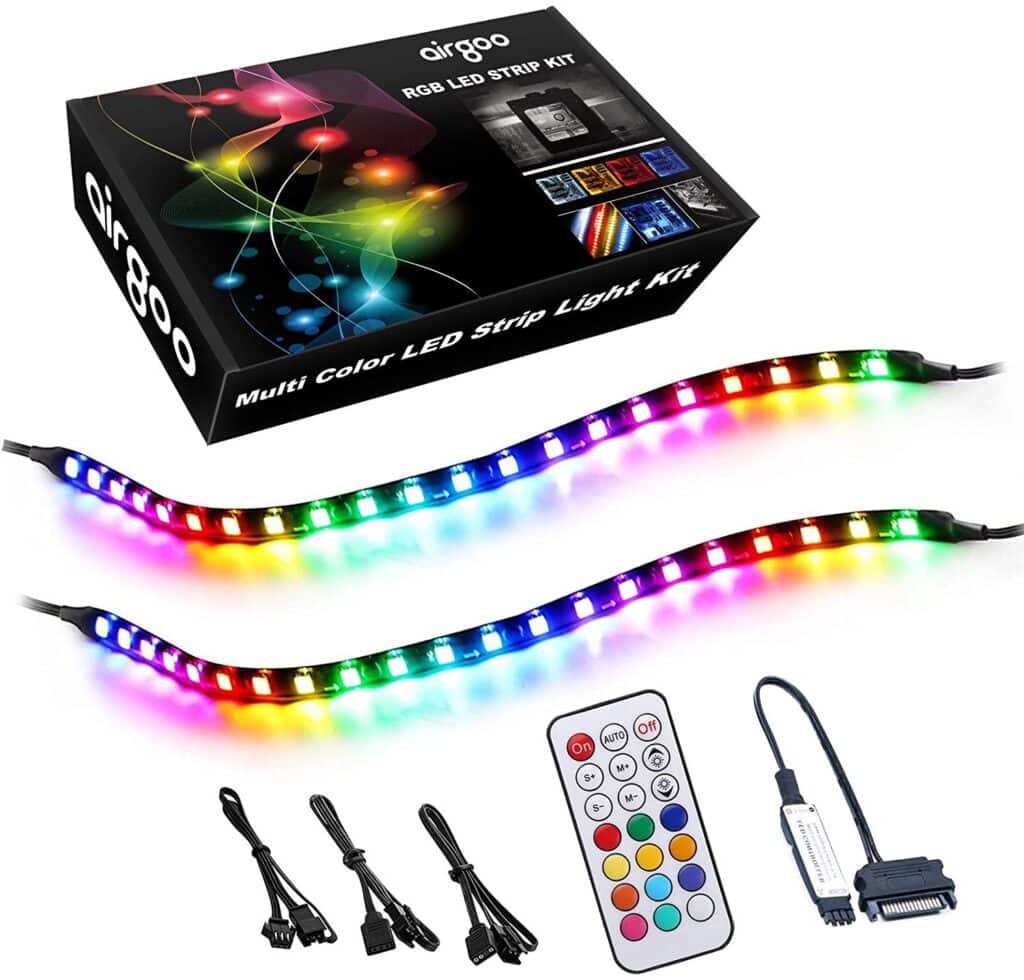 Specs:
Unlike the first Airgoo product that we have reviewed, Airgoo Addressable RGB LED strip kit has two ways to be controlled.
You can use an RF controller with a SATA connection which is connected by 5V ADD RGB headers (3-pin) on the motherboard.
Its wide compatibility is something that is appealing not only to regular gamers but also to those who want to create their own gaming rig with different lighting.
It is compatible with MSI mystic light, Asus Aura, Gigabyte RGB Fusion, Asrock RGB LED and many more…
The installation is similar to the other RGB LED multiple strips.
Namely these addressable RGB LED strip lights come with both magnet and 3M adhesive tape. Therefore, you can choose which way you prefer.
For metal cases magnet is a great option, but if there are non-metal surfaces you will need the 3M tape.
The speed of this LED strip light is adjustable. There are 5 brightness levels of lighting in Static mode. It is basically a single colour display.
And it is the same in a Dynamic mode. The LED light strips are available in 5-speed levels.
Everything you need about the Static mode or Dynamic mode levels of this addressable RGB you can modify via the remote controller.
The package includes: one remote controller with SATA connection cable, one extension cable, 2x Digital-RGB LED strip lights, 1 x 3-pin, and one RGB extension cable (for MSI, ASUS, ASROCK etc…)
When it comes to price, we think that it is in line with the performances, but we recommend this led strip lights kit to those who are seriously into gaming and want some good led density and lights.
---
Conclusion
The RGB led light strips are great.
In a few words, you can make your metal case shine like a Christmas tree thanks to the addressable RGB or non-addressable RGB strips that will shed some led strip light wherever you put it.
We hope that our list of the 5 best RGB strips for PC will be of great use for you and that you will find the one you want.
In this list, we have not put the Corsair RGB products, but you can do research about their products, as well. However, from this list our choice would be Airgoo PC RGB LED strip light.
To conclude, all the reasons for choosing it you have in the aforementioned review.
However, it is up to you to choose the one that suits you best!
Join our Discord Group. Ask questions, team up with fellow streamers, share memes, and more!