Webcam Reviews
If you need to find other streaming gear, make sure to look at our Streaming Gear page. Here, you will find everything you need!
Post 5 of 7
When you're starting your streaming journey, or when you decide that your youtube channel could use some facecam over your videos, you will obviously be in need of a webcam.
Today, I'm going to do a complete Razer Kiyo review. This should help you decide whether this amazing webcam is the right choice for you.
Post 5 of 7 in the Webcam Reviews
Razer Kiyo Review
Features, Software, Audience, and Price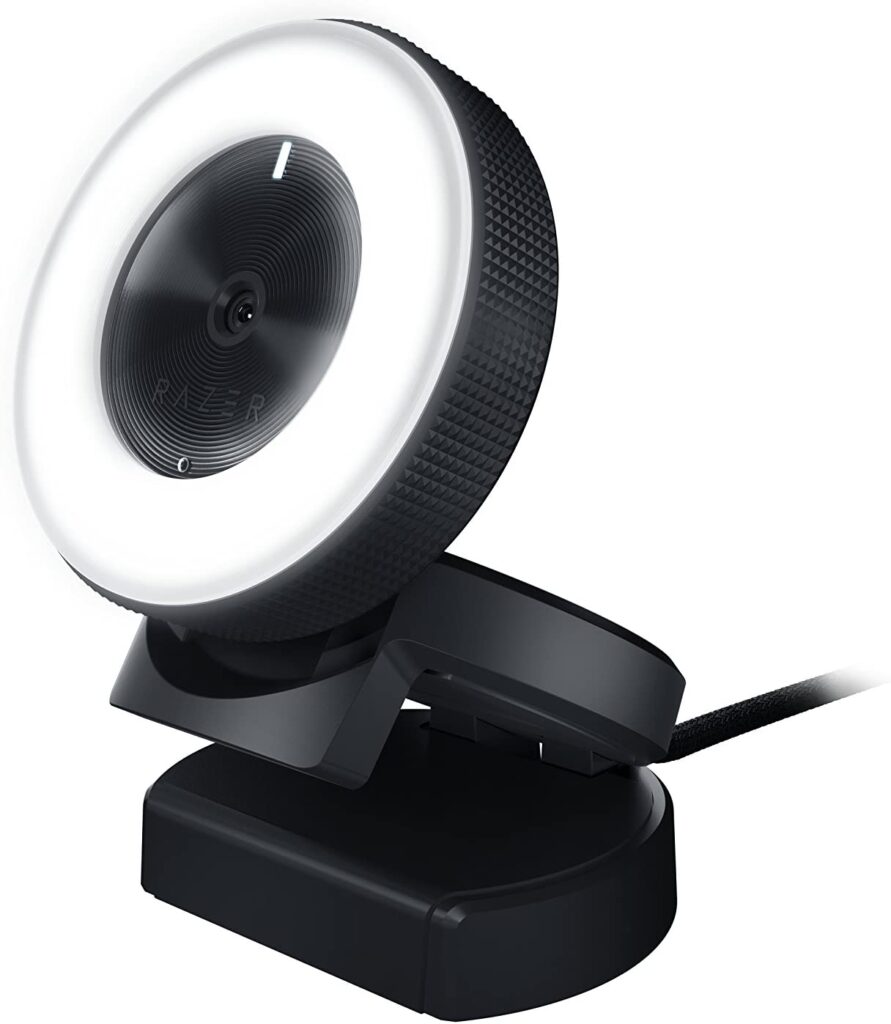 When you're just starting with this kind of a thing, you don't need an extremely expensive webcam, but you should also consider the fact that a webcam being expensive won't ensure that it's among the best webcams out there.
Also, besides the good video quality and image quality that you expect from a product like a camera, nowadays it's become almost a standard for webcams to have other additions and professional features that will enhance the quality of your content.
One very important thing for video quality, together with a good camera, is good lighting.
You can film and stream in natural light, but that limits your possibilities when it comes to timing your streams and work, and you might work better in the evening and night hours.
Of course, the main advantage being the built-in ring light, which is basically the main selling point of the Razer Kiyo.
But even not having the light being put into consideration, the camera quality by itself is really good.
You will for sure get high-quality pictures and videos, and the quality of your streams will surely be positively impacted by those qualities.
Together with the good frames per second ratio, this will have some great results.
The good image quality also includes important things like good auto white balance adjustment, and even a great low light compensation, with or without the light ring being turned on.
One downside of this camera, however, is its built-in microphone.
The microphone that the Razer Kiyo camera uses has shown to be muffled and very, very quiet.
It actually is best compared to a basic microphone that comes with a laptop webcam.
However, this is probably something that is to be expected with a webcam that is not too expensive but has a lot of things concentrated around the image quality.
This is important to know when planning your budget, as voiceovers are just as important for a good stream, so you will probably want to count a new microphone in.
The good thing is that a microphone takes up less space than a separate ring light would, so you will still have enough available space in your room.
But, maybe you already have an amazing microphone and a new webcam was all you needed.
In that case, this is the perfect option for you, guaranteed to make your video quality better.
Most of the other features, like the cable, the L-shaped joint, the connectors, are quite basic which makes this webcam really user-friendly across many setups, it will work with whatever you have without any issues.
The visual side of things is the strongest suit of this device, and for a webcam, it seems logical and expected for that to be the case.
The price on it is more than fair, so you will definitely get your money's worth with this one.
Another good thing is that the manufacturer of this device is considered to be a leading digital publisher when it comes to devices like this, so you are safe and secure in that regard as well.
It's always reassuring to have the manufacturer of your devices be well-known for good products.
As the company's slogan is "For gamers. By gamers." you are sure to get a good PC gaming and streaming experience with this one.
Also, you can't always predict what lighting will be like.
Another option would be to get a ring light or some other kind of LED light ring, but that can end up being too bulky and taking too much space, which is a problem even when you're not operating in a small space.
That's why having a webcam with a built-in ring light will undoubtedly work great for you.
Here, we will break down any and every information you'll need about the Razer Kiyo webcam, an excellent choice for both beginners and long-time streamers.
Software
You may already know that most Razer devices usually come with the software used to assist users when they need some adjustments during filming – the one called Synapse.
However, the Razer Kiyo is an exception to this practice.
Razer Kiyo is designed to be a plug-and-play kind of device, and there is no compatible software used for zooming, tilting, and adjusting exposure settings from a distance.
Everything is handled manually while you're filming.
However, the good news is that it's perfectly compatible with the most popular streaming software like Open Broadcaster Software and Xsplit.
So, when it comes to streaming, you won't have any particular problems related to these things, as the 3rd party software can be used for adjusting things like tilt, contrast, and brightness levels.
But, if you find that you need the Razer Synapse software, this might be a downside for you.
Key Features
1. Ring light
One of the best and most appealing features of the Razer Kiyo webcam is its ring light.
To give you a closer look, you should know that the size of the Razer Kiyo webcam is about the same as a hockey puck, and the shape is that way as well.
Around the black circle stands the ring light.
The ring light is extremely bright, you really would not expect a light ring of that size to give light exposure as high as the Razer Kiyo one does.
If you are too close, it can even get too bright!
However, the good news is that the light can be adapted and balanced.
To dim the light and set it to your preferences, you can simply twist the ring around the camera.
You can be sure that while streaming, your audience will see you clearly and enjoy the quality and clarity that the Razer Kiyo will provide you.
In that sense, your stream quality will undoubtedly get higher, as it also gives a more professional look to it.
Having the ring light built into your webcam will also save you a great amount of space, especially if your streams or videos include a green screen.
Having all that clutter and adding a separate full-size ring light will make any space tight, so it's great news that there's no need to purchase all of that.
Even your video calls will increase in quality.
2. 1080p image quality
With or without the bright ring light on, the image quality this webcam will provide you is top-notch.
The autofocus lens of the Razer Kiyo webcam has a wide 81.6° field of view, and the still image resolution is 2688 by 1520 pixels.
Those are great things to have when considering the image quality of a webcam.
When it comes to video recording, the image quality will drop a bit if you want more frames per second.
When recording with video resolution 1080p you can expect 30 frames per second, and to achieve 60 frames per second, you will have to record with the quality of 720p.
However, as streams and face cams usually include the video of you in a small box format, the 720p will be more than enough.
When the room is well lit, the image is clear and full of vibrant lighting.
The image quality of this Kiyo webcam is often compared with the Logitech c920, and the quality of both photo and video on that one is inferior to the Razer Kiyo.
Logitech c920 gives a more washed-out image, and that's even when compared to the Razer Kiyo without the ring light on.
It's also good to know that the quality stays great even in a dark room, so the timing of your streams won't be an issue with this one.
Also, the white balance is quite good and not extreme, as it sometimes can be with ring lights being involved, and there is a very nice and neutral color representation.
It will be nice to have something that's not too saturated in color, as the games you stream might be overly saturated.
3. Design
The sleek design is definitely a big plus when it comes to the Razer Kiyo webcam.
Of course, the bright ring light being included is the main design perk here, but there are also a few more things to enjoy design-wise.
When you look at the closed camera, you will notice that there are three discs lying on top of each other.
And that's the ring light, the camera unit and then two hinges used to adjust the device on your monitor, both laptop and desktop.
Having everything be so compactly packed is a great detail.
Also, the LED ring light has an adjustable dial with it, so it does a good job of easing your experience when you're trying to adjust settings on your image presets and overall video lighting.
Thoughtful design is definitely a virtue of the Razer Kiyo webcam!
4. Focus
The autofocus of the Razer Kiyo works very well, it's one of the great features this webcam has.
Some may even say that the autofocus works too well, as it can sometimes be too sensitive to any kind of movements that occur.
It really does have omnidirectional sensitivity.
If you prefer, you can always work with manual focus.
However, when it is focused properly, Razer Kiyo will give you crisp and overall great picture quality.
With the wide camera lens this one has, especially for a webcam, it is expected to have qualities like these.
This as well contributes to the great image resolution, together with the wide-angle lens of the webcam.
The video footage might be affected by the sensitive autofocus, but it overall works perfectly as a camera primarily used for live streaming.
5. Technical characteristics
When it comes to mounting this webcam into place, there are some possibilities.
It has a screw mount, and if you have an L-shape joint, it can be screwed on that L-shape joint.
Also, it can be screwed on a tripod as well.
You will want to keep it close to the PC, as this is a camera with a cable length of 1.5 meters.
And the cable is a braided USB-c cable, a non-detachable cable.
In that sense, the Razer Kiyo is similar to most other webcams.
The good thing about having these technical characteristics be very basic is that this way you know that it will for sure fit your setup and that there will be no problems arising when you connect this webcam to your computer.
Target Audience
The target audience for the Razer Kiyo camera consists primarily of people who stream.
As streaming has become popular during the last few years among people of all ages and housing situations, having a piece of equipment like the Razer Kiyo can be a great step.
Having a light ring built in an overall cheap webcam is probably a good choice for someone who is on a budget but wants a good image and video quality without having their room overly cluttered.
Streaming can often involve green screens, so your filming room is potentially already packed with a huge amount of equipment.
And with this original Razer Kiyo webcam, you will get just as much lighting as with a single light ring, and you will have most of your PC gaming and streaming needs fulfilled.
So in that manner, this could be a great choice for someone who is a beginner in streaming.
However, if you are a beginner, make sure that before you purchase it, you get familiar with some additional software, because as already stated, Razer Kiyo software isn't included with the camera itself.
Another kind of audience that might be interested in a device like the Razer Kiyo is people like professors, teachers, and academics.
With the rise of online lectures and events, your basic laptop cameras simply won't do.
Especially when you never expected that your job will be transferred to your home in this manner.
So, compared to people who stream, people with this kind of a profession are probably even less equipped than streamers, so the Razer Kiyo would be a nice all-in-one that would upgrade the work they do.
When you get something like this, video calls and lectures in low-light situations won't be a problem anymore.
If you have pets, your students will probably enjoy the moments when the focus goes on them running in your background.
This also can be a little hack that will make your classes get more visits and be overall more active, but don't say we told you that!
And if you hold webinars, having your face be sharp and nice on the screen can also improve the audience's focus and interest, as it will be easier to see the mood and the tone. And more pleasant, as well.
If you are a parent looking to update your child's equipment for school, this is also a great choice for that.
They will surely love it, and probably find the light ring to be a great addition, it will make them feel as if they are YouTubers or streamers themselves.
Price
When it comes to the price tag, the Razer Kiyo is a webcam that's averagely priced overall.
However, with this camera, a thing that must come into consideration when talking about the pricing is its built-in light.
Having this feature automatically makes it above average.
This price point is something that should be admired no matter if you're a beginner or have been in the world of streaming for some time now.
This is a good and economically efficient way to upgrade your streaming and filming equipment.
When you get this camera, you get all the things that are needed for its setup.
When it comes to any additional purchases, you may prefer to get some kind of a paid software, as the Razer Synapse software doesn't come with this model.
If we're talking about the general equipment needs for a good stream, you might want to consider getting a separate microphone, like the one included in the Razer Kiyo isn't the greatest.
It does do the job, but it is advised in general that you should get a separate audio system and equipment if you want your voice on stream to be nice and clear.
And of course, you will want that!
So when you're planning your budget that's something that you should consider.
But when it comes to the camera itself and its pricing, you will definitely get your money's worth when image quality is considered.
Of course, the main audience for this kind of gadget are people involved in gaming and streaming, but even if you're considering if this is worth getting for the needs like video calls, it absolutely is.
Not only will you get better video call quality overall, but it will also make low-light situations better for you.
Frequently Asked Questions
Is the Razer Kiyo worth it?
Yes, Razer Kiyo is a camera for your PC that will definitely be worth the investment, which won't even be that big when you compare the price and the quality of the content that will be filmed with it. It's especially worth it if you are looking for ways to save space in your room, and not have that lessen the quality of your videos.
Does Razer Kiyo have zoom?
It doesn't have a built-in zoom option, however, you can zoom in and out using streaming software, as the Razer Kiyo is compatible with software like OBS and Xsplit. The Razer Kiyo is a camera mostly used for streaming purposes, so this kind of zoom option was made with that in mind.
Can Razer Kiyo take pictures?
Yes, Razer Kiyo can take pictures. The stills this camera takes are taken at 4 Megapixels, and colors and white balance levels are more than great. The pictures it takes are good in any kind of lighting condition, and having the built-in light just makes this process easier.
Conclusion
If there's anything that can be taken out from this Razer Kiyo review, is that if your streaming equipment is lacking when it comes to the video and image quality department, this will be a good purchase.
There is no doubt that you will get good use out of this device if you decide to purchase it, because of the many visual advantages that the Razer Kiyo provides you.
So, in the end, it's safe to conclude that this will indeed be a product that you will be more than satisfied with.
The only thing left for you is to dig deeper into microphones, and you're all set for amazing streams!
Related: Best Webcam for Streaming
Join our Discord Group. Ask questions, team up with fellow streamers, share memes, and more!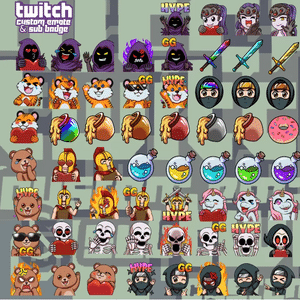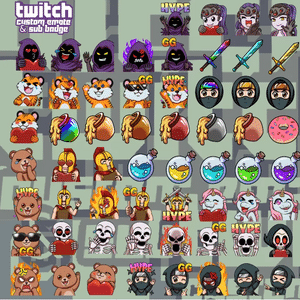 Claim for FREE:
FREE Emote PACKS
A book on growing your audience