Oculus Rift S is a virtual reality headset that arrived in 2019, and nowadays it is more appealing than ever because of its good performance, accessible price, and Oculus Touch controllers.
On the other hand, its "main rival" is HTC Vive. Two companies Valve and HTC worked together in order to create a VR system that can outrival Oculus Rift, and now its successor Oculus Rift S.
Due to the fact that VR systems are becoming more popular every day, we have decided to compare these two rivals and see which one is better.
Specifications – Oculus Rift S vs HTC Vive
Generally, gamers were amazed at both of the VR systems when they first appeared.
Even nowadays when there are VR systems such as HP Reverb G2 or Sony Playstation VR that can really create a realistic illusion of the real world or play area, users still adore both of the systems- Oculus Rift S and HTC Vive.
Moreover, they are still used by many of our colleagues and friends.
However, let us first compare the available specs of the abovementioned VR systems.
Oculus Rift S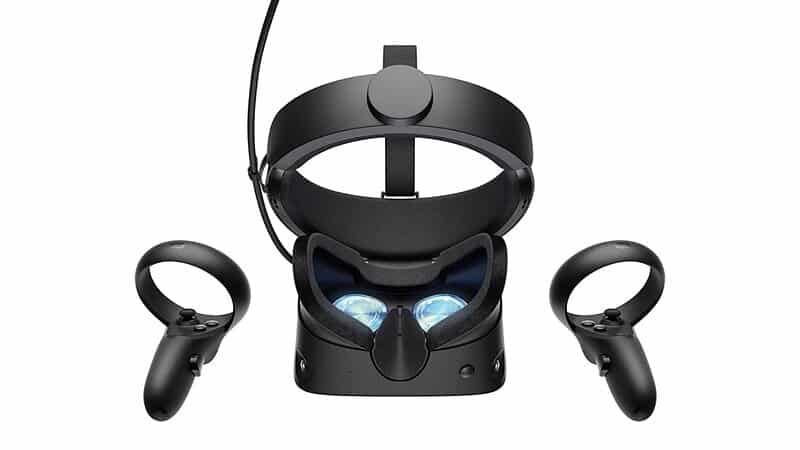 HTC Vive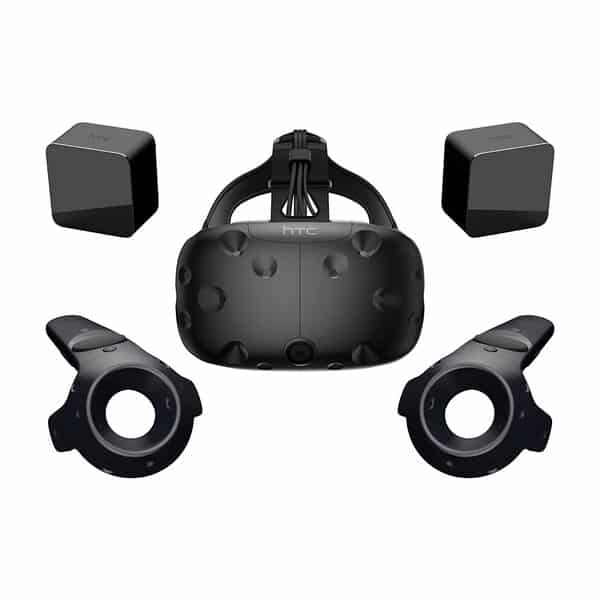 Differences – Oculus Rift S vs HTC Vive
The Oculus Rift S is an Oculus Rift's (the original Rift) successor, but at the same time, it has got many new features that its predecessor did not have.
HTC Vive was Valve and HTC's response to Oculus Rift.
Therefore, many would say that only the original Rift and Vive should be compared because they have been released in the same year, but we believe that Vive still has something to offer.
But let us start with the biggest differences.
The biggest difference is that Oculus Rift S uses cameras for creating virtual reality, while its predecessor Oculus Rift and rival HTC Vive has used sensors.
Moreover, Rift S has a better resolution, but a lower refresh rate.
Audio quality is very similar, but Rift S has speakers instead of headphones, so it is a kind of innovation that is worth attention. It certainly adds some weight to the VR experience.
Touch controllers have generally been better on every Oculus device until Vive Cosmos and Cosmos Elite have appeared.
But still, Oculus Touch controllers, for example, will stay legendary because they have changed the course of the VR headsets development.
Oculus Rift S vs HTC Vive Comparison
The most important aspects of all VR headsets are:
We know that there is still an ongoing debate about Oculus Rift S vs HTC Vive and we hope that our analysis of these aspects will help you decide between Rift and Vive.
Video quality
We should start from the core of every VR system, and that is a headset.
Namely, a VR headset is as strong as its head-mounted display.
Basically, the role of the AMOLED or LCD display is to show you an image of virtual reality and to accurately follow your every move.
We would say that HTC Vive and Oculus Rift are pretty similar in this aspect because they both show a 1,080-by-1,200-pixel picture for each eye.
But when we talk about Oculus Rift S vs HTC Vive, there is no comparison. Namely, Rift S has a higher resolution and it allows each eye to see a resolution of 1280 x 1440 or 2560 x 1440 combined resolution.
Another major shift from an original Rift is that now Rift S has a single LCD display (with a backlight).
On the other hand, Oculus Rift S has only an 80Hz refresh rate, and its refresh rate does not follow the quality of its resolution. Therefore, it has a worse contrast than HTC Vive with its AMOLED display.
So, if you love to play games with a black, or at least darker background, Vive is a better choice.
Oculus Rift S and HTC Vive are different in the aspect of sensors, as well.
Namely, HTC Vive has built-in motion sensors and the head movement (motion tracking) is followed or tracked by additional external sensors, while Rift S does not have sensors for tracking but cameras.
Oculus Rift S has two main cameras (outward-facing), two additional cameras on the lower right and left corners, and a camera faced upward.
Therefore, environment recognition and positional tracking (inside-out tracking) are provided in two different ways by these two headsets.
We can say that although HTC Vive is older than Rift S, it can rival it very well.
However, Oculus Rift S has a better resolution, inside-out tracking, and, overall, a more contemporary way of creating virtual reality.
But, if you prefer the classical VR headsets or you play games with a darker background, then you should consider purchasing the HTC Vive.
Audio quality
The next important aspect is sound, or better to say audio quality.
If you want to isolate yourself from the real world and enjoy your game, for example, your VR headsets need to have good audio, and video performances, as well.
What we want to say is that you do not need a great degree field of view if you have poor audio quality because you will not get the best performance anyway.
Therefore, all aspects need to be of great quality.
Like you can see in the specs part, the Oculus Rift S has integrated speakers, and both headsets have a 3.5 mm jack for headphones. Unlike Oculus Rift S, HTC Vive has built-in headphones.
If you prefer you can use your own headphones or you can use the ones you get with the device.
When it comes to sound, we like it good but simple.
So, although HTC Vive and Oculus Rift S allow you to choose, and maybe pick even better earphones than included, you need to worry about their wires and comfort for your ears, which is not so practical.
On the other hand, the old Oculus Rift offers you built-in headphones that are definitely less complicated to deal with.
So, we can say that it is up to your personal preferences when it comes to audio. However, due to the built-in speakers, we give a slight advantage to Oculus Rift S.
PC compatibility (requirements)
Both of these VR headsets are PC-based.
So it means that a tethered headset has specific PC requirements.
Of course, you can use your PC-powered VR headset on every possible PC system, but if you want the best results, and we believe that you want, use only the best possible and the most appropriate one.
When it comes to Rift S vs HTC Vive duel, they have almost the same PC requirements.
First, let us start with a processor. Oculus Rift S demands AMD Ryzen 5 1500X or Intel Core i5-4590. If you have better, they will of course do.
On the other hand, HTC Vive demands Intel Core i5-4590, just like Oculus Rift S, but the second option is AMD FX 8350. Naturally, if you have a better processor, it will be great.
When it comes to graphics, Oculus Rift S and HTC Vive have the same demands- NVIDIA GTX 1060 or AMD Radeon RX 480.
We have to admit that the display is great in both headsets, so appropriate graphic cards are really important.
The third important requirement is RAM. These PC-powered headsets differ in this aspect.
Namely, because it is a few years older, HTC Vive can be used even if your computer has 4 GB RAM, while the newer Oculus Rift S needs a computer of at least 8 GB RAM.
The video outputs are different, as well.
Oculus Rift S requires DisplayPort 1.2, while HTC Vive needs HDMI 1.4 or DisplayPort 1.2.
Therefore, be sure you have a display port and USB-A 3.0 output.
So, if you have carefully read the requirements, and you see that your laptop or PC is an appropriate one for your PC tethered VR headset, carry on and enjoy.
However, those who see that their VR headsets cannot be run on their laptops or PCs should try to purchase another VR headset or wait for an opportunity to buy a new PC device that will help them to achieve their headset's full capacity.
But, let us say a few more words about the Vive-Oculus dilemma.
HTC Vive has its own adapter, which makes your life easier because you do not have to worry about the wires.
It technically turns your gaming headset and PC-powered VR headset into a wireless headset with higher degrees of freedom.
As you know the more degrees of freedom, the better for you.
On the other hand, although newer, the Rift does not offer you a wireless adapter as Vive does.
Controllers and Tracking system
The Rift S has avoided a standard and old-fashioned tracking system consisting of ordinary and external sensors, and it has used a system called Oculus Insight.
Oculus Insight scans and analyses your surroundings then it finds physical objects in the vicinity and incorporates them with data from the gyroscope and accelerometer of your headset.
You basically get your positional data once in a millisecond.
Therefore, Rift S headsets have a lot easier setup process than Valve headsets that still use external sensors.
Moreover, we would say that the creators of the Rift S VR headset have done a great thing for all users because they will no longer worry about cables, motion controllers or external sensors.
On the other hand, HTC Vive has been based on the two Lighthouses that track motion controllers and headset which means that they need more time to set up.
However, HTC Vive tracking is flawless, and we have not seen any problems.
We can say that their controllers are equally good.
So, it depends on your personal preferences whether you will choose Rift S or HTC Vive.
Design
The Rift S has been designed by Oculus and Lenovo.
Therefore, we can see some Lenovo features on Rift S.
If you prefer a VR headset design where the head-mounted display (HMD) kinda hangs off of your head then Rift S is something you will like.
An adjustable halo headband sits over your head, an HMD is against your face and a band at the top of your head prevents a headset from slipping down.
That is basically all about Rift S design. Nothing revolutionary new, but still there are enough small changes to say that it has something new for users.
On the other hand, if you prefer something without a halo headband, there is HTC Vive.
There is the head strap that holds the HMD and it can be adjusted with Velcro (hook and loop fastener).
Vive is not designed for any detailed controller tracking although it has a camera that is used to see your surroundings in the real world.
We would say that Rift S is less bulky, so Oculus has done a pretty good job there.
Moreover, due to its design, it is easier to shift to the real world camera to see the world around you.
Availability
HTC Vive has been replaced by HTC Vive Cosmos and HTC Vive Pro, so it is really hard to find the old and original Vive today.
However, due to its quality and popularity people are still searching for an opportunity to buy it.
Therefore, some people are willing to sell it for prices that are, unfortunately, far above their real value.
We recommend you always check Amazon or eBay from time to time to see Vive's availability and prices.
The Rift S is similar to HTC Vive even in this aspect.
Namely, it has been kinda replaced by Oculus Quest, so the same story about availability applies to Rift S.
The prices have skyrocketed, there are not many of them, but if you are really interested we recommend checking the online marketplaces from time to time.
Other HTC, Valve, and Oculus Products
Generally, the VR industry is improving constantly, and we are glad because of that because that is the only way to overcome the old problems of VR headsets like room-scale or bad tracking for example.
It is probable that Rift s Oculus most famous and legendary product along with Oculus Touch, but nowadays they are getting serious rivals in products like Vive Cosmos or Vive Pro.
Therefore, we have decided to write a few lines about these two headsets that might become cult in a few years, but nowadays the audience does not talk too much about them.
However, be aware that we have tried to be realistic while comparing them to Oculus products, so you will get our honest assessment.
1. HTC Vive Pro
HTC Vive has proven to be a major success, and it has opened the doors for other products from HTC and Valve collab.
One worth of our attention is definitely the HTC Vive Pro headset.
Oculus Rift and HTC Vive rivalry has left us major improvements on both sides. That is obvious in the example of the HTC Vive Pro.
This type of headset has a more comfortable design, marvelously incorporated headphones which original Vive does not have, higher resolution, sharper screen, better display, and outward faced dual cameras.
However, it is pretty expensive, at least for now.
To put it bluntly, the price is astronomical when we take into account that it does not have motion controllers and base stations included in the standard price package.
For the current price, people would expect to have the base stations and motion controllers that are actually very important for a headset nowadays.
When it comes to the structure of an HTC Vive Pro headset it is bulkier than it is on the original Vive.
Namely, newly added two cameras, built-in headphones and additional plastic have needed a place on a headset, and therefore it is a little bit bulkier than the Vive we have known.
Bear in mind that if you want base stations and controllers, you need to pay extra!
People are comparing HTC Vive Pro with Oculus Quest when it comes to gaming performance, and many of them would say that Oculus Quest has better ergonomics and game controllers, but we really have not got any problems while playing games like Beat Saber on our HTC headset.
The setup is the same as it is for the original, so do not worry about that.
Generally, we do not think that HTC Vive Pro is bad, on the contrary, we believe it has some good improvements, but we do not think that it is worth its current price.
2. HTC Vive Cosmos
The Vive Cosmos represents a significant enhancement from the good old HTC Vive and its pricier successors.
However, at the very beginning, we need to say that it is still far from the original Rift although people are trying to compare them. Again, the price is the biggest problem…
The headset itself looks playful and modern, the two cameras on it are making it similar to the upper part of a human face (which is pretty innovative) and the design of a headband is simply marvelous.
Unfortunately, HTC Vive Cosmos headphones are slightly difficult to cope with because they can pop off if you are not careful while adjusting them.
When it comes to resolution (1,700-by-1,440-pixel resolution picture to each eye) it is similar to Oculus Quest.
The refresh rate is 90Hz which is good because it allows you to move smoothly. Basically, the refresh rate is similar to the other headsets from "2019 generation".
They finally catch up with Oculus' ergonomics and touch controllers, which is great because now we can play games more easily while using HTC Vive Cosmos.
We can compare HTC Vive Cosmos with Oculus Touch controllers for example because we have tested them both.
Therefore, we can say that HTC Vive Cosmos represents a great step forward in "the battle: vs Oculus.
If you want to use HTC Vive Cosmos in its full capacity, you will need a powerful PC with at least:
HTC Vive Cosmos surely has something to offer, and we are satisfied with it.
However, we miss something revolutionary for its price, they could have, for example, removed the cable or improved the resolution even more because there are cheaper headsets with a much higher resolution.
Overall, comparing HTC Vive Cosmos to Oculus Touch, we get the feeling that we would still choose Oculus instead of Vive Cosmos due to its wire-free convenience.
Verdict
We honestly believe that the future is bright for both of the aforementioned headset companies.
Like we said above things are improving, people are demanding more stuff like better tracking, better adjustment of interpupillary distance, and more comfort.
"The battle" of Vive vs Oculus Rift can serve as a perfect reminder of where the industry has been just a few years ago so that we can see the progress in the past few years.
However, we must say that Vive and Oculus Rift S are pretty equal.
But, if we have to decide between these two we would choose Rift S because it simply has a slightly better resolution and ergonomics, which is crucial in the gaming sessions of a few hours.
We hope that our detailed review will help you choose between these two!