Kyle Jackson, better known as Mongraal on Twitch and other streaming platforms, is a 16-year-old streamer that has become very popular during the past few years.
He has managed to build a name for himself in the gaming industry and prove to be one of the best gamers and most interesting streamers on the market.
Kyle spends a lot of time and energy when choosing his stream essentials, and he goes only for products of the highest quality.
---
So, what stream equipment does Mongraal use, and can you get any of these products for yourself? Let's find out and check Mongraal streaming setup!
* Headset: Hyper X Cloud II
* Keyboard: Steel Series Apex Pro TKL
* Mouse: G402 Hyperion Fury
* Microphone: Blue Yeti X
* Monitor: ACER XF250Q
* Webcam: Logitech BRIO Ultra HD
* Mousepad: BENQ ZOWIE G-SR
* SSD: Samsung 960 PRO Series
* Processor: Intel Core i9 9900K
---
Down below, I will cover each of these streaming components in detail! Let's begin!
Post 16 of 18 in the Professional Setups
What Headset Does Mongraal Use?
Hyper X Cloud II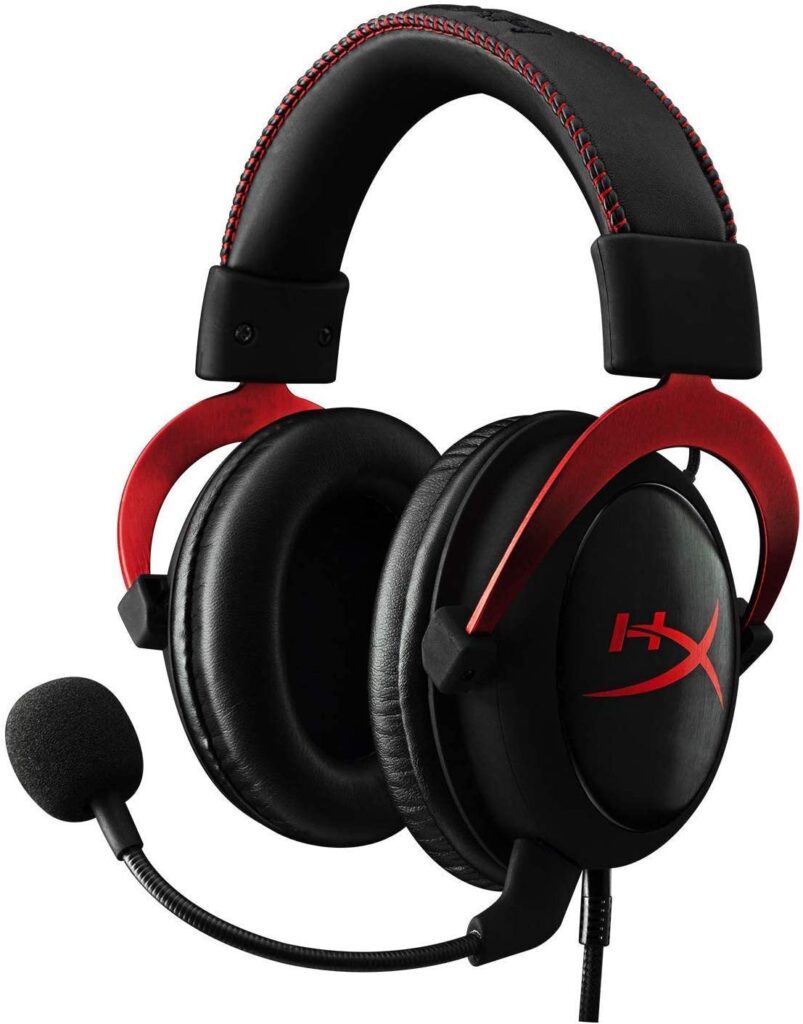 Mongraal has been using the Hyper X Cloud II Gaming headset for quite some time now, and even though most streamers get this product gifted, it is certainly something worth buying.
These headphones are designed to provide you with maximum comfort, and their leather headband will allow you to use them for hours without feeling any type of discomfort.
They are not only very comfortable but provide you with a high-quality sound, too, with the large 53-millimeter drivers that eliminate all the background noise and keep you focused on the game.
In addition, there is also a 7.1 virtual surround sound integrated into this headset that allows you to become truly invested in the game with its precise and sharp audio.
The Hyper X Cloud headphones and you can use them on all types of PCs, PlayStation, and Nintendo devices, but also on different smartphones or TVs through USB ports.
These headphones are made for a very enduring aluminum, and their solid design is built to last you for years, which makes them a really good long-time investment.
The aluminum frame is something you do not come across often on headphones, and it makes them enduring, so I believe this is the right choice for professional streamers.
Even though they are priced at 150 dollars, I would say these headphones are worth it because they last a long time and are really high-quality.
Related: Best Wireless Headset for Streaming
What Keyboard Does Mongraal Use?
Steel Series Apex Pro TKL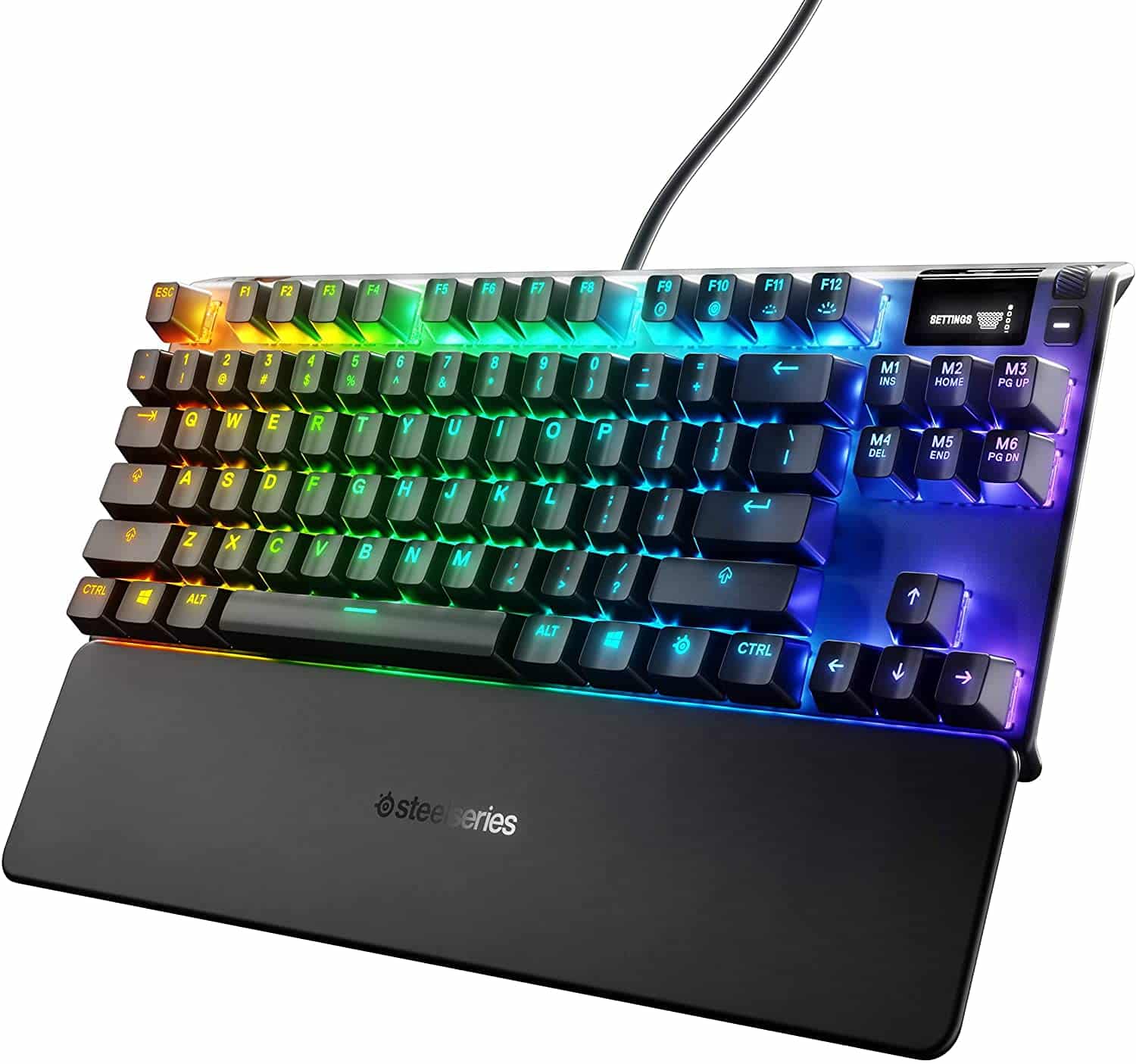 Steel Series Apex Pro TKL is Mongraal's favorite keyboard, and it is one of the rare products that allow you to customize the per-key sensitivity through their adjustment options.
It offers you an 8 times faster response than other keyboards, 5 ties faster actuation, and twice longer durability.
This keyboard has an OLED Smart display that will provide you with information from your game or Twitch immediately, and it has a Series 5000 Aircraft-grade aluminum frame.
It also has amazing RGB lights, and you can choose the color of your keyboard, which many streamers like and seek in their potential keyboards.
Probably one of the best things about it is that it is very easy for the hand; it also provides you with a Detachable soft-touch magnetic wrist rest so your hand will not get too tired even if you have been streaming for hours.
This is the worlds' selling TKL keyboard, and most gamers use it because it is very practical and specifically for these purposes.
For that reason, this keyboard is very expensive too, so you will have to cash out at least 300 dollars in order to get your hand onto it.
Even though it is very expensive, it is a good investment for all streamers, and if you have the money, you should purchase it without any doubt.
Related: Best Quiet Gaming Keyboards for Streaming
What Mouse Does Mongraal Use?
G402 Hyperion Fury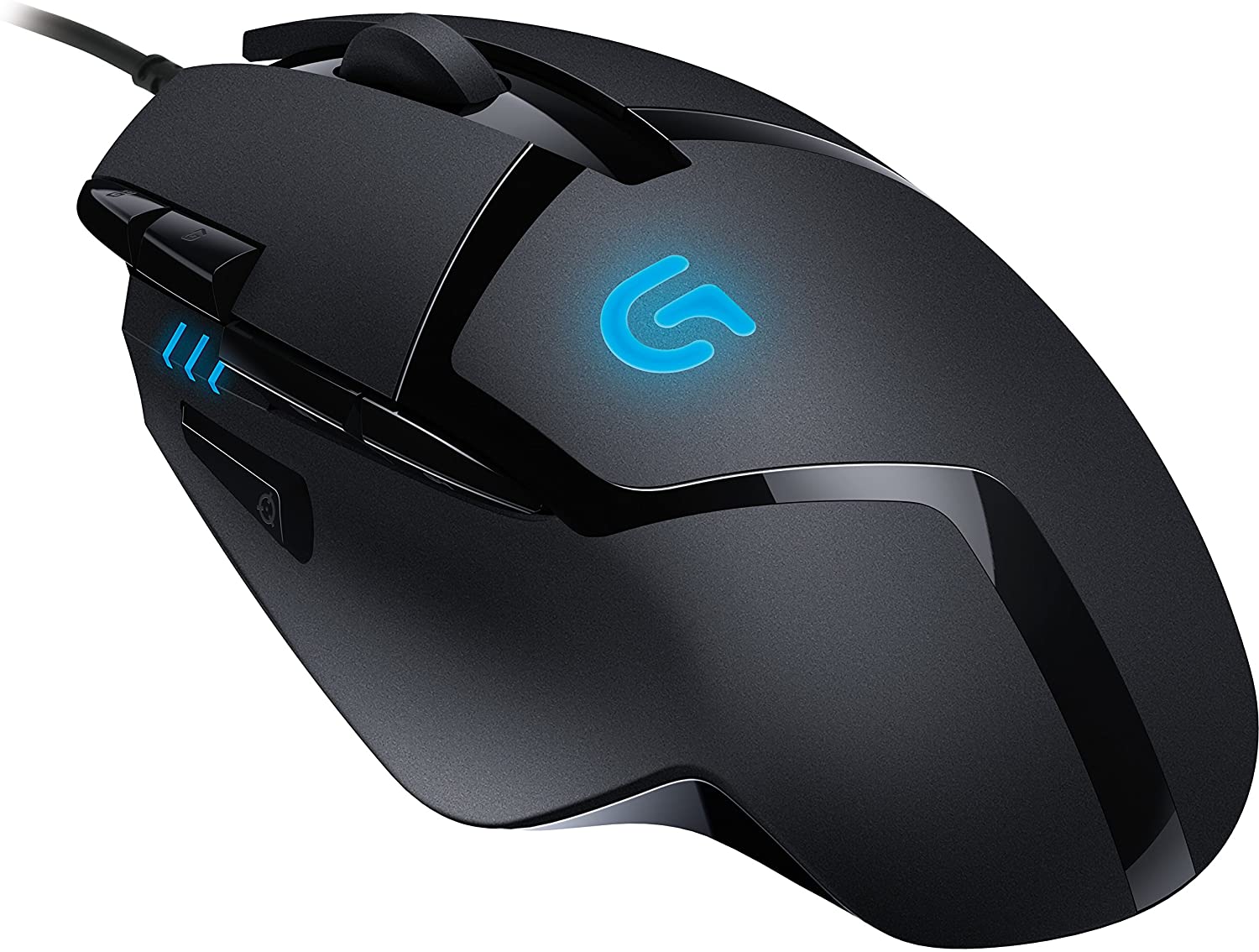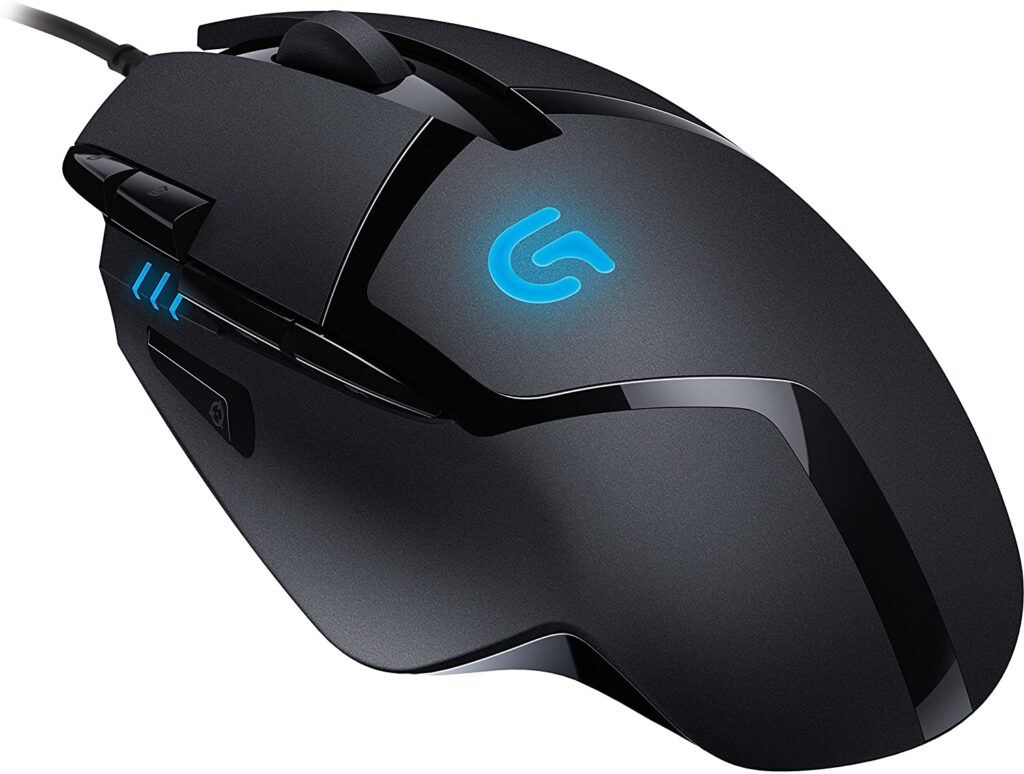 Mongraal has been using Logitech mouses for years, and his favorite one is the G402 Hyperion Fury FPS gaming mouse.
This mouse has an amazingly precise sensor that will make your gaming experience a lot faster and also a great optical sensor with Logitech Delta Zero technology integrated into the device.
You can also enjoy the benefits of the amazing and fast Fusion Engine hybrid sensor that will provide you with a tracking speed of over 500 IPS.
8 programmable buttons can be customized to fit your style of play, and the Logitech optional software makes the customization process easy.
You can also choose among one of the 4 DPI settings for better control of your play, and you will be able to react fast no matter what happens in the game.
With a one-millisecond report rate, this is one of the mouses that will provide you with the fastest communication and allow you to always be one step ahead of others while gaming.
At 70 dollars, this is also a very affordable mouse, so you will make a good choice if you purchase it.
However, you should be very careful while using it because it is very gentle and can break easily.
Related: Best Lightest Gaming Mouse
What Microphone Does Mongraal Use?
Blue Yeti X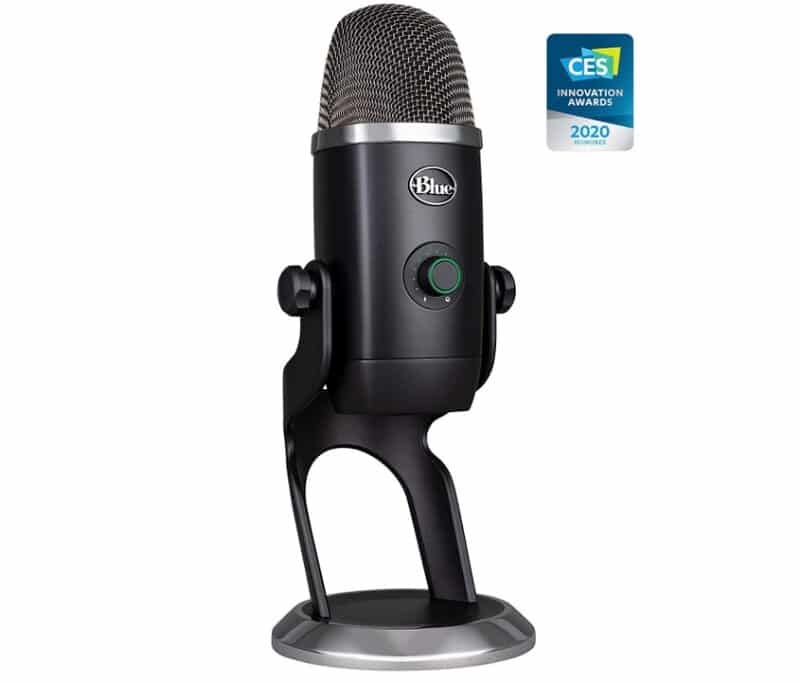 If you have been watching Mongraal for some time now, you probably know that he loves the Blue Yeti X microphone, and he has been using it basically since he started his streaming career.
The Blue Yeti X microphone is made for professionals, and it allows them to stream games and film podcasts or Youtube videos.
The latest Blue Yeti version of microphones has an amazing condenser array with 4 built-in capsules that allow it to produce the sound of the highest quality.
You can also use the illuminated multi-function smart knobs that will allow you to monitor and modify your voice while filming or streaming, allowing you to control every part of your streaming or gaming experience.
With an integrated Blue Voice software you can create the sound the way you want by using different types of presets for crisp warm, vintage, or classic radio voice, or experiment a little bit and create your own unique sound.
Several smart knob modes allow you to switch between different types of modes and volume levels, so you modify the output volume as much as you want, just like you can turn on and off the microphone toggle.
However, starting at the price of 190 dollars, this microphone is very expensive, and it is definitely reserved for professional streamers or podcasters because you really do not have to spend a fortune in order to create high-quality sound.
Related: Best XLR Microphone for Streaming
What Monitor Does Mongraal Use?
ACER XF250Q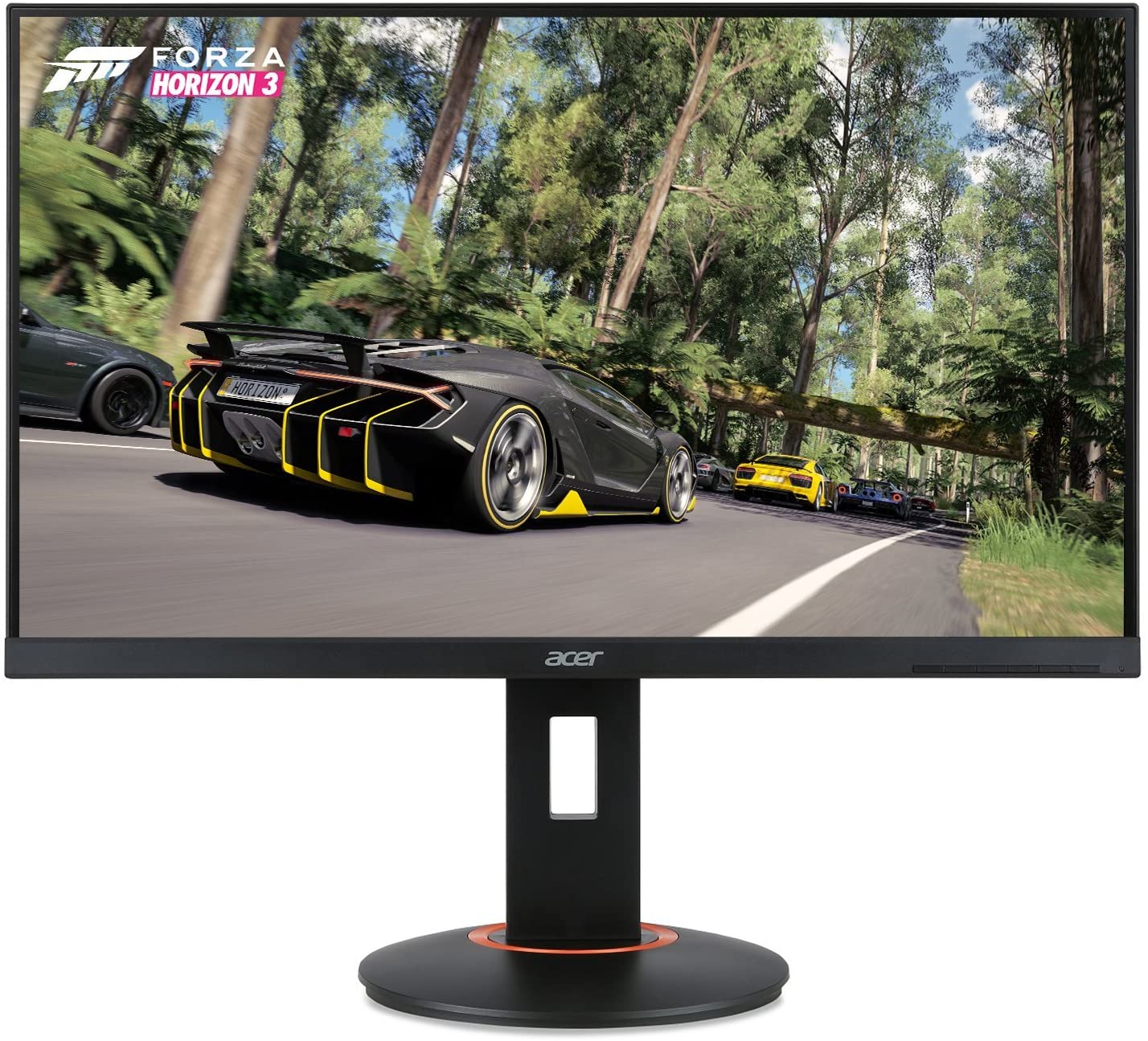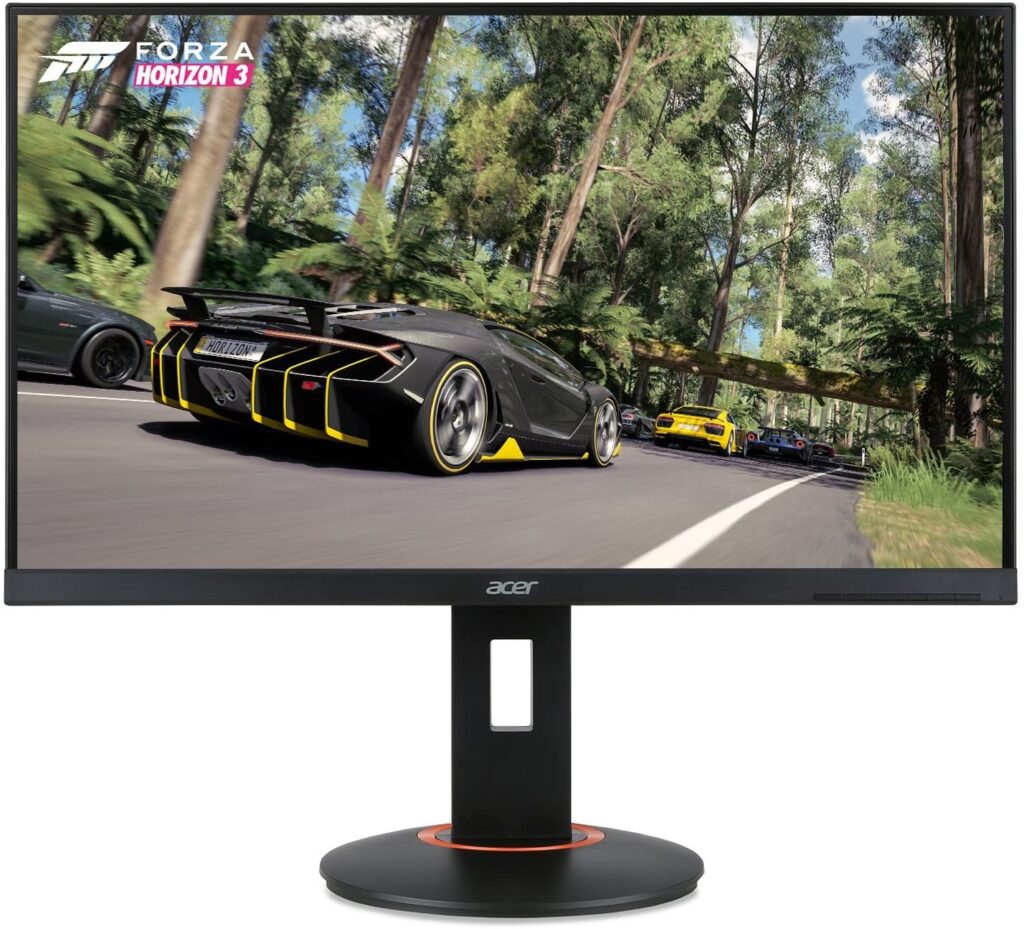 Mongraal has been using the ACER XF250Q monitor for gaming and streaming because it is very kind to the eyes and provides you with a picture of great quality.
Its 24.5 inches Full HD widescreen TN monitor is a great option for gameplay and eliminates screen tearing.
The design is zero frames with a 1ms response time and two speakers with 2 watts per each of them.
It also has several ports like one display 1.2 port, one HDMI 2.0 & one HDMI 1.4 port that connect to different devices a lot easier.
The NVIDIA G sync technology is also something you will find in this monitor, and it provides you with a tear-free gaming experience and optimal refresh rates.
Ergo stand is also one of the features you will receive when buying this monitor, and it will help you pivot, tilt or swivel the monitor any way you want and make yourself feel comfortable while gaming and streaming.
However, even though this monitor looks great and is advertised all the time, you can find a lot of bad reviews related to it, and most users complain that the picture is not near as good as they describe it to be.
Related: Best Streaming Monitor – Top 7 Products and Reviews
What Webcam Does Mongraal Use?
Logitech BRIO Ultra HD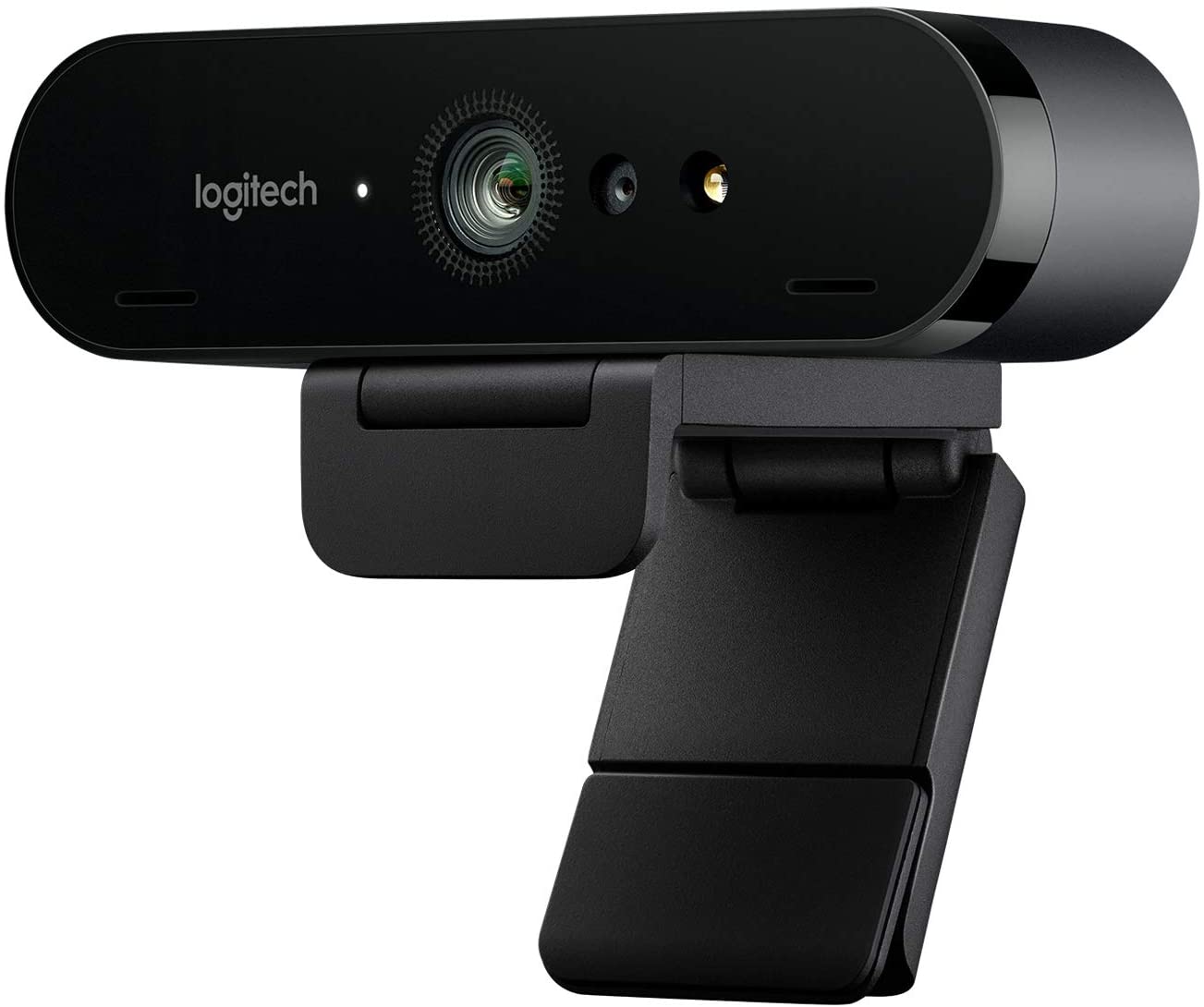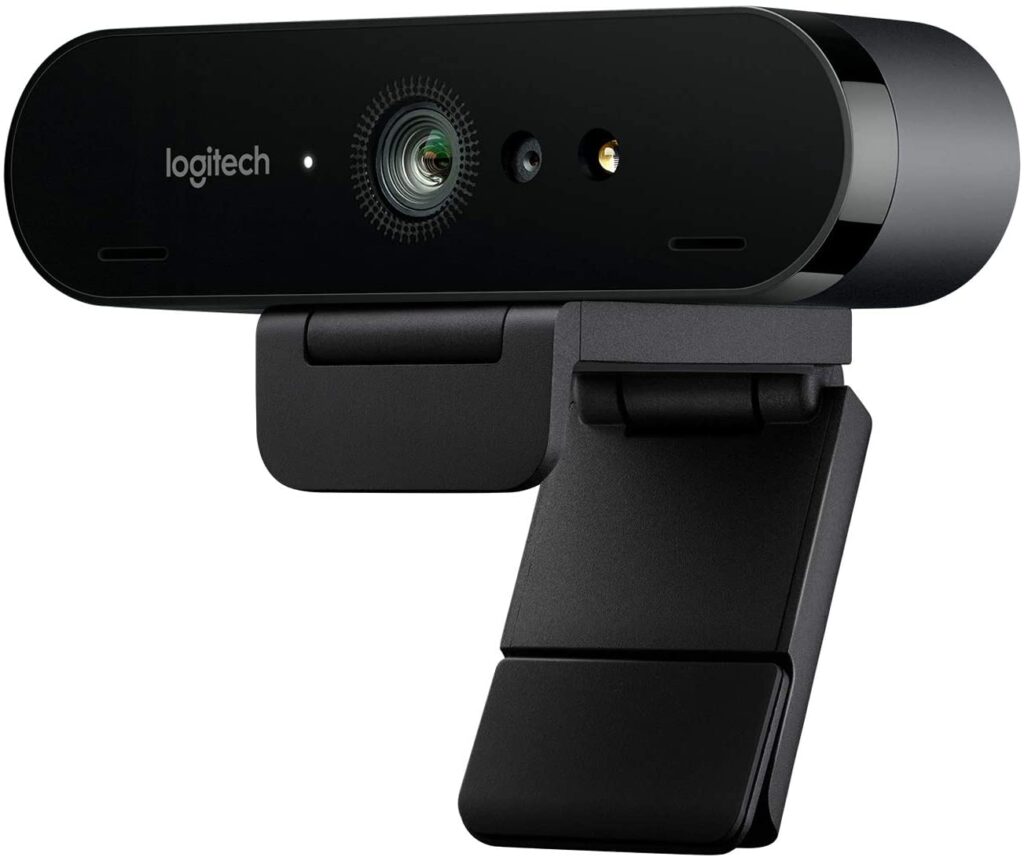 Logitech BRIO Ultra HD webcam is a webcam that is a complete favorite among gamers and streamers, and Mongraal has been recommending this one for ages.
Even though it was made for video conferencing and basic video calls in the first place, it has grown to become one of the most popular webcams in the gaming industry, and many people use it for different types of gaming and streaming.
This is the first 4K high definition camera that provides you with a 5x digital zoom and RightLight 3 with HDR produced by the Logitech company, which is the main reason it got so popular.
It comes with a 3 meters long cable that will allow you to connect the webcam to your device easily and move it throughout the room as much as you want.
This webcam is something that is really worth buying, especially if you are considering getting into the gaming or streaming industry, but it is very expensive, especially for complete beginners.
Being the most expensive Logitech webcam, it will cost you around 180 dollars, or even more than 220 dollars if you choose to purchase it through some online retailers, so it is a quite expensive product even for professional gamers or streamers.
If you are on a really tight budget but want to get a webcam that is high-quality, I recommend investing in some other Logitech webcams that are a lot more affordable but have similar specifications.
Related: Best Webcam for Streaming
What Mouse Pad Does Mongraal Use?
BENQ ZOWIE G-SR

When it comes to mousepads, Mongraal does not really go over the top, and he sticks with regular, more affordable mouse pads like the BENQ ZOWIE G-SR mouse pad for e-sports.
This is a very simple but very consistent and controlling mouse pad that will not allow your mouse to slip or move faster than you want it.
It has stitched edges and a 100% flat soft rubber base that offers a consistent and comfortable glide which is very important to all gamers.
These mousepads come in different dimensions, so you can choose the one that suits you the best, even though most people go for the 470 x 390 mm ± 10 mm one.
The best thing about these mouse pads is that although it is made for professional gamers, it is very affordable and will cost you less than 30 dollars, which you do not often encounter, at least not in this niche.
However, some users complain that their mouse pad was not strong and hard enough, and it used to move throughout their table, so you may want to try it out and see how it fits for you before you actually purchase it.
What SSD Does Mongraal Use?
Samsung 960 PRO Series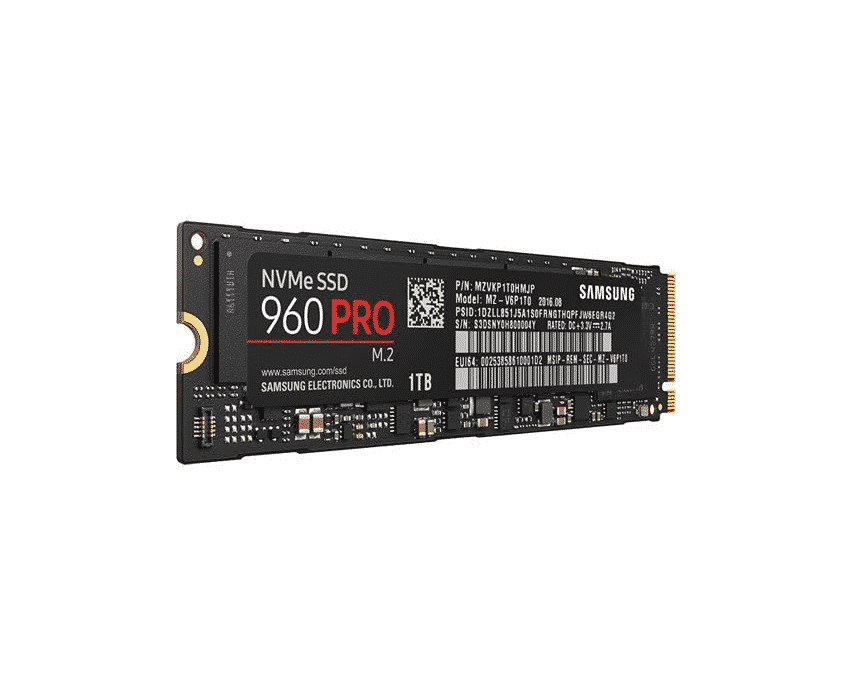 SSD card is a must-have for all professional streamers and gamers, and they really need to be careful when choosing the right storage.
Mongraal uses the Samsung 960 PRO Series – 1TB PCIe Internal SSD and he makes sure all of his important information is stored on this SSD card.
Even though it is a Samsung card, it can easily be connected with all computers and smartphones, no matter the brand or its specifications.
These SSDs have different memory capacities, and you can choose whether you want the one with 300GB, 512GB, or 1TB of memory.
There is also an option of getting the SSD that has TBs of memory, but you will need to reach out directly to the Samsung staff in order to get your hands on it.
However, at the starting price of 2000 dollars, this is a very expensive SSD card, and you can easily find more affordable SSDs for half the price.
Unfortunately, some users have been complaining about their SSD not being able to connect to different devices or losing some data they have successfully transferred.
For those reasons, I recommend you to really take all things into consideration and only buy this SSD if you are 100% sure it will work on your device and support all the data you want to transfer to it.
What Processor Does Mongraal Use?
Intel Core i9 9900K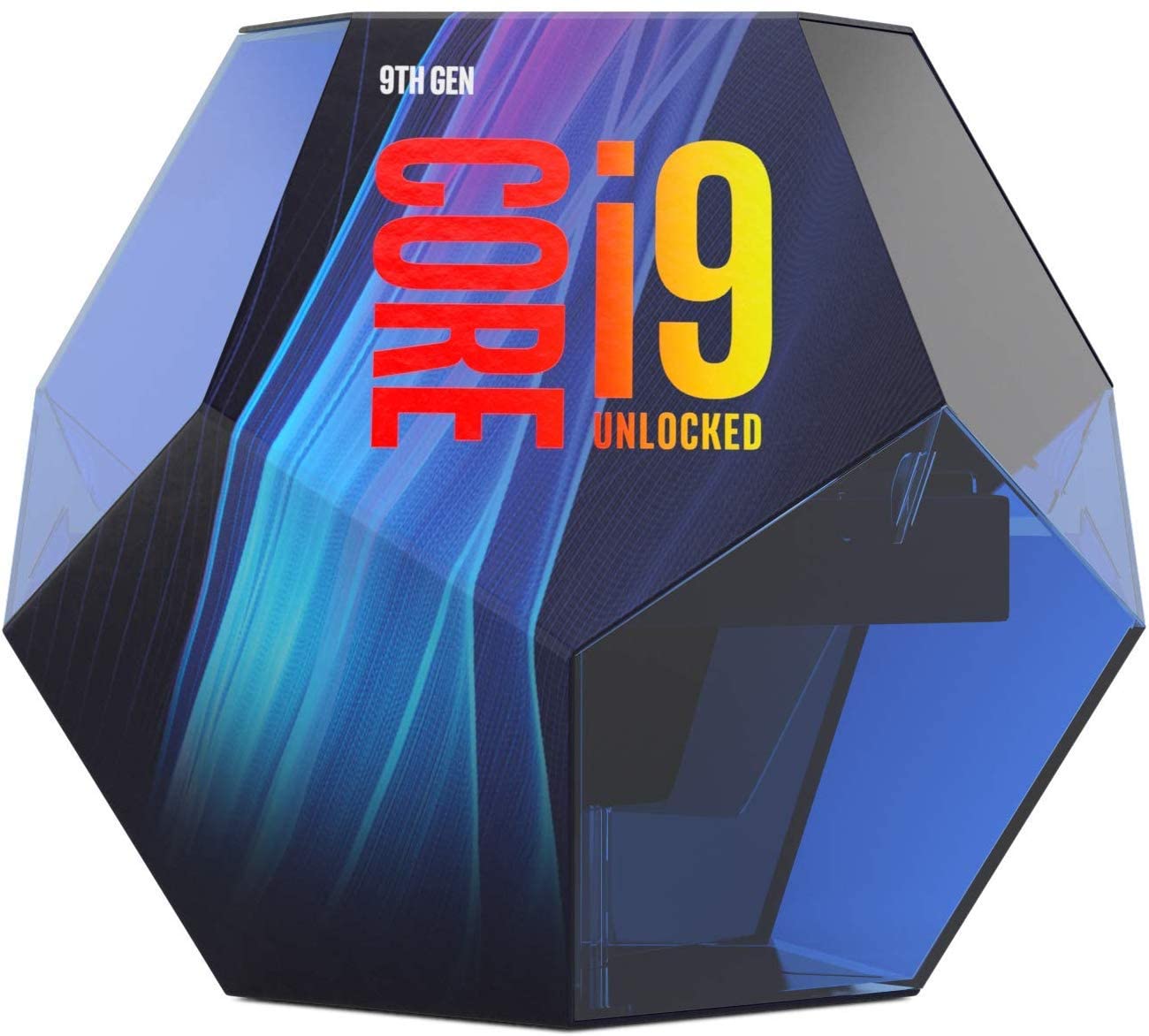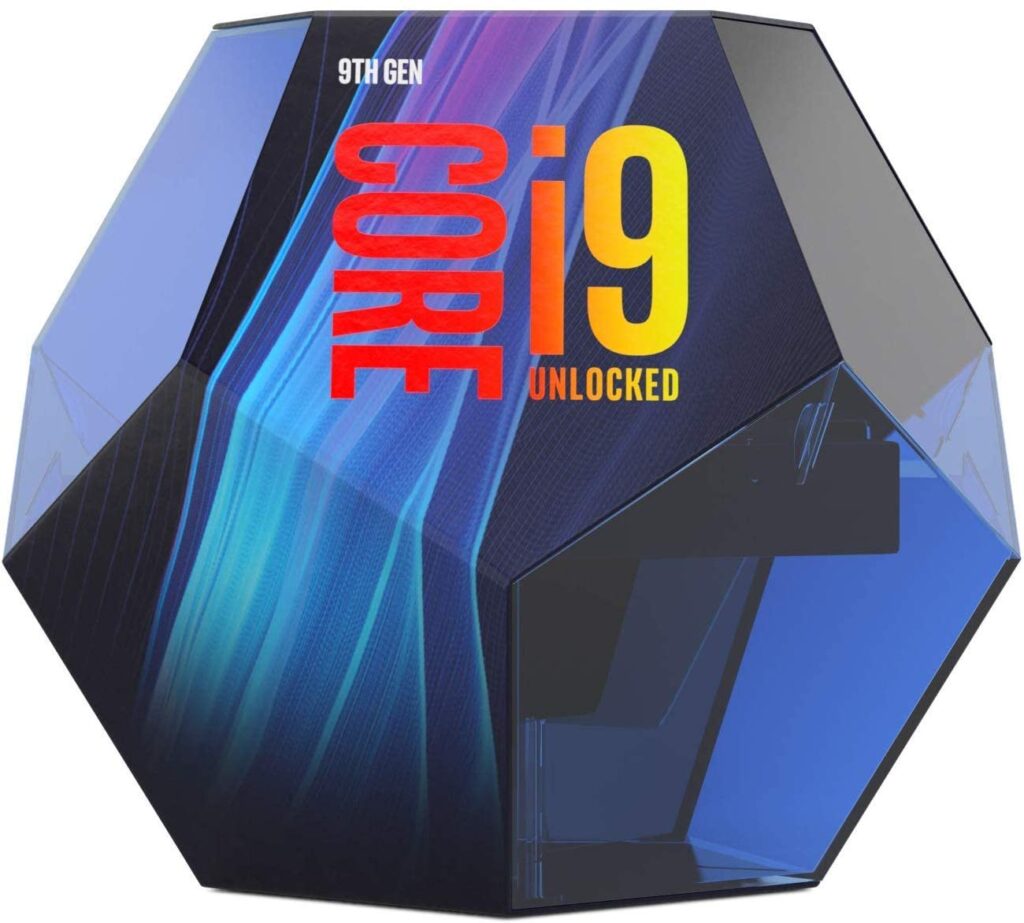 You must have heard about Intel processors because they are definitely the ones over 90% of gamers use, and just like most of them, Mongraal has been using the Intel Core i9 9900K Desktop processor with 8 cores for years.
This Intel processor has 8 cores and 16 threads which is something that you really need in case you want to be streaming and gaming on your PC.
It has an integrated Intel Graphics 630 card, and its speed is usually somewhere from 3.60ghz to 5.0 GHz, which is a lot better than most processors you can find on the market nowadays.
However, the problem with this product is that it is compatible only with Motherboards based on Intel 300 Series Chipsets, so you will be required to purchase this motherboard if you want this processor to work for you.
In my opinion, this is really unfair and a big limitation to all potential buyers and just a simple way Intel can take more money from you.
Even though some users claim it works great with other motherboards, too, you really should not do things like this by yourself and have a professional handle the whole process.
Unfortunately, this processor is also very hard to get, and it is rarely available in-store or on online retailers, so most people opt for buying a pre-owned one, so you may consider this option too.
Related: Best CPU for Streaming on Twitch
We are sorry that this post was not useful for you!
Let us improve this post!
Tell us how we can improve this post?