Webcam Reviews
If you need to find other streaming gear, make sure to look at our Streaming Gear page. Here, you will find everything you need!
Post 4 of 7
For the past year, a lot of people have learned just how important good quality PC equipment can be.
With most of the jobs and schooling being dependant on the internet and computers, things like a webcam with high image quality are not only reserved for gamers are streamers, but are a necessity for most of us.
You might not plan to record videos, but video calls have surely found their way into your daily routine.
In the search for a new camera, you might feel overwhelmed by just how saturated the market is.
You might not know where to start looking, what specs a webcam needs in order to be considered good, and you probably don't know how to evaluate if a certain product will be worth your money.
But, even as a streamer, you might get confused by everything that's out there, and that's exactly what these kinds of in-depth reviews are here for.
And with this one, we will be bringing you everything you need to know about the Logitech StreamCam.
If you heard of it and it has piqued your interest, then you're in just the right place!
Post 4 of 7 in the Webcam Reviews
Logitech StreamCam Review
Features, Software, and Price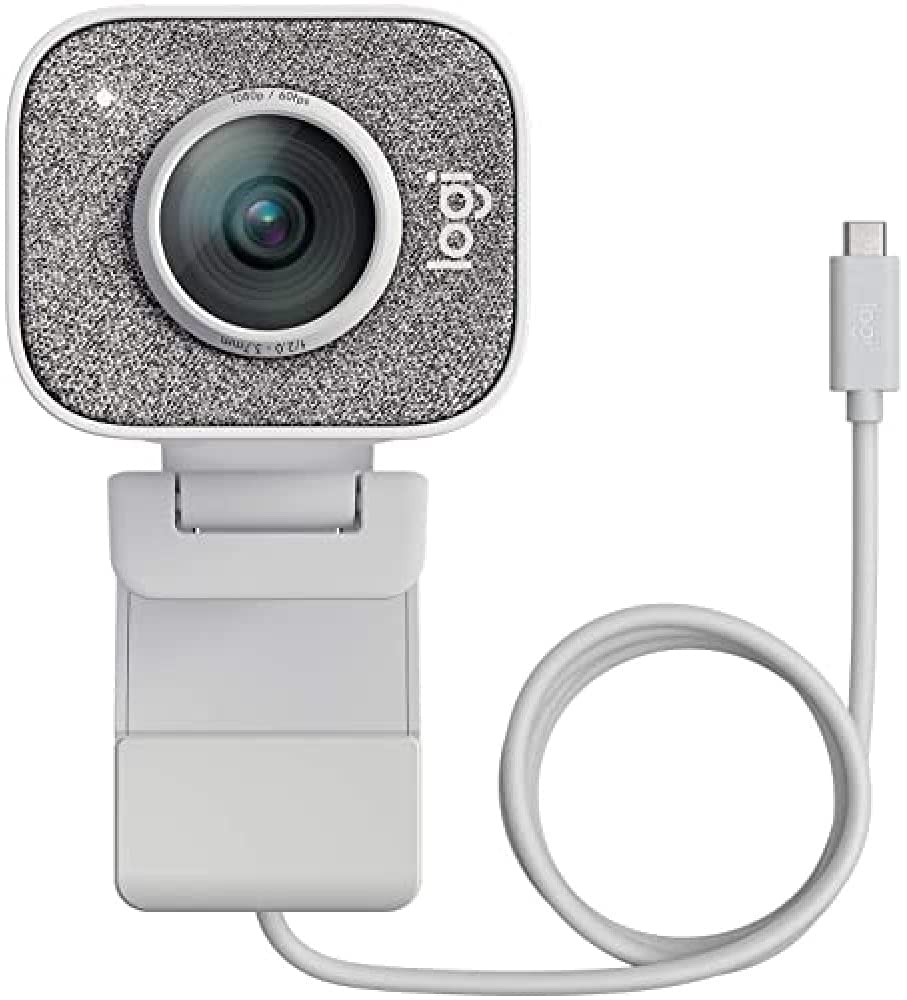 Logitech StreamCam has found many fans across a wide variety of users, from streamers to basic users using it for school or job purposes, as well as artists and musicians.
Here are some of the overall impressions of this product.
Software
While the Logitech StreamCam is optimized to work great with OBS and XSplit, you can also choose to use Logitech's own software, Logitech Capture that you will have instant access for.
OBS and XSplit are widely used in the live streaming community and are usually the go-to parts of a streaming setup, but there are some good reasons why you will want to look into Logitech Capture Software.
First and foremost, if you are a beginner then you will find Logitech Capture to be way more beginner-friendly and easier to navigate.
Also, as this is software coming from the same manufacturer as your webcam, it's no surprise that through it you will be able to access multiple helpful features for the Logitech StreamCam.
This way, you will probably find yourself using it for both recording and streaming.
If you look underneath the streaming window, you will find the settings that you would probably expect to have, things like photo, record, stop, volume, and mic settings.
In addition to those options, you can also adjust the video aspect ratio, as well as the pixel quality and auto framing, and overall image stabilization.
Of course, basic corrections like exposure and color correction can be done here.
You can also control the FPS settings, ranging from 24 to 60.
There are also the layout settings, and there's a quite nice variety of them as well, anything from split-screen to corner box to picture in picture.
The software and the Logitech StreamCam also work well with green screens, so you will have no problem with blending yourself into the background.
If you are into taking adding filters to yourself and like to play around with things like text overlays, then you will be delighted to hear that options like that are available here, too.
Another plus is that your PC recognizes the Logitech StreamCam and the Logitech Capture as two separate video sources, so you are welcome to choose between choosing the raw video material for your stream, as well as the edited one.
Together with the Logitech StreamCam, the free Logitech Capture Software will undoubtedly provide you with excellent video quality.
Key Features
Design
When it comes to the technical sides of the design, the basic information you need is that the Logitech StreamCam weighs around 5.3 ounces and its dimensions are 2.6 x 2.3 x 1.9 inches, making this webcam a very compact one.
The coloring of the Logitech StreamCam is pretty basic and modern and comes in either white or graphite plastic.
The canvas surrounding the lens is gray in both options, and that's where the Logitech logo is.
When it comes to the cable, this one has a five feet long one and a USB-C port.
There's a monitor mount designed to fit both PC monitors and laptop screens with a plastic lip on its front, and on the bottom, there is a flip-out arm on a stiff hinge.
With that, there is also a tabletop mount, that is actually a small tripod mount, making it very easy to place the Logitech StreamCam steadily on any flat surface.
Another good detail is that the webcam is completely detachable from both mounts, so it will be easy to not only switch between them but also to use the camera in any orientation you choose to.
The lens on the Logitech StreamCam is a premium HD glass lens, however, the downside of it is that it doesn't have a privacy shutter.
Another minor downside would be the fact that the USB-C cable is not a detachable one.
However, the USB-C port is not a short one, so it probably won't give you too many problems.
Video and audio quality
The Logitech StreamCam is one of Logitech's most expensive webcams, so it is absolutely justified to expect it to be a high-quality camera that makes content with the same level of quality.
And for the most part, that's completely true.
Even tho Logitech StreamCam is tiny, it sure is mighty, and it indeed does shoot great videos.
It shoots in 1080p resolution, and it films videos at 60 FPS.
Even when the video resolution is dialed down to 720p, the video quality will still be admirable to the viewer's eye.
Another great addition is the AI-enabled facial tracking, which is great for having a smart auto-focus and auto-exposure.
With this added into the mix, the Logitech StreamCam will very accurately track you and any changes when it comes to facial expressions, and that will have a positive impact on your content, as your viewers will understand you better.
When it comes to the audio that this webcam will provide you with, the first thing to note is the fact that the built-in microphone is a dual omnidirectional mic that also has a noise reduction filter.
The dual microphones are also quite good at picking up sounds of movement, and background noise, so just be mindful of that.
If you need this to stream yourself playing games, or for school or work, then this will be more than enough, but of course, this mostly depends on such video being content related for what you do.
If you happen to be a musician and your streams involve playing some kind of an instrument, then you will probably benefit more from a separate microphone.
Performance
As previously stated, this streaming camera will provide you with sharp and high-quality videos with 1080p resolution and 60 FPS.
But in order to achieve this appealing and smooth video without having your system crash, make sure that your CPU and RAM are going to be able to handle it, as streaming involves open broadcaster software, too.
Most performance issues that may occur are easily dealt with if you simply get the video down to a 720p resolution.
The footage will stay on an admirable level of smoothness and definition, as it will still be 60 FPS.
And if your streams involve just a small rectangle of video over a gameplay window, then having your video be 720p probably won't have a huge impact.
Another good thing to know is that the webcam settings will allow you to film either a vertical video in portrait mode and of course a classic horizontal video, it just depends on what's more content-related for you.
Logitech's capture software has also been shown to have great performance.
One thing to note is that Logitech StreamCam is often compared with another one of their models, the Logitech Brio, which is the one that films in 4K.
But, despite that difference, it has been shown that the Logitech Brio is overkill when it comes to performance compared to this one
Overall, Logitech StreamCam will provide you with great performance.
Target Audience
This webcam is actually one of the newest releases from Logitech, and it can be considered today's best Logitech stream cam.
Its release became breaking news among streamers.
One of the great things is that the target audience for this one goes a bit further than the gaming community.
A lot of content creators that stream content related to music, or just talking are finding this model to be a great choice for them.
Also, if you are someone whose content revolves around talking and having discussions, having additions that come with this webcam won't go unnoticed by your audience when you purchase it.
This is also a good choice for YouTubers that are looking into adding more live streams to their video feed, or if you are into nice quality Facebook stories.
If you like how all of the facts in this Logitech StreamCam review sound even if you're not the target audience when you purchase it you will probably find it beneficial.
Price
The pricing of Logitech StreamCam is probably its biggest downside.
As of now, the price of this camera is between 130 and 170USD.
While this one certainly isn't the most expensive webcam on the market, and you could find ones that are double the price, it can be considered an investment if you decide to go with it.
In this comprehensive Logitech StreamCam review, you are able to see just how many great possibilities the webcam has.
Alongside that, content creators that do fall into the target audience for this product find that you get your money's worth when purchasing this webcam.
It's a well-loved webcam in the streaming industry, and the tech tutorials that you can find will usually show content creators liking the product.
If you are not currently able to purchase this one, it would be a smart move to wait around a bit and see if any sales come up, so you will be sure to find the best Logitech StreamCam deals.
It will definitely be worth it to wait a bit and get more deals and the best prices possible.
Frequently Asked Questions
Is the Logitech StreamCam worth it?
If you are a streamer and you want to upgrade the quality of your videos significantly, then this webcam is an investment that's worth it. The same applies if you are a beginner and are in the position to improve your content.
Is the Logitech StreamCam better than the C920?
The quality of your videos when streaming is going to be better than with the C920, so in that sense, the higher price point of the Logitech StreamCam is justified.
Can I zoom in with Logitech StreamCam?
Yes, you will be able to use a zooming option for this webcam through the Capture software.
Does Logitech StreamCam work with Microsoft teams?
This webcam works with Microsoft teams, but only in one mode. So when using it with Microsoft teams you won't be able to adjust things like focus, brightness, and color, nor the viewing angle.
Conclusion
Throughout this Logitech StreamCam review, it was more than obvious that this camera, made by a leading digital publisher, is a really good model.
It will undoubtedly provide you with great quality videos, pictures, and also decent quality audio.
It also does a great job at being a great choice for a wide variety of users with an even wider variety of needs.
This goes from both the hardware and software perspective.
The camera itself is very well made and made to work, but the Logi Capture software that goes with it is another big plus.
The minor downside is the non-detachable USB-C connection, but a downside a bit more important than the USB-C connection is the high price.
However, it did prove itself to be worth it in a lot of situations, so if you do have the money available at the moment and you just needed a confirmation that this is a good thing to invest that money in, then consider this your sign!
If you, on the other hand, don't have such an amount available and this seems like the model that will serve you well, then do wait for more deals to appear and you will find the best prices.
Related: Best Webcam for Streaming
Join our Discord Group. Ask questions, team up with fellow streamers, share memes, and more!