Light for Streaming
If you need to find other streaming gear, make sure to look at our Streaming Gear page. Here, you will find everything you need!
Post 4 of 9
With the expansion of internet businesses, the competition is rough whether you are a beginner or a veteran.
To set yourself you need to produce high-quality shots or videos, which is impossible without high-quality streaming equipment.
We created a list of best lights for streaming to get you started, and divided them into two groups. Our research shows that these are the best streaming lights you can find. So, let's get started.
Post 4 of 9 in the Light for Streaming
Best Softboxes for Streaming
Reviews
Softboxes have become an essential piece in any videographer's or photographer's equipment because they produce soft, seemingly natural light for filming or taking pictures in dim light conditions.
We have done our research on the matter and here are 5 Softboxes that have the best reviews from users all over the world.
QUICK OVERVIEW: Best Softbox
<!—INSERT CODE BLOCKS BELOW—>

Dimmable LED bulb
128 pics high-quality LED beads

Independent switch control
Comes with an instruction manual

3 power switches on each head
The boom arm is a unique feature
1. Inkeltech Ring Light Kit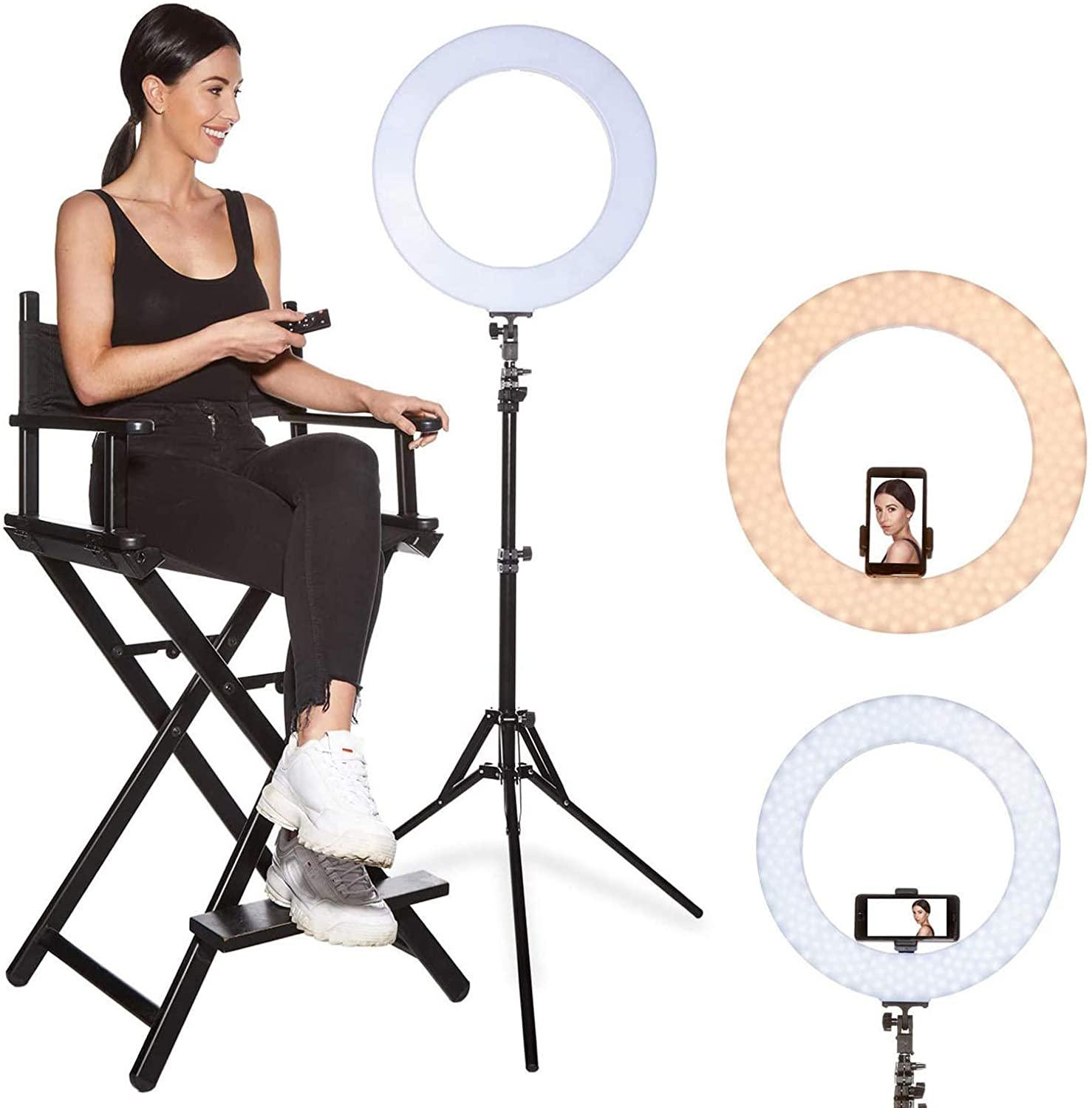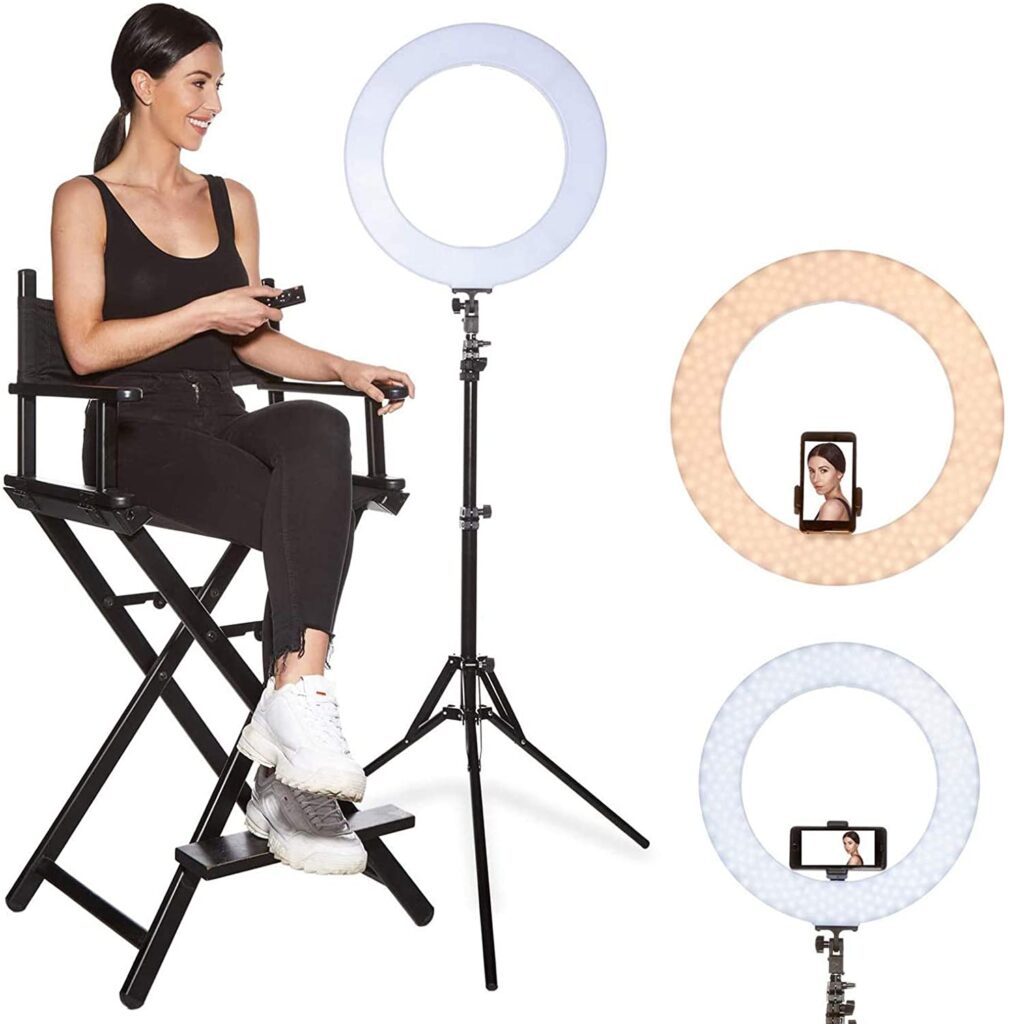 Inkeltech claims that they dedicate their time, money, and research to designing and manufacturing additional equipment that helps photographers, videographers, and live streamers attain the best possible results.
Their products are highly rated and the customer reviews are astonishing which lets us know that theirs is a quality product. The pricing is great especially considering the quality you get. The Inkeltech Softbox Lighting Kit is one of their most sought-after products with fascinating reviews and, we daresay, all in one package.
Who is it best for
This kit is a great starter kit especially if you do not have any of the equipment just yet because the kit comes with a camera tripod and remote control aside from the Softbox stand and head.
It is great for beginners who still have not decided on their preferences as light warmth can be adjusted before the shooting and eliminate editing.
It the best lighting for streaming since it comes with remote control and selfie control which will enable you to seamlessly start your videos.
Key features
One of the best features is the dimmable LED light bulbs that can be adjusted to fit your temperature needs. The bulbs are 50W which is the equivalent to a 500W incandescent bulb. The life span of a LED light is a lot longer than any other light (20000h).
The Softbox is lined with silver material that reflects the light evenly and limits its loss. The fact that the E27 socket can be adjusted at 21- degree angle means that it can meet any requirements regarding your filming needs. The diffuser cover can be easily placed on the softbox to ensure uniform light without shadows and light spots (high-quality PET material).
The stands are lightweight, and although the manufacturer claims that they are sturdy, they get a bit wobbly if they are put up and down too often. So, your best bet is to set them up and leave them at the desired height. The kit comes with a camera tripod and holder, as well as two remote controllers, and a carrying bag. A full package deal.
---
2. Fovitec 3-Light Fluorescent Studio Lighting Kit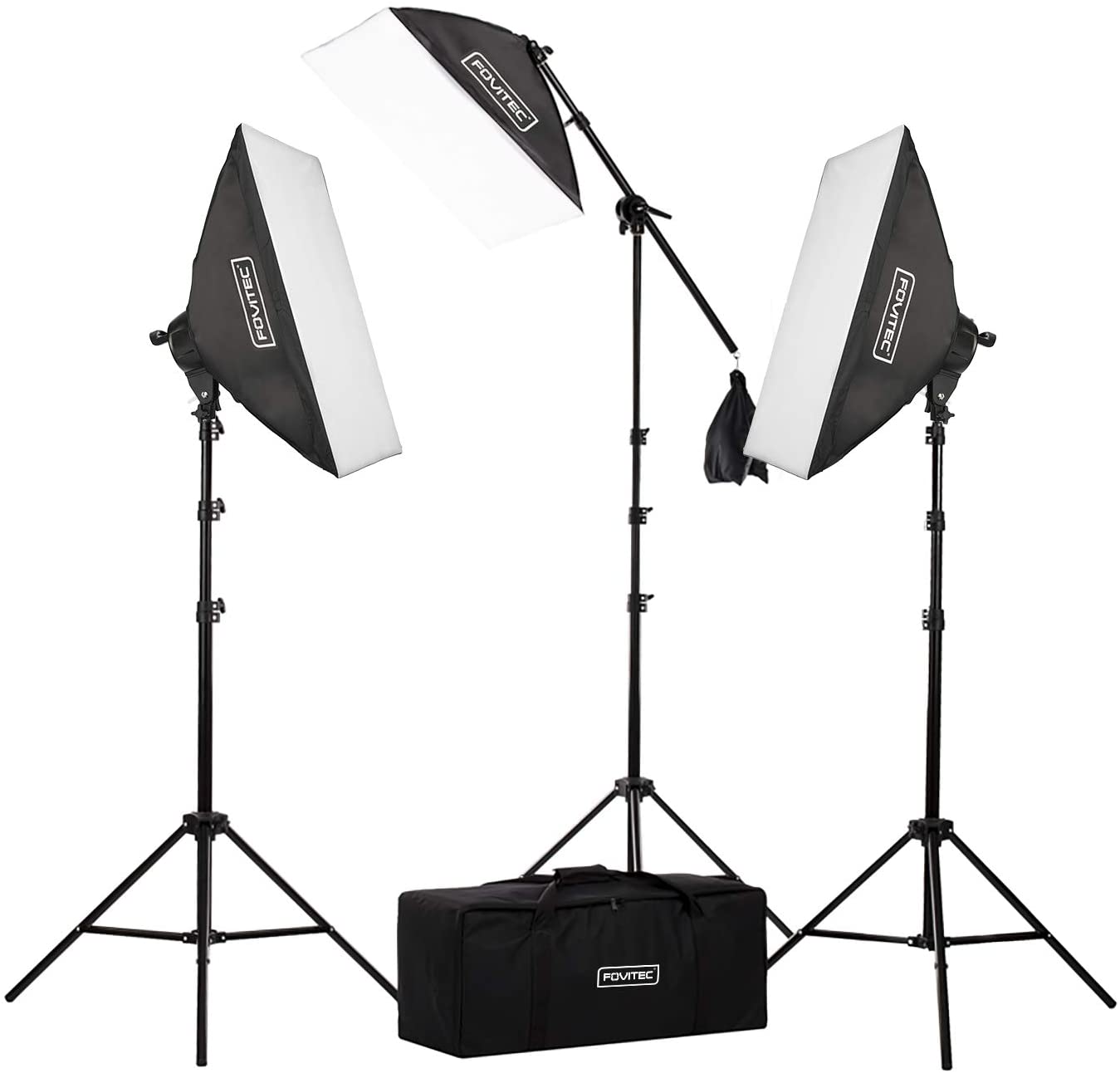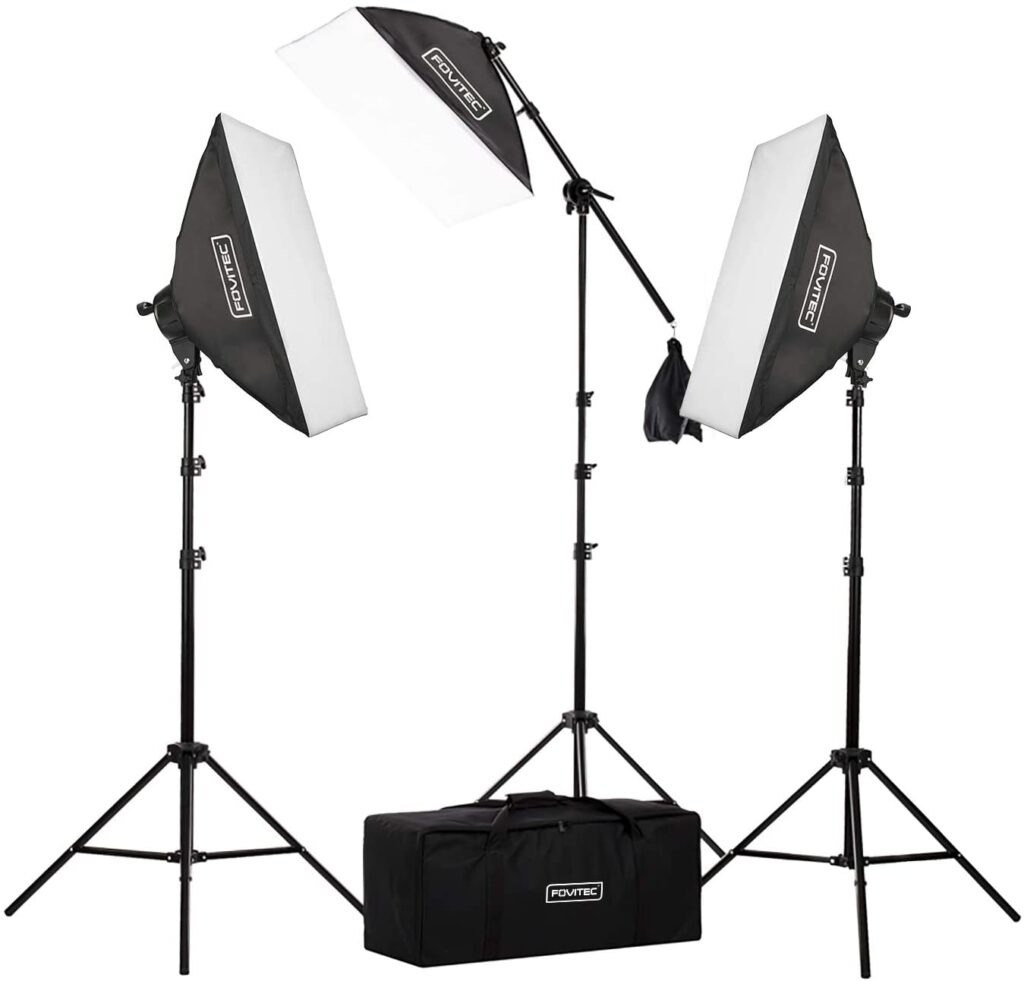 Fovitec, one of the leading manufacturers of photo and video enhancement products was founded in 2012 in Hollywood. It has a great reputation for making high-quality products that fare well in comparison to others in the same range. They are effective, affordable, and easy to use.
Ther products have great reviews on Amazon, and their 3-Light Fluorescent Studio Lighting Kit with Boom Arm is one of them. It comes with a unique feature that sets it apart from other products in the same category.
Who is it best for
Whether you are a beginner or an experienced photographer, streamer or videographer this lighting kit can be a great choice for you. It is not the cheapest one out there but it gives great value for money especially when you consider that it comes with the boom arm.
It has shown great results when taking photos, video conferencing, live streaming (games, vlogs, and so on). It helps that the object in focus pops and separates itself from the background giving you a professional-looking video quality.
This gives great lighting for twitch streaming as you can't edit your videos.
Key features
This softbox kit comes with three instead of the standard two sets of heads and stands. The third one is a unique feature – it is tall and when pointed at the object it helps it stand out from the rest of the setting (in video or photo). The other two are five-socket heads each fitting 5 85W bulbs that can be turned on and off to adjust the amount of light (1050W ordinary light bulbs).
The stands are adjustable and the boom arm comes with a sandbag to balance the weight of the head. The heads are large (20 x 28in) and come with an inner and outer light diffuser. They offer 5500K color temperature which is daylight balanced and it does not change the color. Since it is really easy to use it can be used for both large and smaller projects. It does not overheat easily and saves up to 80% of energy.
---
3. RALENO Softbox Photography Lighting Kit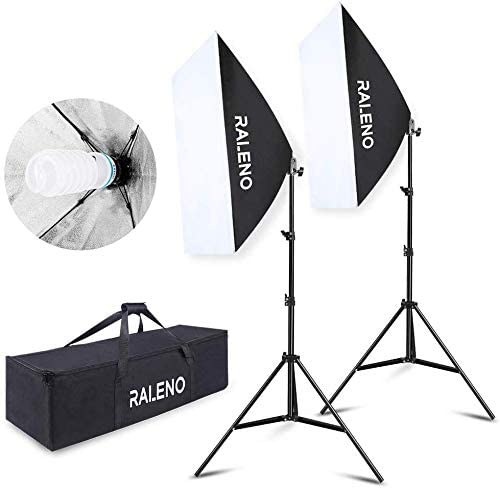 Raleno company, according to their claims, is committed to help individuals who are into photography, filming, and live broadcasting, to share their vision and imagination. They are innovative and constantly research better and new ways of helping you share your story.
Raleno Softbox Photography Lighting Kit is one with the highest customer reviews on Amazon, and we tend to believe those reviews as there are quite a few example photos and videos with or without Raleno Softbox.
They offer different products for audio and video recording as well.
Who is it best for
You can use the RALENO Softbox lighting kit for various applications from photography and live streaming to video fill light. Since you get two softbox heads and stands along with all the other equipment for the price that is a bit higher than if you just get one, we say that it is a great light for streaming especially if you are a beginner and do not want to spend too much money on a piece of starter equipment.
On the other hand, you can purchase this product even if you are an expert in your field as it gives great results when used in professional, not only amateur conditions.
It is great if you do not like to edit your videos or photos a lot, and if you are broadcasting live – the nylon eliminates shadows and gives you a uniform, approximately daylight quality light for a professional feel.
Key features
It is made out of aluminum alloy and fortified for heavy-duty applications. It is, however, easy to assemble and disassemble both the heads and the stands. The height goes to almost 80in, and the two heads are quite large. Despite the heights, the stand and head will not swing due to the security locking system.
There are two standard E27 light bulbs of 85W which is the equivalent of 800W produced by an ordinary bulb. They produce light that is approximately 5500K which is close to daylight warmth and strength. It uses dual soft light technology. The heads' inside surfaces are lined with silver material which ensures that the light is distributed evenly and without loss. You can also put velcro PET diffusers on the umbrella heads easily.
---
4. MOUNTDOG Softbox Lighting Kit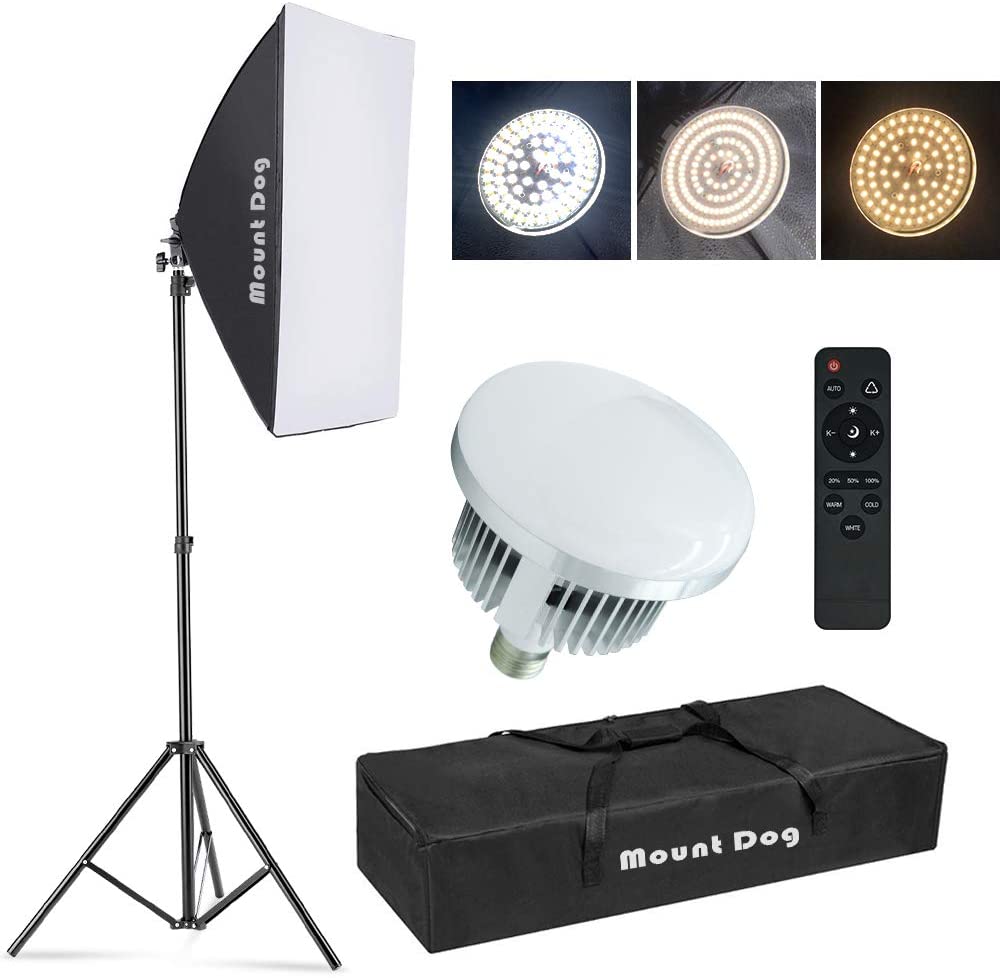 MountDog claims that they are a "passionate team dedicated to bringing you new and cool equipment". When designing their products they consider important details and aim to get better with every product.
Their products are versatile as well as their offer, and they are very nicely priced.
This is why MountDog has several of their products among the top-selling Amazon products with the highest customer reviews, and their Softbox Lighting Kit is one to consider if you are looking for affordable, versatile, and good quality lights for streaming.
Who is it best for
MOUNTDOG Softbox Lighting Kit is, according to our research, one of the best softboxes out there that provide good quality light for indoor photography or streaming. It is also great if you want to take your streams outside or do not want to miss a stream when you are traveling since it is lightweight and can be easily carried around.
It is rather cheap in comparison to others so it is a great investment if you are a beginner and look for affordable, first-time stream lighting. It is, however, good enough for those of you who are more experienced as well.
If you like to take any kind of photos – model, portrait, or product as well as shooting videos or recording this softbox can be one of the best streaming lights for you to start with.
Key features
MOUNTDOG Softbox Lighting Kit is adjustable and can be easily set up to any meet any needs in a matter of a few minutes. You can adjust the aluminum tripod to heights between 27 and 80in. The softbox head is 210 degrees adjustable and comes with a secure locking system.
The materials of the head are of high quality – inner nylon deflector and outer high-quality diffuser enable you to have soft and bright light every time you shoot or take photos. The diffused light eliminates the shadows that can damage the end quality of your shots.
This lighting kit comes with two 95W bulbs (the same as 800W incandescent bulbs) of standard size. They are energy-saving (save up to 80% of energy) and can burn for 8000 hours. They produce cool, bright light that will not change the color of what you are shooting since it imitates natural sunlight.
---
5. LS Limo Studio Soft Box Reflector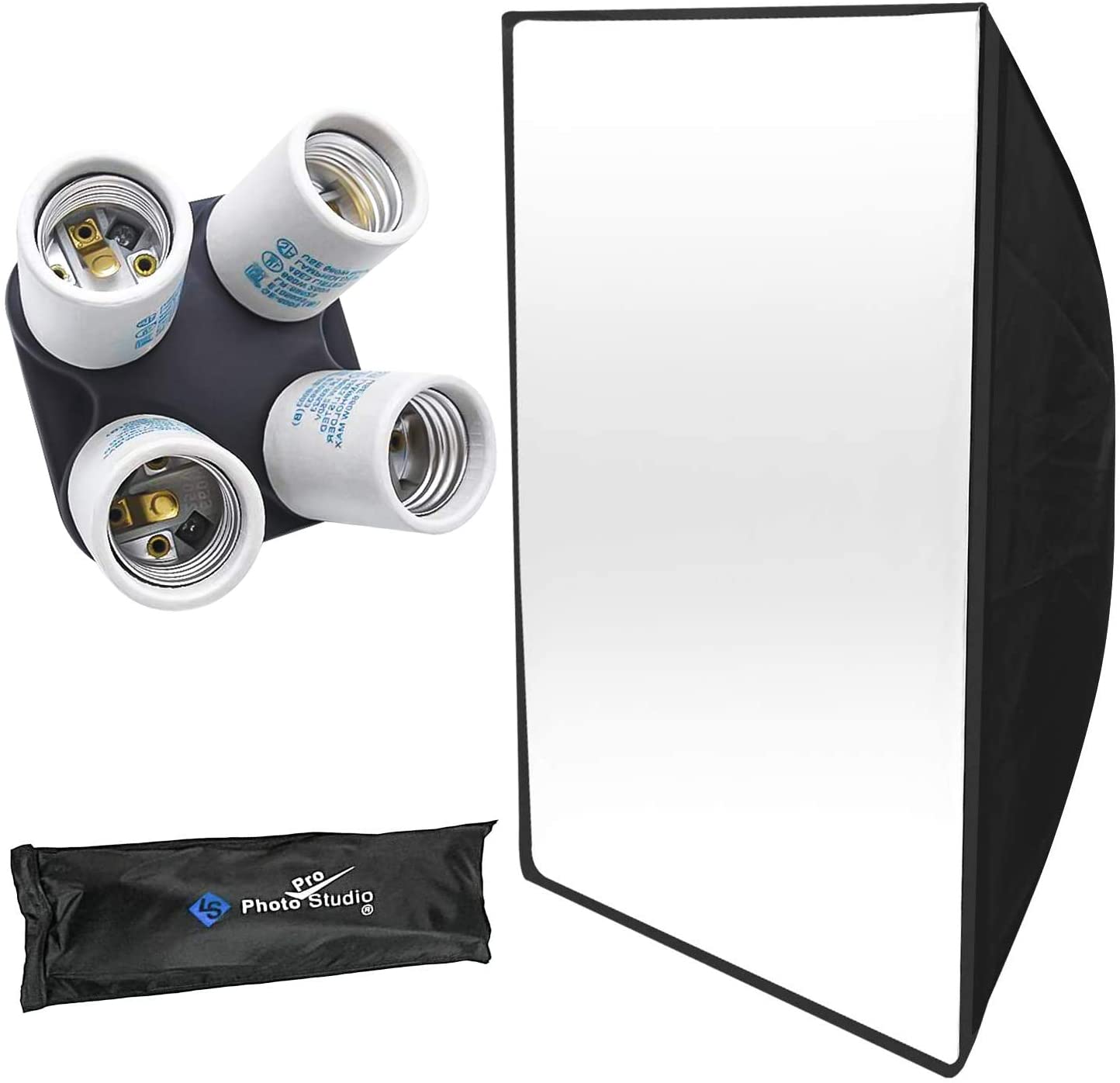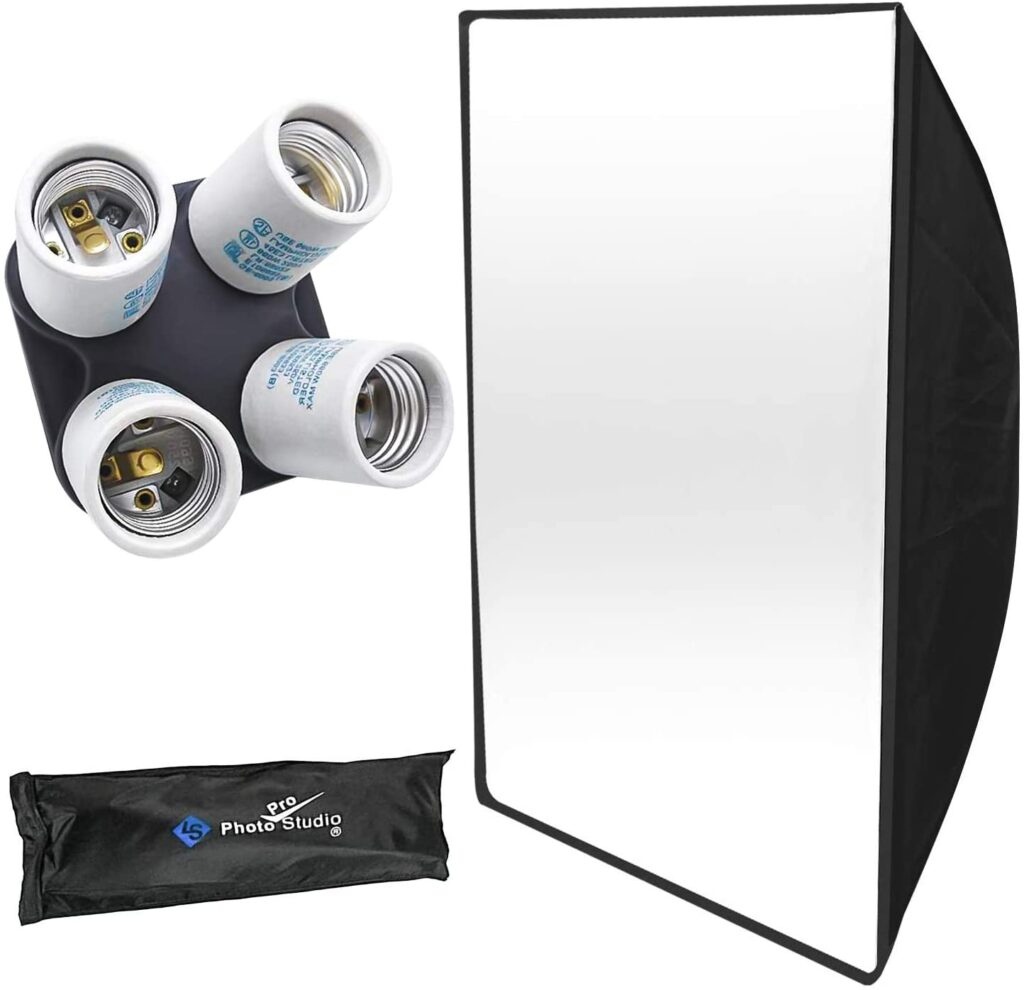 LimoStudio is the number one best-selling brand in the USA that deals with video and photography equipment. Kimoutlet, Limostudio's partner, is ranked as one of Amazon's Top 500 marketplace sellers, and the Amazon customer reviews speak for themselves. LimoStudio offers quality insurance and round-the-clock customer support.
If you already have a tripod or a stand Limo Studio Soft Box Reflector is an affordable and reliable option for you to purchase. It has high Customer reviews and it gives really good value for money.
Who is it best for
If you are filming or taking photos inside and already have a solid stand or tripod you can purchase this softbox. It provides solid light and eliminates shadows for a better quality shoot. It is great if you are filming for long periods since the socket does not overheat.
This softbox reflector is perfect for those of you who change studios or filming locations since it comes with a carrying bag and is highly portable and easy to set up in a matter of a couple of minutes. Because of that, it is a good option for twitch lighting.
Key features
It is only a softbox, without the stand, which makes it highly portable. The 4 bulb light socket is ceramic which prevents the head from overheating. The copper in the porcelain sockets is very high-quality which increases conductivity and limits heat emission.
The softbox is lined with silver nylon which ensures even light distribution and limits the loss of light. It comes with an external diffuser that eliminates shadows and gives uniform light. It is standard size – 20 x 28 inches, and the lights are 110-120V compatible.
The four heads accommodate 4 45W bulbs or 2 45W bulbs and 2 85W bulbs but will not work with 4 85W bulbs. You can adjust the light intensity by using the switches on the back of the softbox head.
---
Desktop Lighting for Streaming
Reviews
Here is our top pick for light rings and cubes that can be easily placed on your desktop. They are especially practical if you do not have too much space in your studio, and are extremely portable as they are quite small.
QUICK OVERVIEW: Best Desktop Light
<!—INSERT CODE BLOCKS BELOW—>

Sturdy tripod
Adjustable color temperature

128 pcs LED lamp beads
10 level brightness

360 movable head
Adjustable brightness and color balance
1. Lume Cube Broadcast Lighting Kit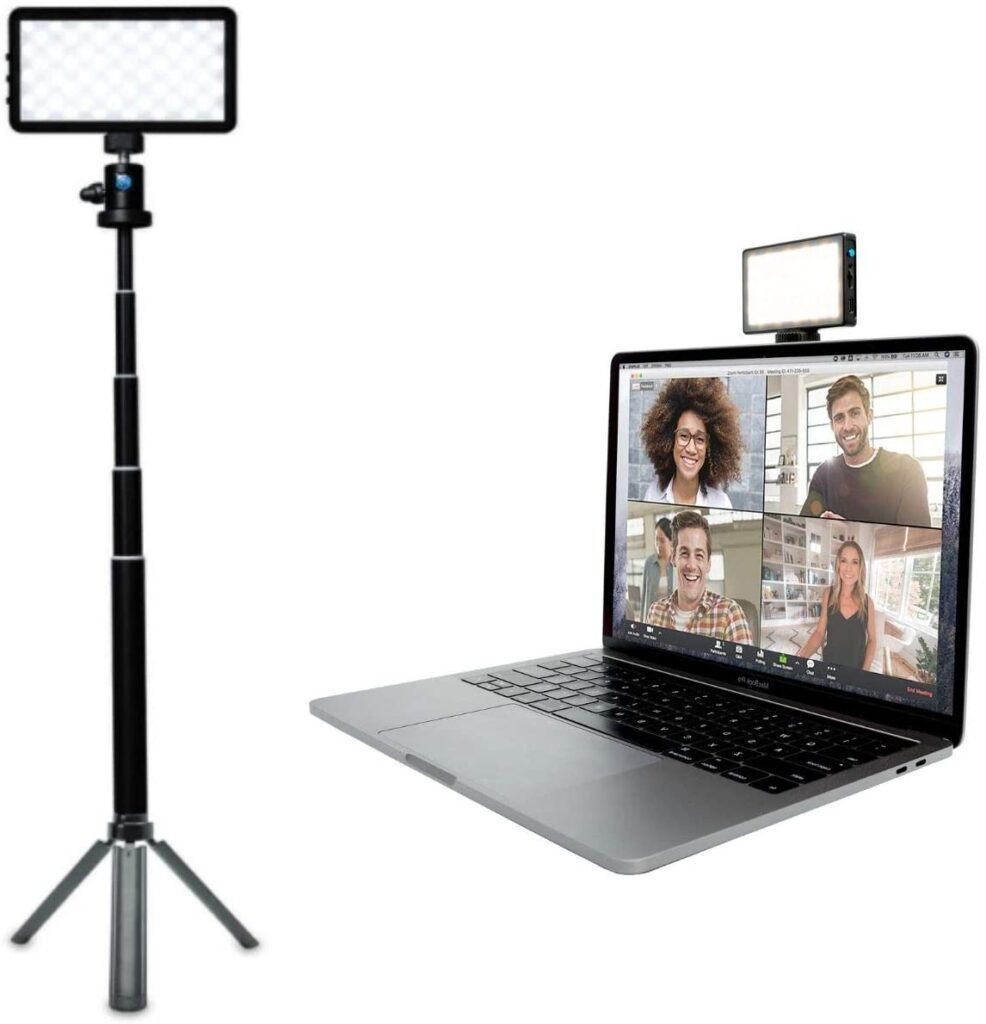 Lume Cube was founded back in 2016, and ever since it has produced accompanying equipment for photography and videos. Lume Cube focuses on the smaller size, portable gadgets regarding lighting that will enable you to "work in your best light".
Along with lightning cubes for various uses, they offer microphones and drones.
Lume cube has great reviews on Amazon, and Lume Cube Broadcast Lighting Kit scored a high rating. With that said, it is one of our top picks for the best lighting for streaming.
Who is it best for
As the company itself claims, Lume Cube has versatile use: from conference calls and Zoom meetings, and online classes, to gaming or Youtube and Twitch streaming – it can do it all. It gives you options to set up wherever you are and no matter your preferences.
It is easy to set up so it is suitable for beginners as well as seasoned streamers. Everybody wants to look their best on camera, and his product lets you achieve just that.
Key features
The size of the Lume Cube is no bigger than a regular phone so it is very easy to move around. It comes with a desktop stand that can be adjusted up to 30 in to get the right angle. It comes with a USB-C cable for charging the lithium-ion battery that provides extended run time, although it can work while plugged in as well. (Run Time on 1% Brightness: 16 hrs. Run Time on 50% Brightness: 2.3 hours. Run Time on 100% Brightness: 1.3 hours).
You can adjust brightness from 1 % to 100% by increasing by 5% each time. You can also choose to use warm (3200K ) or cool (5600K ) color temperature.
The product comes with a computer mount that can be used as a wall mount as well and works well on curved surfaces too, as long as you use the whole mount surface. Although it is not originally specified, the product comes with a light diffuser. It is made out of silicone and has holes in it for cords and controls. The diffuser softens the light for a more uniform look.
---
2. UBeesize Selfie Halo Light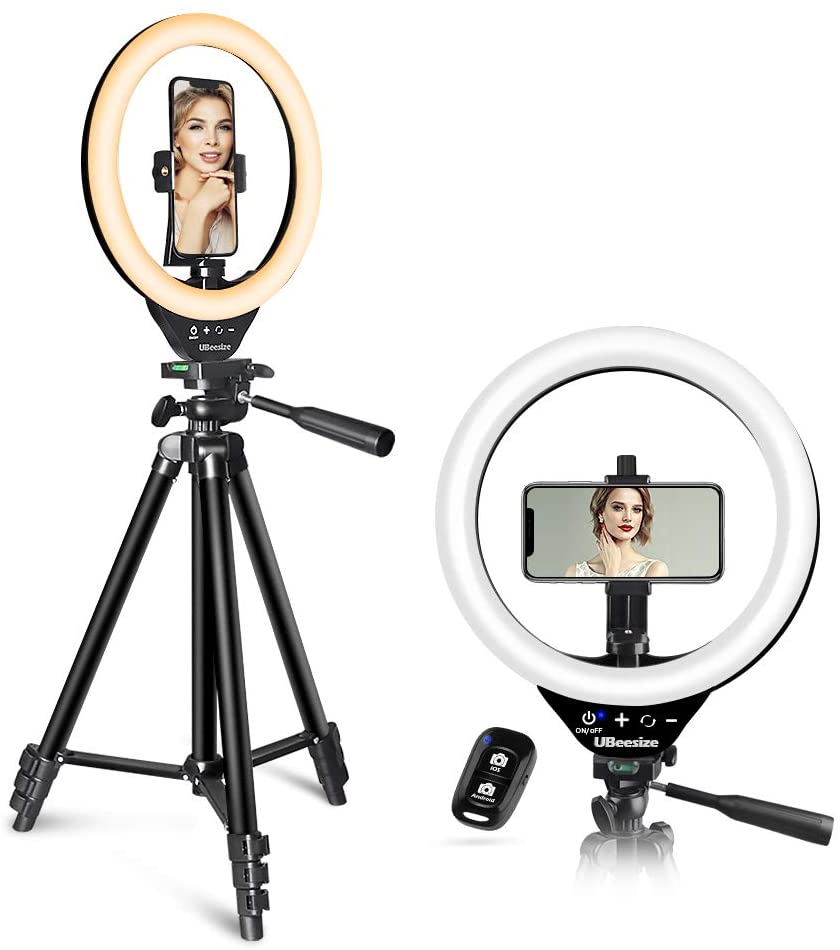 UBeesize's motto is "Help capture wonderful moments effortlessly " and it seems like they do as promised. They produce camera and phone accessories regarding lighting and professional photography, streaming, or moviemaking. They focus on the usability of their products and they are, in fact, user-friendly.
UBeesize Selfie Halo Light is one of their newer products (2020) but it already reached good sales on Amazon where they are among the top sellers with the best reviews. You can purchase their equipment separately but this includes the ring light and the tripod.
Who is it best for
When you need a ring light for streaming, making Twitch or Youtube videos, or just taking professional-like photos for your Instagram this product is for you. Its features allow you to mount your phone or a smaller camera and be sure that it will catch the right light and the right angle.
If you are looking for professional quality equipment that is easy to use and not too expensive UBeesize Selfie Halo Light is the one to look for. And, do not let the name lead you on, you can do so much more with this ring light than take great selfies. Since the brightness and light color temperature are adjustable you can adjust the settings to fit your current needs and the conditions in a studio or room where you are streaming.
Key features
The light ring is 10″ in diameter, and the phone holder can fit almost any smartphone. The ring goes around it and it can move, along with the phone holder, 360 degrees, it can also bend 90 degrees if you need to shoot from above. You can mount a smaller camera as well (up to 1kg) and the benefits are the same. The tripod is sturdy enough to hold a lighter camera while it would probably collapse under heavier ones. It is adjustable to 50in so it is small enough to put on your desktop but can also be extended.
The ring comes with touch commands to turn it on/off, and change brightness or color warmth without having to press on it and accidentally move it. The brightness goes from 1- 100%, and it emits very little heat(thanks to the AC/DC adapter) which is great if you are filming for long periods. You can change light color warmth from warm (yellow), warm white, and cool (white) to suit your needs.
The set includes a Bluetooth remote control so you can seamlessly start and end your videos without having to touch your phone or camera. Just connect the devices beforehand, and do not go further away than 10ft.
---
3. Desk Ring Light with Stand and Phone Holder – CASPTM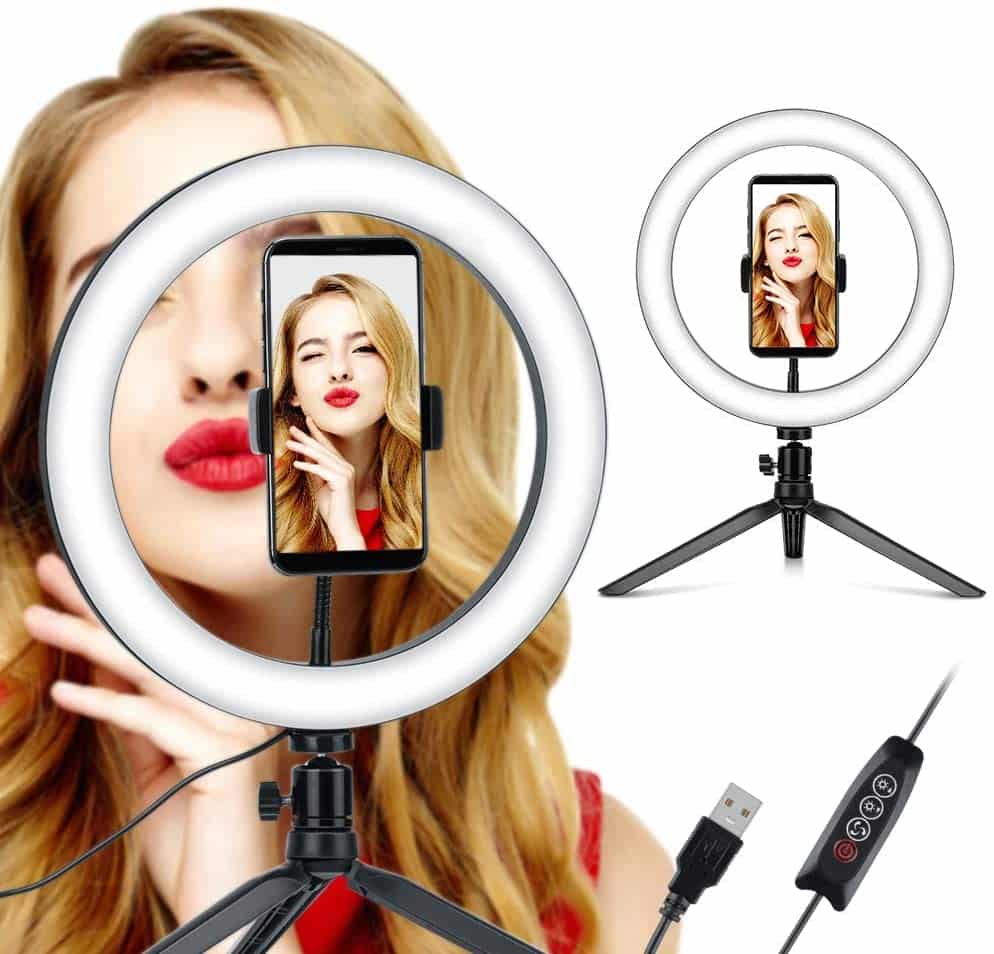 CASPTM is an Amazon brand with many affordable projects that received high reviews from Amazon customers.
They focus on lighting and photography accessories and additional equipment and compete with more prominent brands in terms of quality and price.
Their Desk Ring Light with Stand and Phone Holder is among the customer favorites when it comes to choosing a decent starter ring light for streaming. Check it out.
Who is it best for
If you are looking for an affordable option to start your Twitch live streaming, makeup tutorials, or portrait photography this could be the product for you. It is quite cheap, but still, the light ring works very well producing the right amount of quality light.
If you, on the other hand, need something a bit more on the professional side you might have issues with the mini tripod stand, it is actually short, and not strong enough to be stable once you mount your phone on the holder. As a light, it is completely decent.
If you like taking selfies and vlogging in your spare time, then the fact that the tripod can extend into a selfie stick is actually a bonus.
Key features
The ring light is good for streaming because it is customizable. You can choose from three light colors (3200K – 5600K) – yellow, yellow-white, and white. In each of the options, you can dim adjust the brightness (10 levels). It uses 128 pcs LED lamp beads which are energy-saving yet light enough. This also helps with the heat emission.
The ring light can be plugged into any device with a USB plug.
The tripod it comes with is very lightweight which means it can't withstand larger phones without becoming flimsy overtime. Due to its height (up to 30 inches), it can only be used on desktops.
---
4. Neewer Video Light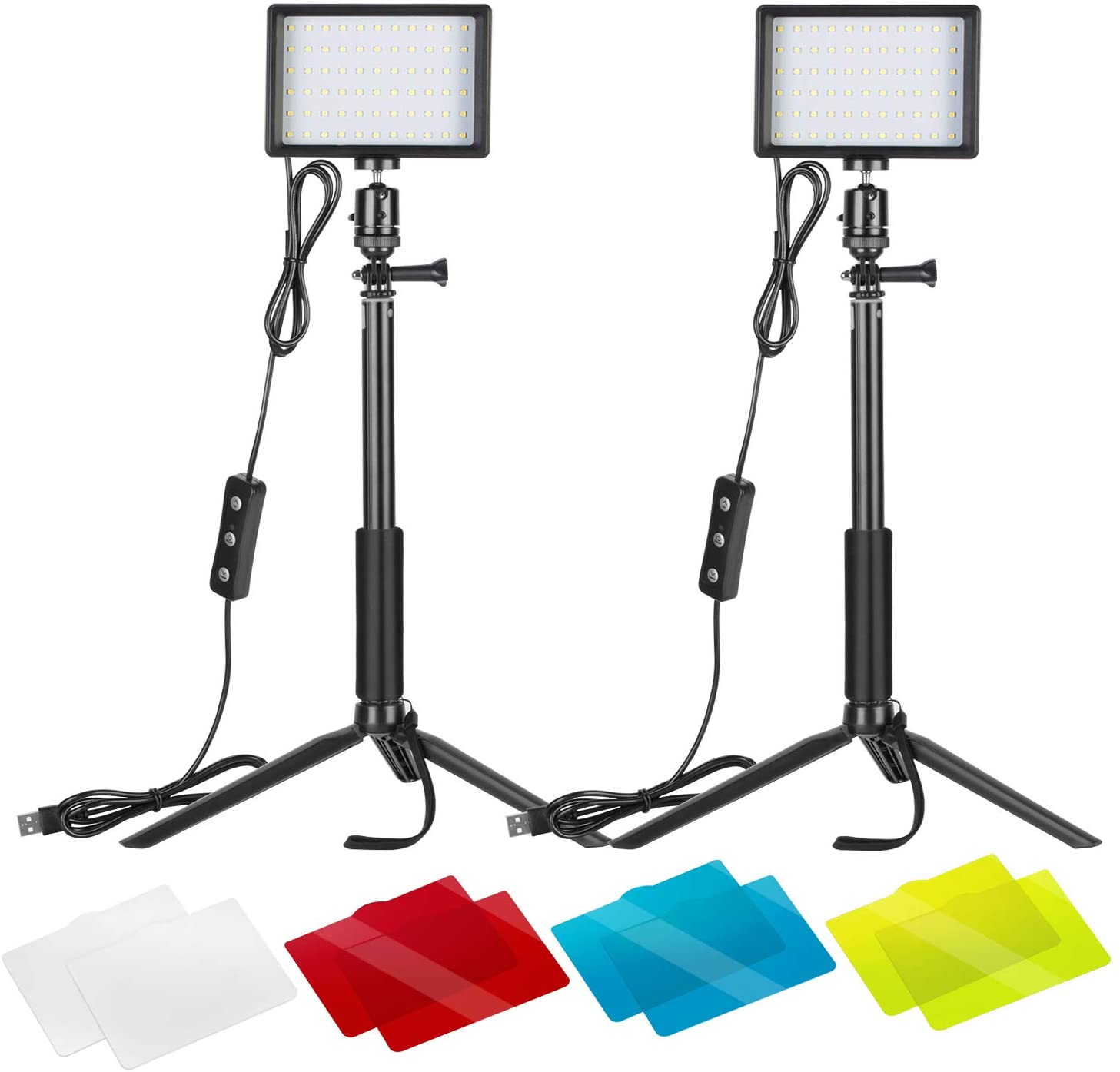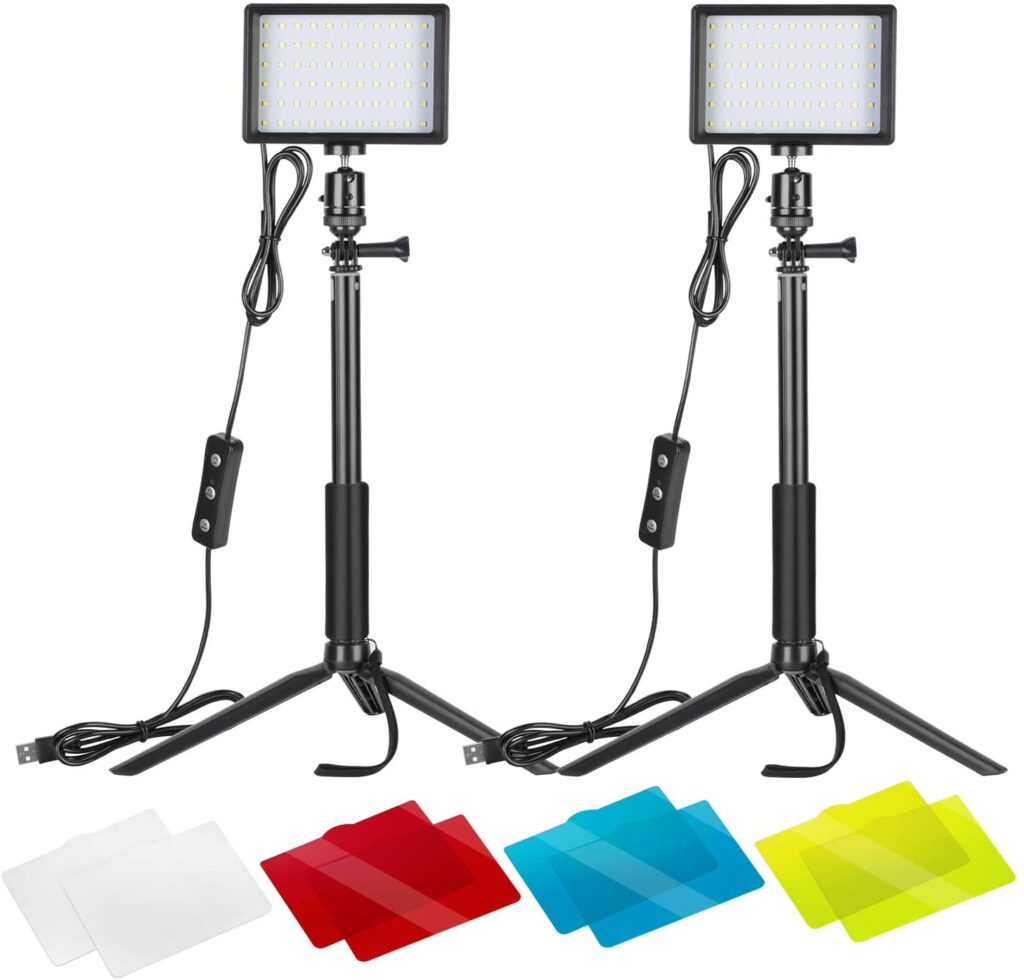 According to their claims, Neewer is dedicated to producing "new and cool photographic equipment". Neewer products are not too expensive, especially considering the quality they offer.
On Amazon, their customer reviews are high and the products are said to bring a more high-end, professional look to the photography and video outcome of the projects that are filmed with the help of Neewer equipment.
Neewer Video Light 2 pack is one of the customer favorites in the lighting cube category. Take a look at what Neewer has to offer.
Who is it best for
Advertized as a high-end product, Neewer Video Light can be used by amateurs and professionals alike. It gives you options to play with lighting and keep your viewers at their toes with each Twitch stream you do.
With two sets of cubes, stands, and filters you can play and create content that will set you apart from the competition.
If you like to have your filming set up at all times this might be a lighting kit for you. It could be too fragile to move about but once set up in the place it does not take up too much space,
Key features
The gadget comes with a mini tripod and an extension rod if you need to add height. The head can be adjusted at a 180-degree angle. It comes with 4 color filters included (white, red, yellow, and blue), and color filters need to be used with the white diffuser to work.
The light is 66 pcs LED which prevents overheating and means that you can plug it directly into your desktop or laptop (will take a lot of energy so it is better to plug it in a wall). The light is 5600K balanced which is close to daylight color balance. The brightness can be adjusted from 10% to 100%.
---
5. Roasemal Mini Dimmable Ring Light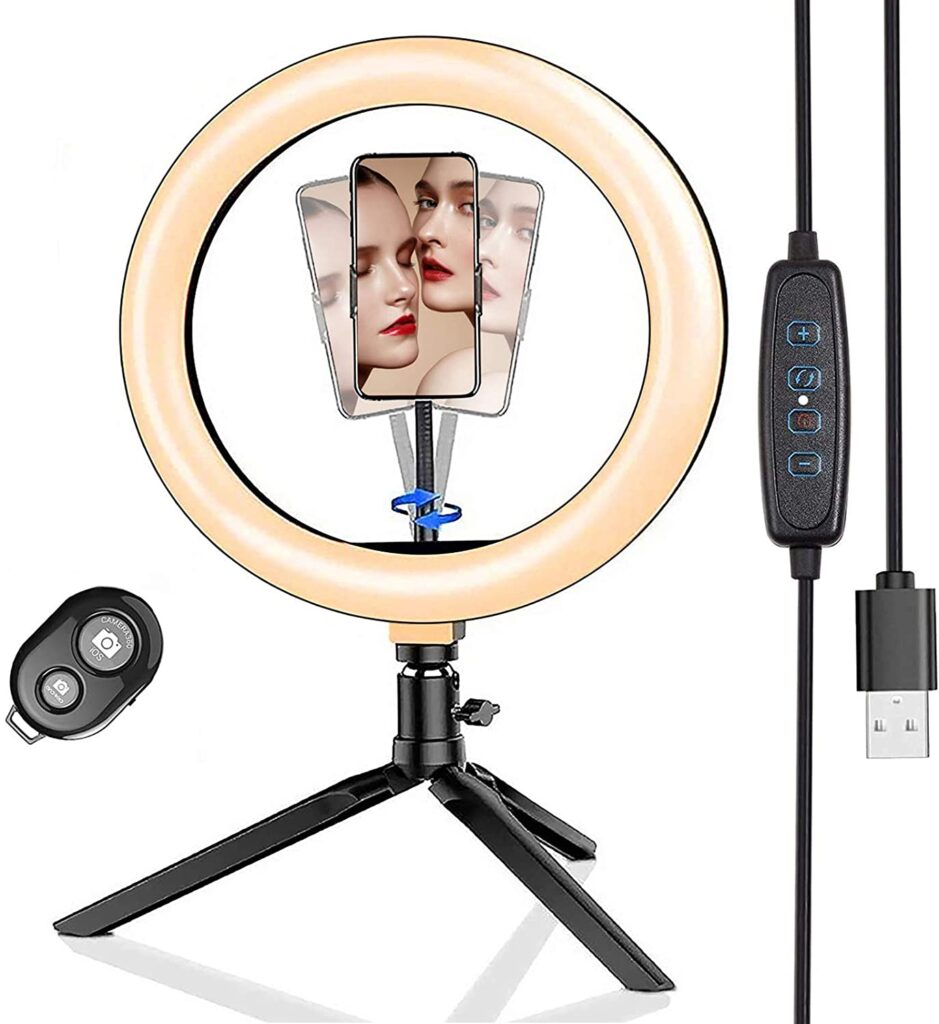 Roasemal is not a brand that particularly specializes in the production of supporting photography or video equipment. They make a large variety of innovative electric gadgets that can be useful and helpful around the house.
Their products are highly valued on Amazon, and Mini Dimmable Desktop Makeup Ring Light has 4.4/5 stars and great reviews. We find that Roasemal offers good quality products for a very affordable price.
Who is it best for
Whether you make makeup videos or would use this ring light to help your Twitch live streams look more professional, this could be the product for you. It sets up easily and stands on your desktop. The adjustable head will allow you to find the perfect angle to put yourself in focus.
It is especially useful if you do not have too much space to set up a larger gadget. This one is quite small, and compact and can be easily detached and stored away after you are done streaming.
Key features
The ring light is sturdy and made of ABS. It has options to change the light in three temperatures – white, warm white, and yellow (3000 K – 6000 K). Which one you choose depends on your preferences.
Each of the color temperatures comes with an option to dm down the brightness in 10 levels (10% to 100 %) – your choice will depend on the room brightness and the distance between you and the ring. The ring light head is 360 degrees adjustable which enables you to set the right angle when you are trying to find the best lighting for streaming.
You can connect it to any 5V USB port sine this ring light is energy saving. The LED lights use less power in comparison to other models. The phone holder is adjustable to fit almost any type or size of the phone, and the Bluetooth remote controller is compatible with both iOS and Android phones.
It has a 7m range so you can seamlessly start or stop your videos without having to touch your phone. The tripod is the weakest link here, as it can become a bit flimsy over time, especially when used with heavier phones.
---
6. Emart 60 LED Continuous Portable Lighting Kit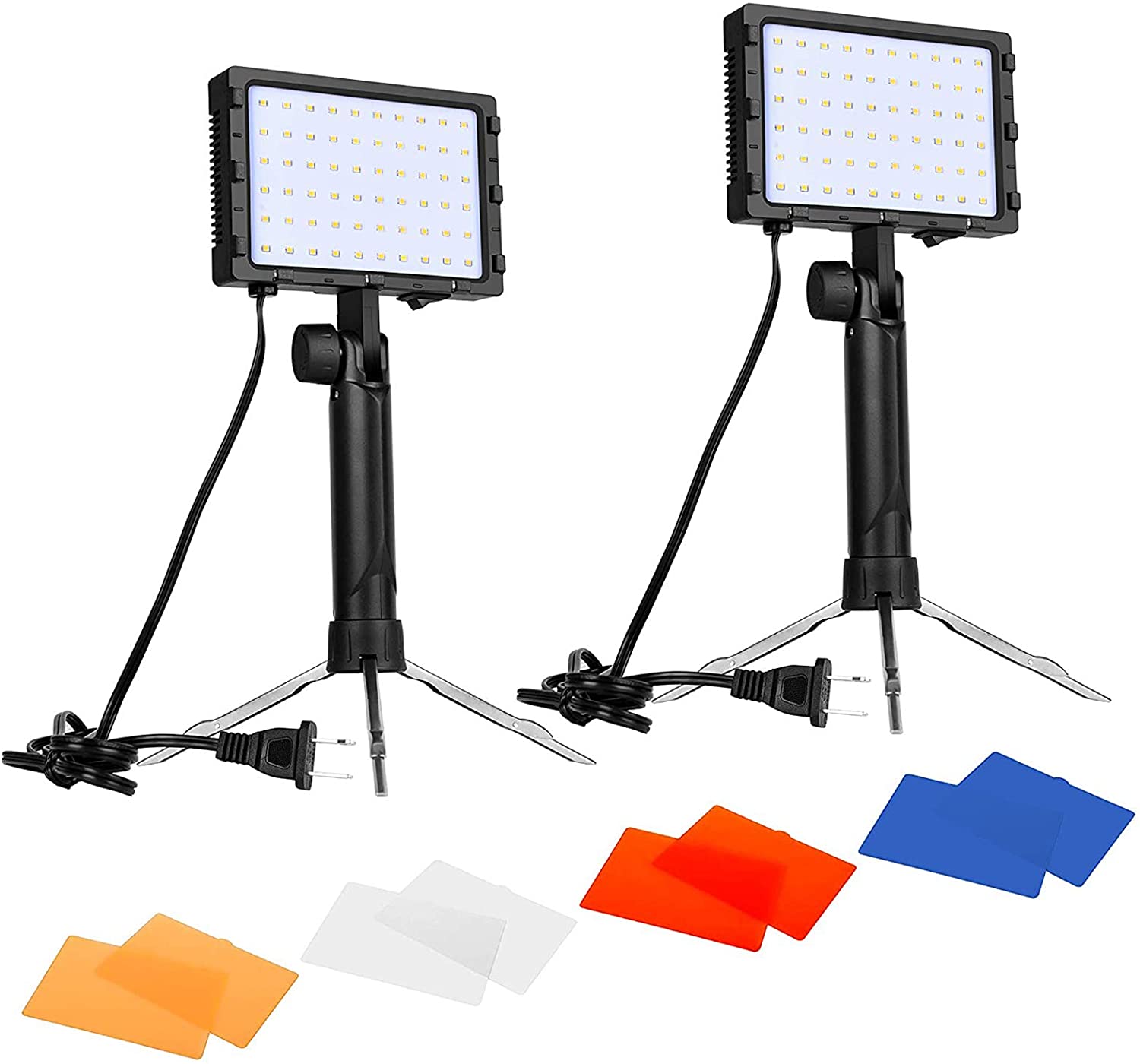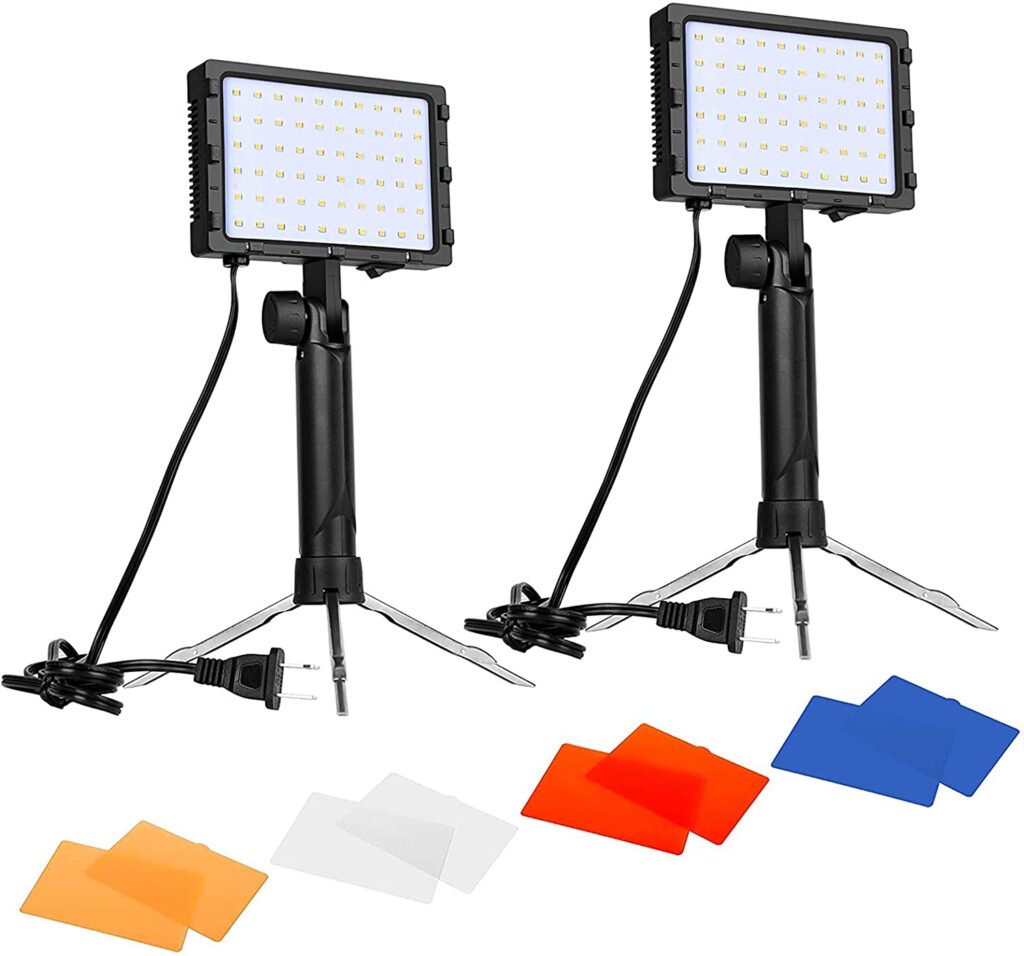 Emart is a brand to be trusted as it is one of the top online stores specializing in video and photography equipment. Their range goes from ring lights to backdrops and light bulbs.
They are Amazon partners and have great reviews on it, especially when it comes to value for money.
Emart 60 LED Continuous Portable Photography Lighting Kit is one of the products that have caught our eye with the price and great reviews which, combined, give you great value for money.
Who is it best for
Whether you are an experienced or a beginner, the Emart lighting kit can be your safe choice in lighting for streaming on Twitch. It is stable enough and it does not flicker even in low brightness settings.
The daylight balance will give you a more professional look and your viewers will be able to see you clearly. You can use only one light and stand, or you can use both to better balance out ant dark spots or shadows. The filters it comes with will give you the option to play with light.
Key features
The lights on this product are daylight balanced which helps you retain true colors while filming or taking pictures. The AC/DC adapter is a great safety feature as it reduces the heat production by half compared to other products in the same category. It comes with a long cord and can be adjusted to only 11in which means that it is meant to be used on desktops. You can adjust the head at a 180-degree angle to find the right angle for shooting.
The LED lights use less power in output which means that it is suitable to use for longer periods. It is energy-saving and can be plugged into a USB port. The light is 5500K balanced but it has an option to change to 3300K (warm color temperature).
The 4 additional filters can let you change the warmth and play with lighting in your videos so you can get creative.
---
What to Look for in the Best Lighting for Streaming
Buying Guide
Here are a couple of things you can consider when looking for the best lighting for streaming on Twitch.
1. Type
When considering which lighting for Twitch streaming to buy you need to get informed on the available types. There are three most common ones: Softboxes, Ring lights, and Cubes.
Each one has its advantages and disadvantages, and which one you choose will depend on your needs, funds, and space where you are streaming.
2. Size
All of the softboxes on this list are 20×28 in and for a good reason. The softbox should be about the same as the object you are shooting.
Since you are usually seated while streaming, this softbox surface covers the site of the upper half of your body and a bit more or a fully rounded appearance.
3. Lining
Depending on your needs the softbox lining can be either white or silver.
Silver gives you a mirror-like surface that limits light loss and promotes greater contrast while the white lining is good if you require more neutral tones and a more uniform appearance.
4. Position
Even with the best lighting solution, there are mistakes you can make and lower your live stream quality. So make sure that you position your light slightly above your head and far enough to avoid the glare.
If you use one light source, you should place it in front of you, and if you use two of them- place them on equal distances and angles on both sides.
This is particularly important if you are wearing glasses – you want your viewers to see your eyes, not the reflection of the lights.
Conclusion
When it comes to choosing the best streaming light it all comes down to what your preferences are. The list we have created is here to help you make an informed decision or give you a direction in which to go.
If we had to pick one of these as our persona favorite it would be Fovitec 3-Light Fluorescent Studio Lighting Kit with Boom Arm just because we think that it gives you the option of adjusting the lighting to your measures.
Frequently Asked Questions
Which is better, a ring light or a softbox?
The main difference between them is the shape. The softbox provides a window-like source of light and will spread over the entire room, while ring lights focus only on the streamer more directly. Which one you choose is up to your liking.
Do ring lights hurt your eyes?
There is no reason to believe that ring lights hurt your eyes more than any other light. Just make sure to adjust the brightness or move the ring light away from your face and you will be ok.
Join our Discord Group. Ask questions, team up with fellow streamers, share memes, and more!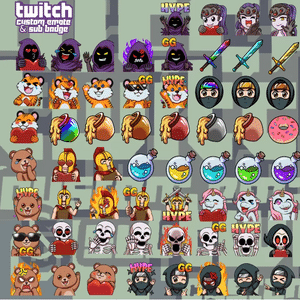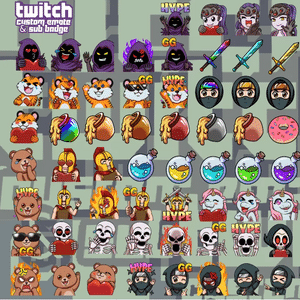 Claim for FREE:
FREE Emote PACKS
A book on growing your audience