If you are a passionate gamer, why not earn some money while gaming?
Nowadays, anyone can be a streamer on Twitch – all you need is your passion for video games, a camera, microphone, and a program to help you with broadcasting.
---
In short, these are the top 8 easy steps on how to stream on Twitch with OBS:
1. Download OBS
2. Connecting with Twitch Account
3. Game Capture in OBS
4. Set up Display Capture
5. Add Audio
6. Add Camera
7. Set Output Settings
8. Start your Live Stream
---
So, if you are ready to turn your hobby into a dream job, learn how to stream on Twitch with this guide – all of the basics of OBS Twitch streaming will be covered, so let's start!
Why Should I Start Broadcasting?
Before we start talking about needed equipment and using OBS for Twitch, let's talk about broadcasting and live streaming.
If you aren't used to filming, you probably aren't sure about becoming one of the Twitch streamers.
Why should you be one?
Well, gamers love to play video games, but they also love watching them.
There are already many online tournaments broadcasting on YouTube, and for fans of certain video games, these tournaments are equivalent to the biggest soccer or basketball games.
Also, you have probably heard about some famous YouTube gamers – people subscribe to their channels because they feel like they can learn more about gameplay by watching their videos.
Thanks to Twitch, now it is somewhat easy to become a streamer – with your passion, you can create high-quality content, and your viewers can pick up a few tricks from your videos and live streams. One of your streams can help them complete that difficult level they've been stuck on for days.
Even if you aren't the best at some video games, you can test them live and others can see all of your mistakes – these types of live streams are especially entertaining because not everyone is a pro and content is more relatable.
The Best Streaming Equipment
Software, Hardware, and Other
Creating a Twitch account won't be enough to become a popular streamer (or just a streamer).
Before you start with broadcasting, you will have to invest in proper equipment, which means a lot of research.
Let's take a look at everything you will need for the OBS Twitch stream.
Picking the Right Software
When it comes to picking the software for Twitch streaming, one rule applies to Windows, Mac, and Linux users.
If you are a beginner, stick to the more basic programs.
It will take time to grasp the basics, and with a beginner-friendly program, it will be easier to learn.
As you advance, you can either upgrade the program you are using to Premium or switch to another with more features.
When you decide to upgrade, you will have more choices, as well as the needed experience to choose the best software for your needs.
Here are your options.
1. For Desktop Streaming
Most streamers broadcast via their desktops.
Options are different for Windows, Mac, and Linux users.
If you are using Windows, you will have the most options, since they have the most powerful machines that are very much needed for streaming.
When it comes to Mac, there have been some improvements in the last few years. Even though Mac computers weren't able to support many streaming platforms, now they are compatible with most.
If you do not mind spending money on the software, then you can go for either XSplit or vMix. The second one is for more advanced streamers, so beginners should probably invest their money in the first one.
OBS has a few advantages over the two proposed platforms.
Firstly, it is free. Downloading and setting up OBS won't cost you a dime, and it still has many bot beginner-friendly and advanced features.
Furthermore, OBS works on both Mac and Windows. As said, many software wasn't compatible with Mac, but OBS now is – on their website, you can find a link to download it on your Mac and it will work flawlessly.
Also, OBS gives its users more options – besides regular OBS, Streamlabs OBS is available as well, and it can help you get more money from the streams.
We will get into detail about how to stream on Twitch with OBS later.
2. For Mobile Streaming
Many streamers are broadcasting via their mobile phones.
Keep in mind that even the most expensive phones have limitations – videos streamed from the desktop will have superior quality over videos streamed from the greatest mobile phones.
So, which software can you use?
Streamlabs has a mobile app for streaming – whatever is happening on the screen will be displayed on another platform.
Even on your mobile, you can use OBS – all you need is Elgato Screen Link to connect the phone with OBS.
3. For Console Streaming
Connecting the console with Twitch is super easy, and you can start streaming in no time.
However, in this case, you can't use OBS.
Streaming from the console, whether it is PlayStation or Xbox, doesn't allow any video editing – audio should be fine, but there is no way to improve the quality of the videos.
Picking the Right Hardware
Now that you know which software will work on which hardware, let's talk about hardware in general.
For streaming, you do not need the most powerful hardware on the market.
The quality of the videos should be good, but since 4k isn't needed, you do not have to worry about it too much.
The only thing you should focus on is the CPU – something that will is relatively good, so your computer can handle the game, microphone, software, and camera working at the same time.
Currently, a desktop is the most popular option, but many are using mobile and consoles, both PlayStation and Xbox.
Streamers that either does not have time or do not want to learn how certain software works, go for mobile phone or console for streaming. Even though some streaming platforms are compatible with mobile phones, options are still limited, so when streaming via phone, you do not have to focus later on video editing, or audio quality.
When it comes to desktops, they are superior in many ways. Firstly, there is much more software to choose from – OBS is just one of them.
Secondly, there are more features, overlays, and tools to play with, so you can create more unique content.
If you are a beginner, you should get a computer with an i5 processor and 8GB RAM, as well as a good internet connection with fast upload speed (at least 8-9 Mbps).
A computer with these characteristics should be able to handle everything you are doing, without overheating.
As you progress, you will have to invest in your equipment – a computer with a better CPU and GPU.
Additional Equipment for Streaming
Software and hardware are basics – if you pick out the right ones, you will be able to deliver great, premium quality videos.
There are still a few pieces that you will need. The audience loves the interaction, and viewers would probably like to see and hear you while you are playing, so make sure to get these devices as well.
1. Microphone
Audio is just as important as the picture, so when you are delivering high-quality video, people expect high-quality audio to follow it.
You do not have to invest in a great microphone immediately.
Start with a headset and built-in microphone.
Test it out, just to make sure that the audio is clear.
Later you can upgrade to the standalone microphone, so your viewers enjoy premium-quality sound as well.
2. Camera
To viewers, non-verbal communication is important as well, so you should buy a camera with solid features for your live streams.
Simple webcams can do the job well, and you won't need a capture card for them.
If you want, you can purchase one of the bigger cameras, invest in a capture card as well, so the viewers have a clearer picture.
3. Lighting
If you are using a bigger camera, you probably do not have to purchase lights for filming, since you can play with options and your camera will record a good video even in low-light conditions.
However, streams with webcams will most likely need a few lights to improve the image. Ring lights are a great option, but any lamp placed behind the camera will do the trick.
4. Green Screen
If you want to hide your background, then get a green screen.
This piece of equipment isn't a necessity, but more streamers are investing in it and using video output as their background.
5. Stream Deck
With the stream deck, you can easily adjust the audio, or switch between scenes.
It is just a touchscreen, and with one swipe, you can easily change different settings – quite practical for streaming when you need to adjust something.
How to Stream on Twitch OBS
Step-by-Step
Once you get the needed equipment, you can start learning more about the software.
OBS is entirely free – it is open-source software for broadcasting, developed by multiple people.
As said, multiple versions of OBS are available – you can stick to regular OBS or use Streamlabs OBS.
When you learn how to use regular OBS, you will also learn how to use the other version.
OBS is great because it is beginner-friendly, and it will follow your progress and there are many advanced features available as well.
1. Download OBS
Download and installation of OBS are the same for Mac and Windows.
The link for download can be found on OBS's website and you will be guided through the installation process.
It doesn't differ much from the installation of any other program.
2. Connecting with Twitch Account
You will have to connect the two platforms to stream Twitch OBS.
For connecting, the stream key is needed.
If you do not have the Twitch account already, create one – this will take only a few minutes.
Then log in to your twitch account and find your name in the right corner. Click on it and choose Dashboard.
On the Dashboard, you will see "Stream key", so choose that option and then choose Show key.
You can copy it, then open OBS and go to Settings.
Select "Stream" and paste your stream key.
If you do not want to link two accounts via stream key, you can also log in to your Twitch account through OBS.
Once again, you should visit the Settings page of OBS and choose Stream.
Then choose the service and click on the button to connect accounts.
You will be asked to log in to your Twitch account and once it is done, the two platforms will be connected.
3. How to Game Capture OBS
Once the two accounts are linked, you can start streaming.
OBS gives you multiple options – it is suitable for live streams, but you also have the option to record what is happening on your screen, save the video, and then edit it and share it on any platform of your choice.
Also, it allows you to add visual effects or live videos from other source, such as for example, the capture of your webcam.
First time you start your stream with OBS, you should notice that when it comes to organization of elements, OBS is similar to other streaming services. Everything is organized in two categories, sources and scenes.
When it comes to the scene, is the video you are distributing to your viewers. Some streamers display only the game, while others show both game video and video recorded by their webcam.
As for the sources, it is a part of the panel that only you can see. Sources are what other people can see in your stream. They are what make the scenery.
Game capture, or the possibility for people to see the game you're playing, is one of the sources.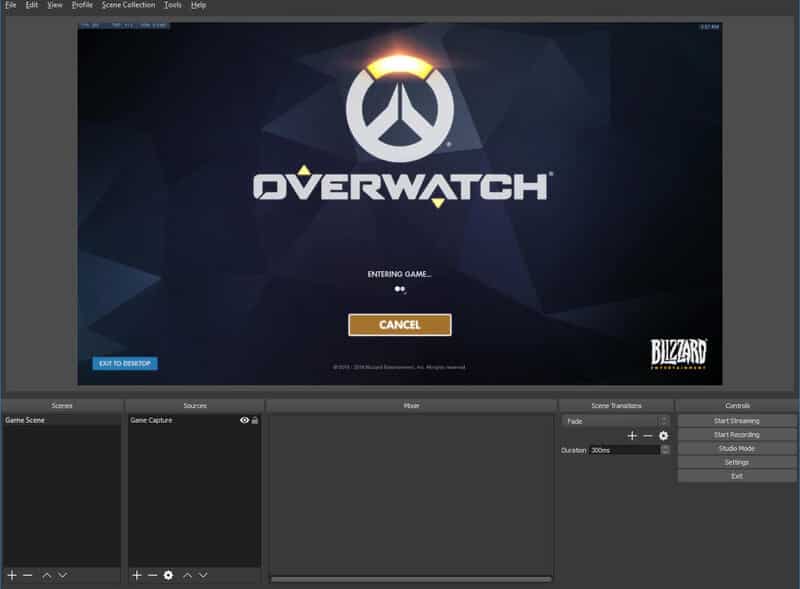 So, when you are looking at the default screen, on the bottom of the screen, you will see "Sources".
If you want to add game capture to sources, simply right-click on the Sources. It will open a new window, from where you can choose Game Capture.
The dialog window will appear, from where you will be able to either create Game Capture or choose one of the pre-made ones.
If this is your first time using OBS, then choose to Create New and name it however you want.
You'll see the new source you've created in the source list. From there, OBS automatically sets a few parameters. If you don't like how they look, you can change them from the game capture properties.
Sometimes you will have to record the entire screen, and sometimes you need a specific window. Any of these properties can be changed whenever during the stream.
Your game should be running in the background for OBS to capture it.
Preview is usually automatically displayed – if you do not see it, then click anywhere on the screen and select "Enable Preview".
Before you start the live stream, make sure everything is working properly. You can do that by pressing Start recording, and turn it off after several seconds. If OBS recorded that short video, then everything is fine.
4. Display Capture
Often, Game Capture won't work on OBS – the problem isn't in the software, but in the game.
For many games, Game capture just doesn't work, so you have to choose another mode to record them.
Display Capture is a great alternative.
If you have tested the Game capture, and the game isn't recording, remove it from the sources. Click on it and then choose "Remove".
You can also hide it by taping the eye icon next to the name of the game capture.
Display Capture is added to Sources in the same way as Game Capture – right-click on Sources, and choose "Add". Again, name this source as you wish.
Gamers with multiple monitors will have to choose which display they want to record.
In this mode, everything happening on your screen is recorded.
Preview will automatically appear and when you are ready to start filming, click on Start recording.
5. Adding Audio
OBS adds audio automatically – it is desktop audio, so the quality is usually quite poor.
You can easily add any other audio source, with better quality, so your viewers enjoy a clear sound.
The audio source is displayed in the Mixer box, right next to sources.
To add a new audio source, choose the gear icon next to Mixer.
Add your microphone, and then play with the settings.
You can mute the desktop audio entirely by moving the slider to the left.
Sometimes you get the best audio by mixing sound from the microphone and desktop sound.
Drag the slider of both, test it until you get the clear sound.
Related: Best Copyright Free Music for Twitch – Updated Playlist for 2021
6. Adding Camera
Webcams are also linked via sources.
To add a video recorded by the camera, just choose a Video capture device.
You have to name the source, and the OBS will automatically detect the webcam.
If you want to change one of the settings, choose Configure video. In most cases, the default properties should work fine, so you do not have to spend too much time testing the camera or adjusting different parameters.
Webcam video is superimposed over the screen recording. With your mouse, you can move the webcam video, to position it as you wish and change its size.
One thing you should pay attention to is the order of sources.
If you do not see the video from the webcam, it is probably hidden behind the game capture.
Drag it above Game capture in the Sources box and it will appear on the screen.
7. Output Settings
When you add all sources, adjust audio, and connect other devices with OBS, you will have to adjust a few output settings.
These settings can be found in the Settings menu, under Output.
Beginners typically use default settings – you can as well, but if you want to get quality videos, change them so they match the abilities of your computer.
Output settings are video bitrate, audio bitrate, and encoder for streaming. So choose a higher bitrate, start filming, and if something is not working properly, slightly lower it.
8. Start your Live Stream
Now you can start streaming.
Above the "Start recording button", you will see "Start streaming".
Name your stream and on your twitch account, change the status to "Now Playing".
By sharing your stream account, others will be able to join and view your stream.
Frequently Asked Questions
How to connect OBS to Twitch?
Connecting these two platforms is super easy. You can do it in two ways – via stream key or by login into the Twitch account.
If you are doing it via stream key, copy it from your twitch account and paste it in OBS. You can also open OBS, go to the Stream page, and log in to Twitch from OBS, and the accounts will be linked.
What is typically streamed on Twitch?
Twitch is a platform for gamers, so it is full of gaming content. League of Legends and Fortnite receive the most views. You can either stick to streaming only one game or switch between different ones.
We are sorry that this post was not useful for you!
Let us improve this post!
Tell us how we can improve this post?