Live streaming is not a rarity nowadays.
People worldwide stream their video games, or they are trying to broadcast events or details from their everyday lives.
You do not need a special device to stream. You only need an idea, and one of many devices with a camera.
In this text, we are going to try to help you stream using an iPad. Let's answer the question of how to Livestream on iPad.
Post 6 of 9 in the Guides
How to Live Stream Youtube on iPad?
First of all, there are two possible things for which you want to use the iPad streaming options.
The first one is to stream your screen recording. The second, of course, is to use your front or rear camera.
The screen recording option is used mostly when you play and want to live stream games from your mobile.
Additionally, If you want to make a tutorial or something similar, so you need your mobile as a dashboard.
1. Getting to Settings
The first thing you want to do is to go to the Settings option and choose the control section.
2. Adjusting Customize Control Icon
When you enter the control section, tap the Customize control icon.
There, you should make sure that the Screen recording icon is in the upper section.
If it is in the upper section, you get a shortcut just one step away from you.
But, the real job starts from this moment.
3. Choosing Streaming Application
In order to actually share the screen recording with others on Youtube, you need an app.
The app we recommend is Streamlabs. It is free, so the only thing you need is wi-fi to add it.
When you download it, you need to spend some time with the settings.
4. Setting Up Basic Options
To begin with, log in with your YT account.
Then you will be able to choose whether you want to stream yourself or stream your screen recording.
When you choose the option you want, you get to decide whether you want to enable a camera and mic.
5. Choosing a Streaming Platform
When you finish with the aforementioned settings, click on the menu in the upper left corner. Choose Screen capture.
When you tap on it, choose the platform you want to stream on. Of course, it is going to be your YT account because it is the only one connected for now.
6. Create Event
After you have finished with the part where you need to connect, the Create event option is the one to choose.
But! Note that there are Google company rules when it comes to live broadcasting via YT!
To live stream on a tablet or iPhone iPad, you need to have at least 1,000 subscribers.
Nevertheless, if you do not have 1,000 subs, you can always stream through your computer.
But, let us get back to the steps towards a live stream via iPhone or iPad.
7. Starting the Stream
When you finish with the Streamlabs app settings, click OK after the notification you get about the company streaming rules (the note about 1,000 subscribers necessary for a stream via phone, for example).
8. Checking the Options
Then go to the screen recording shortcut. Because we have put it in the upper section, it will appear after we swipe down the control center.
We tap the screen recording option, and there are is the name of the app we have just downloaded – Streamlabs.
If you want to enable/disable the microphone (external audio and sound) there is a microphone icon you tap.
If you disable the audio you will not be able to talk over the recording.
---
There you go, that is all you need for screen recording streaming.
On the other hand, for ordinary live streams done by a camera, you first need to put it in a place where you want to go live.
We strongly recommend having a firm and stable place to put it because of the quality of a live stream.
In order to turn on the broadcast and streaming, you need to follow these steps:
You need to log in to your YT account.
Then choose the plus icon which is at the bottom of the app. There you will see the Go Live option.
Of course, it goes without saying that you need at least 1,000 subscribers to stream from iPhone or iPad device.
Unfortunately, we cannot do anything about those default rules, it is simply a Google requirement…
So, when it comes to YT and iPad live streaming, we recommend it to those who have at least 1,000 subscribers.
If you have over 1,000 subscribers on your channel, and a strong will to create, comment or capture something interesting then follow these instructions.
Select quality content that you want to broadcast, and start your own live streaming adventure.
2. How to Live Stream Twitch on iPad?
We have got a lot of questions on how to live stream Twitch on iPad.
Viewers are interested in different types of Twitch streams.
From games and ordinary live streams where streamers chat about many topics to them to videos where they can see professional artists drawing or creating something.
So, now we will try to show you how to stream directly from your phone or device to the Twitch platform and channel.
1. Dowload Apowersoft
The first thing we recommend you do is to download the Apowersoft iPhone/iPad Recorder.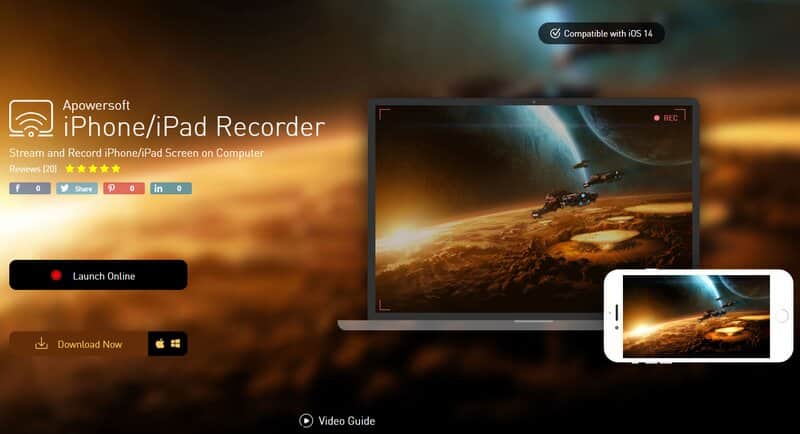 There is another software app with different features for a different type of "audience", but we will stick to the app that proved to be great multiple times.
2. Sign In or Use OBS
When you download the app it will ask you to sign in, but if you are streaming to OBS there is no need to do that. Just choose the Evaluate option.
After you sign in or choose the aforementioned option with OBS, the little screen will appear on your display. There you get a great explanation of how to manage and connect your device to the app.
3. Connect to Your PC via USB Cable
Using the USB cable you will have your iPad or iPhone device connected to your computer.
4. Enabling Screen Mirroring
Then choose the screen mirroring option. If it does not appear in the menu that you get by swiping down, follow the instructions about it that we put in the first part of the text.
There is an example of what to do to put screen mirroring into a device control menu.
When you connect the iPad and a computer, select the screen mirroring and click the Apowersoft app that will open.
Search for options no more because now everything you see on your iPad or phone will be mirrored on your computer.
5. Create a Window Capture Source
From here, open Streamlabs or regular OBS, add a new source, and make it a Window Capture source.
6. Choose Apowersoft Recorder
Then you will see a window, where you should choose the Apowersoft iPhone/iPad Recorder. A little preview will appear there. Then just click Done.
---
You can resize the media you need, basically, adjust the image and streaming setup according to your own needs.
We recommend you turn off the auto-lock. It is because it can save you from future difficulties.
Namely, whenever someone inexperienced streamed for the first time auto-lock would lockout and make a user reconnect to the live streaming.
That can be a source of disappointment because if you do not save it, your chat, game, and other features might be lost.
So do not search for solutions to those problems, just select an option to turn off the auto-lock.
So, that would be all when it comes to Twitch services on an iPad.
It is nothing difficult, you just need to add and select a few options, and there you go, your live streaming can start.
How to Livestream on iPad – Conclusion
Generally, you saw that the connection is not hard.
To access streaming platforms from your iPad has never been easier.
Whether you are using your iPhone or some other iPad device you only need wi-fi and maybe an app that will allow you to begin the setup and broadcast, eventually.
We hope that this helped, and wish you the best of luck in the broadcast adventure.
Related: How to Stream Mobile Games on Twitch
Join our Discord Group. Ask questions, team up with fellow streamers, share memes, and more!