Do you think that you are a great gamer, but with better equipment, you could get even better? If you are new to Twitch you are going to need the best headset for streaming.
Headsets can make your gaming much more enjoyable and or even push it up to a whole other level.
With a good streaming headset, you will be able to pay attention to the game sounds much better, and this is an especially important aspect in games such as CSGO where you can actually hear your opponents walking and hiding.
Post 1 of 6 in the Headphones, Headsets, and Earbuds
Best Headset for Streaming
Reviews
Picking a good headset for streaming Twitch probably isn't the easiest task. You should know specifically what to look for since a good headset doesn't mean it's automatically good for streaming Twitch as well.
There are numerous factors to take into consideration and to make this whole process easier for you we have come up with the following list of best streaming headsets, and explaining what their advantages are.
QUICK OVERVIEW: Best Streaming Headset
Audio Jack: 3.5mm
Impedance: 320hms

Weight: 354g
Drivers: 40mm neodymium

3 G-keys
Driver: 50mm Pro-G
Best Headset for Streaming Xbox One
1. RUNMUS Gaming Headset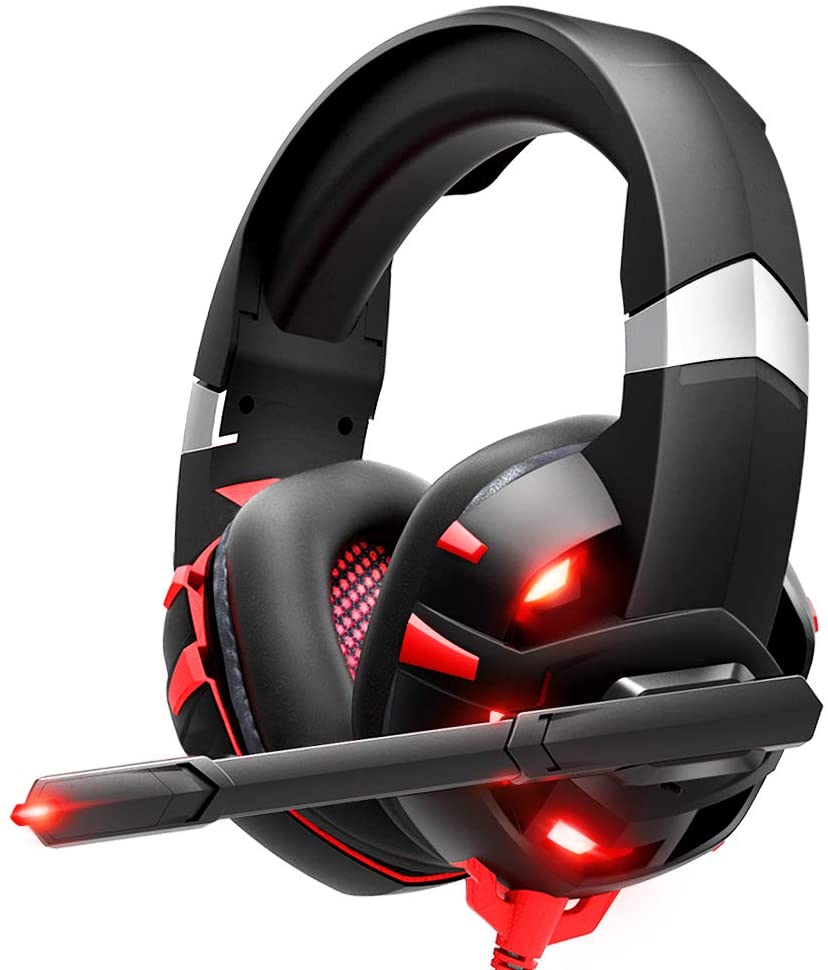 To start off our list, we present to you one of the most budget-friendly headsets you can find for streaming Twitch. Aside from being so affordable, the RUNMUS Gaming headset is also very efficient.
It's adaptable to almost any system, and it's a great temporary solution if you plan on saving up money for some higher-end headset in the future.
Who is it good for
If your favorite games to stream on Twitch include God of War, CSGO, Fortnite, or PUBG, then wearing an adequate headset is a huge factor.
Professional gamers often emphasize how important it is to hear your enemy before seeing them.
Although this headset might not provide this as well as the best streaming headphones, it will still do the trick.
The 50mm driver offers great surrounding sound so it's really cool you can acquire it at such a low price.
Although this headset can be used for PC, users have reported that it works best with a PS4 console and Xbox One console.
Key features
This streaming headset has a 3.5mm audio jack which makes it compatible with PC, PS4 console, Xbox One console, and a Nintendo Switch.
The 50mm driver enables you to hear surround sounds while gaming.
Also, this headset is made out of premium material that is considered very comfortable when gaming for a few hours in a row. There is also a retractable band and a breathable ear pad to enhance comfort.
Another great addition to this headset is the noise-cancelling microphone.
Team games are usually much easier when you and your fellow teammates can hear each other loud and clear, and that's exactly what this feature provides.
Overall, this streaming headset has a very good price-quality ratio, and it's great for all newbie players or those mid-end ones who don't have a lot of money to invest in a better headset.
---
2. HyperX Cloud II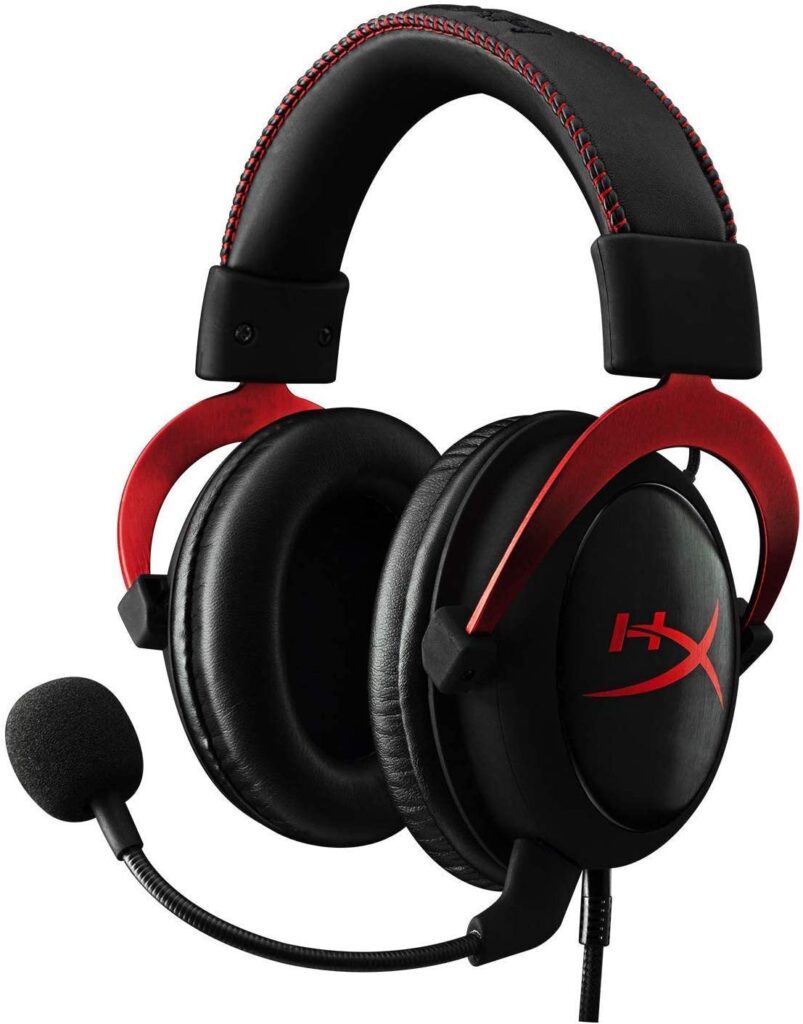 When it comes to comfort, there aren't many models that can offer what HyperX Cloud can. This headset works with PC and PS4, but it's most often used for streaming Xbox One.
It has an advanced audio control box and the surround sound feature is very advanced. It costs a tad under 100$ and there aren't many models that can match its features in this price range.
It's definitely one of the best headsets for streaming Xbox One.
Who is it good for
With great compatibility and various features, this headset is on almost every Xbox streamers to-buy list.
When it comes to Xbox One Twitch streaming, there aren't a lot of options you can choose, and most don't have a very recommendable price-quality ratio.
This model is an exception. The quality is amazing and it's even weird how the price isn't higher. If you are a beginner or a mid-end Twitch streamer you should consider making this purchase.
Games such as Counter-Strike will be extremely enjoyable due to the high-level sound quality of the device, which will allow you to hear your enemy's movements.
Overall, it's an amazing headset and it has a ton of positive reviews. Purchasing this headset is a decision that you won't regret.
Key features
This well-rounded and high sound quality headset comes with numerous features.
When building this headset it's clear that the company's goal was to make it as comfortable as possible. The memory foam ear cushions are extremely cozy.
There is also a padded leatherette headband that could sharpen your focus.
The driver is 53mm and it's considered mid-end, close to high-end. The details in the audio are very high-quality and you won't have any trouble picking up sounds during the game.
The 7.1 virtual surround sound is a positive surprise since most mid-end headsets don't include this. You will be able to immerse yourself in the game and recognize the movements of your opponents with ease.
The passive noise cancellation is also cool since the design blocks out any outside distractions that might disturb your gameplay.
Players who have used low-end headsets will notice a huge difference after trying the HyperX Cloud II out.
It's no surprise how good this headset is. HyperX is known for its impressive products, and this one is no different. Gamers who want a headset for streaming Xbox One will surely enjoy this model.
---
3. Razer BlackShark V2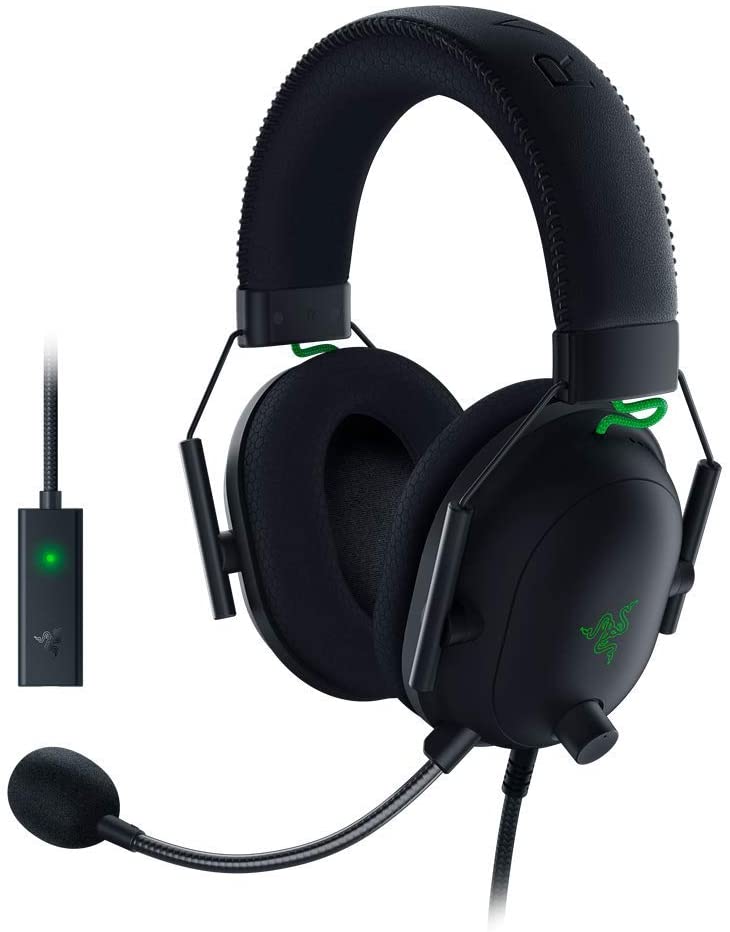 We had a bit of trouble deciding which model would be our third pick for Xbox One streaming, but we don't regret including the Razer BlackShark V2 at all.
This model is unbelievably popular in the US and a huge number of Xbox One streamers have tried it out. The feedbacks are very reassuring.
Similar to our previous model, it costs a little under 100$ and it's worth every buck. A lot of gamers refer to it as the best wired headset currently on the market.
Who is it good for
When it comes to great entry-level headsets, most streamers have this model in mind. Whether you are a beginner or amateur streamer, this model will bring your gaming to another level.
It will bring you one step closer to becoming a pro. The price-quality ratio is incredible so you won't have to worry about your money going to waste.
If Overwatch is your go-to game for streaming, then it's that much better. Overwatch players are the most common buyers of this headset due to the great compatibility with the game. 
Key features
The first feature you notice on this headset is how light it is. It didn't really prioritize premium materials, but it's still pretty solid.
The lightweight makes it really comfortable to wear for longer gaming periods. The pads are made out of faux leather on both the interior and exterior ring.
The mic quality is also surprisingly nice. Good communication is important in any team game, and with this microphone, your teammates will hear you loud and clear.
The audio is very high-quality and it has a clear and present bass. The headset is considered very competent in games that focus on background music such as Unravel, and games with exploding sounds like Borderlands 3.
The surround sound is amazing on the model, and you will be able to hear every important detail and accurate noise even when fighting on chaotic battlefields.
Overall, this headset is pretty remarkable due to the features it brings to the table and all under the price of 100$. It's considered to be one of the best headsets in this price range.
---
Best Headset for Streaming PS4 Games
1. SteelSeries Arctis 7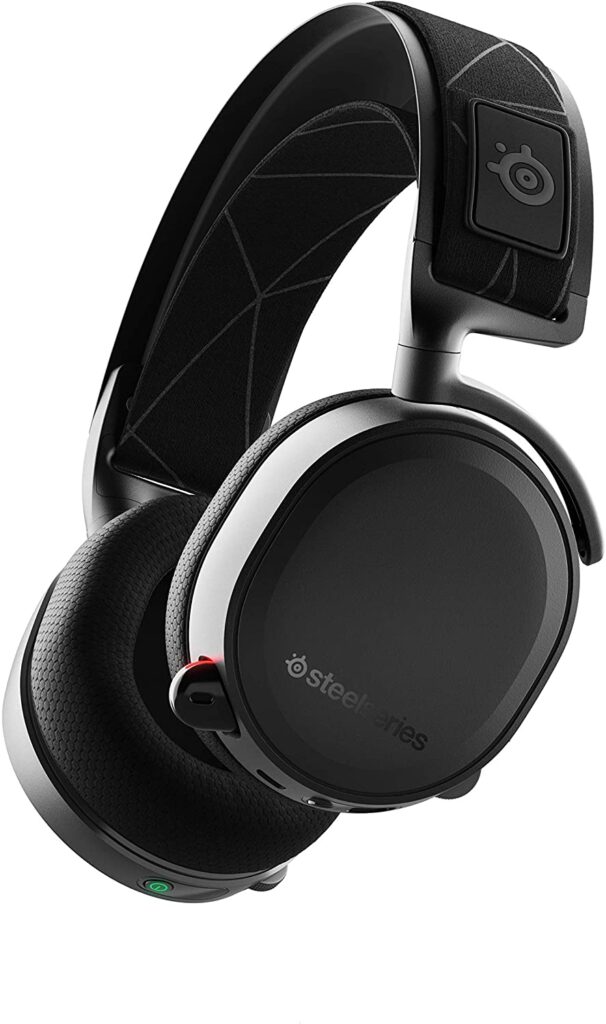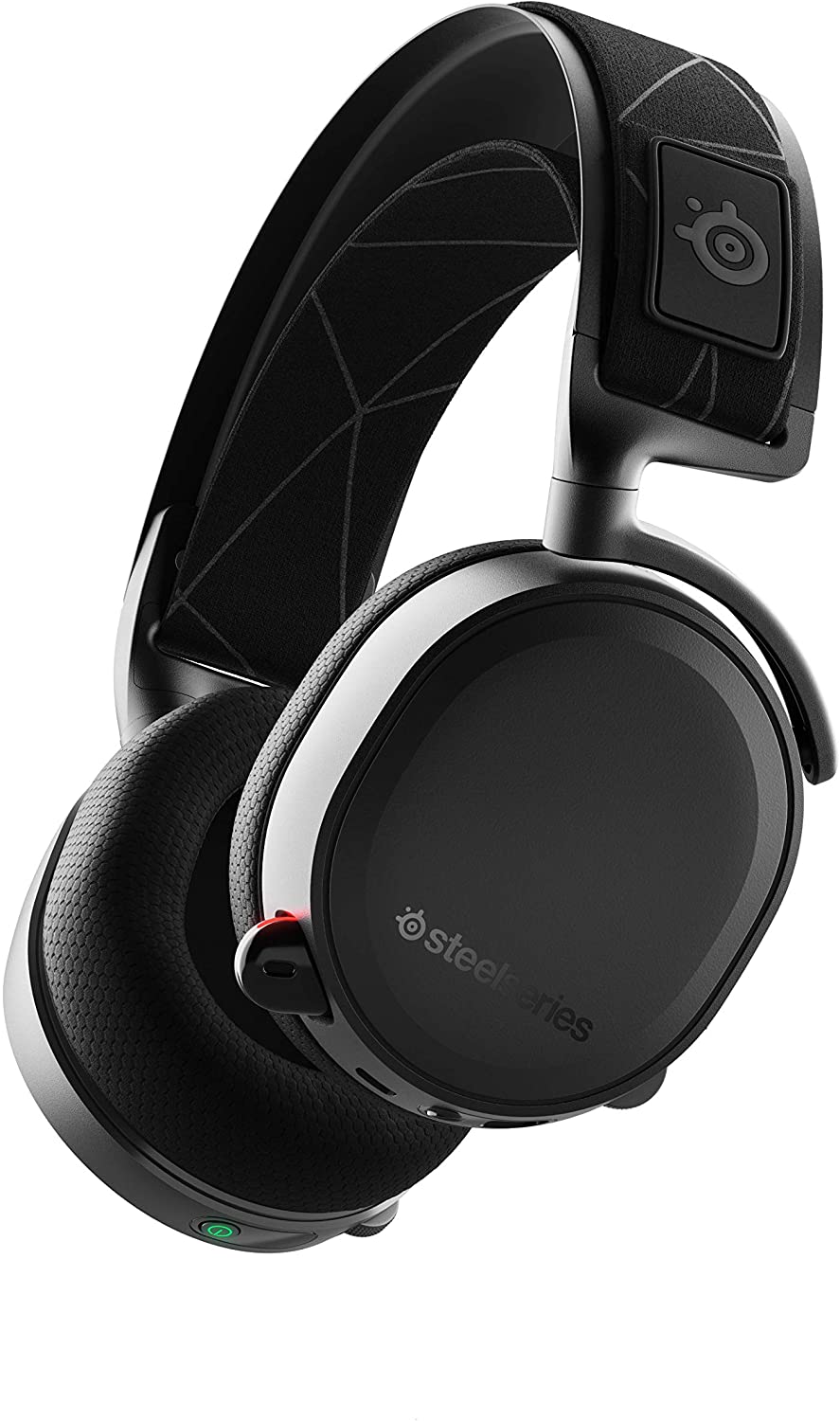 It's time to move on to the best headsets for streaming PS4. PS4 Twitch streaming is very popular nowadays, and the SteelSeries Arctis 7 is there to make the experience even more enjoyable.
This headset is regarded as one of the best wireless streaming headsets. It's also compatible with PC, but it works way better on PS4.
What you probably don't know about this headset is that it's one of the most rewarded headsets for streaming. A lot of gaming review blogs and magazines consider it to be one of the best.
Who is it good for
This wireless streaming headset is very versatile, compatible, operative, and pragmatic. Whether you are a professional or a newbie gamer, this headset will come in handy.
It has everything you could want in a headset, from audio quality to surround sound, and all of that for a reasonable price.
It's considered better than some headphones that cost 3x as much. If you want a headset that can mix chat audio with regular audio, it can do that as well using a physical dial.
Battery life is also exceptional, it can go on for a week without recharging. And, if you enjoy long gaming marathons, it's very easy to wear comfort-wise.
Key features
Wireless gaming headsets originally had a bad rep when they first came out, but after some modifications, this statement has changed.
The 2.4G technology enables the free wireless audio to function with literally zero lags during gaming. The range of the wireless connection is around 12 meters, which is astounding.
With this wireless headset, you can keep gaming on your PS4 from a distance and your Twitch audience and teammates will still be able to hear you.
The ergonomic design is another feature and it's considered to be one of the most comfortable headsets on the market.
The "ski-goggle" suspension band balances out the weight of the headset while you are wearing it. The AirWeave ear cushion design doesn't hurt either.
On the left ear of the headset you can find a volume control wheel, and an off and mute button.
The SteelSeries Arctis 7 is truly one of the best streaming headsets today, and it's worth twice as much money due to the numerous advantages it offers.
---
2. SteelSeries Arctis 5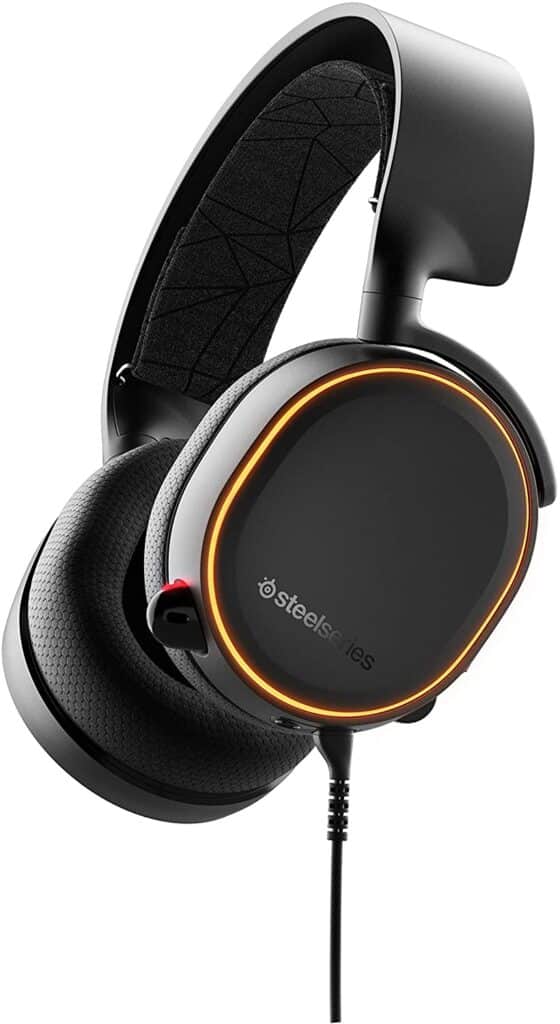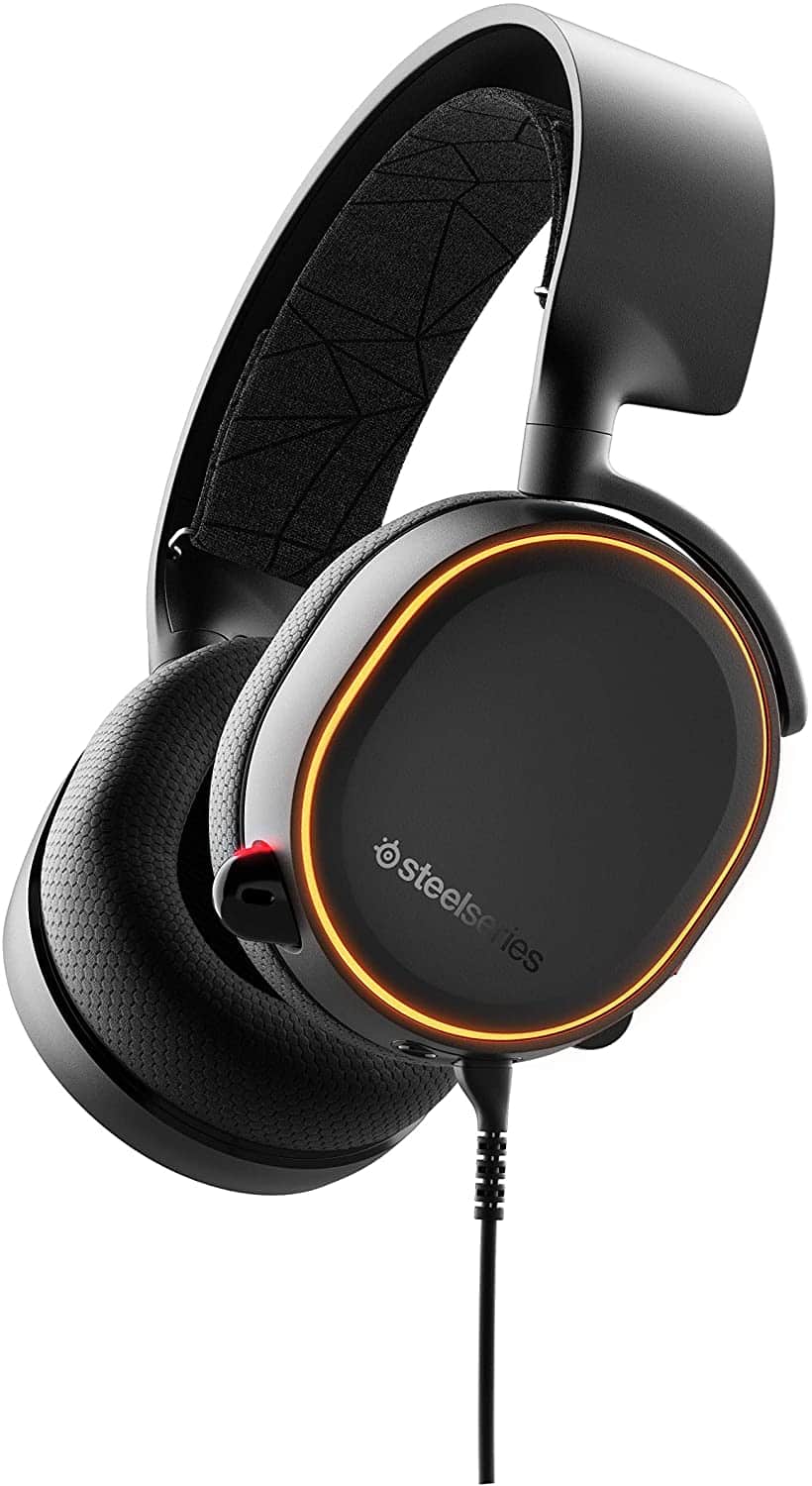 The next headset on our list comes from the same company as the previous one, it's the SteelSeries Arctis 5.
This headset is also considered to be one of the best when it comes to streaming PS4. The Steelseries Arctis 5 PC headphones are designed for gaming and streaming and they offer fantastic sound.
Plus they are very comfortable and stylish. The impressive sound can also be used on PC, stereo on Mac, XboxOne, and Nintendo Switch, but it works best with PS4.
Who is it good for
Anyone who is looking to stream Twitch via PS4 might be interested in getting this headset. It comes at a very low price, so you won't have to worry about spending too much money.
It gets the job done as well as some models that cost twice as much.
The ergonomic design comes in handy since you will be able to use the headset for long gaming marathons without worrying whether or not they will lose comfort.
You can also fine-tune the sound quality and adjust it to your liking. All in all, you will get a comfortable headset that's equipped with a remarkable mic for a price tag under 100$.
Key features
The headset is equipped with a mic that's easily bent and durable in the left ear cup. There is a volume wheel and a mute button on the back of the headset.
You can easily reach any button without constantly figuring out where they are.
SteelSeries is considered to be one of the best manufacturers when talking about comfort and this headset is no different.
There is an elastic headband that adapts to your head instantly and there are also adjustable Velcro straps. The ear cups feel are comfy and breathable even if you wear glasses or have longer hair.
The bidirectional ClearCast mic is one of the key features due to its popularity in the gaming community.
 The mic can provide you with high-quality voice audio and it can reduce background noise to a minimum.
The surround sound is also of high quality and it can offer you 360 degrees of audio concentration. This is good for high FPS games like CSGO.
---
3. HyperX Cloud Flight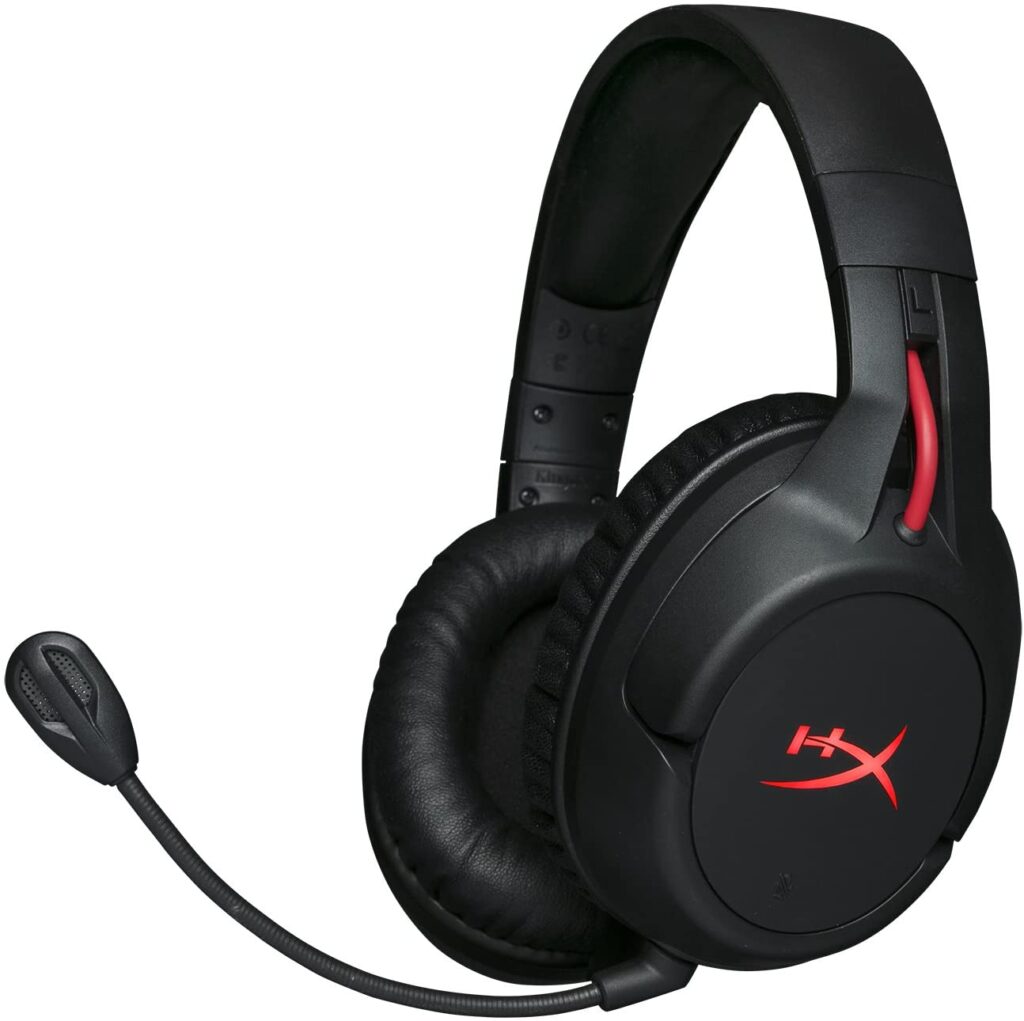 Our last recommended model for streaming Twitch on a PS4 is the HyperX Cloud Flight headset.
Aside from being one of the best headsets that HyperX has released, it's also one of the best wireless gaming headsets currently on the market.
It comes with a built-in microphone, it's pretty comfortable, and it has a professional design.
Also, the battery can last up to 25 hours, so if you are planning to miss out on sleep for a couple of nights you have found the right model.
Also, there are a few crafty components included like the detachable noise-canceling mic, memory foam, and LED Lighting.
Who is it good for
Since this headset can provide clear sound, amazing audio quality, and an awesome mic, it's pretty much suitable for everyone.
We listed it as a headset that works best for streaming PS4 because most of the gamers who have used the model enjoy it best for PS4.
However, it can also work great with PC, so if you are Twitch streaming on both you won't have to worry about it not being compatible with one of those.
The padding is really soft and it holds onto your head very well, making it a very comfortable headset that can be used for long gaming hours.
Key features
With a 30-hour battery life, this headset is pretty unique compared to other models. Gamers who stream for hours especially appreciate this feature.
The design is pretty reserved since there aren't any red stitches or ostentatious earcups. It has a pretty traditional look. However, it does include built-in HyperX logos on each earcup that can light up.
It has a power button and a mute switch, but unfortunately, it doesn't have a volume knob that can change game and chat volume like the Arctis 7 can.
This headset is made entirely out of plastic and it feels pretty solid.
The biggest downside to this headset is the 2.0 stereo sound which can feel weak compared to the 7.1 surround-sound awareness channel that the Artcis 7 offers.
But you could say that the two huge 50mm drivers make up for it.
Overall, this headset is pretty impressive and it's certainly one of the best for streaming PS4. The best feature in our opinion is the 30-hour battery life that many gamers take advantage of when purchasing this model.
---
Best Headset for Streaming PC Games
1. Logitech G635 DTS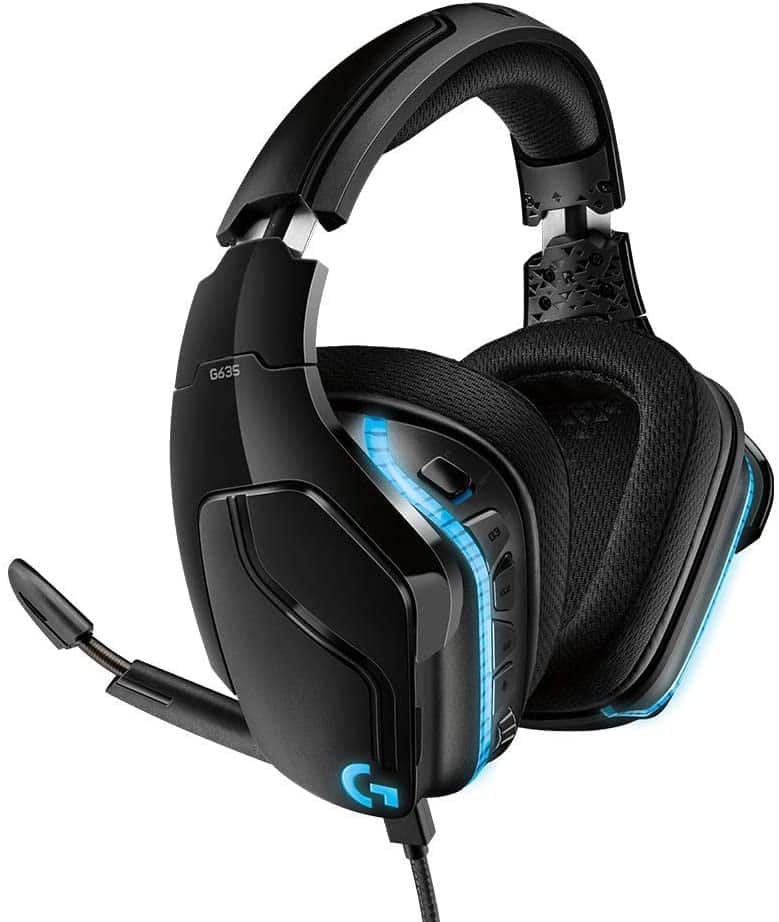 One of the best headsets for streaming PC is the Logitech G635. It's a gaming headset that comes with great sound quality.
The wired connection is flexible and you can use it on numerous platforms aside from PC, so in case you stream on numerous devices, it can be very convenient.
They feel comfy and the design is very bulky so no noise is isolated. The microphone isn't high-end, but it's pretty decent and people will be able to hear you clearly.
There are also a lot of controls and customization features.
Who is it good for
This headset is good for any amateur gamer considering it's a mid-end headset.
Beginners also seem very fond of it since it can provide them with a more enjoyable gaming experience and enhance their skills to the high-quality sound and numerous features.
It comes at an affordable price so it's not a bad investment to try out. It can help you fully focus on the gaming environment since you will be able to hear all the important details, such as the movements of your enemies.
It can be very beneficial for gamers who tend to play CSGO and other games with high FPS. A lot of gamers in the community find these headsets to be a great buy and have very positive feedback.
Key features
There is a volume wheel and a DTS toggle button. There isn't a mute button but there is a flip-to-mute system that might work even better.
The sport mesh material of the ear cups is extremely comfortable and breathable, and it can prevent sweating after using the headset for long hours.
It features Pro-G 50mm drivers made out of woven hybrid mesh. They can provide more profundity, precision, and great sonic detail. The increased diameter ensures better overall performance.
One of the best features is the DTS Headphone:X 2.0, which is considered to provide a much better performance in comparison to the 7.1.
However, you can only use this feature for Windows. It's also great because it offers specific in-game spatial awareness.
---
2. ODABAN Gaming Headset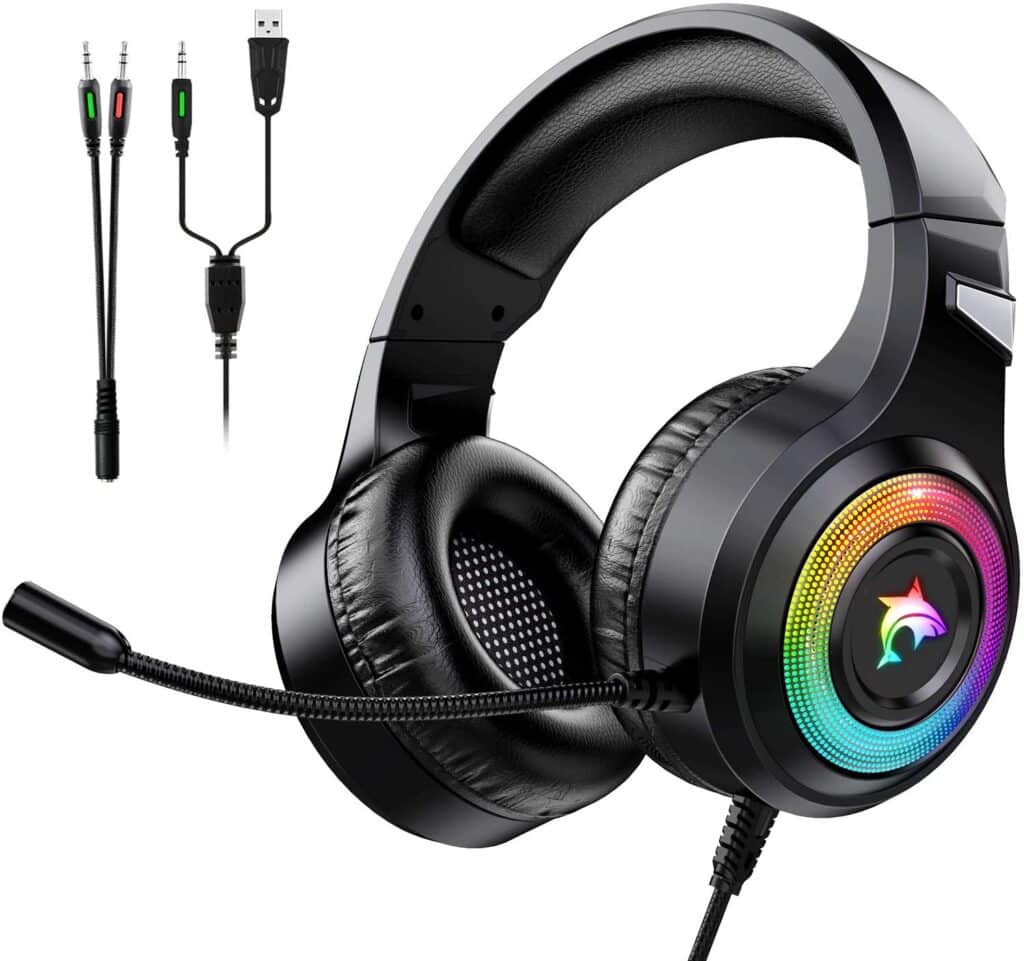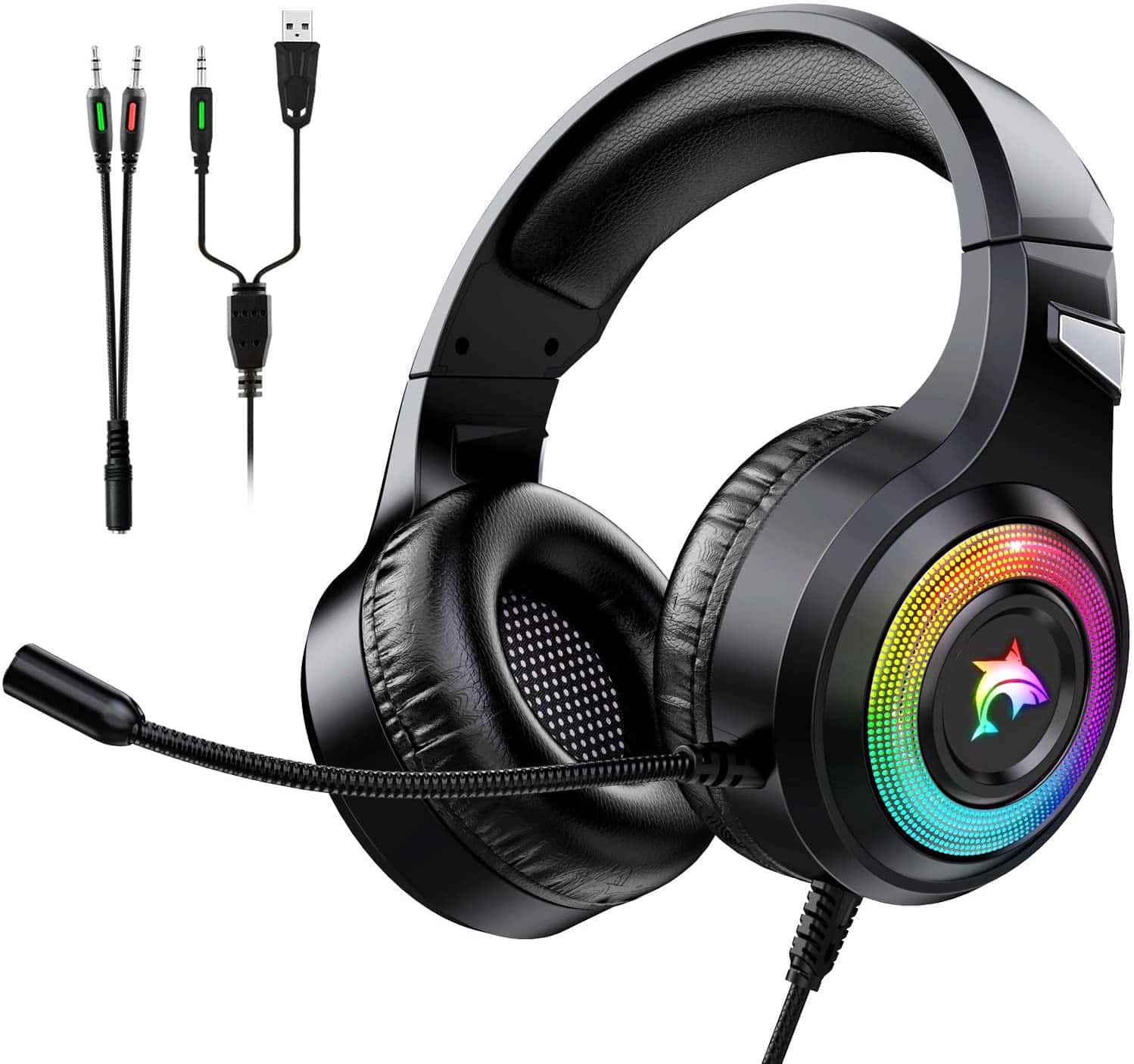 With a price of only 20 bucks, this headset is the cheapest one on our list. You probably think that you can't get a good headset for this price, but the ODABAN Gaming headset will prove you wrong.
It has numerous features to offer, the sound is very decent, and it can easily compare to some models that are more expensive.
Who is it good for
This headset is good for anyone who is on a very tight budget since it costs practically nothing.
If you started streaming Twitch and you don't have any type of headset, this one is can introduce you to a lot of new features.
Newbie streamers and those who play games where the sound isn't a key factor opt for this model. It can decently support all types of titles, from war to driving games.
The highs and mids are crisp and clear and the lows weren't breaking or cracking.
Key features
This unit features strong brass and nice ambient noise isolation with the 50mm magnetic neodymium driver.
An acoustic positioning precision comes with the speaker unit and it can provide you with a great sound field and mid-quality sound clarity. It works nicely with PUBG.
An omnidirectional microphone is included and it can provide quality communication. The mic has a noise-canceling feature that can remove unwanted noise.
This allows you to clearly deliver or receive messages while gaming. The mic is made out of a silicone tube so it's very easy to adjust it to your liking.
Hearing impairment and heat sweat isn't going to be a problem either. Earpads are made out of comfortable soft leather and memory foam.
The earpads are huge and offer you a comfortable experience after several gaming hours.
---
3. Jeecoo Xiberia Gaming Headset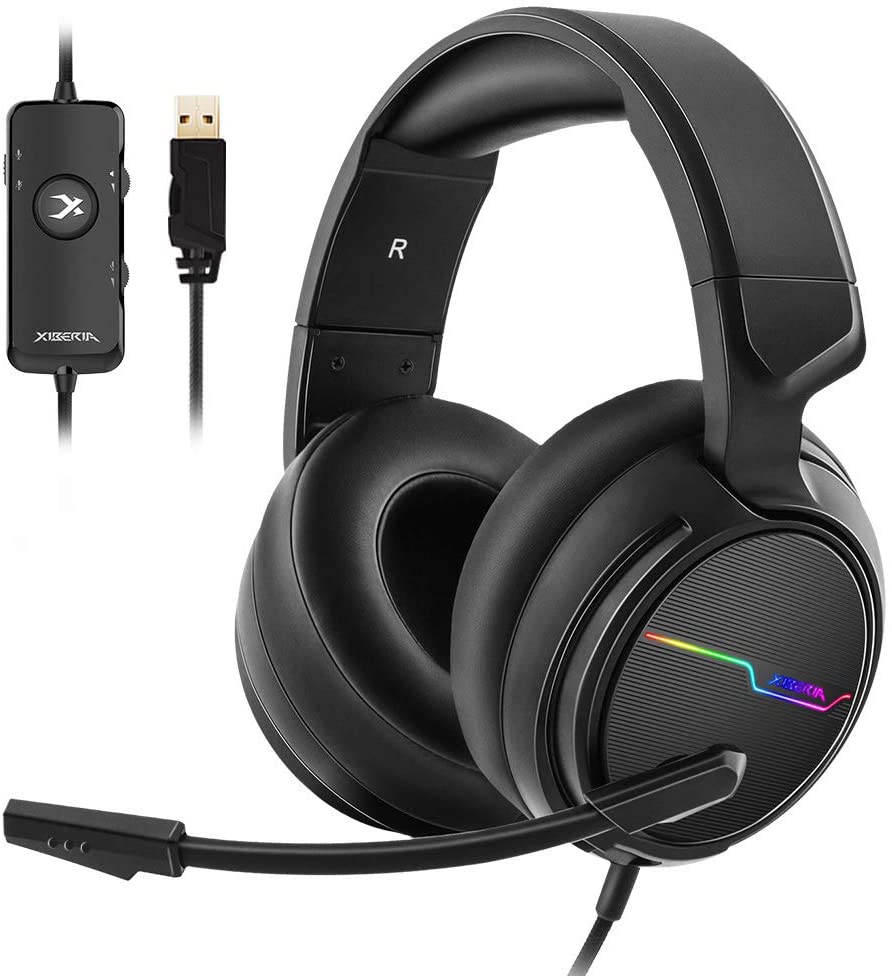 The last product on our list is another budget-friendly headset, the Jeecoo Xiberia Gaming Headset. Jeecoo is designed specifically for PC being a USB headset.
It has an elegant and professional design which contributes to the cool look. It's in the same price range as our previous headset and they are very similar in terms of features.
Who is it good for
Similar to the ODABAN Gaming headset, this model is good for anyone on a budget. It's convenient to get it if you don't own any other headset that you can use for streaming and gaming.
Compared to some high-end models, it might not be the best headset for streaming PC, but it certainly has one of the best price-quality ratios you can find on the market.
It has nice surround sound, a decent microphone, and a few more useful features which make it convenient for streaming PC.
Low and mid-end gamers usually opt for this model if money is a problem, and seem to be very satisfied with it. The amazon reviews are also great which adds additional hope.
Key features
The microphone is set up on a ductile boom. It can be adjusted easily you can place it in front of your face or move it behind in case you don't need it.
The microphone is dense and protected by ABS plastic. It's pretty convenient for any teammate audio chat since it doesn't get in the way.
The drivers are 50mm and they feature neodymium magnets. These magnets ensure extremely precise sound quality.
They are also big enough to provide quality bass. The 7.1 surround sound is also a huge surprise being features on such a cheap headset.
---
Things to Consider When Buying a Headset for Streaming
1. Connectivity
Multiple connectivity options are very important for streaming headsets. Connection either goes through a USB cable or a wireless connectivity options (Bluetooth for example).
There are also wired and wireless headsets. Neither is better than the other, the choice is based on your preference.
2. Design
When it comes to headsets, there is an open and closed design. A closed headset provides powerful and active sound, while an open headset design lets the surrounding sound pierce through the headset.
The closed design is considered better because it doesn't allow the surround sound to pass.
3. Driver
The driver is one of the most important features in streaming headsets. If the size of the driver is bigger then the sound quality is better.
Size is directly proportional to the sound quality. A 50mm driver is considered the best by streamers in the Twitch community.
Like we said, the size and quality of the driver are some of the main things to look out for when purchasing a headset for streaming.
Conclusion
Picking the best headset for streaming can be complicated since there are numerous factors to take into consideration.
Also, there are headsets that are considered better for PC, and some for PS4 and Xbox One. In our opinion, the best headset on our list would be the HyperX Cloud II headset.
Not only is it the best for Xbox One streaming, but it's also very compatible with both PC and PS4. It has numerous features to offer and it's worth every dollar.
Frequently Asked Questions
Should I even get a headset, is it worth it?
The answer is definitely yes. We can't stress how important a good headset is for gaming and streaming. It can significantly raise your gaming skill only after a few games.
Professional gamers that play CSGO for example consider a good headset a major part of their gaming. Good headsets will enable you to hear the enemy's movements and know where they are on the map without seeing them.
How important is the headset's microphone quality?
The microphone quality of the headset isn't the most important factor to consider, but it's highly recommendable that you find one that makes your voice sound crystal clear.
Omnidirectional mics are considered the best. A high-quality mic enables good communication with your teammates, and your Twitch audience will be able to hear you loud and clear.