Corentin Gotaga Houssein is a very popular French streamer that has been in the gaming industry for more than 5 years.
Currently, he is playing for Team Vitality, and he shares all of his streams on his Twitch and Mixer accounts.
He is definitely one of the most popular streamers in France, and he manages to gather a large number of users to his streams every single day.
---
If you wanted to find out what his favorite gaming devices are, then you are in the right place because here are all the products he uses in his gaming setup. Let's take a look at the Gotaga streaming setup!
* Headset: SteelSeries Arctis Pro
* Keyboard: Steel Series Apex Pro TKL
* Mouse: Rival 3
* Monitor: Alienware 25 inch
* GPU: GeForce RTX 3090 FTW3
* Capture Card: Elgato HD60 S+
* Processor: Intel Core i9 9900K
* Motherboard: MSI Enthusiast Gaming Intel X299
---
To learn more about Gotaga's streaming gear, read further below!
Post 9 of 18 in the Professional Setups
What Headset Does Gotaga Use?
SteelSeries Arctis Pro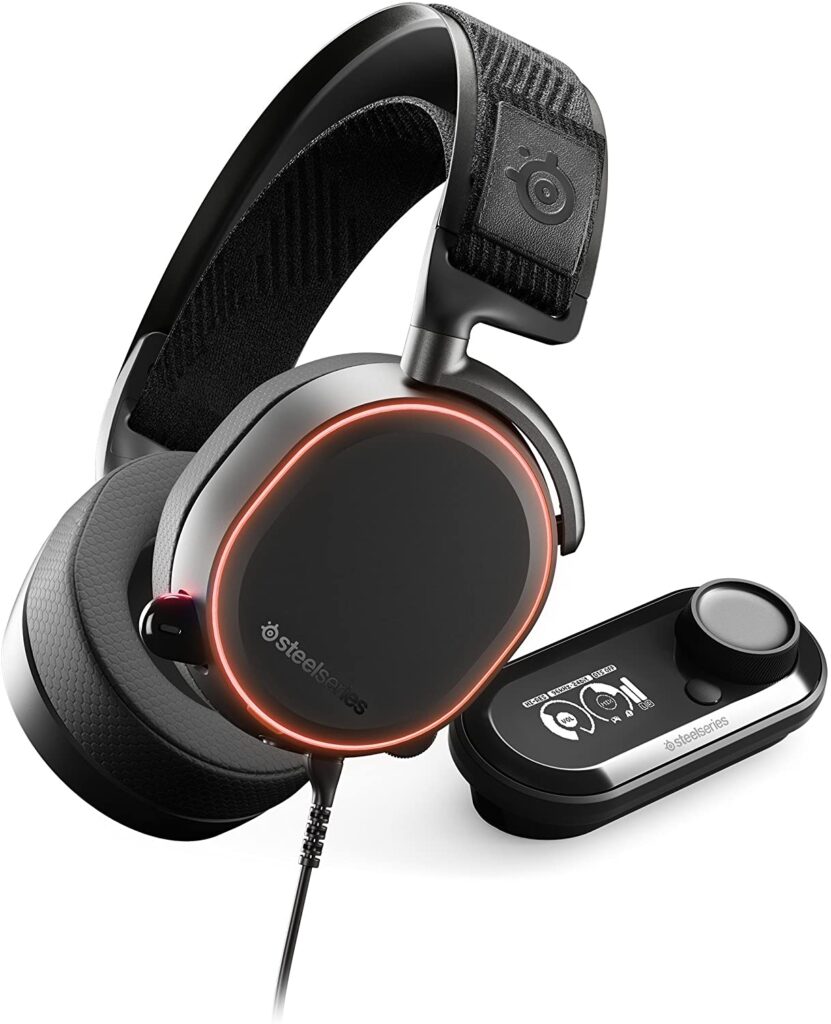 Gotaga uses the Steel Series Arctis Pro High Fidelity gaming headset that provides you with the sound of the highest quality possible.
Made from the best aluminum this headset is very strong and enduring but still has a customizable fit you can modify according to your needs and comfort.
It also has a great frequency range that goes anywhere from 10 to 40 000 Hertz and provides you with a perfectly clear sound not many devices can guarantee you with.
One of the best additions to this headset that makes it a favorite among gamers is the option to the USB chat mix and switch both between your game and chat audio without any problems,
This headset completely eliminates all the background noise and lets you control the whole process with its 3 simple buttons.
They will cost you around 100 dollars which is a pretty good price for a pair of professional gaming headphones, but you may want to find another one at the same price that has an inlined mic too.
However, I believe its USB chat mix is the best thing about it and it can really be a true gem to all gamers.
Related: Best Streaming Headphones
What Keyboard Does Gotaga Use?
Steel Series Apex Pro TKL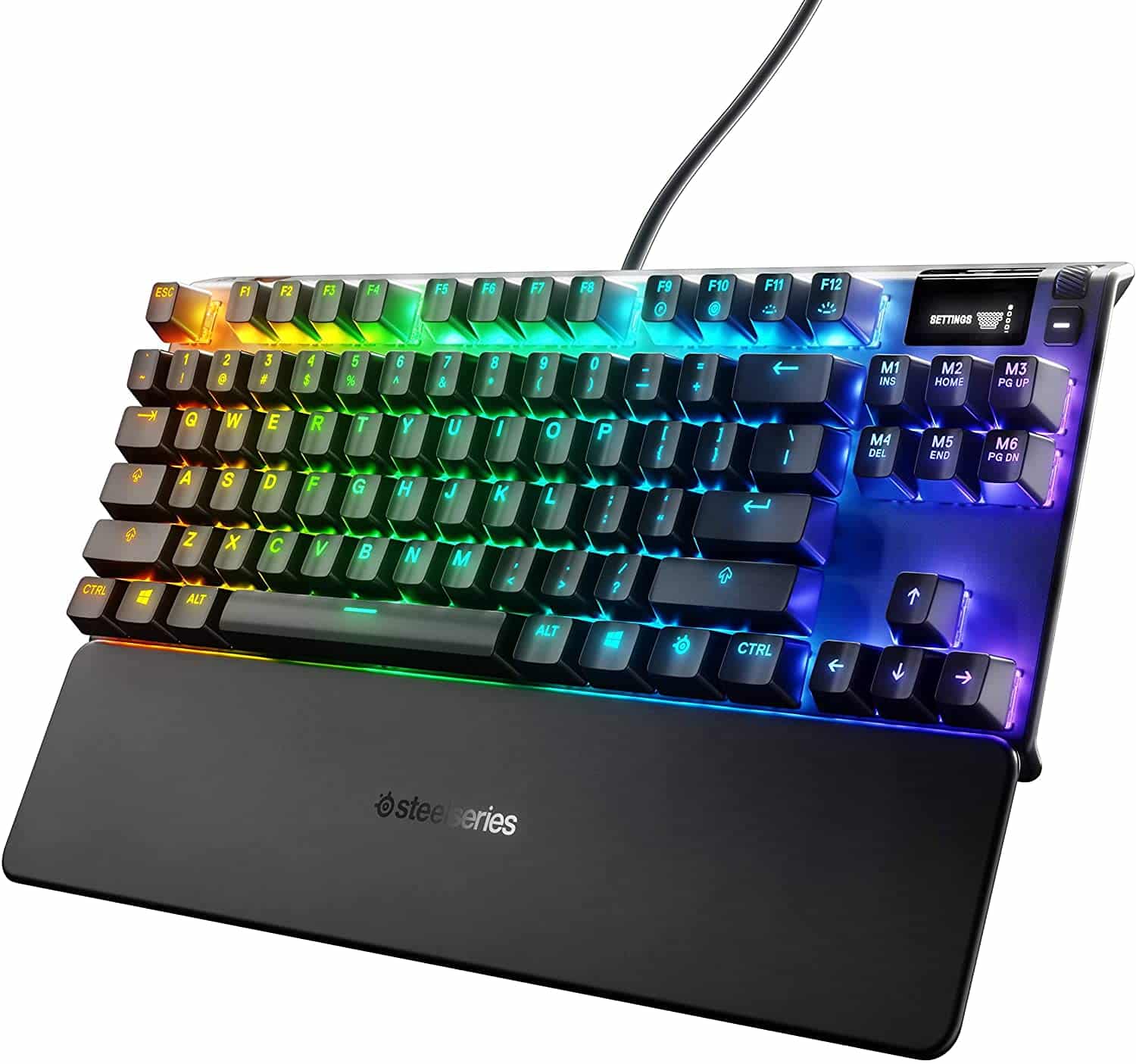 As you can probably guess, Gotaga uses the Steel Series Apex Pro Mechanical keyboard with adjustable switches of the latest Omni point technology.
This keyboard is built from aluminum alloy that will certainly provide you with years of durability and great stability during the gameplay.
It also has a smart OLED display that allows you to adjust different settings and connect to your Discord, Mixer, Twitch, or even Spotify account at the same time.
You can also enjoy the 16.8 million different RGB lights, which can look pretty good on your stream, especially if you want to stand out among other gamers.
There is also a great magnetic wrist rest that allows you to rest during the short pauses in the games.
It will cost you around 170 dollars, but it is definitely a great keyboard that will last you for a longer period of time, so I believe it is a worthy investment.
However, you should keep in mind that this keyboard is wired, and that may not be the best solution, especially for professional gamers.
Related: Best Keyboard for Streaming
What Mouse Does Gotaga Use?
Rival 3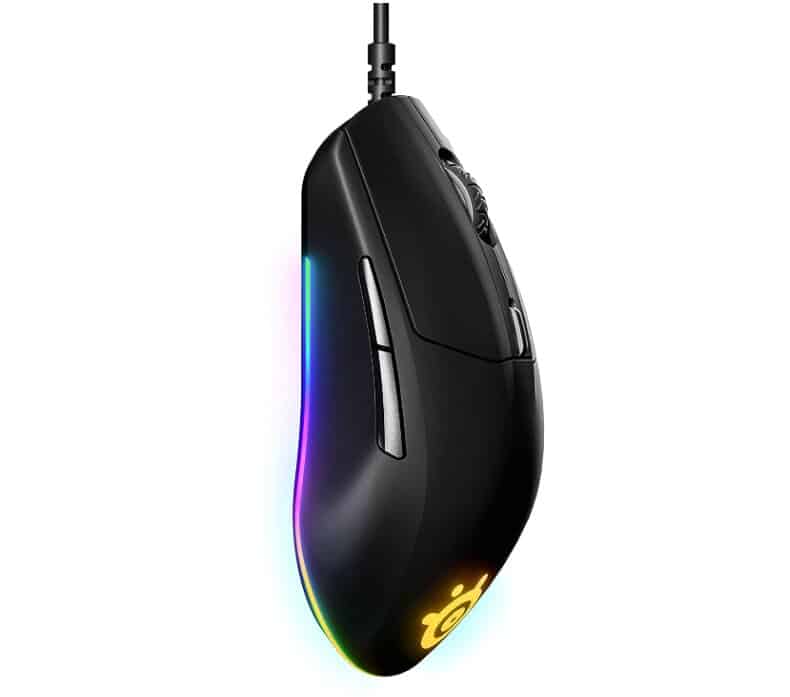 Gotaga is a big fan of Steel Series gaming equipment, and he has been using their Rival 3 gaming mouse for quite some time now.
This amazing gaming mouse is made from a very enduring aluminum, and it has a polymer that enhances the durability of the device.
It is considered to be one of the most enduring gaming mouses on the market since it can last you for more than 60 million clicks on mechanical switches.
The best thing about it is probably its optical sensor that makes your gameplay a lot easier and faster because it can basically predict your next step.
Its design is also ergonomic, so you can be sure your hand will not feel tired even if you have spent hours playing your favorite game.
There is also a cool RGB lights addition that allows you to choose the colors you want to appear during the gameplay, and you can easily switch them during the gameplay by clicking on one of these switches.
For 40 dollars, this is definitely one of the cheapest gaming mouses on the market, and it will definitely last you for a long period,
However, users claim that after a year, the mouse will not be as responsive as it was in the beginning, and you will really have to press hard if you want to activate one of these switches.
Related: Best Heaviest Gaming Mouse
What Monitor Does Gotaga Use?
Alienware 25 inch Gaming Monitor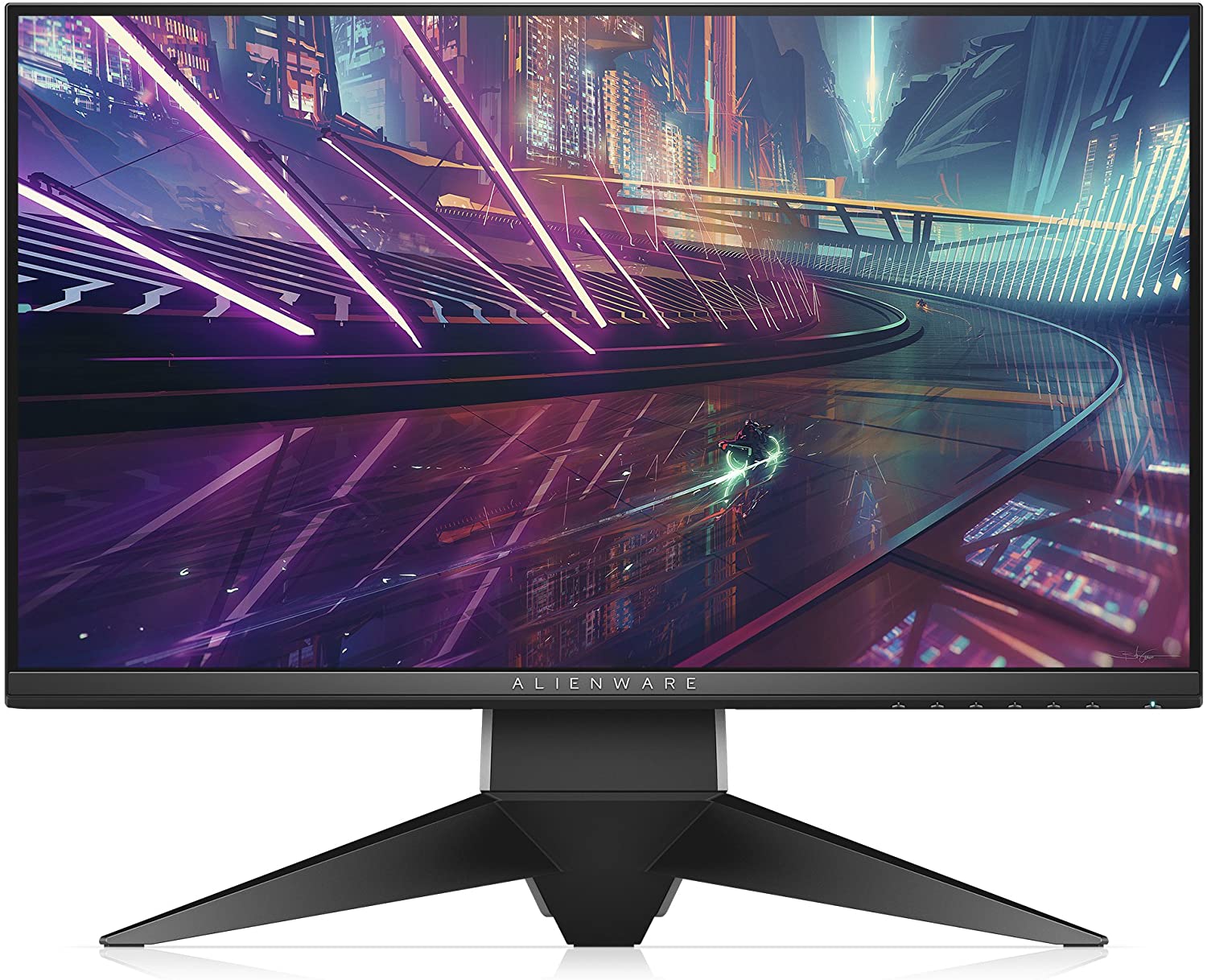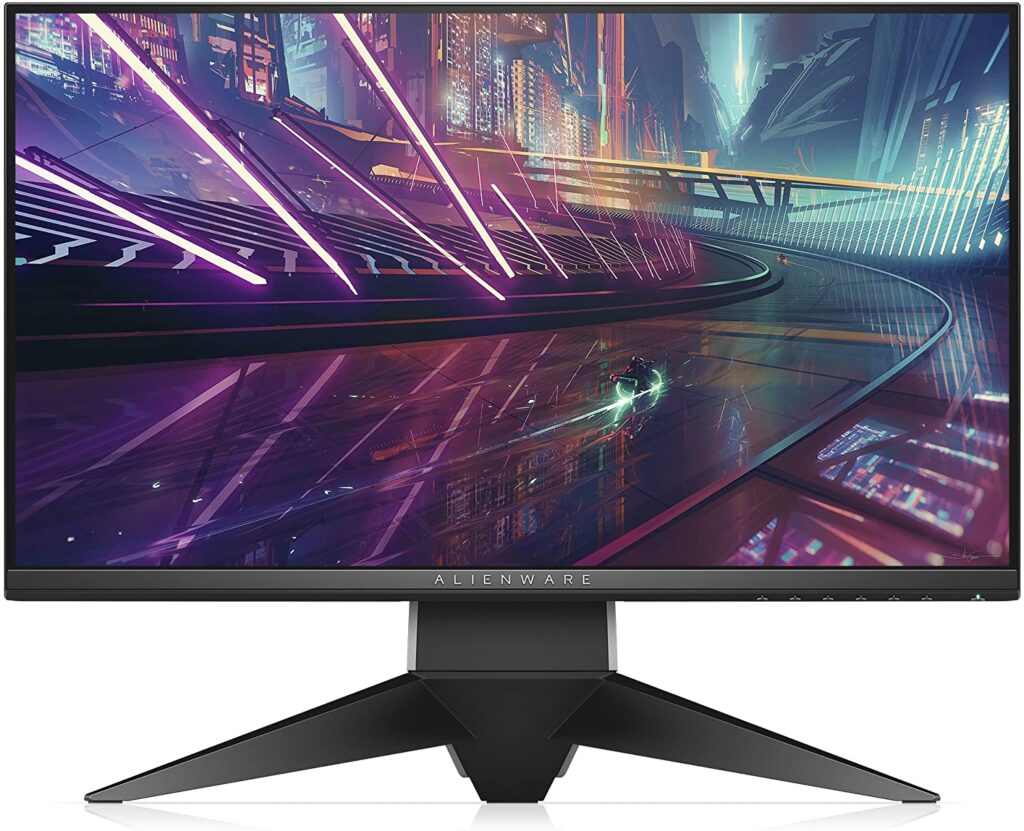 Just like most streamers and gamers, Gotaga has also been using the Alienware 25 inch Gaming Monitor for quite some time now, and you probably know by now that this is the most popular monitor in the gaming and streaming niche.
Made exclusively for gamers, this monitor has an amazing 244hz refresh rate which is something that all professional gamers and streamers need to have in order to game without any obstacles.
Even though users complain about the graphics that are not that amazing, streamers choose this product because they value a high and fast FPS more than a completely clear picture.
This monitor also has the NVIDIA G-SYNC display technology that eliminates screen tearing completely and minimizes all potential Display stutters and potential input lag.
You will also find a specific on-screen Display design made exclusively for gaming and streaming and an amazing height-adjustable stand that will allow you to position the monitor in whatever way you want.
Users claim that their gaming performance while using this monitor was always so smooth and perfect that they easily forgot about other monitors immediately, and it also has a very high frame rate which is something you will not be able to find on most regular monitors.
Alienware monitor will also provide you with more than one connectivity option so you can easily connect it through different USB cables.
Overall the reviews on this monitor are very positive, and people claim that it is a lot better than Sony and Asus monitors that have similar specifications, so if you were wondering what the favorite monitor of all popular streamers is, then this is the right answer.
Related: Best Streaming Monitor – Top 7 Products and Reviews
What Graphics Card Does Gotaga Use?
EVGA GeForce RTX 3090 FTW3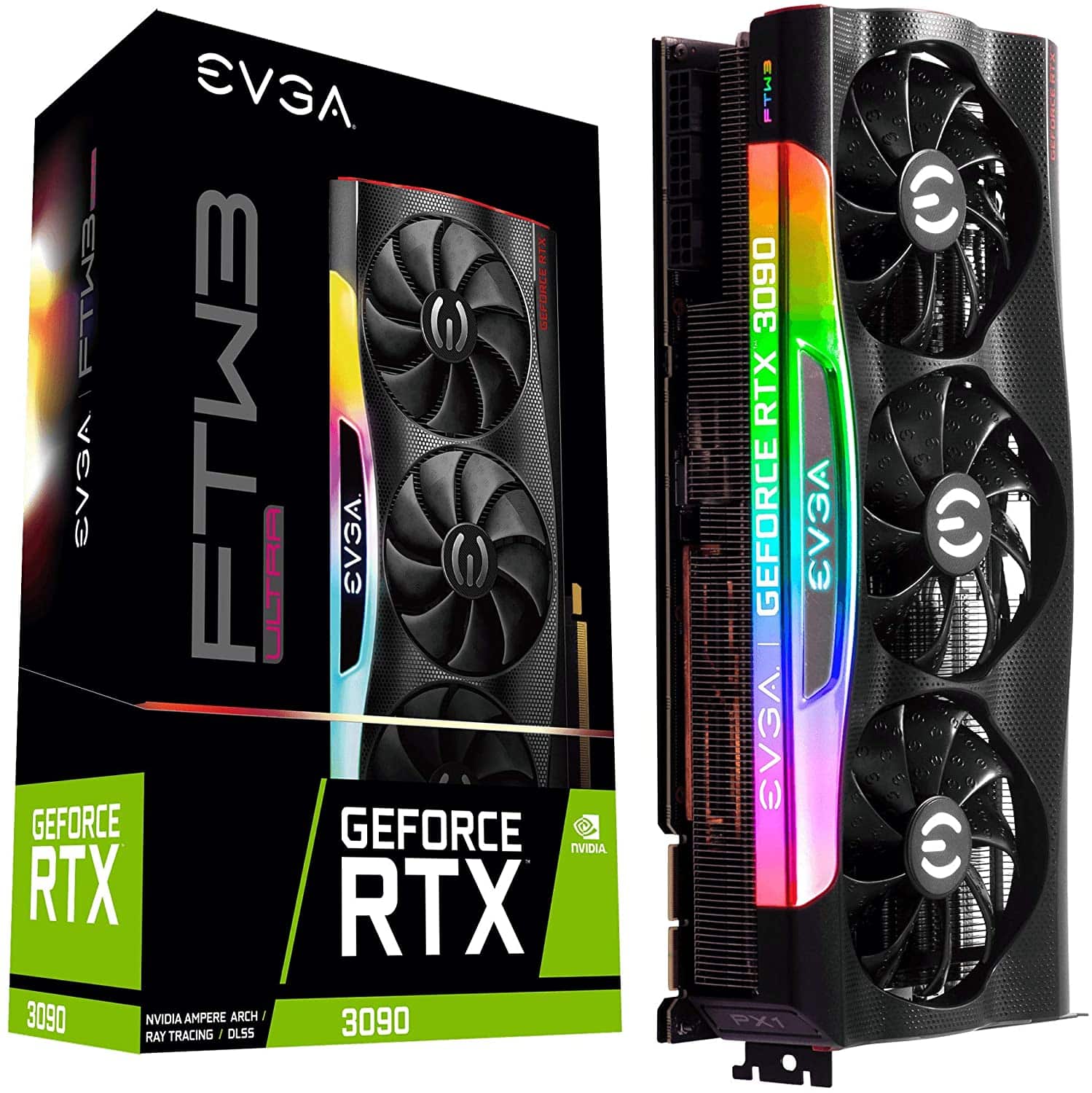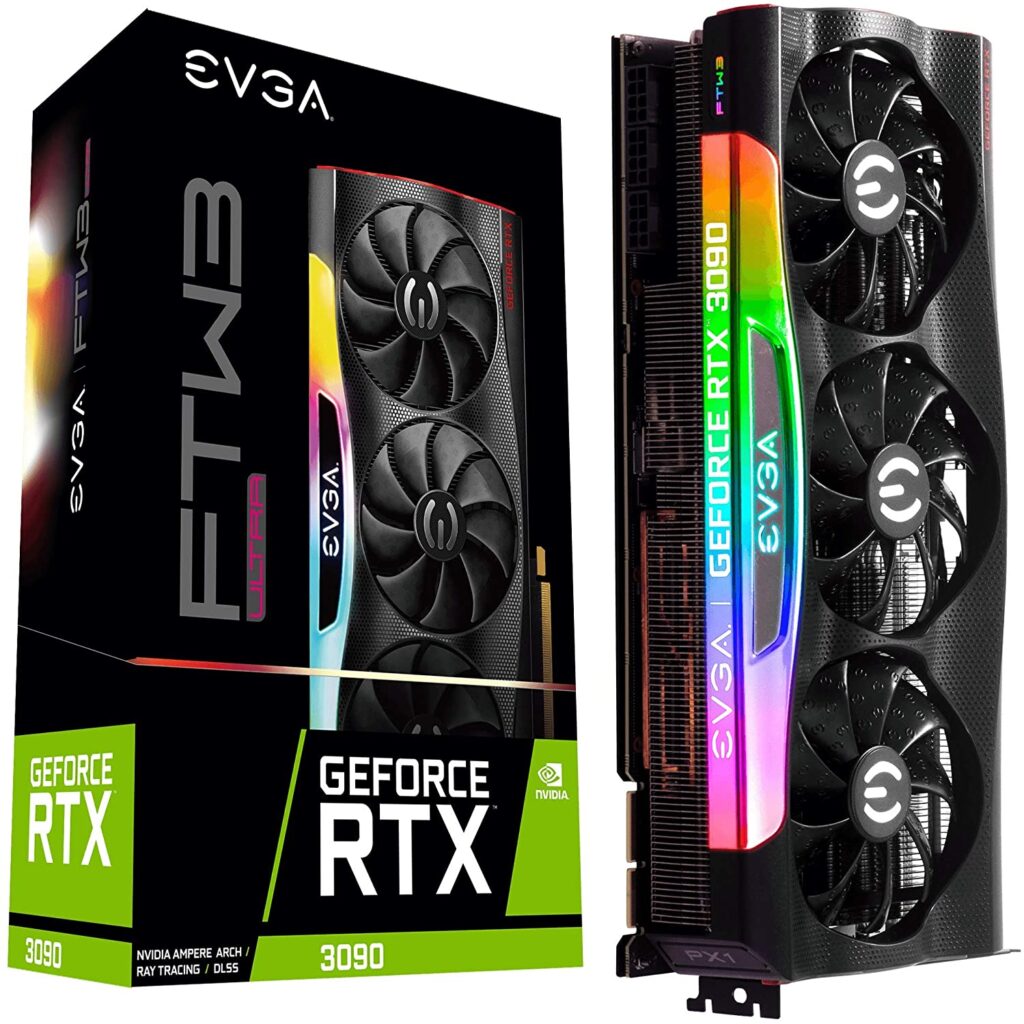 When it comes to graphics cards, Gotaga loves to spend a lot on them, and his choice is the EVGA GeForce RTX 3090 FTW3 ultra gaming graphics card that provides him with high-quality gameplay.
This amazing graphics card has a red boost clock, and it operates on 1800 MHz which makes it faster than most graphics cards, including the ASUS ROG graphics card.
It is made specifically for gaming and streaming and provides you with tracing in real-time in more than 50 different games, creating unbelievably realistic graphics.
All EVGA graphics cards are very adjustable, and they work with all types of PCs, which means you will not have to worry whether it will work successfully on yours or not.
Even though people complain how it is very hard to install it, you can follow the whole installation guide on their platform, and you can contact the EVGA customer support through email or phone whenever you want.
This graphics card is very fast, but it does not need really need a cooler because the temperature is regulated inside the device.
However, this is one of the most expensive graphics cards, and a new one will cost you around 4000 dollars, while the pre-owned ones are also never prices under 3000 dollars.
Since it is very expensive, only professional gamers and streamers opt for it, but you should know that this is a worthy investment if you are trying to build a career for yourself in the streaming industry.
The device also comes with a 3-year warranty which is a year longer than with most graphics cards on the market.
Related: Best GPU for Streaming
What Capture Card Does Gotaga Use?
Elgato HD60 S+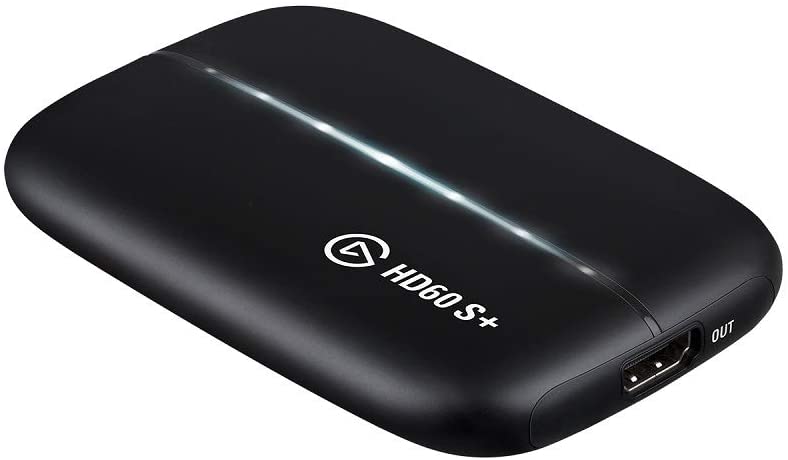 If you want to improve your gaming experience, you really need a capture card, and Gotaga uses the Elgato HD60 S+ 1080p 60 capture card that can easily connect with different streaming services.
This Elgato graphics card will provide you with a completely smooth gaming experience, and you can be sure your graphics will be completely flawless even when you are doing a live stream.
It has a 60 fps speed, and it is the best option for professional streamers because it guarantees you a flawless experience, even when there are way too many people active on your server or stream.
The latency of this capture card is also very low so that you won't have any connection problems during the stream because of it.
The best thing about this capture card is that it allows you to record your stream and save it automatically to your PC or do the flashback recording even when the stream is completely done.
The Elgato graphics card costs only 140 dollars which makes it one of the most affordable capture cards on the market, so I believe this is a really worthy investment that can elevate your performance a lot.
Unfortunately, this capture card is not compatible with all types of PCs and they mostly work with stronger, gaming ones, so you definitely want to test this out before you make a purchase.
Related: Best Capture Card for Streaming
What Processor Does Gotaga Use?
Intel Core i9 9900K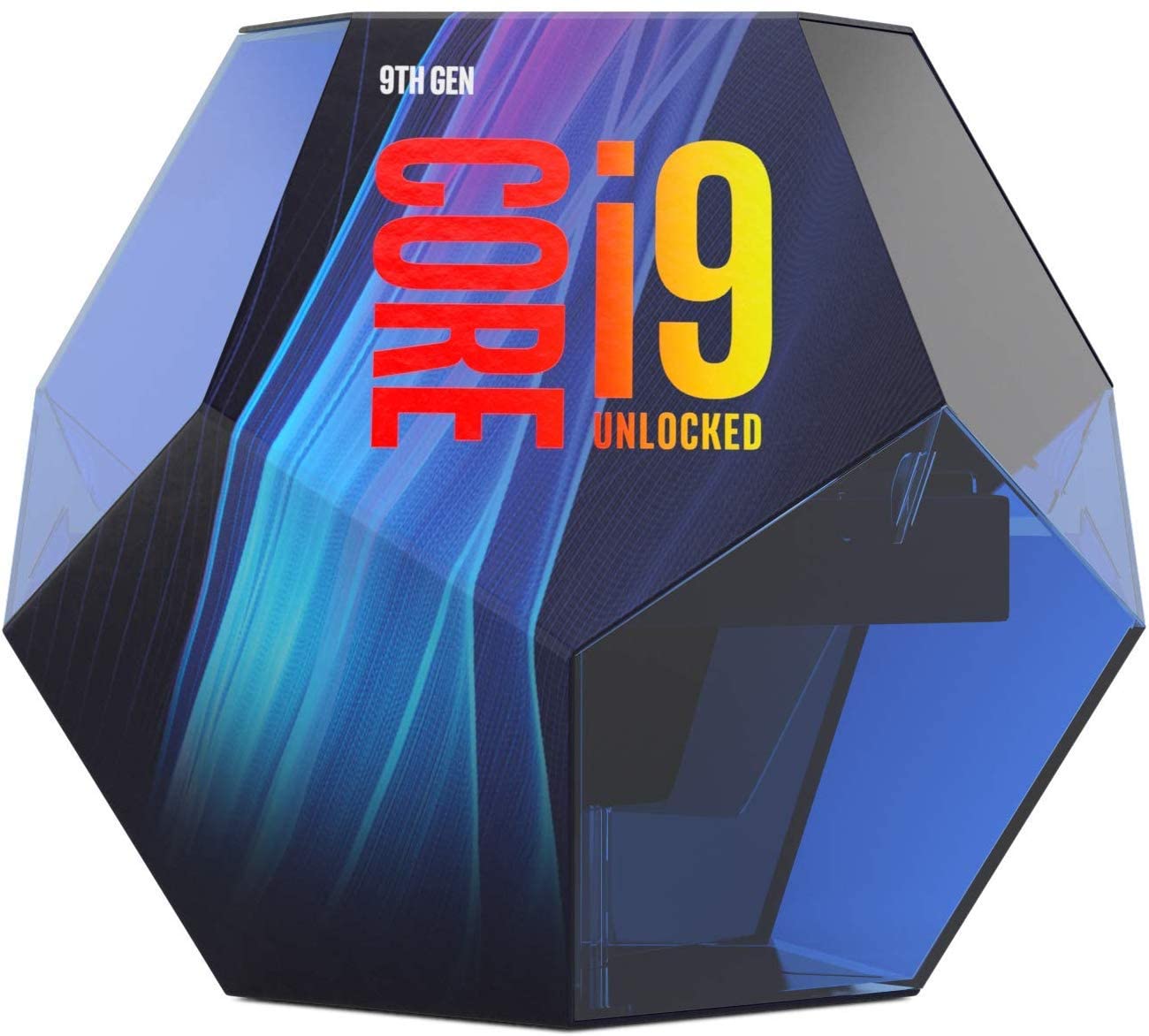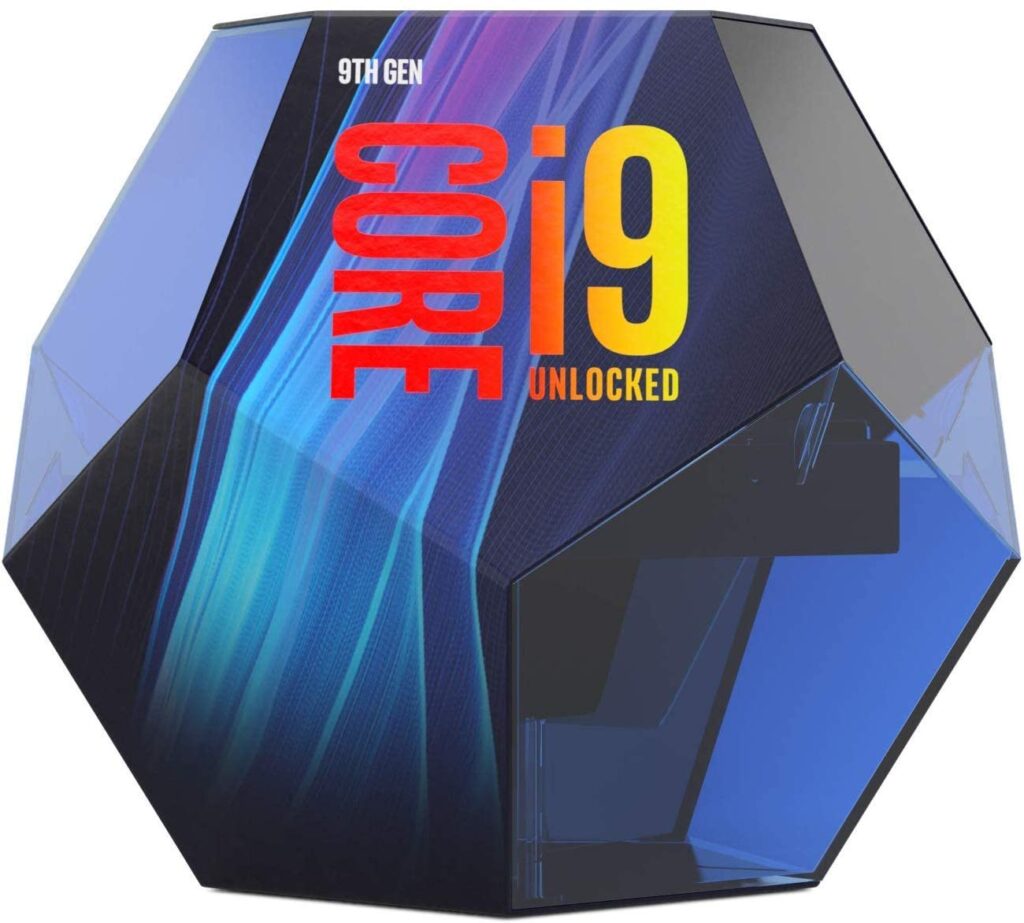 This Intel Core i9 9900K Desktop processor with 8 cores has been the most popular gaming processor for years now, and it seems like all popular gamers are big fans of it, and you can probably guess that Gotaga uses it too.
This amazing processor has 8 fast cores and 16 threads that allow it to work without any problems making it the best choice for all professional gamers and streamers.
There is also an Intel Graphics 630 card integrated, and its speed is usually ranging somewhere from 3.60ghz to 5.0 GHz, which is a lot faster than most processors on the market nowadays.
Unfortunately, the Intel company claims that it is compatible only with Motherboards based on Intel 300 Series Chipsets which is a basic cheap marketing trick in order to make you spend more in their store.
Most users and gamers have been using this processor with different motherboards from other companies, and they had no problems with that, so you can be sure this will work out for you too.
It can also be very hard to get your hands onto one of these because it is sold out all the time, so you may try to find a pre-owned one.
Related: Best CPU for Streaming on Twitch
What Motherboard Does Gotaga Use?
MSI Enthusiast Gaming Intel X299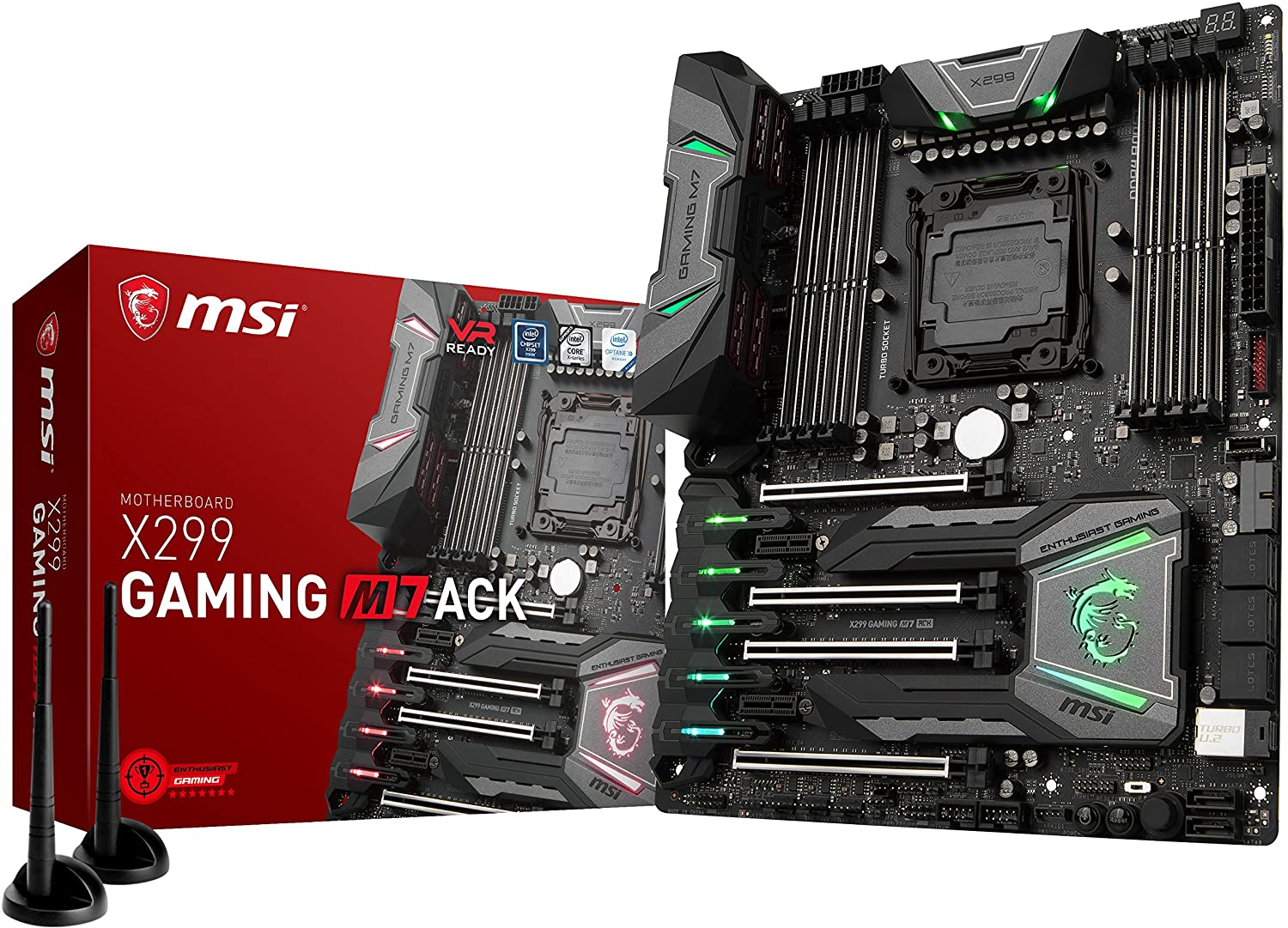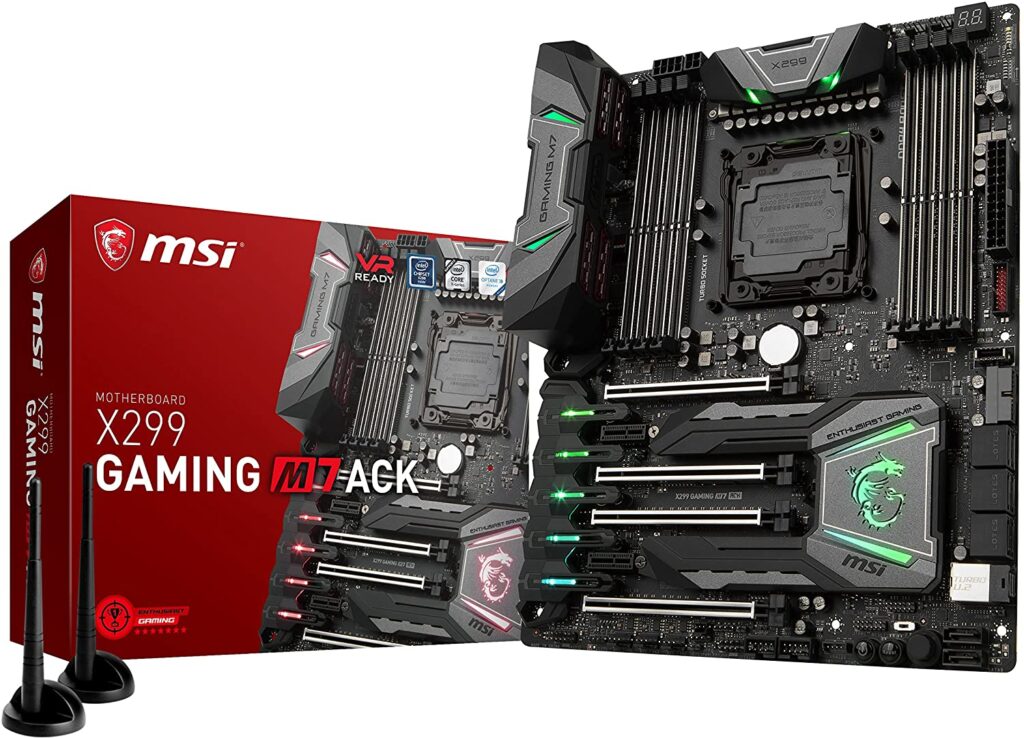 Unlike most gamers who use their Intel processor in combination with motherboards from completely different companies, Gotaga has been using the MSI Enthusiast Gaming Intel X299 LGA 2066 DDR4 USB 3.1 SLI ATX Motherboard.
This amazing motherboard has an M.2 shield that prevents the device from getting overheated, and it reduces the chance of potential problems with the processor.
Since this motherboard is 100% compatible with the Intel processor, you can be sure your streaming experience will be amazing, and you will not face any kind of problems during your stream or gameplay.
It also has a smooth VR ride that is designed specifically for gamers, and in combination with MSI settings and features, it allows you to enjoy the best gaming experience.
The users have only good things to say about it, and it seems like this motherboard can work well with other processors, too, not just with the Intel one.
It can be connected with all kinds of PCs, and you can also control it through Bluetooth or WiFi, which is a great option, especially if you are a professional gamer.
Unfortunately, it is not compatible with all PCs and processors, so you should do a double-check on that before you make a purchase.
Related: Best Motherboard for Streaming
We are sorry that this post was not useful for you!
Let us improve this post!
Tell us how we can improve this post?