DSLR cameras are used for streaming more and more nowadays. If you would like to learn more about using DSLR cameras and how to improve your overall user experience regarding these cameras, stick with me.
Once purchased, there are quite a few ways to improve your camera's performance. One of these enhancers in a DSLR stabilizer is a tool that makes your camera steady and specific shooting modes, such as low angle shots, for example, simpler to make.
Let's find out what are the best DSLR stabilizers on the market!
Post 1 of 10 in the Streaming Gear
Realizing that the abundance of different accessories available on the market has made purchasing the correct DSLR stabilizer for each camera enthusiast's specific situation quite a daunting task, I have decided to write up a guide featuring some of the best options overall.
Factors that were considered when placing products on the list were size and weight, payload capacity, as well as the number and quality of secondary options such as USB port connectivity, motors, and OLED display.
Best DSLR Stabilizer
<!—INSERT CODE BLOCKS BELOW—>

Weight: 2.12 kilograms
Payload capacity: 3kg

Size: 19 x 14 x 30 centimetres
14h battery life

Size: 31.1 x 24.9 x 4.9 centimetres
Weight: 424 grams
1. Neewer Carbon Fiber Stabilizer
---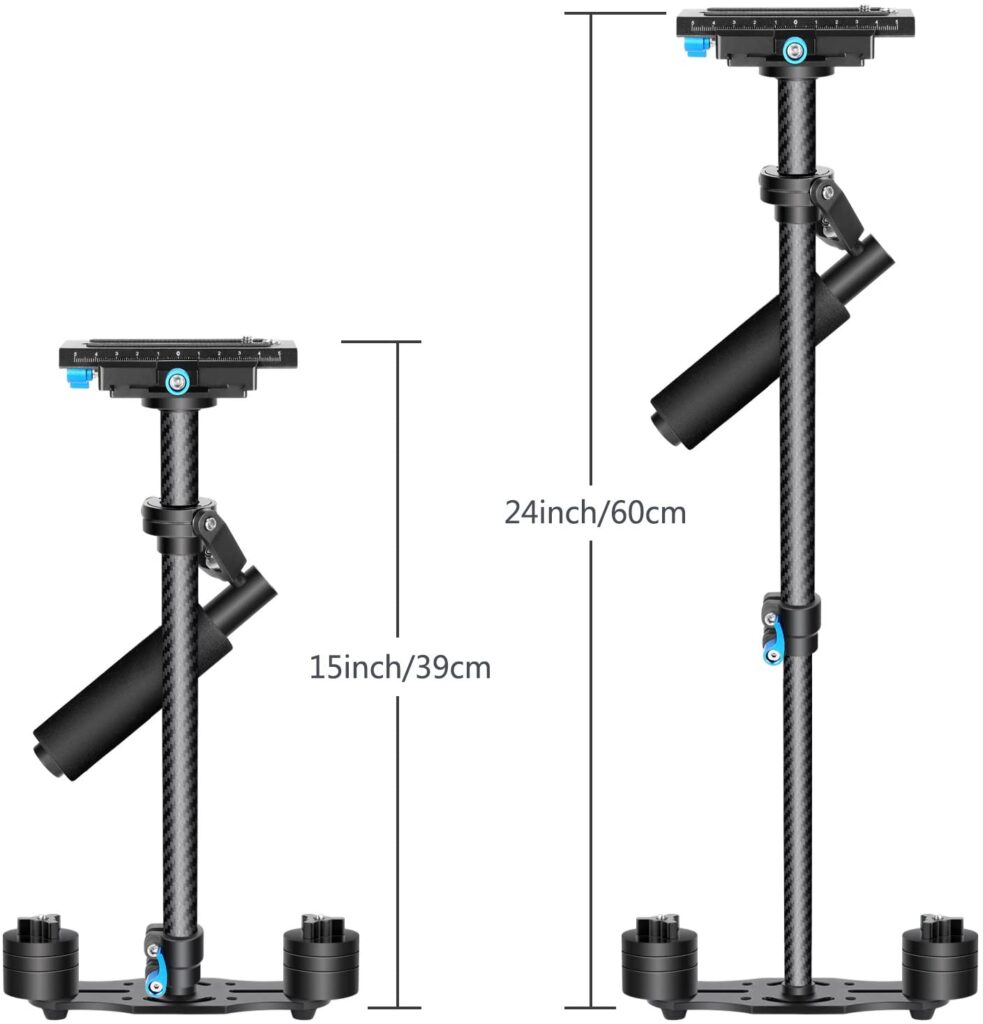 ---
This durable yet surprisingly lightweight stabilizer from Neewer is meant to be easily carried around in hand, allowing for a massive increase in the range of the camera's movements and overall mobility at a small additional cost.
The stabilizer features a quick-release plate and has a maximum payload of 3kg, more than enough for most mid-sized DSLR cameras on the market.
It allows for shooting video from different angles and has a very comfortable foam handle that makes controlling the stabilizer quite easy.
Finally, the adjustable quick shoe plate allows the stabilizer to attach to a flat surface quite nicely, making this one of the better handheld camera gimbals out there.
Overall, we are looking at a simple yet excellent handheld stabilizer with adjustable height and a decent payload capacity, perfect for anyone looking to purchase a one-handed operation gimbal, even if it lacks many of the technologically more advanced features such as a screen or automatic movement options.
2. ZHIYUN WEEBILL-S
---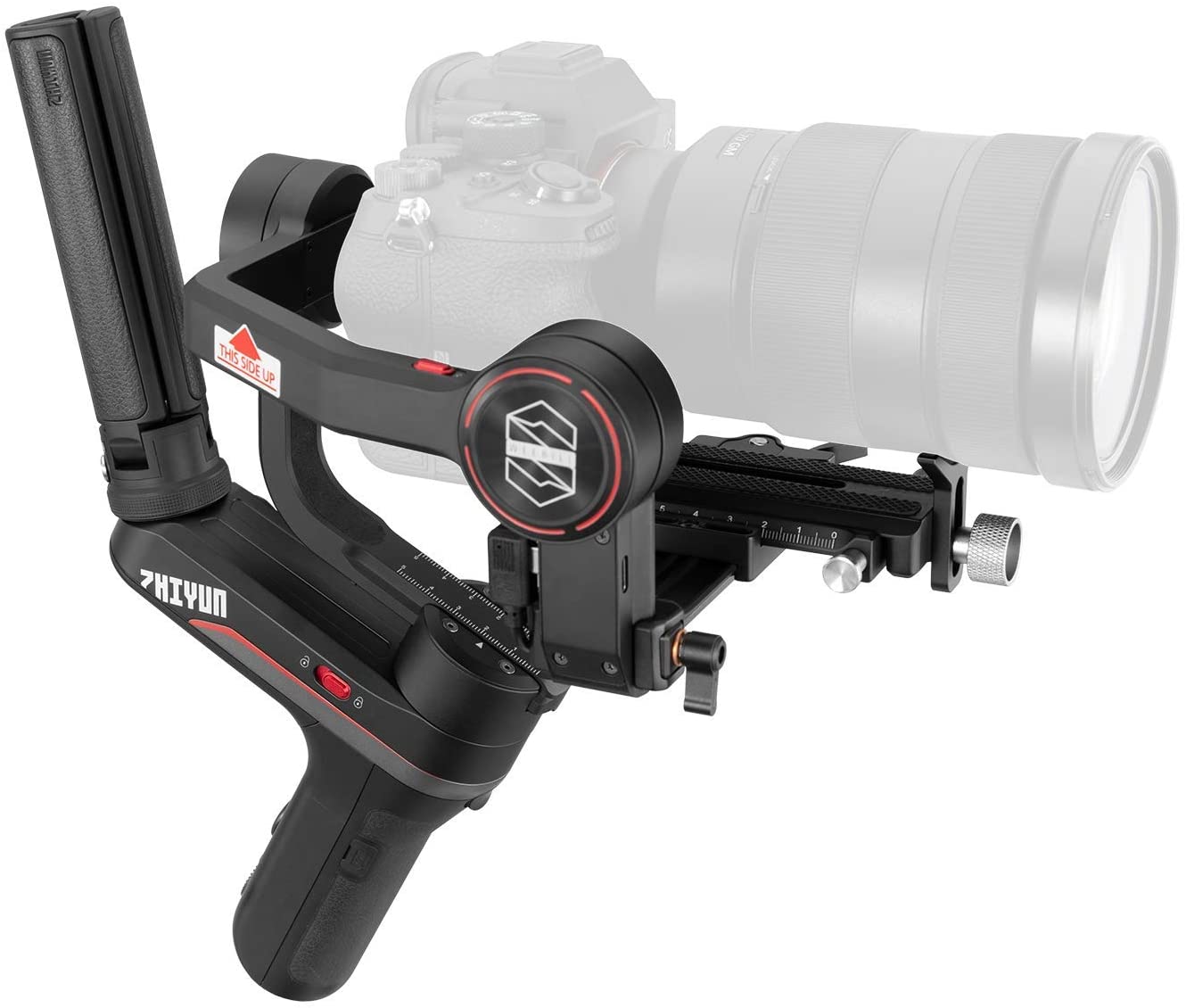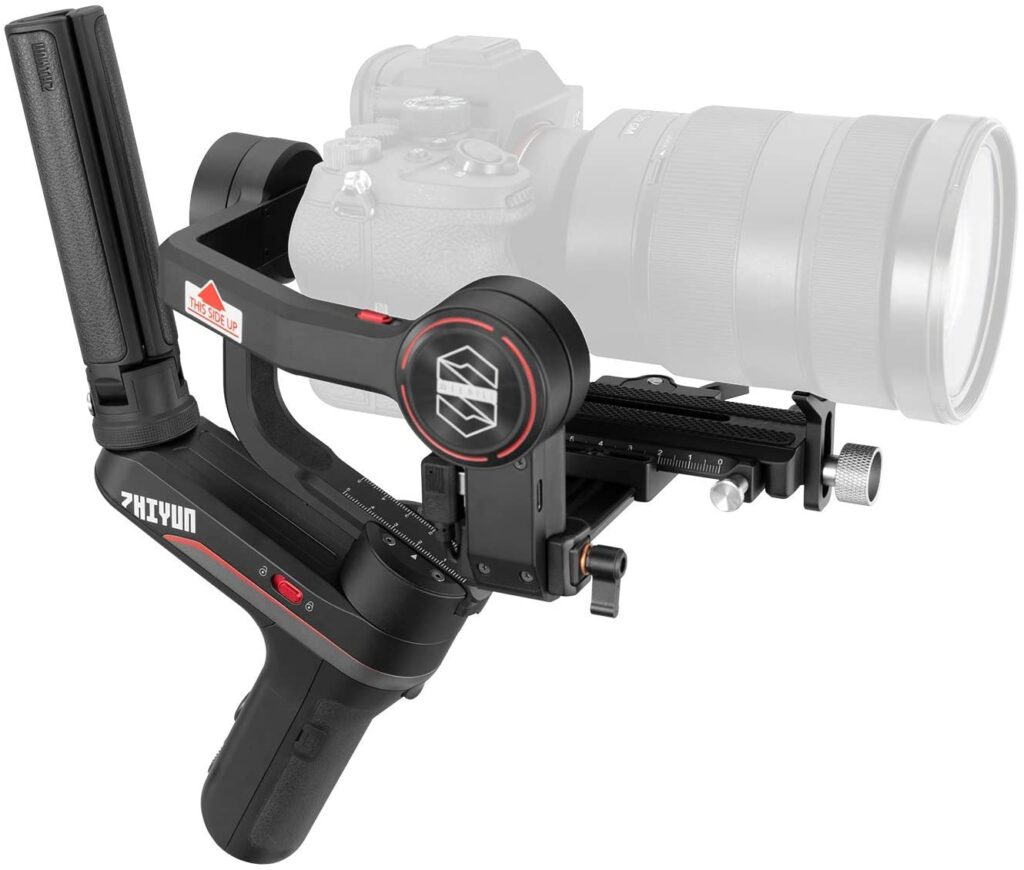 ---
This Zhiyun crane gimbal stabilizer can be used with both DSLR and mirrorless cameras and is compatible with a large number of lenses.
First of all, this compact stabilizer can be folded for transport, and in this state, it is no larger than an A4 piece of paper, making it quite easy to carry it from one shooting location to the next.
Additionally, the payload capacity of the 3-axis gimbal is enough for most mirrorless DSLR except the largest ones.
Furthermore, the ability to sync up to 3 different devices such as cameras and smartphones to this stabilizer makes it much more comfortable to use, not to mention that instead of an OLED screen, it lets you use your phone as a control point via a special app.
Likewise, the battery life of 14 hours is more than enough to make this gimbal an excellent choice for long shooting sessions.
What I liked the most about this camera gimbal, however, was its wide range of connectivity options. From USB-C to Bluetooth 5.0, you have multiple ways of connecting it to the rest of your setup.
In the end, this three-axis gimbal stabilizer's best selling points are its excellent battery life, its ability to handle both mirrorless and DSLR cameras, and its reasonable price. Certainly a good purchase for anyone looking for industry-leading camera stabilization.
3. Fantaseal Shooting Rig
---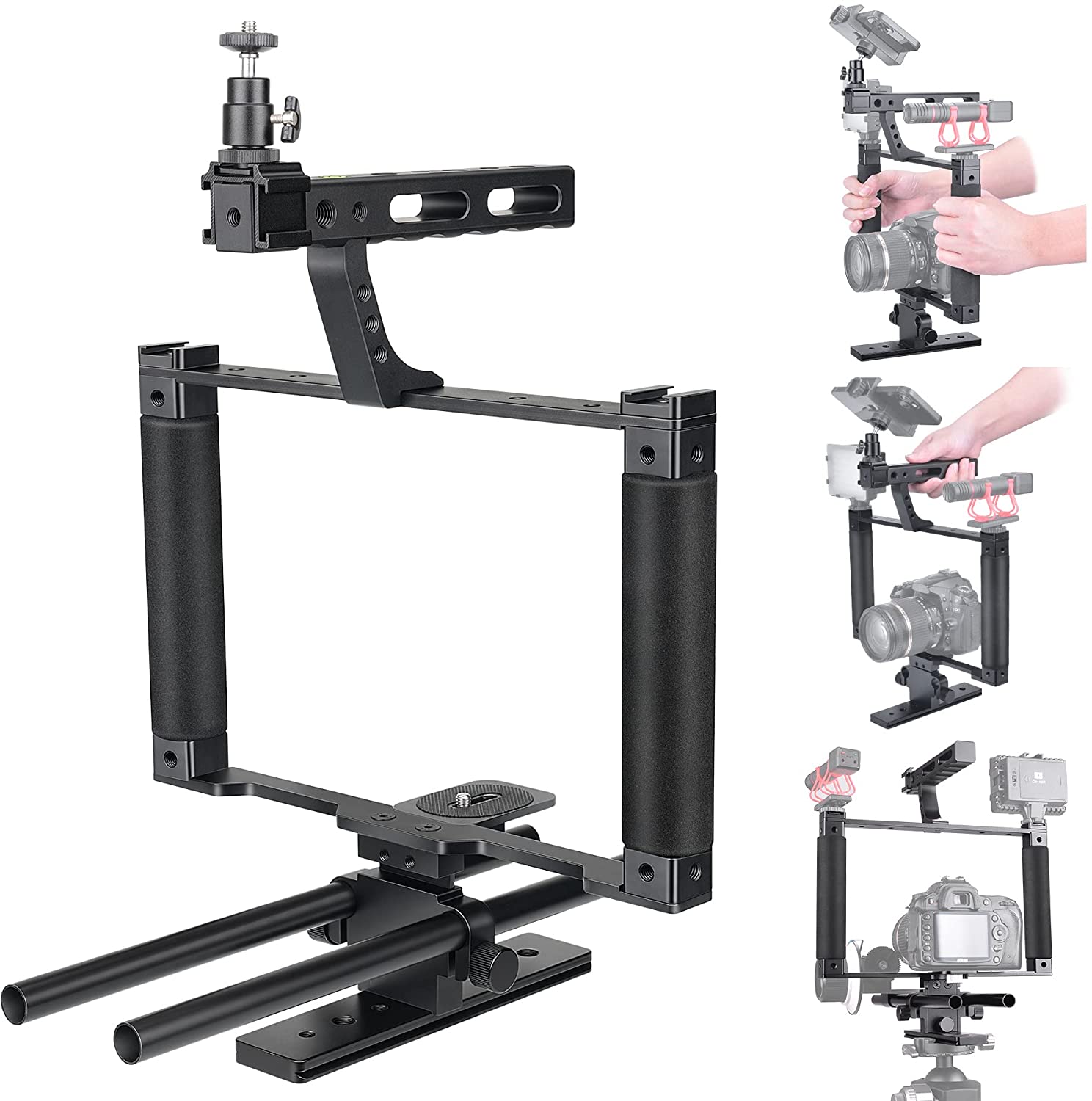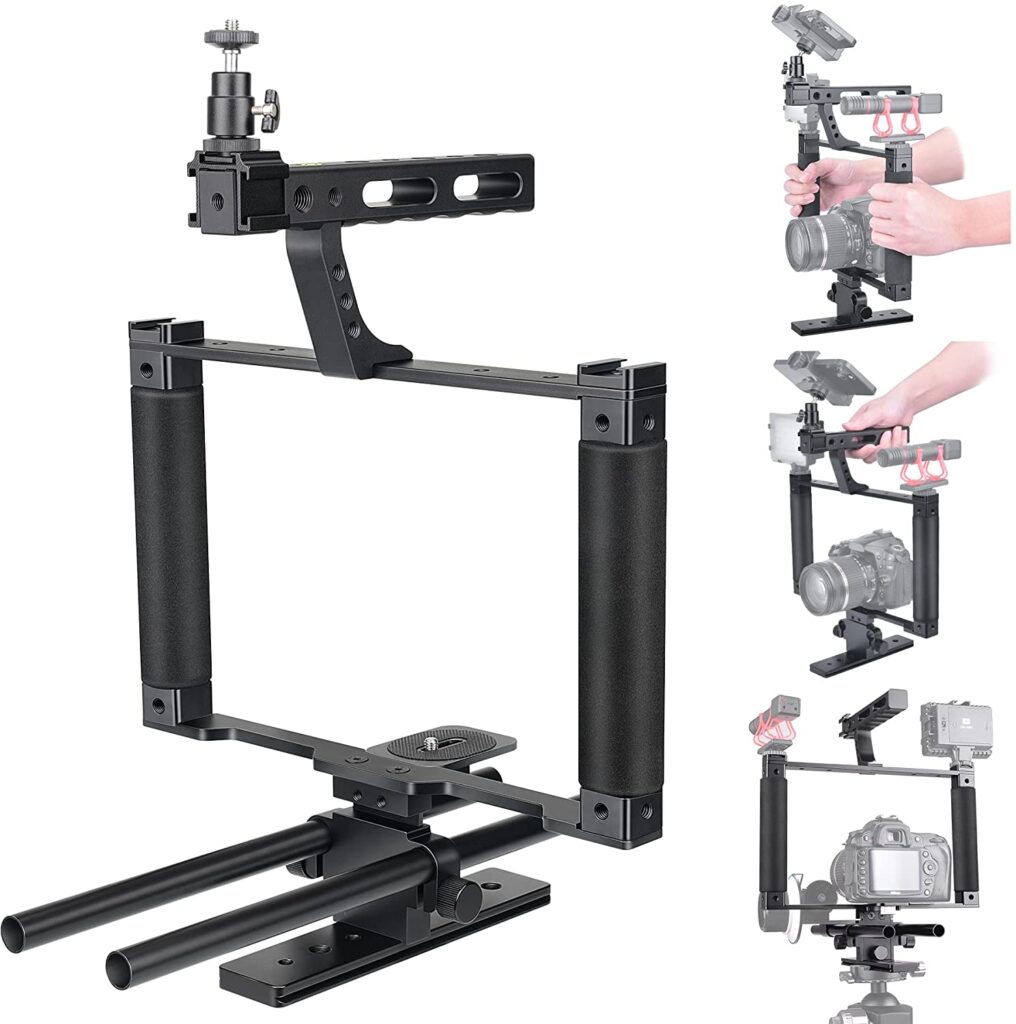 ---
This unusual camera stabilizer works with a number of different DSLR and action cameras, but what truly sets it apart from the competition is its ability to serve as a dedicated smartphone camera stabilizer.
This stabilizer is also incredibly lightweight and is a such quite easy to carry around and reposition to get the best angles.
It is particularly good for low-angle shootings because of its small size, but the fact that it doesn't feature any additional ways to adjust the camera's positioning or a screen of its own makes it pretty basic.
Still, this device is pretty good at doing what it was designed for and is definitely a great choice for anyone looking to find a way to stabilize their video camera at the ground level.
An unfortunate downside of this type of stabilizer is that it isn't sufficient on its own, and you will need more equipment to cover other shooting angles. As such, you should make sure that you purchase this stabilizer as a part of a larger set of equipment.
4. Fantaseal Professional Mount Kit
---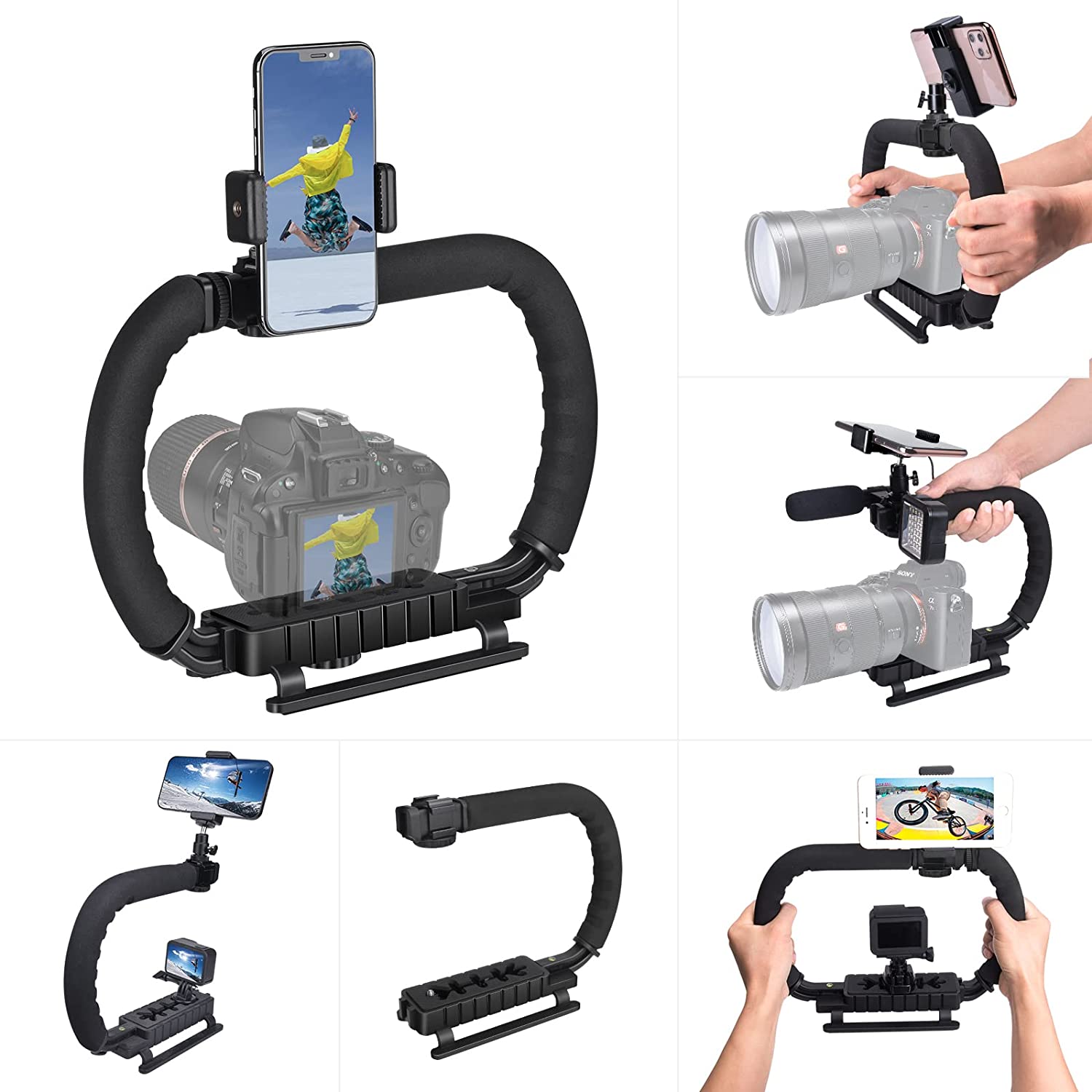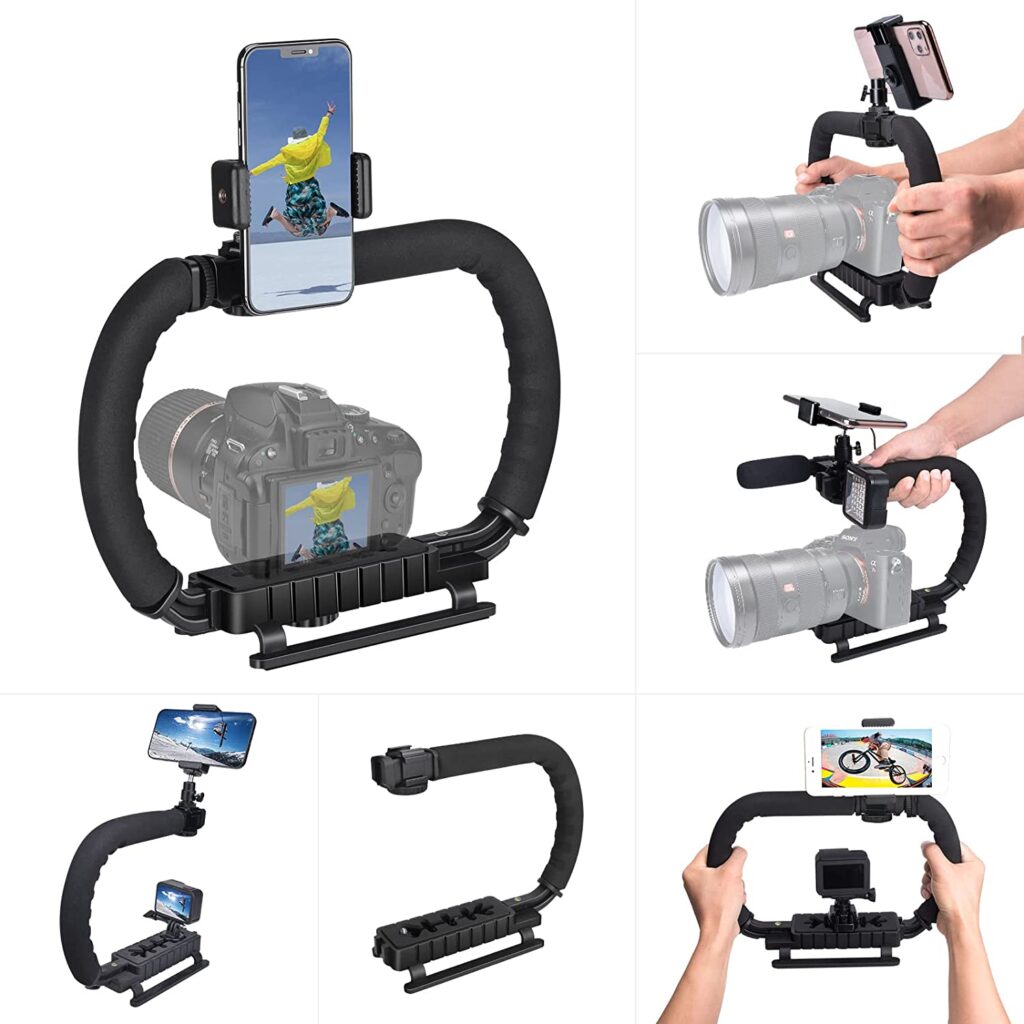 ---
This camera stabilizer is quite different from most others, but that doesn't mean it's not just as good. Made for versatility over everything else, this stabilizer work with nearly all DSLR and mirrorless cameras.
It features a 2 hands holder, allowing you to more easily transport heavier cameras, as well as support cameras, a range that is usually not compatible with a single mount.
Furthermore, this device allows for easy multiple-angle shooting, and the ability to attach your smartphone on top of the mount makes manipulating your action camera, or whatever other recording device you use, much simpler.
In addition, this tripod can easily have more accessories installed on it, allowing for quick repositioning of the camera no matter the circumstances.
Finally, the device itself is quite lightweight and durable, made out of an aluminum alloy for extra wear resistance. It can serve as a mounting hole and has a massive weight capacity, making it perhaps the best DSLR option on the market right now.
Overall, we are looking at a quite respectable device, one that will serve well both amateurs and professionals using large cameras.
5. DJI RSC 2
---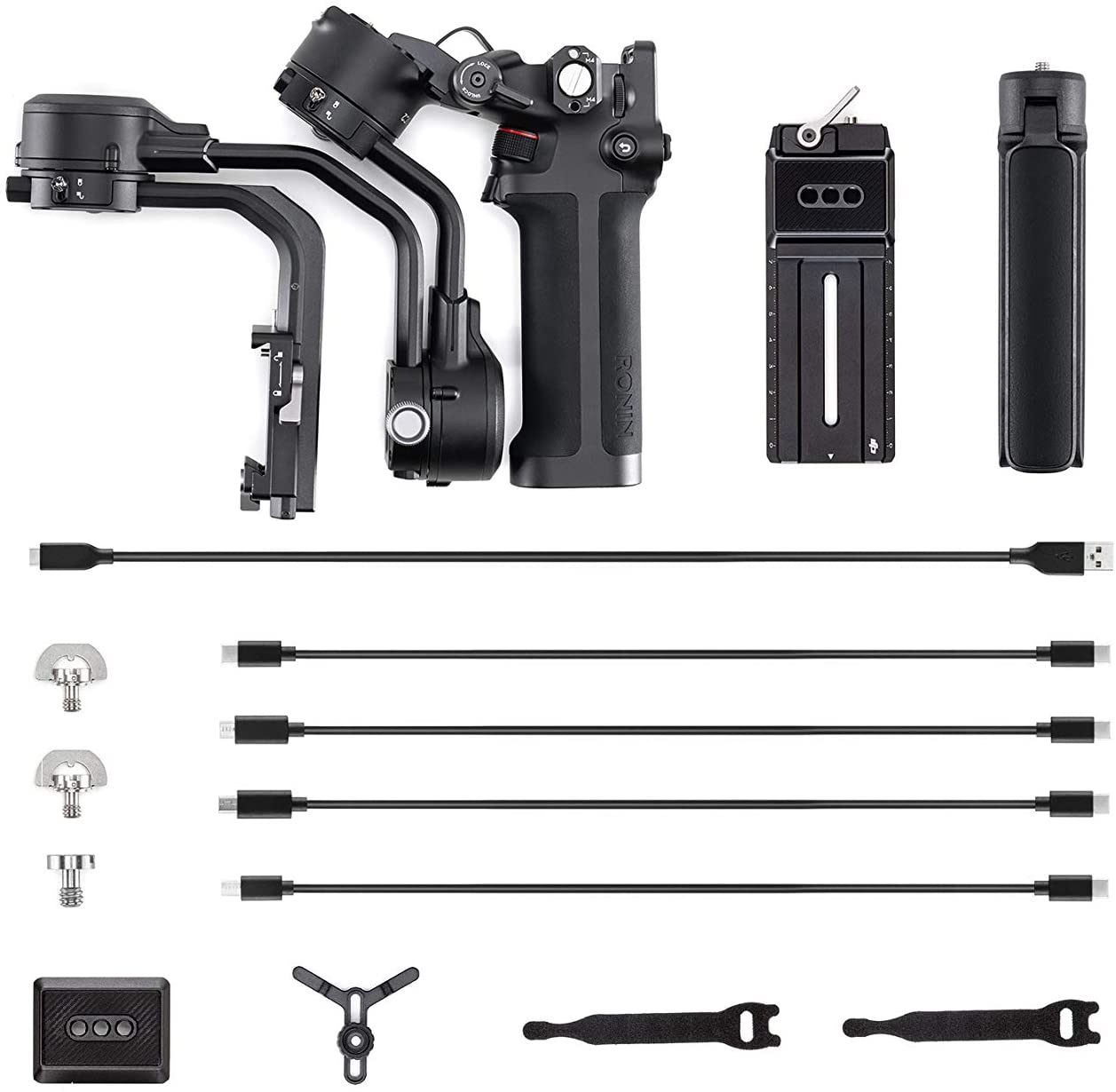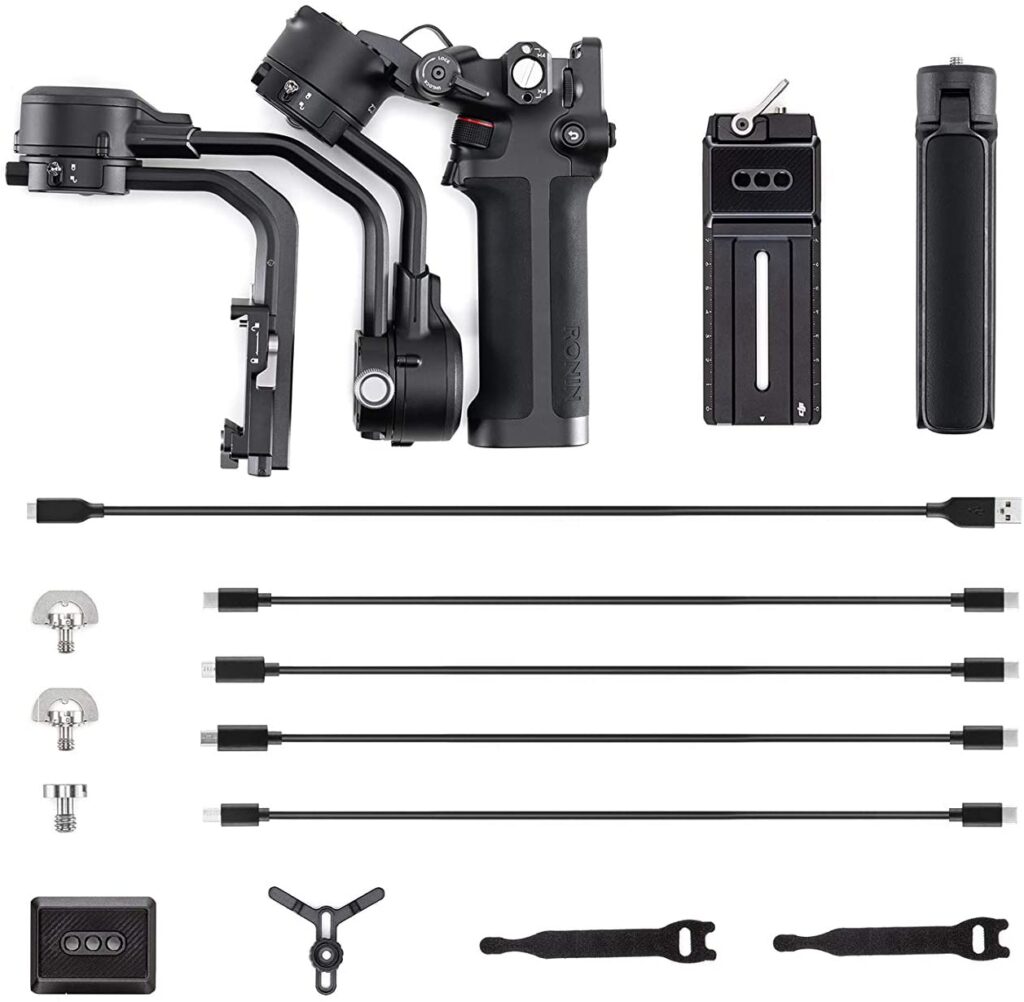 ---
Built primarily for mobility and easy access to difficult filming locations, this 3-axis handheld gimbal stabilizer was designed to be foldable and lightweight.
It features a very light 2.6lbs weight and can carry up to 6.6 lbs of payload, more than enough for most DSLR and mirrorless camera options.
Furthermore, the small 1-inch OLED screen gives you a good insight into the camera stabilizer's parameters and can be used for control in a pinch, though it wouldn't hurt if it was bigger.
Likewise, the mounting plate of this gimbal stabilizer can be used with all the most common camera brands and features both a portrait and a landscape mode that can be switched between relatively freely.
Finally, the RSC 2 battery life is 14h, and it can be changed pretty quickly, resulting in some great mobility and long shooting sessions.
Overall, we are looking at a high-quality gimbal stabilizer that works well both for a DSLR camera as well as other types, keeping the camera steady through a shooting session regardless of the terrain and conditions.
6. DJI Ronin-SC Stabilizer
---
---
This handheld stabilizer is primarily built for mobility and access to hard-to-reach locations, as well as easy and simple transport.
One thing it has over its competitors is the sport mode, a function that allows more focus on each axis while maintaining the overall stabilization factor.
In addition, this gimbal supports a number of modes such as Panorama, Timelapse, etc., all of which make it an excellent choice primarily for Sony camera users, but it can be used with other brands as well.
The maximum payload of this 3-axis handheld gimbal stabilizer is mediocre, at 2kg, but still enough for most DSLR camera options; in addition, the stabilizer features buttons that are quite easy to reach while carrying it, making adjusting the camera a lot easier.
Overall, we are talking about a very useful and versatile handheld gimbal stabilizer, one that has a lot of potential as a DSLR gimbal as well as for dynamic cinematography.
7. FeiyuTech G6 Max
---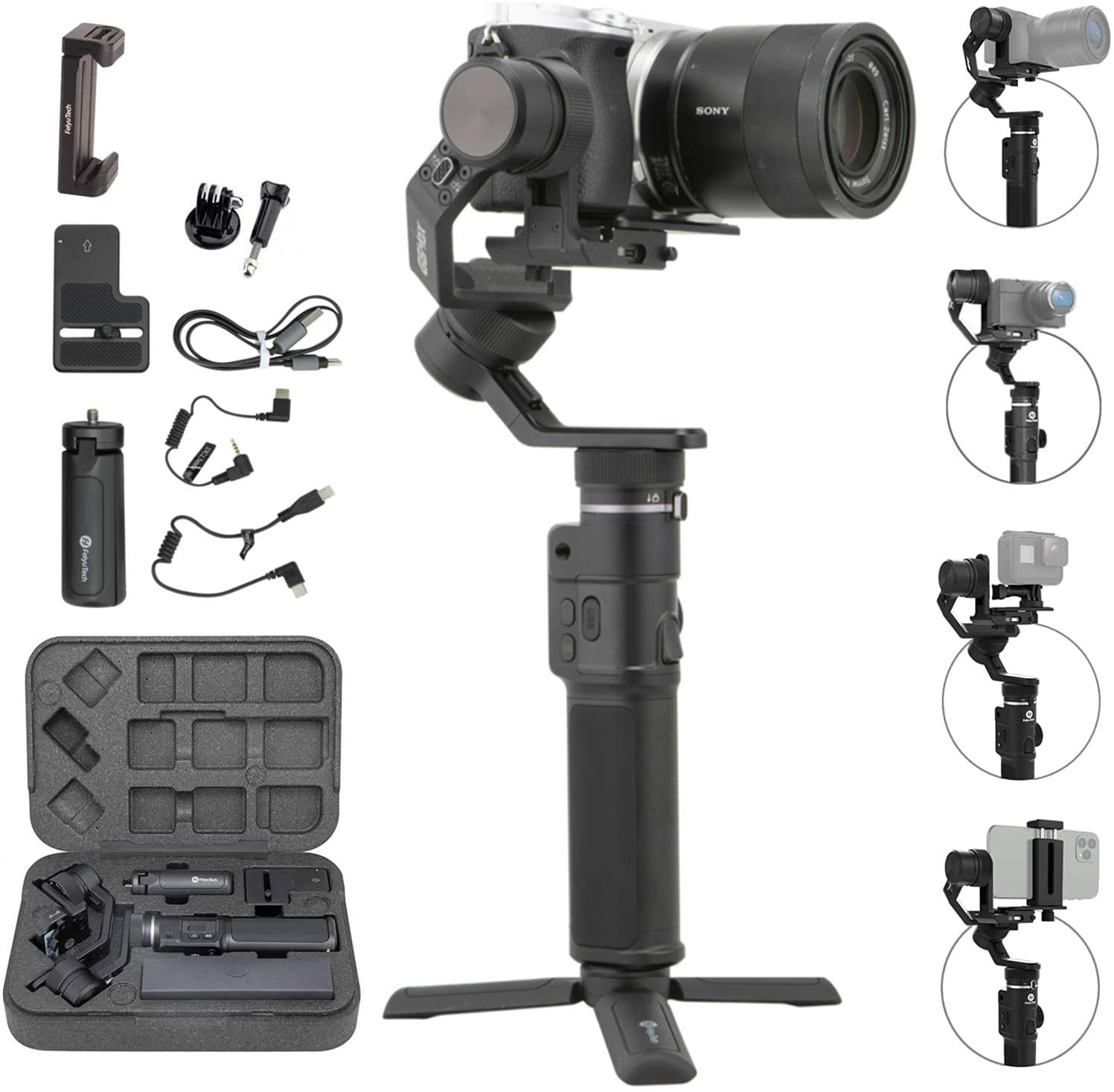 ---
While technically usable with a DSLR camera, this handheld gimbal is one of the best camera stabilizers for a mirrorless camera and can also be used with a smartphone, even in selfie mode, if needed.
Because of this, it is not really suited for heavy cameras, trading this ability to make it easier to move and being light in such a way that you will never get tired while using it.
This gimbal can also be folded if necessary, becoming no larger than one-half of an A4 paper, making it incredibly easy to transport.
The quick-release system makes attaching and unattached the camera easy as well, and the axis motor locks make it possible to not worry about all the axis at the same time.
Overall, we are looking at an excellent handheld stabilizer whose battery lasts for quite a long time, with the device itself featuring an excellent OLED display and not taking much space at all.
8. FLYCAM 5000
---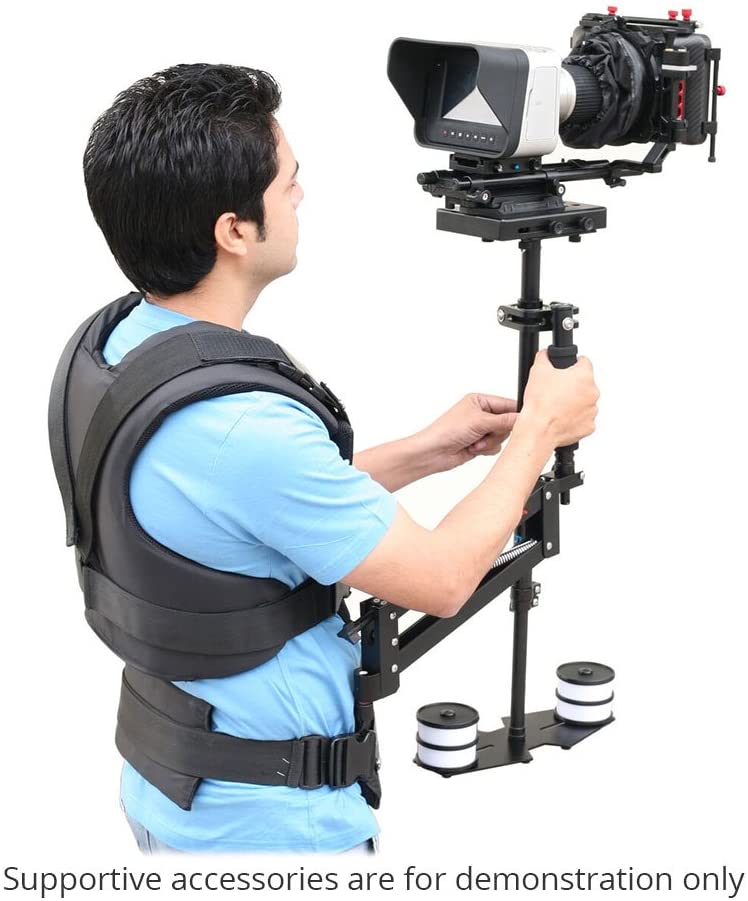 ---
This camera stabilizer is a bit different from those we have discussed already due to the fact that it is vest mounted, but in my opinion, this is an advantage that should not be overlooked.
The number of different things you can do with this vest is incredible, and so is its payload, which is drastically boosted by the fact you can use your body to help support heavier cameras.
The stabilizer itself is made of an aluminum alloy that is both lightweight and wear-resistant, reducing the overall weight you will have to carry while working. This also means that you will have an easier time moving around during shootings.
In addition, this vest features a shock-absorbing arm that makes it much more comfortable to carry large weights, which is a good thing considering the maximum payload of this stabilizer is 5kg, not a negligible burden to carry around.
Overall, this is one of the best heavy camera gimbals around, especially for long handheld shooting, and one you should definitely check out.
9. ZHIYUN CRANE 2
---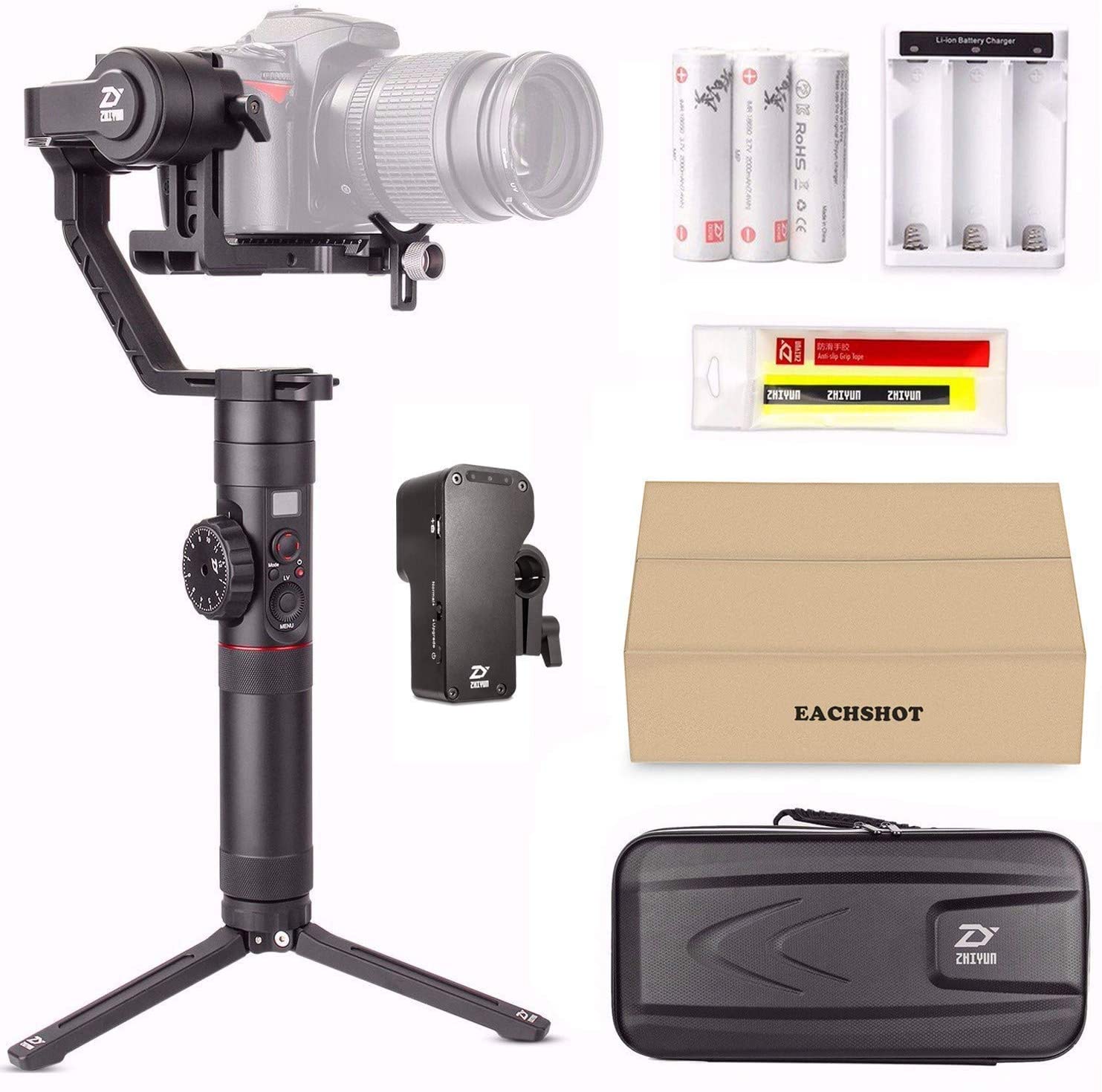 ---
This excellent firmware handheld stabilizer features a 360-degree point view, very lightweight and wear-resistant, making both transporting and using it on the move quite easy.
In addition, the 7lbs maximum payload is quite good for this type of gimbal stabilizer.
Another great thing about this gimbal is its reliability. It features quite a lot of support from the manufacturer and even comes with a no matter what 30-day warranty, as well as a 24-month regular warranty, both of which show just how reliable it is.
Furthermore, the focus wheel is a great addition to this gimbal in comparison with most of its competition, allowing you to control the lens at a moment's notice and bringing a massive improvement to your video quality.
Lastly, this video camera stabilizer boasts an unmatched battery life of 18 hours and even makes it possible to charge your camera on the move if needed.
10. SUTEFOTO S40
---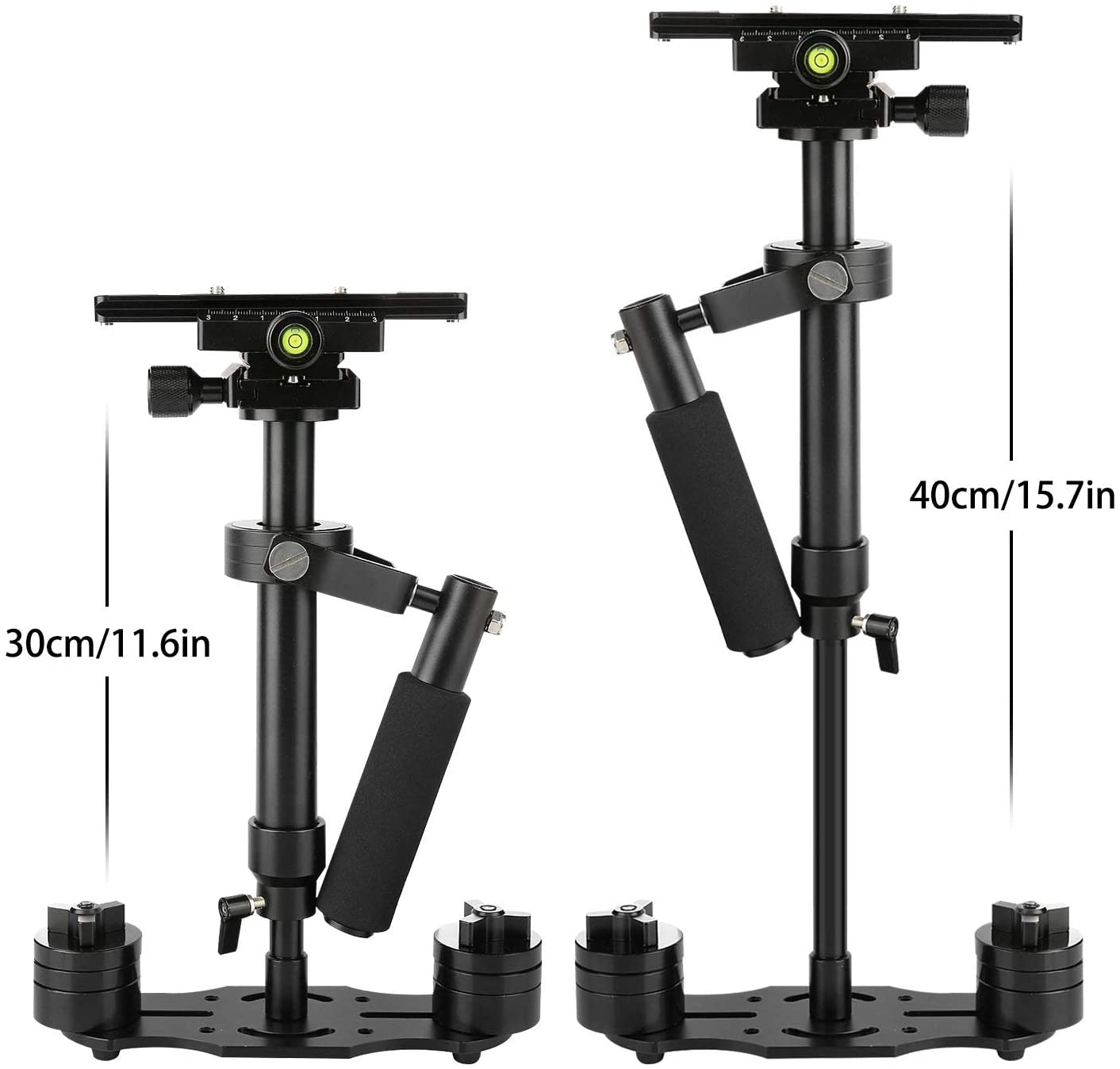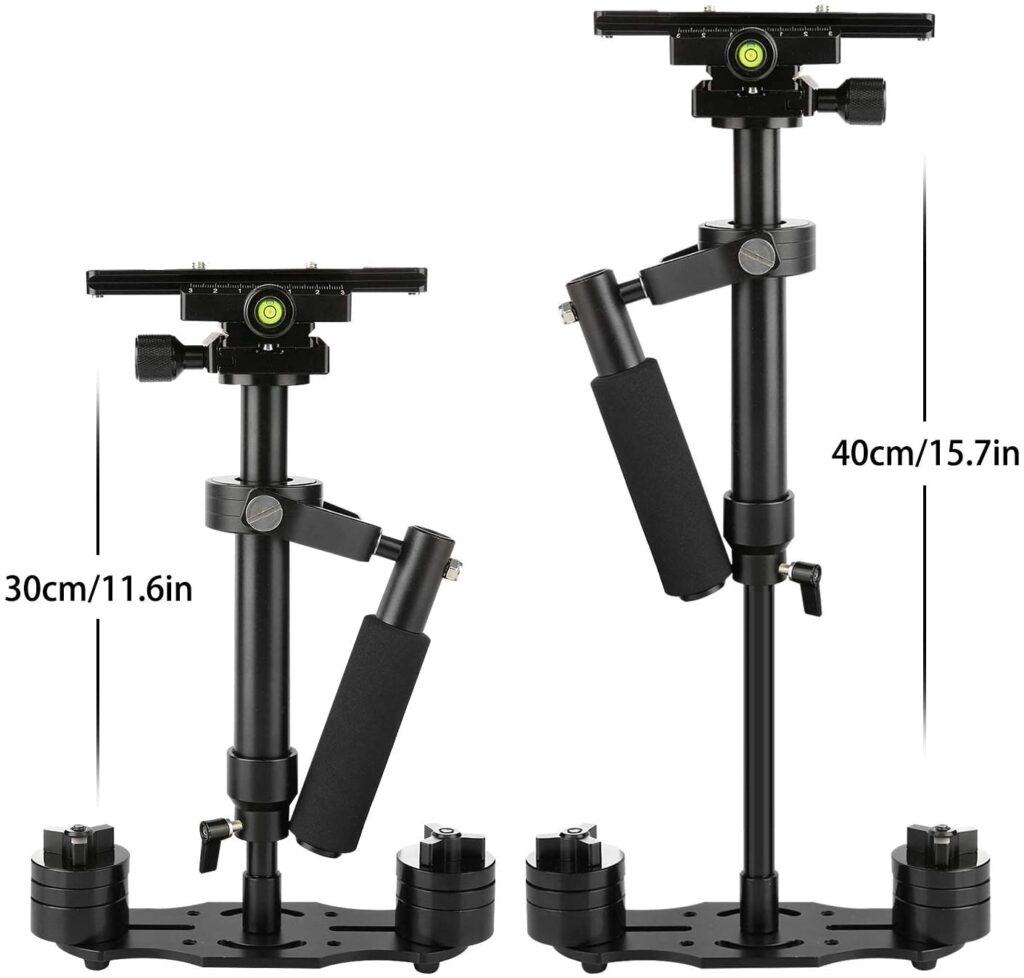 ---
Immediately upon opening the box containing one of these handheld stabilizers, you will realize you are holding one of the best-dedicated action cameras and go pro gimbals on the market.
First of all, it is incredibly easy to assemble and use on the move, something that is of crucial importance for mobile shooting.
Furthermore, the device is quite lightweight when compared to its 3.3lbs payload capacity, and while certainly not something you would use with a large camera, it is great at what it was designed for.
In addition to this, the aluminum the stabilizer is made of is very durable and will last you a long time regardless of what conditions you use it in, something that might be of great importance to those unwilling to make new investments all the time.
Finally, it is suited for multiple shooting angles, meaning you can use just this one gimbal for all your action camera shooting needs, making it an excellent choice overall.
11. Glidecam HD-PRO
---
---
If you are looking for high quality, studio-grade handheld video camera stabilizer with a large maximum payload and excellent durability, look no further.
Glidecam HD-PRO features an excellent payload of up to 10lbs, allowing it to handle most larger cameras. Other, more affordable camera stabilizers might struggle to support/
Furthermore, the adjustability of this device's quick release plate is top-notch, allowing it to serve not just like a DSLR gimbal but also be perfectly compatible with other types of large cinematic cameras.
In the end, my overall opinion of this camera stabilizer is overwhelmingly positive. It does what it was designed for with unmatched precision, with the only downside it being too heavy to carry around for prolonged periods of time, something that is easily mitigated by its excellent base platform.
12. DJI RS 2
---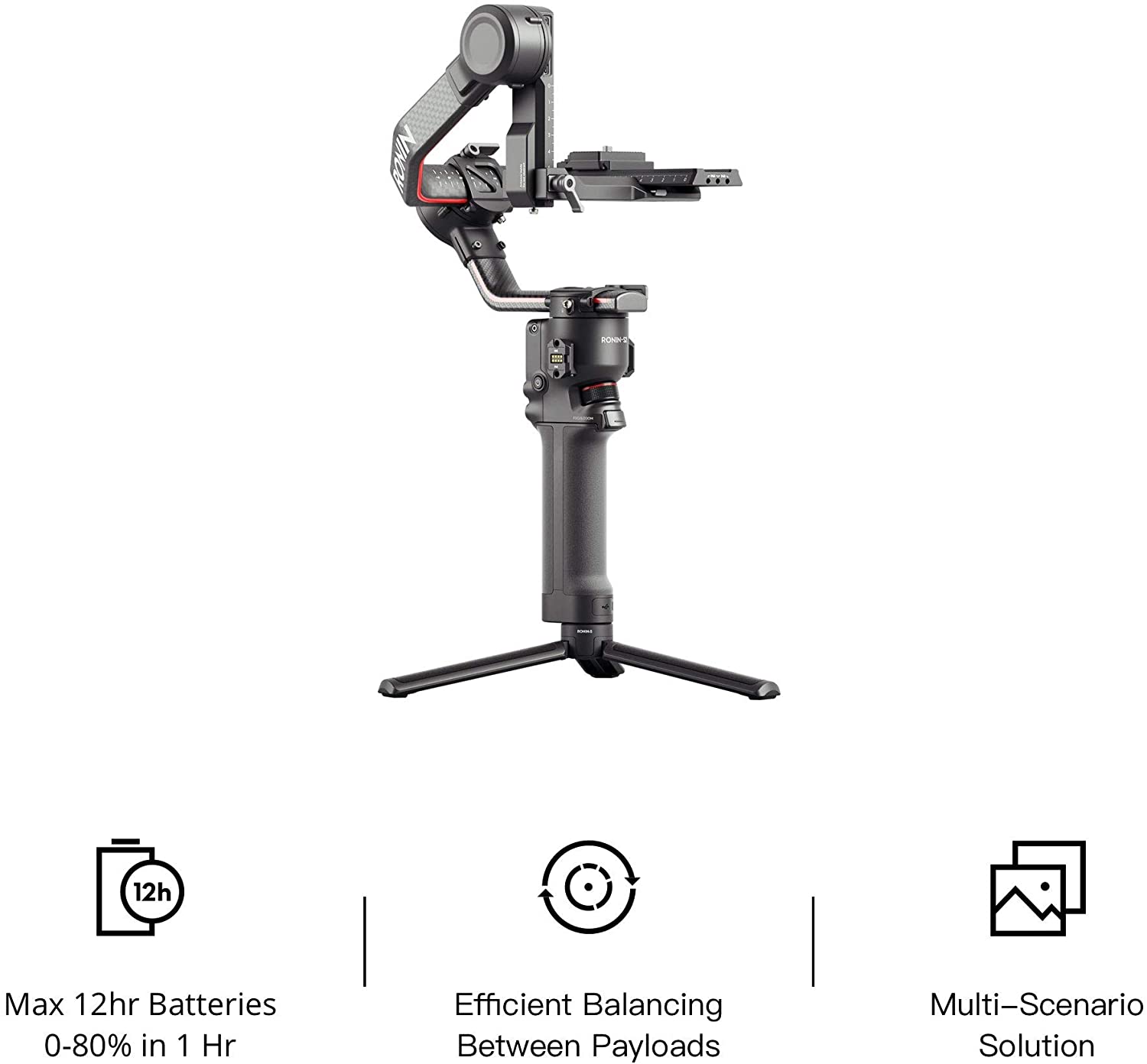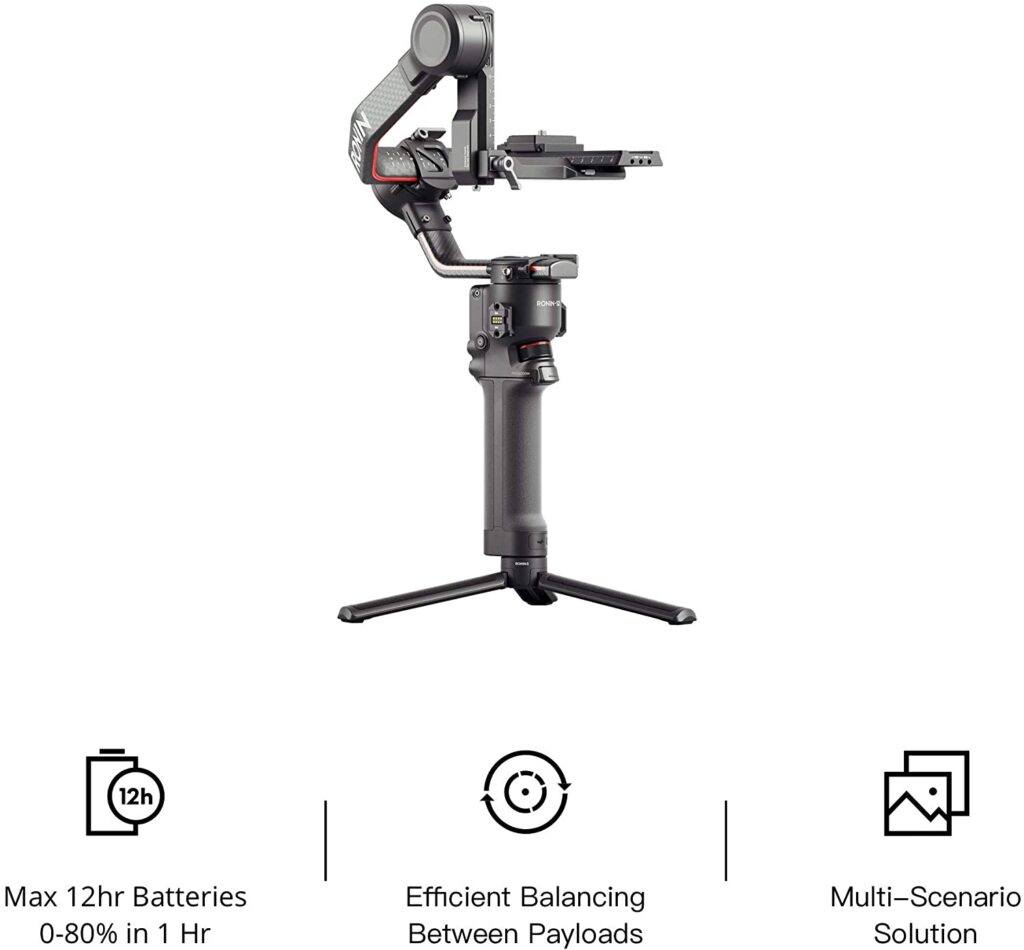 ---
While this 3-axis gimbal is more expensive than most camera stabilizers on the market, what it offers to the user more than justifies its high price.
First, it is based on the DJI TItan stabilization algorithm, one that captures smoother footage than just about any other system.
Additionally, the 4kg payload of this device is at a quite respectable 4.5kg, and the material it is made of is more than durable enough to support medium-sized video cameras.
While not an OLED, the fully colored LCD screen is more than enough to allow for some really easy monitoring and adjustment of the gimbal's parameters.
Additionally, the NATO compatibility of the RSA ports on this device allows for an extreme degree of modifications using third-party software and hardware, making it easy to use this gimbal exactly the way you want to.
Finally, the device features an excellent tripod and overall stability, making it easy to use even on uneven terrain or in harsh outside weather conditions, making it an excellent choice of a DSLR stabilizer for anyone looking to purchase one.
What to Look for in a DSLR Stabilizer?
Maximum payload
The most important factor about every camera stabilizer is its payload capacity. Simply put, if your camera's weight exceeds the carrying capacity of the device, you won't be able to use it. Because of it, you should always check this parameter before making a purchase.
Each of the devices on the list has clearly shown (and verified) payload capacity that you can use as a guideline when choosing your stabilizer.
Durability
A DSLR stabilizer will likely be subjected to quite a bit of wear during its use, so you should make sure that the material that it is made of is durable enough to withstand such effects.
In this case, materials such as aluminum alloy and steel are much better than plastic, though that also depends on which part of the stabilizer you are evaluating.
In the end, the devices I put on the list have all been chosen for, among other factors, their durability and will make an excellent purchase.
Weight
Last but not least, you should always consider how heavy is your DSLR stabilizer going to be. In simple terms, heavier stabilizers are much harder to move around and transport, so you should try to go with the lightest one that still supports your camera's weight.
On the other hand, this factor is somewhat convenience-oriented and thus less important than the previous two, so you can somewhat rely on your own personal preference in this area.
FAQ
How do I stabilize my DSLR?
This is usually done by purchasing a dedicated DSLR stabilizer, though any stabilizer supporting a camera of this size will do. These devices serve to provide you with a way to keep your camera from shaking when used and thus provide much smoother footage.
If you are looking to purchase a DSLR camera stabilizer, this guide will provide you with some of the best options currently found on the market.
What is a stabilizer in a DSLR camera?
A stabilizer is a specific piece of equipment that reduces the effects of movement on your footage and sometimes allows you to mount your camera and operate it remotely.
Alternatively, some handheld stabilizers allow you increased control of your camera while you carry it, but these are usually only suitable for smaller and medium-sized cameras.
What stabilizer is best for the camera?
There is no singular answer to this question. Instead, your choice will depend on a number of factors such as maximum payload, durability, and weight of the stabilizer itself.
If you are looking to purchase a high-quality camera stabilizer, check out this guide! It contains everything you will need to make an informed choice.
Join our Discord Group. Ask questions, team up with fellow streamers, share memes, and more!