For streaming games, you basically don't need a camera. However, viewers have a much better experience if they are able to see a gamer's face and reactions as well. It is obvious that you need a webcam for this. As technology advances, so do the expectations for the quality of the video.
Choosing the right equipment is not a simple endeavor. The same goes for choosing a camera. For many, DSLR cameras are the best option. Let us see how you can use DSLR as webcam.
What is DSLR?
DSLR stands for the digital single-lens reflex camera. It has a digital imaging sensor that takes pictures from a single-lens reflex camera. The reflex design means that there is a mirror inside the camera that sends the image from the camera lens to the imaging sensor.
First of all, you should know that this is a camera for professional photography. Therefore, you will need more than just a DSLR. On the other hand, the minute details you can adjust with it enhance the quality of the video.
When Can You Use DSLR as Webcam?
The answer is all the situations when you would normally use a webcam, such as:
Requirements of a Good DSLR Camera
A decent DSLR camera should fulfill the following requirements:
Pros
There are many good sides to using a DSLR as a webcam.
Cons
As with everything, DSLR has some bad sides, too.
Setting Up a DSLR as a Webcam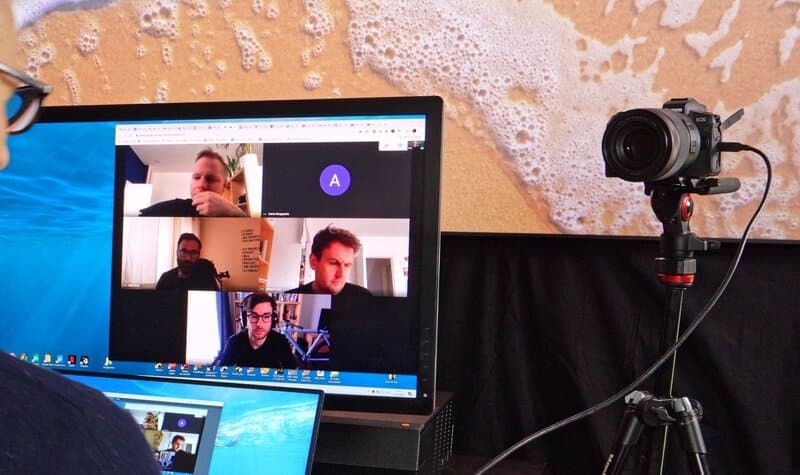 What Do You Need?
Firstly, you need a DSLR camera. Because it is a photography camera, you should make sure it has video capability.
Next, you should have a power adapter. Surely, the camera has its own battery, but streaming for longer periods of time will drain the battery fast and it will not work well.
Then, a capture card. Its function is to connect the camera and the computer for streaming live or recording videos through recording what is happening on the screen.
And lastly, you need cables to connect all those parts. The ends may be USB, HDMI (regular, mini, or micro).
Additional equipment that would improve how you are seen on camera includes a tripod for the camera and a lighting kit.
DSLR and USB Connection
Some DSLR camera manufacturers developed software for live chatting with those cameras. If you have one of these, you only need the camera, the USB cable, and the software.
The programs are usually downloadable and you only need to install them and calibrate the settings. If you choose this method, you should check well that your camera model is compatible with the software.
DSLR and HDMI Connection
This is a more frequently used method and it works for all DSLR cameras. It gives a better image than that given through a USB connection. Aside from the camera and the HDMI cable, you need a capture card as well (and its cable, which is probably USB).
How to Add Camera in OBS
Adding your camera to the OBS studio is simple. Here are the steps:
Frequently Asked Questions
Is it safe to use DSLR as a webcam?
Yes, it is safe. Modern cameras have safety precautions that are built-in so that they prevent overheating. They shut the camera down before damages happen.
This is a downside of this camera (for live streaming purposes). That is why one of the things to check when choosing a model.
Which camera is best for live streaming?
This is a highly personal matter, as not everyone will agree with any list. However, here are a few cameras that have proved to be efficient and satisfactory:
– Canon EOS 5D Mark IV
– Nikon D780
– Canon EOS Rebel SL3
– Sony A68
– Canon EOS 80D
Where should I put the camera for streaming?
Camera positioning is an important thing to pay attention to. Here are some basic tips on how to make the best of it:
Put the camera at the height of your eyes, not lower, not higher.
Adjust the angle. It would be best not to sit directly in front of the camera, as your face may seem flat and it would feel awkward for viewers. A better choice is to sit at a slight angle so that your face shows a bit of profile.
Conclusion
A DSLR camera can be used as a webcam and gives a far better video quality than cameras that are built in laptops or the webcams that can be bought (and are due to the Covid-19 pandemic hard to find in stores).
Though it is a pricey option, once everything is set up, most users are more than satisfied.
Join our Discord Group. Ask questions, team up with fellow streamers, share memes, and more!