As we all know, Twitch has become one of the most popular, if not the most popular, streaming platforms. Generally, Twitch has put a huge emphasis on the interaction between streamers and users.
That is what makes them special. They simply foster interaction and build a long-lasting community.
However, the best secret weapons of all streamers are the emotes. Twitch emotes are invaluable when it comes to the branding of your Twitch channel.
Moreover, there are a plethora of sites that offer unique, custom emotes that will be alluring to your subscribers.
Therefore, due to the huge popularity of Twitch emotes and Twitch emote makers, we have decided to help you, and show you the best sources of custom Twitch emotes.
Post 10 of 17 in the Graphics
9 Ways to Get Custom Twitch Emotes
We created a list of 9 best custom emote providers. These are just our preferences and you've probably heard of some providers on the list as they are really huge. Anyway, here is goes:
1. OWN3D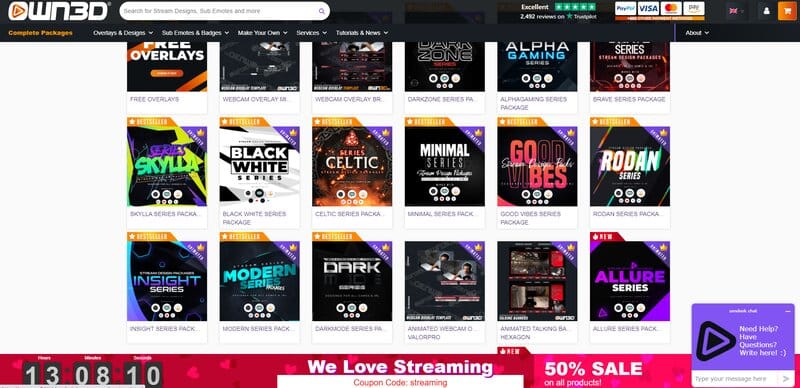 OWN3D is a platform that offers the full package to streamers who need cute Twitch emotes or Twitch overlays.
Generally, they have everything you need.
Twitch partners and Twitch affiliates love it because they offer you professional and unique quality, they are easy to download, and most importantly for us, they offer custom Twitch emotes.
When you open their website, you will see what they offer.
Things like overlays and designs, sub emotes and badges, and Twitch emote creator are there for those ready to pay.
What we like besides the fact that they offer an abundance of creativity and options, is that they offer streaming and Twitch tutorials.
The comprehensive texts and detailed overviews of different streaming platforms, aspects, or simply games, will surely improve your streaming career or if you are a beginner, they will help you improve and get in touch with the ways of earning money.
Of course, we do not need to point out that until you become a Twitch affiliate or growing partner you can only use global emotes.
OWN3D Emote Maker for Twitch
One can choose a character and create 26 popular emotes.
It is easier that way to make a branded content and make yourself different from others by creating your own emotes.
They often offer discounts and most importantly, creativity is not limited.
Moreover, the creation of your emotes for social media, Twitch or anything else is simple, so you will not have to ask how to make Twitch emotes or anything similar.
Just follow the step-by-step process.
Emote SIze
The custom emotes from Owned are available as png files or in so-called Twitch sizes (28×28, 56×56, and 112×112).
They offer you a wide range of emote designs, so you can choose those intended for games or those ordinary for everyday streams and chats.
It is important to point out that all emotes are up to Twitch standards, so do not worry about that.
As we all know, each channel has its own culture and way of functioning.
So whether you have, for example, a gamer concept, anime concept, or simply a mixture of both implemented in your channel culture, over 1200 search results can provide you with high-quality graphics for different communities.
Outcome
Owned is definitely a huge competition to Fiverr and other platforms.
We believe that their often discounts and sales add a particular attraction to their products, so, it can be said that their products and prices are in line.
Therefore, we strongly recommend you check their offers to fill in your emote slots.
2. Fiverr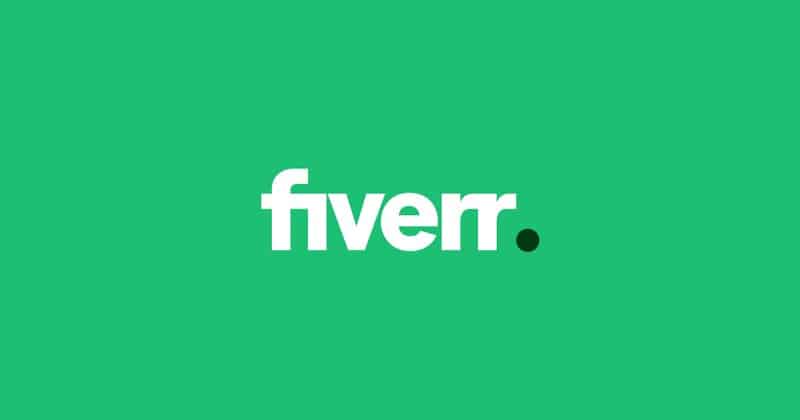 Fiverr is probably the most important place for freelancers from all around the world.
It is like a global market full of different services and things.
However, the most important thing for us is that it has one of the best emotes' stores.
Moreover, the Fiverr Twitch store can act as emote maker, or better to say, Twitch emote size maker.
Twitch emote artists from all over the world offer their custom emotes or Twitch emote templates, so there is a huge competition that often results in below-average prices, adequate for everyone.
Because Fiverr is full of quality artists you have unfortunately never heard of, the most important thing is to look at the reviews of their past customers, and get the impression of whether you can or cannot work with someone.
One of the coolest features of designers on Fiverr is that many of them offer revisions, so do not worry if you do not like a draft or the product itself, at first.
The most important thing about Fiverr is that every order is custom-made, so it means that you have to be clear enough about your demands and the design of wanted emotes.
Be patient and prepared to answer the designers' questions about the desired custom emotes because you will get the finer product in less time.
Of course, pay attention to the things such as the transparent background and uniqueness of your emotes.
When it comes to price, you can get what you want for as little as $5.
Outcome
Let us say that if you want something custom made by Twitch emote artists there is no better way to get it than purchasing it via Fiverr.
Like we said, just read reviews of Twitch emotes makers, tell the desired one what you want, and there would be no problems at all.
3. Visuals by Impulse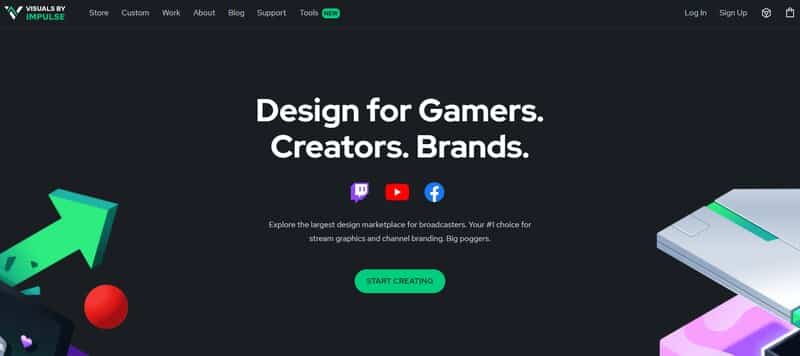 Visuals by Impulse is another website offering mostly emote packs, but they have improved their offer of custom emotes, so they deserve to be on the list.
But, let us be honest, if you are looking for "huge" platforms & websites for acquiring custom Twitch emotes, Visuals by Impulse is not the first place to look for them.
Yes, it is a constantly improving platform that has many new features for YouTube and Twitch streaming and gaming, and yes they often add something new, but simply there are better and more innovative places for purchasing Twitch emotes.
However, Visuals by Impulse deserves our attention because they are constantly trying to improve.
On their website, you can explore their designs and create your own emoji, overlay, sub badges, or backgrounds.
For the custom orders, you have to pay 50% in advance, which is another disadvantage in our eyes, but again, it is up to customers to decide what they want.
You have 30 days to change or examine the work they have done, after that period you still have time to do so, but for a small, additional fee.
Outcome
Overall, we always support independent, talented and young artists, so if you want to get custom Twitch emotes we recommend other sources.
However, Visuals by Impulse is far from bad, it is simply that we think that there are better opportunities.
4. Etsy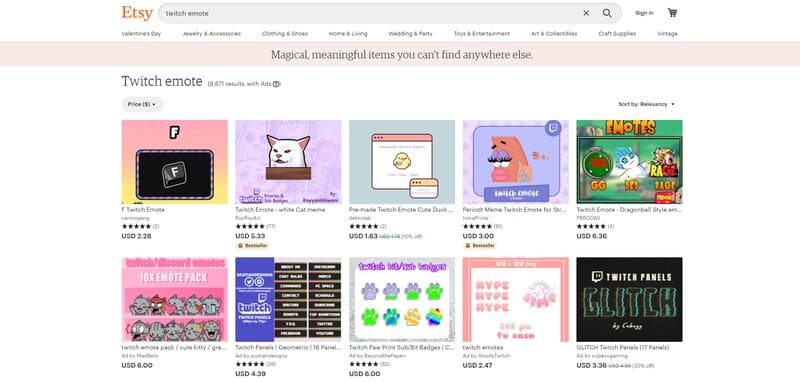 Etsy is something similar to Twitch.
Namely, it is a platform for designers and craft products where they sell their goods.
So, you can find there whatever you want, from creators of chibi-style emoticons to photoshop masters who can design overlays and Twitch panels on your demand.
Again, the most important thing on Etsy is to check designers' reviews and portfolios.
We are sure that with the right agreement and good communication even the legend like Dafran twitch streamer would be more than satisfied.
On Etsy, you can bump into emote packs or Twitch sub badges so look carefully, and order patiently, only when you are sure that you need it.
Outcome
Etsy is another great place to look for custom-made emotes.
There you do not have to worry about their number of pixels or transparent background.
Unfortunately, Etsy is still behind Fiverr when it comes to popularity, product availability, and prices.
However, we can recommend Etsy because with the right agreement you will not have to worry about a thing.
5. Uguubear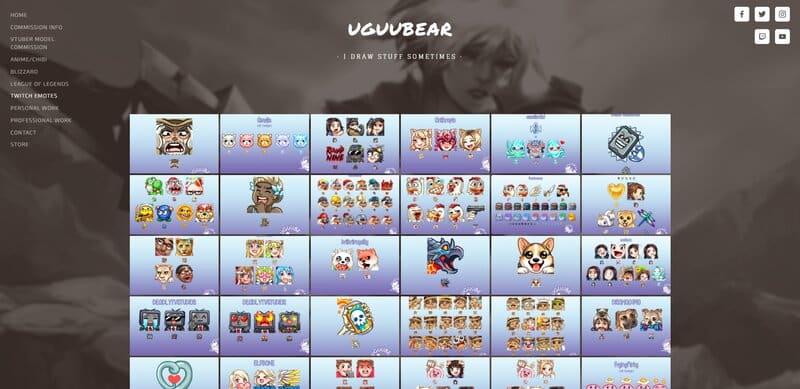 Uguubear by Allison Henderson, an entrepreneur, illustrator, and designer, is a personal website for selling and showing graphics and custom emotes.
You have almost certainly come around her work because her emotes and designs are common on Twitch.
The particular landmark of her work is that she is one of the best chibi-style illustrators.
So, anime lovers if you are looking for a great anime illustrator for your Twitch channel, look no further.
She uses regular Twitch measures so you will not have any troubles with that.
You get 300 DPI transparent PNG files, for Twitch & Discord use only.
The prices, as you probably expected are a bit higher, but if you are willing to spend some money on a quality Twitch emote creator, this is the opportunity.
The additional feature of her work is that she streams around 4 days per week.
Feel free to contact her via e-mail (you can find it on her contact page).
Outcome
We recommend Uguubear to experienced streamers who have used custom Twitch emotes.
Younger streamers who are looking to become Twitch affiliates or partners should try custom emotes from platforms like Fiverr or Etsy first.
However, the quality and uniqueness of Uguubear emotes and graphics is one of the highest available.
6. RissaRambles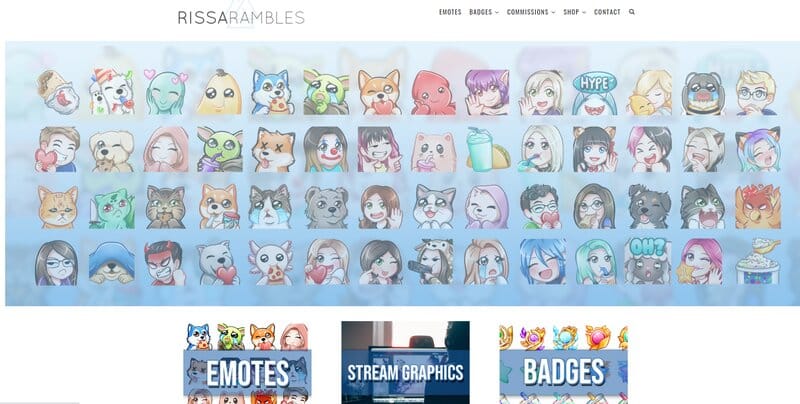 RissaRambles is a website of a Twitch emote artist named Rissa.
She is well-known in the Twitch circles and she is specialized in designing custom and chibi style emotes and graphics.
If you want to purchase her custom emotes, you might as well think about purchasing her icons or avatars and shirt designs.
When it comes to prices, they are similar to Uguubear prices, so if you want to acquire something from the website, you have to be ready to pay.
Again, if you have enough money to purchase this type of craftwork, we absolutely recommend doing so.
When it comes to orders, patiently read the ordering information, and decide what you need. Only then can you write her and order.
Outcome
We love Twitch emote artists and highly appreciate them, so we would always recommend them to those who are willing to pay.
On the other hand, we recommend those who have not yet got an opportunity to use custom twitch emotes to use products from platforms like Fiverr, Owned, or Etsy.
7. Custom Emotes on Different Social Networks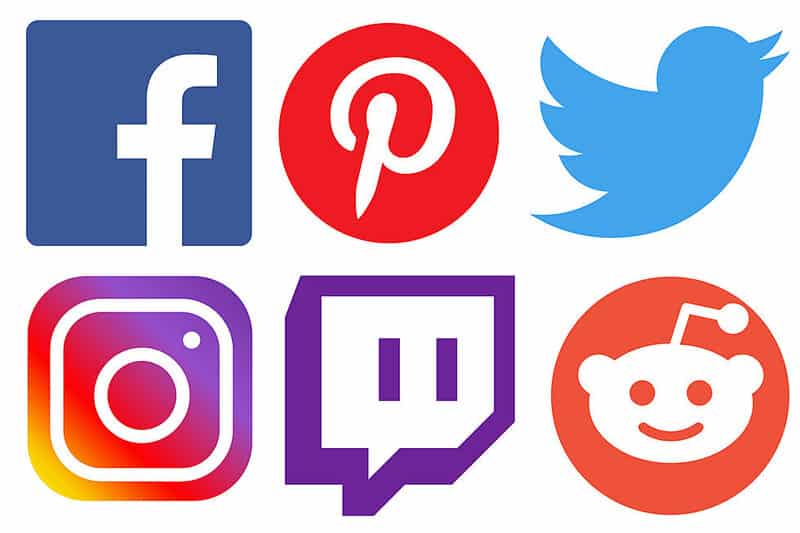 Not all freelancers are on the aforementioned platforms. Some of them are on the following social platforms and can be contacted there:
Reddit
What can be found on Reddit? Well, everything.
Among many things that can be found, there is Twitch Creative Thread.
There you can see creators, their bios and the things that they can do.
Facebook Groups
Everything is just one click away from us, so it is no surprise that young streamers are joining their forces in different groups on Facebook, in order to improve the quality of their streams.
Among the members of the groups like that are designers, who are ready to create anything you want.
But be careful, check with the admins or the most prominent and active members if the creators you want to cooperate with are reliable and good.
Twitch Art Section
Here you can watch the artists creating custom emotes.
If you like someone, in particular, you can contact him/her and cooperate on future custom emotes Twitch.
8. Emotes Creator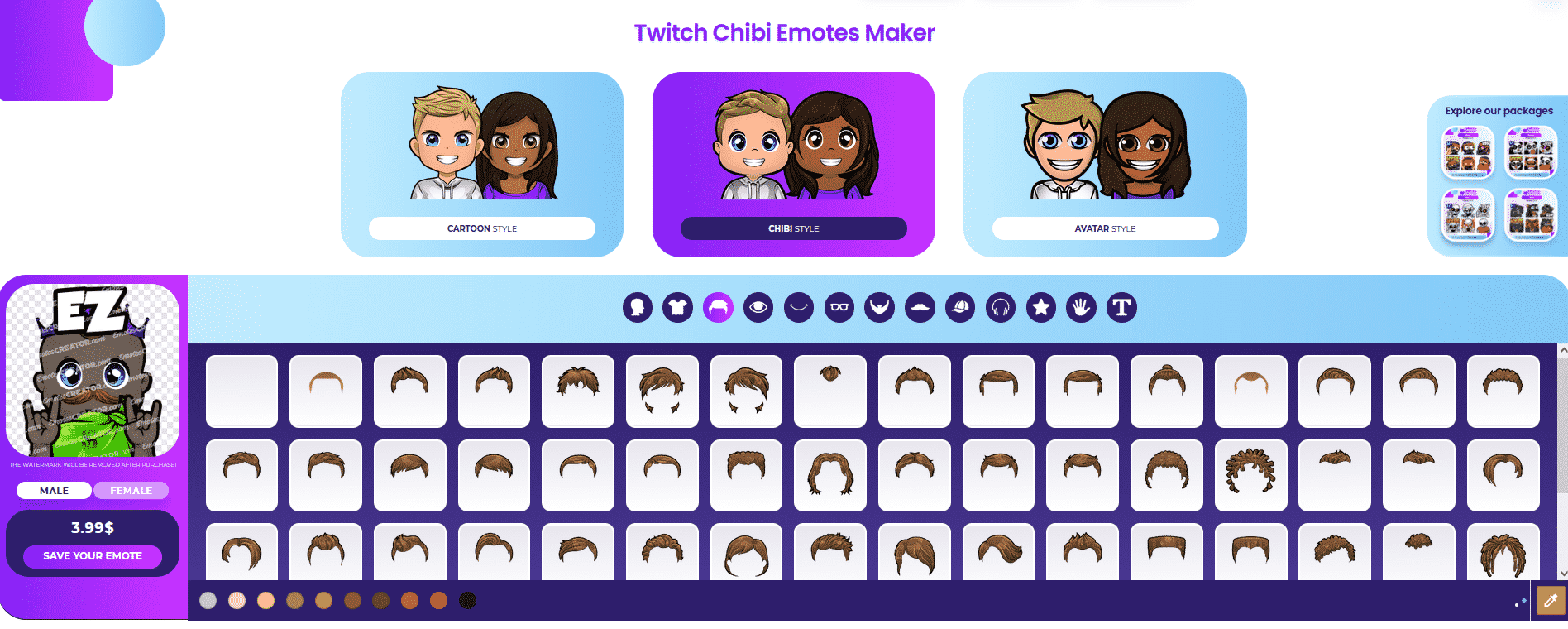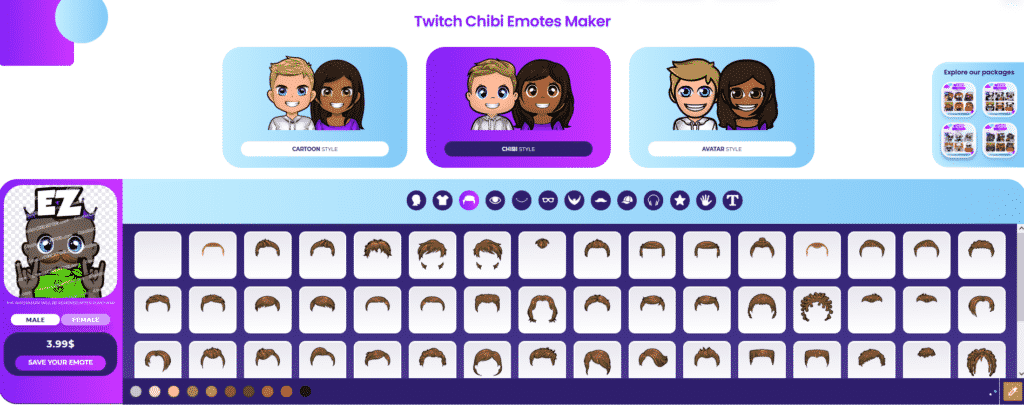 Emotes Creator is an online tool that allows everyone to create their own, unique emote and choose the way they will present themselves to the Twitch audience.
You can create original and goofy emotes, but also very professional emotes that can bring you much success on Twitch and make you stand out among other creators.
Twitch users love this tool because it is very easy to use and everyone can create their custom emote easily with just a few clicks.
Once you get on their website you will see that Emotes Creator allows you to completely transform your little Emote and choose the right hair, eyes, clothes and even accessories for your Twitch emote.
When you have finished creating your original emote, all you have to do is click on the "Save" button and start using your emote in your Twitch world.
However, you will only get access to the most basic emotes and features if you are not a Twitch affiliate, so try to get the most out of it.
For those that are already active in the Twitch affiliation program, there will definitely be no problems and they will have access to everything this network has to offer.
You will also be provided with an interesting and large Emote shop where you can buy more features and assets for your favorite avatar.
Emotes Creator Emote Maker For Twitch
Building a Twitch community is a long and demanding process, but when you have an original emote that will make you stand out among other people on the network, it is definitely a lot easier.
Emotes Creator allows you to make as many emote and avatars as you want and each of them can be completely different because the whole design process is up to you.
However, you will have to pay 4 dollars for every emote you create, otherwise, you will not be able to download it and save it to your device.
You will also have to spend some extra money if you want to purchase other features and accessories for your emote on their Emote Store.
Lucky for you, you can find many discounts frequently, and this is a worthy investment if you plan to grow and build your Twitch account, so I encourage you to spend some money on it.
Emote Size
You can download your emote in any size that works the best for you, and you can choose whether you want to save it as a png or jpeg file.
If you plan on using it as your Twitch avatar, it is best to save it in a png format and choose the 28 x 28 or 56 x 56 size because this way, you will get the emote of the highest quality.
Outcome
Emotes Creator is one of the most popular websites for creating Twitch emotes, and I would recommend it to everyone.
It is certainly a lot better than Owned so I really believe this is the place where you should spend your money at.
9. DIY Method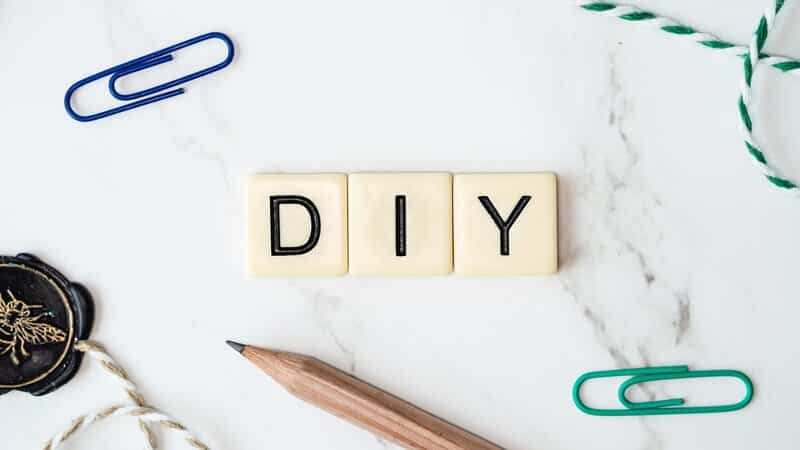 We have spent some time here talking about people and platforms that can have your emotes created, but we have not mentioned the good, old DIY method.
The first thing that comes to our mind is that you can create your emotes in Adobe Photoshop.
However, times are changing so nowadays you have plenty of open and free platforms for emotes creating.
The platforms such as GIMP and Affinity Photo and Designer provide you with equally good working space as Adobe Photoshop.
But let us stick with the classic. We would try to use a step-by-step explanation of creating in Adobe Photoshop to help you.
The steps are the following:
Step 1:
When you open Photoshop choose the option "File", then click new "New" and type "112" into the fields of Width and Height.
Then, you will see an option in the dropdown menu, which is next to "Background Contents". When you see the options choose "Transparent". When you finish that, click "OK".
Step 2:
This is the step where you will add images. Add it in the same way as you would usually do.
When you finish it, click "File", and then "Save for Web".
Bear in mind to check the file type. It should be "PNG-24". When you have finished the customization, click "Save".
Step 3:
The creation of two smaller sizes.
Now you should click "Image" then "Image Size", and there in the Height and Width fields enter "56". Afterwards, click "OK".
Pay attention not to save it under the same name as your previous files because then it will be overwritten, and you will lose the previous work.
Step 4:
Repeat it for the 28 pixels version.
Now we are concentrating on the part where you add it to your Twitch channel.
Step 5:
When you have finished with the previous steps move onto the final stages of Twitch emote making.
Click on your avatar and choose the "Creator Dashboard" option.
Step 6:
The stream manager dropdown menu will offer you an option called "Preferences", then only if you are a Twitch Affiliate or Twitch Partner choose options "Affiliate"/"Partner", and then "Emotes".
Step 7:
At the top, you will see your current emotes, and how many slots you have for uploading new emotes.
Under the option "Upload Emotes" you will see three empty boxes for three different sizes of your emote, click on each and upload the appropriate sizes.
Step 8:
You will see a field next to a "Unique Code" where you enter a unique name for your emotes.
Afterward, click "Save Changes". The changes may apply immediately or after a day or two.
That is it!
Prices
All these aforementioned custom Twitch emotes cost. They are not given for free.
The emote artists generally sell their work, and rarely will you see them giving it for free.
However, streamers might sometimes offer them for free via collaboration, giveaways, or challenges.
It is up to you to follow the streamers whom you think can organize activities such as these.
Moreover, if you have a growing channel, you can count on a possible trade with the other streamers or artists.
Within the trade, you will give them a promotion, and in return, they will give you the custom emotes.
Frequently Asked Questions
1. What do emotes mean?
Well, as Twitch says emotes are used when ordinary words are not enough. You can express a lot of feelings by using them. It can be said that emotes are the heart of the Twitch culture.
Each streamer uses emotes to spread love, joke, or foster important details or moments. Thanks to the emotes, the relationship between streamers and viewers is deepened. 
2. How do I make custom Twitch emotes?
Generally, you can send your ideas to professional designers at the aforementioned websites. The artists will have their ideas of how to make your wish come true, so that is the first option. 
The second option is to find apps like Adobe Photoshop and to try to make your own custom emotes. However, bear in mind that they often might not be at the same level as those ordered from the professionals. 
3. How much do custom Twitch emotes cost?
First of all, you have to understand that the Twitch emote artists earn a living from this job. However, the platforms like Fiverr and Etsy offer you custom emotes for as little as $5. 
On the other hand, websites such as RissaRambles and Uguubear are more pricey because the authors have their respective portfolios and perfect reviews. 
Somewhere between these two options are websites like Owned and Visuals By Impulse. Of course, if you create emotes on your own it is free. 
4. What program is best for making Twitch emotes?
If you want to create Twitch emotes on your own, we recommend Adobe Photoshop or something similar. Adobe Photoshop offers you a great opportunity to begin maybe your own business of Twitch emote creating. 
If you see that you are gifted, research more, and try it! On the other hand, as we stated, they would not be as attractive as those done by the artists or professionals. 
5. Can you buy emotes for Twitch?
In order to acquire emotes for Twitch, you must be in partner or affiliate status with Twitch. When you reach Affiliate status you can submit emotes for approval. You earn points through the number of subscriptions. 
When the time comes, and you can share your emotes with your subscribers, you can buy emotes from all the above-mentioned sources (Fiverr, Owned, Visuals by Impulse, RissaRambles, Uguubear, Etsy, Twitch related social network groups…). 
6. Can streamers use their own emotes?
First of all, let us define the emotes. Global emotes can be used by everyone without subscribing to a channel. 
On the other hand, each streamer can and should use their own emotes because they make him/her step out of the rest, and it is definitely a great investment. 
So, the answer is yes, streamers can use their own emotes as long as they are accepted by community standards, in proper format and resolution. 
Conclusion
Overall, as the things in the streaming business are changing we expect many more platforms for Twitch emote creators to emerge.
On the other hand, this list has every important site for purchasing or creating Twitch overlays, Twitch emotes or any other graphic addition to your Twitch channel.
Our choice for beginners would definitely be Fiverr, and for those who are a little more experienced and in better financial status platforms such as Uguubear and RisaRambles are a must.
To conclude, as long as your content makes you connected with your audience, emojis can only be an additional force for improving your Twitch channel.
Therefore, focus on your content, and when the time is right strengthen it with cool emojis.
Join our Discord Group. Ask questions, team up with fellow streamers, share memes, and more!