Bugha is one of the most recognizable streamers and gamers that you had probably heard of when he won the Fortnite world cup in 2019.
He continued to be one of the best Fortnite players and also opened his own Twitch streaming account, where he streams almost every single day.
However, even though he is a real professional, he never goes for fancy and overrated products and rather chooses high-quality products that will last him for a long time.
---
Here is Bugha streaming setup, and you should think about purchasing some of these devices for yourself.
* Headset: Logitech G Pro X
* Keyboard: Steel Series Apex 7
* Mouse: Logitech G Pro
* Monitor: Alienware 25 inch
* Webcam: Logitech C922x Pro
* Mousepad: Steel Series QcK
* Graphics Card: ROG STRIX GeForce 2080TI
* Processor: Intel Core i9 9900K
---
To learn more about this equipment, read further below!
Post 4 of 18 in the Professional Setups
What Headset Does Bugha Use?
Logitech G Pro X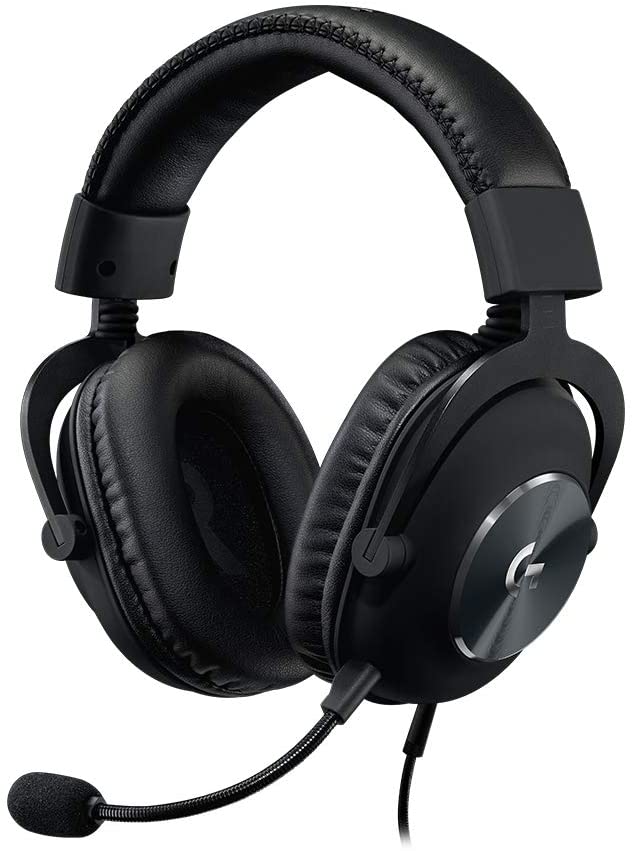 Logitech G Pro X headsets are Bughas favorite headphones, and he has been using these with the Blue Voice technology for quite some time now.
This headset has a detachable pro-grade microphone that allows you to use the Blue Voice technology in real-time, just like the noise reducer, compressor, limiter, and cleaner.
These soft memory foam earpads with noise-canceling leatherette and soft, breathable velour will allow you to play games and stream for hours while being provided with maximum comfort.
You will have to go through a whole installation process that requires included USB external sound card, Windows PC, or Logitech G HUB software.
With a durable aluminum fork and steel headband, these headphones can endure a lot, and they should last you for a long period.
This headset also comes with an inlined mic and a mobile cable so that you can use the headset easily without a boom mic.
Unfortunately, even though there is a 2-year warranty, many people complain that once their headphones got broken, they were not allowed to have them fixed for free or replaced, and the warranty was completely ignored, which is the problem of the company, not the product.
At a price point of 85 dollars per headset, they are not cheap, but they are also not the most expensive ones, so I believe most people can afford to invest in them.
Related: Best Streaming Headphones in 2021 – 7 Great Products
What Keyboard Does Bugha Use?
Steel Series Apex 7
Bugha uses the super fast and responsive Steel Series Apex 7 Mechanical Gaming Keyboard, which provides him with maximum success while gaming.
This is a beautifully designed keyboard that has more than 16 million illumination colors per one key, and you can choose the color you want to dominate your experience at the moment.
Being built from aluminum alloy, this is really an unbreakable product, and most users claim this keyboard has lasted for more than 2 or 3 years without getting a single scratch.
One of the best things about it is that there is also magnetic wrist support which is the most important feature for streamers and gamers.
The other great feature is the fact that the keyboard is very responsive, and you don't even have to click on a button because just a slight touch will make your command come true.
This keyboard has a very bright lighting effect that may not be the best option for everyone, but in case that is something you find to be disturbing or irritating, you can always turn them off or choose neutral colors that will work well in your environment.
However, as you have probably seen on Bughas or some other streamers' streams, this keyboard is extremely loud, and many people tend to avoid it just because of this.
There is no way to solve this problem except by switching to another keyboard, so please take this information in mind when choosing the best keyboard for yourself.
There is one more problem with this product, and that is that it can't be used for all games, but rather just 5 or 6 of them, so if you are playing World of Warcraft, for example, you will not be able to do it with this keyboard.
Even though it is a keyboard worth buying, this is definitely not a product for everyone, and I recommend taking all things into consideration before you decide to purchase it.
Related: Best Keyboard for Streaming
What Mouse Does Bugha Use?
Logitech G Pro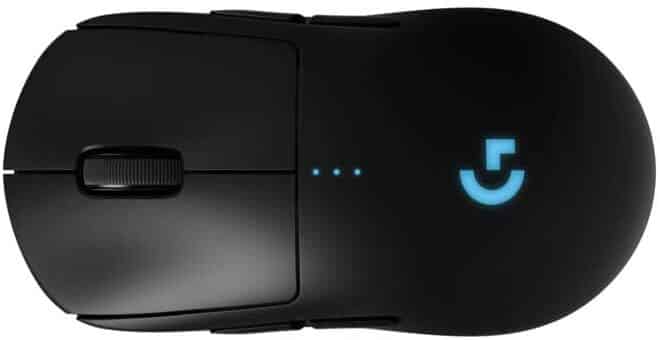 Many gamers and streamers are loyal to Logitech products, and the same goes for Bugha, especially when it comes to the Logitech G Pro Wireless mouse.
This product was made specifically for gamers in collaboration with Pro Gamers, and it is a result of years-long research and work with several professional gamers trying to come up with the best gaming mouse.
It combines the newest technologies, comfort, and an ultra-lightweight design that will make gaming for hours a lot easier and more enjoyable.
The Pro-grade mouse is nothing like traditional mouses, and it overcomes the challenge of wireless latency and connectivity and manages to deliver the amazing 1-millisecond report rate connection, which makes it one of the fastest mouses on the market.
This mouse also has an integrated Hero 25K sensor with up to 25,600 DPI and 10 times bigger power efficiency than the previous generation of Logitech mouses that provide you with an amazing gaming speed and responsiveness.
The Po Grade mouse has a very lightweight design that provides you with a very thin but also very strong outer shell, allowing you to move it through the mousepad with ultimate ease.
However, at a price point of 130 dollars, this is a very expensive gaming mouse, and although it can be a worthy investment for professional gamers and streamers, this is something I recommend investing in only when you actually start earning in this industry, otherwise it is a waste of money.
Related: Best Lightest Gaming Mouse
What Monitor Does Bugha Use?
Alienware 25 inch Gaming Monitor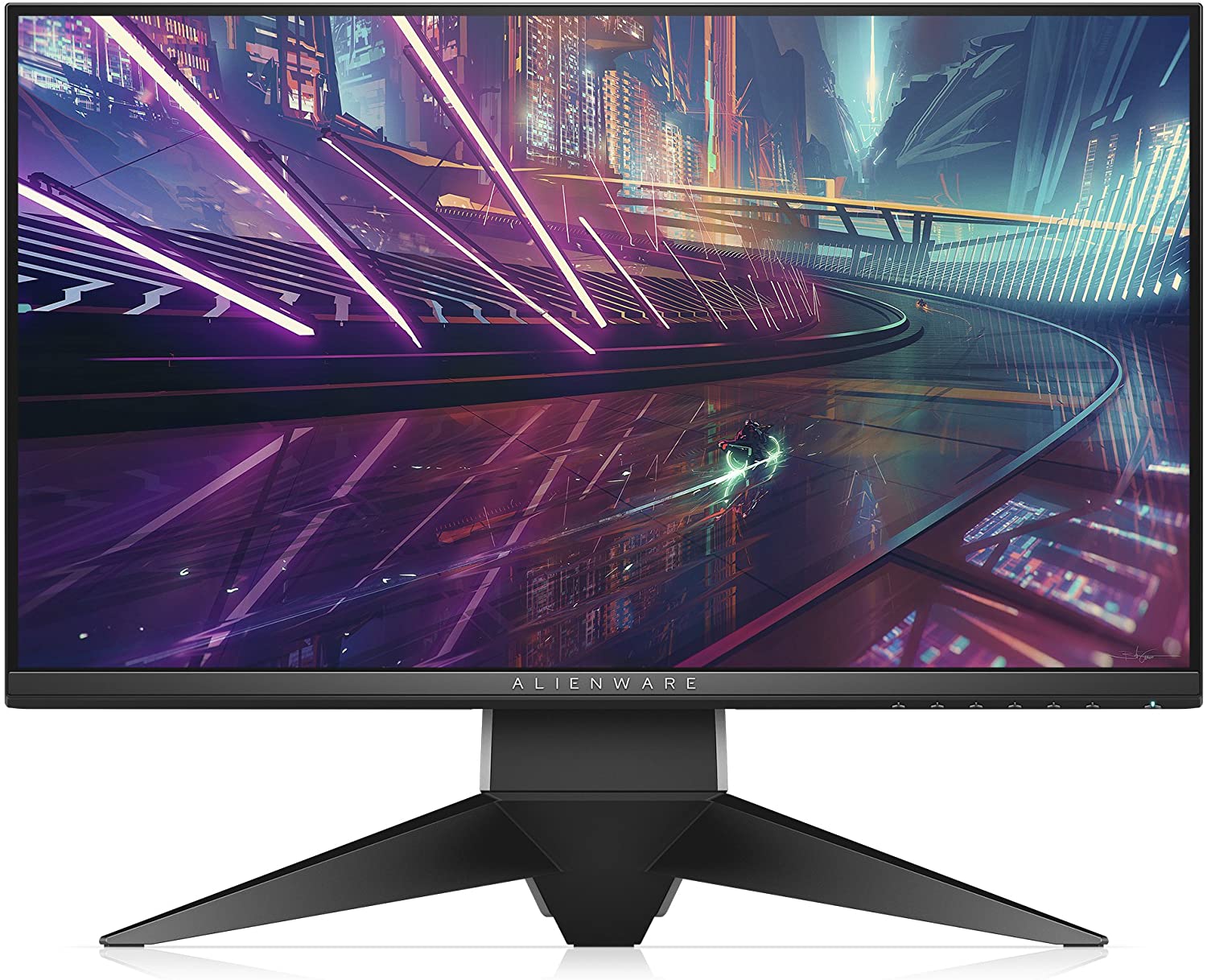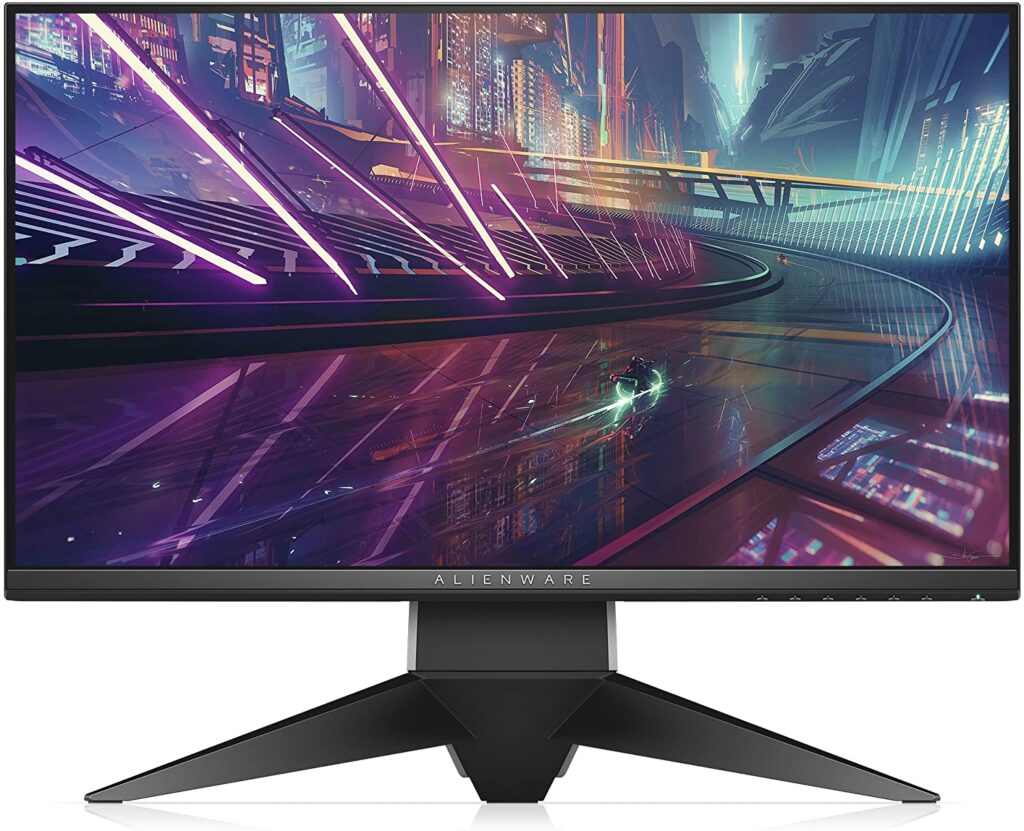 Just like most streamers and gamers, Bugha has also been using the Alienware 25 inch Gaming Monitor for quite some time now, and you should know that this is the most popular monitor in the gaming and streaming niche.
Made exclusively for gamers, this monitor has a 244hz refresh rate which is something that is a need for all the people who stream or play gamers for hours every single day.
Even though users complain about the graphics that are not that amazing, streamers choose this product because they value a high and fast FPS more than a completely clear picture.
This monitor also has the NVIDIA G-SYNC display technology that eliminates screen tearing completely and minimizes all potential Display stutters and potential input lag.
You will also find a specific on-screen Display design made exclusively for gaming and streaming and an amazing height-adjustable stand that will allow you to position the monitor in whatever way you want.
Users claim that their gaming performance while using this monitor was always so smooth and perfect that they easily forgot about other monitors immediately, and it also has a very high frame rate which is something you will not be able to find on most regular monitors.
Alienware monitor will also provide you with more than one connectivity option, so you can easily connect it through a USB upstream cable, DP cable, or a regular power cable.
Overall the reviews on this monitor are very positive, and people claim that it is a lot better than Sony and Asus monitors that have similar specifications, so if you were wondering what the favorite monitor of all popular streamers is, then this is the right answer.
Related: Best Streaming Monitor – Top 7 Products and Reviews
What Webcam Does Bugha Use?
Logitech C922x Pro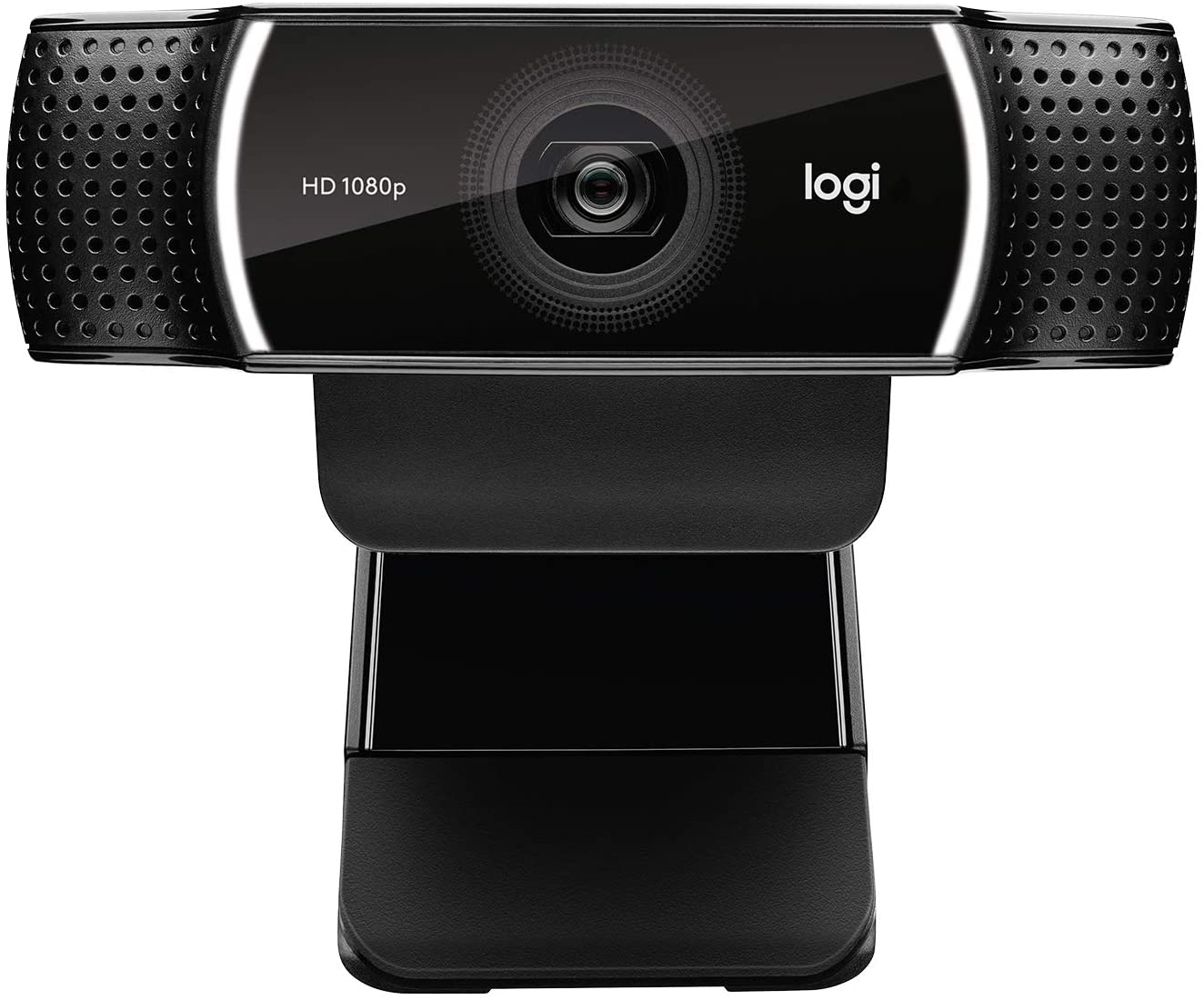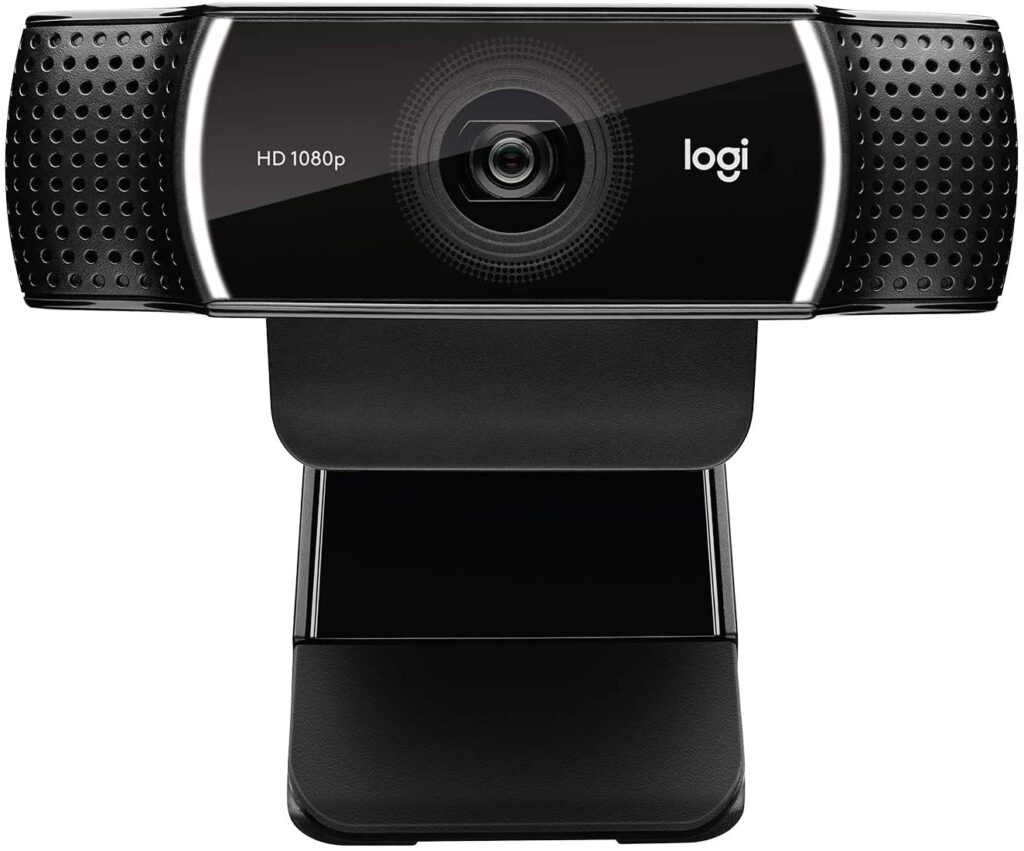 Bugha is a big fan of the Logitech Pro Stream c922x webcam designed and optimized for creating streaming videos of the highest quality.
This camera was created for streaming and gaming purposes specifically, and it is focused on creating videos that will look good on Twitch and Youtube videos.
It allows you to stream and record vibrant and true-to-life HD 1080P videos at 30Fps/ 720P or at 60FPS.
The best thing about it is that it is compatible with Windows 7, Windows 8 or Windows 10, macOS X 10.9 or higher, Xbox One, Chrome OS, Android v5.0 or above, so you will have no problem connecting it with any devices.
The Full HD glass lens and premium autofocus deliver razor-sharp will provide you with clear videos in consistent high definition, while the 2 built-in mics will capture your voice in rich stereo audio and provide you with a completely clear sound, eliminating potential background noise.
However, you will not receive an adjustable stand, so you will have to position the webcam by yourself and find a solution to make it stay in the right position all the time.
This webcam will cost you around 100 dollars which is a reasonable price for a professional streaming webcam, and it really delivers high-quality pictures and videos so I believe you will not regret buying it.
Related: Best Webcam for Streaming
What Mouse Pad Does Bugha Use?
Steel Series QcK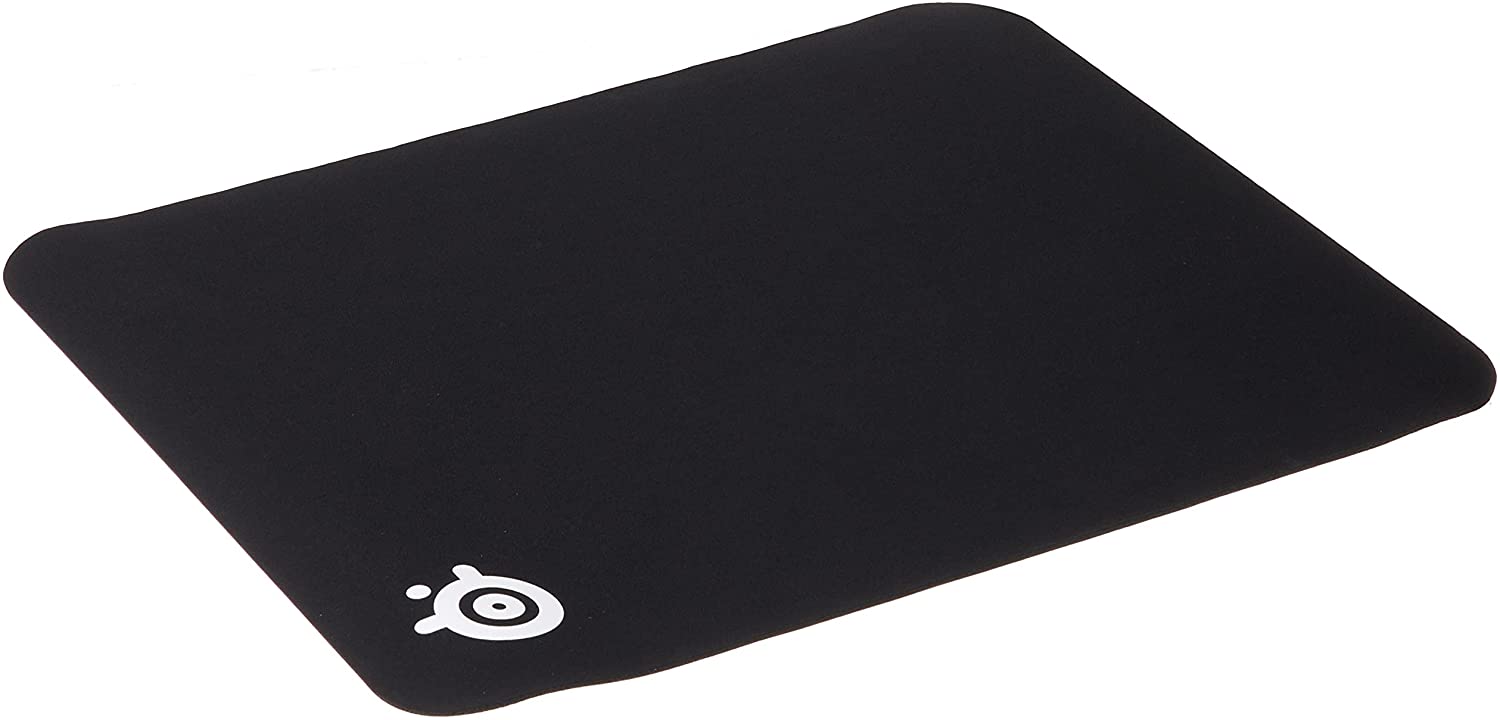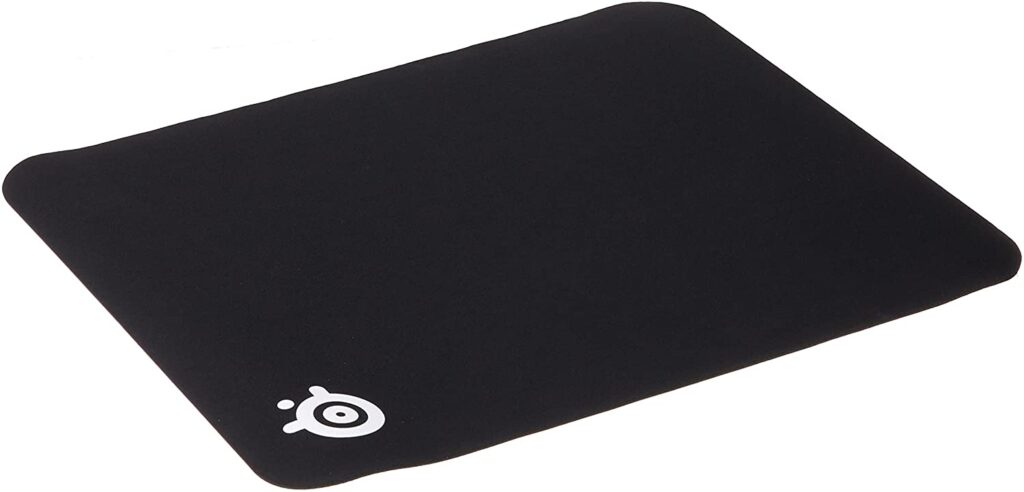 For its Logitech mouse, Bugha uses the Steel Series QcK mousepad made for optimized gaming sensors.
This mousepad comes in several dimensions, so you can choose the one that works the best for you, and you can also choose your preferred style and opt for the classic, RGB, stitched edge, thick or hard one.
Users recommend it to everyone who does not have a big workspace and needs to find a mousepad that will fit into smaller surroundings, so if this is something you are struggling with, this mouse pad is the right choice.
However, the reviews on this one are not that good, and people complain that their mouse tends to slip and swipe left and right all the time, which makes gaming a lot harder.
For a mouse pad that costs 40 dollars, this is something that should definitely never happen, and I believe that you should test it out before you decide to buy it because it can be hard to get a refund on this one because of too many complaints.
What Graphics Card Does Bugha Use?
ASUS ROG STRIX GeForce 2080TI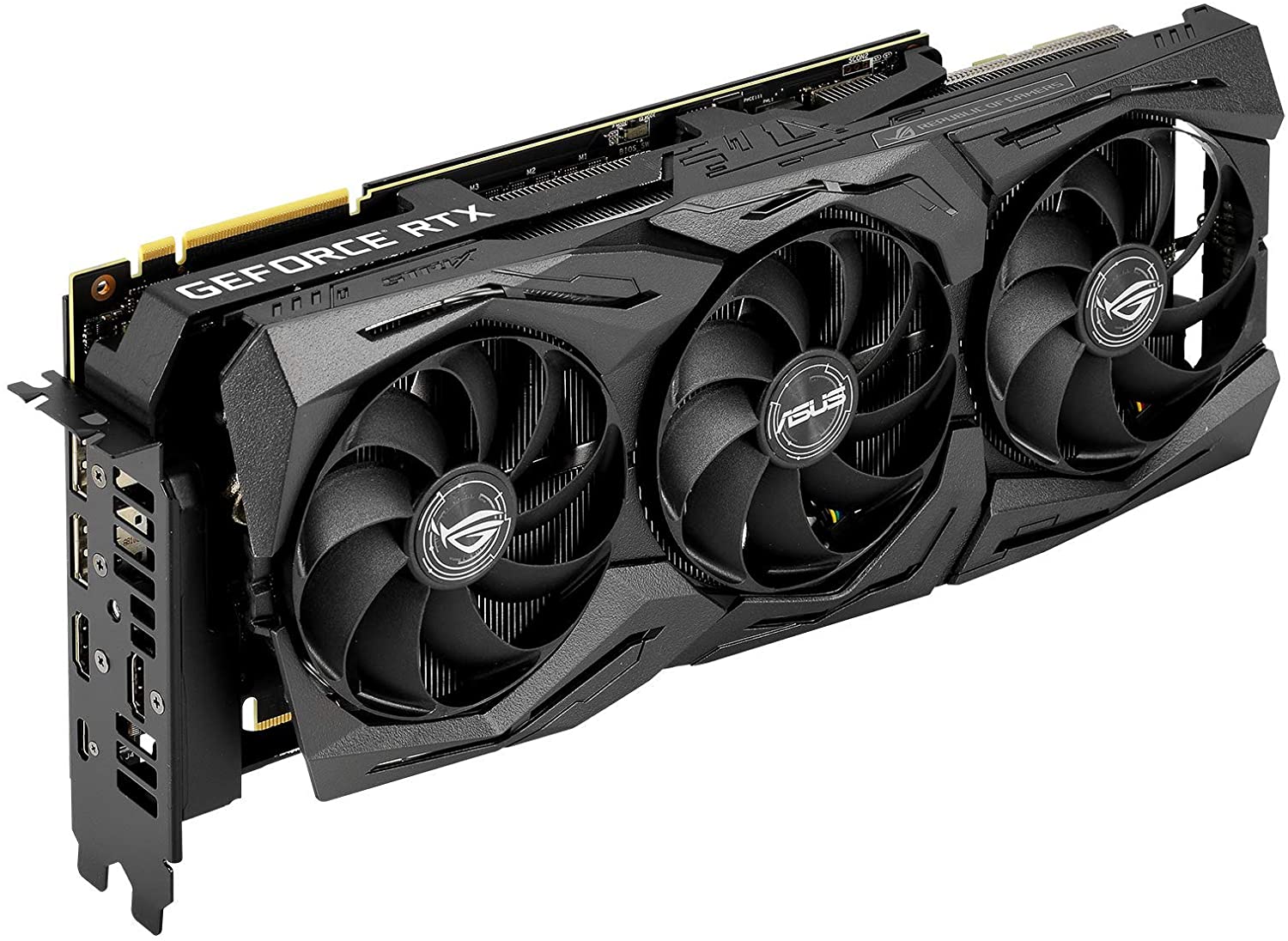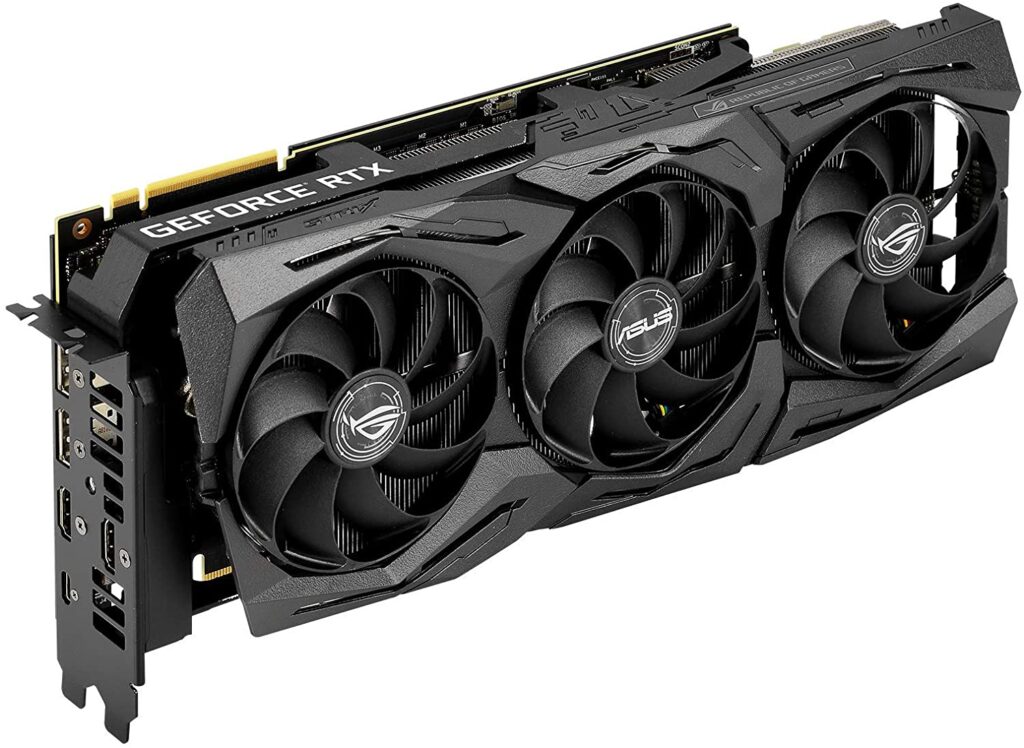 This Asus graphics card is probably the most popular product among gamers, and Bugha is also one of the biggest fans of the Asus ROG STRIX GeForce RTX graphics cards.
Enriched with NVIDIA Turing with 1665 MHz Boost Clock (OC Mode) and 4352 CUDA cores, this is one of the fastest and strongest graphics cards on the market and an absolute favorite among all professional gamers and streamers.
With an overclocked 11GB GDDR6 memory in a 2. 7 slot form Factor, this is one of the first ASUS graphics cards with these features.
You should know that this graphics card can support up to 4 monitors, and its Auto extreme and Max-contact technology will be delivering premium quality all the time, so you can always be sure that you will be provided with the highest quality and performance while gaming.
This card also has a GPU Tweak II included, and this is a feature that makes controlling performance and streaming in real-time easier than ever, providing you with access to additional software like Game Booster, X Split Game caster, WT Fast, and Quantum Cloud too.
Even though this graphics card will cost you around 2000 dollars, this is a pretty good price for a card that has all of these specifications, and it is definitely one of the best options for professional streamers and gamers or those who want to become ones.
One thing you should be aware of is that it is only supported by very strong gaming computers, so it will definitely not be able to work properly on a regular computer.
Related: Best GPU for Streaming – Top 7 Products and Reviews
What Processor Does Bugha Use?
Intel Core i9 9900K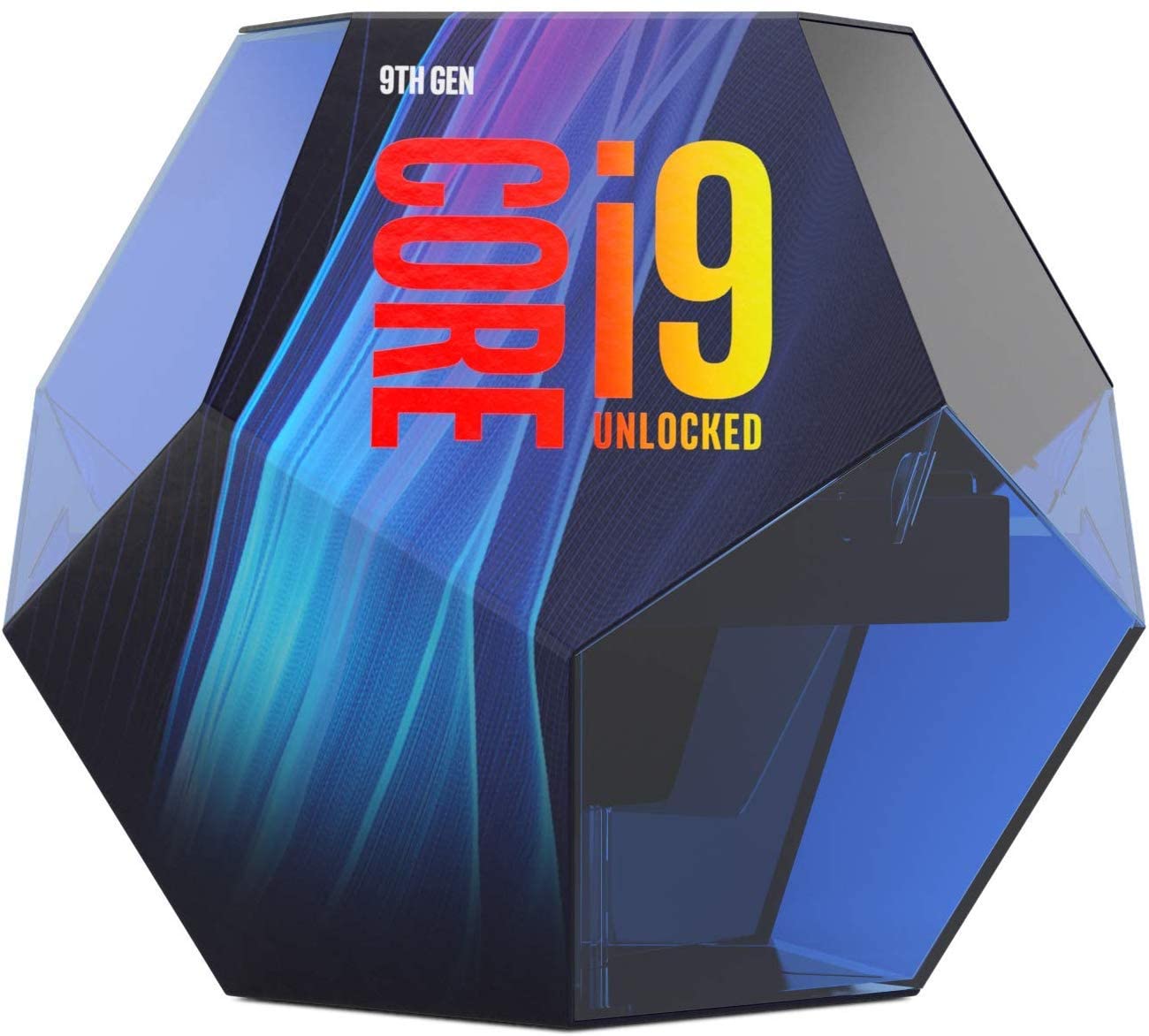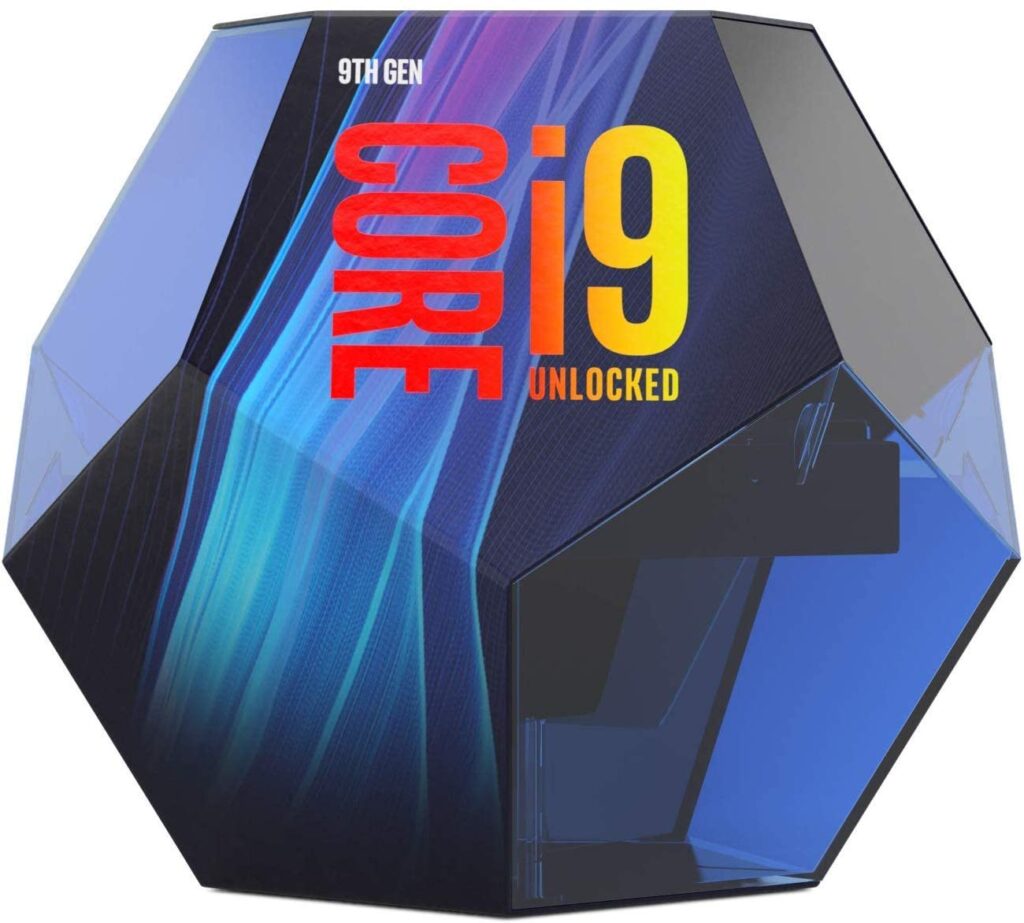 Just like most gamers, Bugha has been using the Intel Core i9 9900K Desktop processor with 8 cores for years now and you can be sure that this is the best gaming processor on the market.
This is an amazing processor that has 8 cores and 16 threads which is a complete must if you want to have a high-functioning PC that will allow you to game and stream all the time.
With an integrated Intel Graphics 630 card and its speed is ranging anywhere from 3.60ghz to 5.0 GHz, this is one of the fastest working processors that allow you to game for hours without any obstacles-
However, Intel claims that this processor is compatible only with Motherboards based on Intel 300 Series Chipsets so it sounds like you are required to buy another product from Intel in order to make this processor work.
However, even though this sounds like a big problem and a huge investment, most gamers and streamers use this processor without any problem in combination with other motherboards that are in no way connected with the Intel company, so you can do that too without any fear.
Unfortunately, this processor is always out of stock, and you really need to dive in deep in order to get your hands on it because it gets sold out all the time.
A good option, in my opinion, is buying a pre-owned one because it will save you a lot of money, and you will still be able to get your hands on this amazing processor easily.
Related: Best CPU for Streaming on Twitch
We are sorry that this post was not useful for you!
Let us improve this post!
Tell us how we can improve this post?