The market is overcrowded with headsets and it is hard to know which one is the best.
Big brands are continuously updating the headsets to appeal to the big market of the podcast, gaming streaming, and inevitably remote workers.
We are going to review the 8 best wireless streaming headsets and the best wireless PC headset that are highly rated and try to answer if these are worth the money.
We will focus on the sound quality, battery life, and features that would be great for gamers and streamers.
We will additionally explore compatibility with PCs and consoles so let's take a look at the best wireless headset for streaming.
Post 6 of 9 in the Headphones, Headsets, and Earbuds
Best Wireless Headset for Streaming
Reviews
QUICK OVERVIEW: Best Wireless Headset for Streaming
<!—INSERT CODE BLOCKS BELOW—>

Weight: 1.28 lb
Noise-canceling mic

Size: 2 x 6.5 x 8 inc
Battery: Lithium

The-Al technology
Touch sensor
1. SteelSeries Arctis 1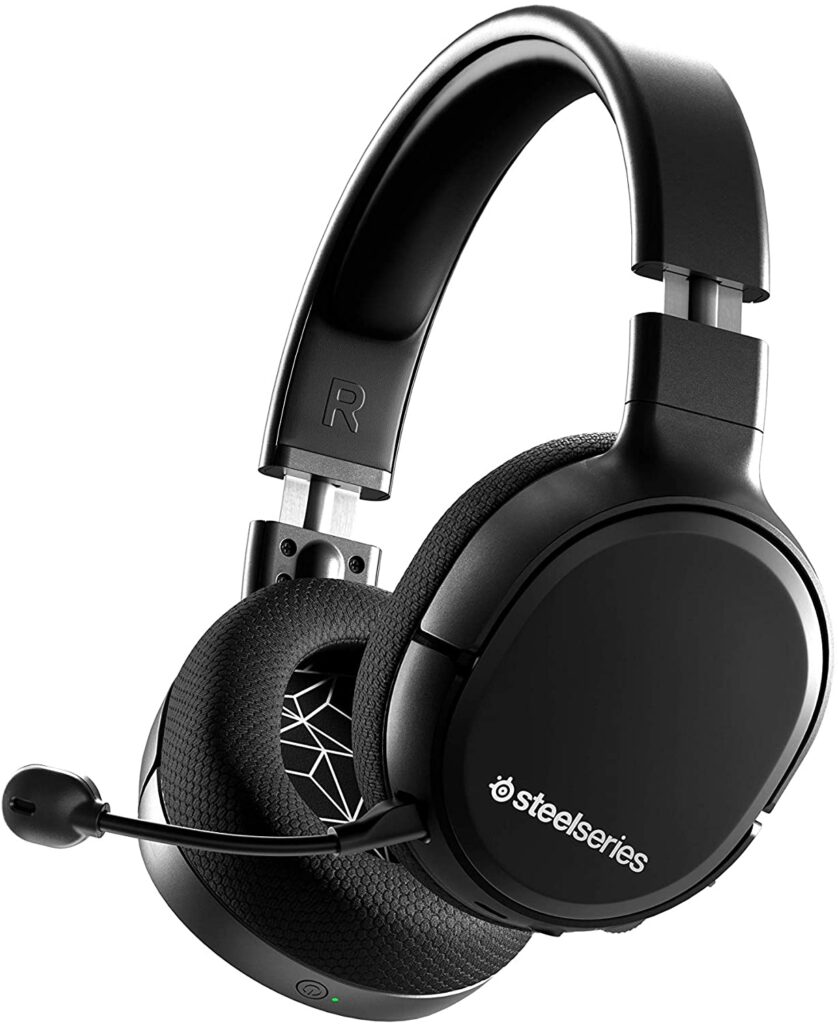 SteelSeries is a professional gaming gear manufacturer. They take pride in sponsoring professional esportists and professional eteams.
Product development includes consultations with Champions and gamers. This company likes to be first in inventions, and back in 2001, they introduced a glass mousepad-Icemat.
Crazy inventions since then were: mechanical keyboard for gaming, suspended headboard for headsets, and ever famous World of Warcraft mouse.
The product design is simple and functional, but the technology inside the sets is created by leading techsperts and with gamers' experience in mind.
Who is it for:
It's pretty clear that these are specifically designed for gamers. Comfort, design, and balanced sound are top features contained in the wireless gaming headset for under $100.
Nintendo Switch gamers finally have great audio solutions. It fits perfectly with this console.
Microphones can be removed so musicians and music lovers can get the amazing sound without looking weird with a mic just standing in their face.
For remote workers who need to use different devices and don't want to rely on Bluetooth.
Key features:
This Wireless USB headset is low latency and noise-canceling. This set is compatible with multi-devices and consoles.
Award-winning speaker technology and reinforced headband are combined for the perfect fit and are very comfortable.
The left cap is where the controls are. To adjust the volume or mute a simple touch on the buttons will do this in microseconds so you don't have to stop the streaming of gameplay.
The microphone is easily removable which makes this headset a 2 in 1, if you are out and about you can only use headphones.
Classic 3.5 mm audio jack comes with the package, but you also get an audio/mic splitter for PC.
The cable is super long if you prefer this type of connectivity with the devices, or are out of battery. It also allows movement if you need to pick up the soda.
These are also comfortable to wear for long periods of time. Bass levels are lower than usual so explosions and dramatic battle sounds are more balanced with higher tones.
---
2. Bose Headphones 700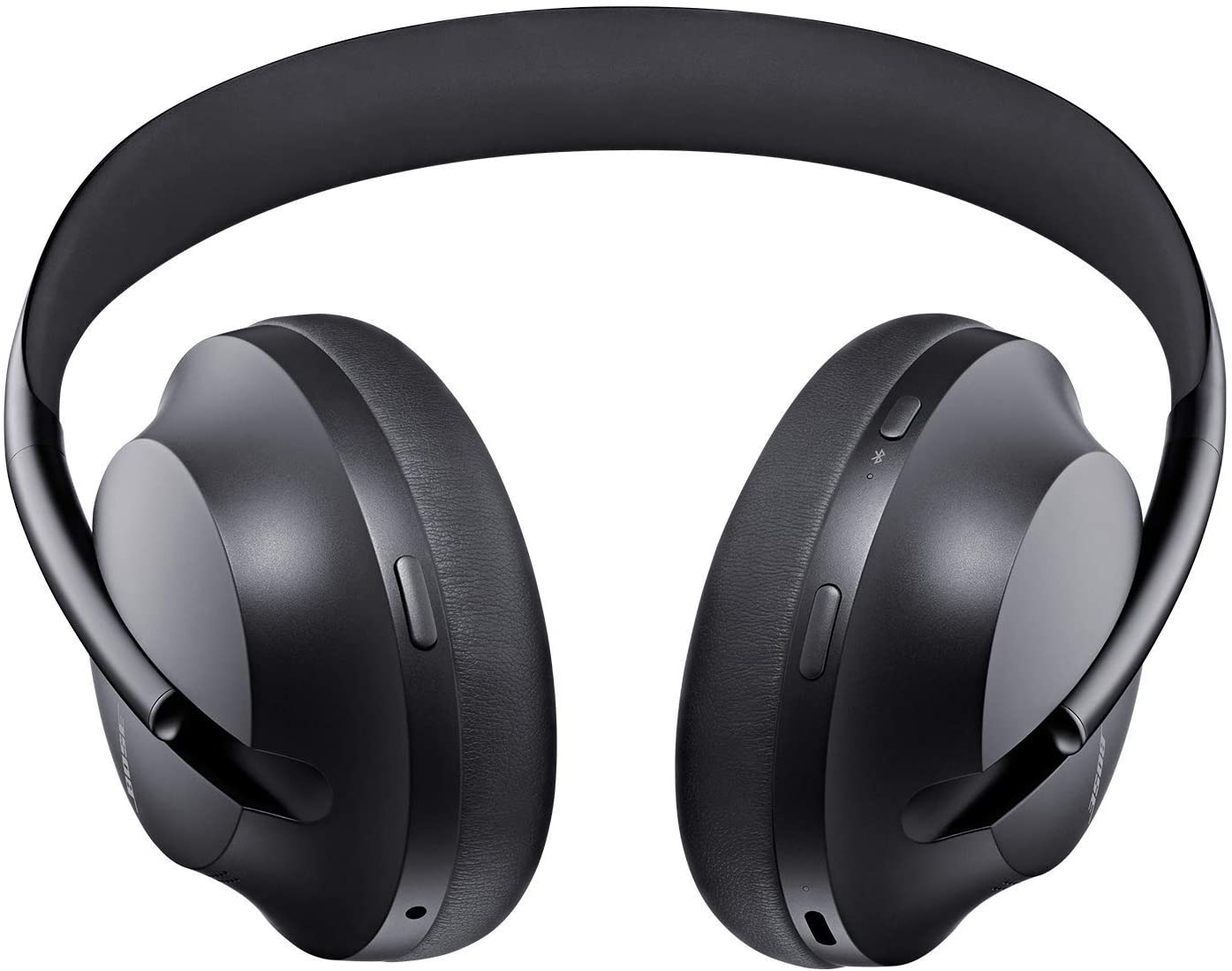 In 1964 Bose entered the sound world. Since then, constant innovations in all aspects of the company brought this brand to what we now know as one of the largest and most chosen brands of earphones.
This company innovates in sound equipment, but on a larger scale, they provide sound gear for stadiums and big events. The military is where they test and develop sound-canceling features.
Who is it for:
Due to noise-canceling features, these are perfect for traveling, especially to cancel airplane and traffic noise. For all who need to only hear silence. For music lovers, as well.
Gamers who pay attention to sound details, game designers, and anyone with a style.
Could this be the best gaming headset for streaming? Let's look at the features.
Key features:
This set is packed with 11 leaves of noise-canceling system with crisp sound and full bass spectrum. The design is sleek and they feel very light. Only three buttons are built in the set and two of those are barely visible.
Noise Cancelling Headphones 700 is also packed with a 6 mic mix to cancel unwanted sounds and just transmit a clear voice.
Active EQ ensures equal sound quality at all volume levels. A touch-sensitive technology in combination with headband design makes your life easier, their app goes even further with available adjustments.
Rotating ear cups are a neat solution when packing and transporting them, as well as when you are not listening to music they won't rub against your chin and neck.
The headset is reinforced with metal netting for longevity and a brake-proof system. Bose Noise Cancelling Headphones 700 are water-resistant but not waterproof.
Bose music app offers adjustment settings and we recommend this app for full sound capacity utilization. Adjust and personalize your settings and preferences and adjust the volumes, highs, and lows, and inevitably bass strength.
---
3. Sony WH-1000XM4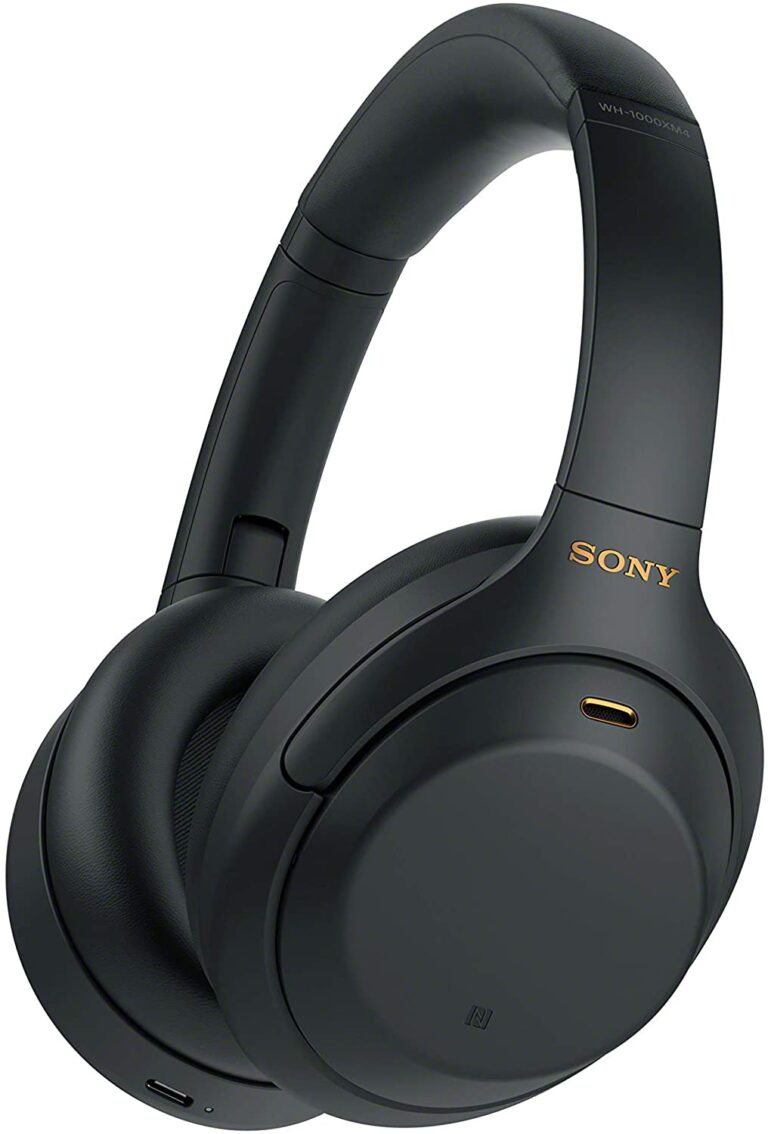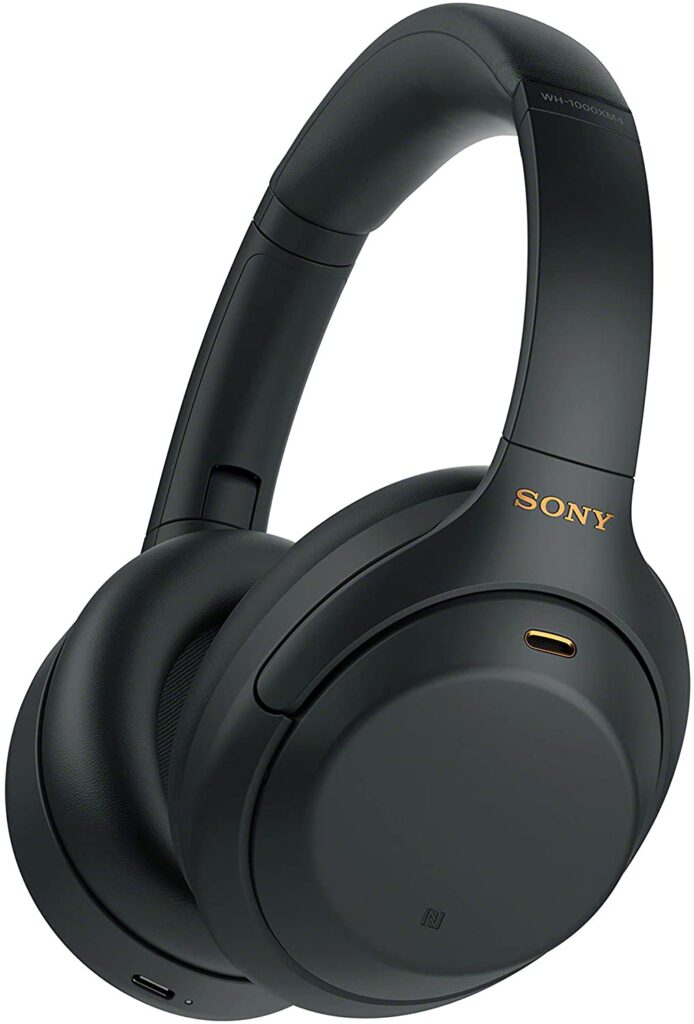 Founded in 1946 This Japanese brand needs no introduction. They are a leading corporation in technology.
We overall love Sony but let's see how WH-1000XM4 competes with more affordable brands and if it is one of the stars in Sony manufacturing.
Who is it for:
Right of the bat, Everyone.
Astonishing sound, design and compatibility, and even noise canceling are just Next level.
Sony didn't disappoint with this headset.
Gamers might really like the touch feature, besides of course great sound and simple design. Easily changeable volume with the simple touch for those in the gameplay means that you won't miss out on the action while trying to adjust your sound.
Remote workers will find these to be comfortable and easy to use. Microphone quality is perfect for Zoom meetings and conferences.
Key features:
This isn't just yet another headset with noise-canceling features.
Dual noise sensor technology cancels snoring noise, hums, and low-frequency sounds- which are almost impossible to cancel.
The sound was developed with Sony Music Studio, just saying this is self-explanatory. The quality of the sound is on the pro level, which means that sound levels are balanced to perfection.
Fast charging is a great addition and the expected battery life is up to 30h. Speak to chat feature makes it super easy to switch from calls to chat and vise versa.
Bluetooth multipoint allows connectivity with two different devices.
Sony Streaming Headphones Connect App is developed to be intuitive, it will automatically detect if you are speaking or chatting or just listening to music.
The auto-pause feature detects if you have removed your set and will automatically pause music or video.
Ear Cups are touch-sensitive and if you lean your head to the left the ambient mode activates.
---
4. Jabra Elite 45h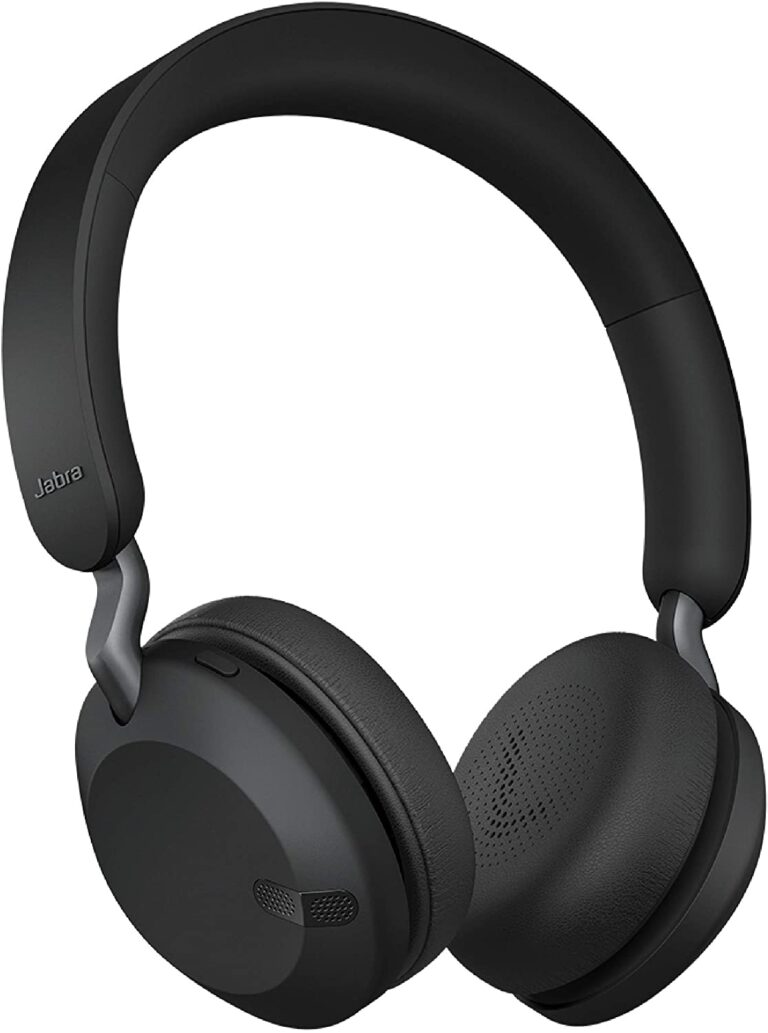 Jabra is a part of GN Group which was responsible for connecting Europe and Asia via telegraph cables.
This brand has been around for 150 years and is also responsible for the first-ever noise-canceling microphone and first in-ear heart rate monitor.
This company develops its products by combining medical science and knowledge of the human ear anatomy and consumers' insights.
Who is it for?
Travelers and commuters will love the battery longevity in combination with fantastic sound. Remote workers on long calls don't have to worry about battery life.
Gamers will also like the longevity of the battery and available personalization of sound level. This affordable and high-quality set is intended for everyone, and we agree.
Key features:
Packed with a 40 mm speaker, one of the largest on the market is contributing to the quality of sound but it also set standards for brands, some of them are currently developing 50 mm speaker systems so we can't wait to test those and hear the difference.
The battery is the star here. Up to 50h of non-stop sound! Wow, this is another surprising feature, besides the 40 mm speaker.
Easy to transport. They come with a little bag, but other than convenience, they won't be protected from harsh punches and dropping punches.
A two-year warranty includes water protection, this doesn't mean that these are waterproof, it means that they really trust their water-resistance system.
Elite 45h are plastic. It's not very appealing, but they are very light and the price is drastically lower than headsets with integrated metals and eco-friendly materials.
Control buttons are placed on the right cup. Volume controls and an assistant button, for example, Google assistant, are placed in the front part of the cap for easy access.
This headset doesn't have a wired jack, but you don't need one because you have 50h until the next charging.
Sound + app is available for download, it is very convenient and nicely designed. It allows personalization and customization that can be saved and used with different devices.
Jabra MySound will let you fill in basic information and will test your hearing in order to create the best and most comfortable sound specifically for your needs and preferences.
5.0 Bluetooth tested well in connection is up to 10m.
Due to the AAC codec, this set is not as compatible with Android as it is with IOS. It will still work but the performance test does indicate a slight advantage in IOS devices.
The battery is something worth bragging about. Up to 50 h of sound in a single charge is very impressive, and charging is super fast, for example, 15min charge-10H of sound. To fully charge you'll need around 1:30H
---
5. Sennheiser HD 450BT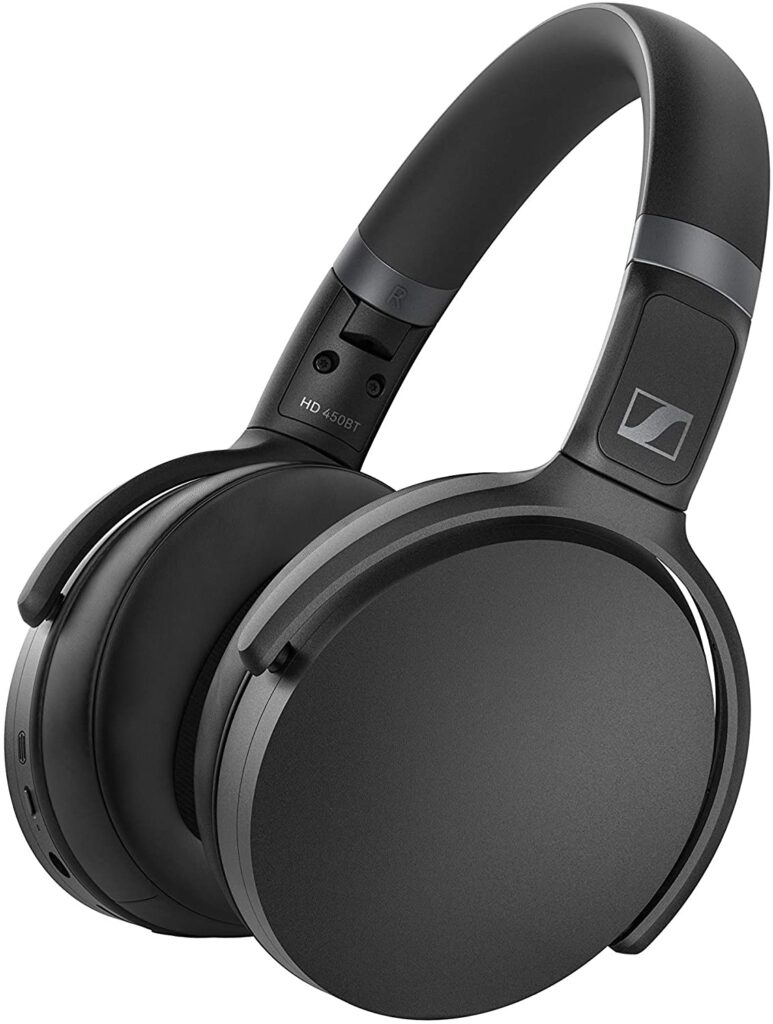 Sennheiser is a European company focused on developing products based on market research and consumer needs.
Technology and innovations are the next most important trademark for this brand. DJs and musicians are common customers which says a lot about sound and comfort quality.
Who is it for:
Due to affordability and noise-canceling features, these are great choices for traveling and commuting.
Everyday use in remote work is a pleasant experience. Musicians and gamers would welcome comfort, sound quality, and battery longevity.
Key features:
The ergonomic shape of ear cups fits nicely to the ear and contributes additionally to noise-canceling features.
The caps are smaller than expected, The brand decided on smaller cups to make the transport easier because the caps only rotate slightly but not enough to be compact.
Earpads are replaceable, so if the original material doesn't suit you perfectly, you can select materials that feel nice and are comfortable for you specifically. This is also great for hygiene.
Sennheiser HD 450BT is very compatible with Android and IOS. Battery life is up to 30h. The sound is balanced and the bass lovers won't be disappointed. Bluetooth connectivity is great with 5.0.
---
6. BlackShark V2 Pro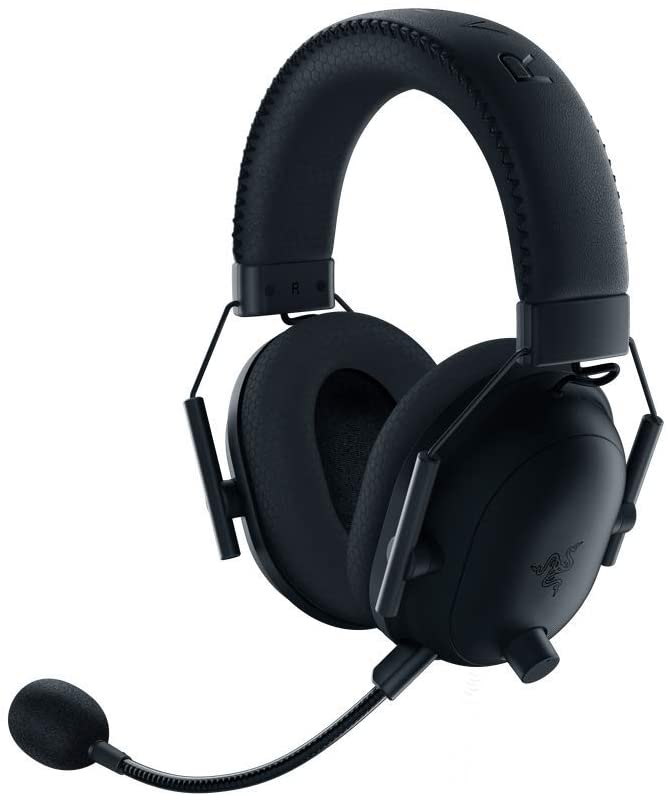 Razer is well known in the gaming world. Founded in 2005 to bring hardware and software to the highest standards and become the global brand for gaming and esports, not only that they succeeded but they call themselves a lifestyle brand for gamers.
Who is it for:
For gamers who hate cords but love rocking sound, they are a good headset for streaming and the best wireless headset for PC.
For everyone who listens and plays music and everyone who wants perfect sound without breaking the bank. Of Course, remote workers could use it for long calls.
Key features:
Very comfortable headset made of plastic but reinforced with wiring.
Memory foam is used in cups to additional seal and reduce noise, not the mention that comfort is way better.
Highly compatible with PCs and Consoles, which makes perfect sense considering that the brand is all about gaming.
Battery life is estimated up to 24h for a single charge.
Sleep mode will automatically turn off the set if you are not using it to additionally save battery in case that you forgot to press the off button or just fall asleep.
Sound is pretty accurate, meaning that what sound designer intended you to hear – you will hear. Bass lovers will get an extra kick no doubt.
The microphone is set to EQ customization in volume, voice clarity, and unwanted noise.
---
7. Corsair HS70 Pro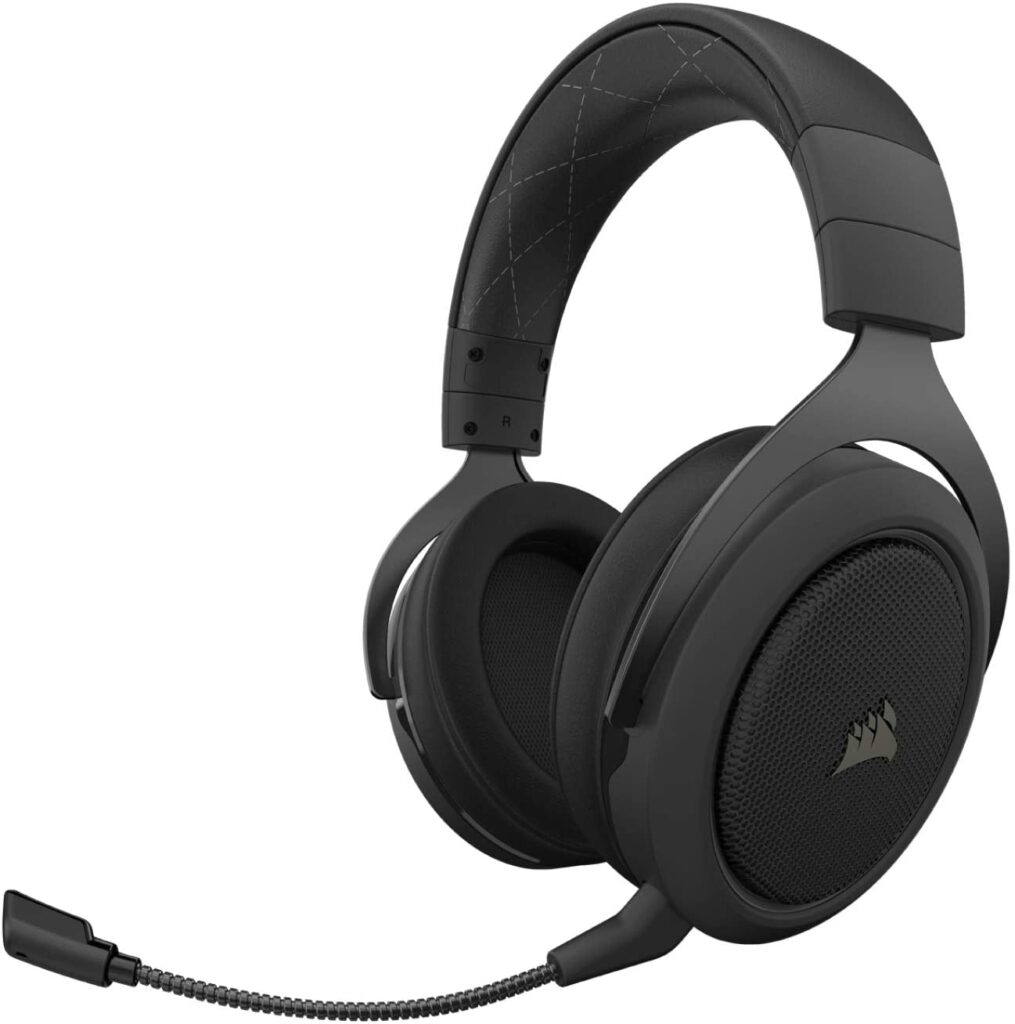 CORSAIR is another brand that is focused on developing gear for gamers. Content creators are also in their focus when creating streaming equipment.
Products developed by this brand vary from lightning to pro studios. Founded in 1994 as primarily component manufacturers they grew and placed themselves as one the big players.
Who is it for:
Gamers, streamers, and content creators will find these a great fit. This wireless gaming headset PC offers Fantastic sound quality with low latency in watching and streaming.
Microphone quality is perfect for streaming voice and game chat. Music lovers will enjoy these as well, mid, high and low-frequency ranges are well balanced.
Key features:
The build and padding quality of this headset is pretty good. Cups are large and will fit every ear size, but besides the fitting, they also completely cover the ear.
This should eliminate the ambient noise and provide higher sound quality overall. Cups don't rotate and the set is not foldable.
This headset is mostly for indoor or in-office usage, due to cup size they are not as sleek as other brands we talked about in this text.
The microphone is easily removable and of great quality, if you prefer advanced features Corsair iCUE software is great for customization. Battery life is estimated to 15h.
A USB dongle is a must, you can't use these without it. This is a minus in the sense that you need to always be around your PC or console, but it is a plus for low latency.
---
8. Razer Nari Ultimate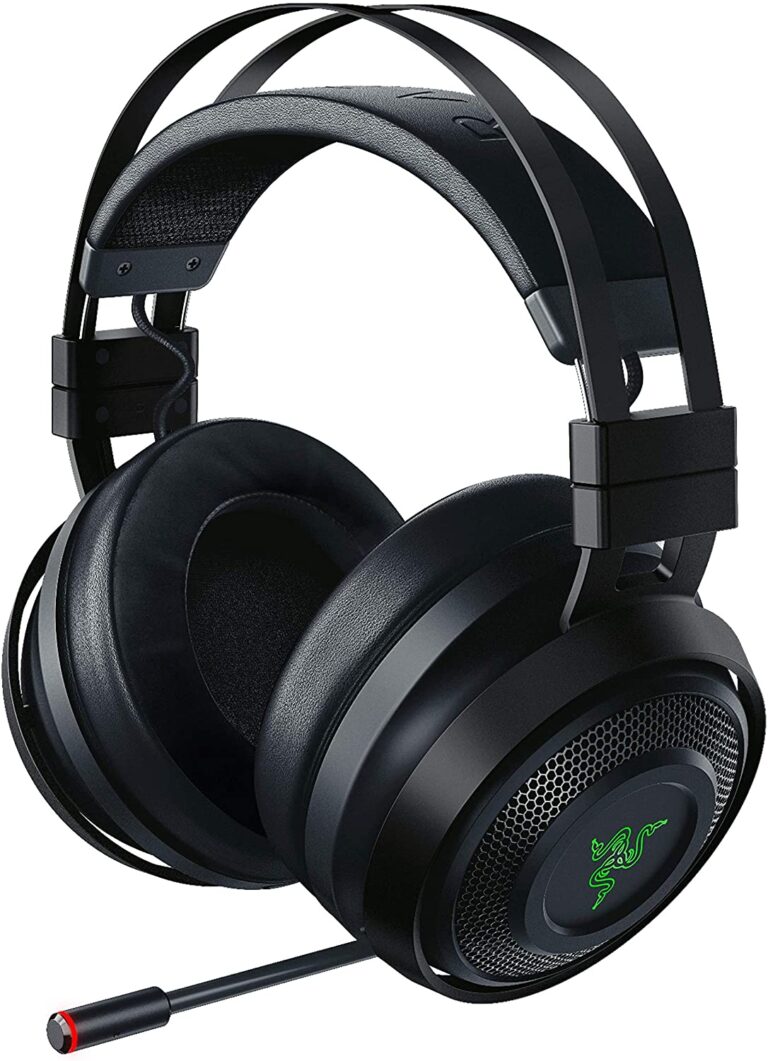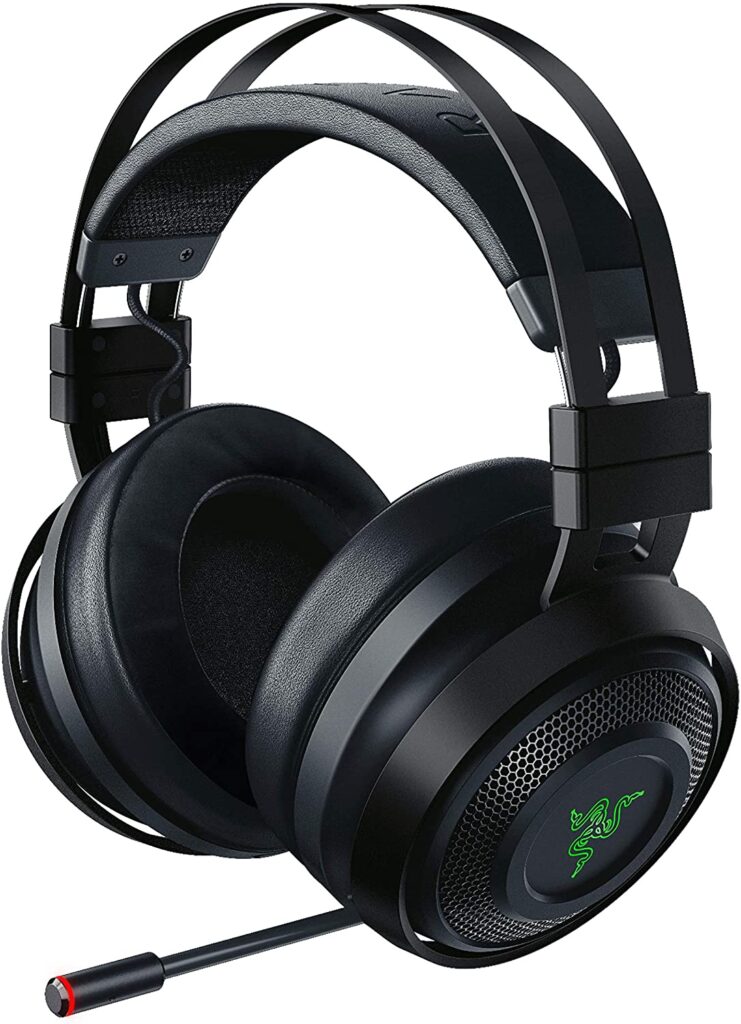 We already know that Razer knows how to bring the gaming experience to life and create the best wireless gaming headset. With this limited edition headset they are introducing new drivers in each of the cups. Let's look at all features and see why are these chosen by the world's most famous gamer.
Who is it for?
Literally gamers. Features and design are specifically designed for gaming and streaming, but this doesn't mean that remote workers wouldn't appreciate little edginess in their work.
Key features:
Haptic feedback by Lofelf responds to bass frequencies by vibrating. This feature is supposed to enhance the gamers' experience, similarly to 4D movie theaters, it is one step closer to real-life experience.
This feature could be extremely annoying if you would use this headset to listen to music or watch a movie, but to be fair, no one ever recommended these for those, unless you actually want the bass vibration.
The intensity of vibration is adjustable.
Nari ultimate is a little heavier, but still very comfortable. Cups are nicely padded and for those who wear gaming glasses, finally, there are invisible divots, hidden in the cushions.
This shows Razer's attention to detail and responsiveness to users' feedback. Some headsets on the market are extremely uncomfortable for those with glasses and there are thousands of reviews pointing this out.
The logo on the cups lights up or better to say glows because the intensity of LED lights is mild and it won't distract you from your activity, and at the same time, it indicates battery levels so you will know if you are running out.
Connectivity and pairing with consoles or PCs are conditioned to USB adapter. To connect with PS4, XboxThis, etc USB has to be plugged directly into the console.
This type of connectivity is justified by the range of the wireless signal, it is way better than in some other headsets.
The USB adapter can be inserted into the right cup. Since this is a standard USB adapter it is not compatible with phones, however, 3.5mm cable input will do the trick.
The controlling wheels are super neat for changing and switching your sounds during gameplay. Battery life tested in non-stop work and vibrate mode is around 8.5h.
To charge these you will need a micro USB port. We are not sure why these are not 3.0 chargeable, but hey, it is what it is.
The microphone is retractable and the voice transmission is very clear. Some tests show very little distortion in low ends, but this won't affect the gameplay in any way.
The sound quality is great for gameplay. Sound is emphasized in details, such as footsteps, voices, etc but it is somewhat muted in very high frequencies such as screams, we like these kinds of sound mix, cause we don't need to emphasize extremely high sounds to enjoy our game play.
As far as isolations of unwanted ambient sound, these are very good. These are truly amazing, sound details will definitely emphasize your gaming experience.
You might hear things you didn't know were there. We also like the design, the mic, and the vibrating feature.
---
Things to Consider when Buying the Best Wireless Headset for Streaming
1. Sound quality
This is an obvious one but on the other hand perception of sound is an individual experience.
Depending if you prefer deep bass when listening to music or are into games with explosions and battles, or you prefer clear voices and high tones such as game conversations.
2. Microphone quality
This is an important addition to headsets for streamers and content creators, of course the chat option is equally important.
The quality of produced sound for your content makes a lot of difference in viewing time and subscriber followers. Most creators invested in professional equipment and to compete, a clear voice is a must.
3. Comfort
For long hours in the gameplay feeling comfortable with your headset is important. This is where the weight and padding come into play.
Heavier headsets tend to slip and even make you feel dizzy. Headsets that cover the entire ear will mute ambient sound but they might make you sweat.
So chousing sets that are lightweight and padded with non-synthetic materials is the way to go.
4. Connectivity
Wireless sets vary in connectivity ranges. Some headsets work fine on a 30 ft by you might experience some cut outs in signal, some ranges are about only 10 ft but they might work better.
Implemented 5.0 wireless signal is stronger and more compatible with different devices, but the negative is that some users have not upgraded yet to newer systems.
Best thing to do is to get familiar with your devices and based on the connectivity options choose a headset.
Some consoles are not compatible with headsets, for example Xbox. Some consoles require an additional wireless jack.
PCs should be compatible, unless they are older models in which case you again need the jack. So make sure to check all connectivity options pre purchase.
Cable headsets usually have separate inputs for microphone and headphones. These are usually standard, but for some professional headsets you have to buy additional extensions.
5. Price
We talked a lot about pricing in this article. Sometimes you pay for the brand name and not so much for the quality. Independent brands are getting more attention because they have great headsets and sound/speaker drivers. Sony will always be compatible and Bose don't show any signs of price droppings.
Depending on your needs and overall experience with brands you might be able to pay more if that would make you more comfortable, and if you don't feel like taking a chance with indi brands.
6. Warranty and return policy
These two are important for testing new devices. Even with great reviews and high ratings, it doesn't mean that you feel the same way when trying out the headset. No questions asked policy is mostly practiced with smaller and independent brands. Big brands have return policies but this may be the pain in the b.
Warranty length says a lot about the brand. The longer warranty period the better. Common damages are caused by dropping the set and button sensitivity. In wired sets cables are the first thing that gets damaged. If you are paying big bucks this is something to consider.
Related: Best Gaming Earbuds for Streaming
Best Wireless Headset for Streaming – Conclusion
We presented some great headsets in this review. We were digging deep into performance testing because we want to know what we are buying and we were spurious about the prices. With the technology development and streaming, gaming, and content creating being at the level of the hive in 2021 we wanted to explore cheaper options but with the best qualities.
Hopefully this list helps you with your choice.
Related: Best Headset Microphone for Streaming
Frequently Asked Questions
Join our Discord Group. Ask questions, team up with fellow streamers, share memes, and more!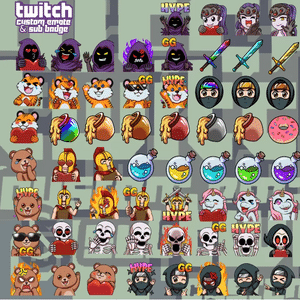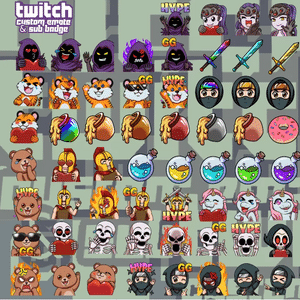 Claim for FREE:
FREE Emote PACKS
A book on growing your audience