Wi-Fi extenders have become very popular nowadays and many people use them.
As the very name says, they extend the Wi-Fi signal by re-broadcasting it.
Wi-Fi range extenders can be very useful for companies and business organizations but also for streaming and gaming.
However, not all Wi-Fi extenders are top-notch and you surely want ones of the highest quality that provide the best Wi-Fi coverage.
In case you don't know how to evaluate the quality of a Wi-Fi extender and, hence, how to pick a proper one, check out this list where I'm going to present you with the best Wi-Fi extenders on the market.
Post 2 of 10 in the Streaming Gear
Best WiFi Extender for Gaming
Reviews
---
Best WiFi Extender for Gaming
<!—INSERT CODE BLOCKS BELOW—>

2 bands
802.11 wireless connectivity

1 gigabit LAN port
1 LED indicator
1. TP-Link AC1750 (RE450)
---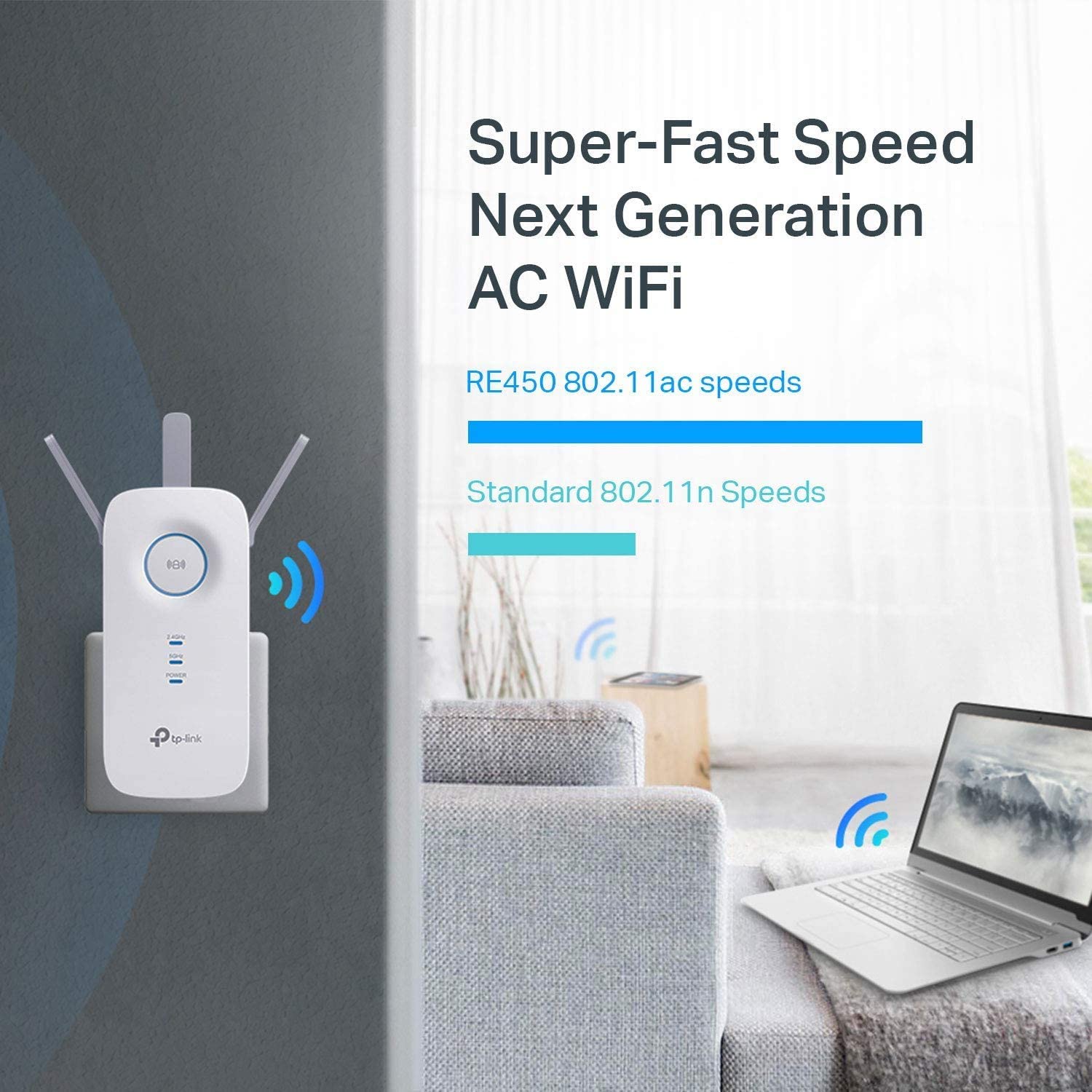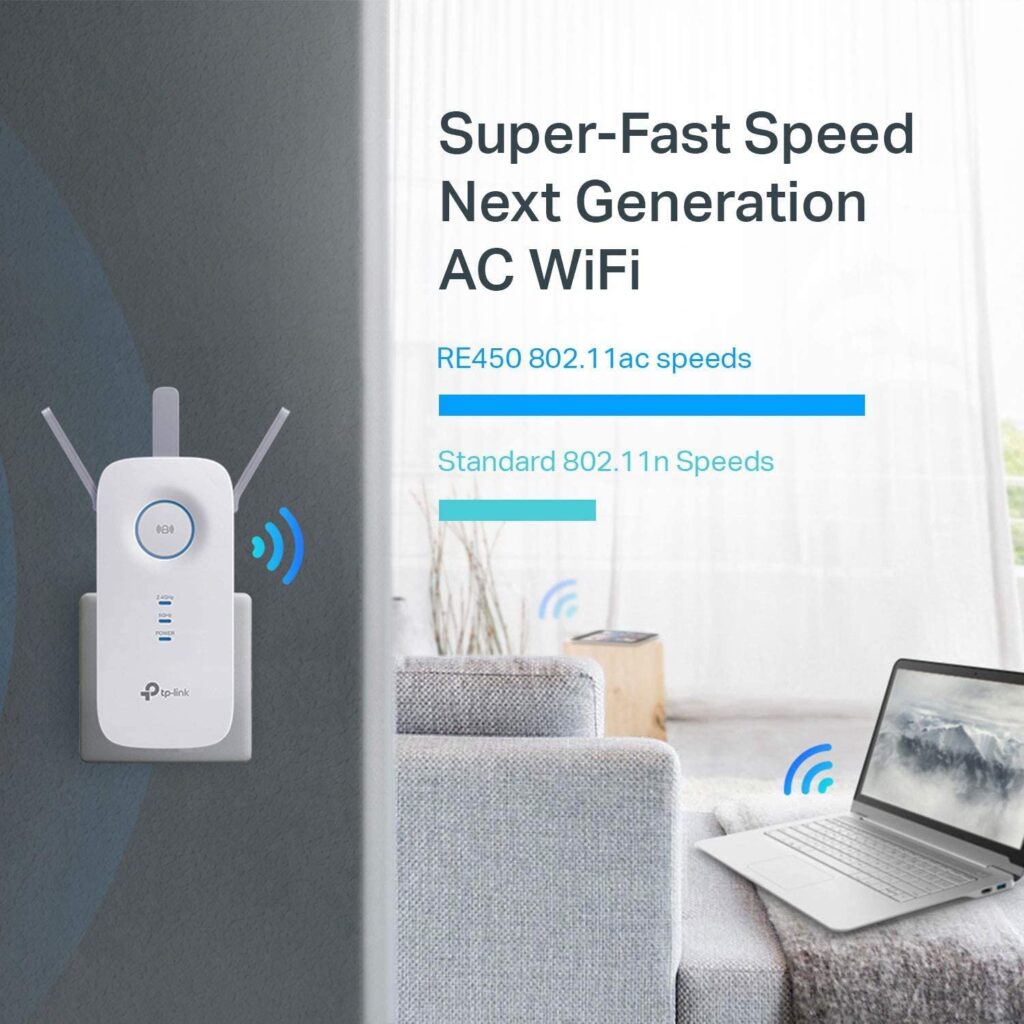 ---
Description
When it comes to design I have to admit that this extender looks very cool and modern although it's a bit bigger than the competition.
The combination of gray and white colors is excellent and two external antennas on the sides just add to the nice look.
In terms of data rate, AC1750 has a maximum of 450Mbps on the 2.4GHz band.
As for the 5GHz band, the maximum data rate is 1300Mbps.
On the front side of the device, there's a WPS button that has a ring with LED lights around it.
These lights are very helpful since the ring becomes red in case of poor connectivity, while the blue color represents a stable Wi-Fi connection.
Additionally, when there's no connection the ring is not colored, while it blinks blue when the connecting process is in progress.
On the backside of the extender, there is a plug, the right side contains a one-gigabit ethernet port, whereas LED lights on/off button, reset buttons, and power button are located on the left side of the device.
AC1750 also has a web management console where you can select a preferred security protocol, check the Wi-Fi network status, and create passwords and SSIDs.
When it comes to the installation, the setup process is very quick and easy and doesn't take more than 5 minutes.
Just press the WPS buttons on your wireless router and then on the extender and simply wait for the LED light to become blue.
If the light goes red, that means that you need to narrow the gap between the extender and the Wi-Fi router.
The throughput is very good, both when the Wi-Fi router and the extender are in the same room and when they're at a distance.
All in all, this is a quality Wi-Fi range extender with a solid performance at a fair price.
In my opinion, TP-Link AC175 is definitely a good bargain.
2. NETGEAR EX7000
---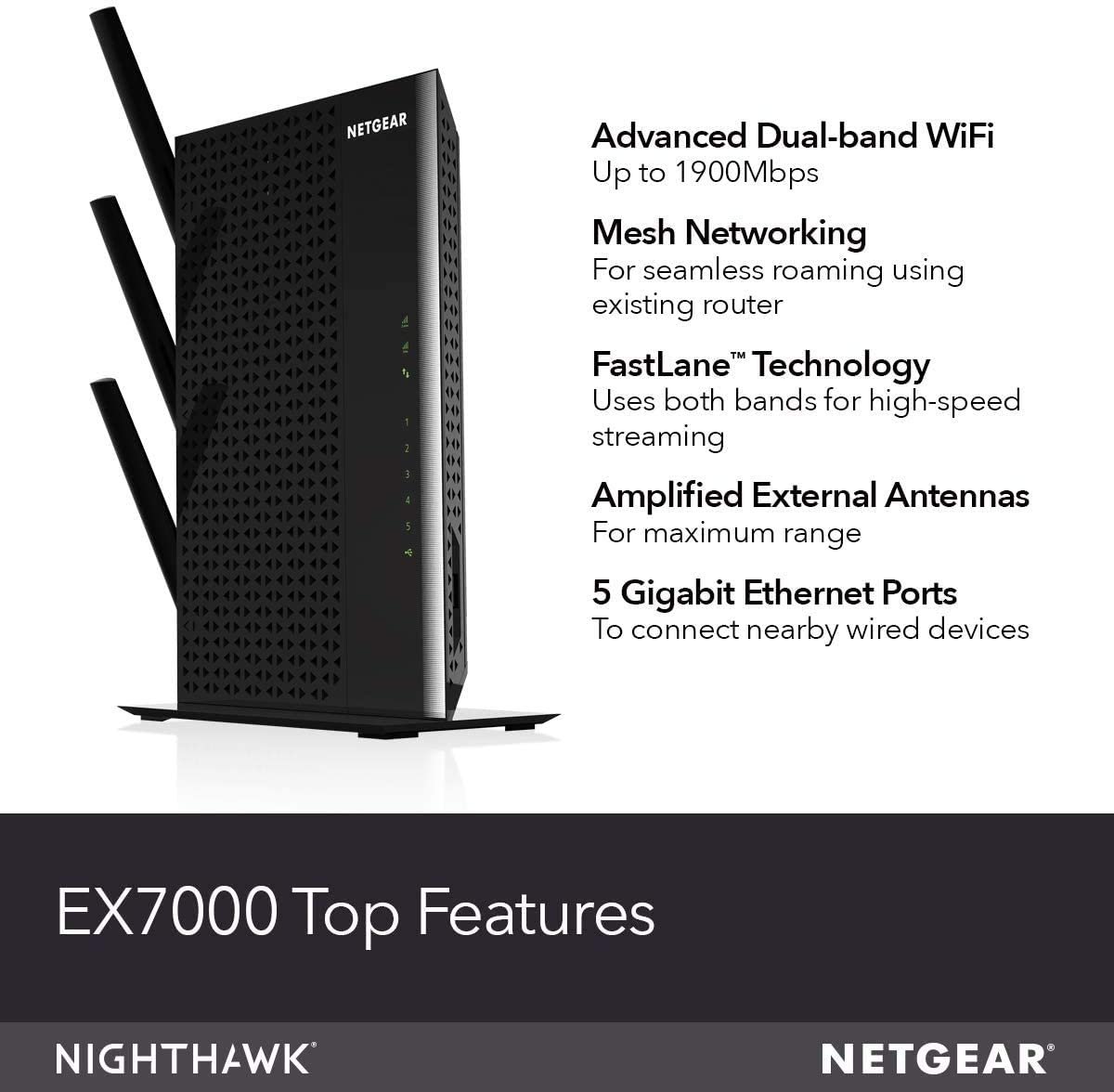 ---
Description
This is another extender with a stylish design and one of the most popular Wi-Fi extenders on the market.
It has 3 antennas and it's black.
Nevertheless, just like the previous extender on the list, it's really big, even bigger than the previous one.
As a matter of fact, it's so big that there's almost no difference in size between this extender and a typical router.
NETGEAR EX7000 can be positioned both vertically and horizontally, depending on your preference, and has five-gigabit ethernet ports.
Additionally, there are 9 LED indicators (one for the extender, one for the USB port, and one for each gigabit ethernet port and each band).
All buttons (power button, reset button, and WPS button) are located on the backside of the device, while the USB 3.0 port is located on the front.
The setup is very easy and NETGEAR has its own web management interface called NETGEAR genie.
There you can check the speed of the connection, firmware, SSID, and the quality of the signal of the Wi-Fi network.
The mentioned quality is expressed with colors (red color stands for a bad signal, green means an excellent signal, and yellow represents a good signal).
There is even an option where you get to choose whether you want your Wi-Fi power to be at 25, 50, 75, or 100 percent, depending on the size of the area where you want to have wireless coverage.
As I mentioned, the installation is rather simple.
After you plug in the extender, you need to open the New Extender Setup page where you have to create an account.
Afterward, create SSIDs, and passwords, and choose a mode.
Finally, NETGEAR EX7000 offers an amazing throughput at different distances and, in terms of this feature, it beats almost all competitors.
However, it is more expensive than the competition, so it's definitely not an affordable option for everyone.
3. Linksys RE7000
---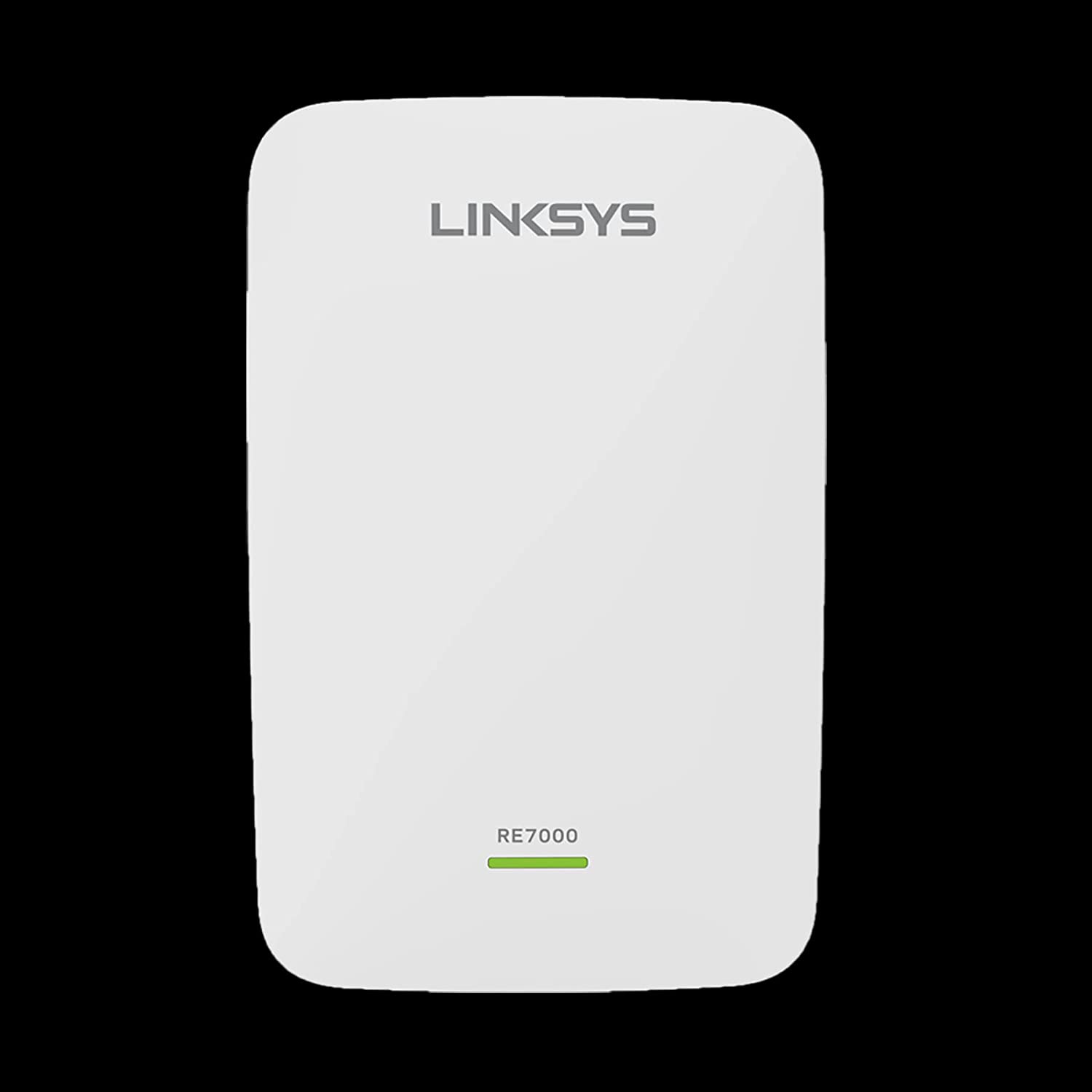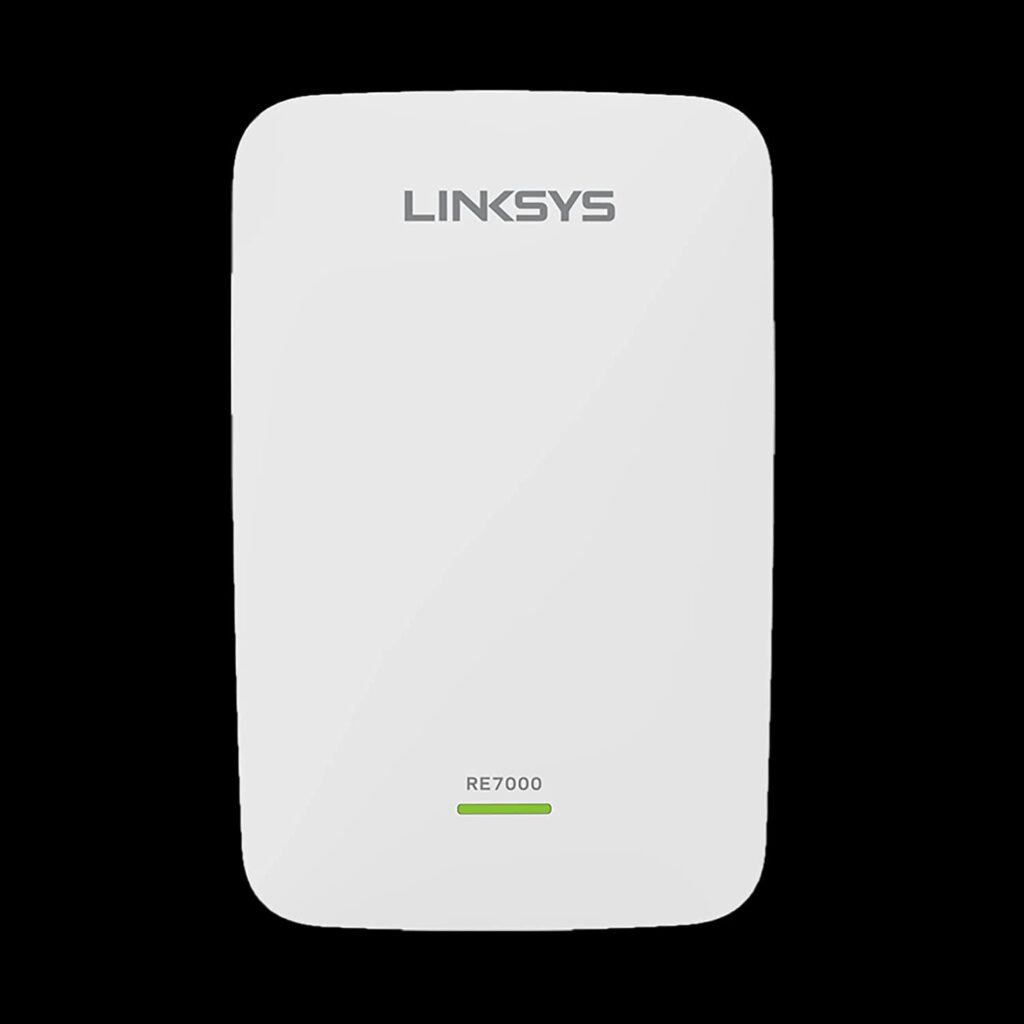 ---
Description
Linksys RE7000 is the best Wi-Fi extender so far on the list and one of the best Wi-Fi extenders on the market.
Even though RE7000, just like the previous two extenders, looks really nice, I have to admit that its best sides are its other features.
Namely, this extender supports the 802.11ac dual-band technology and beamforming as well as the MU-MIMO streaming.
For those of you who don't know what these things are, beamforming allows the device to send the signal directly and, hence, use the smart connect technology, while MU-MIMO doesn't send the data consecutively, but concurrently.
When it comes to the throughput speed, on the 2.4GHz band the speed is 300Mbps, while the 5GHz band provides a speed of approximately 1730Mbps.
The device contains 1 LAN port on the bottom side of it, whereas the reset and WPS buttons are on the right side of the extender.
Just like with most wireless extenders, the strength of the connection is shown through the colors displayed on the LED indicator.
If a connection is strong, the light will be green, orange color suggests that the connection is poor, while the blinking orange light suggests that the extender isn't connected to the router.
If there's no connection, simply plug in the extender somewhere closer to the router and generally try to avoid dead zones.
RE7000 is rather easy to configure.
Namely, there's a web page where you can set up several settings such as SSID and security settings, or choose whether you want to use both bands at the same time or just one of them.
The installation is quite simple and doesn't last longer than a couple of minutes.
As for the Internet speed, Linksys RE7000 did a very good job at closer distances, and the throughput on the 5GHz band was particularly excellent.
On the other hand, the quality of throughput slightly declined at greater distances.
4. NETGEAR Nighthawk EAX80
---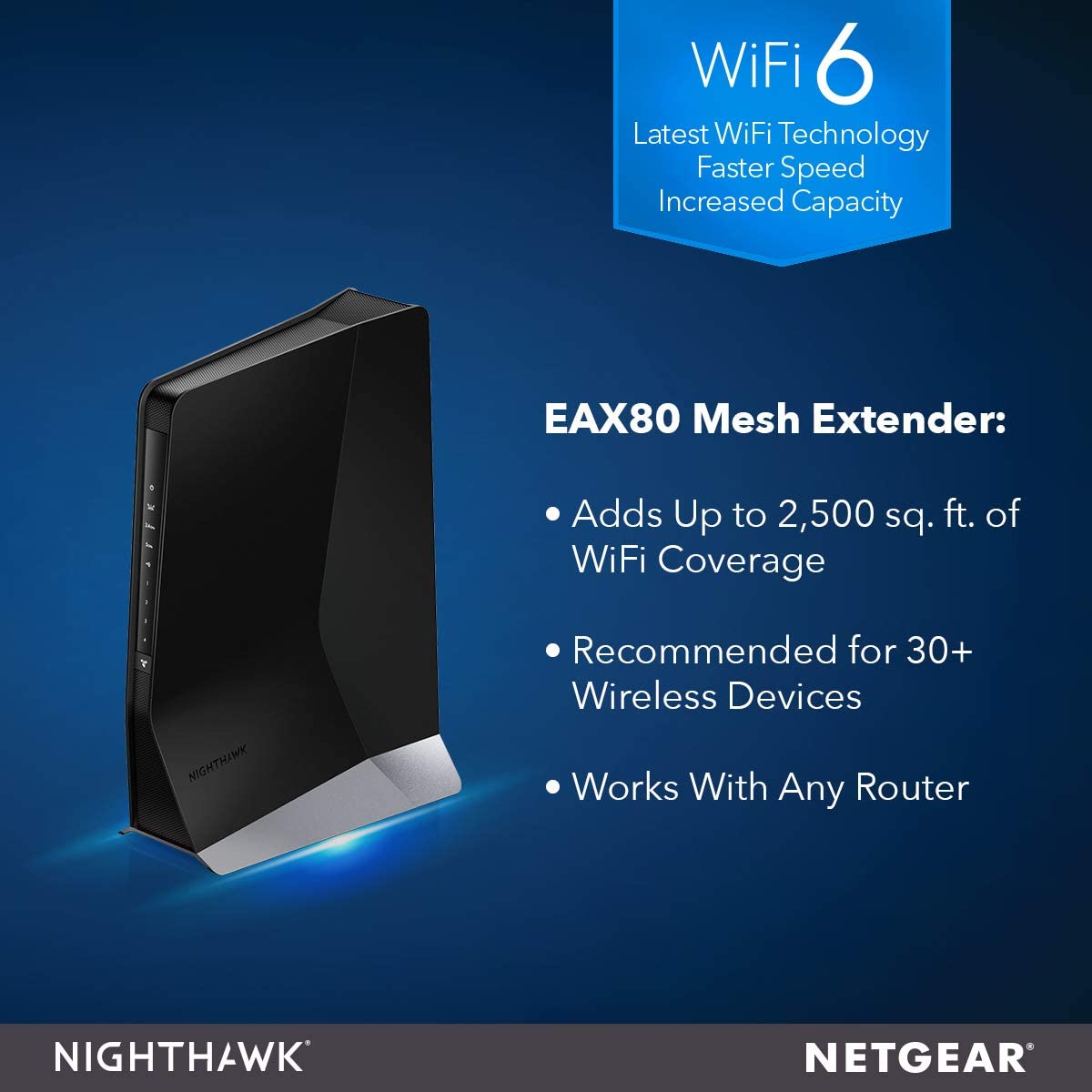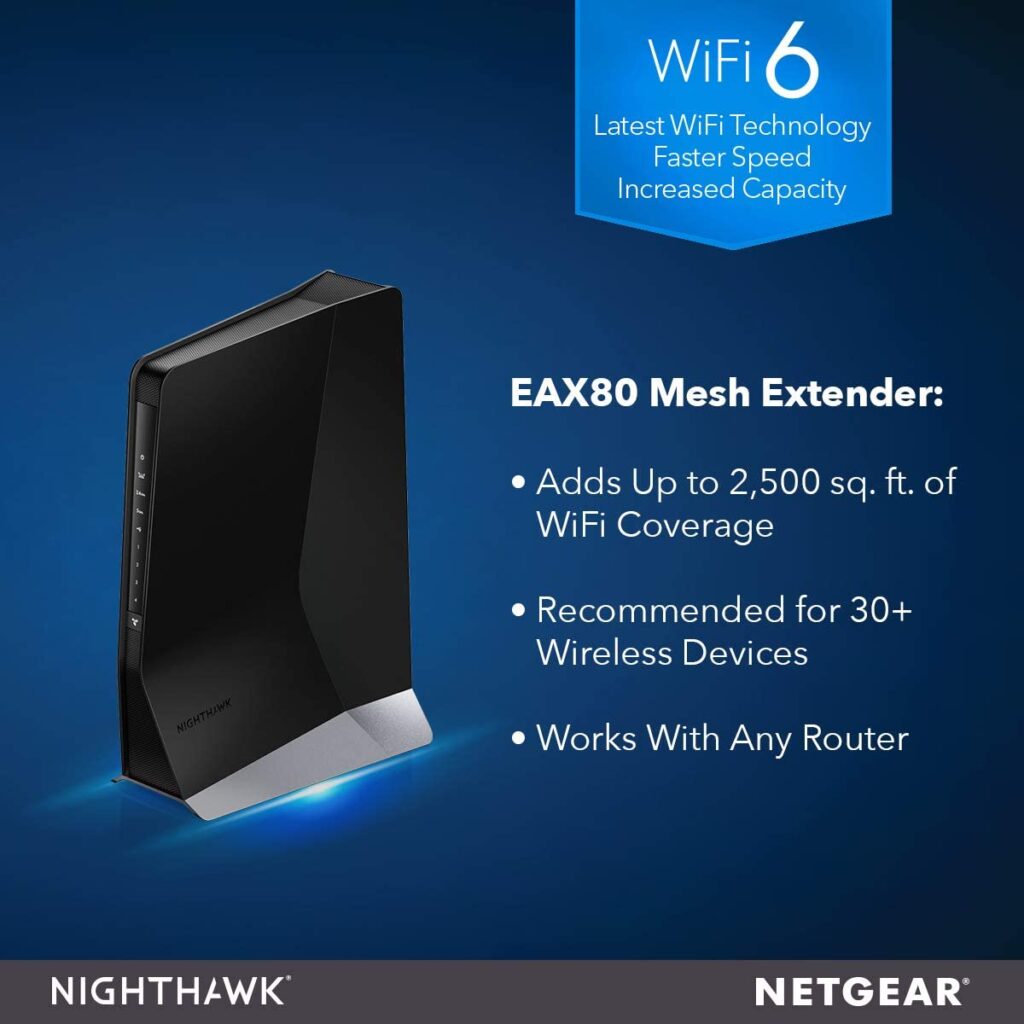 ---
Description
In terms of power, this Wi-Fi range extender is definitely in the first place so far.
Namely, according to NETGEAR, this is the first extender that has supported the 802.1ax also known as Wi-Fi 6 standard.
Unlike other Wi-Fi extenders which are mostly plug-in extenders, this one is not, so it's very mobile and lets you find the proper spot where you have the best wireless network signal.
It has four-gigabit ethernet ports and one 3.0 USB port.
Just like other Wi-Fi extenders on the list, this one has 2 bands (2.4GHz and 5GHz) and its maximum throughput is around 6000Mbps which is an incredible performance.
In addition, EAX80 is a so-called mesh range extender which means that, if you live in a really large place, you can purchase other EAX80 extenders, connect them and create a network that has Wi-Fi coverage of a couple of thousand square feet.
The installation process is very simple and extremely automated thanks to the Nighthawk app.
Namely, the app will automatically set the name and the password of your existing router as the name and the password of your new extender.
Additionally, any of your wired devices will automatically be connected either to your router or your extender depending on which of them provides the better Internet signal.
Finally, keep in mind that you will need a router that supports Wi-Fi 6 standard if you want to exploit all the benefits of the EAX80 extender.
So, if your router doesn't meet this condition, you would need to buy a new router and I think that would be a waste of money.
All in all, I think this is an amazing device that can certainly make your life easier, but it has one very important downside and that's its very high price.
So, if you are well-off and you have a huge house, this is a great device for you.
Otherwise, I think you'll be just fine with a less powerful and, most importantly, cheaper wireless extender.
5. TP-Link AC2600 (RE650)
---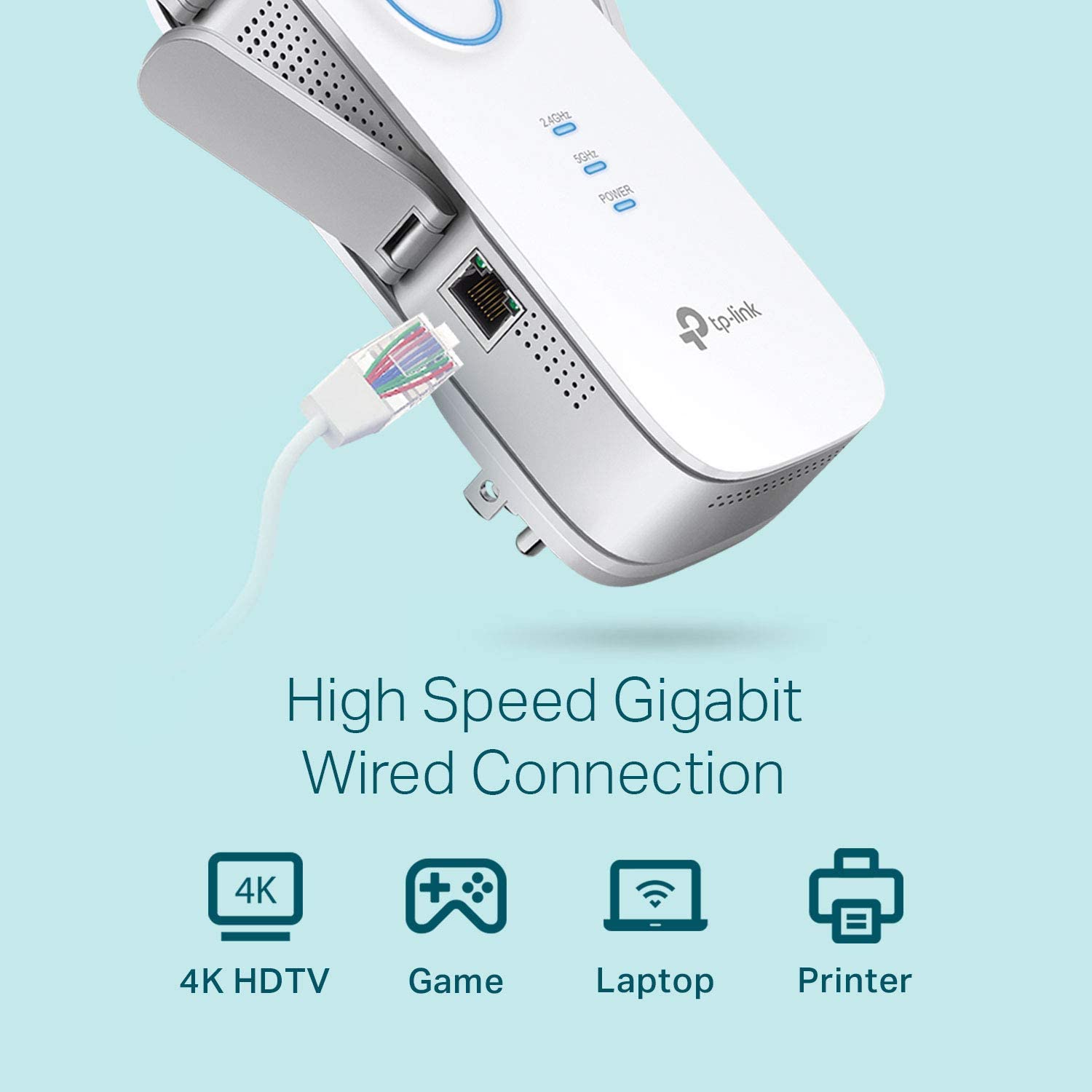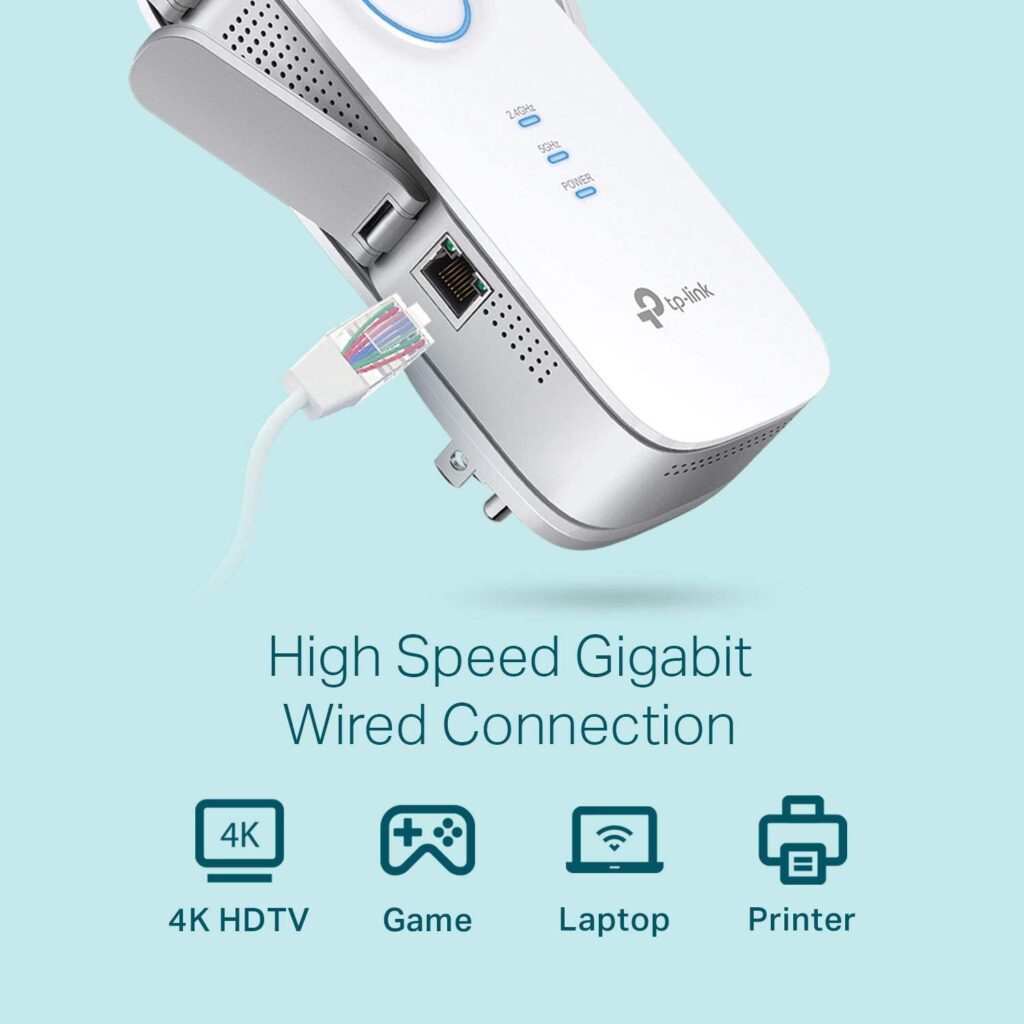 ---
Description
This TP-Link extender is another one most suitable for large spaces and very powerful.
RE650 Wi-Fi extender is a plug-in device and it's so big that it can even block power sockets if there are some nearby the one you plugged the extender in.
Apart from its bulky size, it looks cool with its four antennas.
Additionally, there are four LED indicators that can be turned off if necessary.
The main LED indicator shows the quality of the Wi-Fi signal and glows blue if the signal is excellent or red if the signal is poor.
RE650 is a dual-band extender and works on the 2.4 GHz and 5GHz bands.
On the first one, it delivers around 800Mbps, whereas on the latter one it delivers approximately 1730Mbps.
This Wi-Fi range extender has a dual-core 880MHz processor and supports beamforming and MU-MIMO technology.
Nevertheless, there is only one ethernet port and there is no USB port.
The setup and configuration processes are quick and simple and an excellent feature is a TP-Link tether app that allows you to control your Wi-Fi extender from your tablet or phone.
The app is compatible with both Android and iOS devices.
Finally, this is another high-quality but expensive extender, but if your financial situation allows you to purchase it, I definitely recommend it.
6. NETGEAR EX7700
---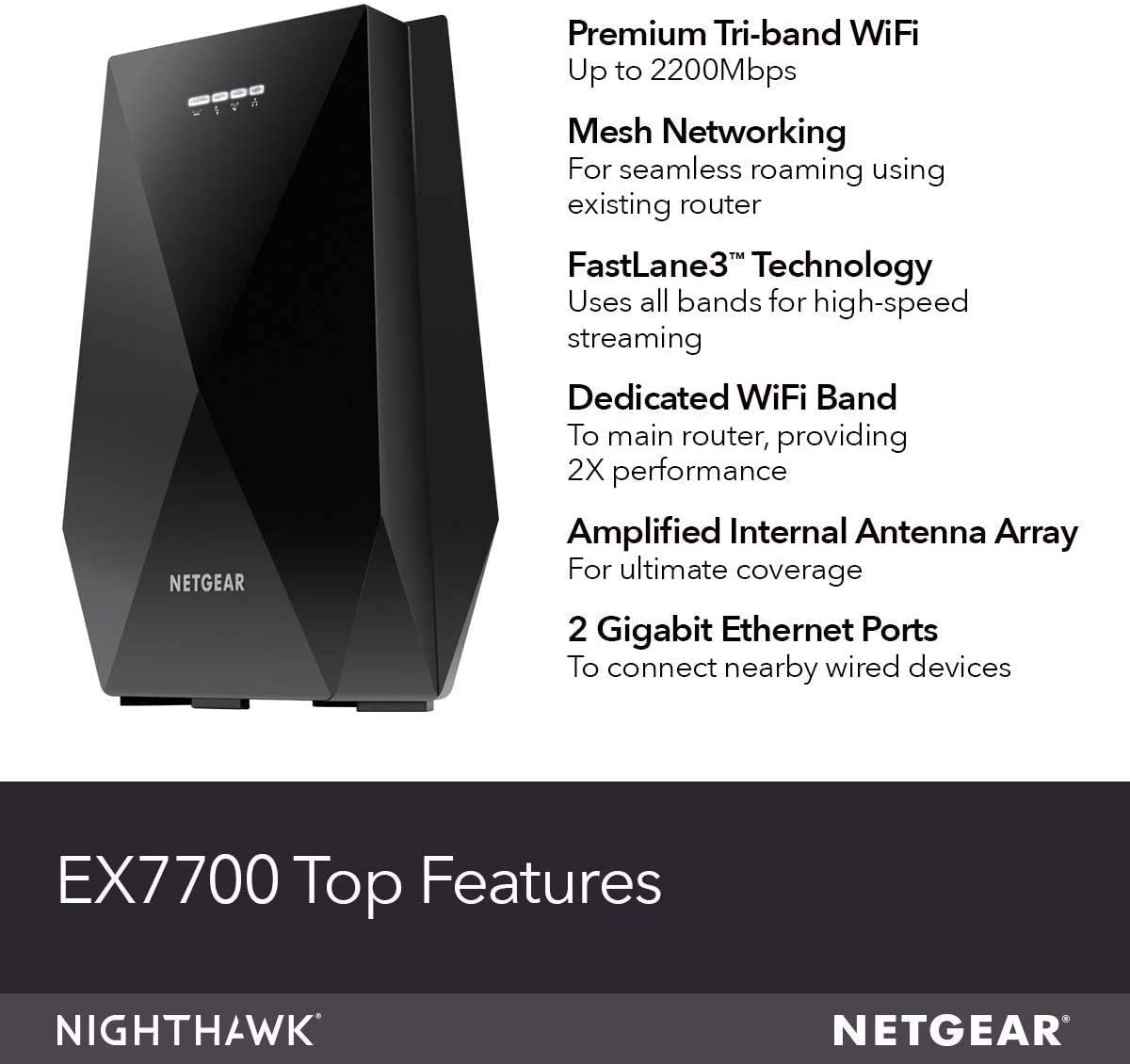 ---
Description
Apart from being designed very modern, EX7700 is a non-plug-in extender so you won't be obliged to keep it only in places where you have a socket.
Instead, you'll be able to put it anywhere you want and, hence, find the most appropriate place for the best wireless network signal.
The installation process is as simple as it can be.
Just press the power button on your wireless router and then on the EX7700 and you're good to go.
The LED indicator is supposed to turn white when the signal between the Wi-Fi router and the extender becomes strong and excellent.
On the other hand, if the LED light isn't colored, that means that there's no connection.
If the connection is good the LED light will turn yellow.
Once the router and the extender are connected, the extender will copy the password and the SSID from your router and save you some precious time.
In case you need to change some settings, you'll need to use your web browser to access the extender's interface.
Unlike other extenders from the list, NETGEAR EX7700 is a tri-band extender.
Namely, there are two 5GHz bands and one 2.4 GHz band.
The 2.4GHz band delivers about 400Mbps, while the other two bands deliver around 860Mbps each.
Even though the throughput is great, it tends to drop as the range increases.
Therefore, if you need the extender that will cover, let's say, more than 20m, this one won't do the job.
But for smaller distances, it's really good.
Finally, EX7700 supports MU-MIMO and can form mesh networks.
In conclusion, this is a powerful but expensive extender, so if you can afford it and if you can make use of all its features, primarily MU-MIMO and mesh, you should totally buy it.
If not, there are several cheaper, but still quality, options.
7. Rock Space AC1200
---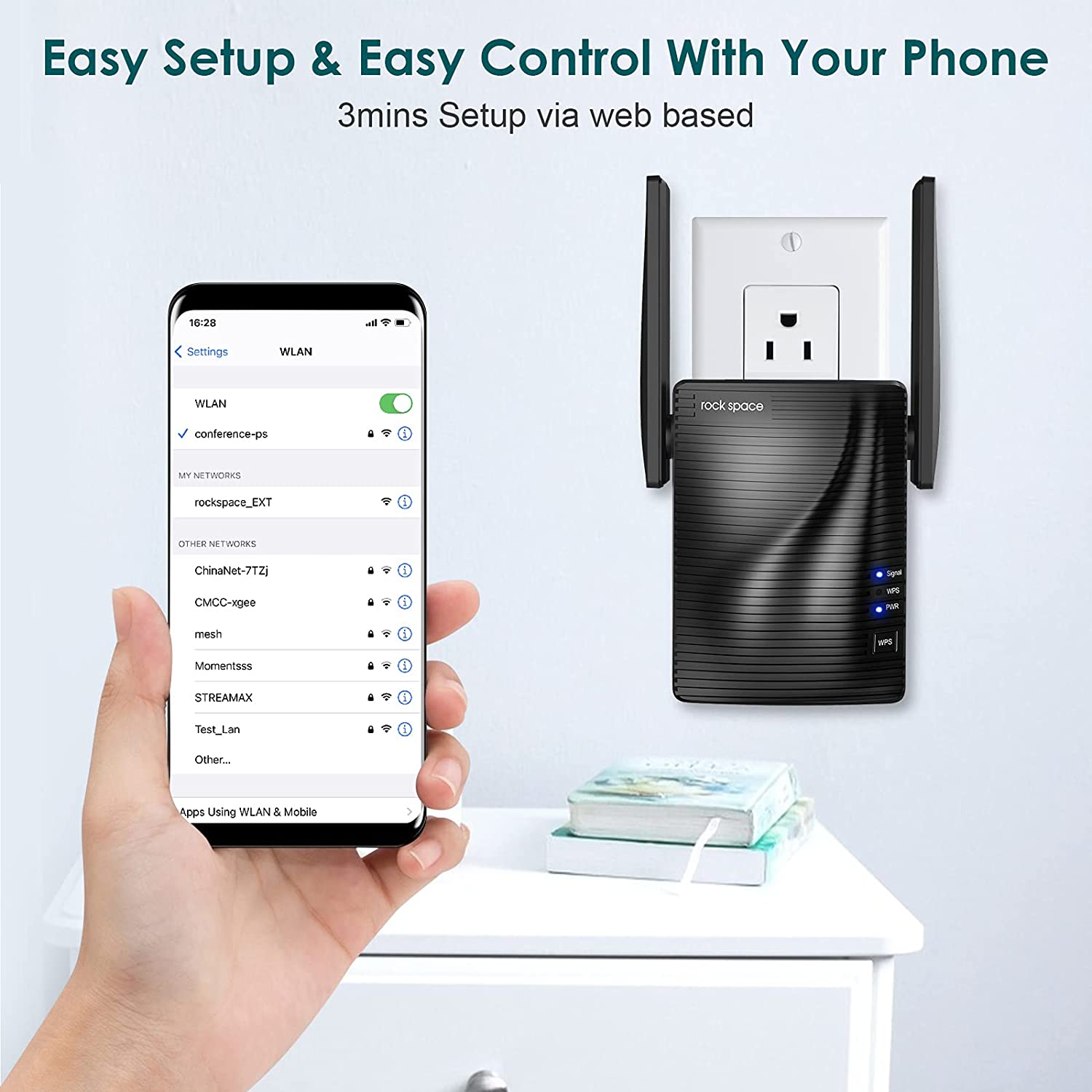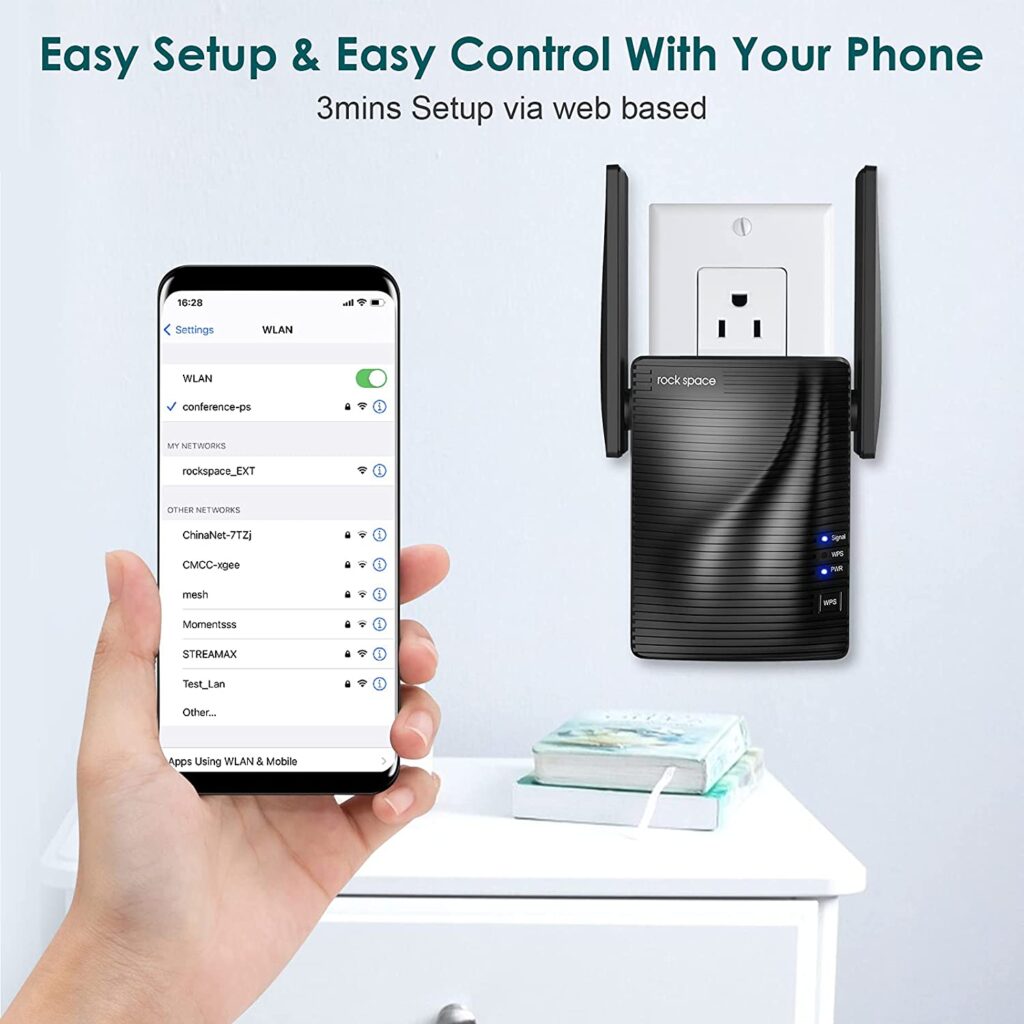 ---
Description
First of all, I have to say that Rock Space is probably the least known brand of Wi-Fi repeaters.
So, this extender has 2 antennas and 1 LAN port.
There are LED indicators and a WPS button, which is used for creating a connection between the extender and a router.
The configuration is easy given that there is a web interface where you can set up things like password, name, and SSID.
Rock Space Wi-Fi extender works on two bands, 2.4GHz and 5GHz.
When it comes to the performance, the 2.4GHz band works fairly well and provides solid Wi-Fi speeds.
On the other hand, the 5GHz band works well in close proximity while at greater distances there's almost no connection.
All in all, in my opinion, this Wi-Fi extender is the least quality one on this list and I, personally, am not satisfied with its performance.
Even though it had solid results on the 2.4GHz band, the other band is practically useless at greater distances.
There is no USB port, there's only one LAN port, and the best things about this extender are not related to its performance.
Those things are easy installation and very cheap price.
In my opinion, definitely not enough.
8. CRYO360 Wi-Fi Range Booster
---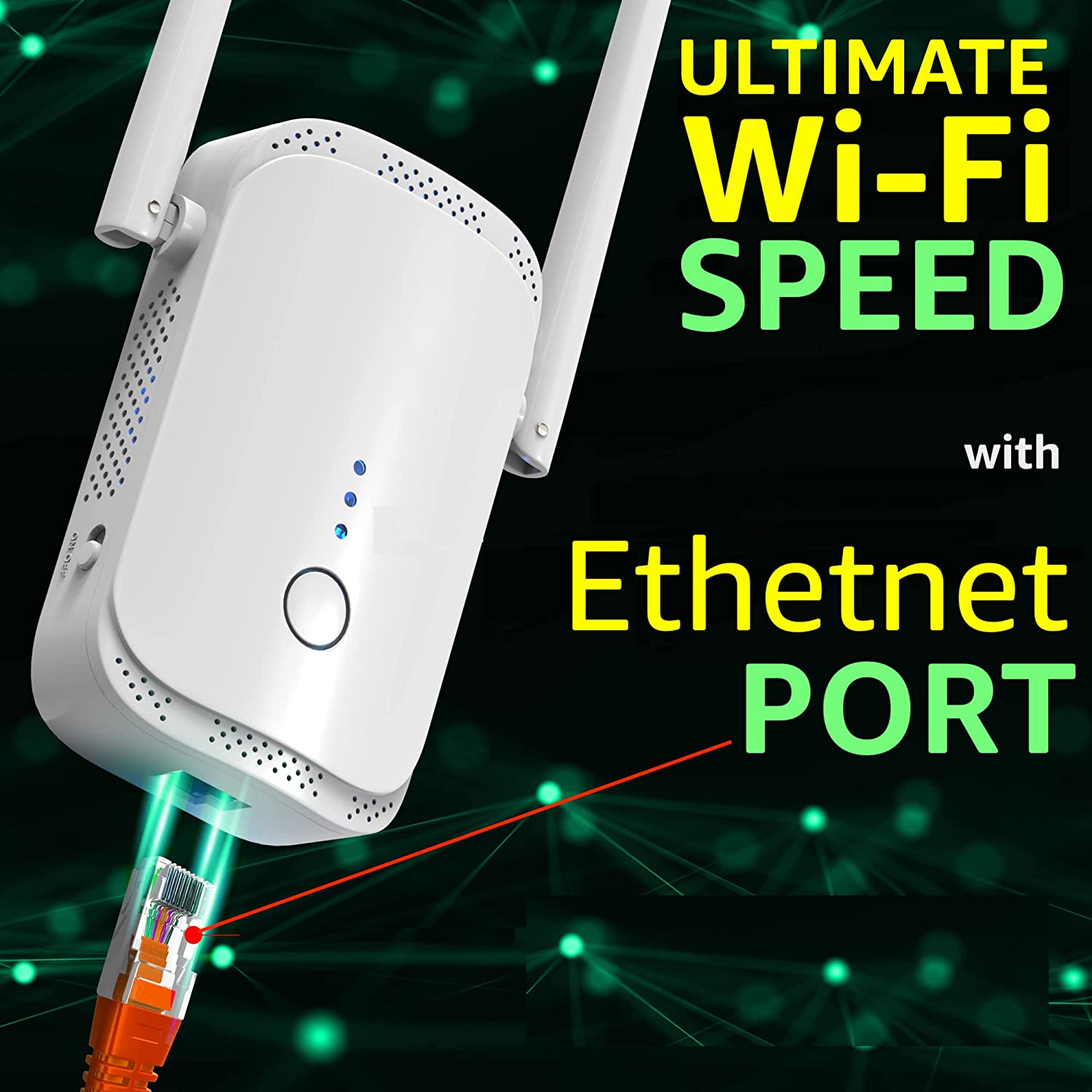 ---
Description
This is another Wi-Fi range extender that is, from my perspective, more budget-friendly than high-quality.
Namely, this CRYO360 Wi-Fi booster has only one band, unlike all the Wi-Fi boosters on the list that had at least 2 (and some even 3) bands.
So, it uses 802.11 wireless connectivity but only on the 2.4GHz band.
The throughput on the mentioned band is around 300Mpbs which is a somewhat mediocre performance.
A positive side of this device is that, according to the manufacturer, it can support a maximum of 35 multiple devices and provides Wi-Fi coverage of more than 3000 square feet.
The range it provides is solid, but there is no USB port and there's only one LAN port.
Finally, it's easy to install and very cheap.
In my opinion, this can be a solid temporary backup option but, although it's very budget-friendly, I think that most people would need a more quality Wi-Fi extender with much better characteristics than this Wi-Fi booster has to offer.
9. Paleoer Wi-Fi Range Extender
---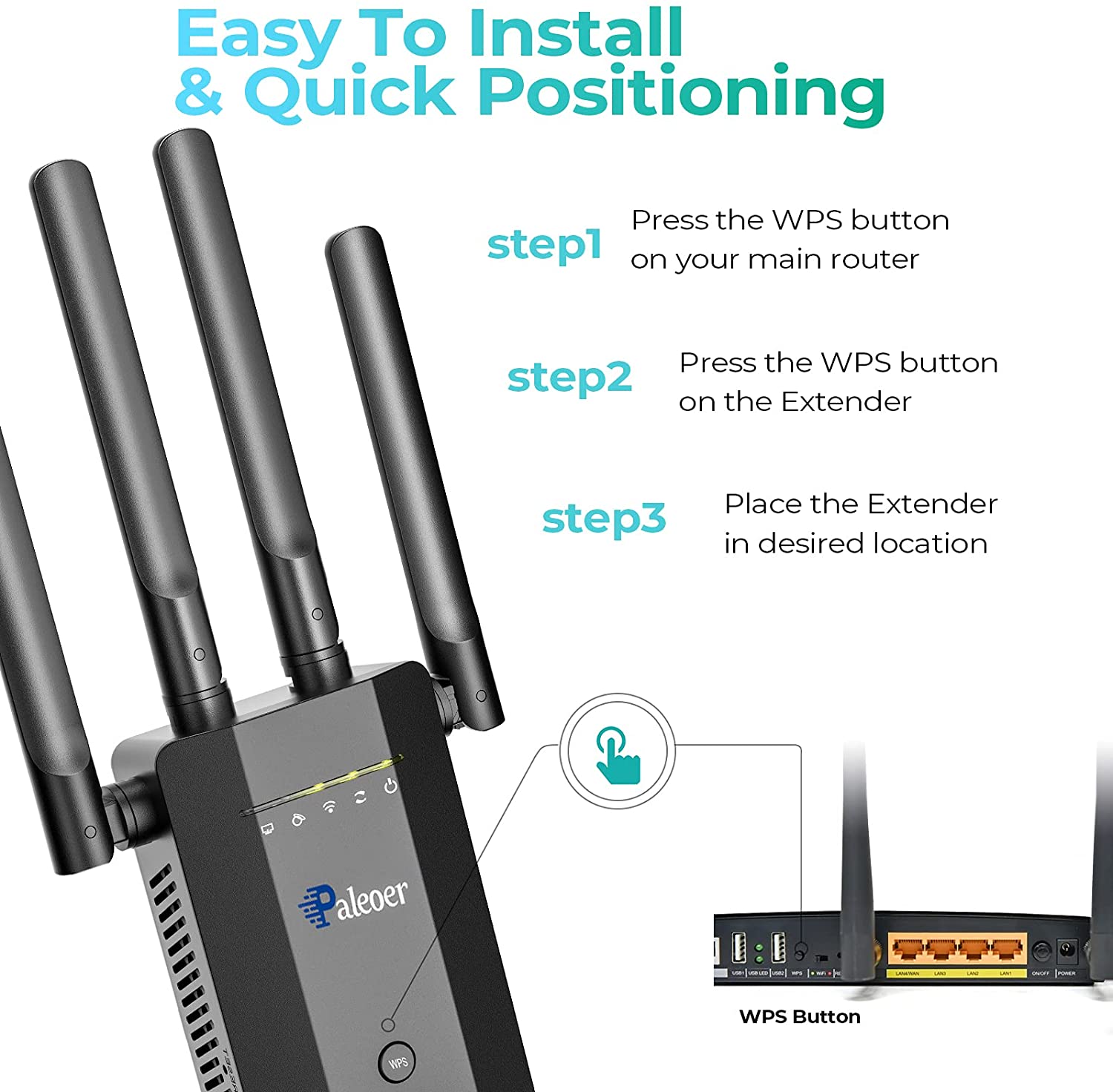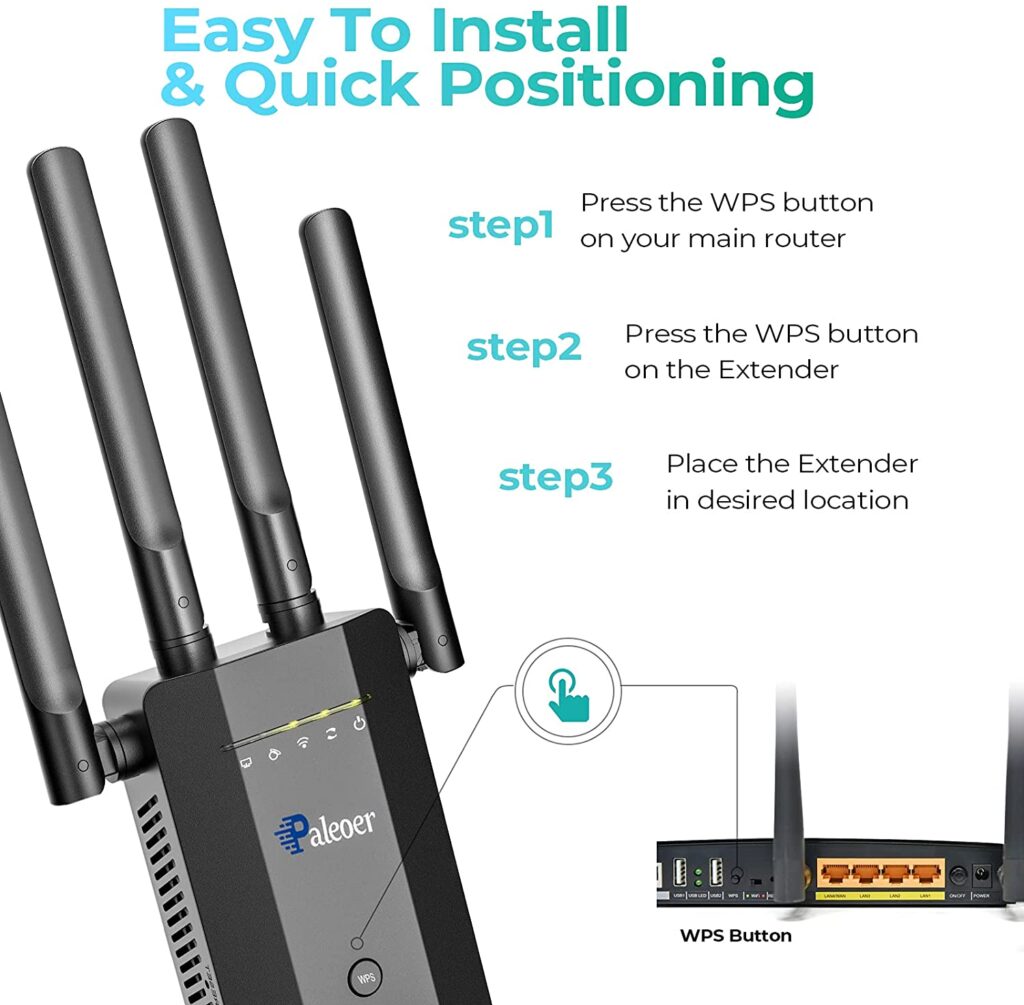 ---
Description
This particular Wi-Fi range extender has a rather cool design with its four external antennas and I'm sure it would fit in every gaming room.
It uses 802.11bgn wireless standard and, based on the manufacturer's claims, it can support up to 35 multiple devices.
In addition, the Paleoer Wi-Fi extender has a LAN and a WLAN port.
Apart from that, unlike most other Wi-Fi range extenders on this list, it has only one band.
Therefore, there's only a 2.4 GHz band whereas there is no 5GHz band.
The existing band provides a throughput of approximately 300Mbps.
Furthermore, this extender supports WPA and WPA2 security and it has 5 different working modes (Bridge, Repeater, Router, AP, and Client).
Finally, the manufacturer provides a warranty that lasts a year and a half and the price is very affordable.
However, this Wi-Fi range extender lacks many things like a USB port, more LAN ports, a 5GHz band, and better throughput.
Hence, compared to the rest of the extenders on the list, this extender is definitely a cheaper but worse option.
10. NETGEAR AC1200 EX6200
---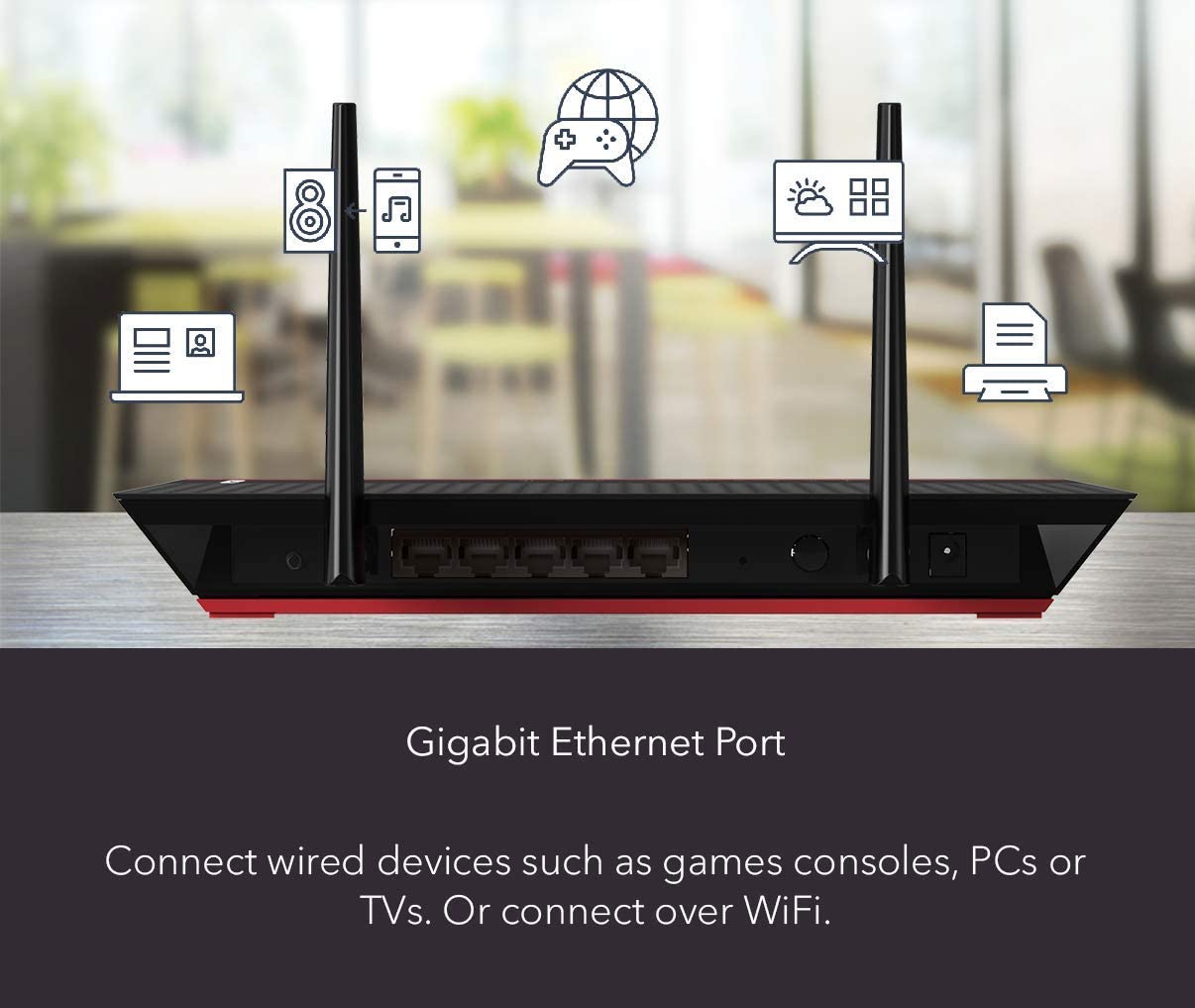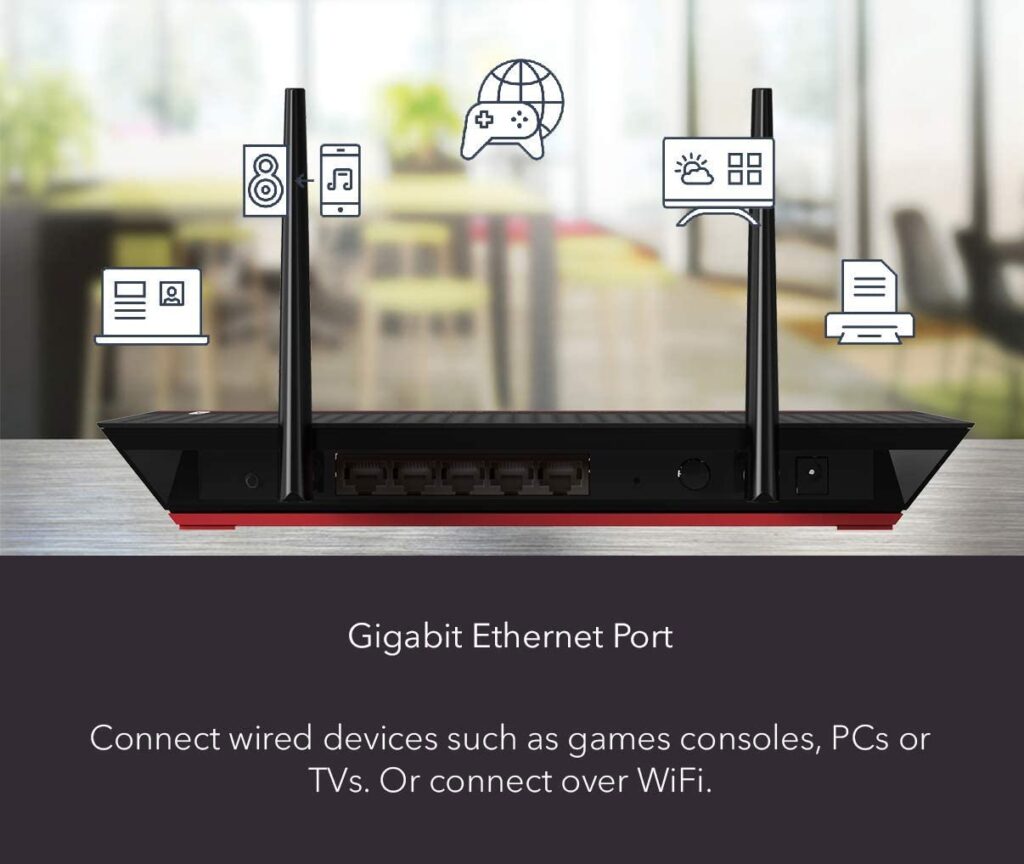 ---
Description
In terms of design, the combination of black and red looks really nice and the two antennas just add to the positive impression.
The only flaw regarding the look of this extender can be its bulky size.
NETGEAR EX6200 has a dual-core processor of 800MHz and two bands.
Moreover, it has 5 gigabit LAN ports and one USB 3.0 port.
The installation is very simple and all you need to do is to press the WPS button, first on the extender and then on your router.
For the configuration process, there is also NETGEAR Genie software and if you have any ambiguities, there is a very simple manual with excellent explanations.
There are several LED indicators on the device but the most important is the one that shows the strength of the connection and it is supposed to turn green when the connection is excellent.
In terms of performance, EX6200 had a great throughput on both 2.4GHz and 5GHz bands and even greater distances didn't represent a problem for this fantastic Wi-Fi range extender.
To sum up, if you opt for this extender you'll get a terrific device at a very reasonable price.
FAQ
Do Wi-Fi extenders stop lag?
It all depends on the speed of your router and on the speed of the extender that you buy. However, if your connection is somewhat fast and if you purchase an extender that has a good throughput you shouldn't have any problems with lagging.
Is the 2.4GHz band or 5.0 GHz band better for gaming?
In general, you can even use the 2.4GHz band for gaming. Nevertheless, in an ideal situation, this band would be better for some simpler activities like browsing the Internet, while the 5.0 band would be perfect for more complex online activities like streaming and online gaming.
How many GHz do I need for gaming?
The ideal clock speed for gaming would be between 3.5GHz and 4GHz, although that doesn't mean that you cannot play games and stream at lower Wi-Fi speeds.
All Wi-Fi extenders on the list above have a 2.4GHz band while the majority of them have both 2.4GHz and 5.0GHz bands.
If you opt for an extender that has a 5.0GHz band you will certainly be able to enjoy an outstanding gaming experience.
Conclusion
There are 10 Wi-Fi extenders on this list and I believe that everyone can find the extender to their liking.
Namely, some of the analyzed extenders are more powerful and some are less, some of them are ideal for PC gaming, while some are more suitable to be a backup option and, finally, some are cheaper whereas some are really pricey.
All in all, I hope that everyone who reads this text will find it helpful and be able to find a suitable Wi-Fi extender for themselves.
Join our Discord Group. Ask questions, team up with fellow streamers, share memes, and more!