If you want your profile to stick out and be more visible than the rest of the crowd, you need to select good Twitch panels. An interesting and unique Twitch name is not enough anymore. There are plenty of providers that offer a diversity of top-notch free and premium products. But, how to be sure which one can give your stream the most outstanding look? Which one can make your brand more attractive?
That's where our team steps in, giving you some useful tips which may help you find the most suitable one for you. You've surely heard of Own3D.tv, Placeit, and chances are you are familiar with Small Streamers, Nerd or Die, and Visuals by Impulse. But the list doesn't end with them.
This guide will tell you how to find the best free Twitch panel and showcase your brand in the best possible light. Stay with us to hear more!
Post 10 of 10 in the Twitch Overlays
1. Own3D.tv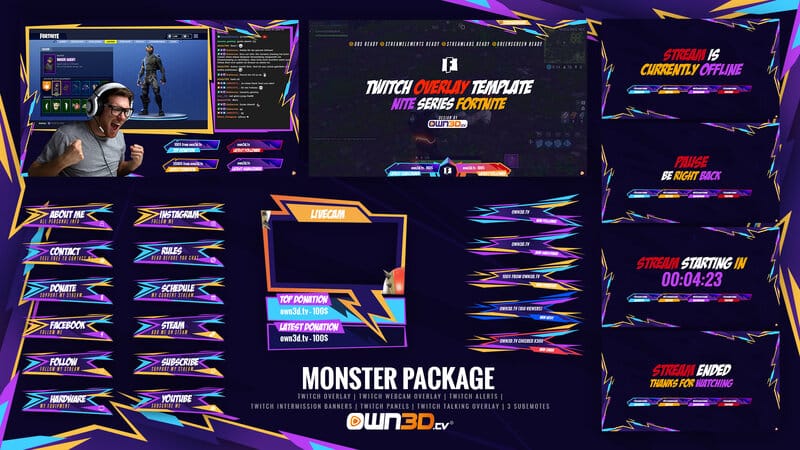 *Use code STREAMMENTOR for 50% discount*
Own3D has a wealthy selection of panels for Twitch. They are available in versatile designs, allowing a diverse profile of streamers to find a set that's compatible with your overall style and branding.
Among the biggest virtues of these is that they come in a format that is ready to upload instantly into OBS or SLOBS. These sets come in 3-4 colors, including an extra blank panel. If you are not quite skillful with design programs, don't worry, it won't be a problem. It is possible to edit them even without those programs.
However, if you know how to use Adobe Photoshop, Gimp, or other software for design- fantastic! With them, you will be able to edit your or add any details you want. In that PSD panel, you can adjust the colors, text and fonts, and logos.
Also, there's an extension that enables streamers to take advantage of both free and animated panels and make their product even more visible. They are pre-arranged, and comprised of a fine selection of categories. You can upload them as JPEGs.
To start with, there's About, Contact, Schedule, Rules and Subscribe as well as other useful options such as Hardware, Discord, Loots, and Giveaway. Social networks are included as well, Fb, Twitter, Insta, YT, and of course- Donate.
Buying a Package – Yes or No?
Generally speaking, it's an excellent idea. Even though it may seem a bit costly when just getting started, it's a smart investment. You can always buy one by one element, but when you sum the costs up, you'll see that the entire package is a much better deal. Equipped with a set, you'll be able to establish the channel quickly or rebrand the current one.
Aside from versatile Twitch panels, they have numerous products. You have Overlays, Animated Emotes, and sub badges at your disposal, as well as Giveaway banners, Animated stream transitions, Stream alerts (static and animated), and Starting, pause, and ending screens.
2. Kudos.tv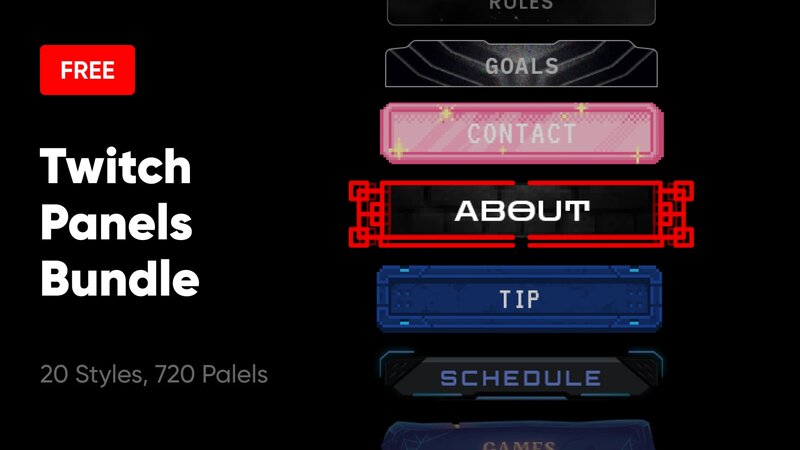 While kudos.tv doesn't offer twitch panels as separate products to purchase, all of their full stream packs and overlays include stylized and editable panels for a very reasonable price.
They also provide a massive bundle of free panels. With over 700 twitch panels to select from, there's a good chance you'll discover something that will look amazing on your channel. They've included the most frequent sorts of panels, such as Donations, About, Contact, Social Media and so on.
However, if you want to create something unique, there are. PSDs with editable text, colors, and sizes for each panel design type.
3. Fiverr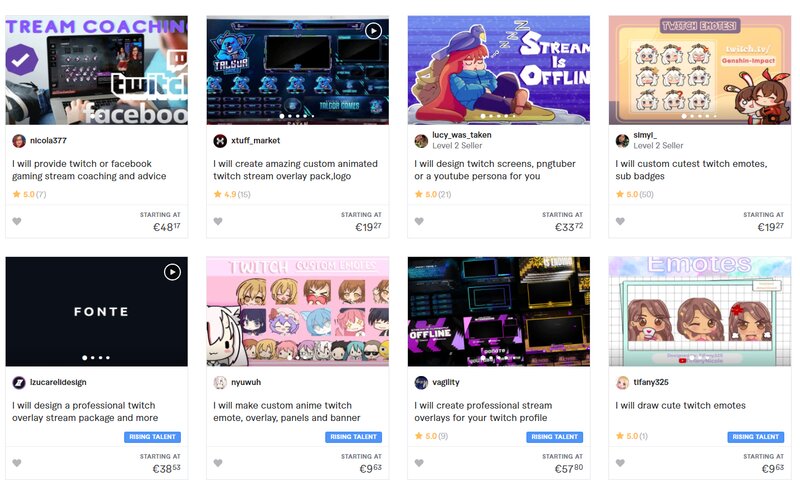 Fiverr is a platform used by freelancers of many different professions, and it's meant for them to find clients. And, it's made for you to find people who are willing to make anything you can think of.
There are especially a lot of graphic designers, and for most of them, creating Twitch panels would be a piece of cake. So, if you have a specific custom design in mind, and you really don't want to settle for something that's a template that many people probably have, too, then opting for something like a graphic designer on Fiverr might be the way to go.
Of course, this is highly reliant on your budget and how much you are willing to invest in your Twitch career, but have in mind that these are usually not designs that are too hard to make, so the prices probably aren't going to be too high, so this is definitely something that's worth considering.
4. Visuals By Impulse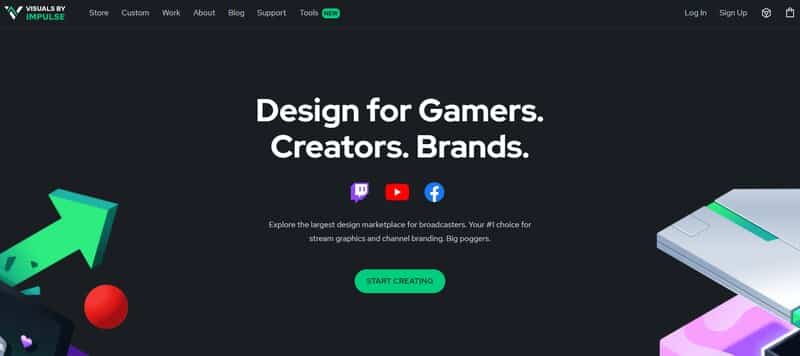 They offer 10 versatile panel designs for Twitch, available in a fine spectrum of colors and styles. Some of them are free, the others come at more than affordable prices. Their palette comprises more than 8,000 custom graphics. Chances are you won't have any problems finding the ones which fit your concepts, products, and branding.
Do know that not all of them are listed in every single set. There's About Me and About Us, as well as Contact Us, F.A.Q. Have no worries, social networks are included as well-Twitter, YT, FB, Instagram, and even Snapchat. Plus, there's Apparel, Sponsors, Schedule, Subscribe, Rules, Playlist along with Donate and Donations.
5. Nerd or Die Twitch Panels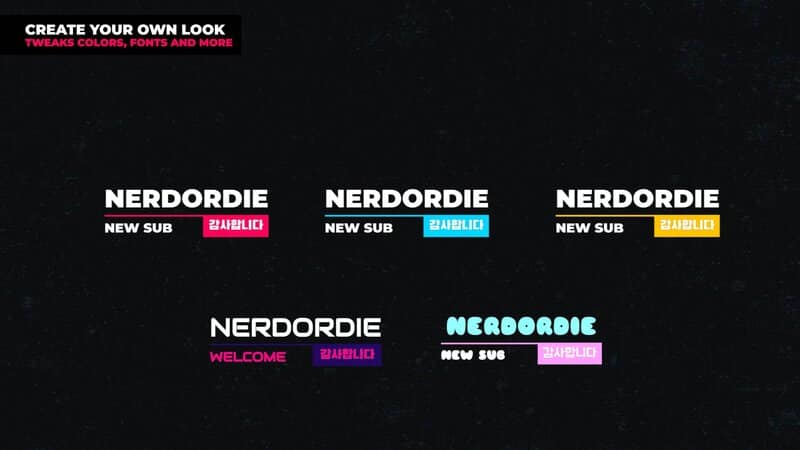 NerdOrDie offers a generous assortment of panels, both free and premium. The best part of all is that they are adjustable, allowing you to include any categories you want and organize your profile well.
One of the best deals is the megapacks, which brings you no less than 20 different panels for more than an affordable price. Are you an Overwatch fan? Great news- they also have an amazing themed maker.
Speaking of makers, there's a possibility to design basic panels using their makers. There are more than enough tools which can help you adjust the profile well. You can modify colors, add any text you want, and even adjust the font. Furthermore, you can change the size and even pick your icon.
Wanna hear the best part? This maker is completely free. This is an excellent option for those who are just getting started and have a somewhat limited budget. With these makers, it's possible to craft more than decent-looking boards for specific brands.
Panels aside, there are Overlays, Alerts, Sound effects, Looping backgrounds, Transitions as well as Stream Deck key icons.
6. Placeit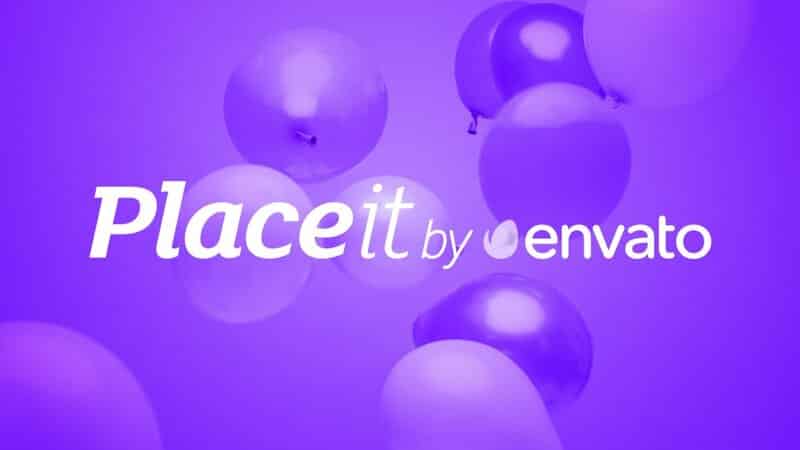 This is a wealthy base of editable graphics, with more than 13,000 mockups. About 50 of those are panels for this most popular streaming channel. One of the options is to buy one by one file. On the other hand, you can also opt for a paid subscription for a month or year. This way you can get access to a wider array of graphics and arrange your channel the way you want.
As for the options, you can customize the color, as well as modify the text, adjust font and graphics, and equip your channel the way you want. Be your own designer! Complete the profile yourself and establish your channel quickly.
7. Support Small Streamers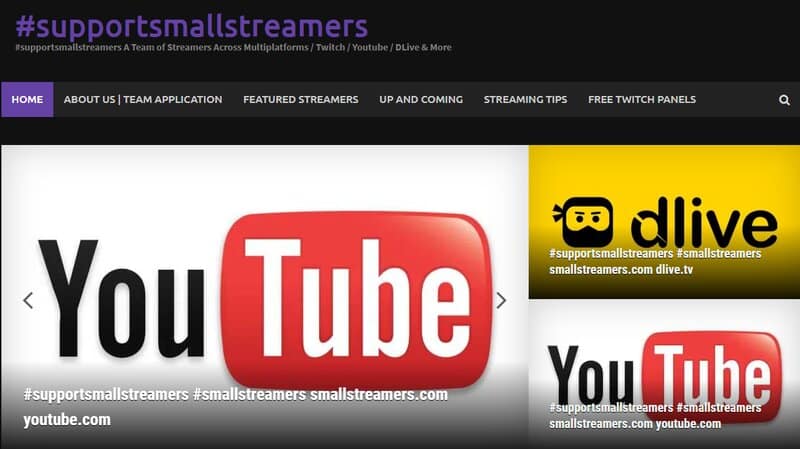 This interesting platform was created to provide help to small streamers. When being part of this network they can also stream as a team. What we need to stress out is that they don't accept many applications due to the stringent standards. However, they DO offer a wealth of useful panels- and they are FREE to use for everyone.
There are 31 sets for this streaming platform, providing a diversity of styles. They are mainly based on most-played games. Even though there's no option to create extra panels on your own relying on these styles, you can always visit the website and download the images you need. Once again- you don't have to pay anything for this!
The assortment of categories is rather basic- About Me, Subscribe. Discord, Gear, Schedule, Donate, Rules, and Setup. Aside from the listed ones, there are panels with additional categories. You can also find those with FAQs, and Rules, as well as with social media.
8. Wdflat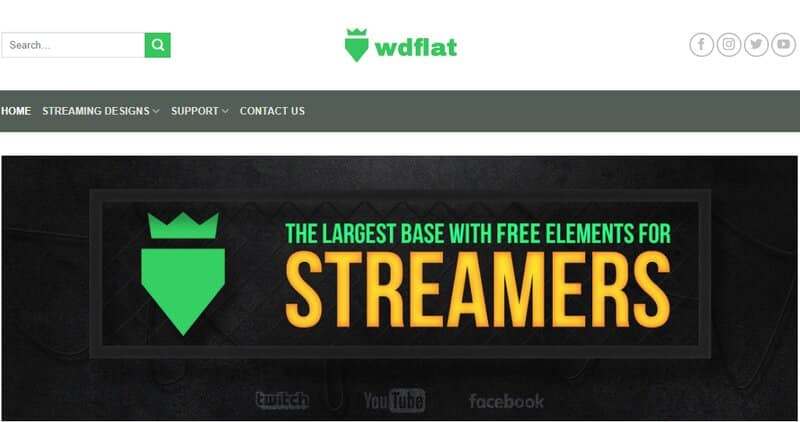 Wdflat displays around 100 bundles of panels for this streaming platform. Many of them come with a video that explains how they were designed. These templates will cost you nothing! Just like with the previous suggestion, you need to download the zip file, then upload the png files to your channel.
Great thing is that the versatility of styles and colors are offered, so chances to find something satisfactory are rather high. However, they are not editable.
Do note that the assortment of categories varies from one package to another. As for the most commonly included ones, you can find basic sections like About Me, Follow, Subscribe, FAQ as well as those which can connect it to other platforms such as Website, Facebook, Instagram, Twitter, YouTube. Furthermore, there's Armory, Chat Emotes, Chat Rules, Loots, Schedule, Sponsors as well as Discord, Donate, Top Donator, and many more.
Finally, we'd also like to mention Twitch Designs which offer a couple of interesting panels for Twitch. What differs them from the rest of the "gang" is that aside from English, they are also done in other languages- Polish and German. Each of the packages is different and they are sold "as is". Therefore, the categories vary, and the complete list is featured on each pack.
9. EmotesCreator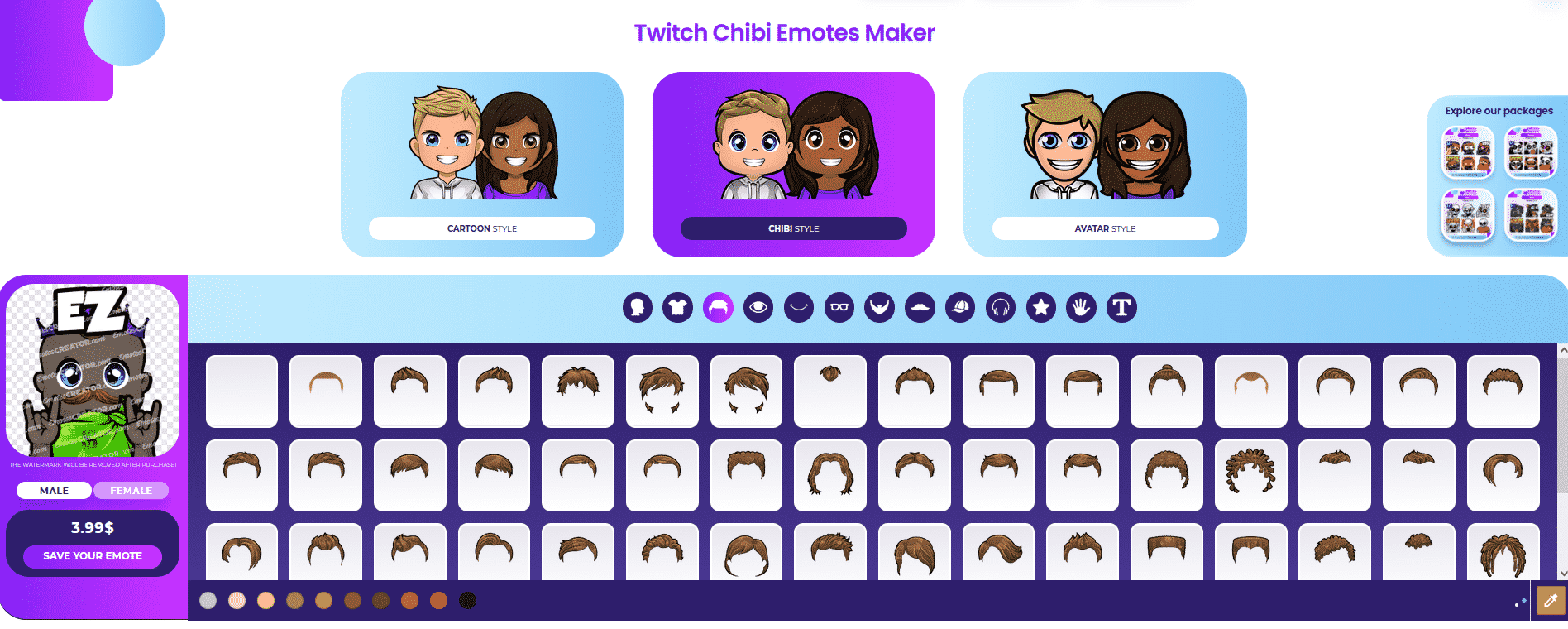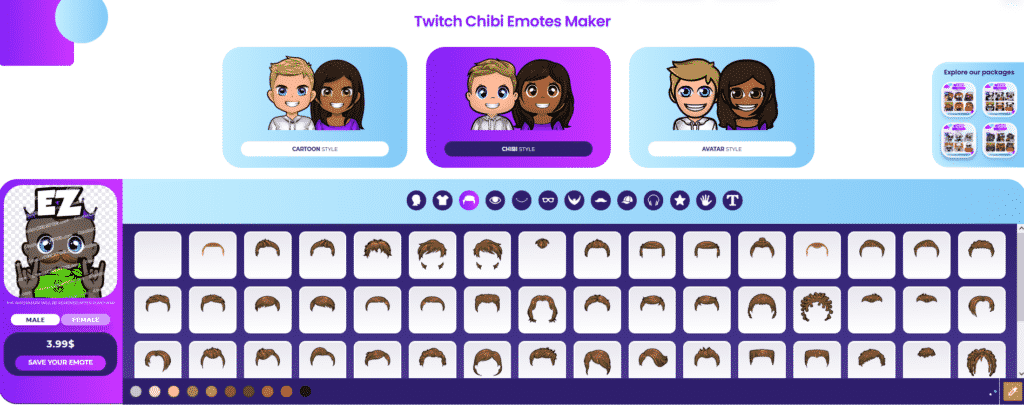 You will find a very broad selection of different Twitch panels on the Emotes Creator website, and you will be able to choose both among pre-made ones and the option to create your own original panel.
They come in a variety of different designs, and every Twitch user can choose the one that represents his style and personality the best.
Not only can you choose the borders of your Twitch panel, but you are also allowed to completely customize the background and choose among dozen of different fonts that are available in the Emotes Creator offers.
You will also be able to edit out all of these things in their program, so there is no need to learn how to use Photoshop or some other, more complicated design programs.
When using the Emotes Creator software, you know you will always get results that are similar to professional ones, and there is no way you can make a mistake with some of their panels.
In case you want to upgrade your panel a little bit, you will have to spend some extra money on additional fonts and borders that are reserved for premium members only.
On the other hand, you will also have to pay for each panel you customize and download from this website, and the price is always the same – 0.50 dollars.
You will get the best results if you download your panel as a JPEG file because this way, you will get the highest quality out of your picture.
When you get bored, you can always upload your previous Twitch panel, rearrange it, add or change some things and get a completely new one.
Many people are not sure whether they should invest in Emotes Creator and start paying for the panels and emotes they create through it, and my honest answer is – yes.
Not only will you get panels and avatars of the highest quality, but you will also get all of that at a very small price, and if you sign up as a premium member or Twitch affiliate, you will be able to save so much money throughout time.
They really offer a variety of different features and opportunities, so I believe it is 100% worth it, especially if you plan on building a serious Twitch career.
10. Canva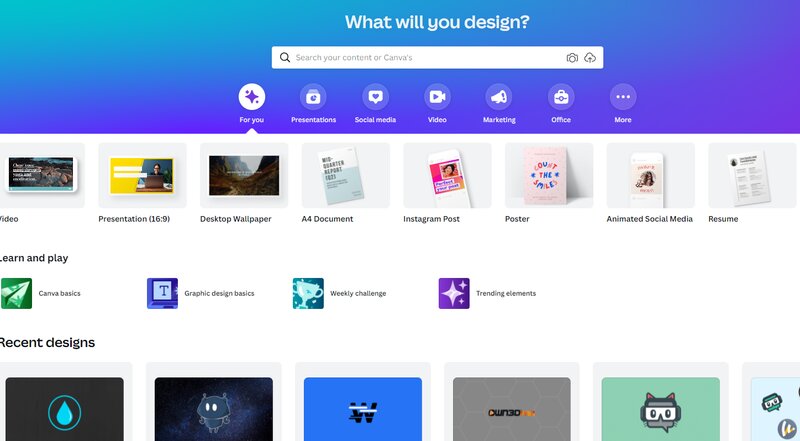 Canva is a very easy platform to use, and it's become a favorite among graphic designers, but also people who need some designs but don't really know, or want, to work too precisely on their designs.
On Canva, there are many available templates for various types of designs, and Twitch panels are on there, too.
If you've never used or heard of Canva, this might be the time to try it out. There is a free version, but you can also pay to have premium access, which will give you loads more templates to choose from.
If you decide to make the panels yourself, then Canva is a great choice. You will have a lot of animations and elements to choose from, so it isn't hard at all to come up with something fun and unique.
Overall, this is a great choice to go for, especially if you don't mind paying for the premium access – or simply get the 30-day free trial of the premium version and cancel it after you finish what you have.
11. Etsy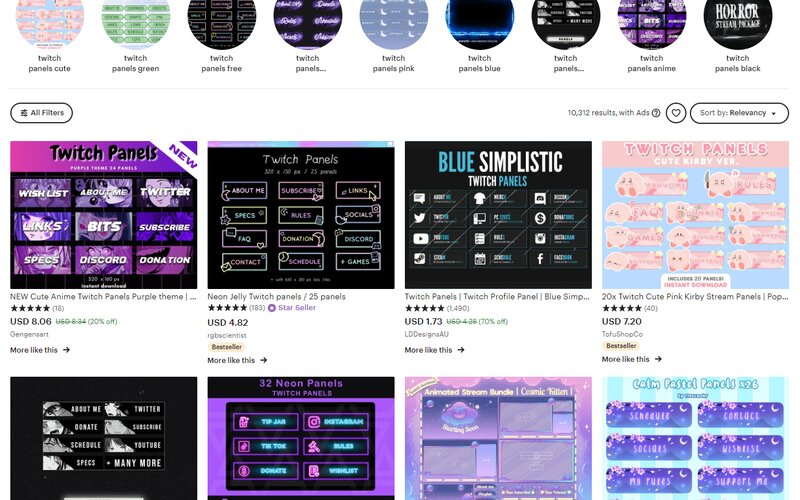 You've probably heard of Etsy as a place where people go to sell their various creations, but you probably didn't know that one of the types of creations that are shared there is Twitch panels.
Obviously, this would be the route where you'd have to pay for getting your panels, but people who sell their panels on Etsy have usually made them more unique and customized than those you can find and download for free.
This can be a good choice to go for people who stream specific content and have their brand around that content.
If you think that your audience would be really amused by having something unique and related to your community, then searching through different creators and Twitch panels on Etsy might be a good choice for you. You will most likely be able to find things that work for your brand, as well as your budget.
12. Gaming Visuals
GamingVisuals is a website where you can purchase all kinds of visuals for your streams, including emotes, overlays, and of course, panels.
There are many different designs there, and you can always find packages where you can get all of the visuals you need for your Twitch streams, so you can easily have everything be uniform and matching, which is something that the audience usually finds very pleasing to see.
This is another platform where you buy the visuals you get, but the prices usually aren't high at all, and besides, the website often has different discounts and sales, so you can for sure find something that matches your budget if you find a package that fits with your aesthetic.
13. GETREKT Elements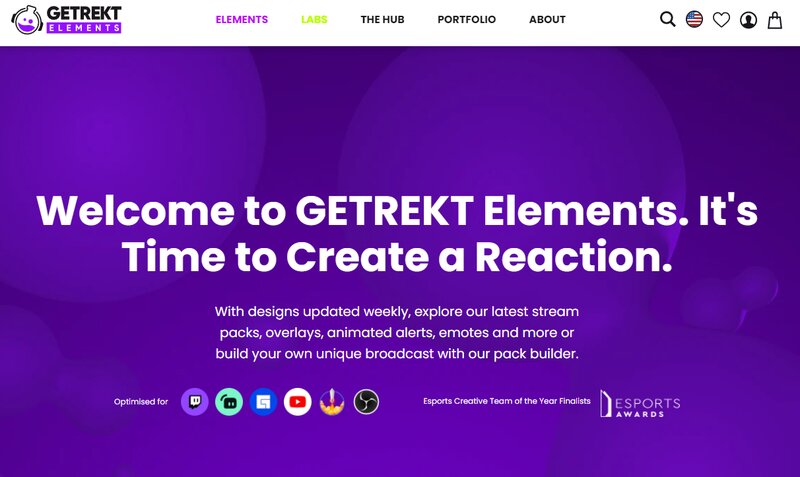 GETREKT is a platform that doesn't provide you with a very high number of options; however, it does cater to a specific style. All of the panels are very minimalistic, so if that's your aesthetic, then definitely go for it.
Besides panels, you will find different packages that have all the other visuals you might need for your channel, so you can get everything in one go and have it over with.
One interesting thing, though, is that the panels you get here can be customized to your liking, so if you would want to make some tweaks to the designs you see, it won't be a problem at all.
14. Fotor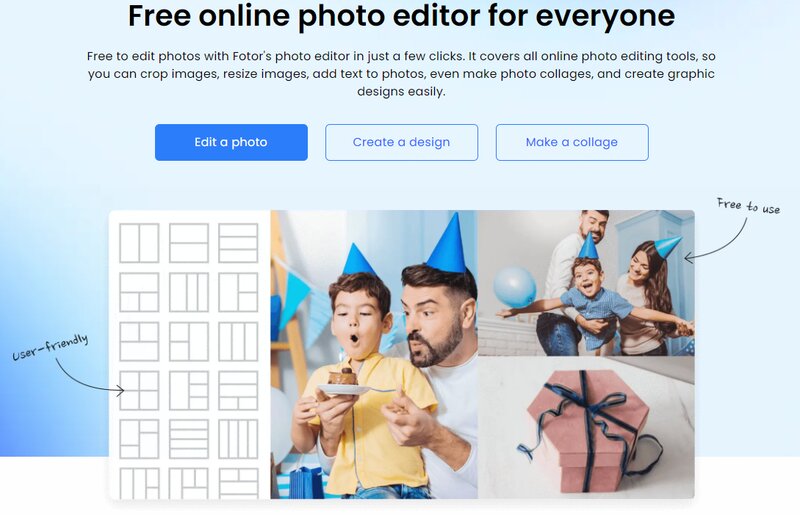 Fotor is a platform similar to Canva in the sense that it is a place where you'll be able to find different templates and make your own panels. However, this one is made specifically for designing Twitch panels.
The benefit of going for something that's highly specialized is that the design options that are offered here might be more appropriate for what you need, and if you already have an idea about how you think everything should look, there are higher chances that a platform like this will cater to that.
Just like Canva, you can use Fotor for free, but you can also sign up for a premium free trial. If this is a one-and-done situation for you, and you don't plan to use this frequently, then going for the free trial and having the premium options for that one time is absolutely what you should do.
15. Snappa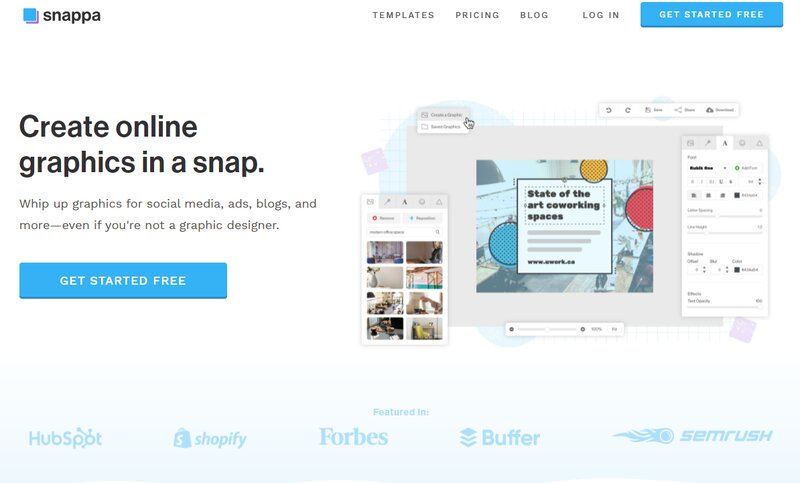 If neither Fotor nor Canva did it for you, but you still want to try to make something by yourself, then Snappa is the platform that you should explore a bit.
This definitely stands if you have come to the conclusion that these two are a bit too much work for you, and you don't really want to customize things all that much.
One of the main claims that Snappa has is that it makes you able to make a panel in as little as 60 seconds, so if everything else that you make yourself is too much, and you don't want to pay for a custom panel, but still wish to make it yourself, then this is the easiest options to go for.
16. Adobe Photoshop
If you have great graphic design skills and already know how to work around Photoshop, then why are you even here?
Jokes aside, if you have the skills needed to make things from scratch in Photoshop, and you also have the time and the nerves needed for it, then this is your best bet for that.
You won't need to pay any additional fees, and you will have a panel that's as customized as you want it to be. Or it won't be customized at all if you don't care for things like that.
Having said that, Photoshop is your best bet only if you already have the needed skills. Even though Twitch panels don't require a high skill level, getting into Photoshop (and paying for it) only for this one occasion is probably going to cause too much work for not too big of a reward.
If you don't know anything about design but still want to make something by yourself, it's best to go for options that already have templates and pre-made elements that you can use.
17. Stream Shift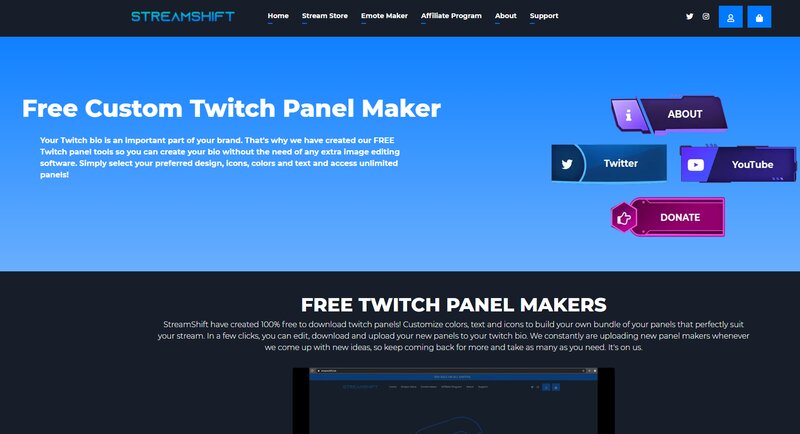 StreamShift is another platform where you can find pre-made panels and make your own with a set of available templates and elements.
The choice may be a bit lackluster, but everything you do on this site is entirely free, so if you want practicality more than anything, then this one is a good option to look at.
The designs that are available look appropriate for gaming streams, so if that fits your content and your aesthetic, then there's no need to look somewhere else and potentially pay for that.
18. PNG Tree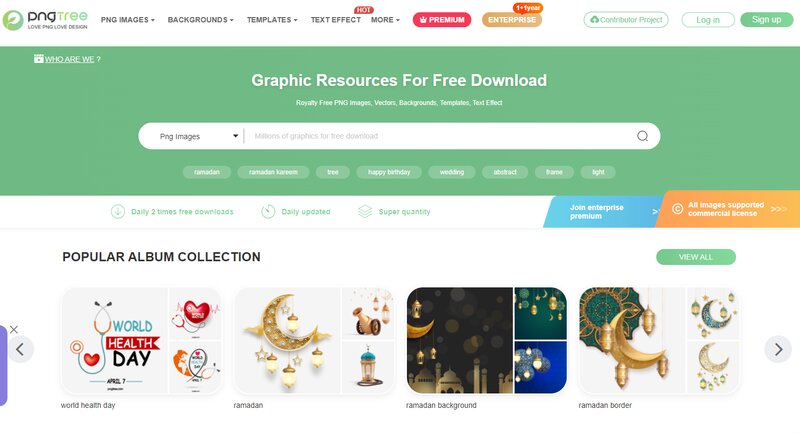 PNG Tree is a website where you can find a lot of different available panels that are pre-made. This is also a place where you will need to pay for the panels you want to get.
One great thing, which is the same on all the similar types of websites, is that there are often deals and discounts that are available, so you will probably always be able to find what you need for not more than a few bucks.
Besides already made panels, as well as other visuals, you can find templates for making your own ones that you could download as-is, or slightly alter if you think that it's needed.
While the already made panels are something you'll need to pay for, you can use the platform for free. However, there is a premium version and some special offers for enterprises, so you have the option to choose between several different things.
19. Behance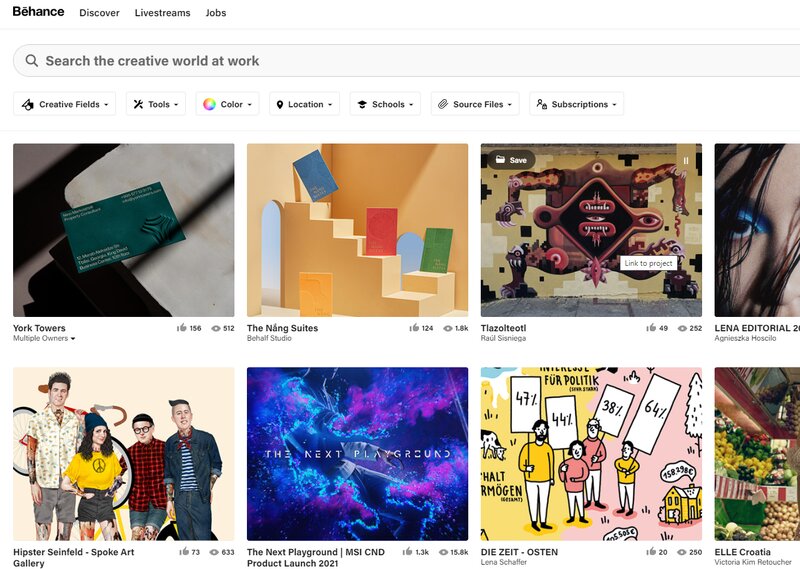 Behance is a platform started by Adobe, and its main goal of it was for creators to share their creations, making them available to the world. Among the different creations and designs made using Adobe software are Twitch panels.
Creators share their works there, and there are different options for you to get them.
This is a great option if you like unique things and if you are a lover of art in general. Getting panels this way won't go unnoticed, as there really isn't a chance that a lot of people share the same panels with you.
Also, if you end up liking someone's style but not a specific design that they have shared on here, you can see whether they do freelance work, and you could even find someone who will make custom Twitch panels for you!
20. Twitch Designs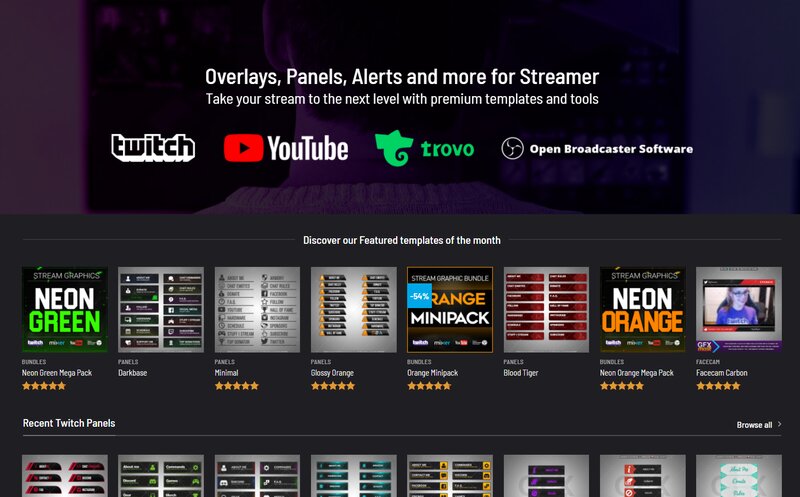 Twitch Designs was a website where you can make find pre-made panels, and the aesthetics of the designs are usually appropriate for gaming content, so if that sounds like something you're doing, this might be worth checking out.
Most of the panels will cost you around $10. However, the site has different deals and discounts all of the time, so it won't be a problem for you to find something that fits your needs, both in terms of your budget and your overall channel branding.
Besides the panels, you can find all of the other visuals that you need for your streams, like emotes and overlays, so you can easily find something that will fit together nicely.
Twitch Designs works similarly to all of the other websites like this, and it's just a matter of finding the exact aesthetic you like.
21. Pixelied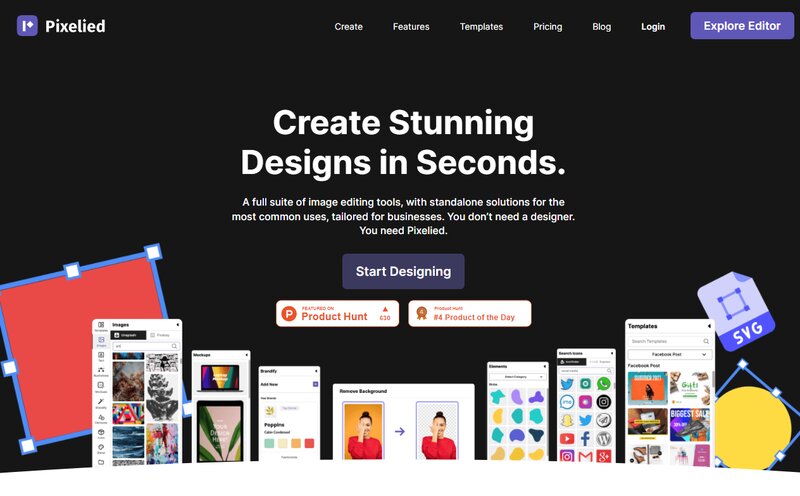 Finally, there is another platform that makes it easy for you to make your panel if you don't like anything that's already been pre-made.
Just like all the other platforms that work in this way, Pixelied is easy to work with, and it provides you with a lot of templates, as well as ways to customize them a bit, but it doesn't require much designing skills for you at all.
There are some options that you can get for free. However, there are also some that require premium access, so you might have to pay for something that you want to use, but since everything is very easy, it will probably save you a lot of time and effort.
Which are the Best Cute Panels for Streaming?
The abovementioned suggestions are suitable for the majority of brands. But if you want to add more cuteness to your brand, you need to find the ones which can inspire more "awwwwwws". The right selection of the loveliest graphics can help you attract more and more like-minded followers.
Our top pick for this purpose is Placeit. Their template builder allows you to create your Twitch panel graphics, so you can determine "the amount" of cuteness you want to incorporate into it. Once you upload funny graphics to the template, you can adjust the colors and fonts, and keep the fans coming to enjoy your adorable streaming channel.
Top Pick for Custom Panel
Even though pre-designed panels allow you to experiment and adjust the channel the way you want, still we are all aware that nothing can beat custom-made graphics specifically manufactured for your brand. Visuals by Impulse is the one that stands out here, offering an excellent selection of panels crafted by pro designers. This company cooperates with designers from all over the globe to come up with superior products.
On the other hand, if you have some extra time and you are in no rush to establish the channel, you can try luck with Fiverr. This extensive marketplace gathers artists from all over the world, so you won't have problems finding the good one who will understand your concepts well. On top of that, the price range is huge as well, so chances to end up with something fine at an affordable price are quite high.
Best Twitch Panels for Overwatch
Having in mind the immense popularity of this game, it doesn't come as a surprise that there are themed panels. If you are among the most passionate streamers, you might be interested in what Own3D has to offer. And they have four themed designs, which can give your channel a well-rounded look and, of course, the same vibrations the game itself has.
Best Red Twitch Panels
Own3D is also a great choice for those searching for red Twitch panels. They allow you to browse panels and graphics by color. What's even more, they offer 30 panels which have red as the primary color of the design.
Then again, if you still cannot find something that fits your ideas, and your shades of red, you can always have the designers finding the solutions for you. That's where Fiverr steps in.
What to Look for When Selecting Stream Panels?
Come to think of a definition of a fine Twitch panel template, it should be something that's both good-looking and functional. Its role is to help you organize the data in your bio in the most user-friendly possible way. Only products that are easy to browse manage to survive and panels are no exceptions.
With so many options at your disposal, you need to know which characteristics play the most significant role when choosing between several Twitch panel free offers. You need to understand each of these sets well and how they fit your idea.
Here's what to take into account when looking for a suitable panel:
Design Quality
As we said, the visual side matters a lot. You want something that looks attractive, don't you? The whole point is to make this "environment" as intuitive as possible for your future viewers. And, what's even more important- grab the attention of potential sponsors.
Diversity
Each of the channels comes with a unique set of graphics and properties. None of them is the same, and yours is to do your best to find the one which appeals the most to your viewers.
Stream branding
What's your stream about? How does your brand look like, and what's your target audience? The goal is to find something compatible with your brand. Look for panels that have a similar spectrum of colors as your product, or look for those which look a bit "neutral", so that your brand is in the main focus.
Adaptability
In case pre-designed panels don't fit the purpose, worry not, you can always take advantage of panel makers. The benefits of custom-made boards are countless and may be of help to those with unique projects and ideas which require a specific presentation.
Affordability
When the streamers are just getting started, every single penny counts, and one has to be smart with all the expenses. It is necessary to analyze the price and properties of a panel and decide if the investment pays off.
Without further ado, here comes the list!
Final Thoughts
As you can see, there's more than a decent selection of options that can make your channel stand out. All it takes is to analyze all the best twitch panels a bit and above all- be sure what is it that you need to position yourself well on the market.
With such a generous assortment of pre-made boards, you can get your channel started in a jiffy. Plus, many of them come with adjustable options, so you can arrange the channel to fit your brand and concept precisely. On the other hand, if none of the available panels is what will represent your ideas the way you want, look for designers to help you make your dreams come true.
Frequently Asked Questions
Where Can You Get Twitch Free Panels?
Nerd or Die offers Twitch panel free maker on their official page. They allow you to modify the icon, shift colors, and adjust the text to make them more fitting for your brand.
You can craft as many as you need for your stream. The other option is to design your panels with the help of programs for design.
What's the Recommended Size for a Twitch Panel?
The recommended size is 320 x 160. To be more precise, then it shouldn't exceed 320 pixels in width, while there are no such limitations for length. If it does happen, the streaming platform will crop it down to size so that it could work properly.
How to Make a Twitch Panel?
The simplest way to do so is to use software for design- for example, GIMP. Also, Nerd or Die and Placeit offer templates that can help you create panels. The most important is to stick to the recommended size, which is 320 x 160 pixels.
Can You Edit Free Panels for Twitch?
Yes, it is possible to edit panels provided that you have access to the source files. You can also replicate it on a Twitch panel maker. In that case, Placeit would be a fine choice for you.
Can Twitch Panels be in form of GIFs?
Own3D offers animated panels for this streaming platform. They are available through an extension.  Just look for "Free & Animated Stream Alerts".
Where Can You Get Twitch Panel Templates?
Placeit or Nerd or Die offers free Twitch panel templates. They come with interesting options that allow versatile modifications.
With those, you can design the panel compatible with your brand's appearance. Also, you can incorporate your graphics and make them look even more special and outstanding.
Join our Discord Group. Ask questions, team up with fellow streamers, share memes, and more!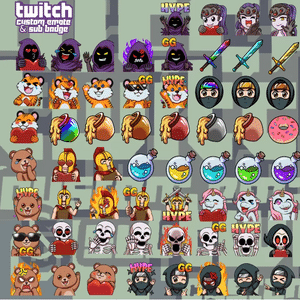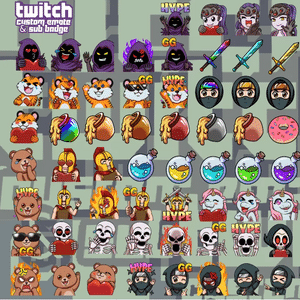 Claim for FREE:
FREE Emote PACKS
A book on growing your audience