Monitors for Streaming
If you need to find other streaming gear, make sure to look at our Streaming Gear page. Here, you will find everything you need!
Post 11 of 11
Picking the best monitor for streaming needs is a crucial part of setting up your streaming set. A Great streaming monitor will enable both you and your viewers to enjoy the experience.
Not only does a good monitor let you enjoy your streams in high-quality resolution, but it will also make the streaming process run smoothly.
With that said, we introduce to you some of the best streaming monitors.
Post 11 of 11 in the Monitors for Streaming
Best Streaming Monitor
Reviews
To help you find the best streaming monitor that will suit all your streaming needs, we have extensively researched some of the best streaming monitors currently on the market.
We have tested them personally and created a list of our favorites.
Check it out!
QUICK OVERVIEW: Best Streaming Monitors
<!—INSERT CODE BLOCKS BELOW—>

27 inches
Refresh rate 60Hz

QHD wide (21:9) 1440p resolution
2ms response
1. SAMSUNG C27F398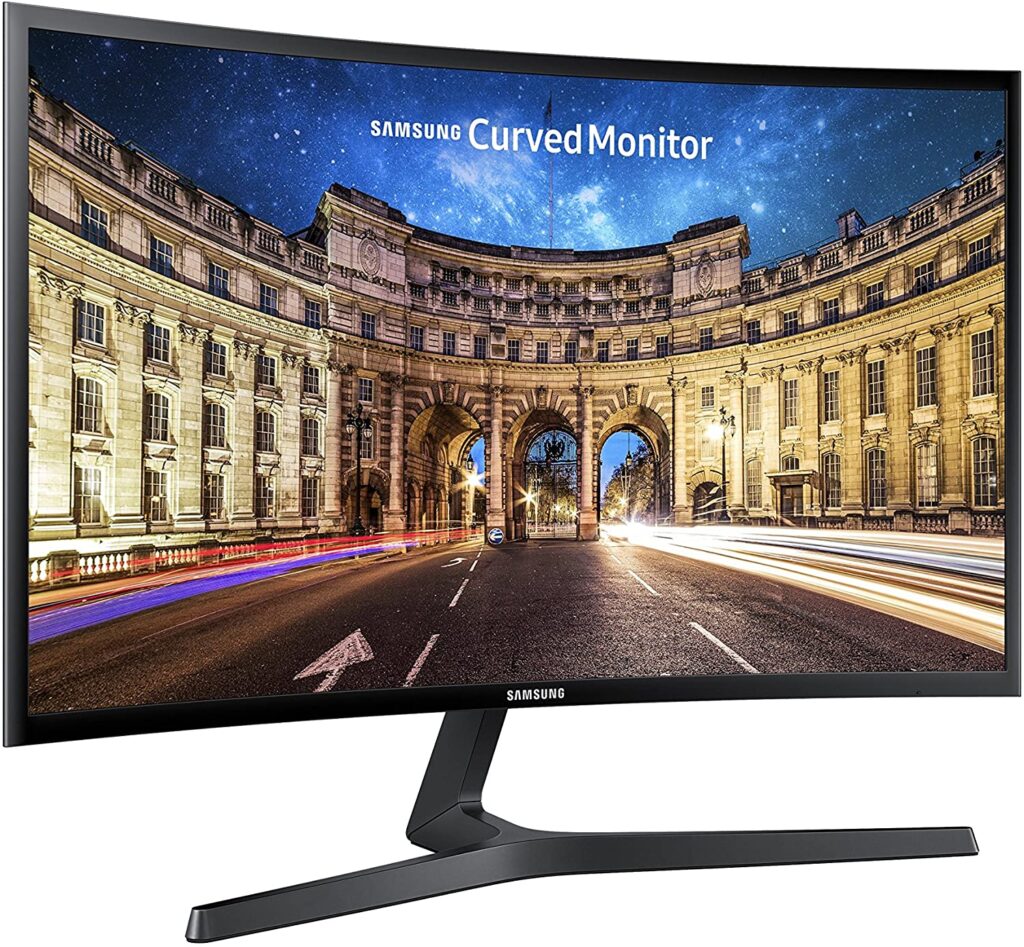 Samsung is a worldwide trusted brand when it comes to producing almost any piece of technology. They offer high-quality products that range from budget to high-end ones.
The important thing about them is that they include some of the premium features into their budget products as well.
Samsung C27F398 is one of their budget options, and, according to Amazon, it lives up to the name.
It has stunning reviews on Amazon, and the list of positive reviews goes on and on in terms of value for money, reliability, and performance.
Who is it best for
If you are looking for good streaming monitors, this Samsung one can be a suitable choice for you. It is not the best one out there in terms of features and boosts.
It also makes for a great option if you are a beginner or are looking for a second streaming monitor.
It has quite an affordable price, and since it is a Samsung, it is bound to have quality performance. It is also great for any other office work, as well as films and at-home gaming.
Key Features
The monitor's curve is inspired by the human eye and gives you an immersive experience while you are gaming or watching movies.
It is natural to the eye and will not distort the image. It is easy to set up, and it does not take up so much space on your desk. It is slim and stylish, although a bit shaky.
It has a 1080p resolution that is supported by most streaming platforms. The brightness and contrast sharpness is set up to create vibrant, vivid colors, and you will have a great picture no matter how dark or how bright the scene is.
The AMD FreeSync technology makes up for the 60Hz refresh rate and, along with the 4ms response, lets you enjoy even the more demanding, fast games without blurs or glitches.
The Eye saver mode lowers the emission of blue light that can strain your eyes. Another feature it has is the Eco-Saving Plus that reduces brightness to save energy.
---
2. Alienware AW3420DW Lunar Light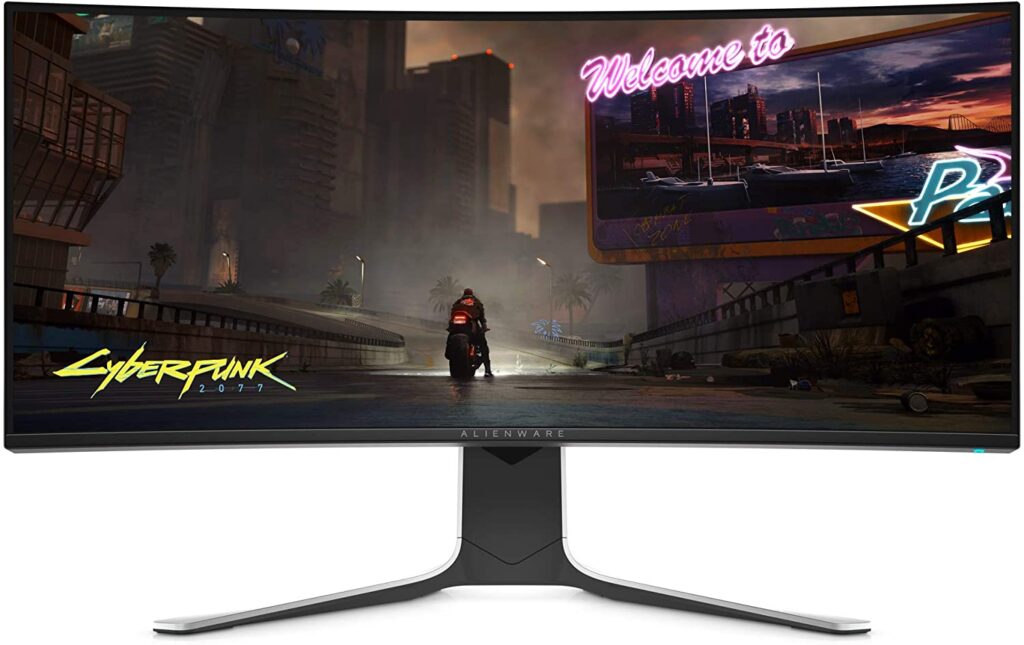 Alienware company is one of the most famous ones among gamers. It produces gaming PCs, monitors, and other gaming hardware.
They use alien-themed names and designs for their products. Alienware was founded in 1996 but was later acquired by Dell (2002), which is one of the reasons you can easily trust their quality.
Alienware AW3420DW Lunar Night gaming monitor is on the pricy side of this list, however, the research we conducted shows that it is much more affordable than others with the same features.
It has great reviews on Amazon and the list of positive reviews goes on and on. We highly suggest you check it out.
Who is it best for
This Alienware product is great if you do not mind spending quite a sum on a gaming monitor upgrade to a 120 refresh rate for a smoother gaming experience.
It is far from a budget monitor yet is a good first step towards a professional gaming monitor.
When it comes to monitors for streaming, this one may not be the best option if you want to use it for streaming since it is 12:9 1440p.
This resolution can be too big for a lot of streaming platforms and can cause black bars to appear on the screen.
The picture can also appear stretched. It is good, however, if you are streaming games live and using this monitor for gaming and another one for streaming.
Key Features
The Alienware AW3420DW widescreen has the perfect curvature for the eye and an immersive gaming experience that maximizes the viewing field.
It is easily set-up and does not take up much space on the desk. You can adjust the monitor by moving the screen up and down, and it can also be tilted vertically and horizontally.
There is programmable RGB lighting on it for those of you who enjoy light effects when you are gaming.
The IPS Nano Color technology provides you with a professional color gamut for maximum vividness.
Its response is 20ms and the refresh rate is 120Hz which is good for gaming since it enables low input lag, and you can play fast-paced and competitive games.
Smooth image without distortions is ensured by Nvidia G-Sync technology. It synchronizes GPU with the monitor and enables full-frame display only when the monitor is capable.
---
3. MSI OPTIX MPG341CQR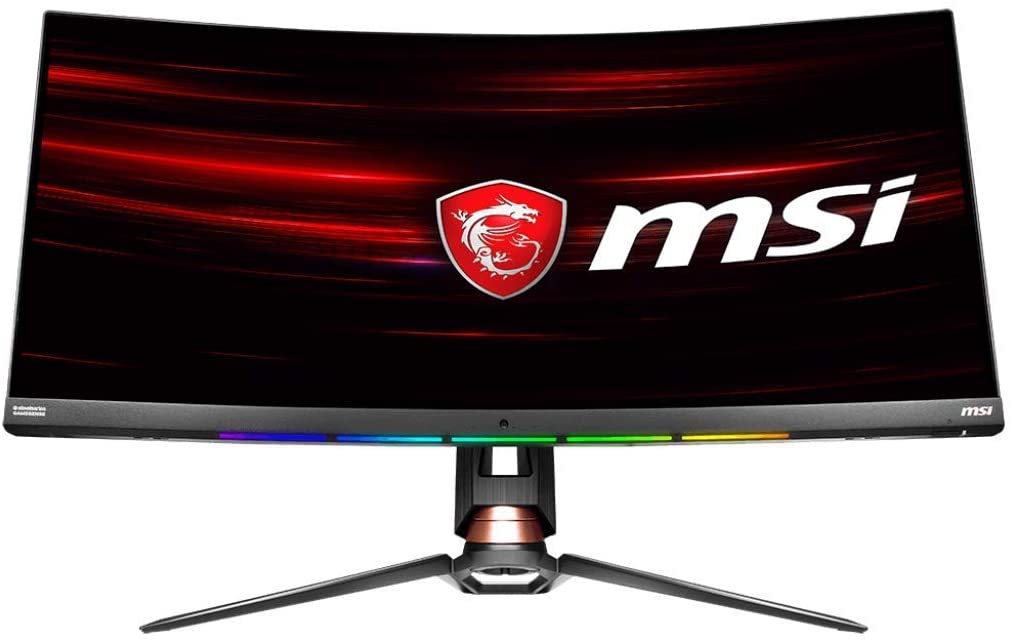 MSI is a multinational IT company based in Taiwan that produces computer hardware. It was founded back in 1986 which is proof itself that the company produces high-quality products.
MSI's Optix MPG341CQR has amazing reviews on Amazon, and a variety of positive reviews when it comes to quality and value for money.
If you are looking for the best monitor for streaming and gaming this one can be at the top of your list.
Who is it best for
For all of you who like to stream your gaming sessions, the MSI OPTIX could be the right choice. The built-in streaming cam is ready when you are, and you can also attach any other tripod webcam to the cradle.
With a 144 refresh rate and at this price, it is a solid upgrade for those of you looking for a middle ground between basic and high-end.
Key Features
It is an affordable ultra-wide display with a 21:9 aspect ratio and 1440p. The basic color and contrast settings are somewhat dull so it would take you some time to adjust them as you desire.
The 144 refresh rate and 1ms response let you play fast-paced, multi-player games with ease. It ensures there will be very little tearing, choppiness, and blurring.
The RGB lighting can be synced with popular games. The monitor itself has a built-in webcam and a webcam cradle that enables you to stream right away.
The curve is 1800R which is not aggressive and allows for a natural field of view. The monitor can be adjusted at just the perfect angle for you.
---
4. DELL S3220DGF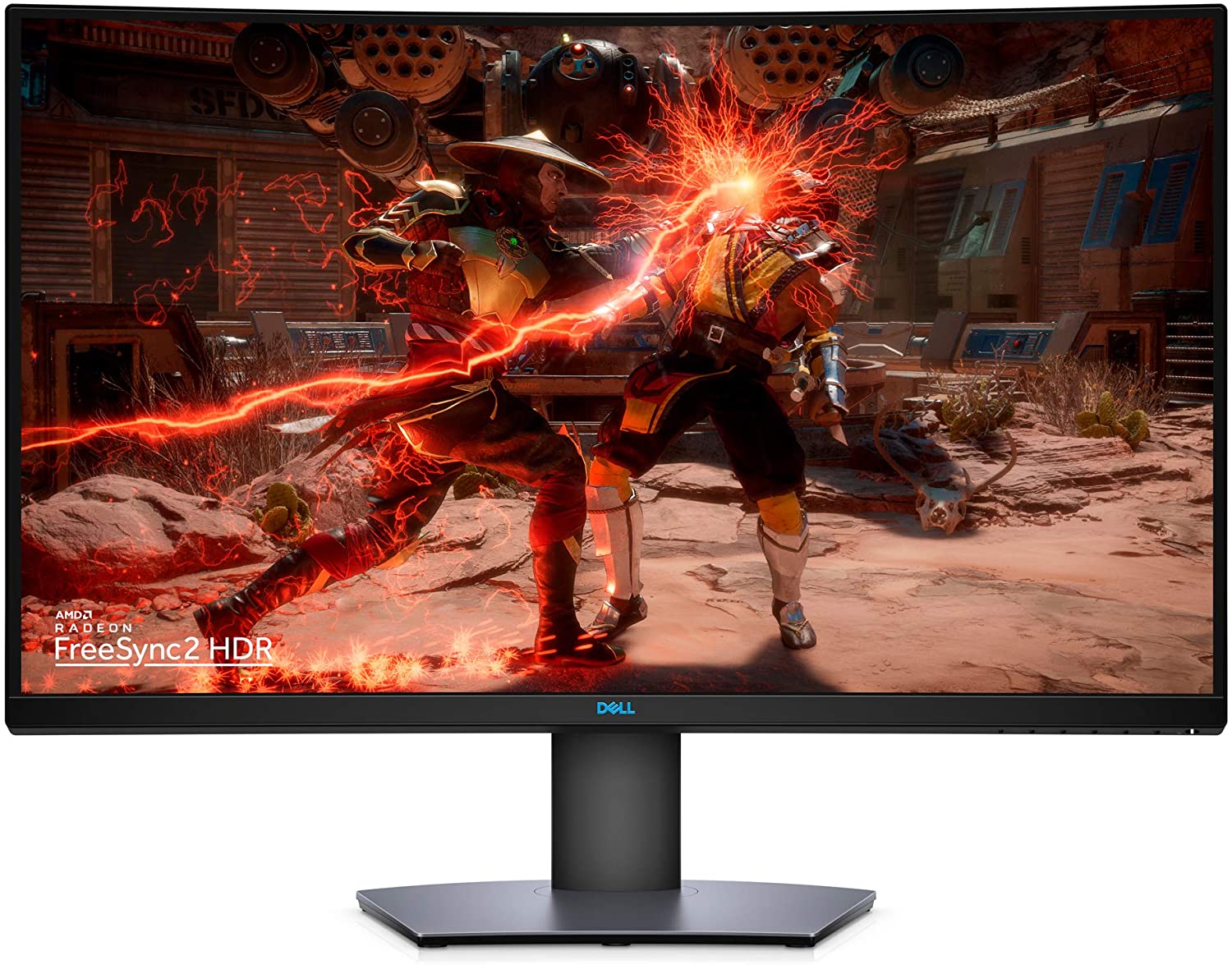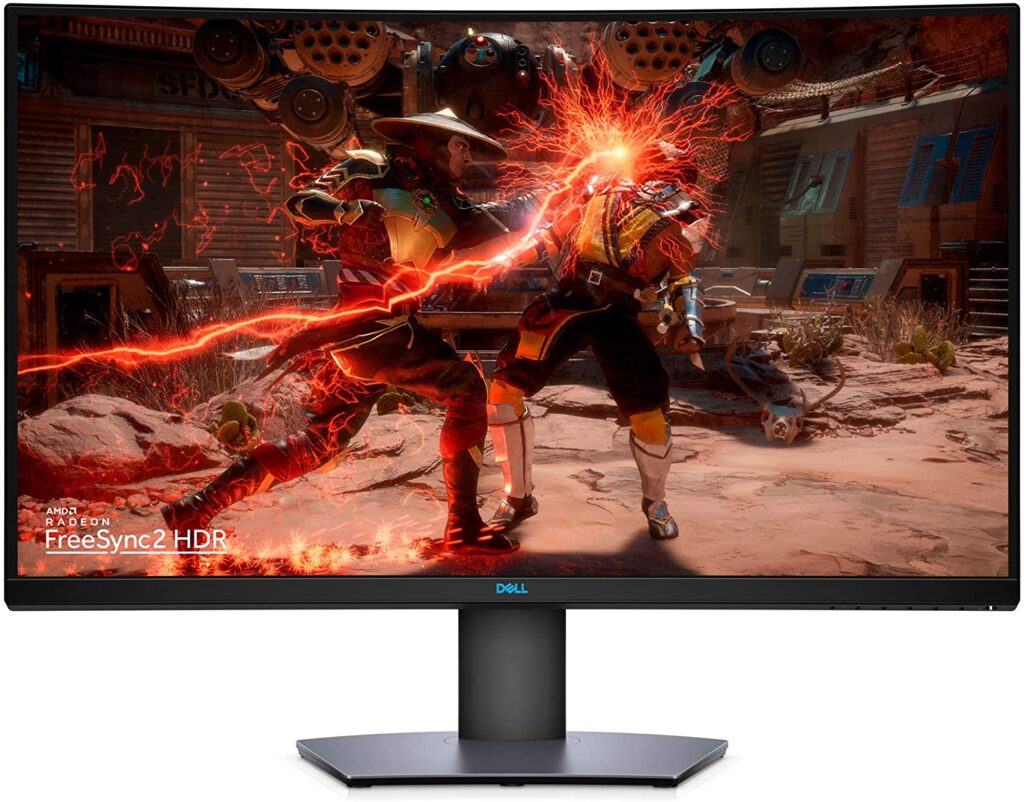 One of the largest tech companies in the world, Dell has been producing and selling computer hardware and software products since 1984.
It has acquired over 10 companies and it helps shape the computer market to date.
DELL's S3220DGF is one of the best-selling gaming and streaming monitors on Amazon with good Amazon reviews. It is an affordable yet reliable monitor, and we recommend that you check it out.
Who is it best for
Due to the 16:9 Aspect Ratio, it may not hit that gaming sweet spot, however, it is perfect for streaming since it will be supported by most streaming platforms.
Due to its higher resolution 1440p and 165Hz refresh rate, it still enables a solid gaming experience, especially for a budget monitor.
So, if you are looking for an upgrade of your 60Hz monitor, but are still not ready to go all out and spend a lot on a high-end monitor, and you are into streaming your games, this one may just be the perfect choice for you.
Key Features
The natural, yet powerful 1800R curve allows you to immerse yourself in movies and games without straining your eyes on a big screen.
The monitor has high clarity and vivid colors, the black are deep provided by the 3000:1 contrast ratio. A high refresh rate of 165Hz and AMD FeeSync let you experience gameplay without skips, lags, or tears.
It has several pro features like Dark Stabilizer, Timer, and Frame Rate Counter for better in-game visibility (dark scenarios).
You also get three preset user modes to fit any game. The 16:9 aspect ratio allows you t stream your games (or other content) on most streaming platforms without issues like stretching the picture.
---
5. LG 27GL850-B ULTRAGEAR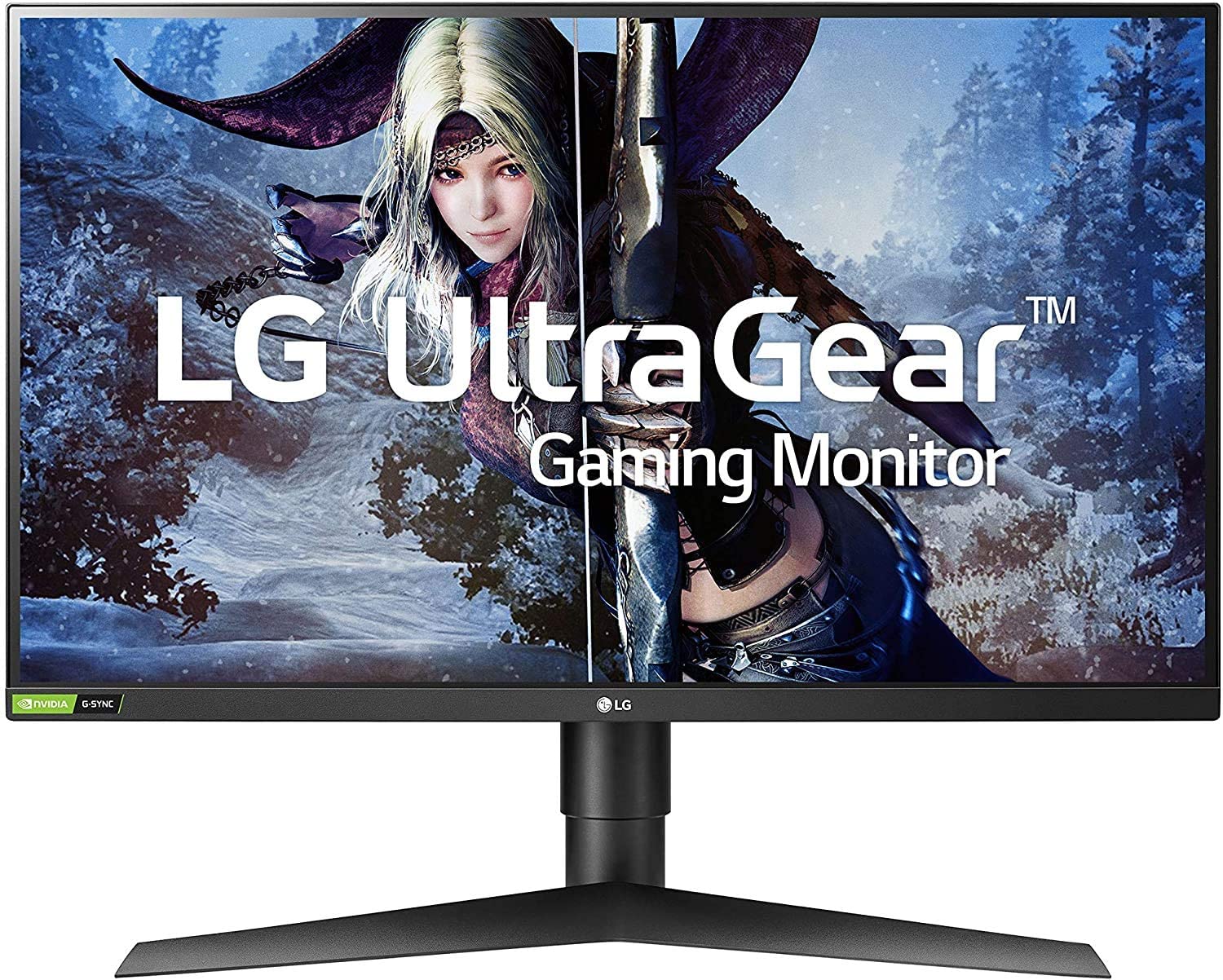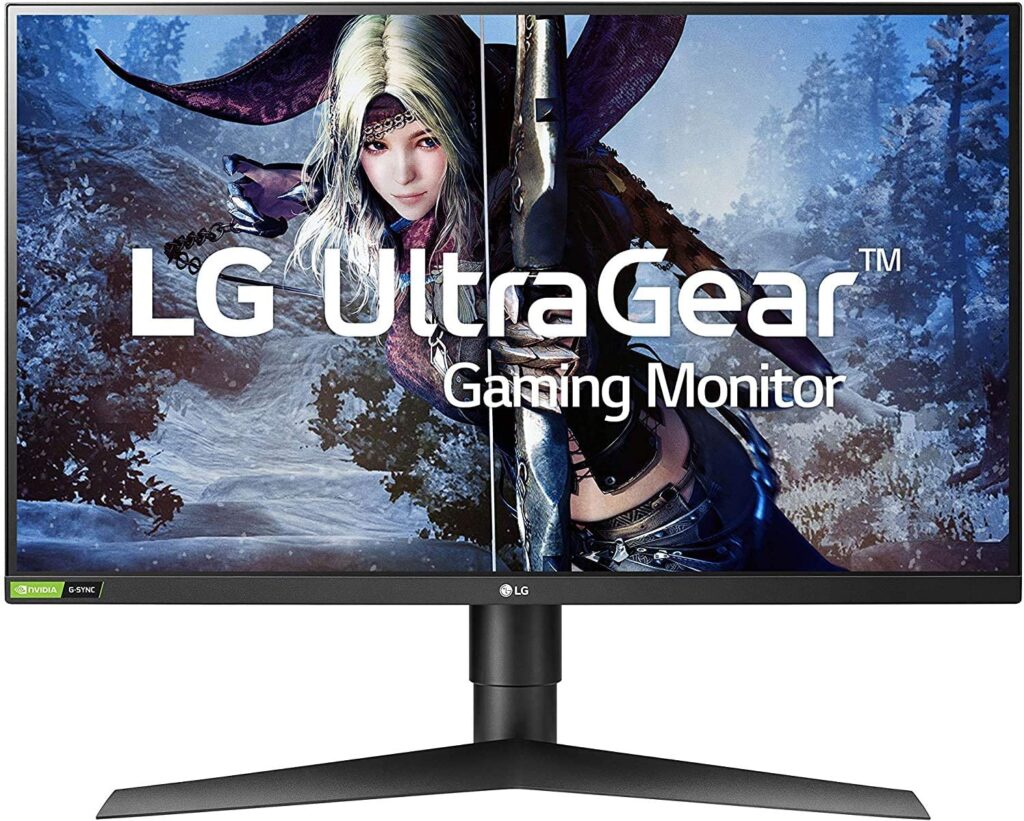 LG is a company known all over the world for producing and selling various tech products. It is a trusted name brand across all categories, priding itself on quality and innovation.
LG was founded Way back in 1958, with LG Electronics joining the scene in 1995.
LG 27GL850-B Ultragear is one of the best-selling top-quality monitors on Amazon with decent Amazon reviews. It has great reviews across all categories in its class.
Who is it best for
This LG quality monitor is a budget monitor that is perfect for any gamer. It is also a great monitor for streaming since its Aspect Ratio is 16:9.
So, if you are looking to purchase a solid starter monitor to cover all your gaming and streaming needs, this one can be the perfect fit.
It has great gaming performance in terms of lag and tearing, however, if you tend to play in a dark room you might have issues with black uniformity.
Key Features
The 1440p with 144Hz refresh rate and very fast response all of for a blur-free gaming experience with low input lag, and no tearing.
It has four response-time options(off, normal, fast, and faster) and is one of the fastest we have tested. It uses AMD FreeSync technology for a smooth gaming experience.
It is sturdy but not bulky so it will not take up too much space on the desk. You can adjust height, tilt, and pivot.
You can even adjust it to portrait. The borders on the monitor are thin which allows them to almost seamlessly connect to other monitors in a set.
---
6. Razer Raptor Gaming Monitor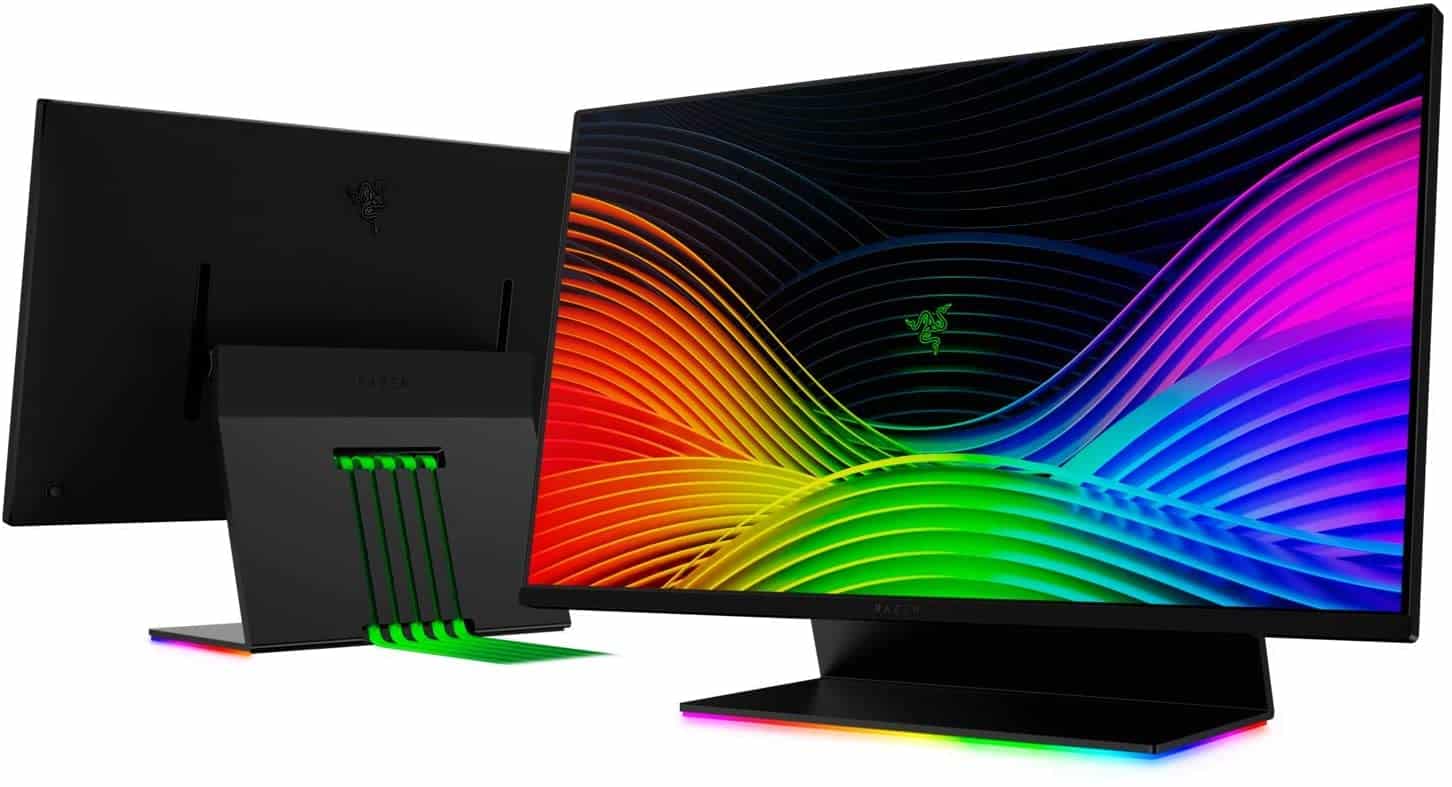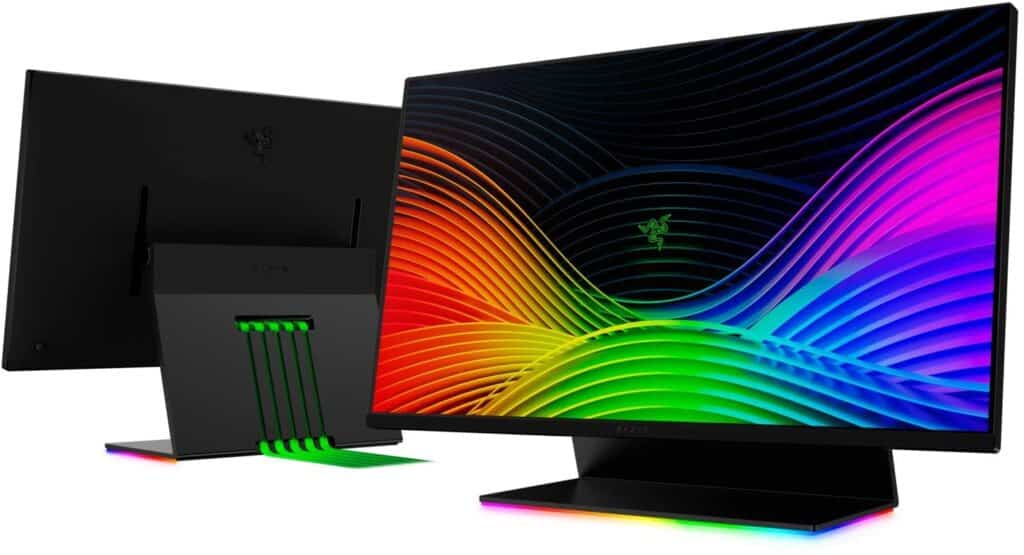 Founded in 1992, Razer has since been a go-to manufacturer of any kind of gaming equipment from software and hardware to services. It is no wonder that their first-ever monitor found its place on this list.
Razer's first gaming monitor model, Razer Raptor is surprising gamers all over the world with high performance and an affordable price. On Amazon, it has a plethora of great reviews.
Who is it best for
A mid-range monitor with excellent quality for both streaming and gaming. It is great for those of you who like playing fast-paced, competitive online games, especially if you like streaming them.
Aside from being compatible with most streaming platforms, and having high-quality performance it also enables picture-in-picture and picture-by-picture modes for performing different tasks at the same time which can come in handy while streaming.
Key Features
When it comes to the design it excels across categories. It is adjustable at various angles and can even be tilted perpendicularly to enable easy access to ports. It has discrete RGB lighting around the stand. It is quite elegant.
Performance-wise, it is also a top-notch monitor. The combination of 144Hz, 1440p, FreeSync, and G-Sync compatibility, and the 16:9 Aspect ratio make up for great gaming and streaming monitor enabling you to have a smooth, lag, and tear-free experience.
---
7. Acer XFA240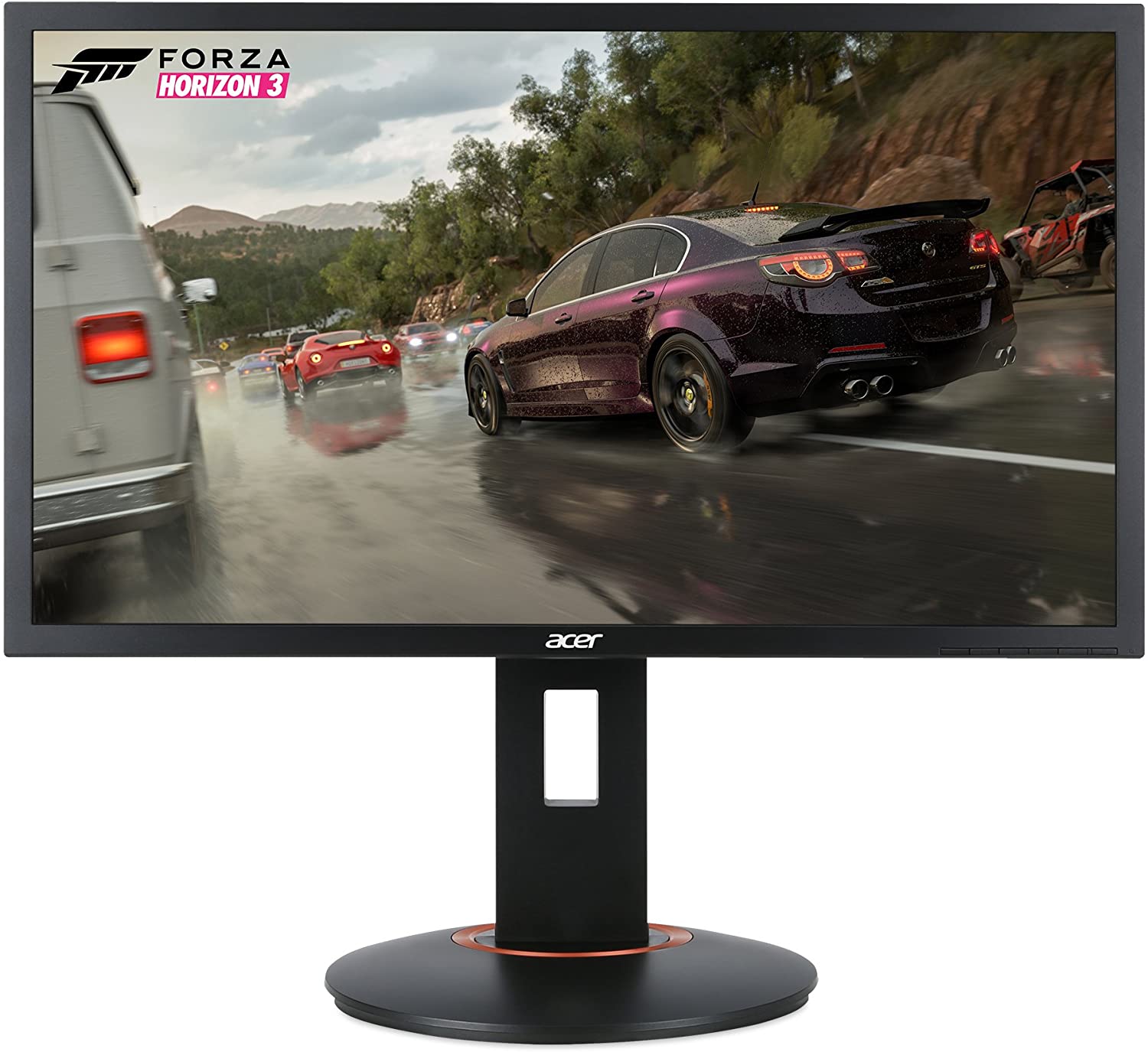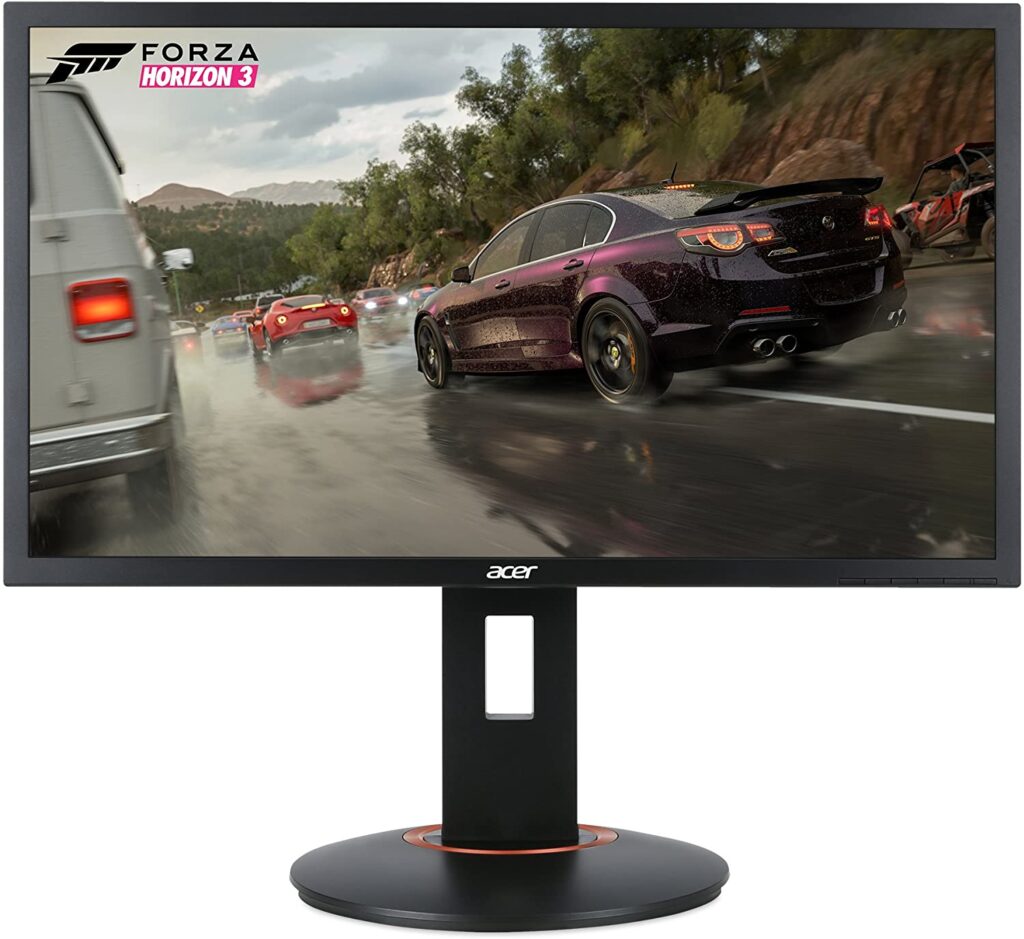 Acer is a long-standing Taiwanese company focusing on tech development aiming to create user-friendly products. It has been around for over 40 years and it is in the top 10 largest PC sellers.
It is no wonder that their Acer XFA240 has found its place on our list. It is the cheapest one on our list but it still has the great performance and reviews to be here. It has a bunch of great reviews.
Who is it best for
This is the best streaming and gaming monitor if you are looking for something really affordable.
It is perfect if you are a beginner and are just trying out monitors to see what suits you, or if you want a second monitor to complete your gaming or streaming setup.
Its aspect ratio will make it compatible with almost all streaming platforms, and although it has the minimum resolution preferred by gamers, it is still good enough. At least you know that the picture will not be distorted on streams.
Key Features
Acer XFA240 is the cheapest one out there with FreeSync and G-sync compatibility which enable a tear-free and smooth gaming experience.
It has a great 144Hz refresh rate and 1ms response which is better than others in the same price range. These allow for low input lag. There is also no ghosting and blurring.
Also, It has built-in speakers and can be pivoted up to 90 degrees. It is advertised as built to game, and although it has a lower resolution than the majority on this list, it is quite good.
Apart from that, It has Acer VisionCare technology which lets you have long gaming and streaming sessions without putting a strain on your eyes.
---
What to Consider When Buying a Streaming Monitor?
It is possibly in your head that you can buy the most expensive monitor, enabling you to have a great streaming experience.
While the price can, at times, affect the quality of the monitor you are aspiring to use, there are other, more important things to consider when it comes to streaming – whether you are streaming podcasts or gaming.
Your choice will, in the end, depend on your streaming needs, so here are some things you should consider when purchasing the best monitor for gaming and streaming.
1. Aspect ratio
Whether you are gaming or just streaming any other video content, your aspect ratio should be 16:9.
If you are a beginner, you might think that bigger is better (i.e., 21:9 or 32:9), but it is not. The 16:9 footage is the only one that is supported by most streaming platforms.
If you use streaming monitors with other footage, you may experience problems such as black bars on the screen or the distorted (i.e., stretched) image.
2. Refresh rate
The refresh rate of 60 Hz is usually enough for streaming almost anything – from podcasts to games. It is important to add that these games should not be so demanding.
For any of you who are into competitive gaming and high-speed games in general, you can go as high as 240 Hz without any issues.
For those of you who just want a better streaming experience when you are streaming your live games – upgrade to monitors with a 120Hz or 144Hz refresh rate.
The refresh rate influences only your viewing experience, while the PC's output (frame rate) will affect what your viewers see.
3. Resolution
When it comes to resolution, there are three options for you to choose from – 1080p, 1440p, and 4K.
The most affordable and still good enough for streaming and/or gaming is the 1080p setup. If you desire to upgrade to 1440p, you will get a better refresh rate with your gaming experience for a price that is still affordable.
If you opt for a 4K monitor, you get high refresh rates and perfect viewing resolution but at a very high price.
In case you plan to use your 4K monitor for streaming, you would still need to set it to 1080p to allow the streaming platform to support it.
Conclusion
Depending on your needs you will choose the right monitor for you, and we hope that we have managed to point you in the right direction.
To bring this guide to an end, we have decided to dub SAMSUNG C27F398 the winner in this category because it has all the features that make it best for both gaming and streaming. The fact that it is affordable plays a role here as well.
Frequently Asked Questions
Join our Discord Group. Ask questions, team up with fellow streamers, share memes, and more!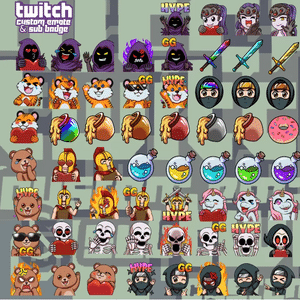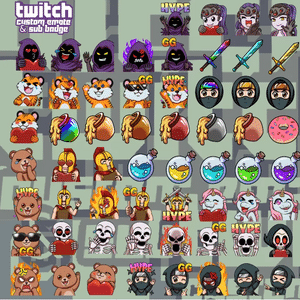 Claim for FREE:
FREE Emote PACKS
A book on growing your audience