Besides a good streaming microphone, laptop, and camera, headphones are simply a must if you're planning to start your streaming career.
And headphones aren't an easy item to choose not only because some of them are so expensive, but also because you need to know what you're looking for in a pair of headphones.
Luckily we've made a list of the 7 best headphones for streaming that might help you get the right pair that will suit your needs.
Post 3 of 6 in the Headphones, Headsets, and Earbuds
Best Streaming Headphones
Reviews
These streaming headphones are some of the best on the market, and we'll briefly talk about each one of them, who they are for best, and what are their most important features.
So let's not waste more time and jump straight in!
QUICK OVERVIEW: Best Streaming Headphones
<!—INSERT CODE BLOCKS BELOW—>

Bluetooth connectivity
Sensitivity – 98 dB

Driver size – 40 mm
Impedance – 32 ohm

Frequency response – 5 – 35,000 Hz
Impedance – 80 ohms
1. ATH-M50X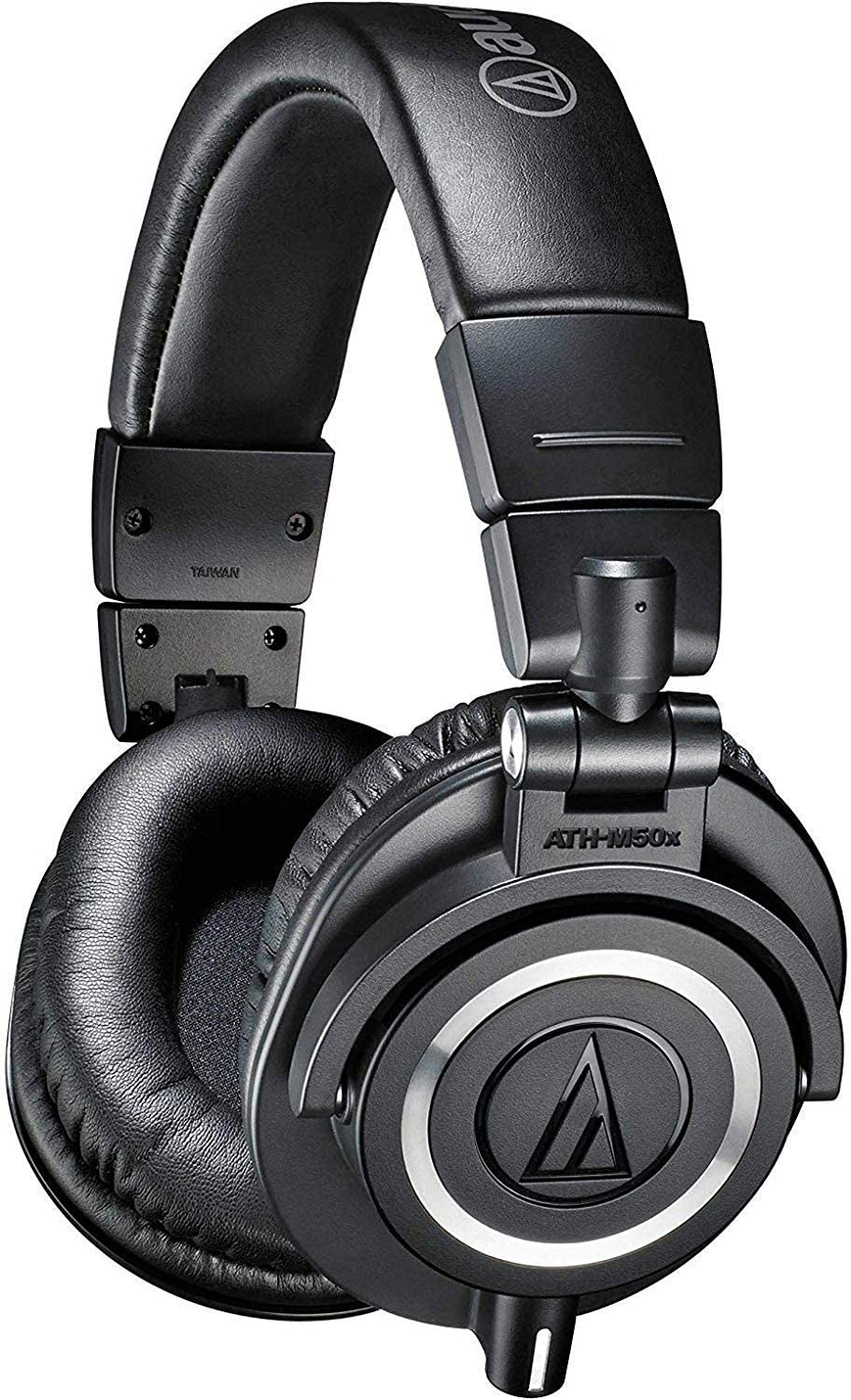 The first pair of headphones we have on our list is from Audio-Technica and they're called the Audio-Technica ATH-M50X. Their design is quite clean and they are fully foldable which makes them easy to carry.
Apart from the esthetics, these headphones are quite powerful, which is to be expected because they aren't cheap at all.
Let's see the specs and talk about them more!
Who is it best for?
These headphones have a wide variety of applications – from studio mixing and tracking, DJ-ing, to personal use such as listening to music and streaming. Because they have exquisite studio-quality sound and comfortable paddings on the headphone ears, they're perfect for prolonged usage.
Even though they aren't cheap, starting at 150$, they do have pristine quality and are well built so these headphones will certainly last you a long time.
We would say that these headphones are for any streamer who wants to get good quality headphones and isn't afraid to spend a little more to get the perfect pair for their stream.
Key Features
First of all, these headphones are wireless and connect via the latest Bluetooth 5.0, but you can also plug a 3.5 mm jack if the battery runs out, but the battery will certainly last you for around 12 hours depending on how much you use them.
They can also be folded inwards so they are quite portable.
The paddings on the ears are quite comfortable and provide great sound isolation and won't make your ears sweat if you wear them for hours.
The sound quality is superb as these headphones have a frequency response of 15 to 28,000 Hz, and have a sensitivity of 98 dB.
All of these features make the headphones quite loud so be careful not to overdo the volume as listening to loud music on any headphones for long periods can cause damage.
All in all, they're quite a no-brainer for so many happy customers, and they're certainly one of the best on the market.
---
2. SteelSeries Arctis Pro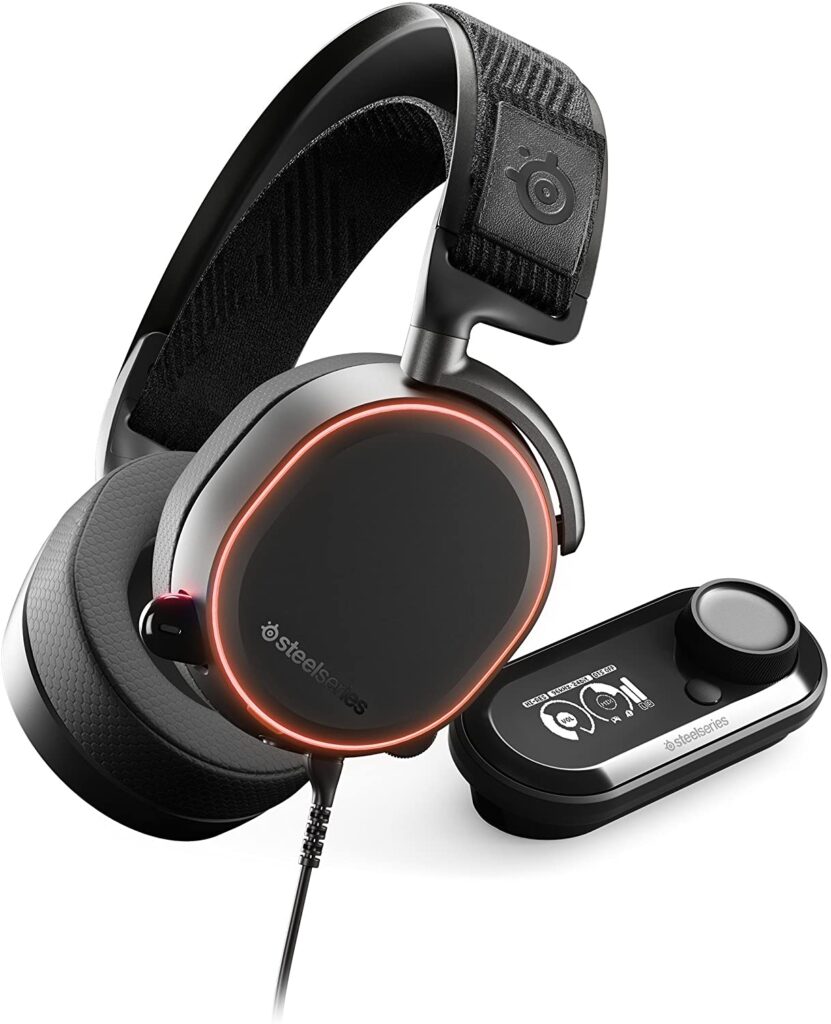 The second pair of headphones on our list is the SteelSeries Arctis Pro which is a bit more expensive than the previous headphones we've reviewed, but they have some features that are definitely worth such a high price.
Their design is quite slim and clean and even though they are wired headphones, they're great for most applications that require you to have premium sound.
But let's see what the specs have to say and find out a bit more about this awesome pair of headphones.
Who is it best for?
Even though these headphones are primarily meant for gaming not only because they come with a gaming DAC in the packet, but also because they have features gamers will most likely be fond of, they're actually great for any use as the sound quality is at a professional level.
Of course, if you're a gamer/streamer, then you're definitely going to get the most out of these headphones, but even if you need them for regular streams, you'll quickly find out that these headphones are so comfortable that paying around 200$ just for the feel alone is worth it.
All in all, with such high power, these headphones are for anyone who needs that little extra juice and wants the comfiest experience while streaming.
Key Features
First, we need to talk about the insane amount of frequency response these headphones have. 40,000 Hz is no joke and these headphones really do enhance the sound quality of anything you're listening to by a lot.
Next, the headphones come with a gaming DAC which comes in useful during streams especially if you are using multiple devices. The DAC has a PS 4/5 port, a USB Type-C port, and 2 3.5 mm jacks for stereo and mobile devices.
Next, the headphones have an excellent ClearCast microphone that has a bidirectional sound pickup and noise cancellation.
The woven ski fabric on the headband and the AirWeave ear cushions provide maximum comfort and prevent the user from sweating from prolonged use.
Considering that you can use the headphones for both PC and PlayStation 4 and 5, and knowing that the sound quality can't be matched by most headphones in this price range make this one of the best streaming headphones on our list.
---
3. Beyerdynamic DT 770 PRO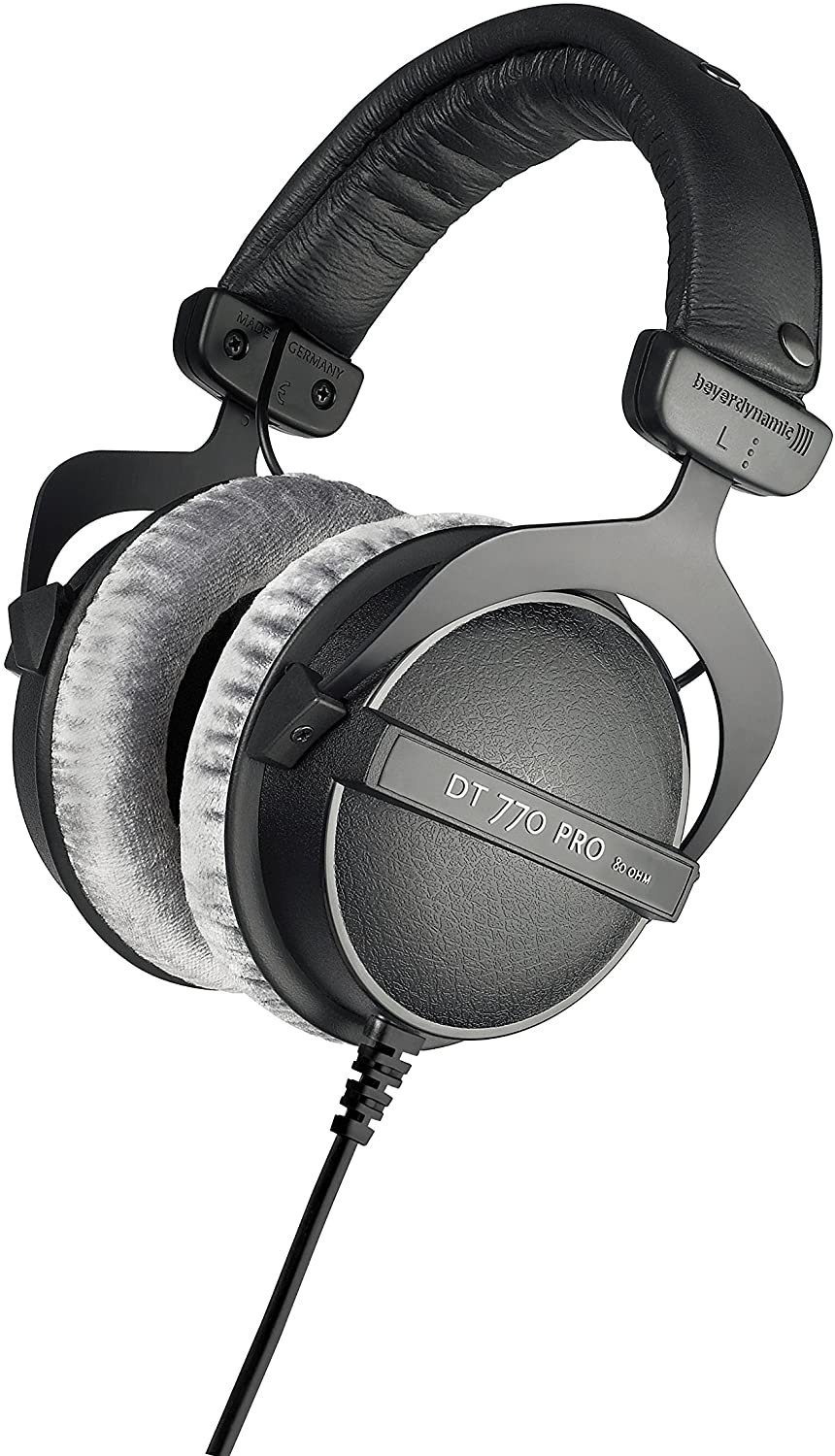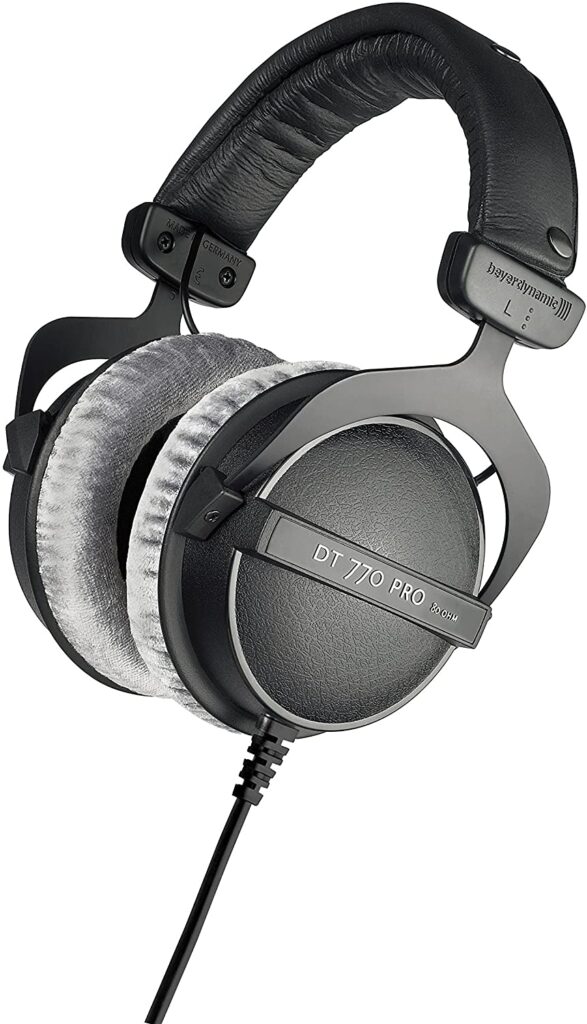 Next in line is the Beyerdynamic DT 770 PRO pair of headphones typically used for studio recording and mixing, but have all the properties that make them an excellent choice for most streamers.
They have a comfy feel, a bit of a bulkier design, and are wired, but that's just the tip of the iceberg in terms of features.
Whether you like the design or not these headphones have a pristine sound quality and the specs to prove it. So let's see the specs before we talk about anything else.
Who is it best for?
These headphones are mainly meant for studio applications as they are semi-open headphones meaning they're great at canceling out noise as well as delivering maximum sound quality. The higher impedance model (250 ohms) is better for studio work, but this 80-ohm model is great for pretty much anything.
It's good for gaming, listening to music, mixing, recording, and yes, even streaming. So because these headphones are somewhat universal, they'll appeal to a wider range of buyers which means you can't really go wrong with copping a pair for yourself.
Of course, the bulkier design isn't for everyone, but if you love the great sound quality, you'll live.
Key Features
These headphones have a frequency response of 35,000 Hz maximum and the sound they deliver is somewhat neutral with a deep and lean bass topped with a transparent voice pickup. This means that these headphones really get the best out of anything you're listening to.
Next, the headphones have noise-isolating pads that sit quite comfy around your ears which are also great at absorbing sweat when you use them the whole day.
What's also great is that you only need a single-sided 3.0 mm cable which you also get with the headphones and is 3m in length so you don't have to worry about accidentally unplugging them if you move while streaming.
The only thing these headphones are missing is a mic, but since you do want to have a separate mic while streaming, that shouldn't be a problem for most streamers.
---
4. HyperX Cloud Alpha S
Up next we have a pair of headphones called the HyperX Cloud Alpha S and these aren't your typical streaming headphones as they're mostly used for gaming. However, these are the cheapest headphones we've reviewed so far, but they're still around 130$.
That's still a lot for a pair of headphones, but these are definitely a steal because they offer so much to the user and because you don't need to use them specifically for gaming makes them a solid choice overall.
Let's see what these headphones offer to the table and then we'll get to know them a little better.
Who is it best for?
Of course, because these headphones are made for gaming, they'll appeal to gamers/streamers who want the best out of their headset. However, these headphones also have an amazing mic that makes them suitable for other streamers as well.
The price point is quite reasonable and even though they are still somewhat expensive, the sound quality you get with these headphones is top of the line.
So you don't have to specifically be a gamer to still enjoy everything these headphones have to offer. They're a solid pick for any streaming setup.
Key Features
These headphones feature custom HyperX 7.1 surround sound with HyperX Dual chamber drivers that deliver the best sound experience for gaming. They also have a maximum of 27,000 Hz frequency response and an audio control mixer for getting just the right sound level.
The mic on the headphones can be detached and is noise-canceling and only picks up a sound that's right in front of it. The headphones also feature bass adjustment sliders on the sides of the ears and you can change the bass up to 3 levels.
The ear cushions are made from a breathable leatherette material that doesn't trap heat and has good sound isolation. The tough aluminum frame offers maximum support and can't take a beating or two so you don't have to worry about breaking your headphones.
All in all, these headphones are a solid pick for both gamers and streamers, and for 130$ you won't be disappointed.
---
5. ATH-M40x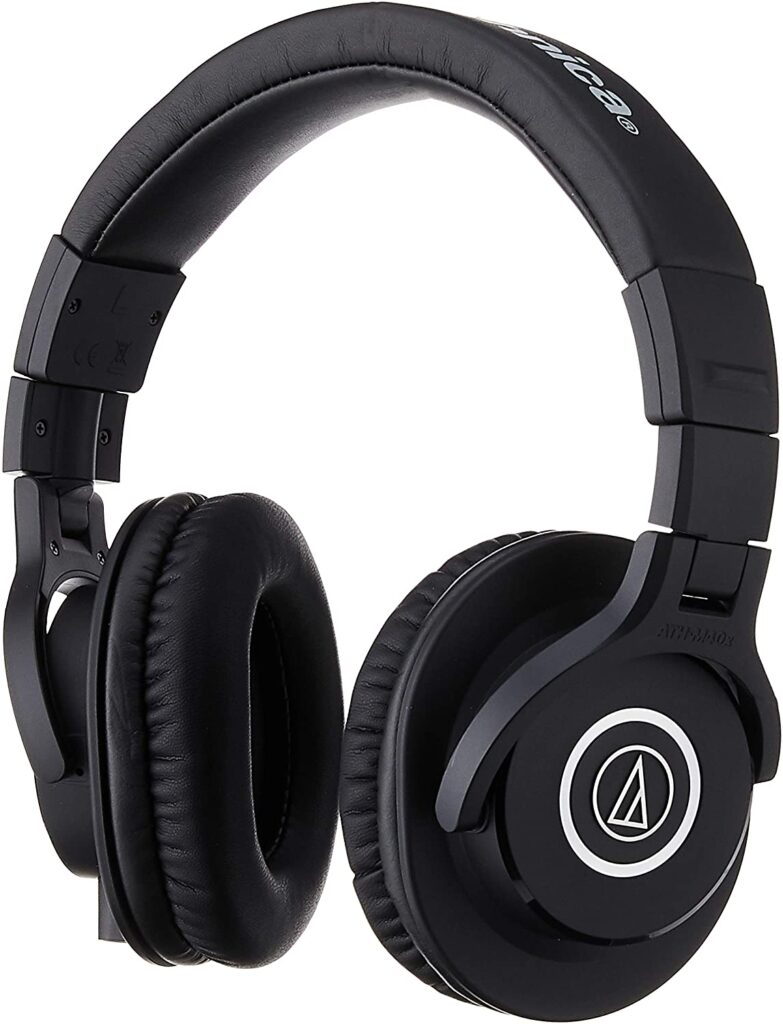 Next is another pair of headphones by Audio-Technica called the Audio-Technica ATH-M40x so they're a similar model to the first ones. However, these headphones go for around for 100$. So they aren't the cheapest headphones but they are also not that expensive.
With these headphones, you get the same esthetic and materials in the construction as in the ATH-M50x model, but they're a bit less powerful.
Before we make our final judgment, we should check out the specs.
Who is it best for?
As you can see, the ATH-M40x has less frequency response and impedance than the ATH-M50x model, but people who like the latter model will also like this one as it's a bit cheaper but has somewhat the same features.
These headphones aren't the best for gaming as they don't have a mic, but for a streamer who already has a desktop mic, they're quite worth the 100$ price point.
So if you want some quality headphones for a good price, then you should consider getting these ones.
Key Features
The ATH-M40x has pristine sound quality and frequency response of a maximum of 24,000 Hz which produces crystal clear sound, and a bit of robust bass.
The headphone ears have excellent padding that is sweat-resistant and have good sound isolation that is great for loud environments. They can also swivel 90° in each direction.
The headphones are also foldable and are easy to carry, and the battery lasts for about 12 hours without charging, but you can also use a 3.5 mm jack if the battery runs out.
Overall, the quality of these headphones definitely meets the price.
---
6. Logitech G933 Artemis Spectrum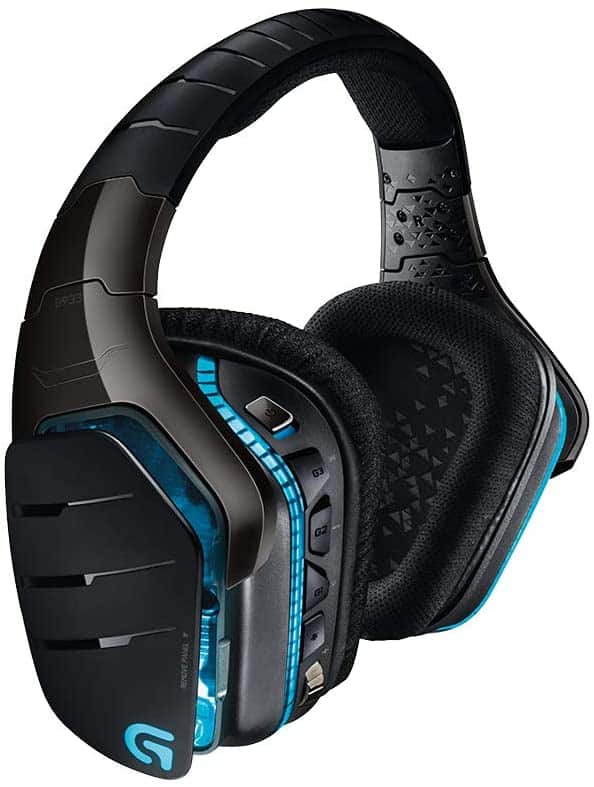 These headphones are the most unique ones on the least and they're also the cheapest because you can get them for under $100. We're talking about the Logitech G933 Artemis Spectrum. These headphones are totally wireless but you can also make them wired by using a USB cord.
There are many more features we need to check out so let's not waste more time.
Who is it best for?
These headphones are gaming headphones and the design is primarily going to cater to gamers as you have dedicated buttons for fast controls while gaming.
They are good for streaming as they have high sensitivity and high sound quality, and wireless connection that makes them quite portable and easy to use.
If you're a gamer/streamer, then you'll definitely like these headphones, and for under 100$ you really can't go wrong.
Key Features
There are a lot of features on these headphones, but let's first focus on the Pro-GTM audio drivers which deliver excellent stereo sound and have a 7.1 Dolby Surround system.
They are also compatible with both PlayStation 3/4/5, Xbox, PC, TV, and other devices as they have wireless and USB connectivity.
On the right ear, you have 3 programmable hotkeys, sound level adjustment, and a power button.
The headphones have a breathable mesh on the ears that soaks up sweat and has decent sound isolation.
The headphones also have fully customizable RGB lights and a backlight.
Overall, they're a solid pick for both gamers and streamers.
---
7. Beyerdynamic DT 880 Premium Edition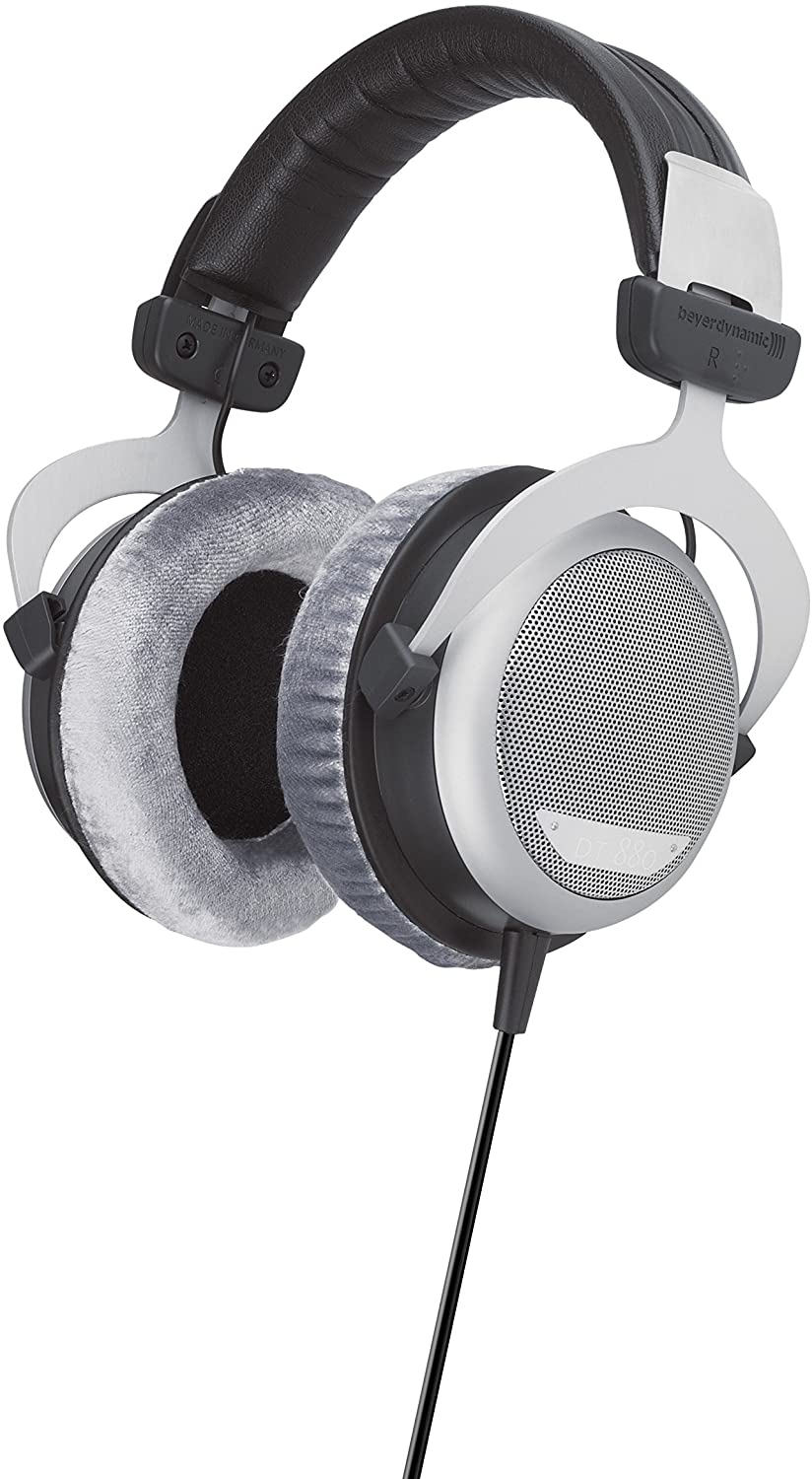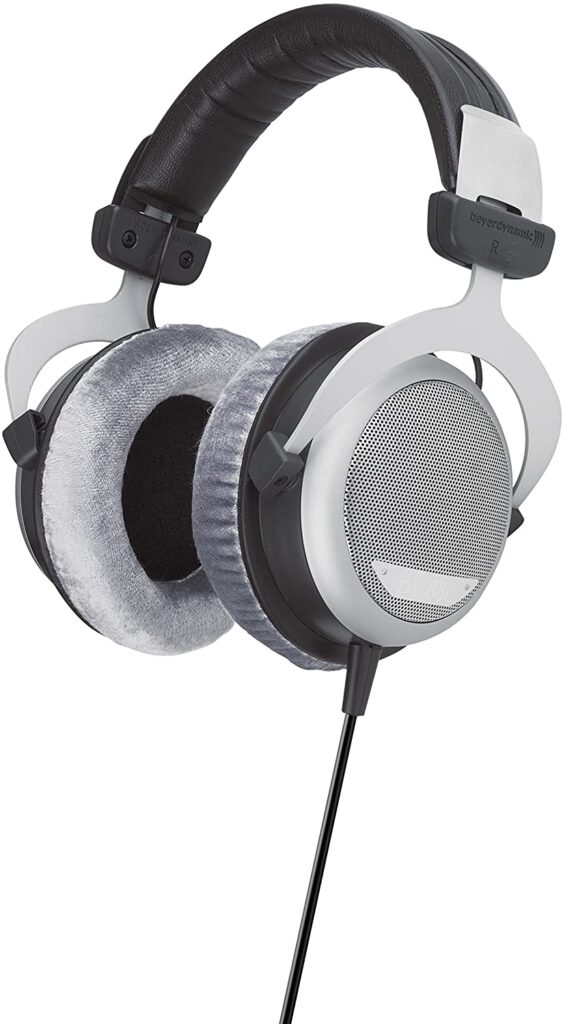 The last pair of headphones on our list is the Beyerdynamic DT 880 Premium Edition and if you're still wondering what headsets do streamers use, these might be the ones. They do cost around 200$, but they have the best sound quality out of all other headphones we've reviewed.
They might not be for everyone's pocket, but if you need excellent sound quality, this is your top choice.
Let's see the specs!
Who is it best for?
These headphones are made for studio application and many producers have them because of their pristine sound quality and durability. Any streamer would be lucky to have these as they sound like no other headphones on the market.
They aren't good for gaming as they don't have a mic, but for streamers they're excellent.
So if you have 200$ and you're looking for top-notch headphones then these are your best choice.
Key Features
The first feature that is sticking out from the rest is the 250-ohm impedance which with the 35,000 Hz provides professional studio sound quality that's out of this world.
The headphones also have optimal sensitivity of 96dB and a semi-open operating principle for amazing sound isolation.
The pads are also quite soft and sit comfortably on your ears and are also sweat-proof so you won't have any discomfort with prolonged use.
What's great is that the headphones come with a gold-plated 3.5 mm jack which is the best one for transmitting current.
All in all, with these headphones you not only get a professional look but also pristine sound that can't be compared to other headphones at a similar price range.
---
Things to Consider When Buying Streaming Headphones
Headphones can be quite expensive and none wants to waste their money by getting the wrong ones that can't deliver the sound the user is after.
And there's really no way to know if a pair of headphones is great for you or not until you've tried them on and tested them out.
Of course, headphones aficionados know exactly what to look for without even putting them on their head.
That's why there are some things you need to consider before you go out shopping for a pair.
Luckily, we're going to guide you through some of these things you need to keep an eye out for.
1. Driver Size
The first thing you need to keep an eye out for is the driver's side of the headphones. The driver is a disc placed in both of the ears of the headphones and from which the sound is transmitted and played.
The size of the disc determines the sound coverage of the headphones when they're over your ears. And, since we all have different ear shapes and sizes, you must know which size fits you best.
The driver size can vary between 20 to 50 mm, the most common size being around 40 mm which most people tend to lean towards.
Getting the right size will not only make the sound much clearer because the headphones won't move so much, but it will also provide good sound isolation because they are packed snug around your ears.
One thing to note is that the padding on the headphone ears is also important because even though you get the right driver-size headphones, the padding might not fit your ears and you'll get uncomfortable quite quickly.
2. Frequency Response and Sound Quality
Frequency response is the measure of the output sensitivity of each pair of headphones, and, depending on what their purpose is, the response will have different measurements commonly defined in Hz.
Different frequency response ranges also affect the sound quality and which sound element they enhance and in what way. For example, some headphones have a neutral sound, but enhance the bass and reverb, while others can have a crisp sound and are better for voice pickups and music.
It all has to do with different textures the sound technology in the headphones produces, and that's why studio headphones and gaming headphones with similar frequency response ranges sound nothing alike.
For streaming, it's a matter of personal preference, as most good headphones for streaming can be used for gaming, listening to music, and even studio applications.
3. Impedance
Impedance determines the sound pickup of the headphones and with more pickup the louder the sound is. Impedance is measured in ohms and typical streaming headphones have 80+ ohms meaning they produce quite an enhanced sound.
Studio headphones can have 200+ ohms. The reason being the producer needs to hear each sound or instrument as loud and clear so that he can do his magic and create the perfect recording.
Higher impedance also means there is more wrapping around the coil so the motor system produces clearer sound when it's transmitted from your device through the headphones.
So to conclude, higher ohms means better quality sound.
4. Connection Type
There are 2 types of connection on headphones.
The first one is wireless Bluetooth headphones which are great if you don't like those annoying wires that make your setup a mess. However, these types of headphones need to be charged and the battery can die after some time.
The second type is wired headphones which do have that annoying cord that at one point in time you're going to either trip over or pull out if you don't remember to take them off.
The best solution is to get Bluetooth headphones which you can also plug a cord in when the battery is drained.
Related: Best Headset Microphone for Streaming
Conclusion
In the end, we have to choose our top choice and that is the HyperX Cloud Alpha S, not only because of the features but also because of the price. Sure, they might lack some power, but for streaming and gaming, they're perfect.
We hope you've learned what headphones do streamers use and which ones are great for your streaming setup, and also what to look for in a pair of headphones.
Good luck finding the right pair of headphones!
Related: Best Gaming Earbuds for Streaming
Frequently Asked Questions