Best Stream Deck Mount
<!—INSERT CODE BLOCKS BELOW—>

Friction fit
Ability to rotate

Universal Stream Deck XL Mount

Comes with a set angle
PLA plastic materials
The Elgato stream deck is for sure one of the best pieces of streaming equipment that's available on the current market, and it's probably something that most streamers would recommend you get.
However, mounting solutions are sometimes needed if you want to find a proper place for it among the rest of your streaming setup.
That's why I've gathered the best stream deck mounts that are currently available, as well as some general things about them that you should be aware of, so let's jump in!
Post 1 of 7 in the Stream Deck
Best Stream Deck Mount
Reviews
There are many different options for stream deck mounts, and depending on what model you have and where you want to install yours, different ones could fit your needs.
It's also important that you take into consideration whether you have the original Elgato Stream Deck, the Stream Deck Mini, or the Stream Deck XL.
There's something for everyone, and these are the 8 best ones out there.
1. Articulating Desk Mount
---
---
Description
One of the first interesting things about this stream deck mount is probably the fact that it's handmade, and to a lot of people, that means that the quality is a bit better than the same product that's been made differently.
This mount is also a mount that you don't have to screw in but is rather the kind that you stick under your desk, and that's way easier to set up, and also it's not a permanent change to your furniture, meaning that if there ever comes a situation when you need to move your equipment together with the stream deck.
It also has the ability to slide the stream deck away from the mount when you don't use it, so you can put it in a safer place if that's needed.
Even though it has the ability to slide away, this mount also has a friction fit that ensures that your stream deck will stay put in its place.
Finally, this mount also has a headphone hanger on it, which is very useful.
2. Mk.1 15 Keys Slide Out Mount
---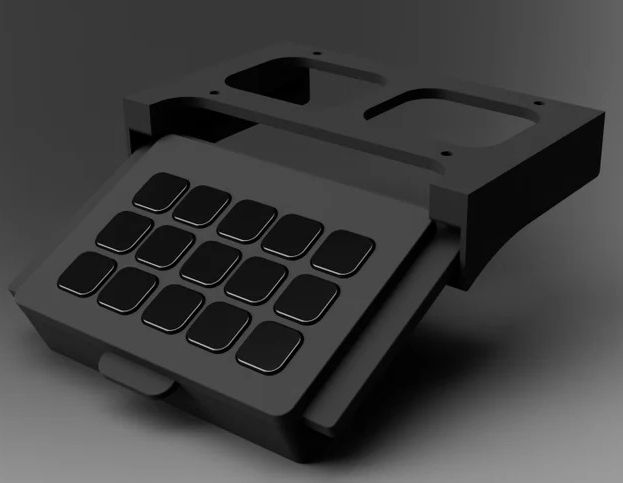 ---
Description
The first thing I noticed about this stream deck mount is that it comes with a cable hook on the end of it, meaning that hanging cables that irritate you are going to be a thing of the past.
This mount is one of those that you change the position of with screws, 2 M4 hex screws to be precise, but the whole stream deck mount can be fixated to your desk either with wood screws or with a double-sided M3 tape.
This means you have options to choose from, depending on whether you plan to keep it in that place for a long time or if you plan to move it.
An interesting thing about this one is that it's 3D printed, so don't be surprised if the lines and texture that are visible on the sides of it.
3. Universal Stream Deck XL Mount
---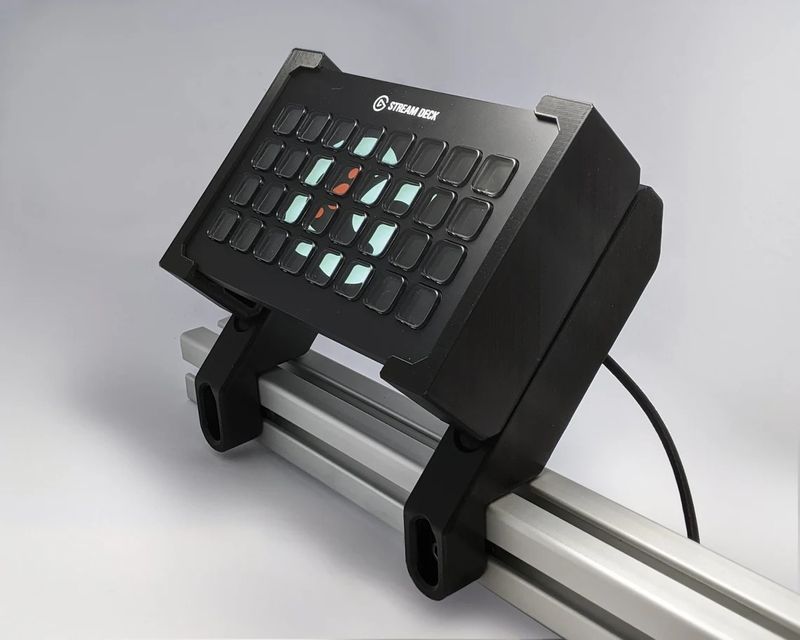 ---
Description
If you have a Stream Deck XL, then I can assume that you struggle with finding a place for it on your desk among all your streaming equipment.
This mount can come in 3 different angle options, and the one you choose is the one that you're stuck with once you buy it.
The 3 available options are the 10-degree angle, 30-degree angle, and 45-degree angle, so depending on where you want to put it, you can choose accordingly.
It's also great that this stream deck mount comes with all the hardware that's needed to set it and adjust it where you want it, so you don't have to worry about missing one single screw a few minutes before finishing the job.
4. Elgato MK1 Tripod Mount
---
---
Description
If you want to have your Elgato Stream Deck not be fixated on the desk, but would rather be able to move it around, then a tripod mount can be a good option for you.
This stream deck mount is also a cheaper option compared to the previous ones, so you can also consider that.
If you have some camera equipment, then you probably know your way with tripods, so this could be familiar to you.
And, if you have a spare tripod lying around, this can be a great way to put it to use.
Also, if there are multiple monitors on your desk and some more equipment, your decision to get a tripod mount can be influenced by things like this.
The mount is fitted with a standard 1/4″ thread brass insert, meaning that you will need a 1/4″ screw mount to set it up, so make sure that you have this before opting for this product.
5. Stream Deck 40 Series Profile
---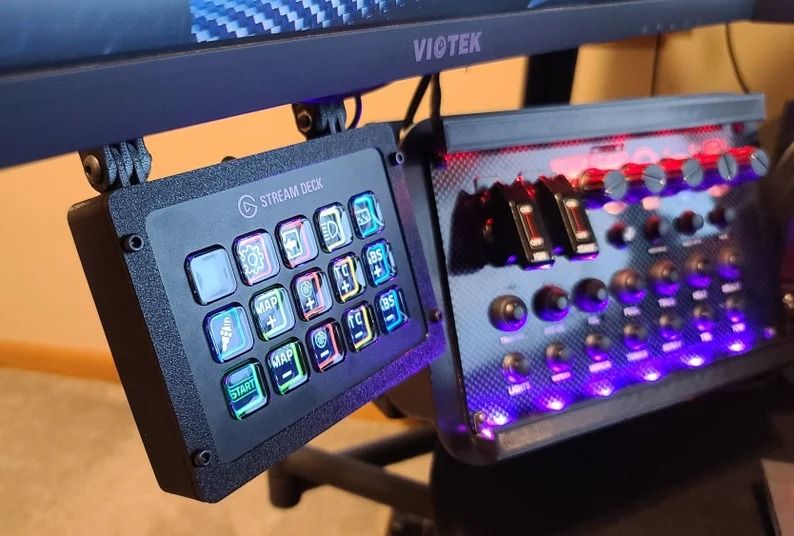 ---
Description
This option is one of the more pricey ones on this list, and while I would say that it's overall worth the money, it might not be something that you're willing to spend right now.
However, it's undeniable that the build of this mount is very high-quality and that it will ensure that your device is held tight.
The clamps that you use to fix this mount into place are Go Pro style, so you can lock the hardware in place in multiple locations.
The stream deck housing is also reversible, meaning that you can have this mounted on both the left or right side, depending on what suits you better.
6. Simracing Mount
---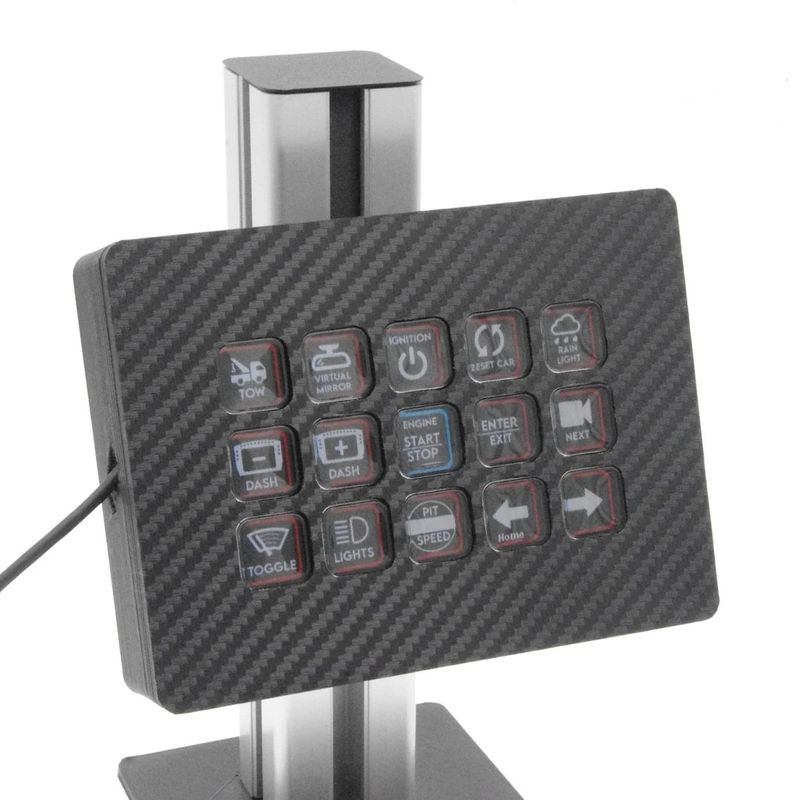 ---
Description
This stream deck mount is very well-made, and it's one that you need to screw into place, so make sure that you are sure of the placement you want to have this one in before getting it.
If you have a sim rig, then this is probably the best choice for you.
The angle can also be worked on since the adapter is at 20 degrees and can tilt the stream deck for 90 degrees to the left and to the right.
It's also nice to know that the heads of your stream deck won't stand out in the grid.
7. Elgato MK2 Deep Pan Version
---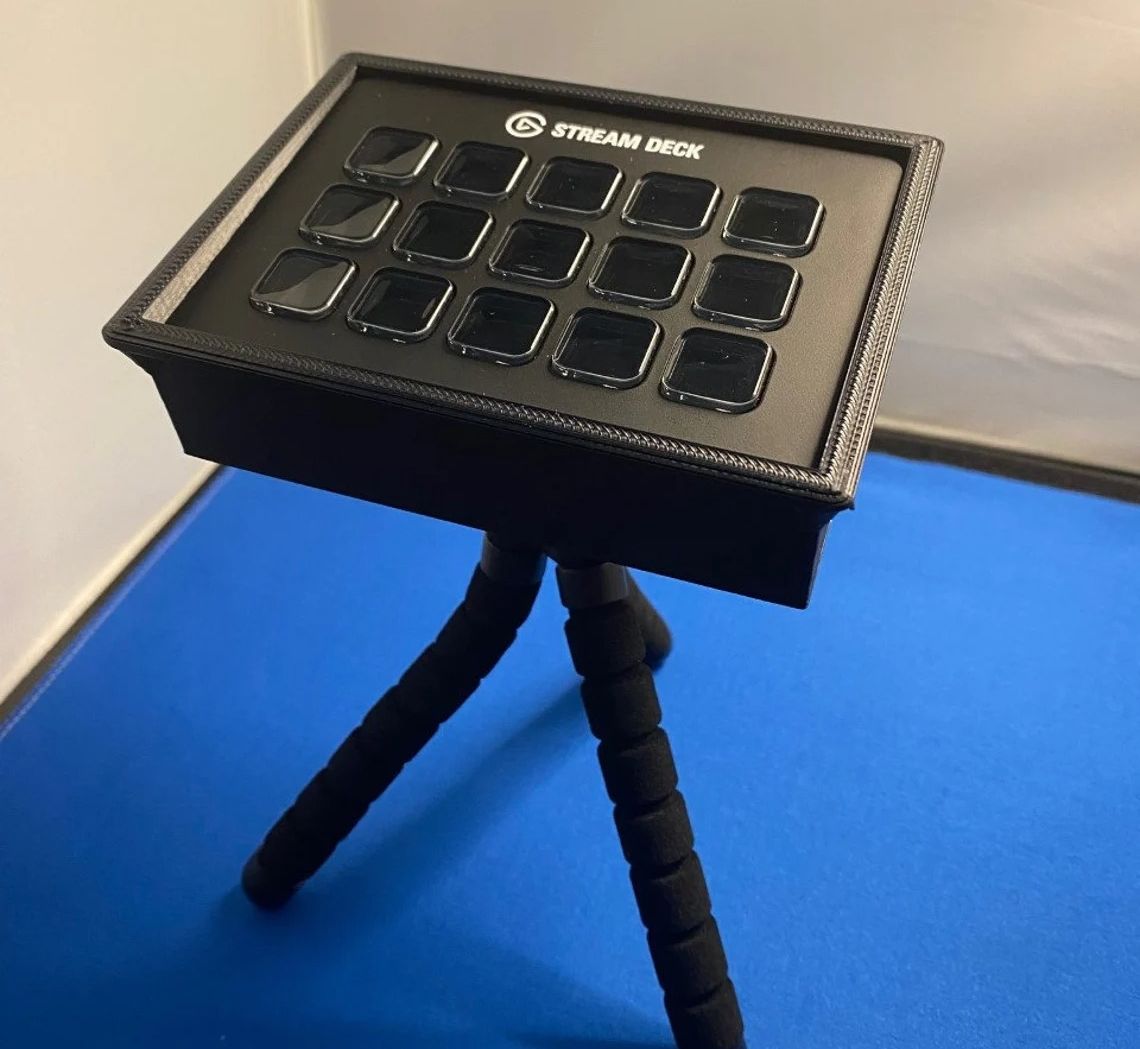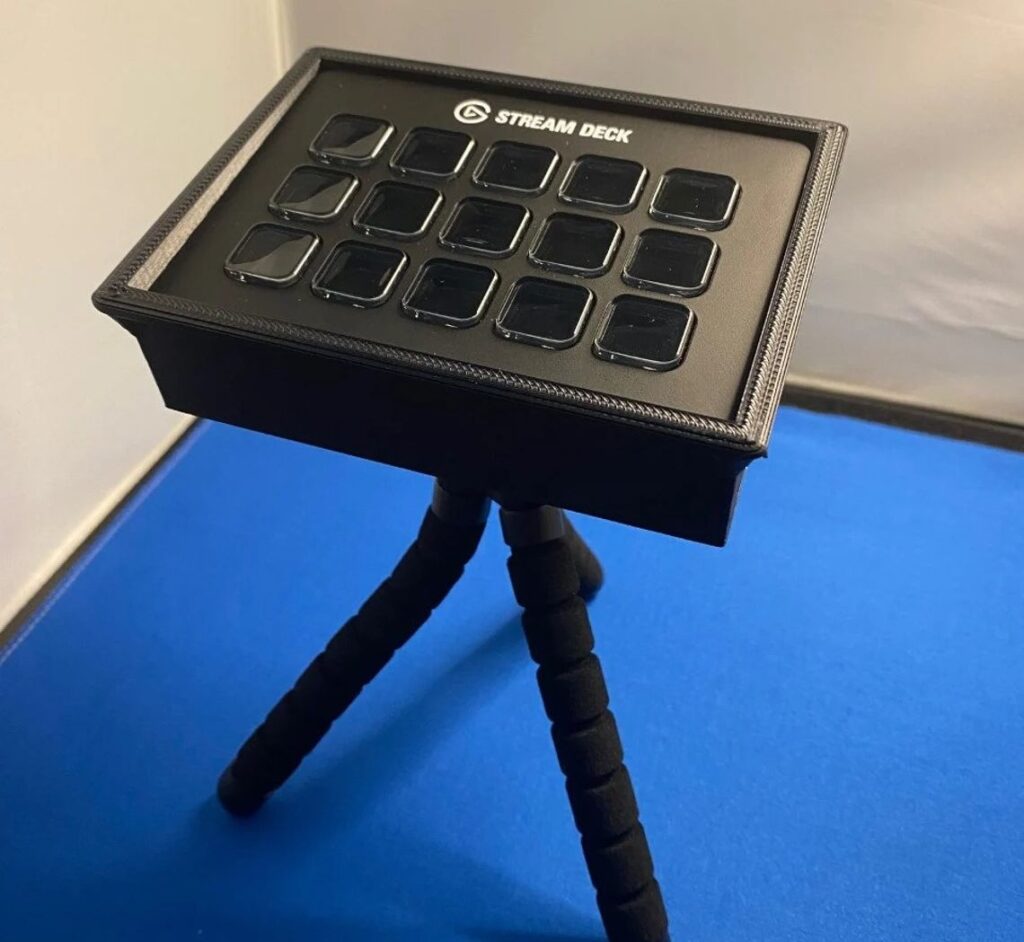 ---
Description
If you had an extra tripod lying around and you haven't planned on having your dream deck mounted to a desk, then this can be a great choice for you.
This stream deck mount is made out of very high-quality plastic, so that shouldn't be among your worries when it comes to the sturdiness of this product.
There is also the option of getting this one with a dust cover, of course with an additional fee, but that's not too expensive.
The product comes in the default black color, but in case getting it in another color is a priority of yours, that's something that can be discussed with the seller.
8. VESA MOUNT
---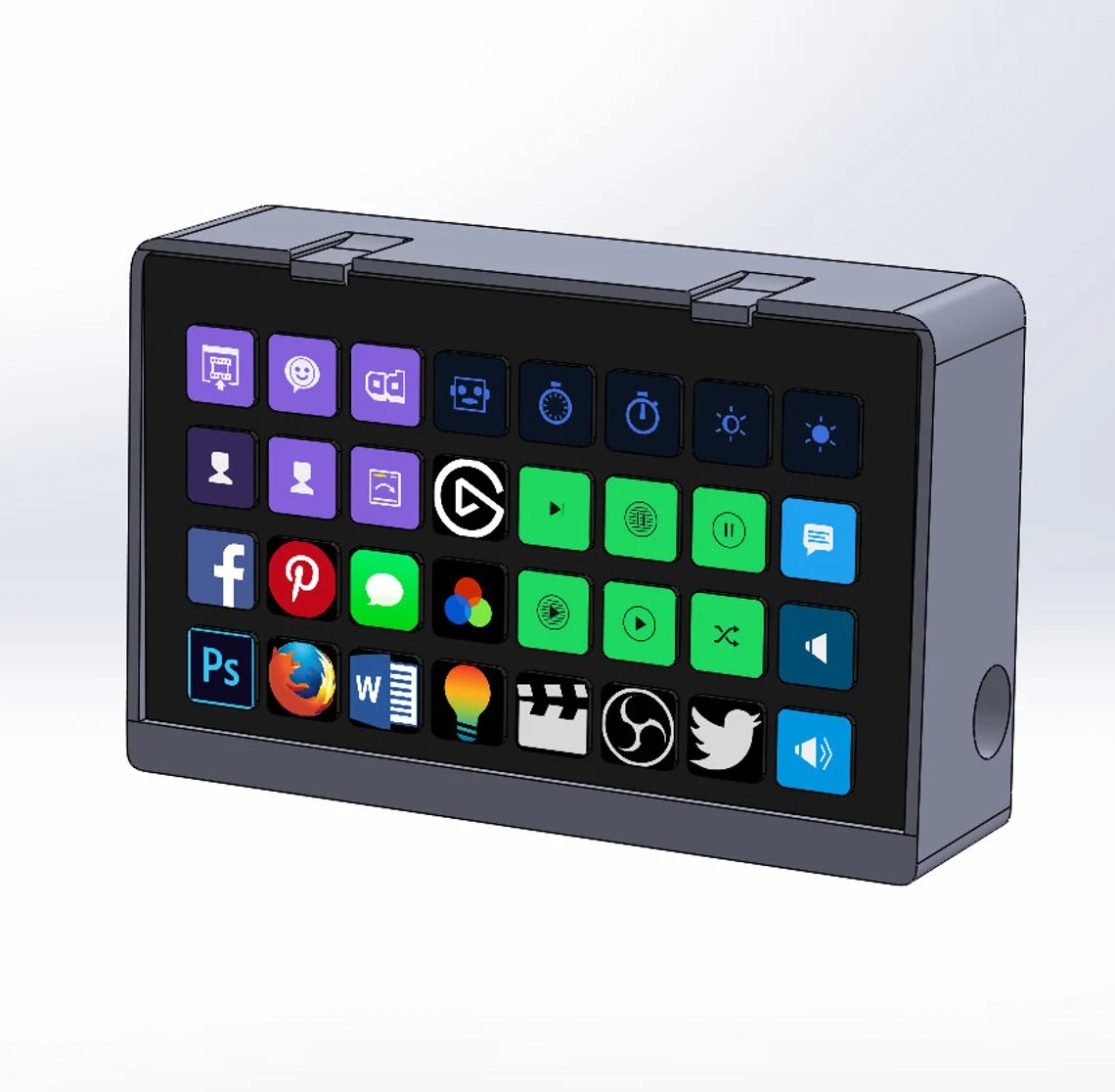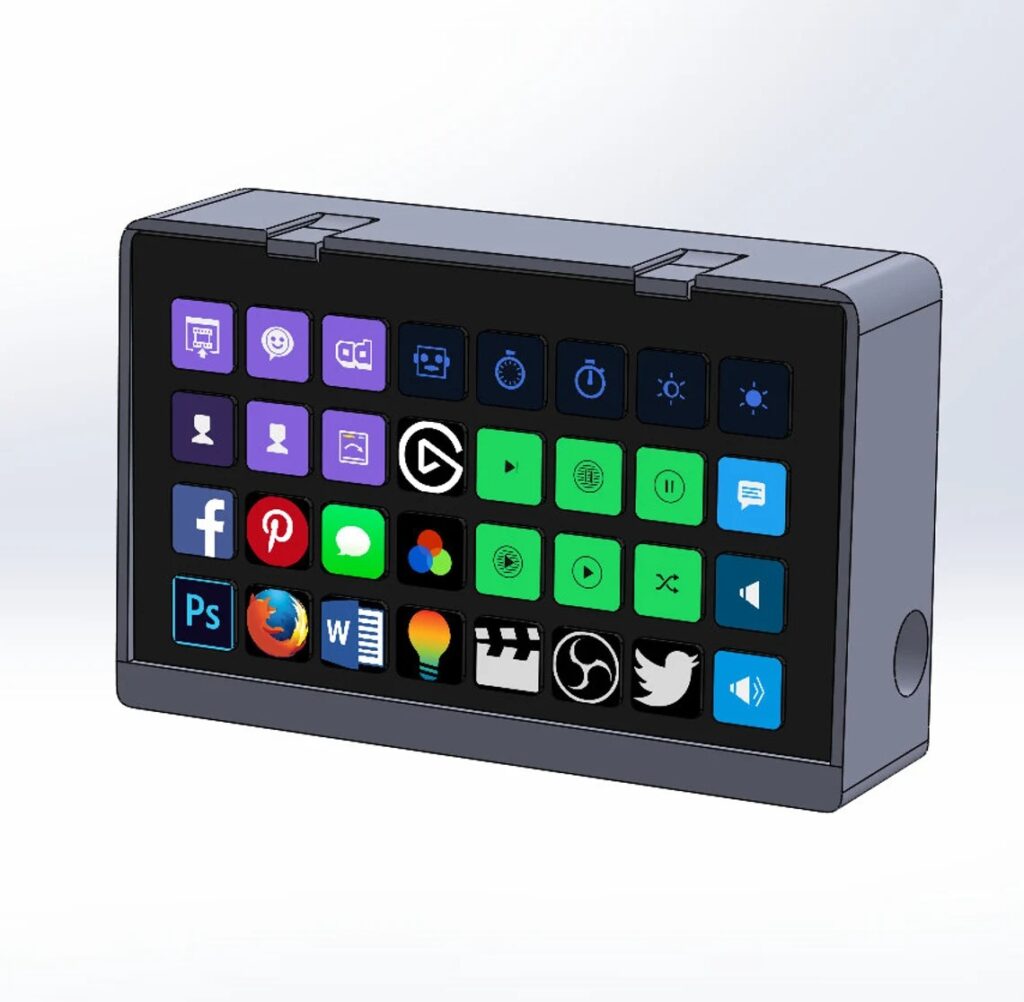 ---
Description
If you have the Stream Deck XL, then not every mount will be able to fit your deck, and that's why you need to look for a specific mount.
This one is an excellent option to consider while being on the more pricey side.
It works with a VESA mount, so that is also something that's important to consider.
It also comes with included parts that you might need when you set it up, so there are no worries about that.
Why Do You Need A Stream Deck Mount?
Being a streamer usually comes with a lot of equipment that you sometimes don't have where to place.
Or, if you do, it's impossible to set everything up in a way that looks okay, and all of the different cables are a recipe for disaster.
Even if you use some things that are wireless and don't include cables, it's bound to be chaotic.
A stream deck is something that all streamers will recommend that you get, even as a beginner, as it can highly improve the quality of your streams simply because it will be easier for you.
When you get a stream deck, it needs a separate place, which can add quite a bit to your already crammed desk.
A mount is here to make your life easier, as it can be used to place the deck in several different positions, getting it out of your way.
Things To Consider When Buying A Stream Deck
Just like with buying any part of the streaming gear, no matter how small or big it is, it's important to consider some important factors that could make or break your purchase.
When it comes to these mounts, there are a few things that you should take into consideration, even though it seems that there's not that much philosophy around them.
Materials
Most mounts are made out of plastic, and as you probably know, nowadays, there are many different types of plastic.
This is not something that you'd want to cheap out on, as cheaper plastic can break more quickly, especially if you get a mount that's supposed to be screwed to the surface.
Even the 3D printed options come in different varieties of quality, so be sure to take into account what the reviews say regarding that.
Compatibility
Not all stream decks fit into all kinds of mounts.
This is most important to have in mind if you have the Stream Deck XL or the Stream Deck Mini since most stream decks are made for the original, default model.
If you have something else, always make sure that it's highlighted in the listing that a certain deck mount will fit the one you have.
Build
Besides the base of the mount being made out of sturdy materials, it's also important that the screws and the places where you screw the mount are well-made.
Unfortunately, this is not something that you can really check before getting the product, but be sure to check if some of the reviews maybe have something in them that addresses this potential problem.
Also, if when your product arrives, you notice that the quality of those screws isn't the best, maybe check on your local hardware store and see if they have something that fits but is better made.
Price
No matter if you have the classic Stream Deck, the XL version, or the Stream Deck Mini, a mount can help you out a lot, so in that sense, it's worth it to splurge on the more expensive options right away since most of them don't go over $50.
If you have a tripod that you can put the mount on, then there truly is no reason to buy anything over the $25 mark.
FAQ
Which is the best Stream Deck?
Still, the best stream deck is still the Elgato one; it's not overhyped and is definitely a favorite among streamers for a good reason.
Depending on what you need to do during your streams and how active everything is, you can just choose whether you want the standard size, the XL, or the Stream Deck Mini.
Where do you put a Stream Deck?
You can put a stream deck wherever it fits your needs and movements the best. Most people like to have it near the keyboard since you press buttons on it, so the motion is similar.
Is it worth it to get a Stream Deck?
Having a stream deck can make your streaming process way more manageable, ending up with you being way more relaxed.
This means that you will be able to put more attention on your gameplay and your viewers, and a device that helps with that is absolutely worth the price.
Join our Discord Group. Ask questions, team up with fellow streamers, share memes, and more!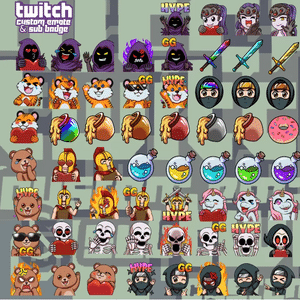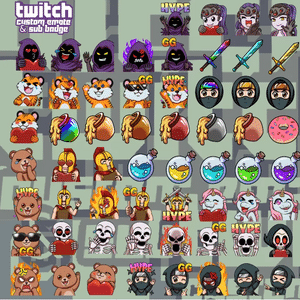 Claim for FREE:
FREE Emote PACKS
A book on growing your audience