The recipe for successful streaming is simple, at least on paper. In addition to great content, the technical side – from visuals to audio quality – has to be immaculate. 
And the thing that'll neatly tie everything up – you've guessed it – are routers. That's why a good router for streaming is simply a must. Among other things, it will ensure a stable internet connection without any hiccups and tedious buffering, crisp sound, and crystal clear videos.
No matter if you're a streamer yourself who wants to smoothly broadcast to your faithful audience, or you just want to enjoy movies in glorious 4K – the search for the best WiFi router for streaming starts right here. 
Post 9 of 15 in the Streaming Gear
Best Router for Streaming
Reviews
As you might expect, this essential piece of equipment comes in a bunch of varieties, which can be quite confusing for a novice.
Now, perhaps you aren't particularly tech-savvy and terms like MU MIMO, transfer speed, Mbps, or LAN ports continue to baffle you? Then finding the best wireless router for streaming that'll fit your particular needs might prove an impossible mission. 
Luckily, we've prepared this list of best routers for streaming to aid you on your quest for the best wireless router for streaming.
QUICK OVERVIEW: Best Router for Streaming
Data Transfer Rate: 1750 Megabits Per Second
Number of Ports: 5

Wireless Type: 802.11ac
Dual-Band

Weight: 4.10 lbs
11000 Mb per second
1. TP-Link AC1750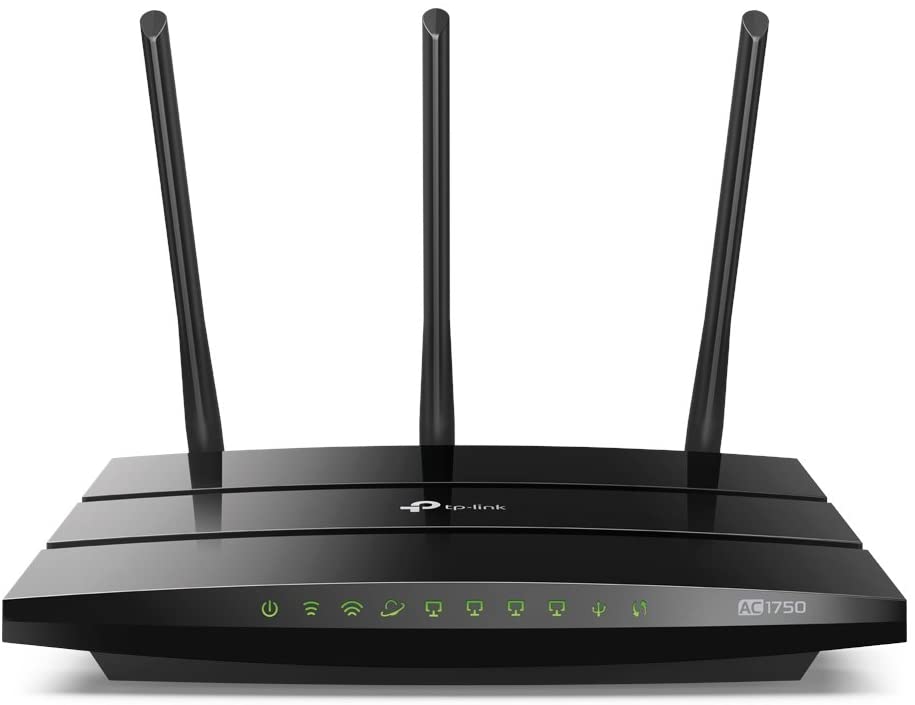 In the world of wireless routers, TP-Link represents a truly household name. This Chinese company has been around since the mid-nineties, producing a wide range of IT equipment. 
TP-Link AC1750 Smart WiFi Router or just Archer A7 for short is a great example of what you can expect from a TP-Link WiFi router. 
Simple and functional design without unnecessary gimmicks, reliable, budget-friendly, compact, with a nice set of features, and great WiFi coverage are just some of the good things you can expect from this device. 
Who is it Best for
Thanks to its excellent WiFi coverage with – as the manufacturer claims – a scope of up to 2500 square feet, simple installation, and features such as parental control, Archer A7 is ideal for both household and office usage. 
Furthermore, its speed and the variety of devices it can connect with, as well as the AC1750 WiFi standard, which ensures streaming without buffering and a great gaming experience, also make Archer A7 a good router for streaming and gaming. 
Key Features
Despite its compact size, this award-winning device from TP-Link packs quite a punch in terms of coverage and features it offers. First of all, Archer A7 comes with three external high-gain antennas, which provide long-range coverage of up to 2500 square feet.
This effect can be even greater if you pair Archer A7 with some of the WiFi range extenders, such as RE300 OneMesh.
This will not only eliminate " dead zones" with weak or no signal at all but will allow you to create a mesh network that can save your money and your time and increase the size of your network.
Of course, this mesh network and all its components can be managed through a single app.   
To keep everything ultra-safe and in check, Archer A7 uses WPA/WPA2 wireless encryption, which creates a secured network for the members of your family, clients, or guests.   
---
2. Linksys WRT3200ACM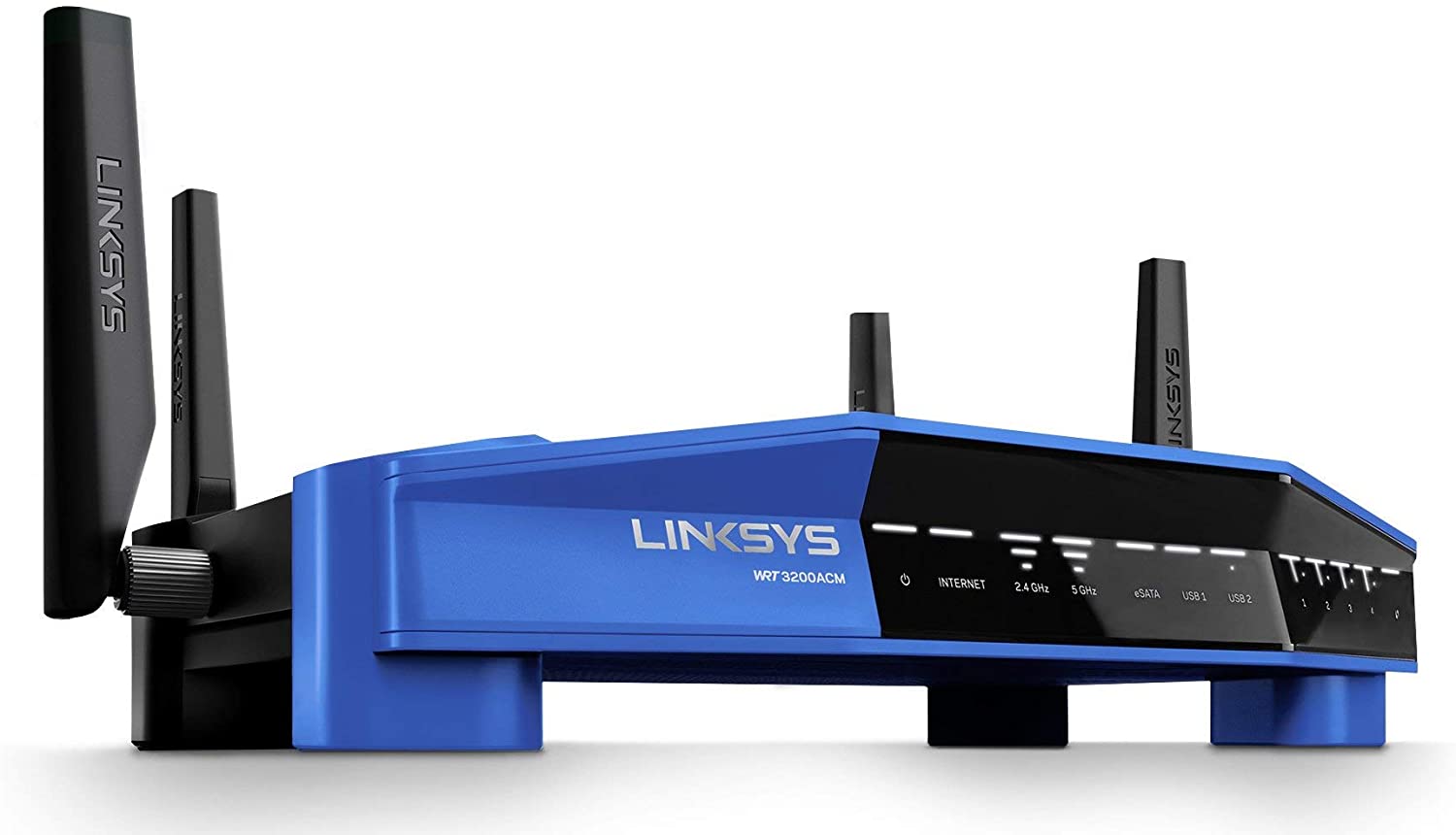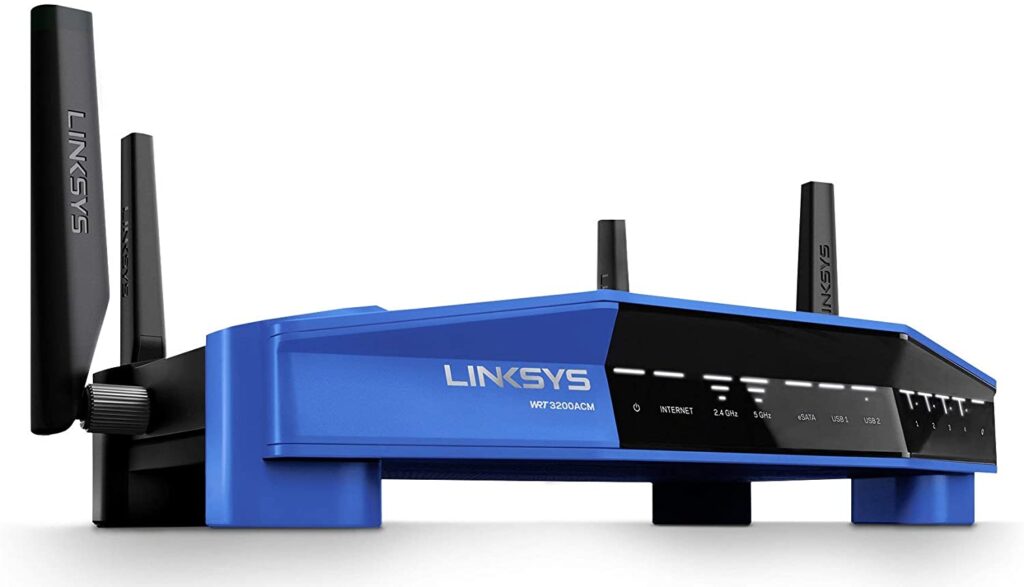 Unlike the previous item on our list, this little prodigy – at least at the time when it first appeared on the market – from Linksys aims at a bit more demanding user demographics.
With a wide set of customization options, stunning 5GHz, remarkable file transfer speed, and other nifty features, Linksys WRT3200ACM Dual-Band Open Source Router more than justifies its mid-range to higher-end price.
Furthermore, for all of you with an eye for detail, the trademark black-an-blue design of the WRT line will look great in any setup. 
Who is it Best for
Its above-average price, as well as its open-source code, makes this device ideal for advanced users.
Of course, great performance and streaming speed will make Linksys WRT3200ACM Dual-Band Open Source Router an invaluable addition to the arsenal of every ambitious streamer or gamer. 
If you're looking for the best router for gaming and streaming, this might be your best bet.
Key Features    
As it can be seen from its name, perhaps the biggest selling point of Linksys WRT3200ACM Dual-Band Open Source Router is its customizability. 
Just as was the case with previous models from this line, this device will also allow you to exchange the built-in software with open-source code of your choosing.
This will allow you several extra customization options. For instance, you'll be able to transform it into a web server, manage and keep track of your network traffic and much more.
At the heart of Linksys WRT3200ACM Dual-Band, Open Source Router lies a 1.8 GHz dual-core processor, thanks to which this device is more than capable to handle even the busiest network traffic. 
Linksys WRT3200ACM Dual-Band Open Source Router has two dedicated WiFi bands – 2.4 GHz with a speed of up to 600 Mbps and better coverage and a faster 5 GHz band with a speed of up to 2.6 Gbps.
Finally, thanks to Tri-Stream 160 technology, the speed of this router can be effectively doubled.
---
3. ASUS ROG Rapture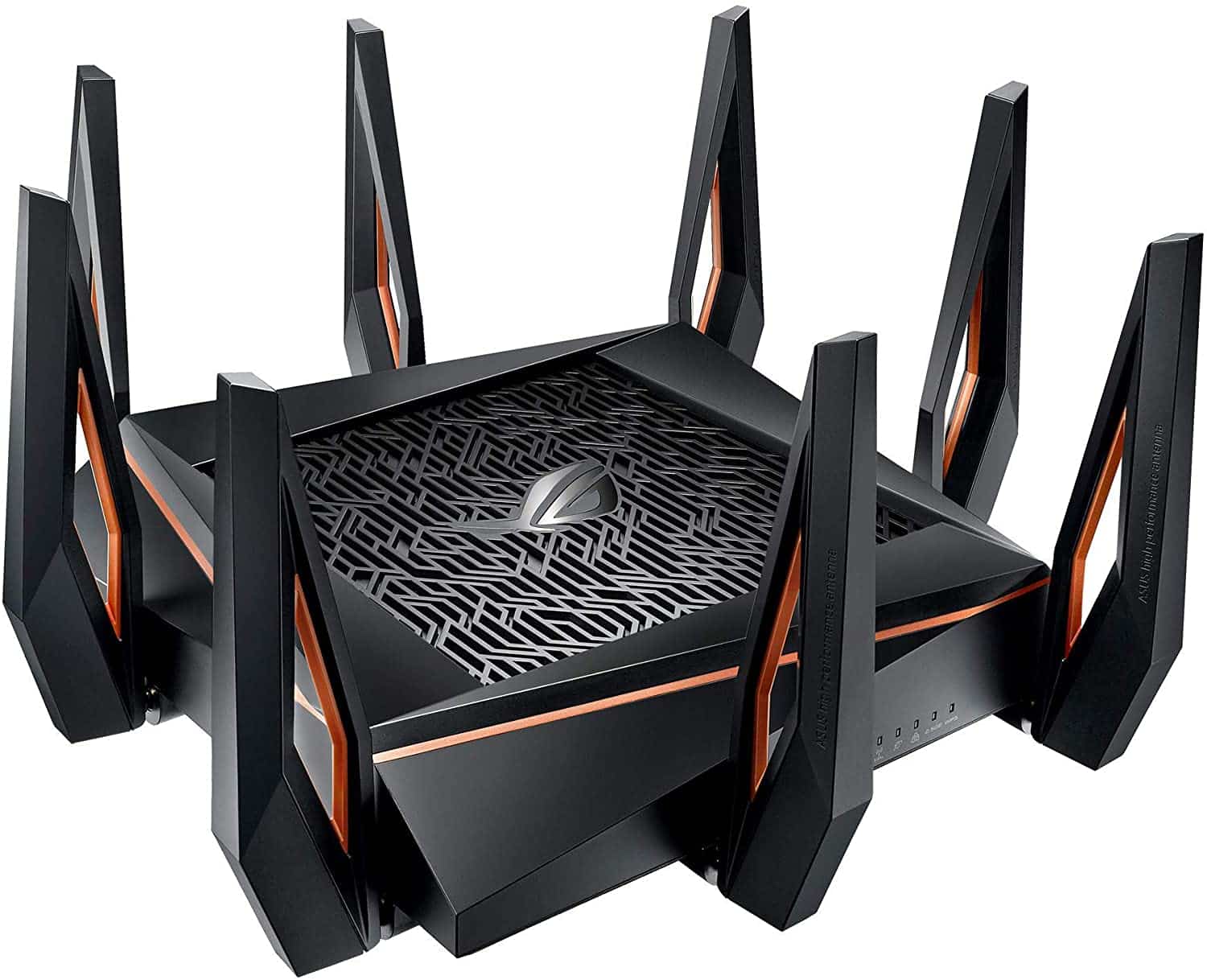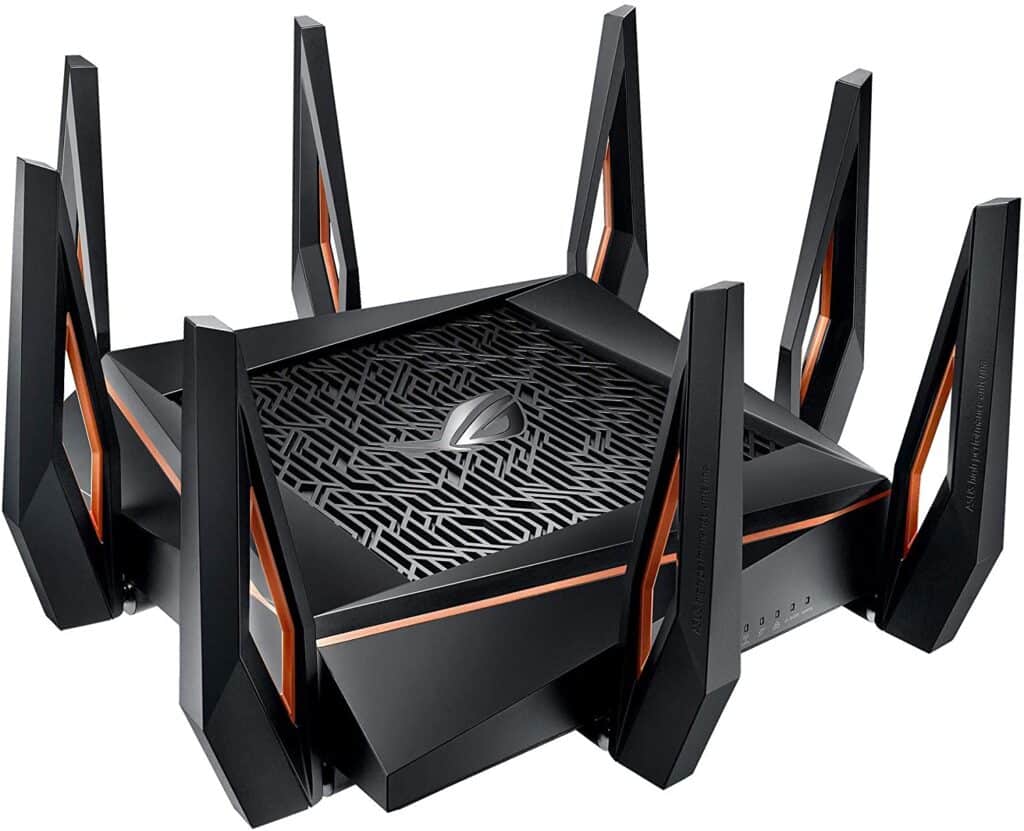 There's no doubt about it – ASUS ROG Rapture WiFi 6 Gaming Router is every gamer's dream come true.
This router is not only a total beast when it comes to performance – as well as the price which is on the upper side of the spectrum. It also looks the part with its colorful alien-like Sci-fi design.
One thing is unmistakable, though – this is a high-end router if we ever saw one, and is more than capable of holding the title of the best wifi router for gaming. 
Of course, this delicious bag of goodies from ASUS does come with its price, but advanced users and hardcore gamers will be able to utilize it to the max.  
Who is it Best for
Make no mistake: with the speeds and performance it offers, as well as in-depth network customization options – all of which is covered in a lengthy 100 + pages manual – ASUS ROG Rapture WiFi 6 Gaming Router is best suited for advanced users and gamers.
If you're new in the field of networking or you're on a tight budget, avoid ASUS ROG Rapture and look for a more appropriate model.   
Key Features
As you see from its specifications, such are 5 GHz or blazing transfer rates of up to 11000 Mb per second ASUS ROG Rapture WiFi 6 Gaming Router means business.
Thanks to several cool features, the raw power of this device is transformed into something even greater, most of which are targeted at hardcore gamers. 
For instance, triple-level game acceleration lets you modify network traffic in favor of game traffic, thus increasing the performance of gaming-related activities, and it does it in three tiers. 
Thanks to the fact that ASUS ROG Rapture WiFi 6 Gaming Router supports three frequency bands, you'll be able to select one of 5 GHz bands solely for gaming activities, thus effectively increasing performance.
Since it supports Asus' AiMesh technology, you'll be able to combine it with other supported routers to create a mesh network, which can come in handy if you want to increase your coverage. 
Of course, every single of those features – and more – can be controlled via an intuitive Gaming Center interface.   
---
4. ASUS AC1900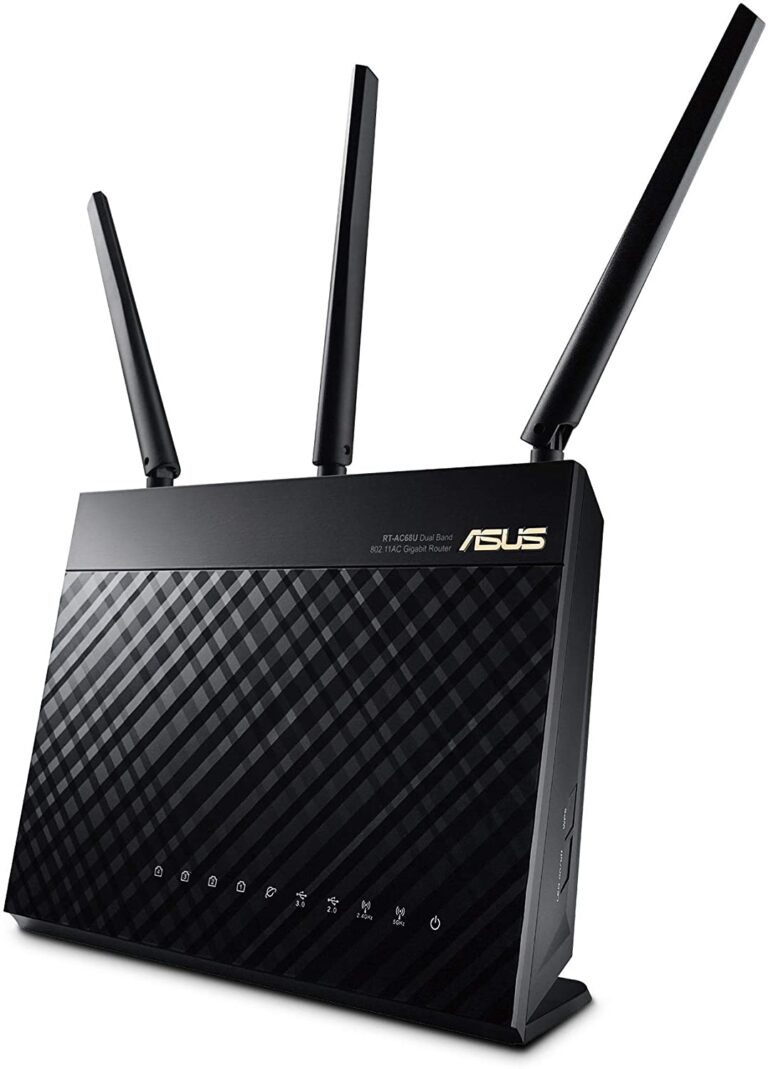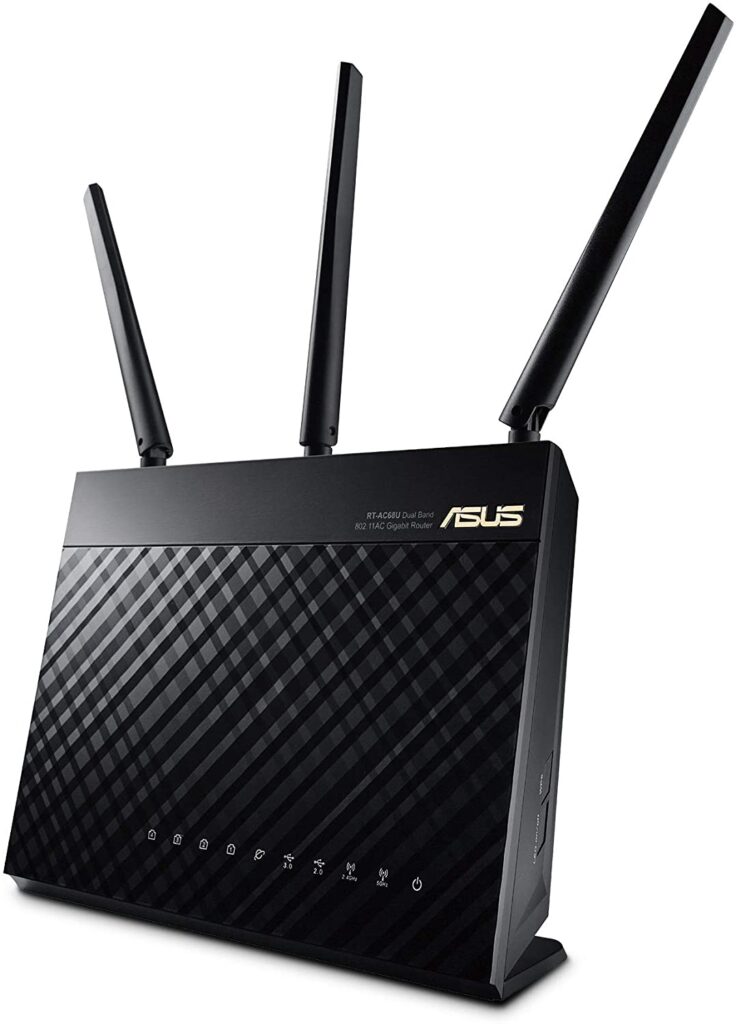 Another router by Asus, ASUS AC1900 WiFi Gaming Router (RT-AC68U) shows that you can get an excellent device without breaking the bank. 
Although not as ambitious as the previous router, ASUS AC1900 WiFi Gaming Router will perhaps be a more acceptable solution for most average users. 
However, it still performs great, with superb coverage, excellent speed, intuitive interface, and even a few advanced features you won't often see in other devices of this price range.
Who is it Best for
ASUS AC1900 WiFi Gaming Router can be described as the so-called "consumer router", which means that by its lower-cost range and specifications it's best suited for home or small office usage.
Although that's true in this case, as we hinted, this particular router exceeds this category in several aspects. The manufacturer is also emphasizing the gaming side for a good reason, so this is also a good router for gaming.
Key Features  
First of all, ASUS AC1900 WiFi Gaming Router boasts indeed great coverage of up to 3000 square feet, which is more than enough for most households, and even smaller office spaces.
As is customary with Asus, the ASUS AC1900 WiFi Gaming Router management interface is intuitive and easy to use.
Just about every option you'd need, from a firewall, security, or parental control, is just a click away.
Of course, if that's more convenient, ASUS AC1900 WiFi Gaming Router supports Amazon Alexa, so you can also use voice controls.   
Parental controls are limited only to determining when a time frame when a specific device can access the internet, as well as blocking content by URL or even a keyword. 
ASUS AC1900 WiFi Gaming Router can support 30+ devices, without congesting its network traffic or other negative side effects.
Among more advanced features that we can highlight, you can assign up to six guest networks, and there are several customization options such as toggling multicast rate. Unlike most consumer routers, it also possesses an integrated VPN server.
---
5. NETGEAR Nighthawk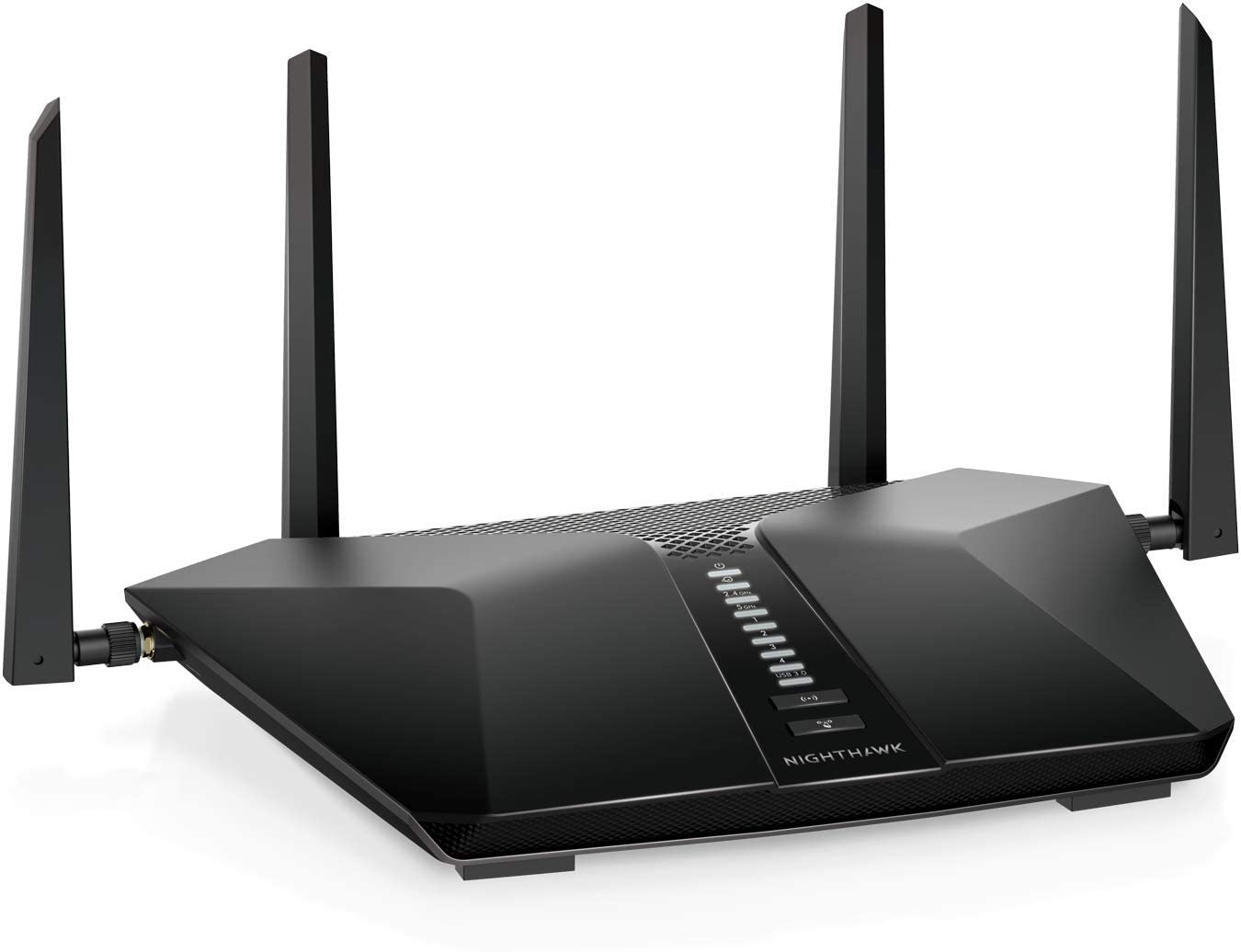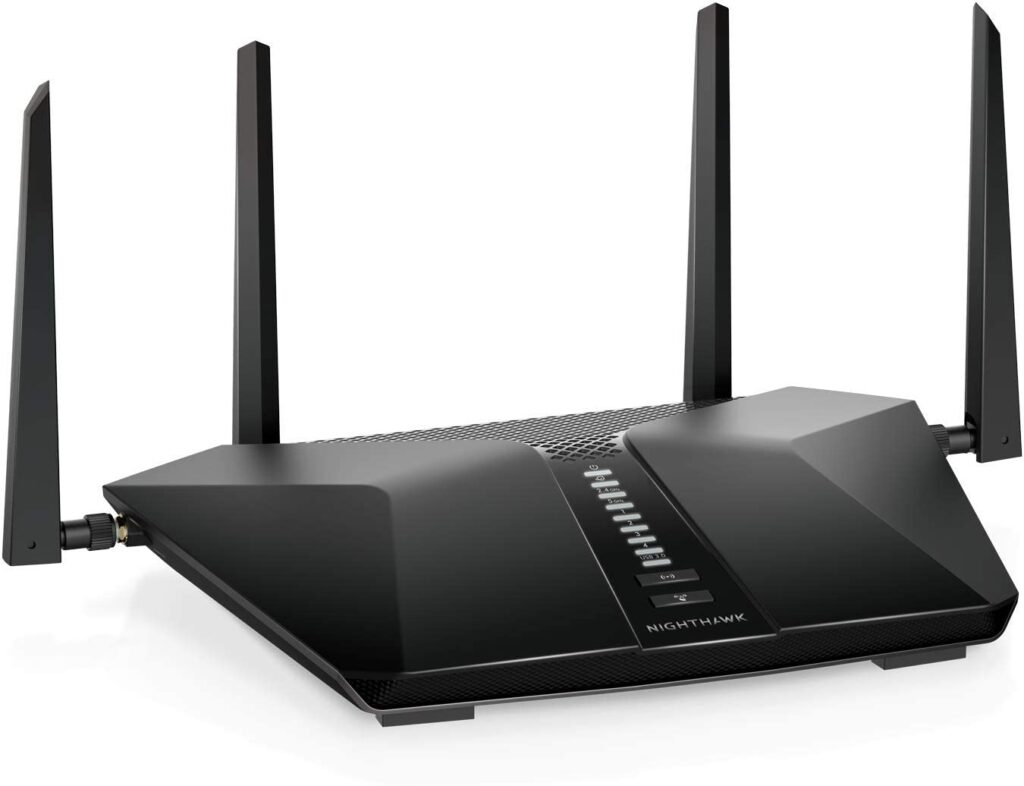 This top-notch WiFi 6 router by networking wizards from Netgear presents a great balance between several factors.
Lightning-fast speed and overall performance with advanced security protocols and flexible customization options.
True, it may be a bit high-priced, as is expected from a premium WiFi 6 router, but its high performance more than merits the additional expense.
NETGEAR Nighthawk 6-Stream AX5400 WiFi 6 is one of the best routers for streaming on the market at present.
Who is it Best for
Virtually anyone in need of a high-performance router with good WiFi coverage and flawless streaming capabilities will benefit from NETGEAR Nighthawk 6-Stream AX5400 WiFi 6.
Whether you're a streamer yourself or like to watch movies online in pristine quality, this WiFi 6 beast is the right choice for you.    
Key Features
So, what can this bad boy do? Armed with a 1.8GHz triple-core processor, dual-band, with a data transfer rate of up to 5.4Gbps, NETGEAR Nighthawk 6-Stream AX5400 WiFi 6 is capable of excellent multitasking performance. 
In other words, it can support up to six simultaneous streams. Why is this only excellent? Only because even more advanced models from this line can support up to twelve simultaneous streams. 
Its WiFi coverage is also more than decent. And although there are few items on our list with even better coverage, 2000 square feet is still pretty great, especially for most home conditions. 
Thanks to the so-called NETGEAR Armor feature, NETGEAR Nighthawk 6-Stream AX5400 WiFi 6 will protect all your connected devices from virtually all types of cyber harm – malware, viruses, and data theft.
And if all that isn't enough, this router is compatible with virtually all internet providers, is easy to set up and maintain, has VPN, and much more.
---
6. TP-Link AX6000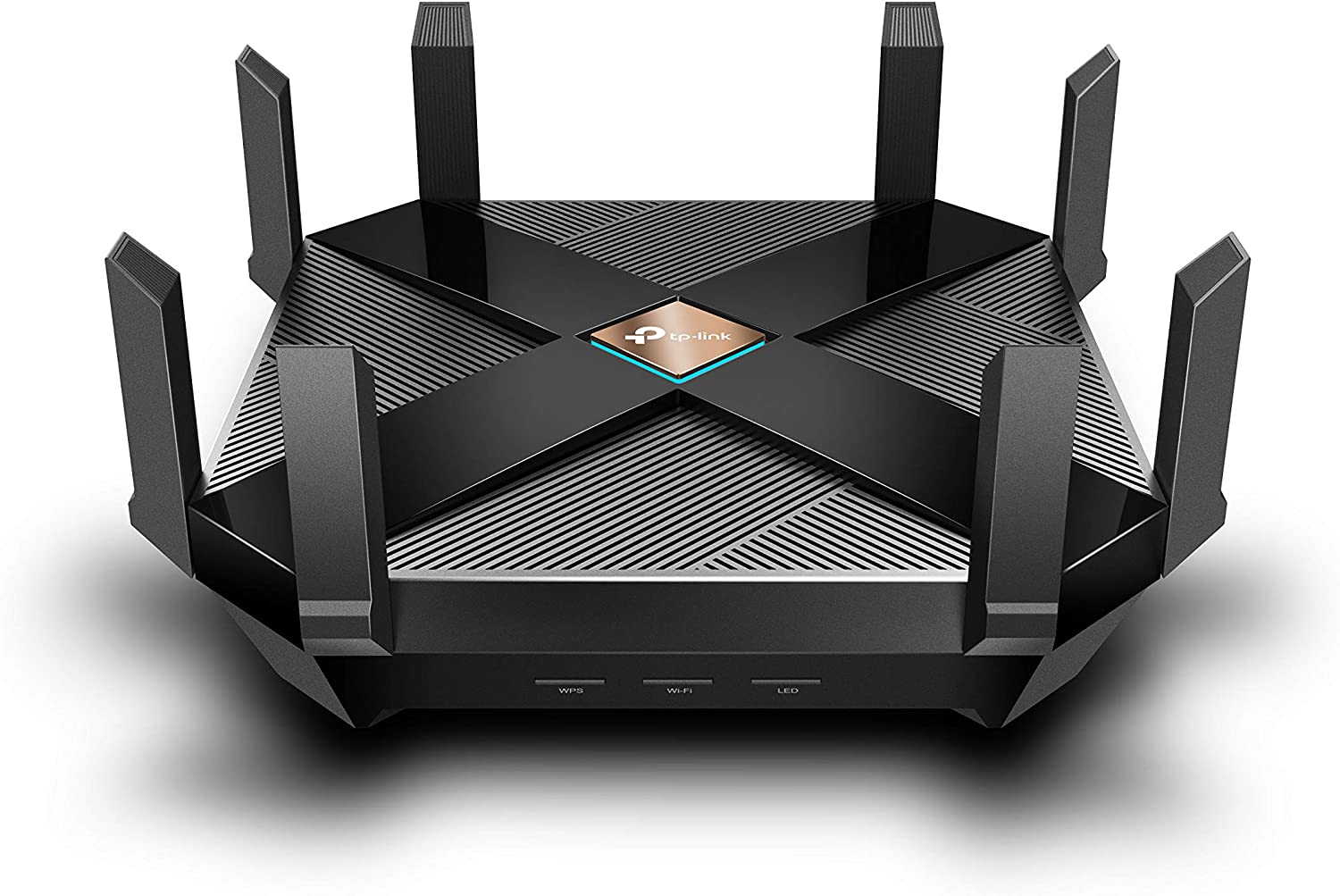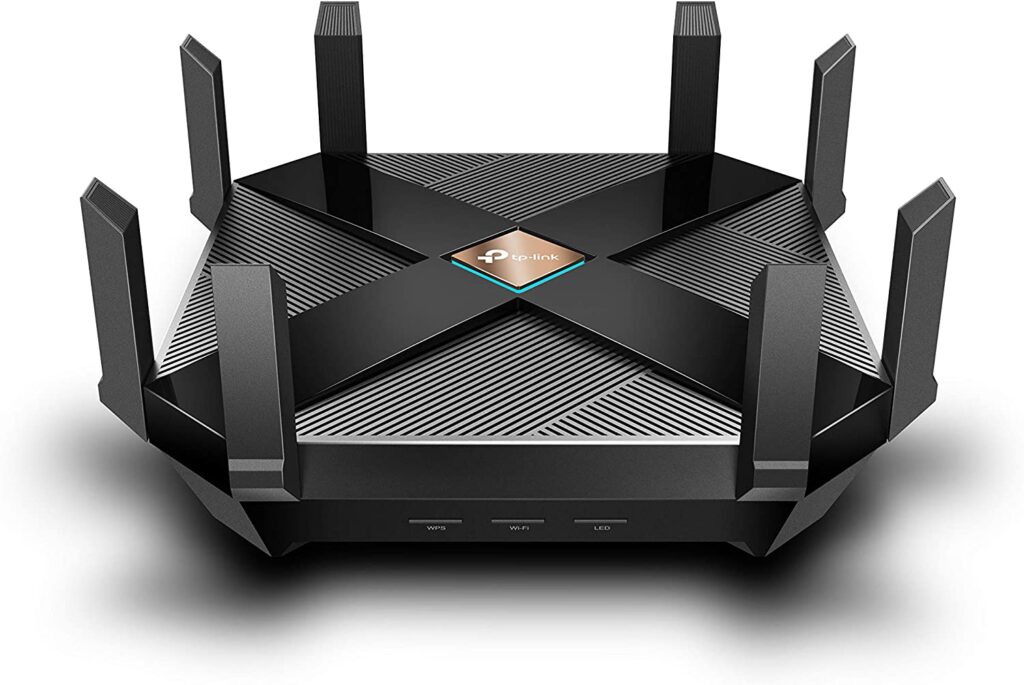 Continuing in the same vein as our previous contender, this robust WiFi 6 solution from TP-Link is capable of maintaining 8 simultaneous streams. 
Besides that, it offers a plethora of great features, multiple connectivity options, great coverage, and more.
Its specifications and high-end performance, as well as price, elevate TP-Link AX6000 WiFi 6 Router (Archer AX6000) in the range of premium devices. If you're looking for the best router for gaming and streaming, this very well might be it.
Who is it Best for
Similar to the case of the previous item on our list: if you need a device capable of fast streaming and supporting your all online gaming exploits – TP-Link AX6000 WiFi 6 Router (Archer AX6000) will deliver. 
However, a capable real-time antivirus firewall, parental controls, and similar features make TP-Link AX6000 WiFi 6 Router (Archer AX6000) a great solution for home-usage.
Key Features
TP-Link AX6000 WiFi 6 Router (Archer AX6000) possesses indeed great hardware, starting from 1.8 GHz Quad-Core CPU and 2 co-processors. 
This robust router has no less than eight high-gain antennas that are directly responsible for the great WiFi coverage.
Coupled with BSS Color technology that effectively removes all interference from competing signals emanating from your neighbors and Rangeboost technology, the initial signal will be of even higher quality. 
Thanks to OFDMA technology, this router can support a multitude of different devices at the same time. 
The security features are also great, with parental controls with various filtering options, antivirus, and more.
Finally, just to spice things up – among other things – TP-Link AX6000 WiFi 6 Router (Archer AX6000) supports Amazon Alexa, Bluetooth, and even has a neat power-saving feature that helps conserve the power of your smartphones. 
---
7. D-Link EXO AX1500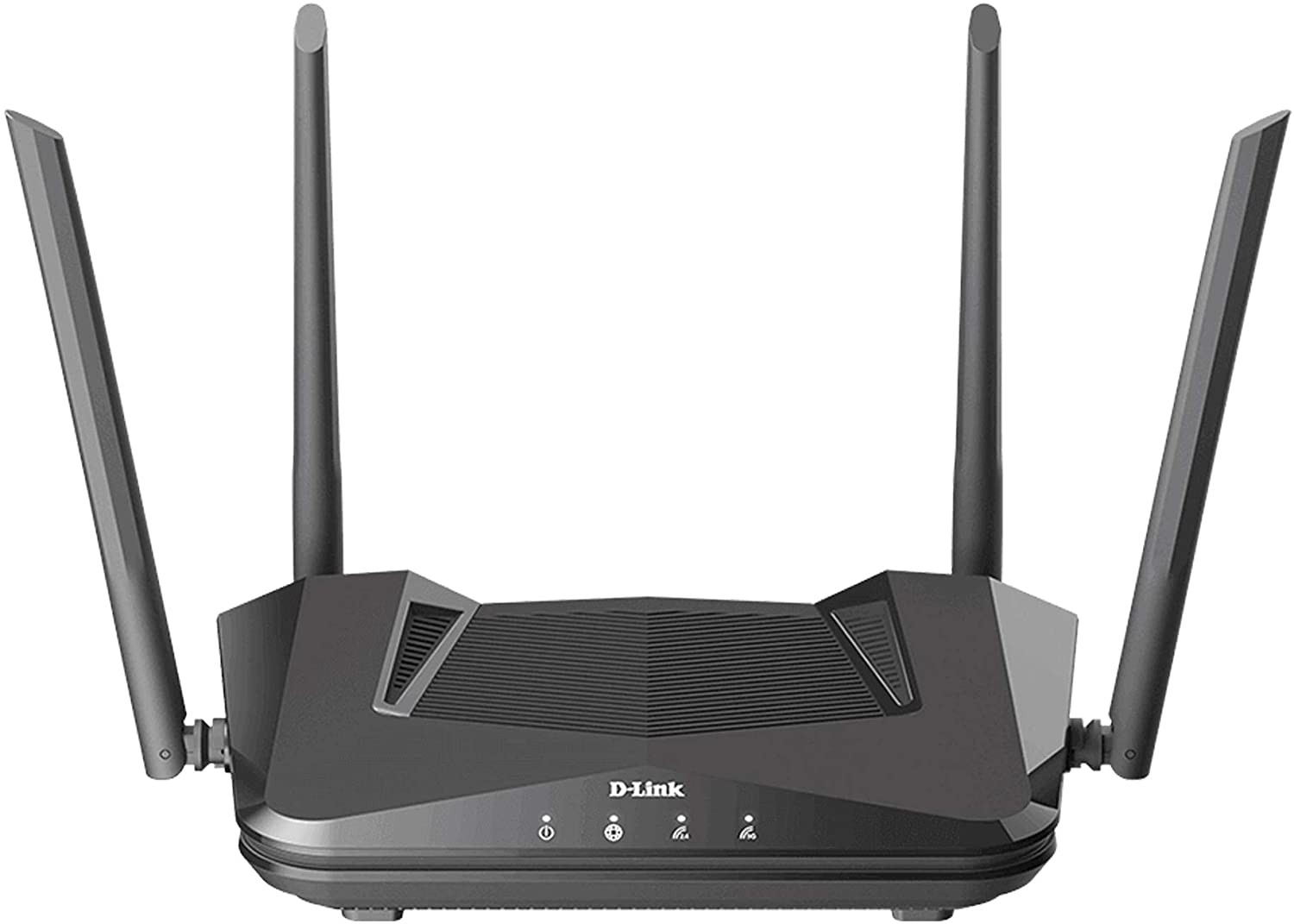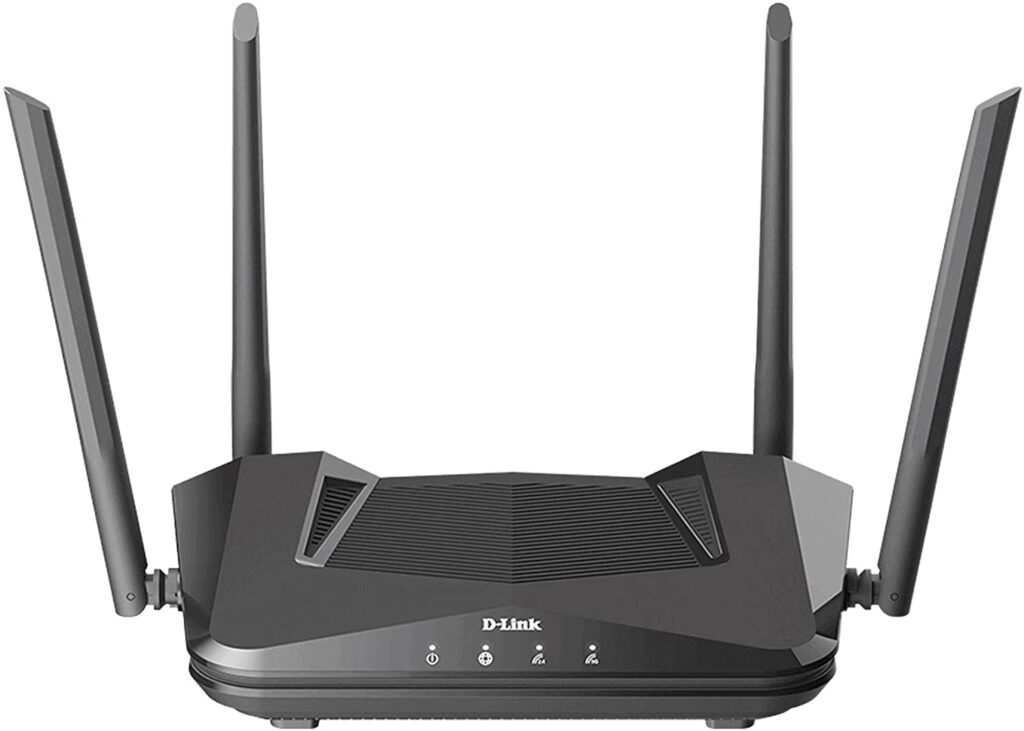 So far, the few WiFi 6 routers we had the opportunity to showcase were high-end models with high-end prices.
However, with this router D-Link has proved that you can have a good quality for an extremely affordable price.
True, it may lack some of the more advanced features present at big-budget models, but almost everything it does, D-Link EXO WiFi 6 Router AX1500 does extremely well, even if it's 2.4GHz performance may be a bit lackluster.
To summarize, if you're looking for a decent WiFi 6 router that won't break the bank, look no further than this model.
Who is it Best for
If you're an average user without specific or too strict demands, who'd still like to have an easy-to-use and fast device with decent coverage, then D-Link EXO WiFi 6 Router AX1500 is a good choice for you. Overall, it's great for home-usage.  
Key Features
Compact in size and with standard design with four non-removable antennas, D-Link EXO WiFi 6 Router AX1500 is a bit basic when it comes to ports. All it has are five ports, four of which are gigabit LAN ports and a WAN port.
It has a decent 1.5GHz tri-core CPU, with 256 MB of RAM, 128MB of flash memory, and two bands. The first, 2.4 GHz can reach speeds of up to 300Mbps, while 5 GHz supports speeds of up to 1200Mbps.
It also supports up to four simultaneous streams, and everything is made even more efficient thanks to MU-MIMO technology which coordinates multiple devices connected to the router, speeding up the overall network traffic. The same goes for OFDMA technology, which allows more efficient data transmission. 
Among other features, you can expect basic parental controls, decent coverage appropriate for home usage, and Amazon Alexa support. However, on the downside, we have to stress that there isn't any kind of malware protection. 
---
Things to Consider When Buying Best Router For Streaming
1. Consumer or Business-Grade Router
This is directly correlated to your needs, as well as budget. The more advanced router, with more features and better performance, will naturally cost more, so that's always an important factor.
However, you should determine the primary usage of your future router. In other words, whether you need a business-grade device with features you'll never use, or you'll make do with a simpler consumer-grade router. 
2. Wireless Standards
If you've ever checked the specs of your router device, you've certainly been acquainted with different wireless standards.
They determine the data transmission speed between the router and various devices connected to it, as well as the stability of that connection.
In theory, opting for the device which supports the latest WiFi standard – currently, that's WiFi 6 – will not only ensure better performance, but also the longevity of your device. 
3. WiFi Coverage 
This is also an important factor you should consider. If you need a router that should cover larger office space, then look for a device with a better range.
However, that will usually up its price, so if you need a device for home usage, go for a more appropriate model. 
4. Security 
Again, this is also based on your personal or professional needs. Having said that, although for business purposes you should always look for a router with more advanced security features such as firewalls, anti-malware, and others.
Of course, even for simple home purposes, security features always come in handy.   
Conclusion
While getting yourself a new WiFi router for streaming isn't exactly rocket science, there are still many subtleties you should consider, from the type of the router to its specs and features.
As always, ultimately you should go for the device that will match your budget and needs. Of course, when in doubt, feel free to check our list.
Here you'll find an overview of the models in different price ranges, and you'll also familiarize yourself with the most popular manufacturers and some of the technical terms.
Arm yourself with knowledge, follow our lead, and that the best wireless router for gaming or streaming will soon be in your grasp.  
Related: Best Router for 4K Streaming
Frequently Asked Questions