Light for Streaming
If you need to find other streaming gear, make sure to look at our Streaming Gear page. Here, you will find everything you need!
Post 9 of 9
Ring lights are one of the most popular choices for streamers because they are portable, compact, and can brighten up the space around them with ease.
That's why a lot of people want to buy one, and if you're searching for one, we've made a ring lighting list including 7 of the best products you can buy online. So let's jump straight in.
Post 9 of 9 in the Light for Streaming
Best Ring Light for Streaming
Reviews
We've scavenged the web and found the best of the best in terms of a ring light for streaming and chose our best pick for you so let's see what these ring lights are all about.
QUICK OVERVIEW: Best Ring Light
<!—INSERT CODE BLOCKS BELOW—>

3000 K – 6000 K lumen
51" tripod

Up to 5400 K lumen
3 light colors

3000 K – 6000 K lumen
Selfie controller and IR remote
1. Sensyne LED Circle Lights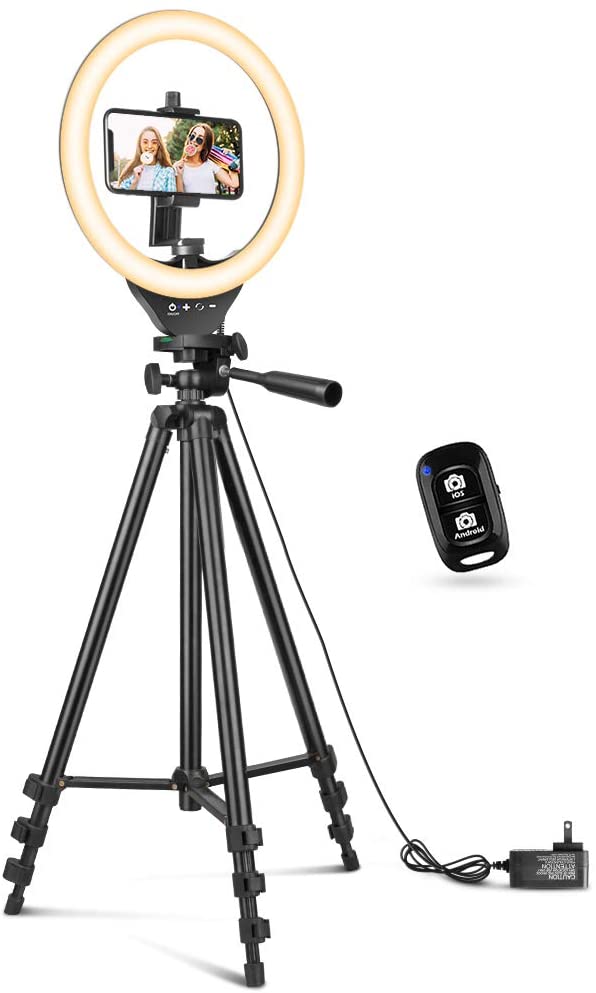 The first ring light on our list is the Senysne LED circle lights which come with their own tripod and a phone stand and has a lot of interesting features we will talk about later.
It's quite easy to use and is powered by an AC/DC adapter, and you'll be able to control your phone while from afar with the wireless Bluetooth controller.
So let's see what else this simple gadget has to offer.
Who is it best for?
This ring light is convenient for a lot of things such as video conferences, streaming, make-up tutorials, taking photos, and so on.
So because its use is quite versatile, you can already tell it can appeal to most people who need such a device for recording videos or taking photos.
And, given the fact that it's not that expensive, it certainly is a great pick for anyone who doesn't need fancy equipment for their streams but also wants practicality and a good light source which won't take up too much room.
Overall, you can't really go wrong with getting one yourself.
Key Features
First of all, the brim of this ring light is just 10″, however, it can put out up to 6000 K lumen of brightness which can be easily adjusted with a twist of a knob on the front of the light.
Also, the tripod which comes with the light can be extended to up to 51″ making it a solid background light, but can also be a tabletop light if needed.
The phone stand will fit most Android and iPhone devices and can be rotated to 180°.
Another cool feature is the wireless Bluetooth shutter which doesn't need any additional app and can be used to make a shot or start recording.
Lastly, the AC/DC power adapter makes this LED ring light a lot more powerful than the USB ones, so if you're looking for lots of brightness, this light is for you.
---
2. UBeesize Selfie Ring Light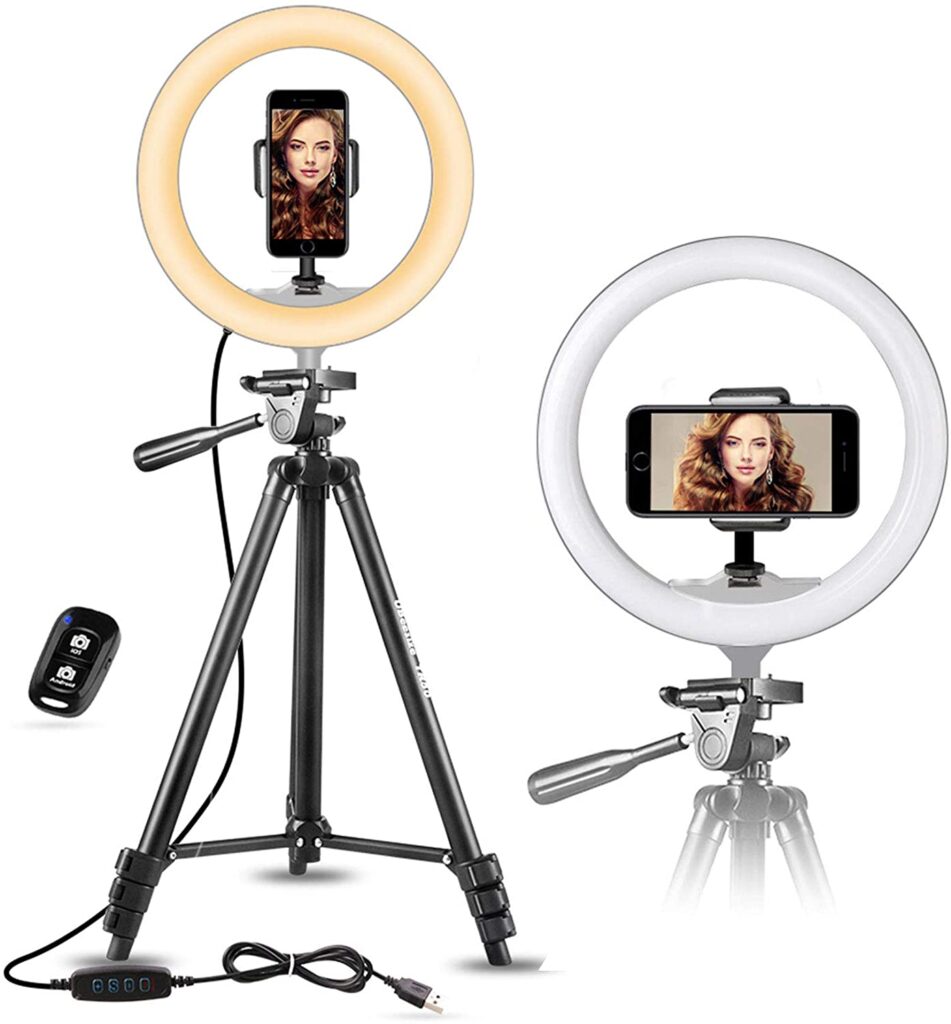 Next up we have the UBeesize selfie ring light which is quite a unique one on this list because it has not 10, but 11 brightness levels, giving you much more light and control than its competitors.
Also, it's quite a user-friendly device which gives you lots of options to choose from and makes it a great circle light for streamers.
But let's leave the features for a separate section and see what the UBeesize has up its sleeve.
Who is it best for?
Because this ring light can be charged and carried and it's also has a lot of features that are great for a wide variety of people, form streamers, makeup artists, photographers, and so on, you can already tell that it's maybe the best ring light on the market.
That's why the UBeesize ring light earned the 1# spot in Amazon's cell phone photo & video kits best sellers rank.
And with so many happy customers, there are quite a few reasons why this might be the ring light which will fulfill all your demands.
Key Features
To start off, let's talk a bit about the 3 color modes which come in warm, natural, and cold, so you can adjust the tone of the light with your environment and make a perfect ambiance for your stream.
Then, we have the 11 brightness modes which can be used to either dim the light or make your setup shine bright like a diamond.
What's also great is that the phone stand is made for most mobile phones and can be rotated in 3 different paths 360° which is quite useful when you need the right recording angle.
The tripod itself can be extended from 10" to 50" and is quite easy to dismantle and pack up when you need it on the go.
Additionally, you also get a Bluetooth remote which can be used from a distance of up to 30 feet.
Lastly, the 5400 K lumen brightness is all you need in most streaming situations, and because it's charged with a micro-USB cable, it's quite easy to just plug it in your laptop or power bank and start your stream.
---
3. Inkeltech Ring Light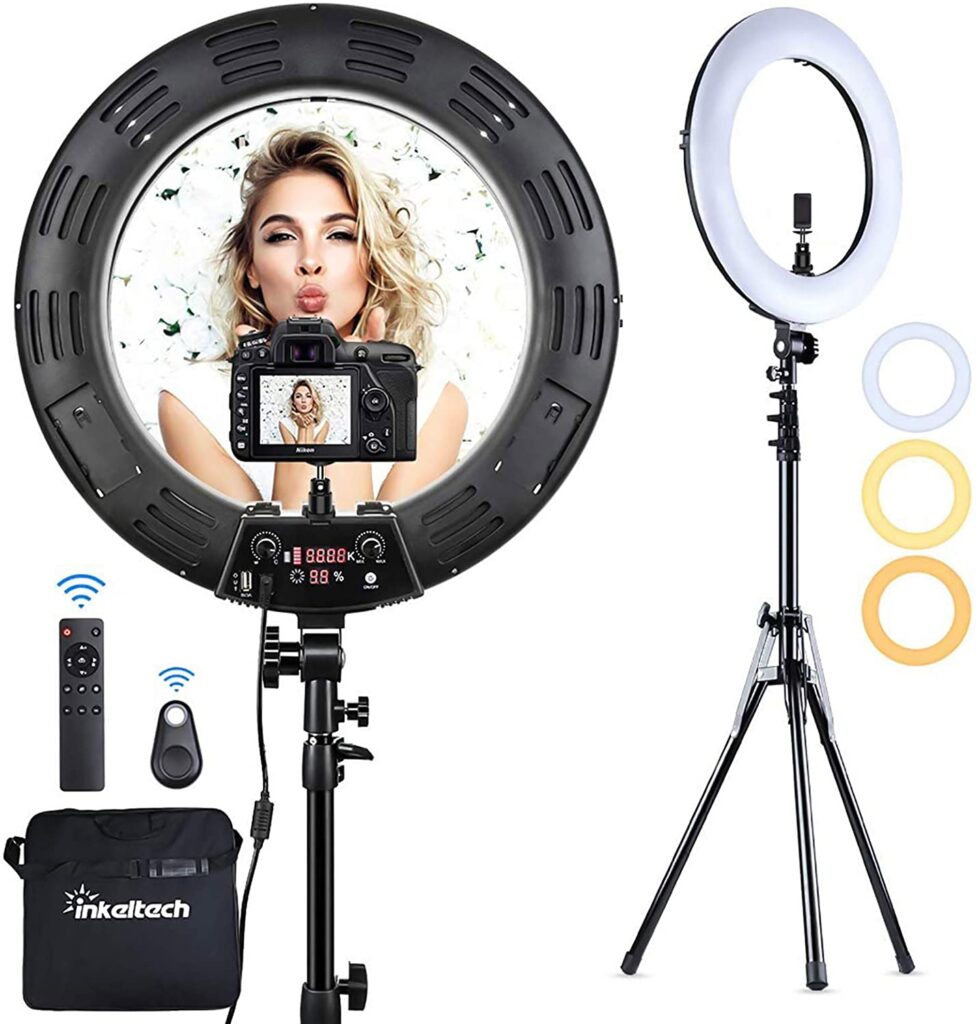 This is a different ring light than the previous ones on the list because it can be a ring camera light and a phone one so it's quite versatile in that regard.
If you want a professional ring light then the Inkeltech ring light is just what you need.
There's a reason why this is the most expensive ring light on our list because the features speak for themselves. So, let's see what this ring light can bring to the table, shall we?
Who is it best for?
This ring light for camera and phone is perfect for anyone who needs a lot of adjustment for their light setup and also switches from using a camera and their mobile device for recording.
That's why a lot of streamers, gamers, makeup artists, and even studio photographers are satisfied with the Inkeltech ring light.
If you're someone who needs constant brightness adjustment, or if you've found that not many ring lights cater to your needs, then you won't be disappointed if you decide to invest a bit more money to buy this ring light.
Besides, the price does match studio-quality lighting, so you better get your hands on one before they sell out.
Key Features
First things first, this ring light is huge as it has a diameter of 18″ and a lumen of up to 6000 K so it can definitely brighten up your entire room. This is because the ring has 480 small LED lights.
Second, you can adjust the color temperature from warm to cold with a click of a button or a knob on the LCD screen.
Also, because the ring light is battery-powered, you don't need to worry about cables and cords, although it can be plugged into the wall using an AC/DC adapter or USB.
Third, the tripod has a camera mount with 360° rotation and a phone stand fit for most mobile devices. If that wasn't enough, the tripod can extend to up to 75" so it can be used as a background light as well.
Lastly, the IR remote lets you flip through light modes and adjust the brightness as well as control your recording from up to 6 feet.
---
4. LIPETY Ring Light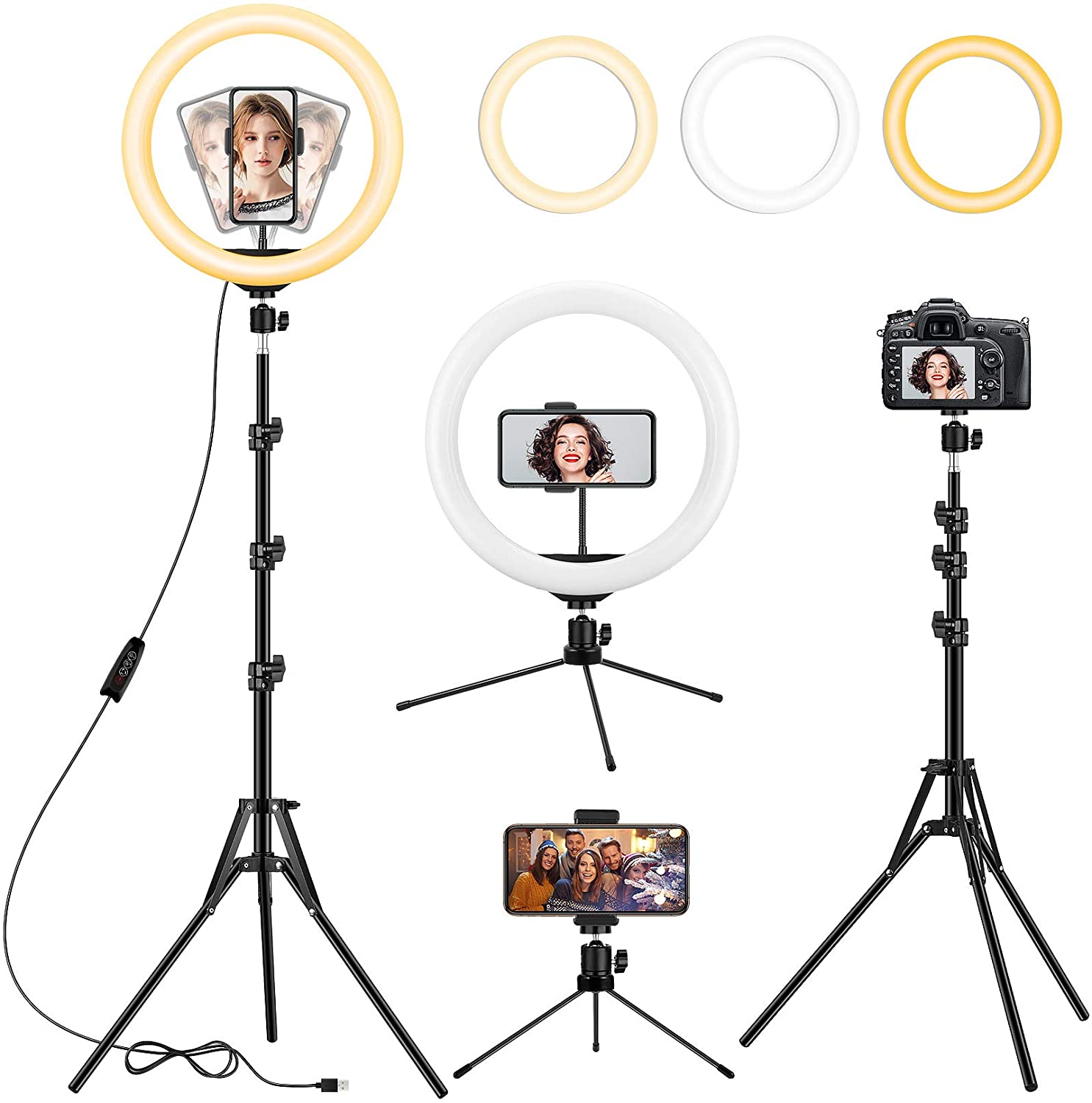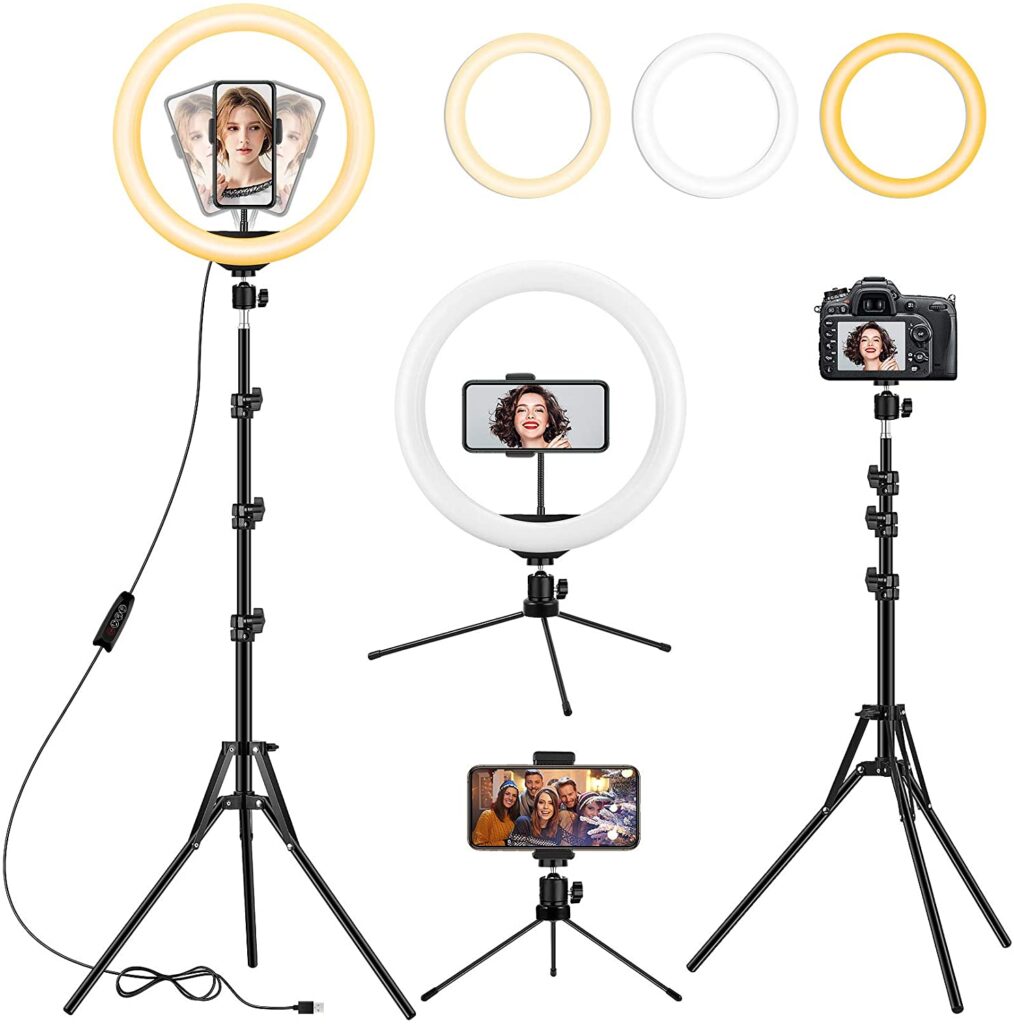 Next in line is the LIPETY ring light which comes with not 1 but 2 tripods and is a streamer's dream because of the versatile functions this compact and lightweight LED circle light has.
It's great for both beginners and professionals who want to make their streams look more appealing to their audience.
But let's not waste time and let's see what this ring light has to offer.
Who is it best for?
A lot of streamers don't like standing tripods because they can't get the right angle of lighting in their setup, and on the other hand, a lot of streamers need a standing tripod because they want background light or a light source above their desk.
With this ring light, you've basically hit two birds with one stone as it has 2 tripods to fit any setup you may have.
Not only that, but the ring light is also large enough to brighten up the entire room but also compact enough to be carried anyplace you need it.
That being said, if you're someone who seeks versatility, then this is the right ring light for you.
Key Features
We've already explained the 2 tripods so we'll focus on other key features. For example, the LIPETY ring light has both a camera mount and a phone stand which can rotate 360°.
The great thing is that the ring light has multiple USB charging options – laptop, computer, power bank, and wall charger.
The ring light has 3 light modes – warm, cold, and natural, and 10 brightness options from dim to 100% brightness.
Alongside that, the ring has 168 small LED light bulbs that can emit from 3200 K to 6000 K making it quite a powerful light source.
---
5. GLORIOUS-LITE Clip-on Light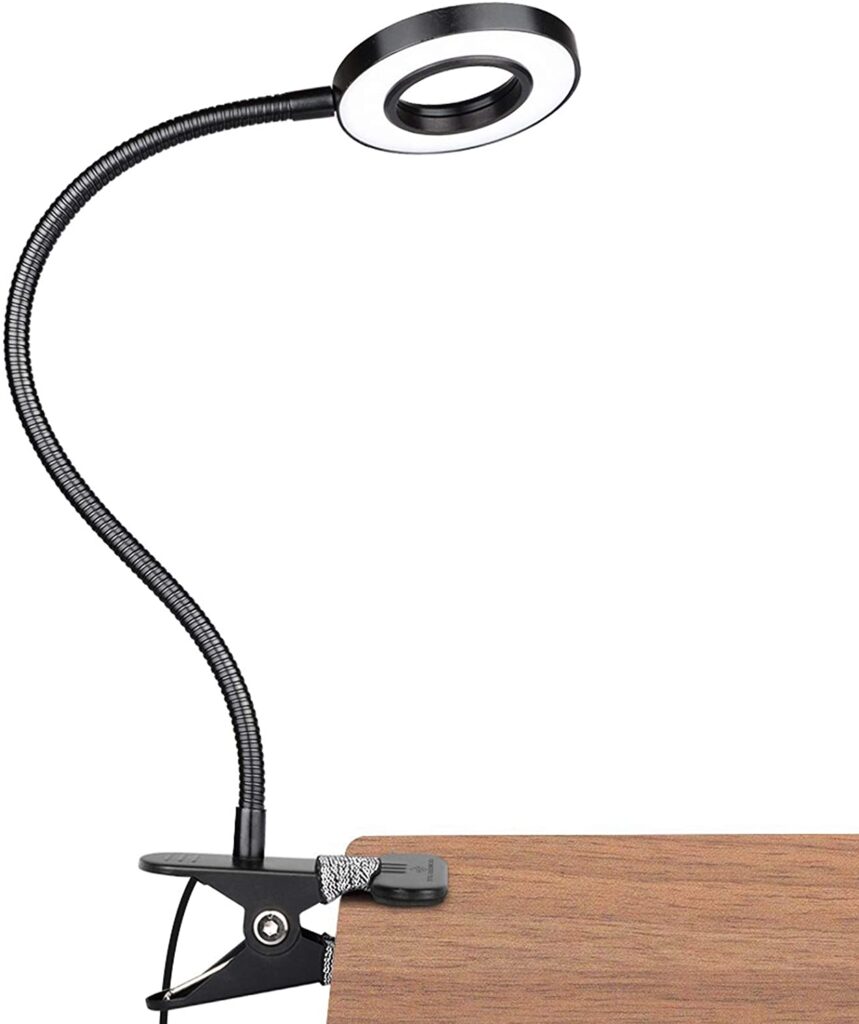 Next in line is the GLORIOUS-LITE clip-on light which is a nice refreshment from other ring lights on this list.
Some would say that it's an ordinary desk lamp, but it's just way more than that, and even though it's not a proper studio ring light, this small lamp can still be a great asset to any streamer.
Let's find out more about this cool little light.
Who is it best for?
Tons of streamers fit in the category of streaming their DIY projects, tutorials, and even product reviews.
Since the main focus is on the streamer's desktop or table, a small ring light is great for these kinds of stuff.
Of course, this isn't your 100$ studio ring light and no it won't light up your entire bedroom, but it still has the potential to be a great addition to your overall setup.
The reason is that it takes no space at all and can be clamped to your table.
So if you're someone who videos their table while streaming, then this small little tool will make your life much easier.
Key Features
There aren't that many features for this ring lamp but it's still quite cool. At the end of the light is a clamp that can be clamped to up to 2.3" thick desks.
The neck of the lamp is foldable so you can set it to any angle you need and because it's aluminum, you don't have to worry about it breaking.
There are 3 color modes –warm, cold, and natural, and you can either dim the light or make it shine within its full capacity.
And, you can plug the lamp using a USB cable into any device, or if you prefer to plug it in the wall, you can use an AC adapter as well.
---
6. HQON Ring Light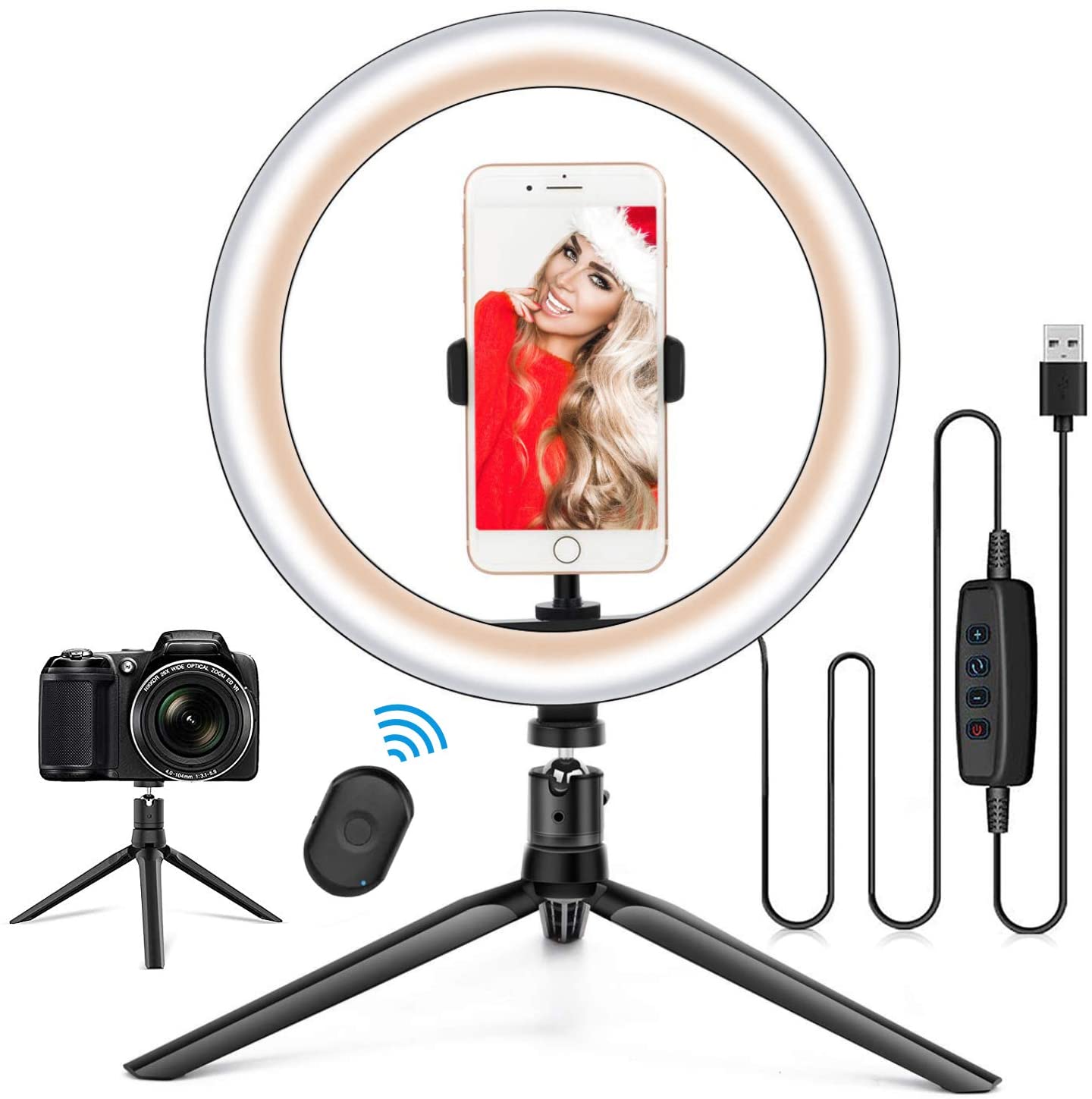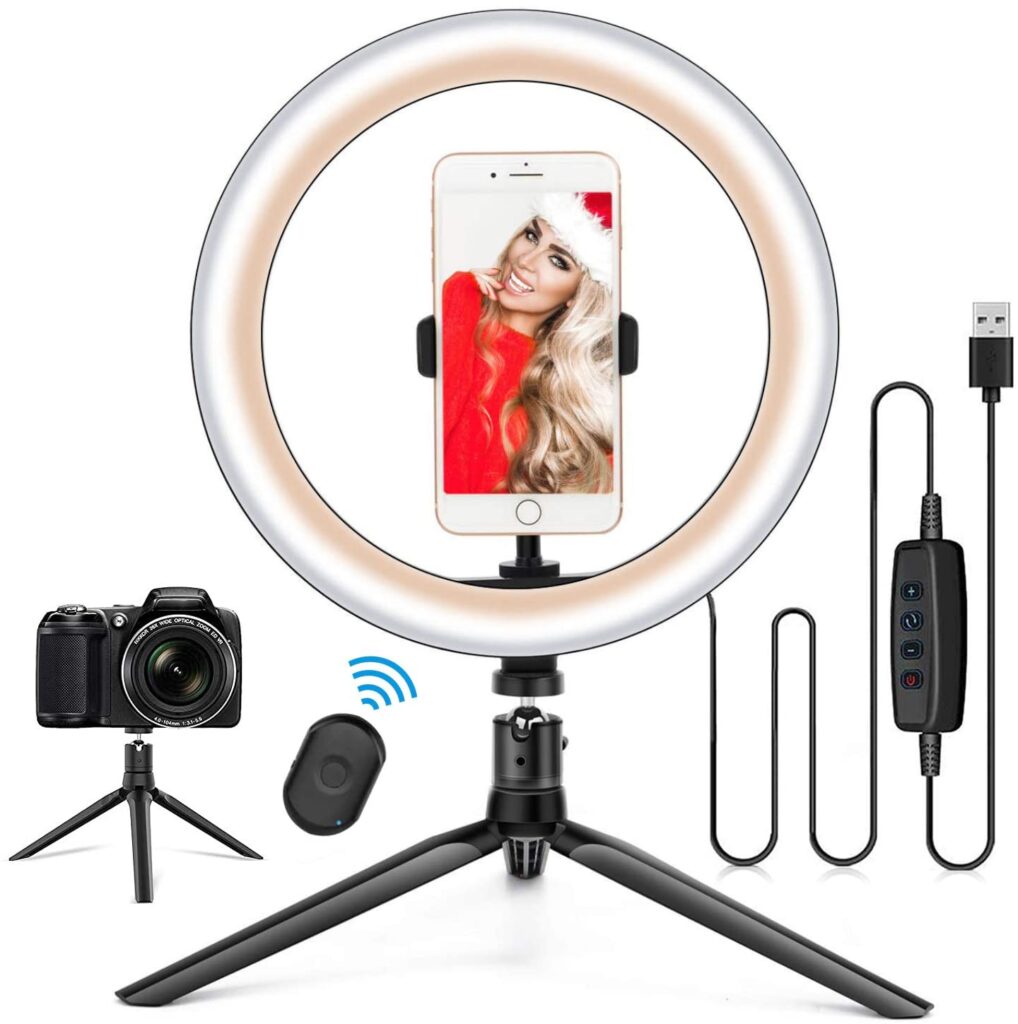 Floor tripod enthusiasts step aside because this product is for streamers who like tabletop-only ring lights.
We're talking about the HQON ring light which comes with 3 interesting light modes far different from the other ring lights on this list.
There's so much to talk about this ring light so let's dive straight in.
Who is it best for?
This ring light is for streamers who want their light source upfront and personal in their face as their face should be the spotlight of the stream.
Of course, we're mostly talking about makeup artists, but vloggers and podcasters can also benefit from using this ring light.
Knowing this, if you're someone who simply needs a tabletop ring light that has a studio-quality build and can also fit your camera and phone, then this is where your search for a ring light ends.
Key Features
This ring light has unique light modes – white, warm white, and yellow, so it's breaking the trend of using warm and cold light modes.
Also, the 10 brightness levels correspond with each light mode so you can get that dim yellow light effect that some streamers actually like using.
The phone stand comes with a gooseneck clamp that can be rotated in any direction and provides perfect recording angle and because you can mount any mobile device it's perfect for streamers who like to use their phones.
But that's not all. You can actually fit your camera on the tripod as well because it has a ¼" camera mount which is perfect for most cameras.
Lastly, you can plug the ring light into any device or power bank using a USB cable.
---
7. Rovtop Ring Light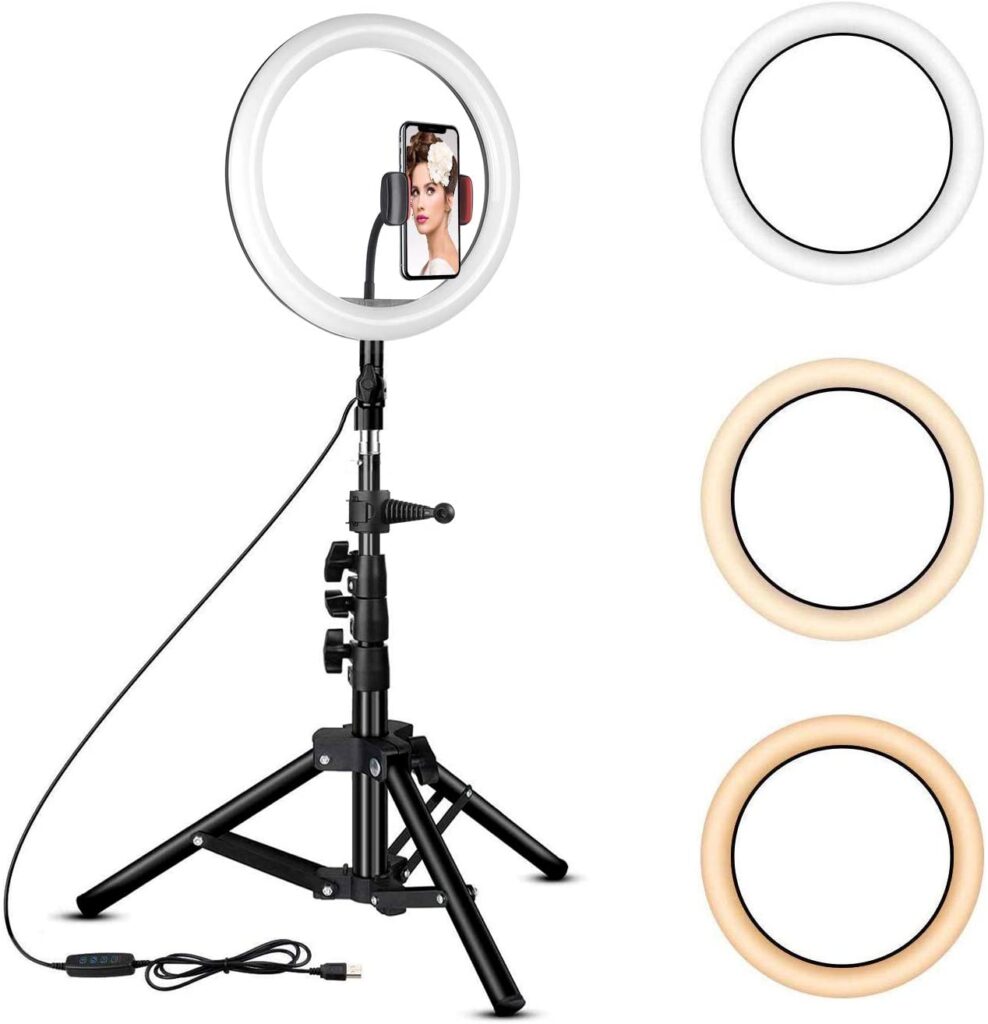 Last but not least we have the Rovtop ring light which is quite a solid choice and is definitely the ring light that matches both quality and price.
You can fit most mobile phones on the phone stand and you have good control of your lighting levels via cable controller.
Let's see what else our final product of the day can do.
Who is it best for?
This is quite a standard ring light for streaming and it has all the features you need in terms of ring lights.
It's compact and the whole tripod is foldable so if you need it on the go, this ring light won't let you down.
If you want a solid ring light for a great price and you're used to recording on your phone, then you won't be disappointed with this one.
Key Features
One of the best features about this ring light is that the phone stand isn't behind the actual ring, but rather in the middle of the tripod.
This is unique and efficient as the light won't beam directly into your eyes and it'll remove eye strain.
The 3 tone light modes are quite good and the brightness level can be adjusted from 10% to 100% to make the perfect ambiance for your stream.
Also, the Bluetooth remote shutter allows you to take photos or record videos from up to 30 ft away.
---
Things to Consider When Buying a Ring Light for Streaming
Since streamers have been levitating towards ring lights in recent years, there are a lot of ring lights on the market, and getting one that will fit your needs is no easy task.
Luckily for you, we've created a list of things to consider when buying a ring light because we care that you get the product that will make you and your audience happy and your streamers more pleasurable.
1. Ring Size
Even though a LED ring light isn't the most expensive equipment a streamer needs, you still want to find the right one which fits your needs.
That being said, you want to know how much light you actually need. For example, if you're a makeup artist who spends a lot of time on streams, you do want to get a smaller ring light because it won't strain your eyes.
On the other hand, if you're a gamer, vlogger, podcaster, and so on, you do want to have good background light and that means you need a bigger-sized ring light.
2. Camera/Phone Mounting
Because streaming via phone is getting popular by the minute, you do want to get a ring light that has a phone stand because it's much easier to record and control your stream using your phone than a camera.
However, because using a camera for streaming means that you get higher quality video, streamers who use their cameras regularly do want to opt for a ring light with a camera mount on the tripod.
Ideally, you should get a ring light which can fit both a camera and a phone so you get the best of both worlds.
3. Tripod Size
The size of the tripod is also one thing you should keep an eye out for because it can make or break your stream.
For example, if your streams involve you talking to your audience upfront, then you should get a tabletop ring light with a small tripod as it will create the perfect angle where your face doesn't have any weird shadows and everything is highlighted smoothly.
On the other hand, if you're a gamer or podcaster, you do want to have an equal amount of light across the room because your audience isn't just watching you, but your setup and the things around you as well.
That's why getting a ring light with a tall floor tripod is your best choice.
Conclusion
In our search for the best ring light, we've made our choice and decided that the UBeesize ring light is the right choice for most streamers not only because it's a powerful device but also because it's the most versatile and adjustable light on the market.
We hope that this article was useful for you to find the best ring light for your streams and just know that you'll make the right choice!
Frequently Asked Questions
Best Lighting for Streaming
Best Cheap Lights
Best LED Lights
Join our Discord Group. Ask questions, team up with fellow streamers, share memes, and more!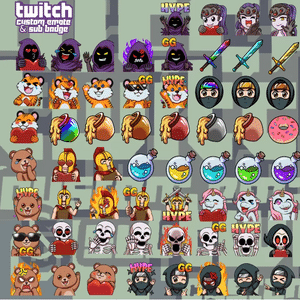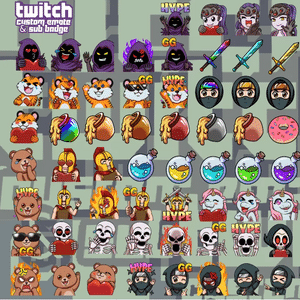 Claim for FREE:
FREE Emote PACKS
A book on growing your audience