When playing through an over-consuming game, the last thing you want to happen is for your CPU to crash, or slow down and cause problems.
This is especially important if there's more than just the game running on your PC, things like your discord chat, or your stream.
That's why you should be particularly cautious when choosing your new CPU, but also the motherboard you choose to go with it.
Ryzen 9 3900x has stayed among the favorites when it comes to gaming-friendly processors, even though it launched way back in November 2019.
Multiple motherboards work well with the Ryzen 9 3900x, and below you will find some examples that can help you make the best decision when purchasing a motherboard for your Ryzen 9 3900x.
Post 7 of 13 in the Streaming PC Components
Best Motherboard for Ryzen 9 3900x
Reviews
The Ryzen 9 3900x has multiple good qualities, it is a 12-core, 24-thread processor that also has a great 64MB L3 cache.
Also, the base frequency it runs at is 3.8 GHz, but it has a boost frequency of 4.6 GHz.
When it comes to operating system support, the Ryzen 9 3900x is supported by Windows 10 64-Bit Edition, RHEL x86 64-Bit, and Ubuntu x86 64-Bit.
Another reason why the Ryzen 9 3900x is commonly used is that the performance it gives is achievable at a quite reasonable price – as of now, the price is around 400 USD, varying more or less depending on the chosen retailer.
For example, the price range of the Ryzen 9 3900x is usually compared to Intel's Core i9-9900K processor, which only has 8-cores and 16-threads.
Of course, to have this CPU work its best, you will have to get an appropriate motherboard.
Good motherboards are important for having the most efficient communication between all of the electronic components possible.
As the Ryzen 9 3900x is a very powerful processor, it will need a motherboard just as good to support it, and not just any motherboard can do that.
When choosing a motherboard, you should look out for things like compatibility with the processor, specifically meaning that you should know if your processor is 1st, 2nd, or 3rd gen, and then which ones does the motherboard support.
Another very important thing is the power phases.
Power phases in motherboards are intended for converting the voltage from the power supply unit to voltages that the processor requires.
Of course, it's better to go for the higher number of power phases for the processor's power load to be distributed among stages properly, and for overclocking to be stable.
Then, you should check the expansion options – how many slots are available on the motherboard.
Basically, the more there are the better, and the slots will be intended for things like SSD, RAM, graphic cards, etc.
Lastly, you should consider chipsets and the form factor.
Chipsets will tell you what hardware you can attach to the PC, and which ones you can't, while the form factor is the information about the size of the motherboard.
What you want to achieve with a good motherboard is to provide better overclocking while running with a smoother voltage supply.
With all of that in mind, below you will see our pick that will help you choose the best motherboard for Ryzen 9 3900x
QUICK OVERVIEW: Best Motherboard for Ryzen 9 3900x
<!—INSERT CODE BLOCKS BELOW—>

RAM type: DIMM
Chipset: AMD 570x

Gigabyte A520M AORUS Elite

ASRock B550M Steel Legend

Storage Capacity: 128GB
Graphics Card: PCIe
1. ASUS ROG Strix X570-E Gaming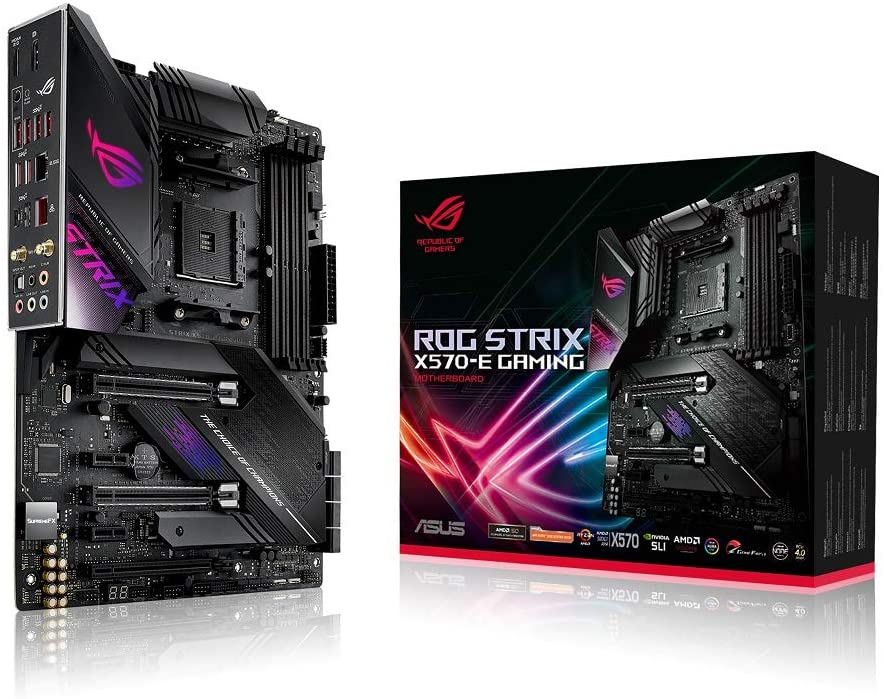 Ever since Asus launched the ASUS ROG Strix X570-E Gaming ATX Motherboard, it has stayed among the most commonly bought motherboards, even for CPUs as intense as the Ryzen 9 3900x.
This one represents the ROG Strix series motherboards, and when it comes to pricing, the ROG Strix X570-E Gaming ATX Motherboard is considered to be mid-range, hence why it consistently stays popular over the years.
The outer design of the ASUS ROG Strix X570-E Gaming ATX Motherboard is somewhat expected of a gaming hardware component, and it represents the basic design of all the previous Strix branded models.
Therefore, it will be compatible with the Ryzen 9 3900x even in terms of aesthetics.
There's some futuristic graffiti across the heatsinks, and RGB LEDs set in the rear panel cover and chipset heatsinks.
Specs
Key Features
One of the first key features of the ASUS ROG Strix X570-E Gaming ATX Motherboard that is different from other similar gaming-friendly motherboards is that it has only two M.2 slots in total.
However, there are eight SATA ports on the ROG STRIX X570-E Gaming motherboard, which is double what most gaming motherboards tend to have.
Also when it comes to ports, things like DisplayPort and HDMI ports are included, but the CLR_CMOS button isn't.
A big plus for the ASUS ROG Strix X570-E Gaming ATX Motherboard, especially when it comes to gaming, is the fact that there are sixteen chokes each tied to a 50A MOSFET in a 12+4 arrangement, so 600A of current could be pushed to the CPU core, giving the Strix X570-E Gaming motherboard the power it has when overclocking is involved.
That power of overclocking will work perfectly with the Ryzen 9 3900x motherboard, as these two power-hungry components work great together when gaming, streaming, and video editing are involved.
To keep your PC cool, the Strix X570-E Gaming has three 4-pin fan headers on the top edge, three at the bottom edge, and one in the front of the I/O panel's audio jacks. This kind of comprehensive c0oling is a big plus if your gaming involves a lot of overclocking.
Basically, you can expect stable overclocking from this enthusiast motherboard.
The lower half of the Strix X570-E Gaming motherboard has a PCH cover made from mesh and tightened with 2 screws.
On the bottom edge of this Asus board, you will find quite a few things lined down: beep-code speaker header, Intel-style front-panel button, RGB ARGB, three fans, dual USB 2.0 ports, and one USB3 Gen1 dual-port, thermistor, Asus Node, and front-panel audio. And together with that is a two-digit status code display.
As for how much RAM you can expect, this one can support 128GB Dual Channel Up to DDR4-4400.
This motherboard also has Aura Sync RGB lighting, including RGB headers and addressable Gen 2 headers.
Before installing the CPU, you have to make sure that your BIOS is up to date.
When speaking about the form factor, this one can be considered the best ATX motherboard.
As said above, the Strix X570-E Gaming is a premium motherboard in the mid-range when it comes to pricing and on Amazon, a new one is priced 329.99 USD.
The Strix X570-E, the Ryzen 9 3900x, and all the other components you have in mind, will do wonders for your PC's performance.
---
2. Gigabyte A520M AORUS Elite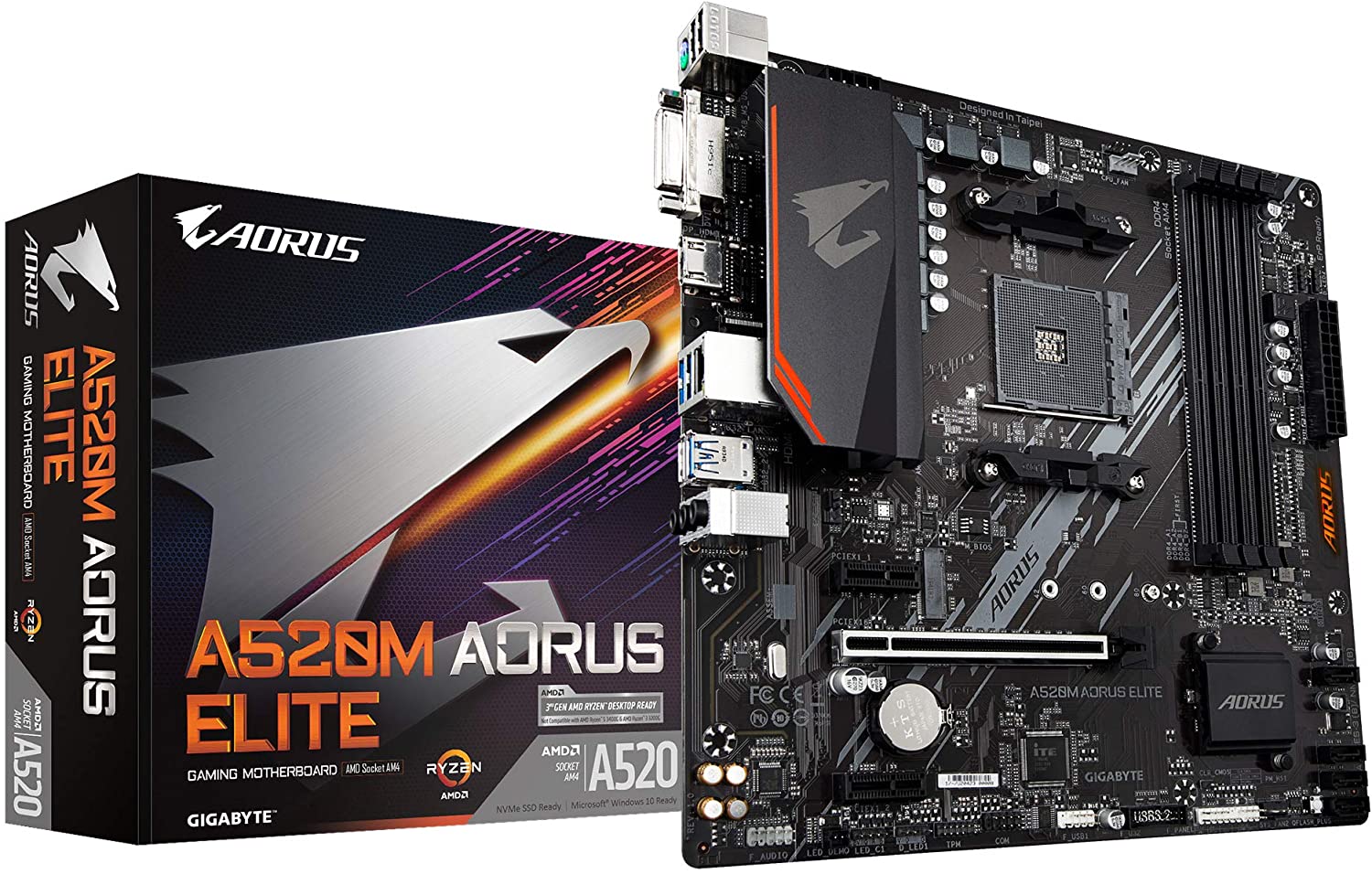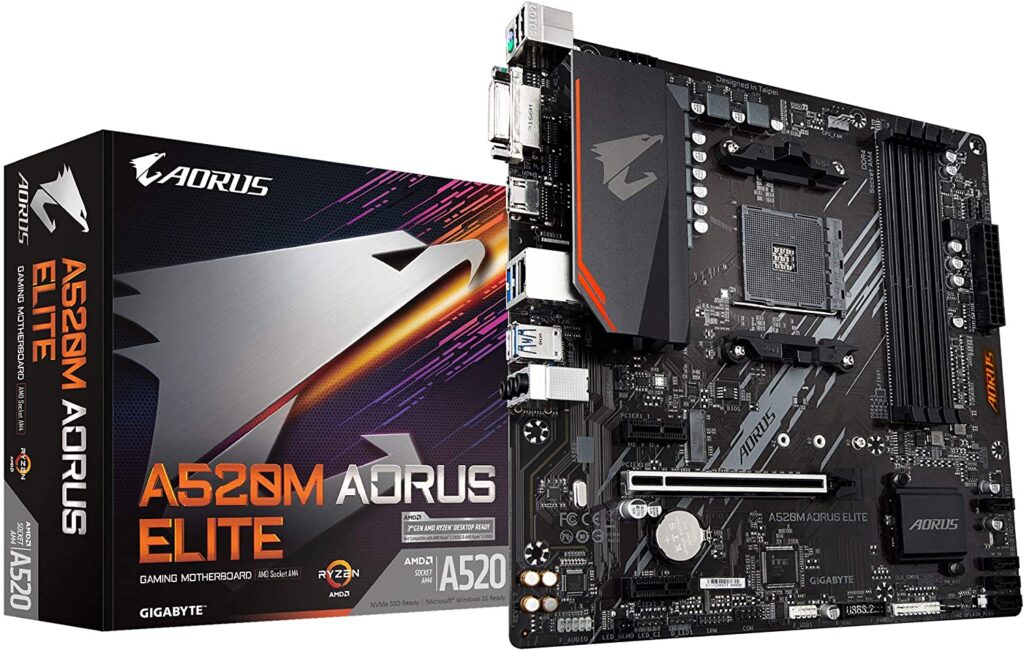 When you get into the adventure of building your own PC, you might get overwhelmed by all the high-end components with endless lists of pro-level specifications.
You also might get overwhelmed by the price tags that are being thrown around in the gaming PC world.
If you're looking for a budget motherboard that will work efficiently with the Ryzen 9 3900x at an affordable price, then the Gigabyte A520M AORUS Elite is a great motherboard for you.
Specs
Key Features
The first thing that anyone will notice about the Gigabyte A520M AORUS Elite motherboard is the fact that it costs around 90 USD.
If you were to judge by the price point of this motherboard, then you will probably think this is a motherboard on the very low end of motherboard quality. And you would be very wrong.
The Gigabyte A520M AORUS Elite is when it comes to performances, a quality mid-range example.
The only thing lacking on this motherboard is WiFi, but that is going to be negligible considering everything else you will get at this low price.
And, after the ∼400 USD you gave for the Ryzen 9 3900x, it sure sounds great to find one of the best motherboards at such a low price.
Firstly, there are two RGB headers and also two ARGB headers.
When a sustained all core load is happening, the heatsinks do more than a decent job of keeping everything from overheating.
Something like 73°C VRM temperature is going to be tolerated with no problems.
When it comes to slots and ports, you will find one M.2 slot and four SATA ports, which are fairly standard and does the job for the majority of users.
If you choose this affordable motherboard for Ryzen 9 3900x, you won't have problems with the memory either.
The Gigabyte A520 Aorus Elite can support up to 128GB at DDR4-4733, and even though the chances of running such a setup are generally low, you will at least have the choice with this one.
When it comes to the I/O, you can expect a pre-installed shield and features, as well as a commendable selection of USB ports.
There is one USB 3.2 port, three Gen 1 ports, and four USB 2.0 ports, however, there are no Type-C ports.
Even though the Gigabyte A520 Aorus Elite doesn't have a DisplayPort, there is a DVI-D port that handles things like 1080p 60Hz duties.
There is also an HDMI 2.1 port that is useful for many users.
Audio is included as well, and it's built around the ALC1200 codec.
Even though it doesn't include the premium circuity that's usual for most high-end motherboards, these are advanced audio features compared to a lot of other motherboards.
With this kind of audio, you will have the choice between a headset, a S/PDIF, and HDMI.
Speaking of the gaming performance, the average FPS is 204, and the minimum is 156, which is a good average, especially for a motherboard priced so low!
For the graphics, this one has an Nvidia GeForce RTX 2080 TI Founders Edition graphic card.
A big plus that you will have with this one is the fact that it is indeed the best budget motherboard for Ryzen 9 3900x.
Seriously, the performance is unbeatable when compared to Intel motherboards of similar pricing, so use this chance to save some money that can be directed towards other components, or simply saved.
---
3. ASRock B550M Steel Legend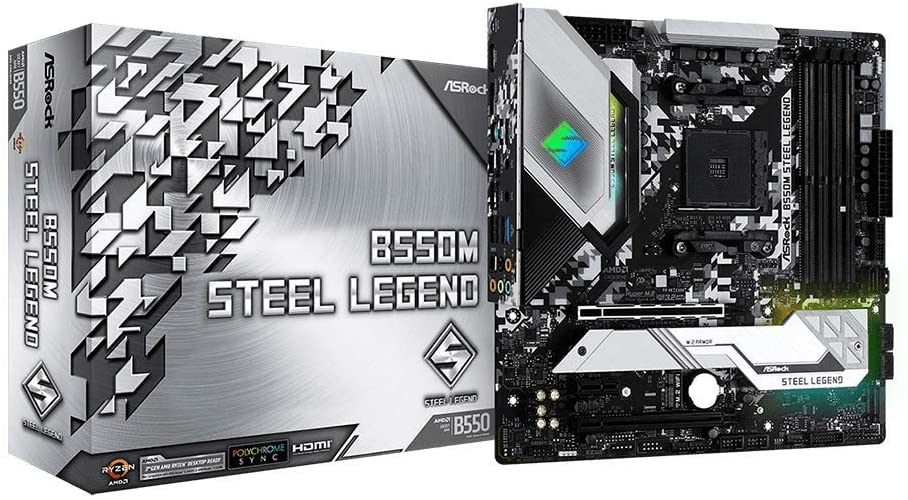 The ASRock B550M Steel Legend is quite a special and unique motherboard, as it's a rare Micro-ATX motherboard available on the market today.
Micro-ATX is the form factor of the motherboard and it gives us information about the motherboard's dimensions.
A Micro-ATX motherboard is 9.6″x9.6″, which makes it a bit shorter than a standard ATX, but bigger than a Mini-ITX motherboard.
The pros of having a motherboard with this form factor include things like fitting in any case, a higher RAM capacity than a mini-ITX, and it's ideal for PC builds with a single GPU.
The ASRock B550M Steel Legend represents the mid-range for B550 motherboards and is priced a bit under 140 USD, and it's another great motherboard for Ryzen 9 3900x.
Specs
Key Features
A practice that is getting more common by the day is including a zip-tied foam insert in the front of motherboards, used for protecting the board during shipping. That's exactly what you will see at the front of the ASRock B550M Steel Legend as well, which is the first big plus.
As it's already said, this motherboard comes in the Micro-ATX form size, which gives it a lot of room for a different variety of ports.
Firstly, there are two PCIe slots – a single x16 PCIe gen 4 slot and a single PCIe Gen 3 x4.
Also, there is a single x1 slot that is Gen 3.
Then, there are six SATA3 slots, two M.2, 8 front panel USB ports, with four being USB 3.2 gen 1 header, and four USB 2.0 headers.
Looking on the top side of the board, you will see that there are two power connectors, one 4-pin CPU power connector, and an 8-pin one.
It's not highly likely that you will use both of these connectors, however, it allows the power to be more stable, and there is less strain put on the single connector, which is useful when overclocking on 12 and 16 core CPUs, like the Ryzen 9 3900x.
The heatsinks are actually made of aluminum, making this motherboard for Ryzen 9 heavier than what you would expect for something its size.
The rear I/O is mostly plastic and features RGB lights, that you could remove if you wish to achieve slightly better airflow.
When it comes to the audio, they used 5 Nichicon gold capacitors, which are a premium standard, and also there's the standard ALC1220 Realtek audio chip.
Also on the rear I/O, there is a clear CMOS button, an HDMI, and a DisplayPort.
Other ports that this Ryzen 9 compatible motherboard has are two USB 3.2 ports, one Type-C, one Type-A, and also four USB 3.0 ports, and two USB 2.0 ports.
For connecting to LAN you will have a Dragon RTL8125BG 2.5 Gigabit LAN chip.
Other motherboard features include three chassis smart fan headers, a CPU water-pump header, and a CPU fan header, and on the bottom of the board, there is a single addressable RGB header.
On the top of the ASRock B550M Steel Legend, you can find a steel-reinforced PCIe 4.0 slot.
The BIOS is quite basic and what you can expect from a motherboard of this class.
The choices for a Micro-ATX B550 motherboard are quite slim on the market, and at this price point, the ASRock B550M Steel Legend is actually the best motherboard for Ryzen 9 3900x that you will find, if you're searching for a Micro-ATX motherboard.
This is the one to go for, as it's the best Micro-ATX motherboard available.
This one also has a quite decent VRM, as it tolerates to be even in around 93 degrees C.
One downside is that memory overclocking isn't a great experience when done with a kit higher than 3200MHz, but even that doesn't have to be a great deal as most users do opt for a 3200MHz kit.
If your using your PC for mainstream desktop computing, then this is a good motherboard for Ryzen 9 3900x.
---
4. ASUS Prime X570-P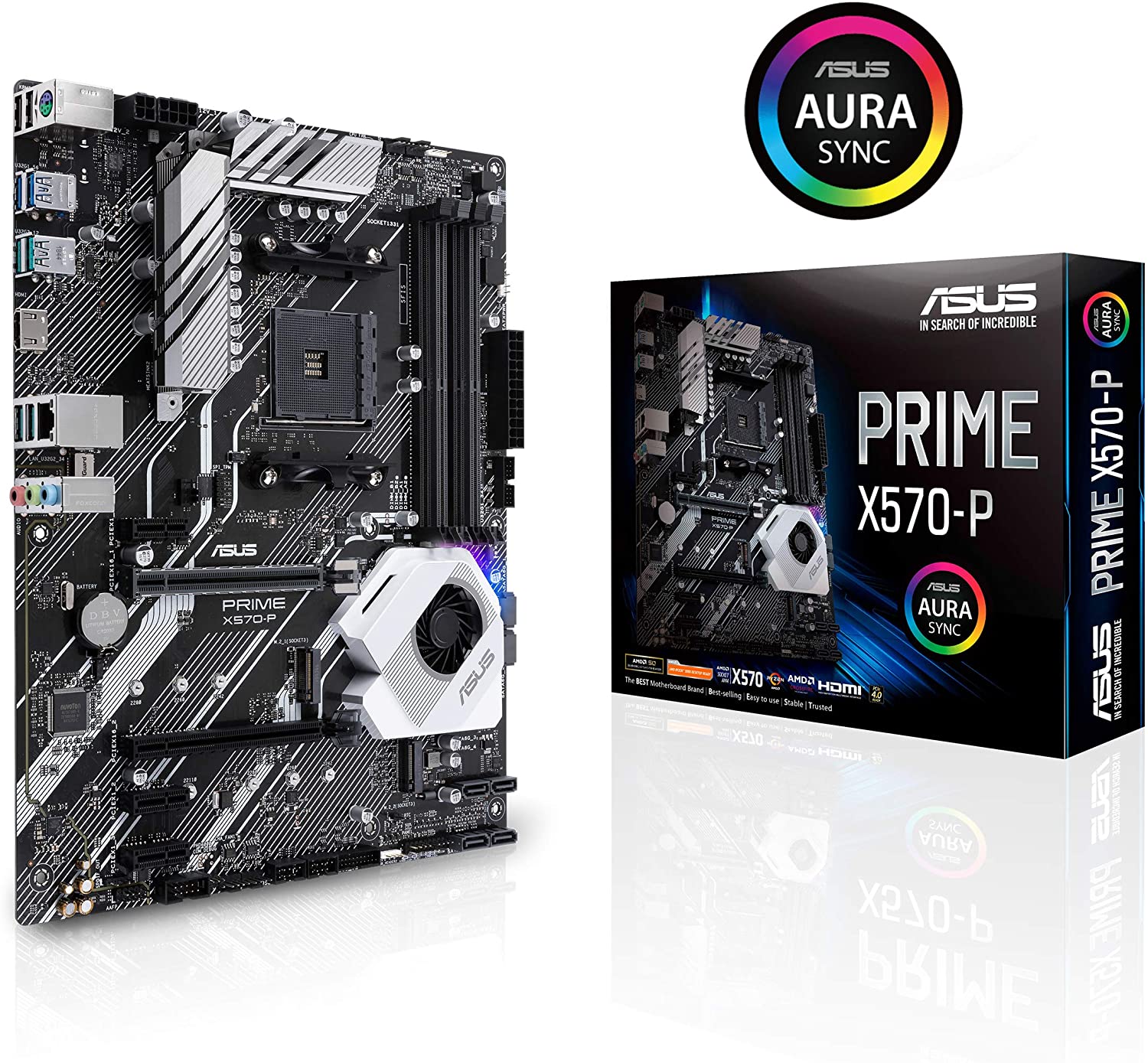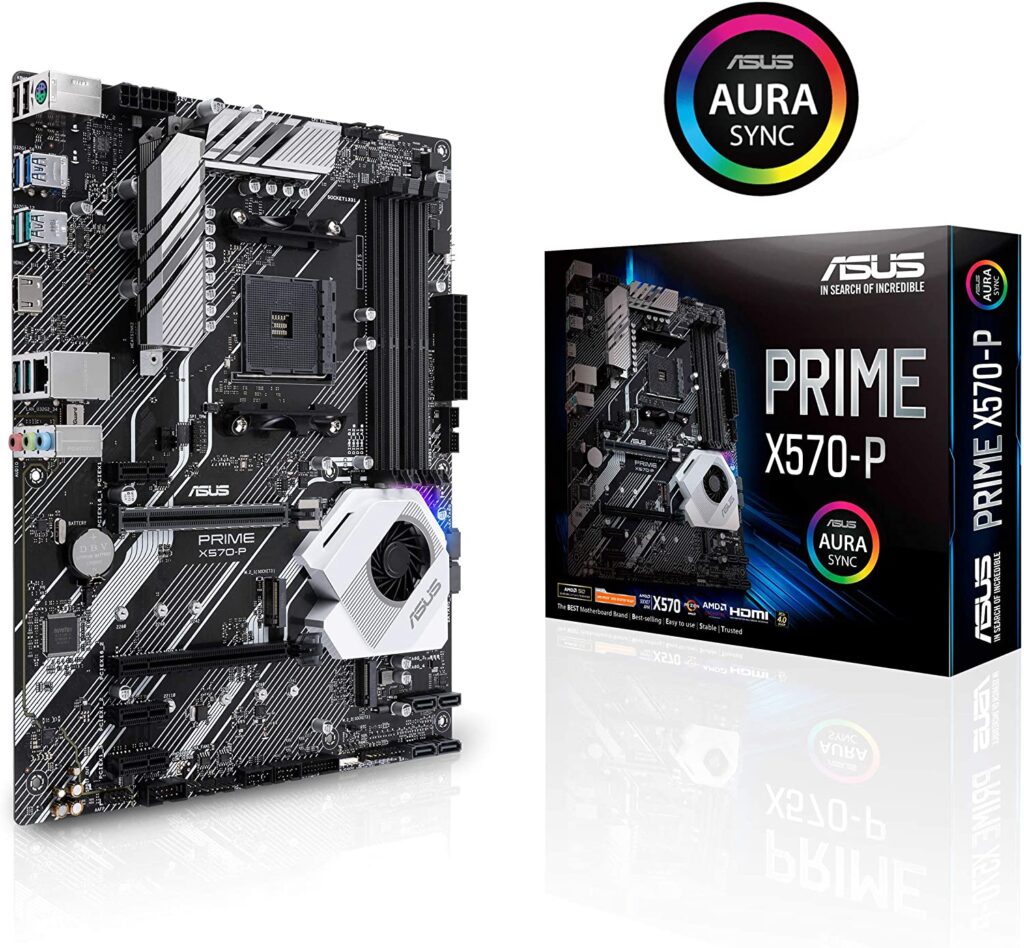 Another ASUS motherboard has found its way to be one of the best motherboards on the market for the Ryzen 9 3900x CPU.
If you're looking for an entry-level board with the X570 chipset, then the Asus Prime X570-P is an excellent motherboard for you.
Specs
Key Features
The first thing you will notice is considering the aesthetics of this one, is that compared to so many motherboards, the design of the PCB looks extremely bare.
When it comes to the main features, firstly it's important to state that the ASUS Prime X570-P has two full-length PCIe slots, specifically the PCIe 4.0 ones.
The PCIe slots operate at x16 as well as x16/x4.
This way there will be support available for two AMD CrossFire multi-graphics cards, but there is no support for an NVIDIA SLI configuration.
When it comes to storage, there are two M.2 slots that can support PCIe 4.ox drives.
Speaking of ports, there are six SATA ports on the ASUS Prime X570-P.
Memory can support up to 128GB, and the 32GB UDIMMs were qualified by ASUS across the whole X570 range.
The memory speed can run all the way up to 4400MHz.
There is also an optimized memory trace layout called ASUS OptiMem, that's great for higher memory frequencies and lower latency.
Having in mind that this is more of a budget motherboard, it doesn't come as unexpected that the rear panel cover suggests that the rear panel itself doesn't have that much to show.
However, on the rear panel, you can see six USB 3.1 G2 Type-A slots, and two USB 2.0 slots.
For the audio, there are three 3.5mm audio jacks controlled by the Realtek S1200A HD audio codec.
The audio capacitors are of premium quality and they ensure durability and audio fidelity.
Also, there is a single Ethernet port, and this one is controlled by a Realtek RTL8111H Gigabit NIC.
There are also ports like a PS/2 combo port, as well as an HDMI video output.
Taking a look at the power phase design, this one has an enhanced power solution with 8+4 DrMOS power phases, as well as ProCool connectors and alloy chokes. All of that will ensure a stable power delivery.
The comprehensive cooling system is well done, too, with comprehensive controls for the fans and an AIO pump, which will keep your PC cool through any task you need to be done.
If aesthetics are another important factor for you, then you should know that the Prime X570-P has an Aura Sync RGB header, that can be synchronized to a wide variety of other high-quality components and gear.
Lastly, there are some additional features to this motherboard.
There is EPU guidance, which means that the EPU optimizes power consumption, which will result in maximized savings, and a Fan Xpert 4, which will give you the ability to manually or automatically control the speed of your fans. This way you can find your perfect balance between noise and cooling performance.
The multi GPU support is also worth mentioning.
As it was already mentioned, this is on the lower end of prices when it comes to X570 models, and it might be the best budget motherboard for Ryzen 9 3900x at that.
The price of this motherboard is around 160 USD, and on Amazon, it's exactly 160 USD.
---
5. ASUS ROG X570 Crosshair VIII Formula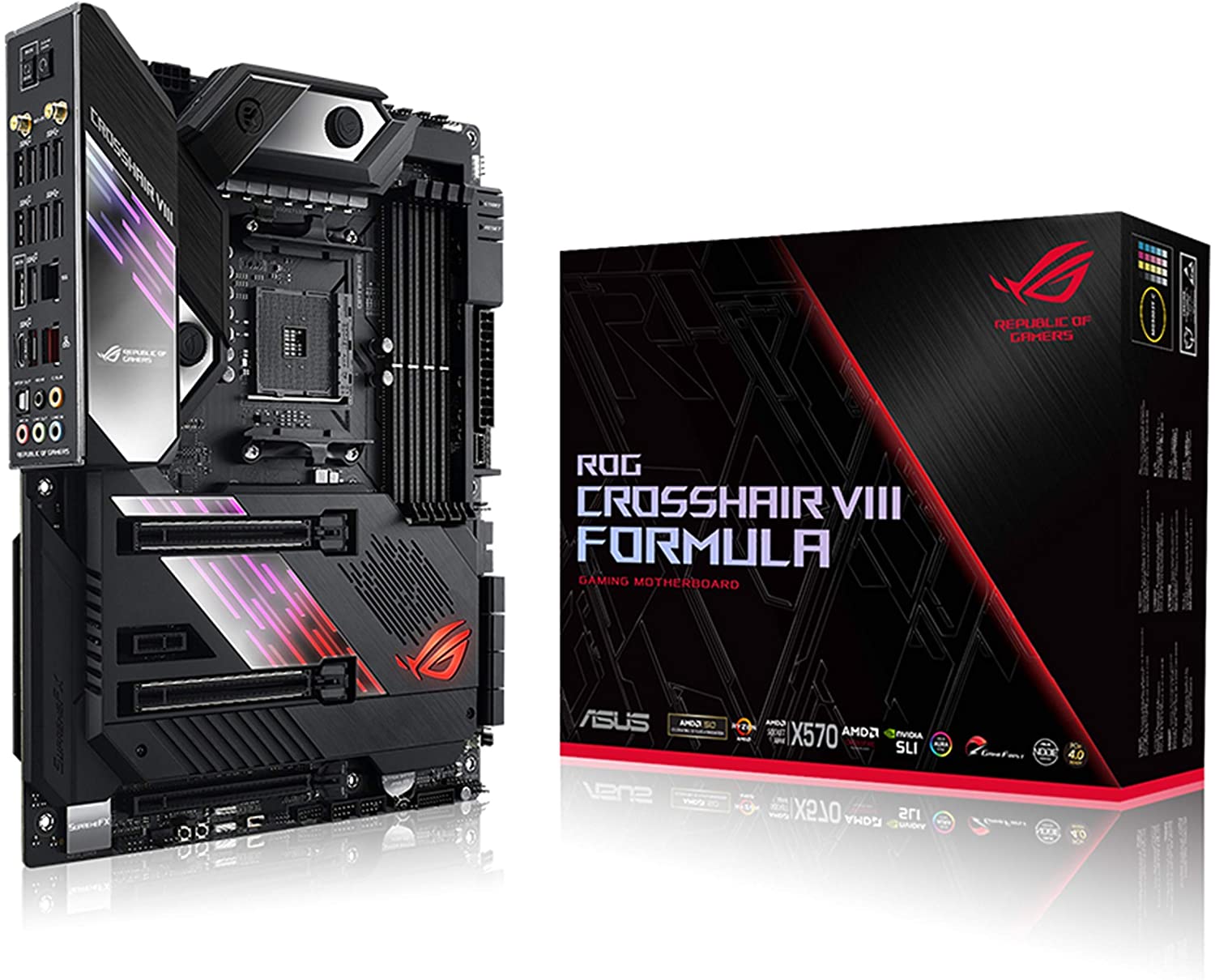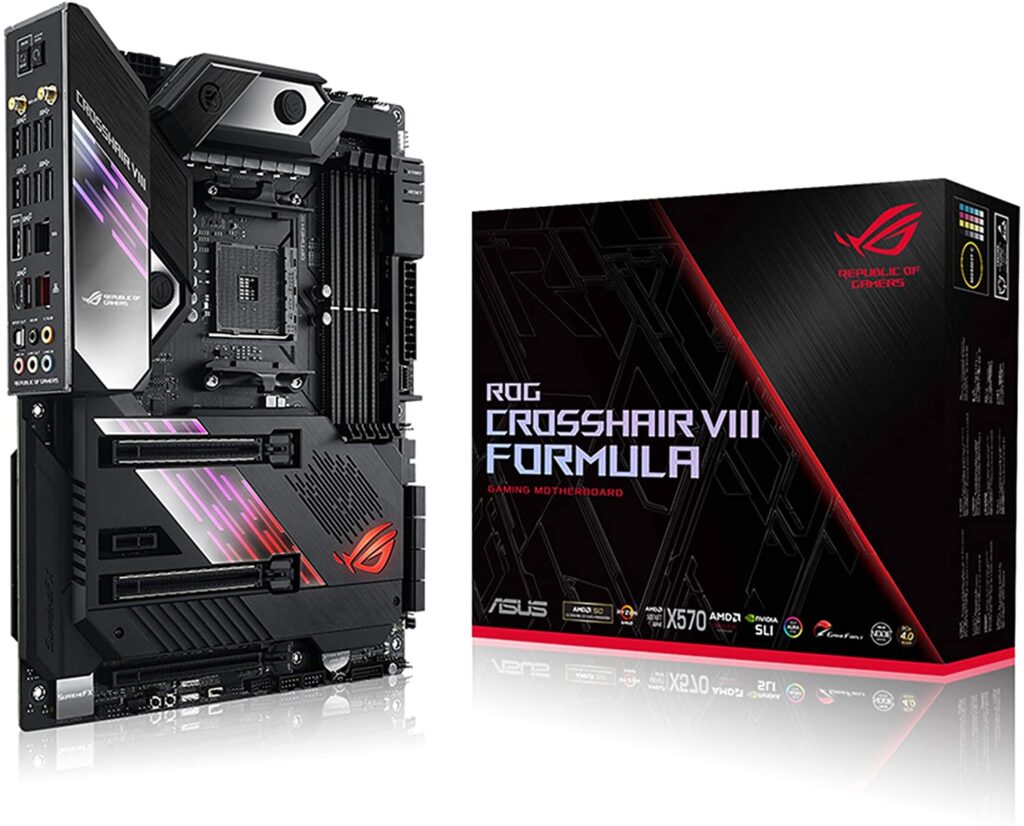 The Asus X570 products are highly popular among users that have a gaming PC or a video editing PC, or both.
And in general, ASUS is the leading digital publisher when it comes to things like these.
The ASUS ROG X570 Crosshair VIII Formula model is the most expensive model on this list so far, so if you decided to invest and go high-end for your new PC build, this can be the premium motherboard you've been looking for.
This model can be considered the best enthusiast motherboard on this list.
Specs
Key Features
When this flagship motherboard arrives, there are several components that you can find in the box.
Firstly, the package includes two braided SATA6Gb/s cables, four SATA6Gb/s cables, an RGB extension cable, a Q-connector, some ROG stickers, the ROG coaster, a WiFi antenna, addressable RGB LED extension cable, and of course the basic manual as well as a driver DVD.
There is a patented fan design unique to Asus, the Asus NODE.
With eight fan headers, you will also be supplemented with this NODE device that expands fan control, temperature monitoring, and it also includes RGB LED support.
This is a very clean motherboard to build on, and the design seems intended for that.
The M.2 slots are pushed to different areas, as well as the port headers, and those areas are not covered by the shroud.
This motherboard has a quite comprehensive thermal design with an integrated cross Chill EK III, an active PCH heatsink, M.2 aluminum heatsink, and of course the ROG cooling zone.
The complete cooling setup is done very well.
The upper half of the board has the exact same AM4 socket from AMD, and it is a clean socket, so other components won't interfere with the cooling options.
For the VRM, Asus decided on a parallel configuration for the 14+2 VRM. Supposedly, this will ensure reduced VRM temperatures and provide overall better performance.
Just as expected from a Formula-class board, there is an EKWB hybrid included in the VRM heatsink.
This design will allow the watercoolers to pass the loop they need through the VRM without needing to spend any extra cooling blocks.
On the other side, there are the DIMM slots together with the Power and Reset buttons.
On the upper right side is where you will find most of the fan and RGB lighting headers.
The audio is one of the very good features of this flagship motherboard for Ryzen 9.
It uses an enhanced version of the ALC 1220 chip that utilizes an ESS ES9023P, which will ensure an improved audio quality on your PC.
When you turn to the back, you can see a wide variety of connectivities that include USB 3.2, USB 3.1, some Type-C connectors, and finally two LAN ports, so it has great USB connectivity.
Another great addition is a 5G port, this one specifically being the Aquantia 5G LAN.
It's also good to know that the ASUS ROG X570 Crosshair VIII Formula is fully Aura Sync customizable with a lot of lighting areas.
When looking at the rear I/O shroud, there's an onboard display showing boot codes and motherboard info display. This can be configured through software.
Something that is a big plus is that this design is extremely DIY friendly, so you can be sure of maximum endurance with this one when building your new PC.
There are probably high expectations of this one's overclocking capability, and for a good reason, too.
Overclocking on this motherboard is found to be straightforward, at levels that are not often found among motherboards.
The memory speed of this one is 2133MHz
When it comes to the form factor, this is an ATX board.
And, as you would expect from a motherboard of this range, it includes multi GPU support.
When it comes to pricing, this is Asus' best flagship motherboard, and it is priced that way too, with the Amazon price being just below 700 USD.
However, with all the latest features this one provides, it rightfully is considered the best premium motherboard compatible with the Ryzen 9 3900x.
It's safe to say that you will receive an outstanding performance.
A very important upside is that there are premium overclocking features included, such as Asus's Retry and Safe boot buttons.
---
Frequently Asked Questions
What is the best motherboard for Ryzen 9 3900x?
If you are willing to purchase a high-end motherboard, then the ASUS ROG X570 Crosshair VIII Formula. If you are on a budget, then ASUS Prime X570-P.
What is the best motherboard for Ryzen 9?
Processors from the Ryzen 9 generations will need a hardcore motherboard to go with them, so depending on your budget, choose either the ASUS ROG X570 Crosshair VIII Formula or the ASUS Prime X570-P.
Is Ryzen 9 3900X overkill?
If you are using your PC for gaming that includes a lot of overclocking, or things like design and video editing, then it will be great for you. However, if your activities aren't as intense, then it might be overkill.
What is the best motherboard for Ryzen 9 3900x?
Similar to the Ryzen 9 3900x, choose either the ASUS ROG X570 Crosshair VIII Formula or the ASUS Prime X570-P, as these are the best motherboards for Ryzen CPUs.
Related: Best Motherboard for Streaming
Join our Discord Group. Ask questions, team up with fellow streamers, share memes, and more!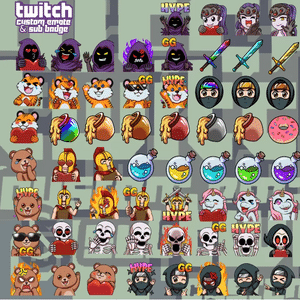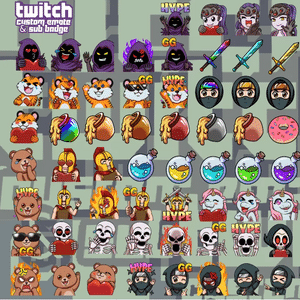 Claim for FREE:
FREE Emote PACKS
A book on growing your audience