Every streamer has his own unique way of interacting with the audience and to do that he needs audio equipment that will help him be more in-tune with his viewers. That's where the best mixer for streaming comes in.
Mixers are important for streamers not only because they can change the audio levels and enhance the quality of sound, but also can make some cool effects for which some streamers are known for.
So today we've scavenged the Internet to find the best streaming mixer for you. Let's see what our list has to offer!
Post 14 of 14 in the Streaming Gear
Best Streaming Mixers
Reviews
We've found 5 of the best audio mixers for streaming your money can buy and we've made the selection that way so you get the best quality mixer in every price range.
So without further ado, let's jump straight in!
QUICK OVERVIEW: Best Mixer
<!—INSERT CODE BLOCKS BELOW—>

8 channels
3 band EQ on all channels

3 channels
Frequency response: 20 Hz – 25 kHz

4 channels
48V phantom power
1. Pyle PMXU83BT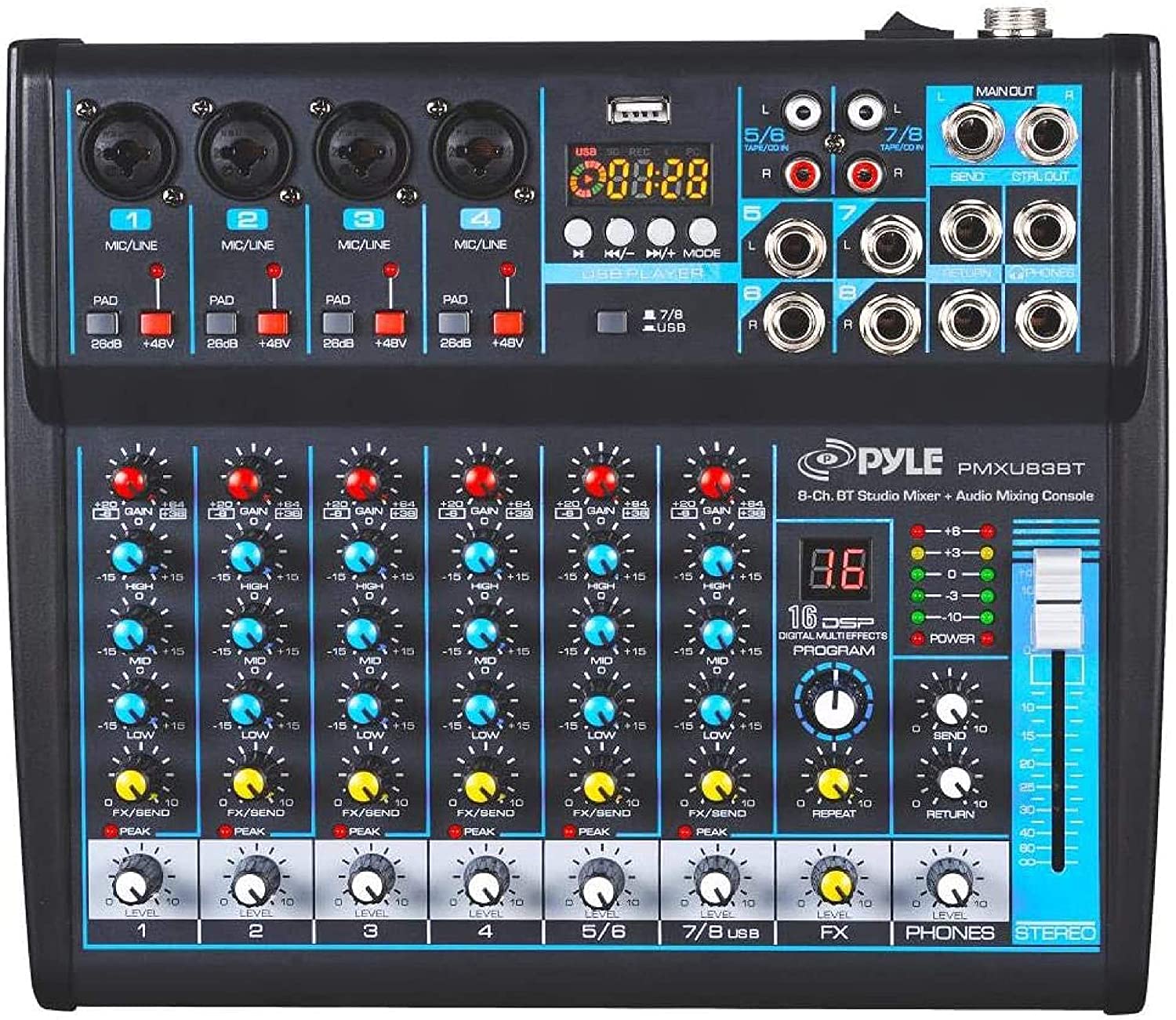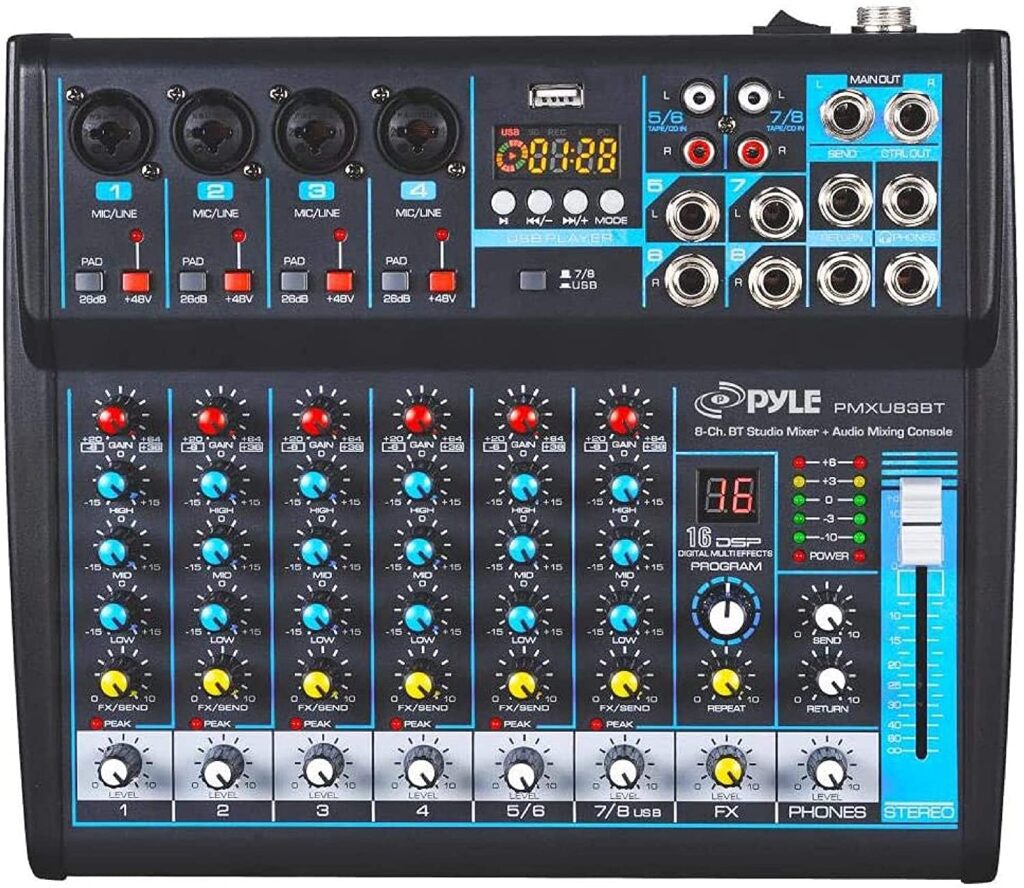 The first mixer on our list is a great streaming audio mixer named the Pyle PMXU83BT. It's an 8-channel mixer with sealed rotary controls and mic and stereo line inputs. The mixer also has built-in digital effects and Bluetooth music streaming.
The mixer is quite compact and won't take up much space on your setup, but despite its size, it is quite a powerful device. It has all the features you need to start streaming and it also won't damage your bank account too much.
Who is it best for?
Although it's marketed as a music mixer and most of the features are gravitating towards music production, there's no reason why this mixer can't be used for streaming.
Because the Pyle PMXU83BT is PC and laptop-compatible, it can work on most devices and the XLR connectivity makes it great for plugging in most microphones.
That being said, if you want a professional mixer as an addition to your streaming setup which quite easy to mount and start using, you definitely want to consider buying this mixer.
Key Features
There are lots of features that could be highlighted on the Pyle PMXU83BT, but one of the most distinct ones is the digital effects you can tune with this mixer.
The amount of effects you can achieve on this device is quite impressive and they'll certainly make your streams more interesting for your viewers.
Other features include an LED Indicator that's fairly accurate for displaying peak levels, MP3, Flash, and USB compatibility which allows you to quickly control and switch between modes on any device you plug it in to, and 3 EQ bands on all channels which really boost up the sound clarity.
---
2. Pyle PAD30MXUBT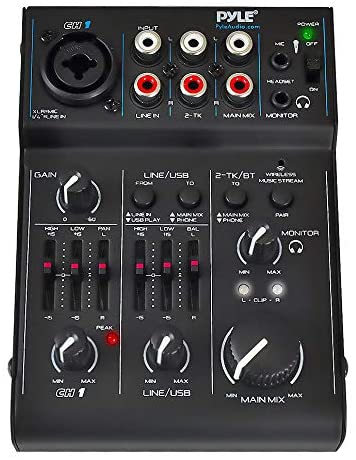 Next up is another mixer from Pyle called the Pyle PAD30MXUBT, and it's nothing like the previous mixer we've reviewed. This is a much smaller mixer that offers basic features but it's quite user-friendly and because you don't need all the music features which most mixers have, it's still a solid choice.
This stream audio mixer is actually fairly good for streaming as it has 3 channels, and XLR and 3.5 mm jack connectivity for most microphones. The mixer doesn't have digital effects but it does provide great sound quality and voice enhancement.
Who is it best for?
You can look at this device as a basic music mixer that most beginner DJs and producers use, however, it's ideal for any streamer as you don't need a mixer with all the features used by people in the music industry. That being said, it's not surprising why lots of streamers go for similar mixers.
This mixer has the benefit of being quite easy to use and small enough so you can practically operate with one hand and it also doesn't use too much space on your desk.
The pricing is also ideal for anyone who doesn't want to break the bank just to get a great mixer for his streams. Overall, a solid pick.
Key Features
The Pyle PAD30MXUBT comes with two 3.5 mm jacks for headphones and microphones, an XLR microphone connector, and a USB 2.0 port. It also has RCA input/output connectors and Bluetooth wireless connectivity.
Spec-wise, the mixer has 20 Hz to 25 kHz frequency response, 3 channels, 18 V phantom power, and both high and low-frequency adjustment so with some fine-tuning you can turn any microphone into a professional-sounding one.
What's really great is that with Bluetooth connectivity you can connect this mixer to most of your devices such as iPhones, Androids, macOS, PC, MP3, and so on.
---
3. Pyle PMXU43BT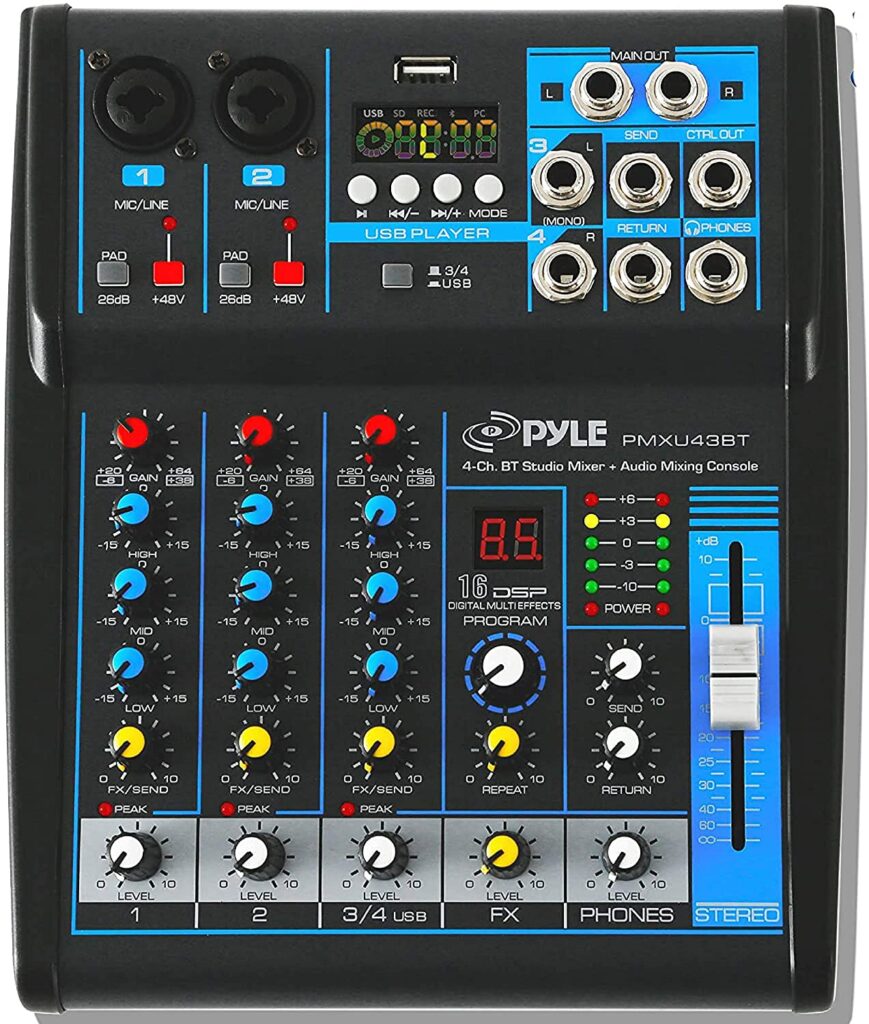 Yet another great audio mixer for streaming from Pyle on this list is the Pyle PMXU43BT. The mixer has 4 channels for audio source mixing and it can even produce digital effects as well as having great connectivity features for most microphones, PCs, and other audio equipment.
The quality and the sound control that this unit can deliver are quite appealing to most music producers, but even people who are just starting out with using mixers so it's quite a user friendly and if just used for streaming, you won't have any problems figuring out all the features.
Who is it best for?
Like most Pyle mixers you'll come across on the Internet, this one is also more inclined towards music production than for other purposes, but it can still make a great mixer for streaming.
And in fact, a lot of streamers and even gamers use it because of the plug-and-play feature.
It's because the mixer is quite versatile in terms of connectivity and also the Bluetooth wireless function. Also, the unit has a mic preamp built-in so when you connect your mic via XLR or 3.5 mm jack, you'll be able to enhance, adjust and control the volume and sound of your mic.
Knowing this, if you're someone who wants a great professional mixer for a cheap price, then this mixer is for you.
Key Features
To start off, we have the plug-and-play feature which means that you don't need any additional software to be able to install the mixer on your PC. Second, as mentioned above, the unit has several connectivity ports and is compatible with both PC and macOS.
Also, the gain and tone adjustment on the mixer is quite nice to get just the right quality sound while speaking into your mic.
Lastly, Bluetooth wireless connectivity allows you to connect the mixer on any device which has Bluetooth so you can set up all the components you need for your stream even when you're not by your computer.
---
4. Remall V9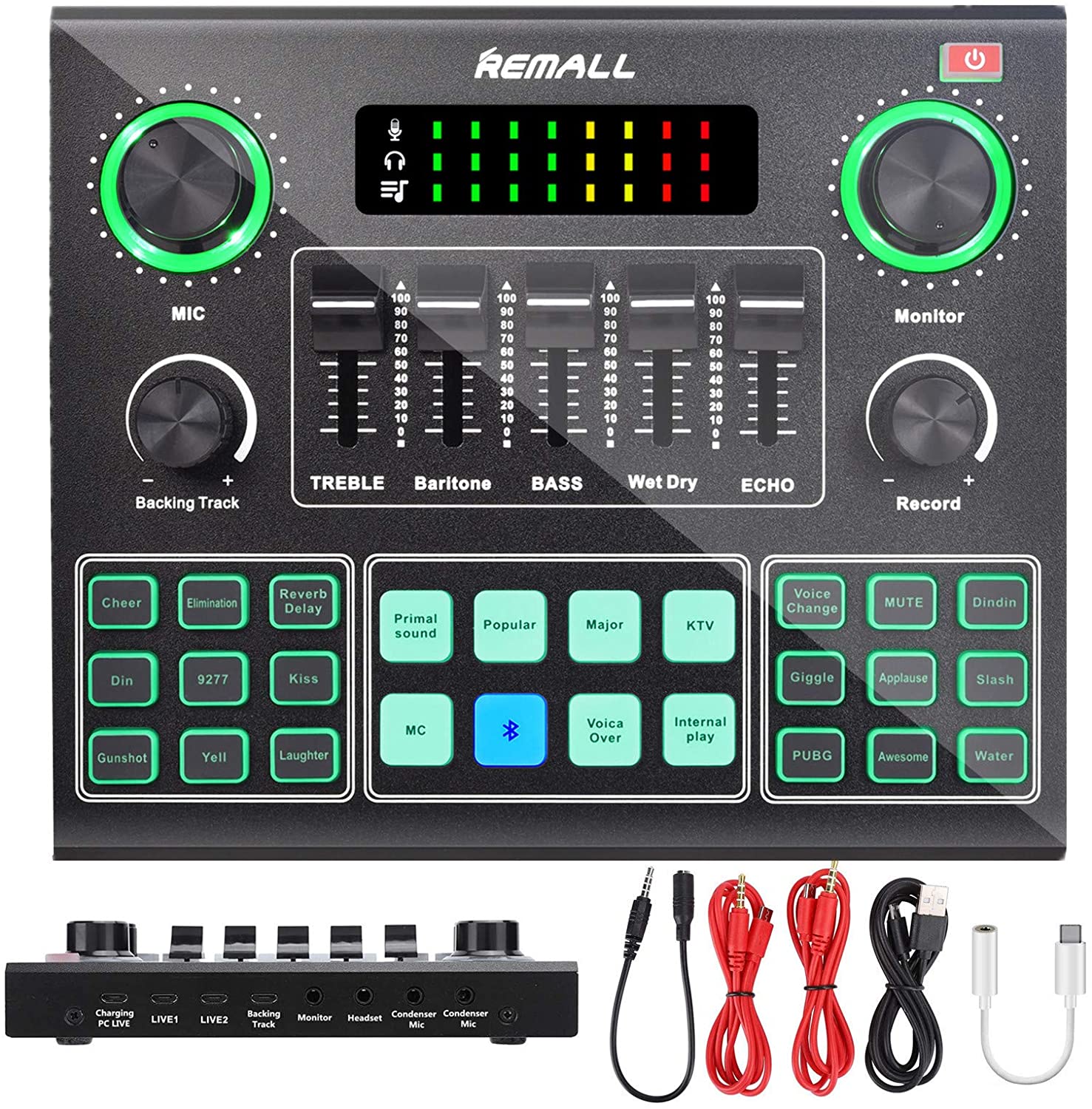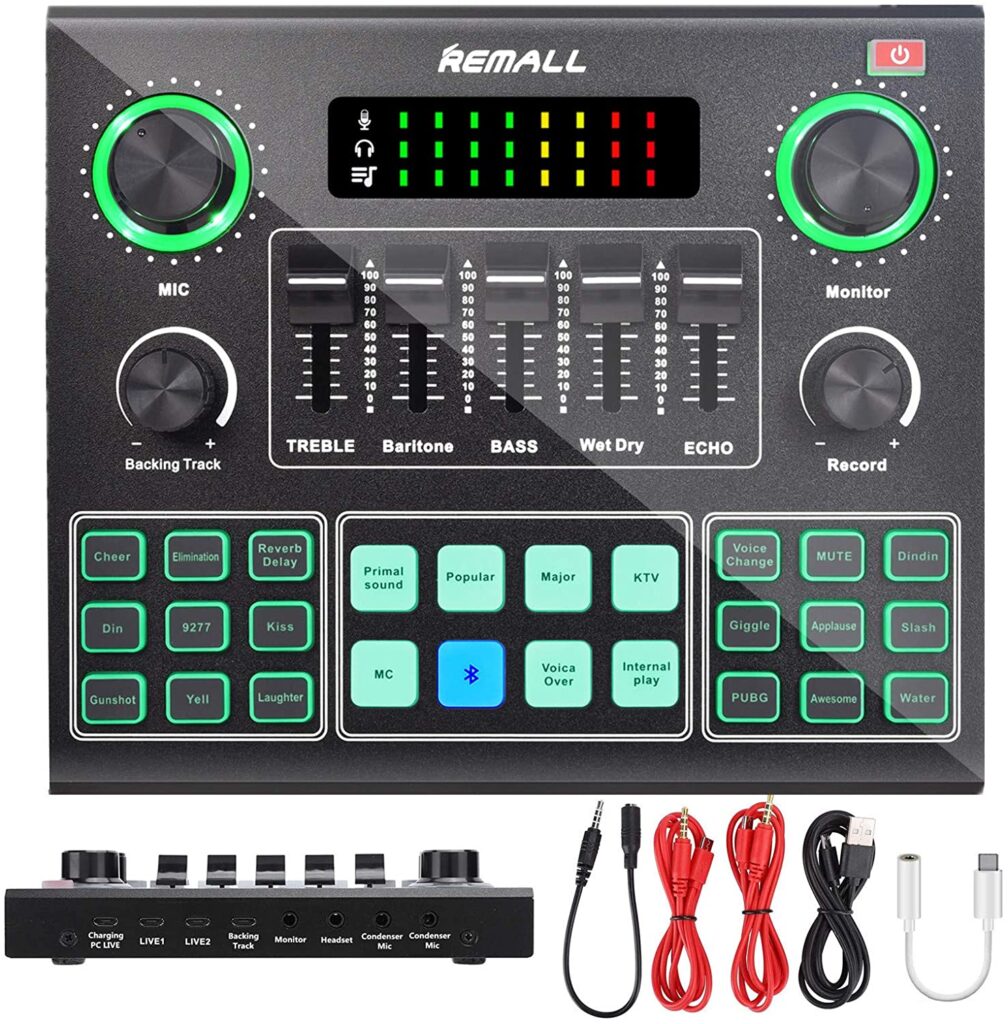 Not only could this possibly be the best audio mixer for streaming, but it's also a popular choice for gamers as a mixer for streaming twitch. We're of course talking about the Remall V9 with its beautiful design, metal casing, and user-friendly interface.
The mixer has just 4 knobs and the rest are buttons that allow you to create various effects and also it is capable of voice modification effects so it's definitely a streaming inclined mixer. And, because it's compatible with most devices, even smartphones, you can potentially have this mixer on the go.
Who is it best for?
The Remall V9 is quite a unique mixer and most of its features will appeal to anyone who needs it for streaming, gaming, podcasting, vlogging, and so on. The mixer also works great across multiple apps like Facebook, YouTube, TikTok, WeChat, Twitch, etc.
Knowing this, we can certainly say that this mixer is mostly used by streamers, podcasters, vloggers, but is also used as a gaming audio mixer so the majority of its users are going to be in one of these groups.
So, if you're someone who wants a virtual mixer for streaming, then don't go any further and try out the Remall V9.
Key Features
The Remall V9 is full of interesting and unique features. For starters, the mixer has a dual DSP noise reduction chip so it will block out most of the background noise from your mic. Also, there are 6 mode selections – electronic, MC, dodge, pitch bend, magic, and shockwave.
Also, you can choose from 24 sound effects which include 12 funny effects and 12 electro effects. The mixer also has multi-device support and can be used on PC, laptops, macOS, Android, iPhone devices, and so on.
Connectivity-wise the mixer has 4 USB type X ports for charging/Live 1, 2, and 3, and backtracking, and 3 3.5 mm jacks for a monitor, headset, and a mic, and 1 XLR port for a condenser mic. Lastly, the mixer has 2 channels and a 1000 mAh battery which lasts for 12 hours without charging.
---
5. Creative Sound Blaster K3+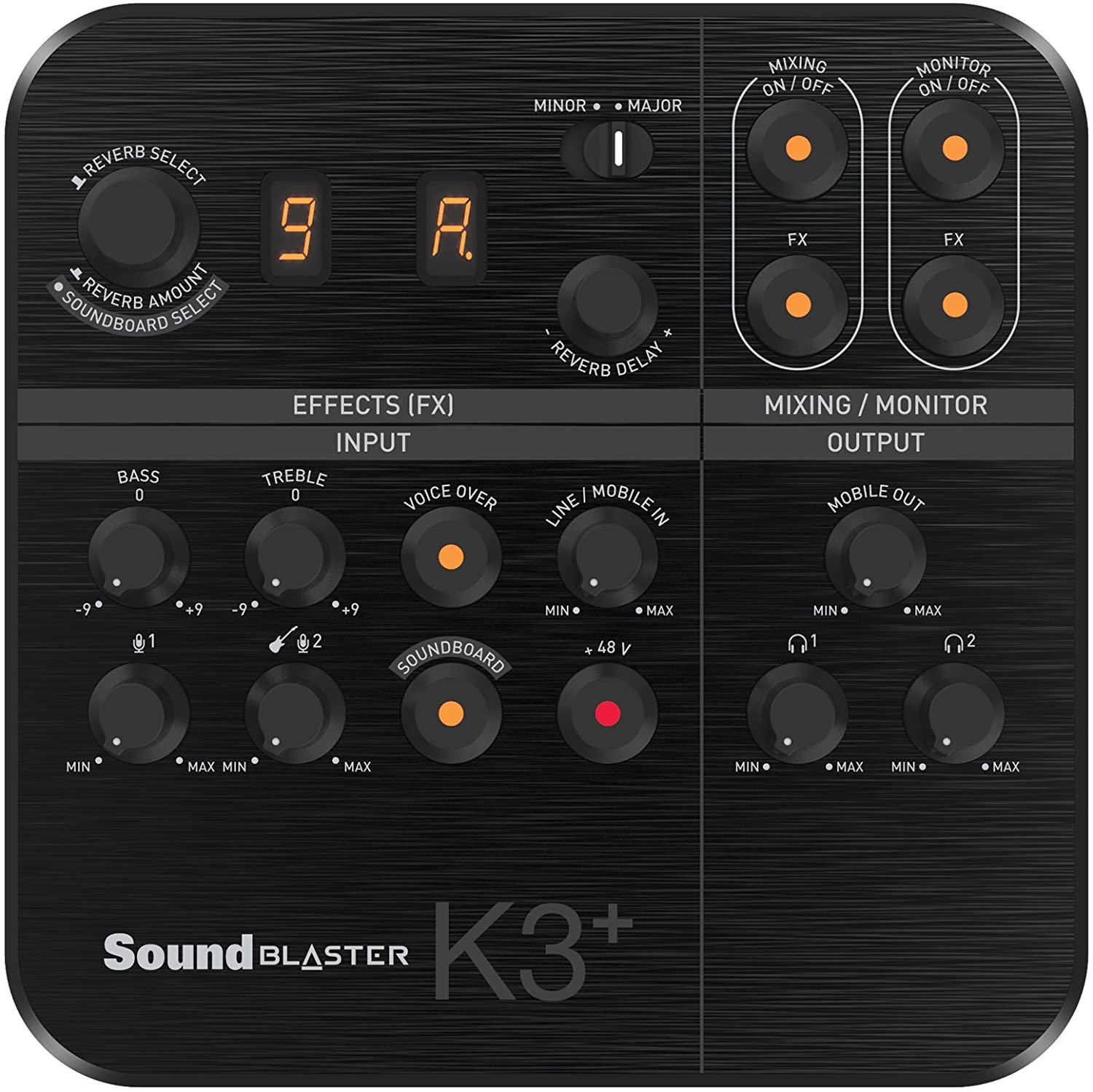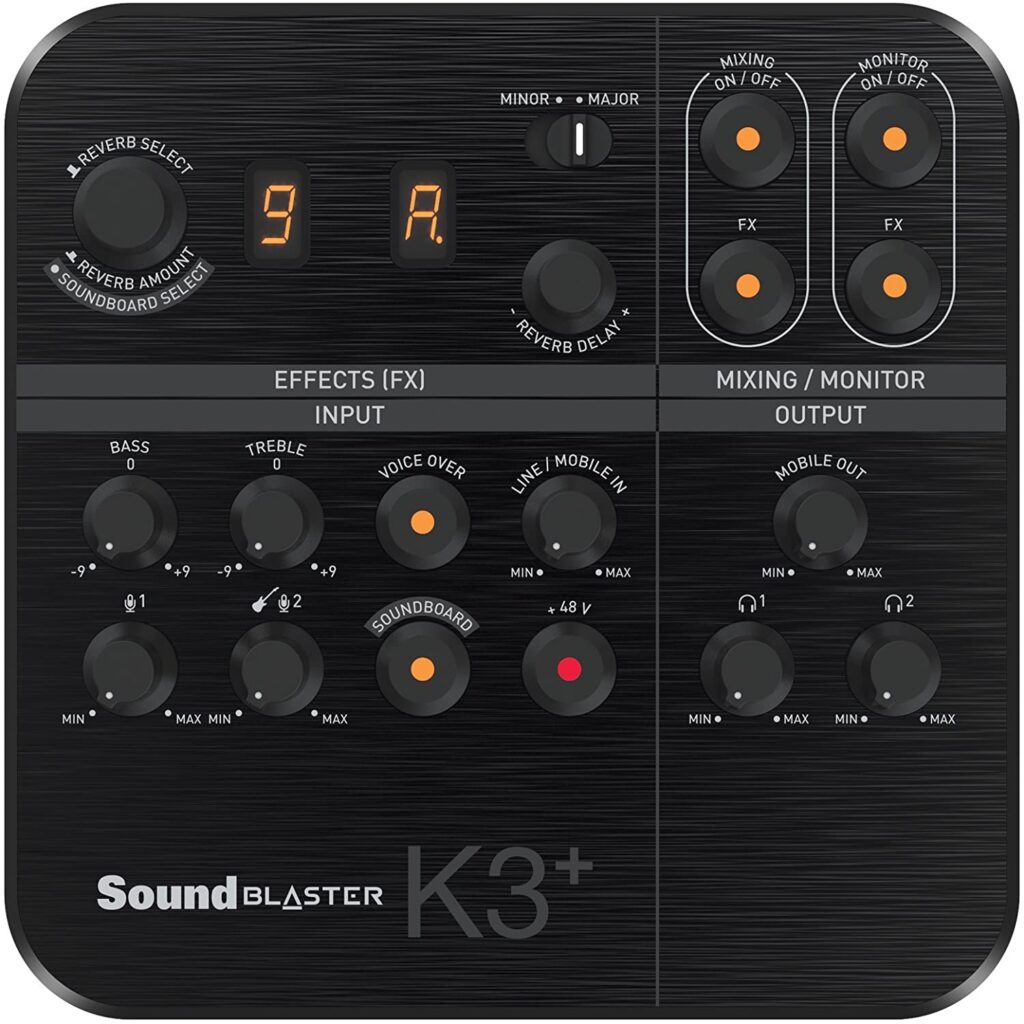 The last mixer we have on our list is the Sound Blaster K3+ which is considered to be the best mixer for twitch streaming. It's plug-and-play. 96 kHz audio playback, multi-effect mixer most streamers would like to get their hands on.
There's really nothing this mixer can't do in terms of providing any streamer the audio support he needs for his streams and interacting with his audience. So let's see what exactly the Sound Blaster K3+ has to offer.
Who is it best for?
The Sound Blaster K3+ makes your everyday sound equipment sound like professional gear and is quite popular among streamers, gamers, podcasters, and even music producers in the making.
Because the overall features are based on enhancing your voice if you plug in a mic or the sound of the recording, it surely is one of the best audio streaming mixers on this list.
Knowing this, you shouldn't have many dilemmas whether to get this mixer or not because in the end it will surely satisfy your every streamer need and will last you for years to come.
So if you want to get a quality streaming mixer that will turn your plain old stream into a professional one, then you definitely want to get the Sound Blaster K3+.
Key Features
To start off let's talk about the mixer design. It has a metal unit and it's only 6.29 X 6.29 X 2.16 inches so this mixer is quite portable and can be charged by a battery pack or a car lighter port if you need it on the go.
Specs-wise, the K3+ provides studio-quality microphone sound due to the 48V phantom power, has 9 adjustable reverb effects, and soundboard clips that can be imported from your device.
As far as connectivity is concerned, the mixer has several ports such as 2 RCA jacks, 2 TRS jacks for mics, 1 4-pole mobile port, 2 RCA Line-In jacks, 2 XLR jacks, and 1 micro-USB port for either PC or macOS battery pack.
Lastly, it's quite user-friendly and easy to use and you also don't need any additional software to start using the unit so it's a mixer for both beginners and professionals.
---
Things to Consider When Buying a Mixer for Streaming
Because streaming mixers aren't the cheapest audio devices, you should always keep an eye out for a few things when shopping for one.
Of course, the type of mixer you should get depends on the type of streaming you do, but if you're unsure what kind of mixer to buy, you should always stick with the well-rounded one and that will offer you all the features you'll need while streaming.
That's why we made a list of few things you should consider when buying a mixer for streaming to make sure that you make the right choice in the end and be happy with your mixer in years to come.
1. Number of Channels
Channels are inputs for your microphone and headset and not every mixer has the same number of channels. That being said, most streamers would be fine with mixers that have 2 channels, but this can also depend on the type of streaming you're doing.
That's why it's always a good idea not to limit yourself to just 2 channels, rather opt for mixers with 4 or more channels because they'll widely increase your options regarding how many mics, headsets, and other audio equipment you can connect to your mixer.
2. Number of Tuning Knobs
Most streaming mixer articles will agree that more knobs mean better mixers, but that doesn't always have to be the case.
Sure, more knobs mean more control over the overall sound but in reality, while streaming you can do fine with just a few knobs which regulate gain, reverb, EQ, compression, volume, and so on.
Also, if you're a beginner, you surely won't even most of the knobs until you learn how to use them, but if you're a professional streamer or someone who knows how to use a mixer, then you will enjoy having more control over the audio.
This is all a question of your preferences and you don't need to limit yourself in regards to the number of tuning knobs.
3. Ease of Use
One more thing you should consider when buying a streaming mixer is if it is user-friendly. Because most mixers are designed for people who have knowledge of how to use them if you're a beginner you do want to start with some basic mixers.
And then gradually upgrade to more professional ones.
This is where ease of use comes into hand. Some user-friendly features to look out for are plug-and-play, multiple connectivity options, LED displays, soundboards, and so on.
Another thing you should keep an eye out for is if the mixer is portable or not because the portable ones will make your streaming a lot easier, not to mention that they're typically more lightweight and can be charged with even your laptop or power bank.
Best Mixer for Streaming – Conclusion
As we come to the end of our best streaming mixer list, we need to make our favorite pick.
Without any hesitation, we can say that the Pyle PMXU83BT is the best streaming mixer on this list simply because it provides the streamer with all the features his stream needs to become and sound more professional.
We hope that our article was helpful and just know that you'll soon find the right mixer you're looking for.
Frequently Asked Questions
Join our Discord Group. Ask questions, team up with fellow streamers, share memes, and more!