Mouse for Streaming
If you need to find other streaming gear, make sure to look at our Streaming Gear page. Here, you will find everything you need!
Post 4 of 5
Every novice and professional gamer should be aware of the new lightweight gaming mouse models. They are available online and can make you feel more comfortable playing your action games.
This article will analyze the features of the ultra-light mouse universe there is now on the market.
Some of them have the best reviews and can offer you extreme abilities to stay online for multiple hours without feeling any fatigue.
It would be useful to take your notes and take your ease and comfort seriously, as your mouse is the only connection between you and your desktop computer while playing.
Post 4 of 5 in the Mouse for Streaming
Best Lightest Gaming Mouse
Reviews
QUICK OVERVIEW: Lightest Gaming Mouse
<!—INSERT CODE BLOCKS BELOW—>

8 Programmable Buttons
69 grams
1. Glorious Model O-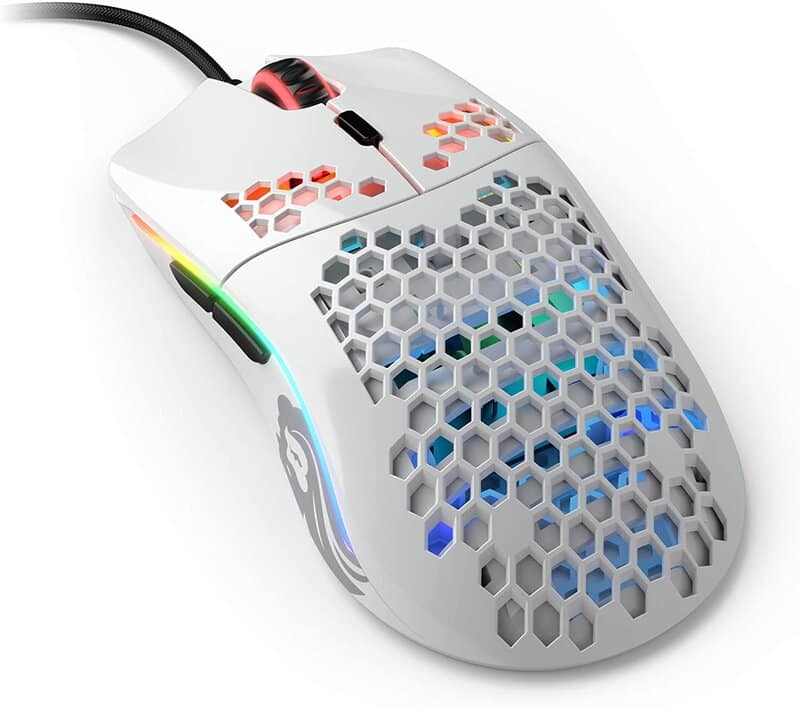 Who is It Best for?
It is the lightest mouse that Glorious company has ever managed to provide to gamers. The Glorious Model O- has taken the market by storm.
If you are a regular gamer, that would be the mouse you would like to have. It is best for all the adult gamers who in general have a larger hand size than the younger ones.
Even though it has no vertical orientation, it would be good for people who had previous injuries and problems with their hand muscles.
On the other hand, this mouse would be useful for office workers, graphics, and architects who need to plot all day long.
People who look for the lightest mouse they can have, could buy this model and alleviate their wrist pain.
As a result, the Model O- is better for adult gamers who love action!
Key Features
First, this lightest mouse is made from the best soft and matte plastic material. That makes it durable and gives optimal grip.
A honeycomb shell strength can deal with any pressure coming from your hands when playing.
The resistant shell can also withstand any sudden fall that could otherwise compromise the mouse integrity.
Besides, an ascended cord is impossible to mess up and create combs. On the contrary, it can give you an almost wireless feeling that makes your gaming experience even better.
G-skates feet can give you a higher grip on the mouse pad. They can also provide you a smooth acceleration when you need to.
There is also a separate DPI indicator to let you know when your data transmittance has reached the desired levels.
Finally, the Pixart 3600 Sensor gives you increased sensitivity to play difficult and complex games that need swiftness and precision.
---
2. Razer Viper Ultralight Ambidextrous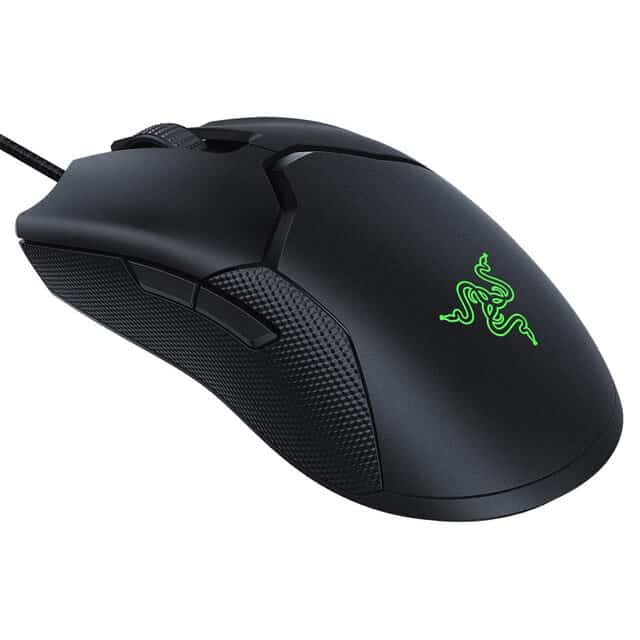 Who is It Best for?
Here you have a classic light mouse that gives you an increased ability to deal with online games that need precision and speed.
Gamers are the most popular audience that will find this lightest gaming mouse more useful for their daily life.
On the other hand, this mouse can also benefit people in front of their desktop screens at the office.
It would be great for live streamers, people who work in online inventories, and others who need to design using their mouse.
People who have previously faced issues with their wrist muscles are the second group that this light gaming mouse would be appropriate.
Razer Viper Ultralight Mouse has all the professional reviews you need to make it your favorite computer accessory!
Key Features
This item has an optical control with a laser ray that can give you precision when you scroll and move your mouse over the pad.
All lighting effects are always on and follow your online activity. They are useful when playing competitive online games.
There is also a long USB cord that to a lightweight gaming mouse ensures proper communication to your desktop without messing.
No matter if you are left-handed or right-handed, the size and shape of this mouse will follow the anatomy of your hand perfectly.
Optical switching is always there to save you energy when you don't use the mouse for a certain period.
---
3. Cooler Master Gaming Mouse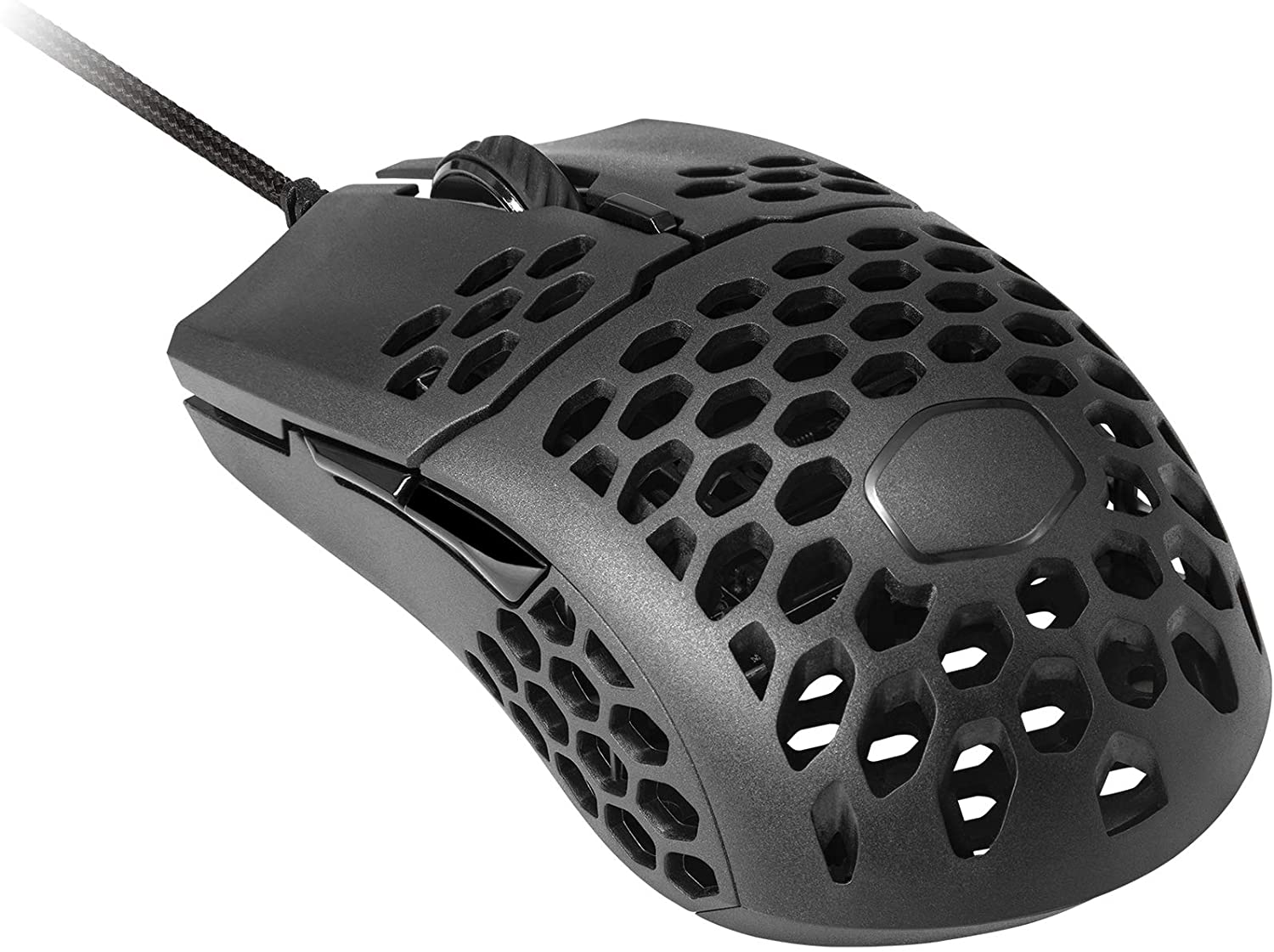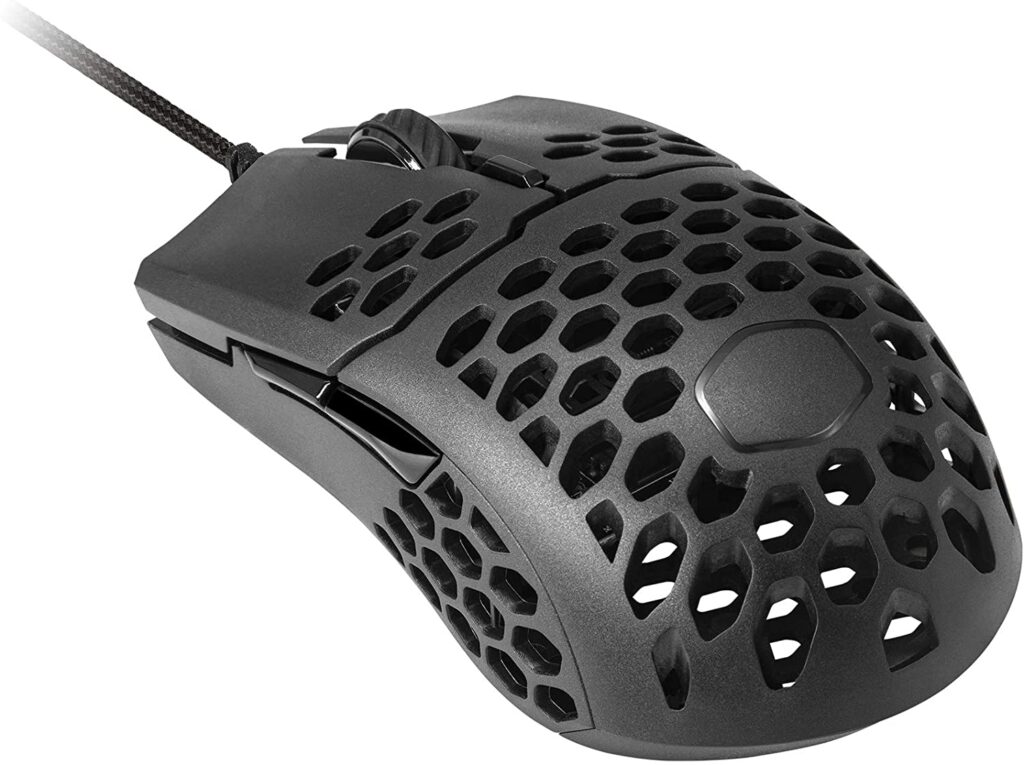 Who is It Best for?
This mouse could assist gamers to last a lot longer when playing action games online. The Cooler Master Gaming Mouse remains the best item you can get to communicate efficiently with your PC.
This ultra-light mouse can give you more satisfaction and increased comfort to deal with daily gaming and office work.
Also, this particular mouse works better for that segment of gamers that needs a quick reaction to game conditions. It is also best for gamers who can respond instantaneously to visible lighting signals coming from this mouse.
People who have issues with extra sweating will also benefit more from the honeycomb design. An additional airflow is allowed to pass through and never aggravates your hands' grip on the mouse.
Regular office or home workers that need to design special programs using their mouse would be another part of the population that will gladly accept this lightweight mouse.
People with disabilities can always like this mouse since it takes them less muscular effort to move the mouse on the pad.
The mouse works better for gamers and people with muscle injuries in the wrist area.
Key Features
This mouse has an ultra-weave cable to ensure that it will never mess with other objects on your desk.
Getting to the mouse feet which are also particularly designed to give less friction and smooth operation no matter the mouse pad material.
You have access to a high-tech gaming sensor that adjusts up to 16,000 DPI and gives you efficient communication and immediate reaction to all gaming needs.
There is a lightweight honeycomb shell that has been reducing the total mass of this lightweight mouse. As a result, you will have less fatigue when using it for a prolonged time.
OMRON switches are always there to decide which buttons you will need more when gaming. You can customize them to the fullest extent and still be able to scroll without delays.
---
4. XTRFY M4 RGB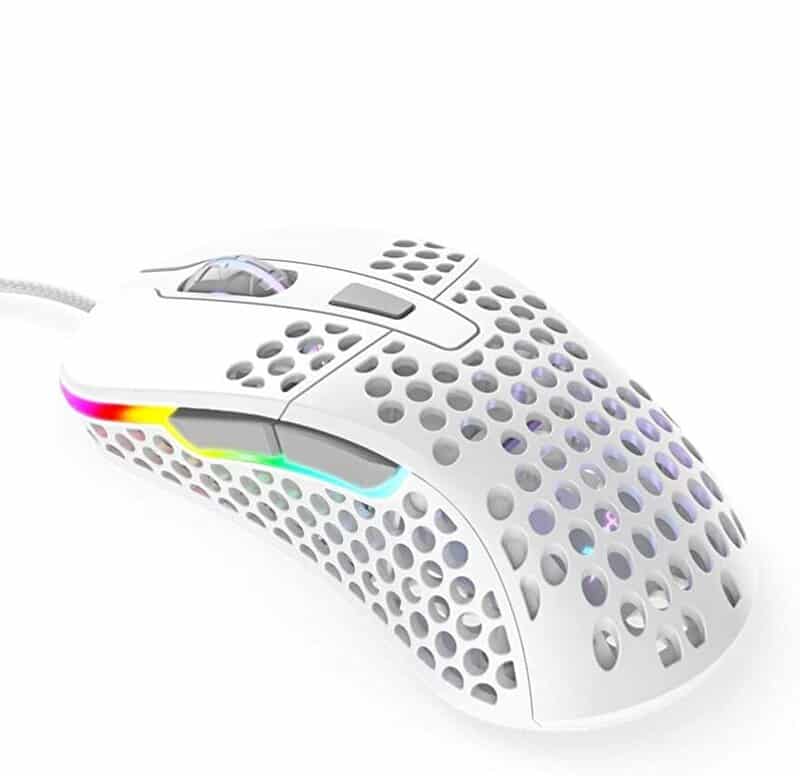 Who is It Best for?
This lightweight gaming mouse is best suitable for professional gamers. They would love its immediate response to any game requirement performance.
XTRFY M4 RGB is one of the few gamers' mice that can give you increased satisfaction without the need for a wireless connection.
It is best for younger gamers since the mouse shape is for ambidextrous users with a smaller hand shape.
Women working at the office filling in datasheets and plotting designs could easily use this light mouse with extreme fidelity.
Users that have many hours on their desktop each week will also be keen on this new lightest mouse.
Every person with a grip sensitivity to plastic materials will also like this mouse for its smoothness and increased grip features.
As a result, professional gamers of all ages would benefit more from this lightweight mouse.
Key Features
Users can expect the best construction, made from premium plastic alloys to give you a smooth touch.
Pixart's performing sensor gives you the highest quality of communication, up to 16,000 DPI with your computer.
That reflects your gaming performance, which may reach the optimum levels and help you to become a champion.
Reviewers have underlined the ultra-light materials which are also there to alleviate any pain felt when using the mouse.
People who love lighting signals will find RGB illumination extremely important for their gaming. It can change from red to green to show you when you can accelerate your pace through the gaming process.
The longer cord can give you a better functionality that almost has the same value as the USB-wireless mice.
---
5. Razer D.VA Abyssus Elite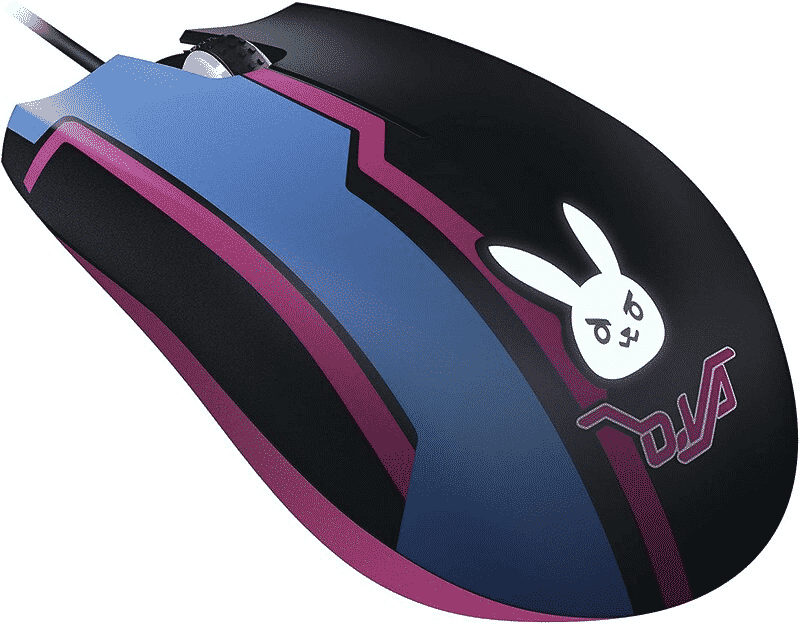 Who is It Best for?
Here you have a Razer Abyssus Elite lightweight mouse that can cover the needs of every gamer, both young and adult.
Gamers would be extremely happy to have one of them since it can speed up their game right away.
USB cord can reach up to 1.8 meters and give you more flexibility when playing online games.
People who need to fill in datasheets and click online forms could benefit more from this mouse.
There is a part of previously injured people that have an extra wrist muscle and joint sensitivity.
These are the most frequent buyers and users of the Razer Abyss mouse for its lightweight profile and button clicking ease.
Finally, younger gamers will deserve this light mouse a lot more because of their smaller hand size, which fits their curves.
Key Features
The mouse features an exclusive D.Va Razer design that makes people like it from first sight.
An optical sensor that reaches data communication rates up to 7,200 DPI, provides anonl extraordinary online gaming performance.
The angled exterior shape of this mouse can make it suitable both for left and right-handed users.
The hyper-sensitive buttons you can reprogram as you like are also key features, making it perfect for gamers and regular computer users.
The tactile scroll button needs no hacks and leverages. It can accelerate or slow down your gaming experience according to your needs.
The 3-Beta compatibility can give you access to a universe of drivers that make this light mouse compatible with all peripherals you can have for your computer.
---
6. CTBTBESE Z100 65G Gaming Mouse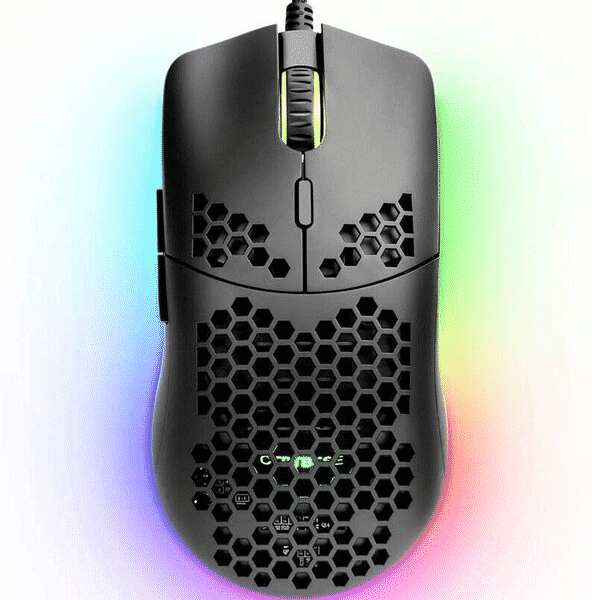 Who is It Best for?
This lightest gaming mouse CTBTBESE Z100 65G Gaming is great for gamers who like to see the accelerated action in front of their eyes.
It is best for younger gamers who have smaller hands that follow the perfect curve.
People who work for multiple hours from the office or home office can use this lightweight mouse.
Other people who may benefit from this mouse's use could be civil engineers, architects, and website designers, who need speed and accuracy when plotting and drawing online.
Finally, people who have sweaty hands can also get a better grip with this mouse. The airflow passing through the honeycomb upper part gives a lower mouse temperature and a higher grip level.
If you belong to the loyal gamers, who want to play more, the mouse would be the best fit for you.
Key Features
A water-resistant footpad gives users a stable and smooth operation no matter what the mouse pad quality could be.
There is also a 4-speed return rate switch making it possible for gamers to adjust the speed to their desired level according to their gaming pattern.
You may custom edit the software drivers coming with this lightweight mouse. That happens to ensure proper connectivity to all devices.
Next to the left and right-click, buttons, forward and backward buttons offer you a better chance to control your speed while working and surfing on new webpages.
Finally, a single skin-friendly and non-slip rubber roller lets users feel more comfortable when using it.
Streamer illusion light effect changes every time the game alters its internal speed. That is a key feature for gamers who want to meet their best performance levels and become champions.
---
7. Logitech G Pro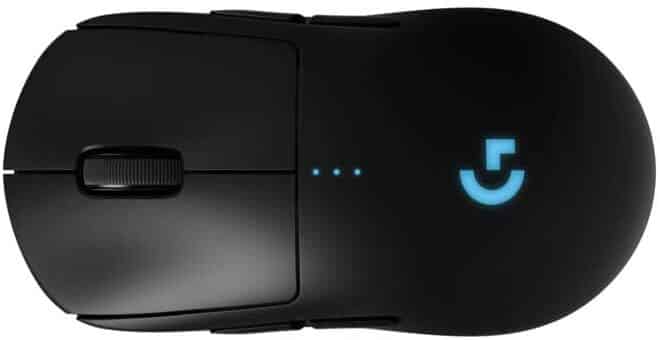 Who is It Best for?
Here you have the ultimate light gaming mouse for professional gamers. It has been the one that makes them champions in worldwide races and competitions.
The mouse has a great value for people who have issues with their wrist muscles and joints. The curves can follow the natural human anatomy and are suitable for people with disabilities.
Logitech G Pro is great for gamers who need to accelerate the online gaming action when they feel like it.
People who are professional plotters and designers can easily use this wireless mouse without messing with other objects on their desks.
On the other hand, the current mouse model would be suitable for data entry workers who need to customize buttons for their ease and use more speed to transmit it.
Office workers and gamers are the users that would benefit more from this mouse.
Key Features
An ultra-light construction to allow your hands to use it without any additional effort is one of the fundamental features.
Adjustable buttons (six to eight according to the particular model) is a feasible option to find the right features for your online gaming.
The roller is better and skin-friendly to give you the best grip you need when scrolling on pages and datasheets.
An in-built speed accelerator gives you more action when the game becomes faster and pickier.
HERO-25 sensor is the equipment that can give over 400 IPS data speeds – the highest you can find in the online gaming market.
This model is easy to combine with any G-PRO wireless keyboard and speakers to give you the best wireless independence and experience when playing delicate online games.
There is also access to the best set of rechargeable Lithium batteries with an automatic shut off mechanism to save you energy when not using the lightweight mouse.
---
8. FinalMouse Ultralight 2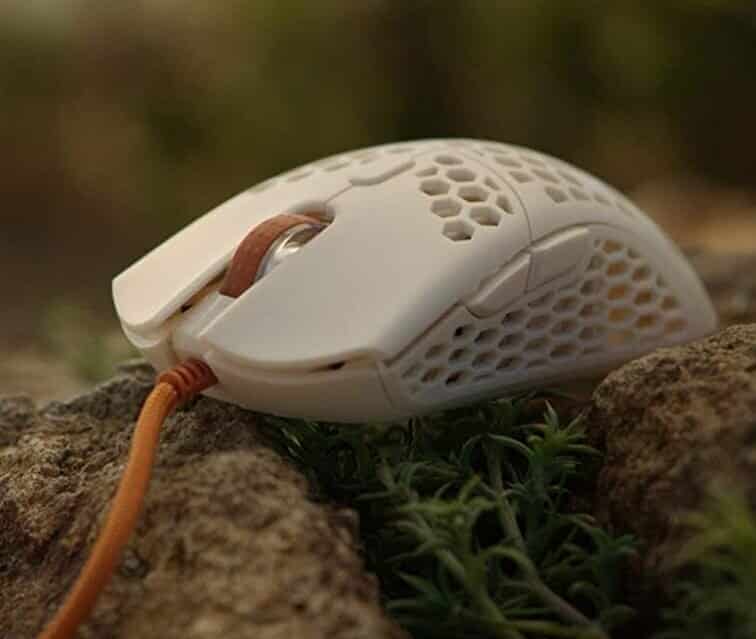 Who is It Best for?
Even though this lightweight gaming mouse is not for professional gamers, it could be an affordable solution for all novice players entering online gaming platforms for their first time.
People at the office working throughout the day may also find it suitable to order this best value for money light mouse.
Another segment of the population that would find this mouse suitable would be people who have suffered from aggravated muscles and wrist joints.
Younger people who have just recently entered the gaming platforms could also use this mouse. Its built is smaller than the regular mice, and their hand can fit better its size.
Key Features
One of the key features is the Infinity Skin technology. That is a pioneer innovation from this brand, giving some extra millimeters of thickness to your mouse to reach your optimal hand size.
Its USB cable is made from high-quality fibers to ensure smoothness, and it never messes up with other objects on your desk.
Furthermore, the optical ray is made from a pure laser device that can reach up to 7,500 DPI, one of the best performances for such items. That ensures proper speed when you need it the most- thus while playing action online games.
Additionally, users may also enjoy another feature that can make the right and left-click buttons customizable. In this way, you will have a lightweight mouse that is suitable for ambidextrous users.
Another key feature that increases the mouse connectivity would be the plug-and-play ability to connect to Windows, Linux, and Mac computers.
An innovation called "honeycomb shape" gives more chances to increase the airflow in your palm. That is suitable to increase the grip for people who have issues with over-sweating when holding the mouse.
Finally, another key feature that users will definitely like would be the many colors it can change while you play your favorite game.
---
Buying a Lightest Gaming Mouse
Things to Consider
There are several things to consider before you make your final decision about the best lightest gaming mouse. Here is a useful list of the most plausible things you will have to check.
1. Hand Position
It would be better to have ambidextrous mice. However, most modern lightweight mouse models are made either for left or right-handed people. That will not easily change in the future, so you better be prepared to buy the right mouse type.
2. Connection Type
The connection type plays a monumental role to your final decision. There are two main types:
Wireless
Usually needs nothing more than a single USB adapter to communicate effectively through Bluetooth protocol to your computer.
Wired
That is the most affordable and easy to connect type through a USB cable.
3.Material Durability
You need to ensure maximum performance from all the plastic materials that usually make the body of every newest lightweight mouse.
These materials can be crucial for more than one part of your mouse. The roll, the buttons, and the foot part of your mouse can be severely affected by the material quality.
Most modern mice have a 20 million clicks guarantee for best performance, be competitive, and enter the online market.
On the other hand, the material durability may have to do with your comfort and ease when using your mouse.
It would also be a great deal of help if an accident or a fall usually happens to people using their mouse for a long time.
The material compatibility with the mouse pad surface is also essential to check before engaging into a new mouse.
4. Buttons and Features Customization
Older mouse models usually had no options for buttons and feature customization. Users were obliged to follow the manufacturer's norms.
Today everyone has the chance to access lightweight mouse models that can get fully customized in terms of button positions and features activity.
The presence of 6+ buttons in modern mice makes it possible for you to customize the left and right-click buttons the way you like.
You may also choose to have a forward and backward button to play better when deciding to have an online gaming experience.
Finally, you can customize the roller to become a sensitive scroll button that would accelerate or slow down according to your needs.
5. Lighting Options
Some of the newest lightweight gaming mice have the most extreme lighting options. That doesn't only happen for excitement but also for warnings during the game.
The lighting can start from light green, pass to neutral white, and become flushing red.
Those lighting options are enough to give you a chance to control the game the way you like without stopping the game's pace.
6. Type of Sensor
Finally, the sensor type is important to know buying factor. The most common of these sensor types are:
Laser
Gives you a laser data transmittance that ensures more efficient speeds for gaming.
Optical
Optical mice are quite pickier about the mouse pad surface you will need. They are also associated with a lower data transfer rate that may affect your gaming style.
Conclusion
Everyone would like to have the best lightweight gaming mouse to serve all his needs.
If you are a gamer that plays online games for a living, that could be life-saving for you and make you feel healthier than ever before.
People who are multi-tasking and are part-time gamers and full-time office workers should opt for the best value for money lightweight mouse that makes them feel comfortable.
Frequently Asked Questions
Here are the questions more frequently asked by people browsing for lightweight gaming mice online:
---
Join our Discord Group. Ask questions, team up with fellow streamers, share memes, and more!