Good lighting is essential for streamers not only because it brightens up the room and the streamer's face for the viewers, but also the stream will look much more professional than using regular lighting or a lamp.
That's why today we're going to check out some LED lights for streamers, explain what you need to look out for when buying one and make our overall top pick of the best LED lighting.
Post 6 of 7 in the Light for Streaming
Best LED Lights for Streaming
Reviews
So you're ready to stream. You have your microphone, camera and computer all set up and ready to go, but you also want to have good lighting while you're broadcasting your content to your viewers.
Luckily, we've searched the Internet and made a list of the 7 best LED lights for streaming, so let's check them out!
QUICK OVERVIEW: Best LED Lights
5500K balanced lighting
800 lumen light output

3200K to 6500K lighting
10 brightness levels

3000 K – 6000 K lumen
Selfie controller and IR remote
1. Linco Lincostore AM115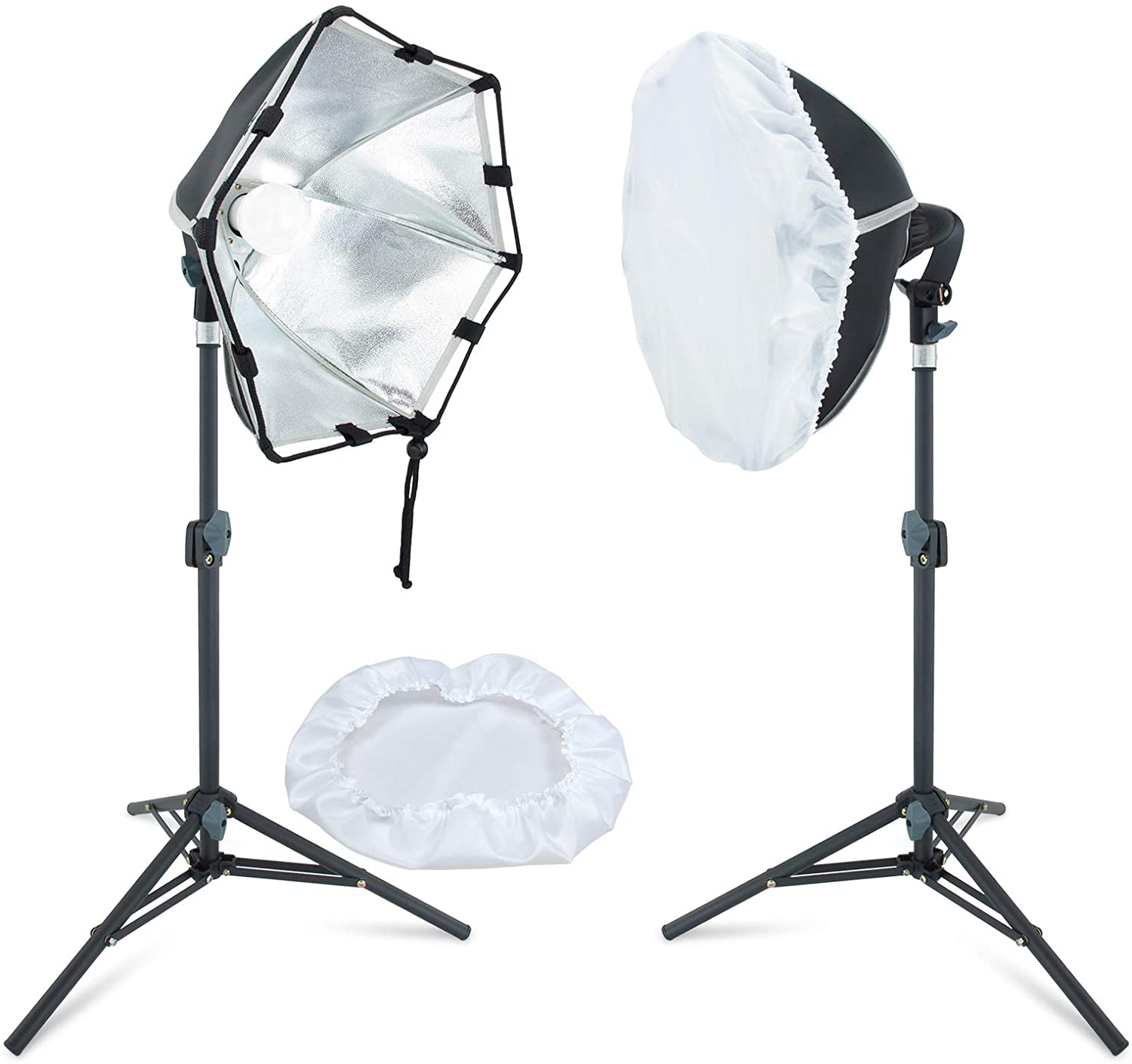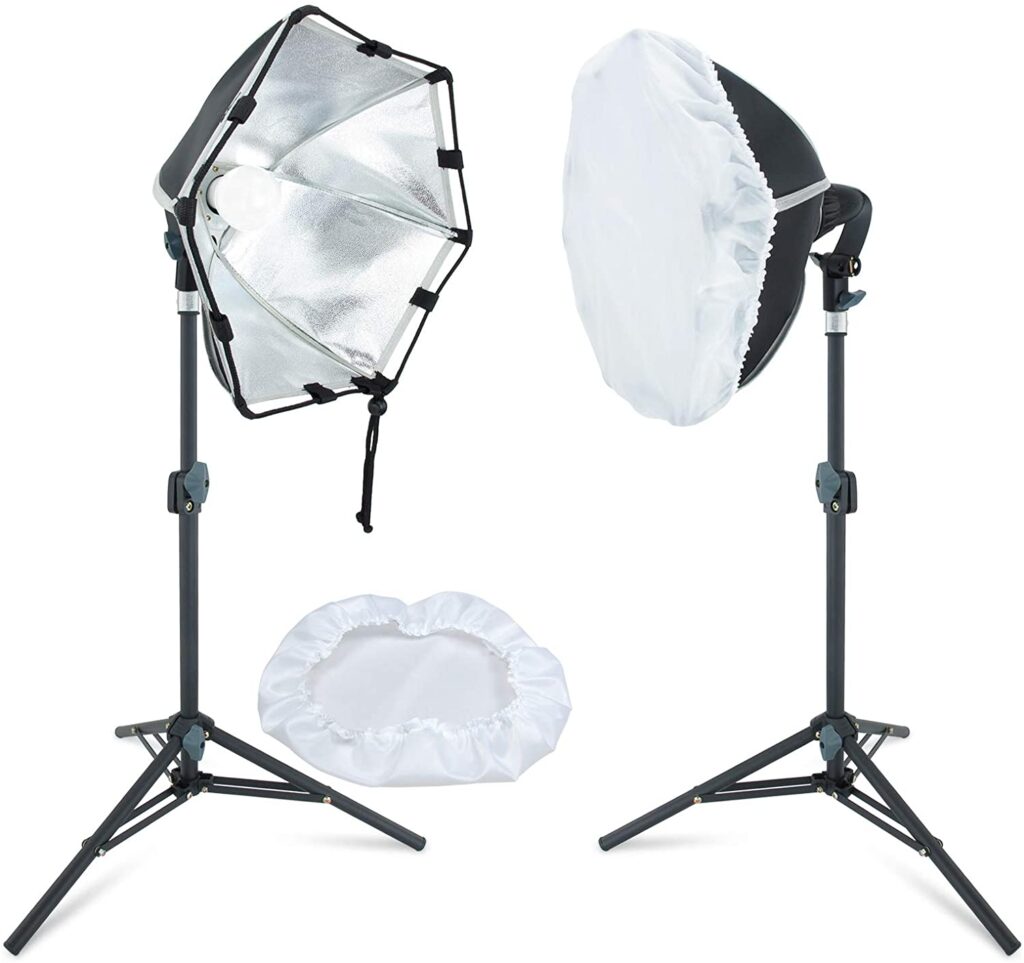 First on our list is the Linco Lincostore AM115. It's a beautiful tabletop LED light that comes in a set of 2 separate lights and adjustable light heads which can be rotated in either direction.
Because the lights are compact, they won't take up much space on your desk and will bring the lighting directly in front of you.
The lights are of high quality and are well built, but what's most important is that they aren't that expensive either and that puts them in one of the best streaming LED lights in this price category.
Who is it best for?
Even though these LED lights are marketed as studio lighting, they are a great choice for most streamers, especially make-up artists because the lighting is white and balanced so you get great highlights when standing in front of one.
Also, because the lighting has a softbox that can be used to control the direction of the light, you don't have to worry about the light straining your eyes during long streams.
Because of the price and the quality of the lighting, we would say that the Linco AM115 is for anyone who wants affordable lighting with a professional look and feel.
And hey, you're getting 2 lights for the price of one!
Key Features
The first feature we want to highlight on the Linco AM115 is the Morning Glory softbox. This softbox is quite unique because it lets you control not only the direction but also the intensity of the light so you don't go blind while sitting in front of it for hours.
Jokes aside, paired with the diffuser, with this Morning Glory softbox you can create all kinds of atmospheres – from dim to extremely bright.
Other features include a small and adjustable cirrus, a reflector with zoom, and a 30"/76 cm stand which can be adjusted to length.
---
2. VIEWOW AKL02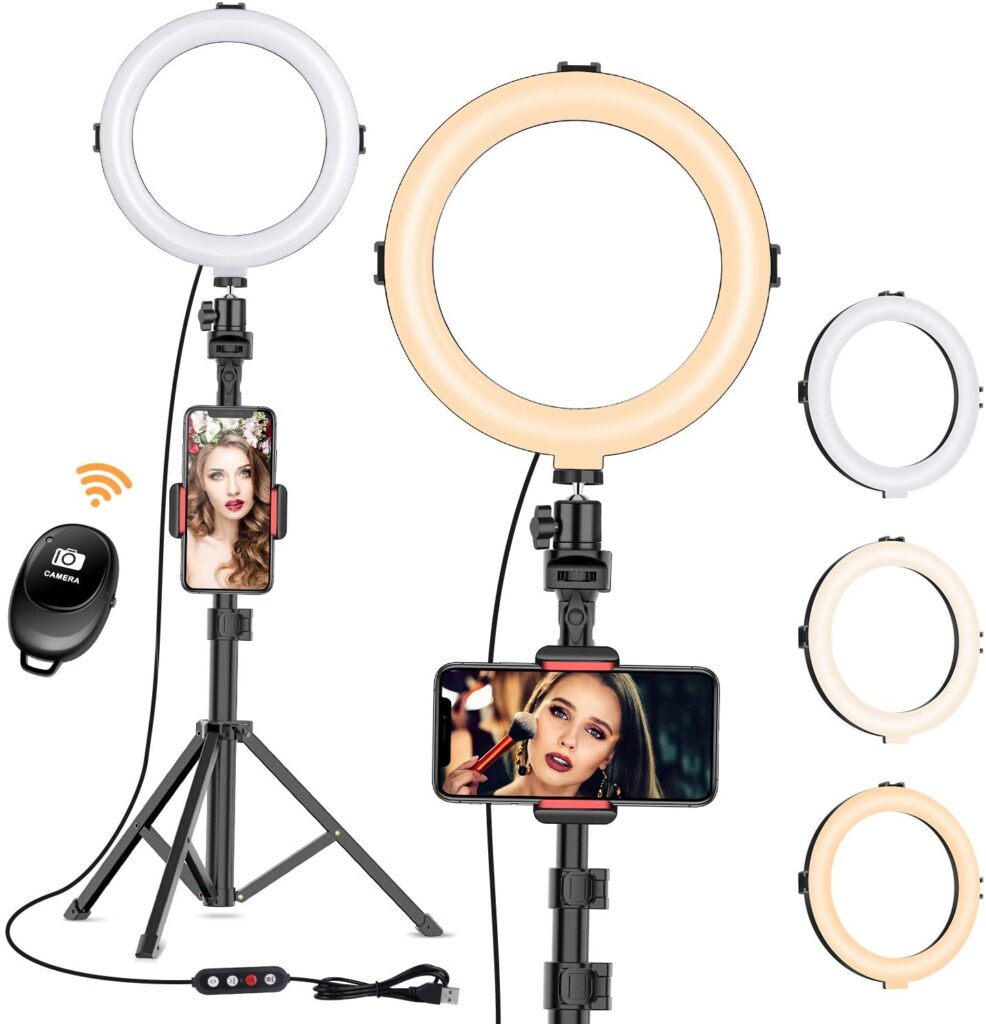 Next up on our list of best streamer LED lights is the VIEWOW AKL02 which doesn't only serve as a lighting source but also a tripod stand for your mobile phone which is quite a unique feature and will certainly make things easier for anyone who wants to make videos on the go.
You basically get a selfie stick and a powerful small LED light all in one package, but the fun doesn't end there, so let's check what other features this LED light has to offer.
Who is it best for?
Since this is quite a unique LED light, you can imagine that it brings attention to nearly all people who take videos or photos regularly. Because it's so easy to use and you can even mount your phone onto it, the AKL02 is one of the best LED lights for streaming because it doesn't force you to have fancy equipment to stream, rather you can just use your phone.
That being said, this light is best for anyone who doesn't need a lot of equipment for their streams and also is used to using their phone camera for video taking. Think make-up artists, outdoorsy streamers, and so on. Also, the pricing is for nearly anyone's budget and all the features make it a solid pick overall.
Key Features
Now this LED light has a bunch of cool features which don't make it just another selfie stick with a light on it. For example, the light ring has 3 slots you can use to put additional light rings if you need extra lighting.
The 10 brightness modes allow you to adjust your light to both indoor and outdoor conditions. Also, the 3 light modes – natural, warm and cool light, allow you to set the mood and precisely pinpoint which type of light you need.
What's really cool is that the phone stand and the ball head of the ring light move independently which is quite useful when making videos from different angles.
Lastly, the tripod stand can extend to up to 52" which makes this LED light great even for background lighting.
---
3. Emart 60 LED Light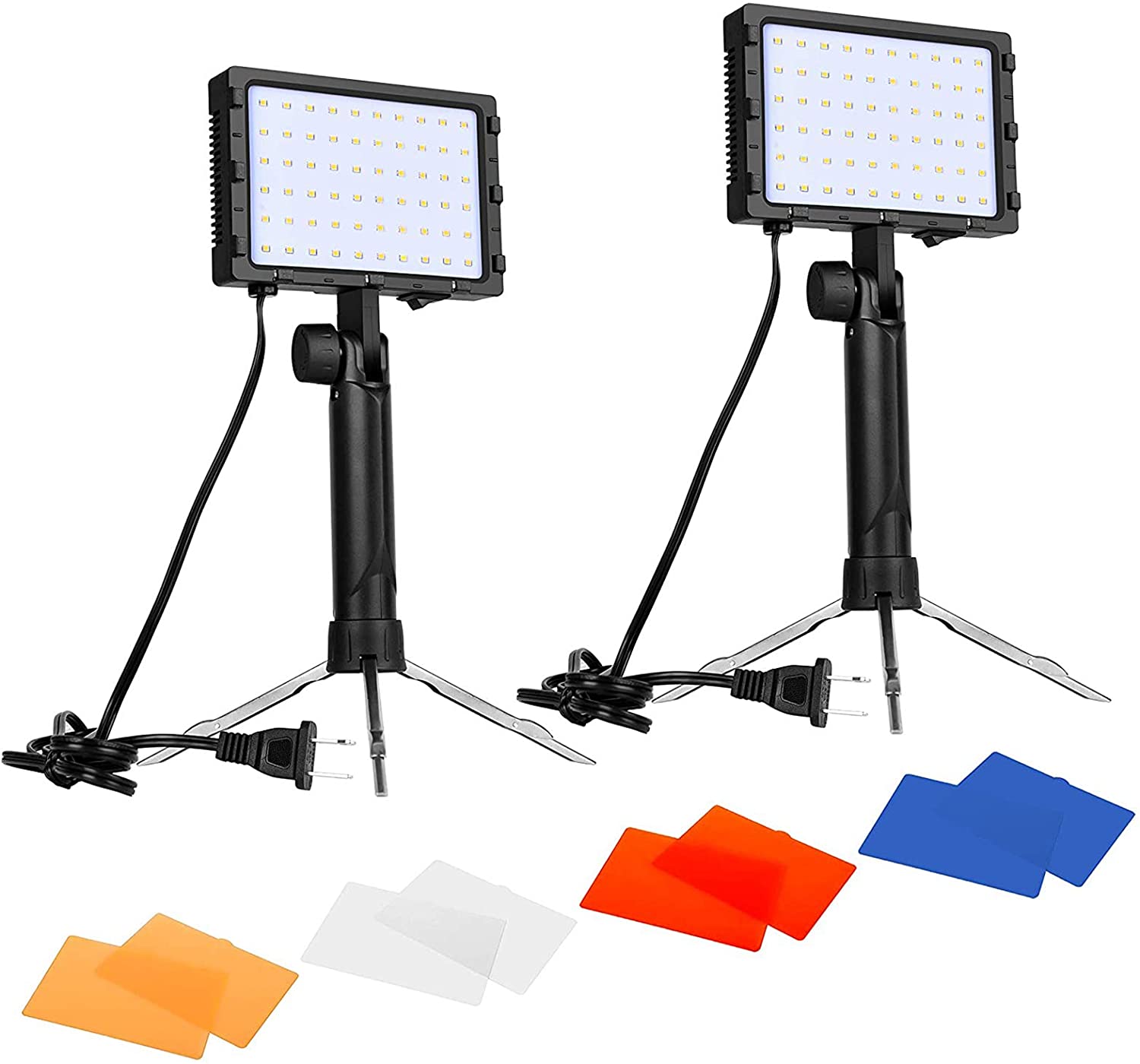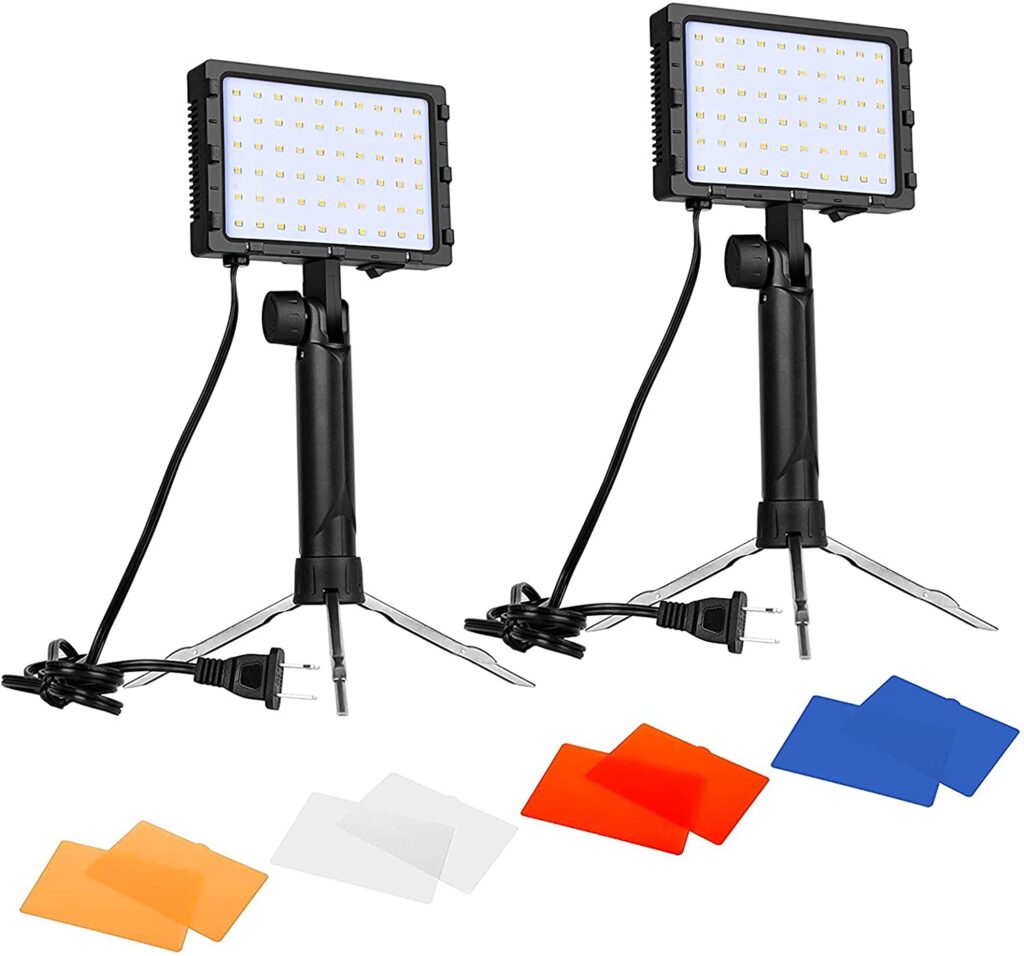 If you want a small, but powerful LED light, then you've come to the right place because the Emart 60 LED light is just the thing you need. Need more power? Well, this LED light comes in a set of 2 lights so you won't be lacking brightness any time soon.
What's great also is that it's a tabletop LED light and is quite compact so it won't take up too much space on your desk, but let's see what else this light has to offer.
Who is it best for?
Since this is a tabletop light, it's one of the LED lights streamers use regularly, especially if they need the lighting for makeup tutorials, product reviews, and so on.
There are a lot of similar LED lights on the market but few are capable of emitting so much light with such a small lamp and the Emart 60 is quite good at what it does.
Even though the LED light doesn't come with softboxes or diffusers, it sure is great for streamers that need a lot of lighting pointed in one direction during their streams.
And, if anything, this is a fair-priced light that comes in a set of 2 so there isn't really room for complaining.
Key Features
The Emart 60 doesn't have too many fancy features but it does its job quite well compared to similar products.
First of all, the 1500 lumen light can emit light from a distance of 30 feet so you can imagine how well it brightness up a spot up close.
Second, it can be powered by both an adapter and a USB plugged into the wall.
Also, the LED light comes with 4 different gel filters which can be used to create a certain ambiance if needed so it might be one of the best RGB lights for streaming on this list.
Lastly, the adjustable 180° lamp head makes it easy for light to get up close to certain items.
---
4. QIAYA Selfie Light Ring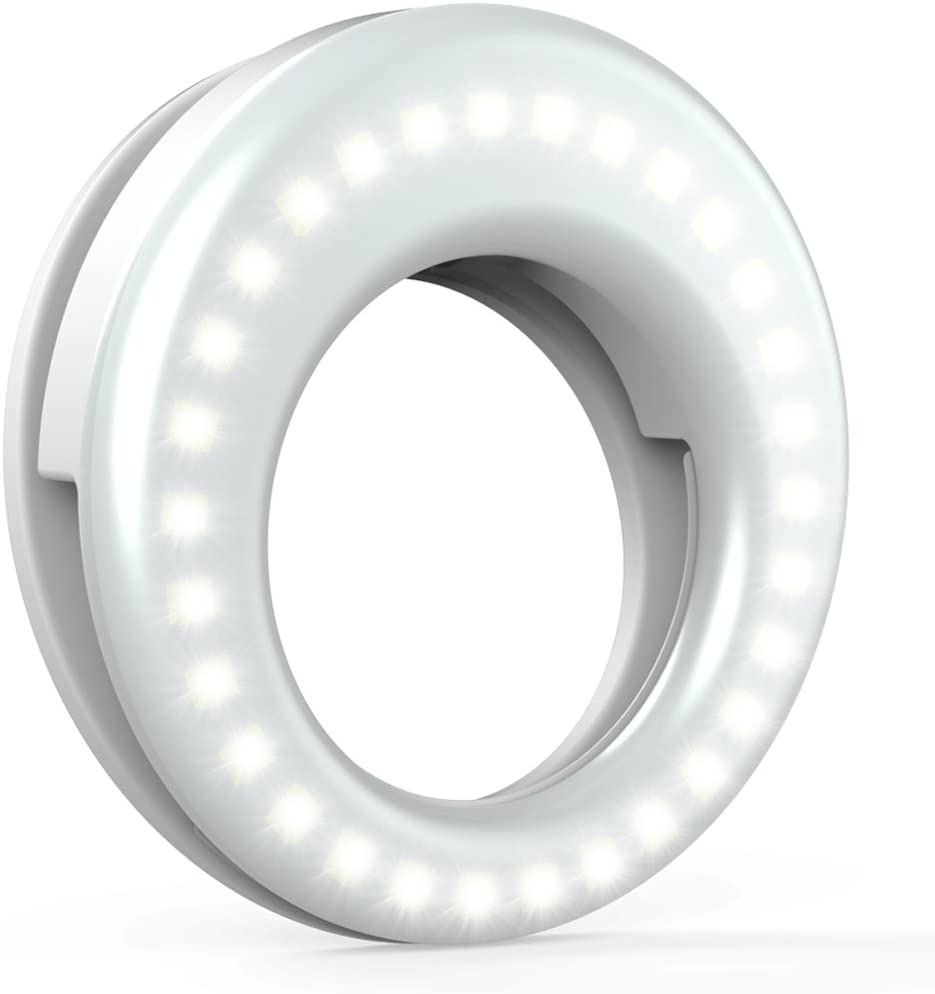 Up next we have the QIAYA selfie light ring which is by far the most unique and unusual product on this list but has a lot of purposes especially for streamers.
This is actually a small LED light ring that can attach to any device or even a tripod and it's quite an easy and simple gadget to use, you'll fall in love instantly.
It's super convenient for anyone who is always on the go because it is charged by a micro-USB cord and you can even charge it with a power bank. But let's see what else this tiny light has up its sleeve.
Who is it best for?
Well, because this product is so unique, it's not surprising why there might be a limited market for this light.
I mean it's not exactly one of the best streaming lights for Twitch streaming, nor will it make your background shine bright like the sun.
However, if you're someone who is always on the go and like to make streams outside, or you just need a front light mounted on to your phone or laptop without any cords or wasting space on your desktop, then this might just be the right LED light for you.
It's so small you can fit it in your pocket and you can also recharge the battery with a power bank so it can be a great backup light as well.
Key Features
Truth be told, there aren't a lot of features to this LED light apart from that you can attach it to any device, whether it is a phone, monitor, laptop, or even tripod.
The brightness isn't that bad at all as it has 950 lumens which will surely bring a lot of light to your face or items nearby but sadly won't lit up your entire room.
The 3 brightness modes are cool though, as you can adjust them to your liking and natural light conditions.
Practically, the best part about the QIAYA selfie light is that it is portable and you can charge it on the go.
---
5. Neewer 160 LED
The next product we've prepared for you is definitely in the LED light streaming market and it's the Neweer 160 LED lamp. This is by far the most powerful LED light we have on our list and you certainly want to get your hands on one of these if you're looking for bright streaming background lights.
Not only can it be mounted on a tripod, but also a camera so it is quite ideal for streamers who have a more professional setup and who spend lots of time streaming. But let's see some other cool features of this powerful LED light.
Who is it best for?
Because this is more of a camera light than a basic tripod one, but it can still be mounted on a tripod, this LED light is quite versatile when it comes to its users.
It is mostly used by photographers, streamers, podcasters, and even gamers.
That's why the Neewer 160 LED light will appeal to most users looking for professional studio lighting for their everyday streams.
Apart from being quite affordable, it's also one of the most powerful LED lights on the list so it's quite a safe pick overall.
Key Features
Don't get us wrong, the Neweer 160 LED light doesn't have crazy cool features like some of the lights we've reviewed in this list.
Still, it packs a lot of punch and it's all because of the 5600 K lumen brightness. If that is too bright for you, you can adjust the lumen to 3200 K where you get a more yellowish and natural-looking light.
This is all adjustable by a wheel on the side of the lamp head. The LED light can be mounted on most tripods and cameras via a hot shoe mount or a ¼ " screw.
You also get 2 filters along with this light – 1 spotlight and 1 diffuse effect filter, so that's also a great attribute to the whole set overall.
---
6. Neewer 66 LED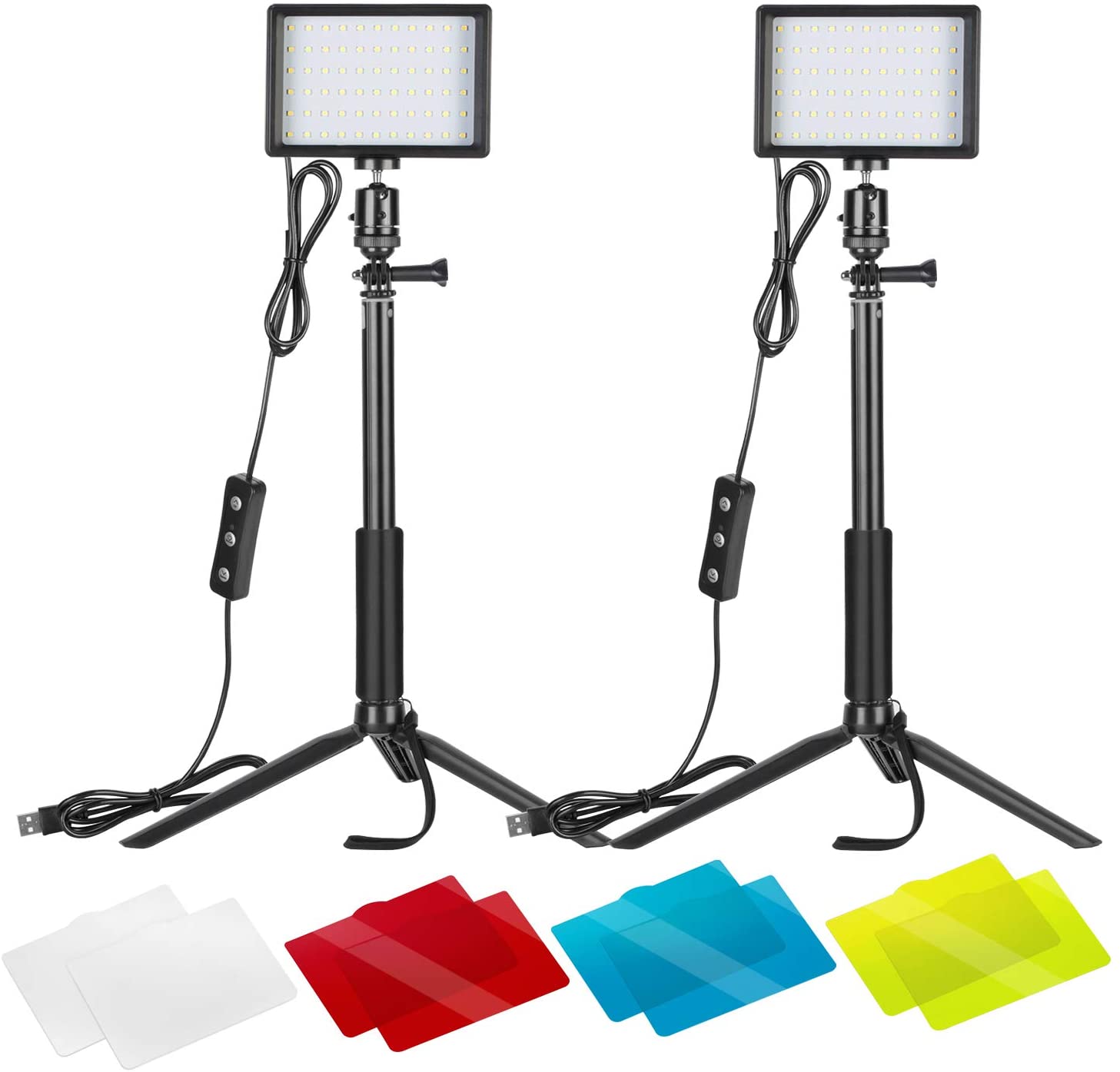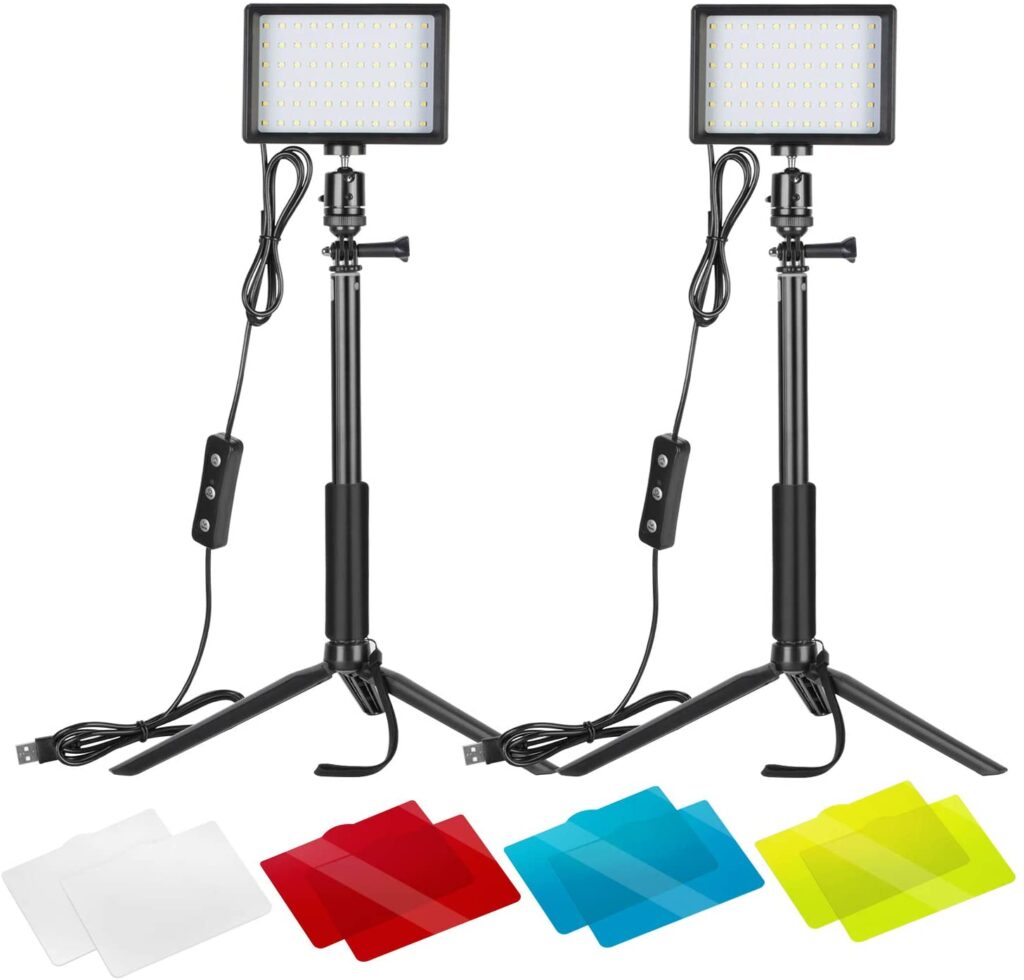 Another LED light from Neewer on this list is the Neewer 66 LED light which is a bit different from its cousin because it's more of a streaming light than a camera light.
Also, it comes with its own tripod and in a pack of 2 separate lamps.
Apart from that, this Neewer light is powered by a USB port so it's definitely more versatile than the previous model and similar in power as well. So let's see what exactly this LED light is all about.
Who is it best for?
This is definitely a streamer/gamer LED light and everything about it is made for streaming purposes.
It's a table to light so it means that it is made to be used on your desk setup and because the lamps are quite compact, they won't consume much space.
That and alongside the other features is why this lamp is perfect for streamers who spend a lot of time in front of their computer and need a light source that won't shine directly in their direction but rather give light from above.
It's definitely one of our favourite picks we kindly recommend.
Key Features
First things first, the tripod for this lamps is quite big and can be extended up to 3.75 feet/ 116 cm so it can be set up above your head and the light can be emitted in such a way that everything in front of you is lightened up but you're not getting eye strain for a direct light source.
Second, the colour filters are useful when you want a bit dimmer ambiance which you can control with the adjustable brightness buttons on the cord.
Also, the mount of the lamp head can fold 180° and the lens design provide a wide angle of emitted light which put together make your stream look much more professional.
---
7. RALENO Led Light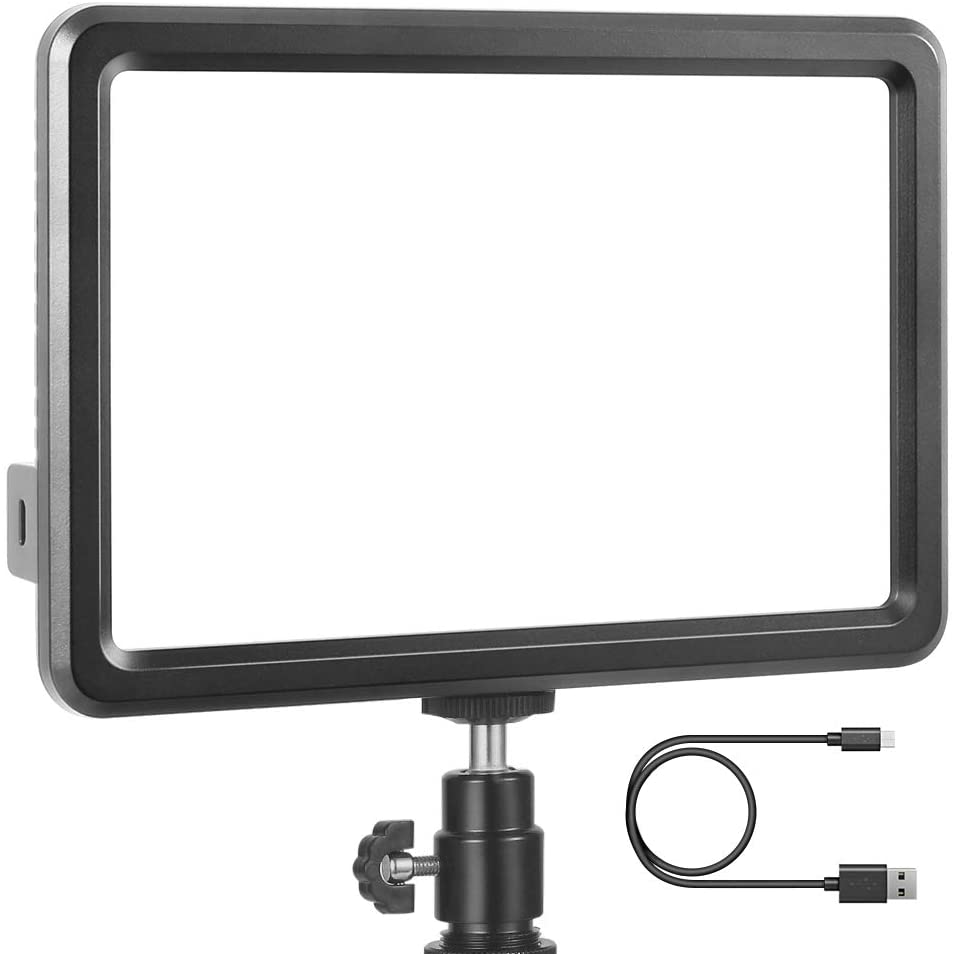 Last but not least we have the RALENO LED light which is the only LED light panel for streaming we have on our list. It's a beautiful panel that can be recharged via micro USB.
It's lightweight and portable so it's definitely great for outdoorsy or streamers on the go. But let's find out a bit more about this LED light.
Who is it best for?
Even though this LED light is small, it can still be mounted on a tripod so it can be a great asset to your setup if you need a small, yet powerful lighting source.
Because the light is covered by a panel, it isn't so straining on the eyes and if you're someone who streams a lot, you should check it out.
So overall, it is a solid pick for any streamer who wants something portable and powerful enough to light up their stream.
Key Features
The LED light is capable of providing 3200 K to 5600 K lumen brightness which can be adjusted on the back of the lamp head.
It also provides 2 light modes – warm and cold light, which can be useful for different environments.
Alongside that, the 5000 mAh battery can last up to 110 minutes without charging and it can be charged by a micro USB cable which you can plug into a wall, laptop, or a power bank.
Also, the light has a heat dissipation system which allows the lamp to cool down and not overheat.
---
Things to Consider When Buying LED Lights for Streaming
Even though LED streamer lights aren't the most expensive accessory a streamer can spend his money on, it's important to get the right one for your streaming set up and the type of streams you broadcast.
There are a few things you should consider when you start shopping for stream LED lights and luckily for you we've listed some of the things you need to pay close attention to so you can get the right one.
1. Size of the Lamp
The best LED lights for streaming are the ones that don't take up too much space but also shine bright enough so that they can make the ambient more lit up.
That's why streamers tend to go for tabletop LED lights not only because they are cheaper than standard studio lights, but also are easier to use and compact.
LED lights streaming enthusiasts adore most are mostly compact.
That's why you should get a LED light that won't consume much space and make your setup messy but rather something small but high quality that gets the job done.
2. Amount of Lumen
Lumen is the amount of light emitted from a light source and the more lumen your LED light has, the brighter the lighting will be.
That being said, what you should look out for is around 3000 K of lumen because it's enough to brighten up your entire room.
5000 K lumen and up LED lights can be used as background lights because the beam can travel to up to 30ft so keep that in mind.
Likewise, anything under 1000 K is good just for close-up videos but don't expect these kinds of lights to make your stream look like a light show.
3. Softboxes, Diffusers, and Filters
Softboxes are used to increase the size of the beam of light and are a great tool when you have smaller LED lights which need to be focused on a certain area.
Diffusers are great for controlling the spread of light emitted from the lamp and also can be used to dim the light to a certain percent of brightness.
Filters can come in clear, or in different colors and are used to create a different shade, color, or effect of the light.
These tools together can be quite useful and you want to either buy a LED light that has them in the box or buy them separately because they will surely make your life much easier.
Conclusion
In the end, we have to say that the Neewer 66 LED light is the best one on our list simply because it's the most versatile and the easiest to use for most streamers.
Of course, the other LED lights on the list are still solid picks.
We hope you've enjoyed our review of LED and RGB lights for streaming and hope you find the right LED light for you.
Frequently Asked Questions
Best Lighting for Streaming
Best Cheap Lights
Best Ring Lights