Light for Streaming
If you need to find other streaming gear, make sure to look at our Streaming Gear page. Here, you will find everything you need!
Post 2 of 9
Light is probably the most critical component for making a great video or a photograph. While the Sun certainly is a great natural light source and certainly better than your average light bulb, it can be inconsistent at times, and it's certainly not something you can control by any means.
Perhaps you want to shoot scenes on a mainly cloudy day, at night, or in not that well-lit room. Thus getting great additional light sources for your video or image becomes a thing of paramount importance.
The most crucial part of any lighting setup is the key light, and with this article, I'll go through some of the best available options with which you'll always be able to rise to any occasion.
I will furthermore dig into some of the most common difficulties that you can find yourself in when deciding to purchase the most suitable key light for your individual needs.
Post 2 of 9 in the Light for Streaming
Best Key Light on the Market
Reviews
It's been said lights themselves can make or break a scene. Truthfully, bad lighting can make even the best photo or video camera and its operator appear crude and amateurish.
On the other hand, good lighting can truly make a world of difference and make even a job done with budget cameras look like a work of art.
The most traditional and most used three-point lighting setup uses three unique and uniquely positioned light sources: key light, fill light, and backlight.
The key and fill lights work as opposites of each other, while the backlight illuminates the subject from behind.
The key light is the strongest, and it provides the most brightness out of the three. It helps set up a mood and the atmosphere of a video scene or an image.
Because of its importance, it's rather tricky to master but to do it, you must first select the right one for the job, and these are some of the best picks out there.
QUICK OVERVIEW: Best Key Light for Streaming
<!—INSERT CODE BLOCKS BELOW—>

High-quality aluminum body
CCT is 3200K – 5600K

80,000 lux of light
Weight is 25.5 pounds

It can illuminate over 1500 lux
Ultra-light but tough and durable build
1. Dracast Camlux
---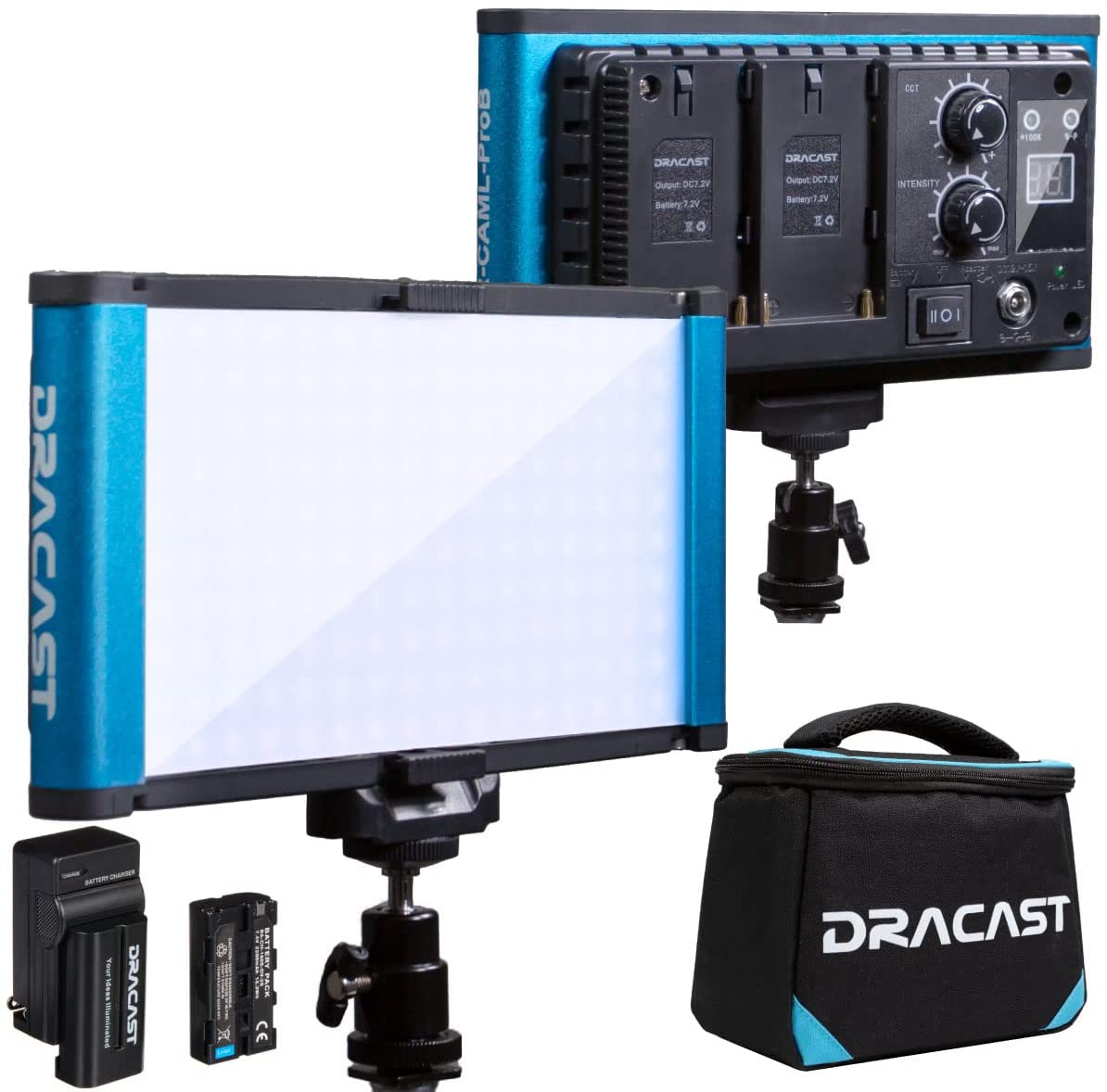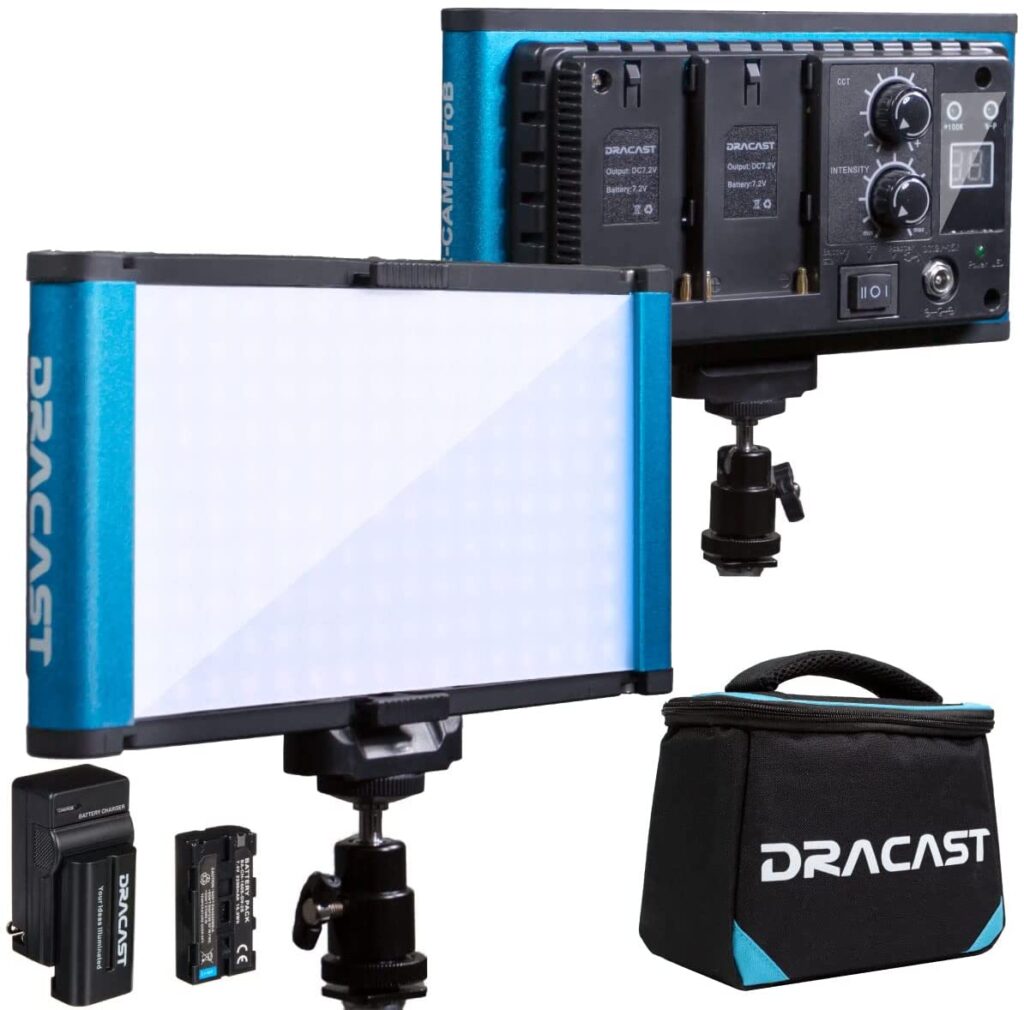 ---
I'll open this list with a budget-friendly yet very competent light option in the form of Dracast Camlux Pro Bi-Color On-Camera Light.
Description
Dracast Camlux Pro is a lightweight, compact, easily portable led light, but it's still durable thanks to its sturdy aluminum body and packs quite the punch with 160 LEDs on the light board, which gives it a pretty high total output.
I also like that it comes packed with some exciting features. You can easily alter both the color temperature and the dimmer using two onboard knobs on the back of the light.
You can change the dimming from 10 to 100 percent, completely flicker-free, and you can see current light output and color temperature settings on a functional rear LCD screen.
Dracast Camlux Pro comes with a cold shoe mount, a ball head swivel adapter, and a 1/4″-20 female thread point.
That makes this light highly adaptable for both the light stand and many professional DSLR cameras, so getting that right angle to set your light to is quick and easy, making it capable as a portable key light.
This little lighting kit is supplemented with a removable diffusion filter, two lithium-Ion rechargeable batteries with a charger, D-Tap Cable with a power charger, and a user manual, all packed up in a nifty padded carrying case.
It has everything you need to create excellent video content right out of the box.
2. Aputure LS COB 300d Mark II
---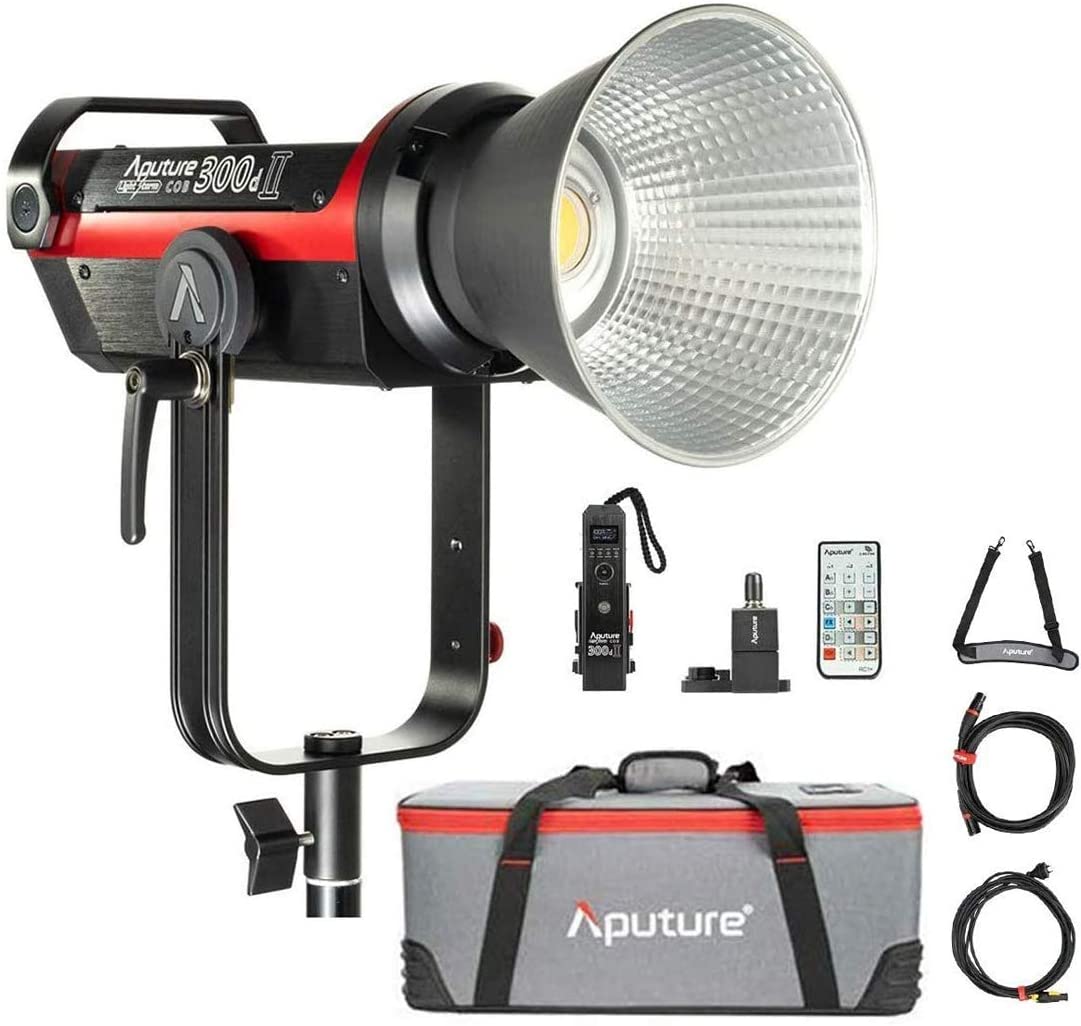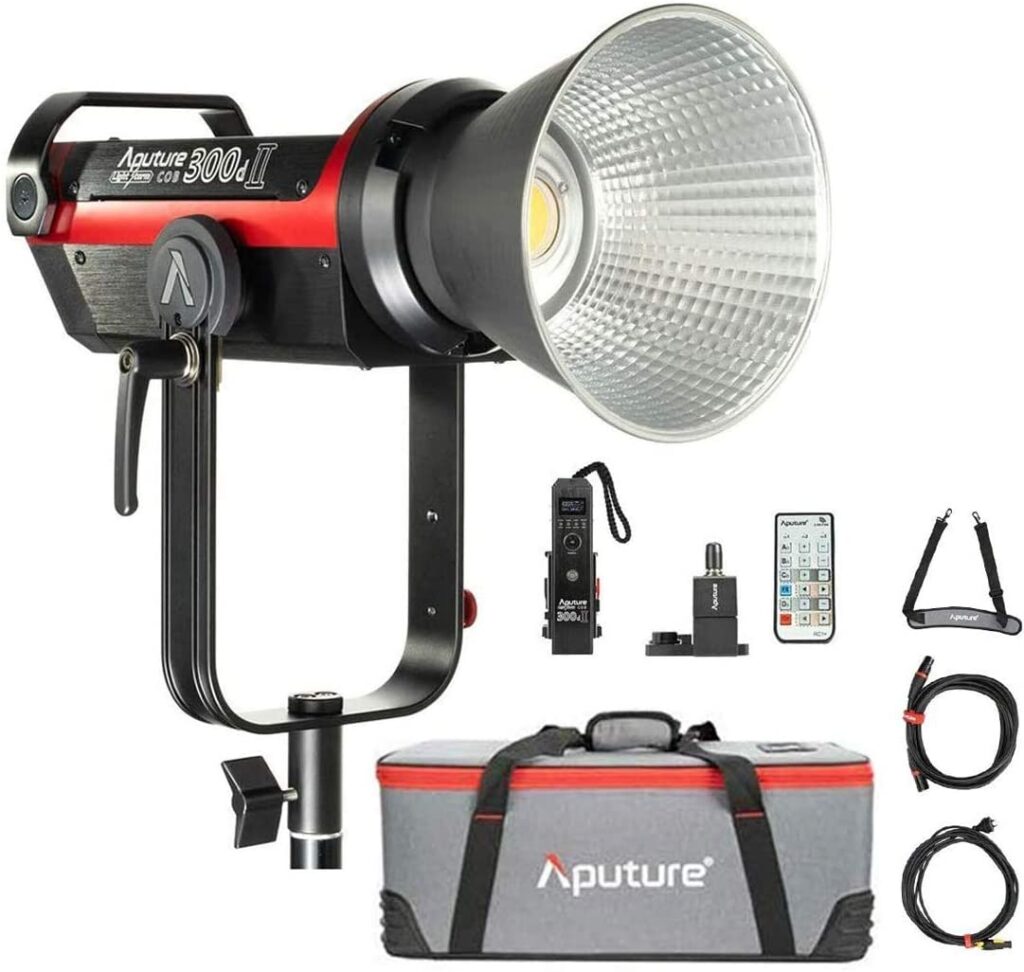 ---
Aputure's LS C300d Mark II is one powerful light, a true successor to the legendary LS C300d, but more advanced in every conceivable way.
Description
C300d Mark II is one of the best lighting kits around, and even at 950 dollars, you're sure to get your money's worth. It can function well as a part of any four and three-point lighting or four-point setup.
Its CHiponBoard technology allows it to output an impressive 3500 lux of light, with a color temperature of 5500K, and all that with a power consumption of just 350W.
An utterly silent aluminum control box can be detached and separately mounted to reduce the bulk of the light.
With the additional release plate and clamp, you can attach it to any stand or a speed rail, making it perfect for indoor and outdoor use.
C300d Mark II features eight built-in effects and four different dimming curves controllable either through a control wheel or via wireless remote control.
Not perfect for people on a meager budget, but it is jammed-packed with features to indeed make a difference in all your videos.
3. Litepanels Astra 6X
---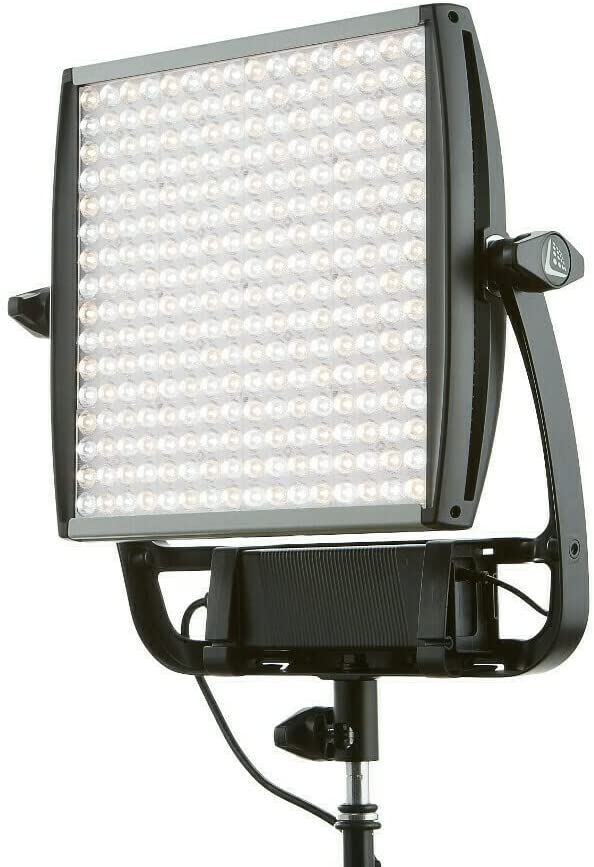 ---
Another gem in a similar price range comes from Litepanels. Astra is one of the most delicate and versatile LED lights worldwide, a light of choice for many professional video studios and videographers.
Description
Astra's first thing that caught my eye was its simple but effective design. It's light but durable, and it promises to give you hours upon hours of continuous quality lighting in any lighting setup imaginable.
Astra possesses the brightest LED panel in its class, delivering more than 1500 lux of illumination, enough available light to give the midday sun a run for its money.
Because of the excellent video output, you can effortlessly capture even an incredibly slow-motion scene with your video camera.
It offers outstanding true-to-life color accuracy with color temperatures from 3200K to 5600K, with flicker-free dimming.
It's easy to set up and use, thanks to its intuitive and straightforward onboard control, as well as wired or wireless options for remote control.
Whether you need to create soft or hard light, Astra is a lighting option you can't go wrong with, and your video camera will love it.
4. Yidoblo D-2000II
---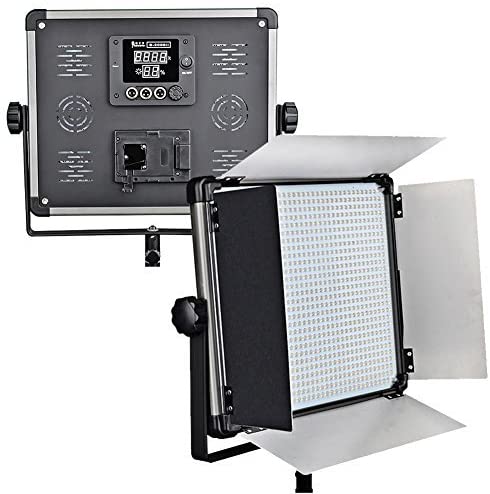 ---
Yidoblo's D2000II is a low-budget option coming from China; a bi-color LED light ideal for studios, YouTube video, or photography lighting, as a fill light, etc.
Description
D-2000II has a straightforward and practical design. It has an enduring metal frame and barn doors that act both as bulb protection and to effectively alter the nature of the lighting form, focusing the beam of light to your liking.
D-2000II LED Video Light offers high efficiency, high energy conservation, and minimal light loss thanks to its high-tech imported LED tube. The practical dimmer switch adjusts the color temperature from 3200K to 5600K. Besides that information, the digital screen display will show information about power output, and the light itself is DMX512 compatible.
This lighting kit is also equipped with a diffuser panel for creating soft light and shadows, a V-mount battery supply for outdoor work, and a carrying bag. Unfortunately, the battery is not included in this neat package.
5. Litepanels Gemini
---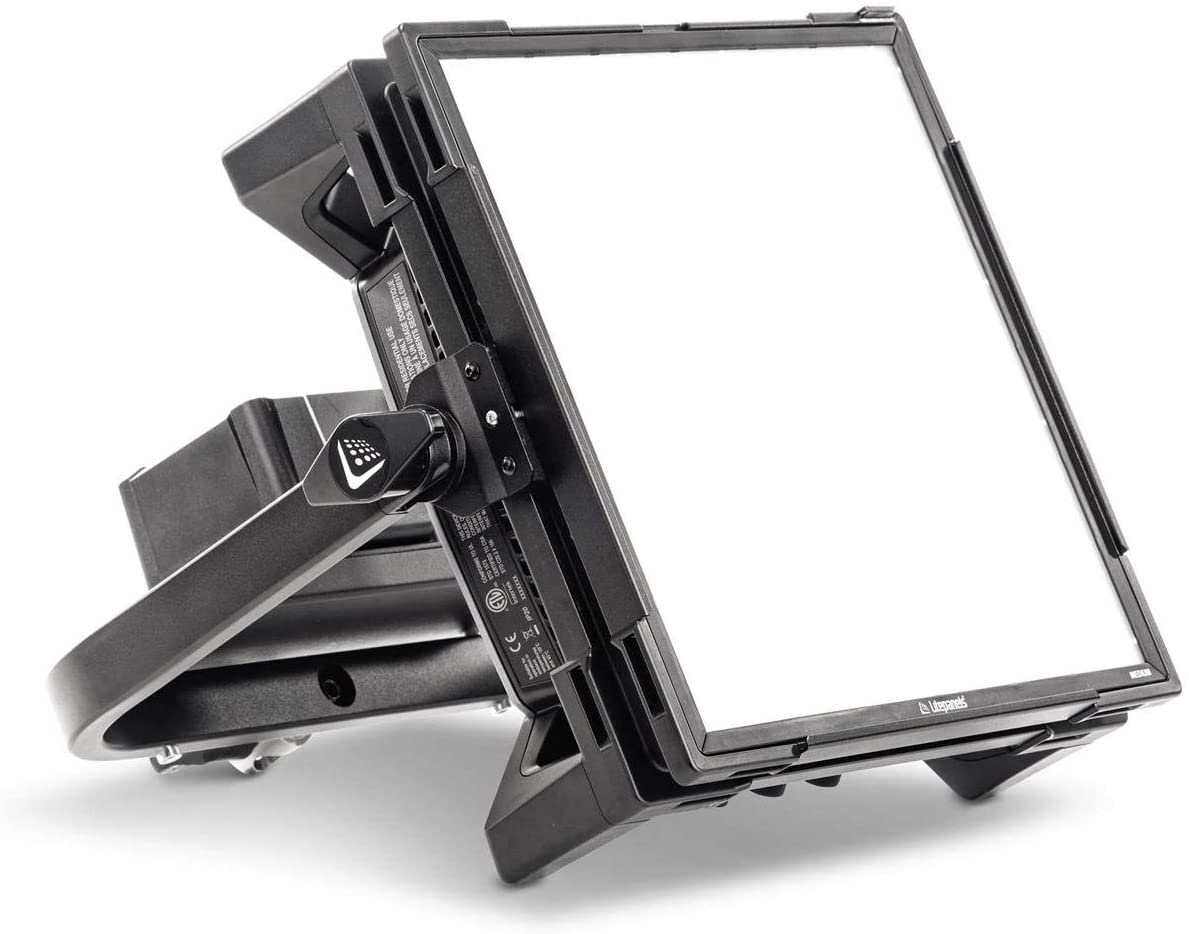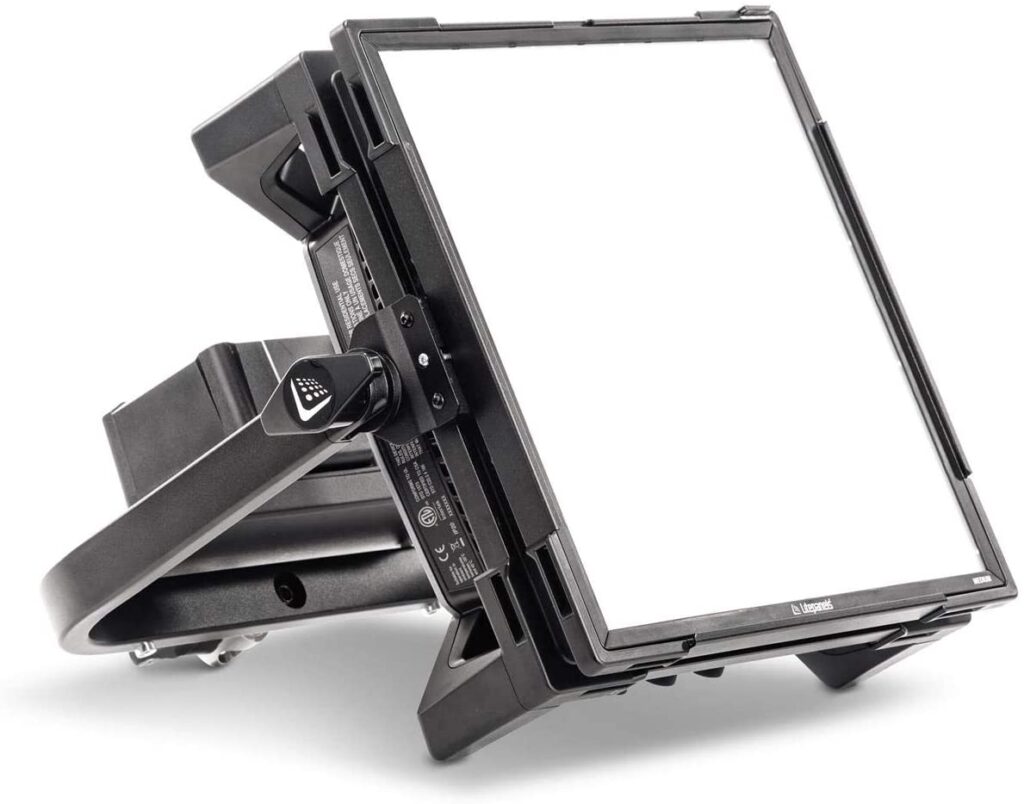 ---
Last but most definitely not least, let's look at the Gemini, one of Litepanels' high-end options, all in one multi-purpose soft panel LED light.
Description
Gemini LED light represents top-tier quality through and through when it comes to lighting kits, from its elegant look to its premium build and a plethora of useful functions to make any camera work a breeze.
This outstanding device produces over 600 lux of the highest grade white light without color shift at any intensity that you can control to the smallest of details using five lighting modes.
Gemini supports DMX 512 protocol, so you can control all those functions manually, with a straightforward and intuitive user interface, or remotely. Remote control of the lighting can function both wired and wirelessly, using WiFi and Bluetooth connections.
Gemini is undoubtedly one of the best lights in business, and with its quality and price in mind, I can wholeheartedly recommend it to any professionals working in the industry.
What to Look for When Getting the Key Light
Here are some things worth considering before deciding what key light option is ideal for your needs.
Tailored to Your Needs
After you've established what you'll be using your light for, you can then decide what type of lighting is the right one for you to use as the primary lighting source.
Should you buy a LED panel or something like a ring light?
The ring light can be used as the key light, and it's often the case. The ring light is the most popular lighting used by streamers, makeup artists, and portrait photographers on many platforms.
The ring light is cheaper than classic rectangular-shaped lights, is more comfortable to use, and doesn't heat as much, but it's not as durable. It can serve as a single light setup or part of some more complex lighting kits. Ring lights deliver a balanced lighting distribution, so you don't have to worry about strange glares and funky shadows.
As for the more traditional softbox key lights, they are far more adjustable. They give you far more possibilities for creativity because of advanced controls, barn doors, and other modifiers.
Unlike ring lights, they are somewhat more complicated to set up because they usually require additional lighting sources to deal with more potent glare and harsher shadows, even though they give you enough light in and of themselves. They heat more and are usually more expensive than the ring light of a similar caliber.
3-point Lighting Setup
To pick the right key light, you should generally be aware of what they are, how they function as a single entity, or with additional lights and equipment.
After you've established levels of natural light and ambient light available, it's time to arrange your lights in a sensible formation. The most basic and standard way of using more than one light in genesis is a 3 point lighting setup. It consists of both key and fill lights, respectively, and a backlight.
The key light is the leading lighting source for a scene, located behind a camera. With about half of that intensity, the opposite end is a fill light, which fills in the shadows made by key lighting. Finally, the backlight brings the definition to a scene, so it doesn't look like a character is floating in the background.
There are some general rules regarding placement of the lights, positioning the subject, or dealing with shadows, but that's on a case-to-case basis.
Lighting is an essential part of your visual identity, and experimentation is positively encouraged for best results.
Frequently Asked Questions
---
How many lumens do I need for a key light?
Both the short and the long answers start with "it depends…". It depends on whether you're taking a photo or making a video. It depends on your environment.
It leans on how much control you have over ambient or natural light coming through your set. It depends on how far the lights will be from a subject.
You will not need the same brightness from a ring light for a photograph that needs to highlight the subject's face, as with an outside video with a lot of natural light as your primary source of light.
The more light you have, the more refined an image or a video will be, but sometimes that's not what the situation requires.
Sometimes you may get enough brightness for your video from a lighting bulb, and sometimes you'll have to surround a camera with so much lighting to put the Sun on shame.
It's all a matter of context.
Is key light the brightest?
Short answer – yes! The key light is always the brightest. The key light is the prime light source for all multiple lights set up, whether a four or a three-point lighting configuration.
Additional lights often support it to achieve the desired effect. These lights highlight the subject and every dimension, shape, and form around him that appears on the screen.
Key light sets up the mood and achieves the scene's different looks. Depending on its positioning, it can create a soft, high-key, or deep contrast low-key image, and it's equally essential for both the photo and video recording.
How strong should a key light be?
Again, there are no rules for that because it all comes down to your individual needs. The key light can range from 500w to 10.000w, or even 20.000w.
The strongest ones are usually used on big-budget sets to simulate the Sun or a bright moonlight during night shoots, or even on daylights when you're trying to get rid of the sunlight coming through the window of your set.
The weeker lights can be used in indy and noir films on indoor scenes, creating interesting shadows in the background.
---
Join our Discord Group. Ask questions, team up with fellow streamers, share memes, and more!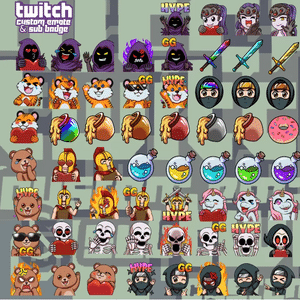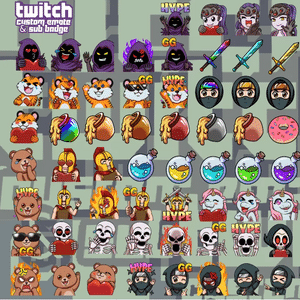 Claim for FREE:
FREE Emote PACKS
A book on growing your audience