A big part of getting the best out of your gaming PC is finding the optimal mouse and keyboard combo to use it with.
While often it is possible to find a mechanical or a membrane keyboard and a gaming mouse separately, purchasing a good combo deal will get you a long way.
Let's find out what is the best gaming keyboard and mouse combo!
Post 3 of 10 in the Streaming Gear
Best Gaming Keyboard and Mouse Combo
Reviews
Finding a combo deal like that, however, can be quite tricky. As a result, I have decided to create a guide featuring some of the best gaming keyboards and mouse options that can be bought together and are optimized for the game experience.
Some of the quality factors that I included in my assessment were a number of keys and extra buttons, dedicated media controls, competitive gaming performance, tactile feedback, as well as mouse dpi settings, and RGB lighting.
Best Keyboard and Mouse Combo
<!—INSERT CODE BLOCKS BELOW—>

Number of keys: 104
Mouse battery: 800Mah

Multimedia keys: 10, +12 FN+ multimedia keys
Mouse DPI: 800/1600/2400/3200

K55 RGB PRO + Harpoon RGB PRO

Keyboard layout: ANSI
Mouse DPI: 12000 dpi
1. LexonElec Wireless Keyboard and Mouse
---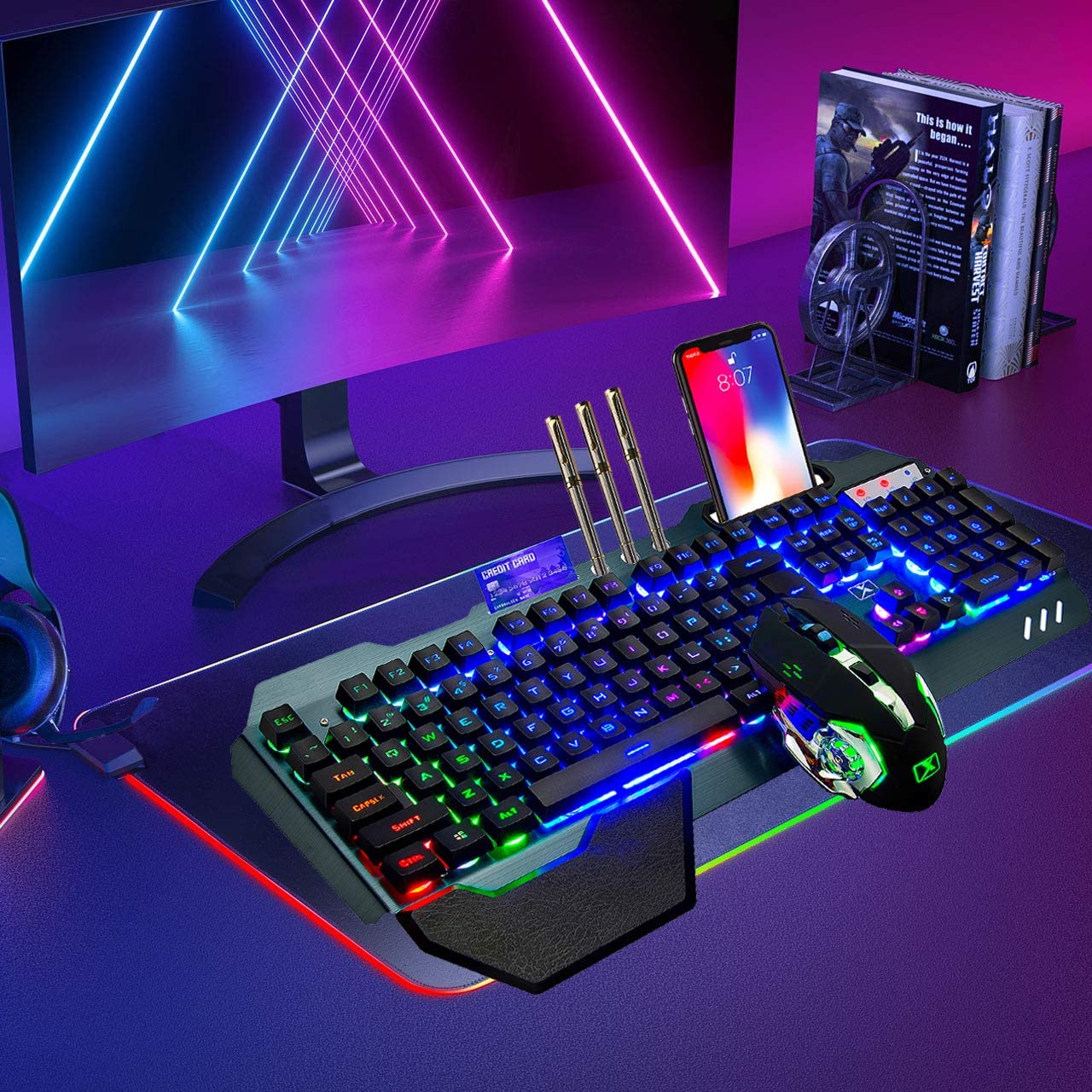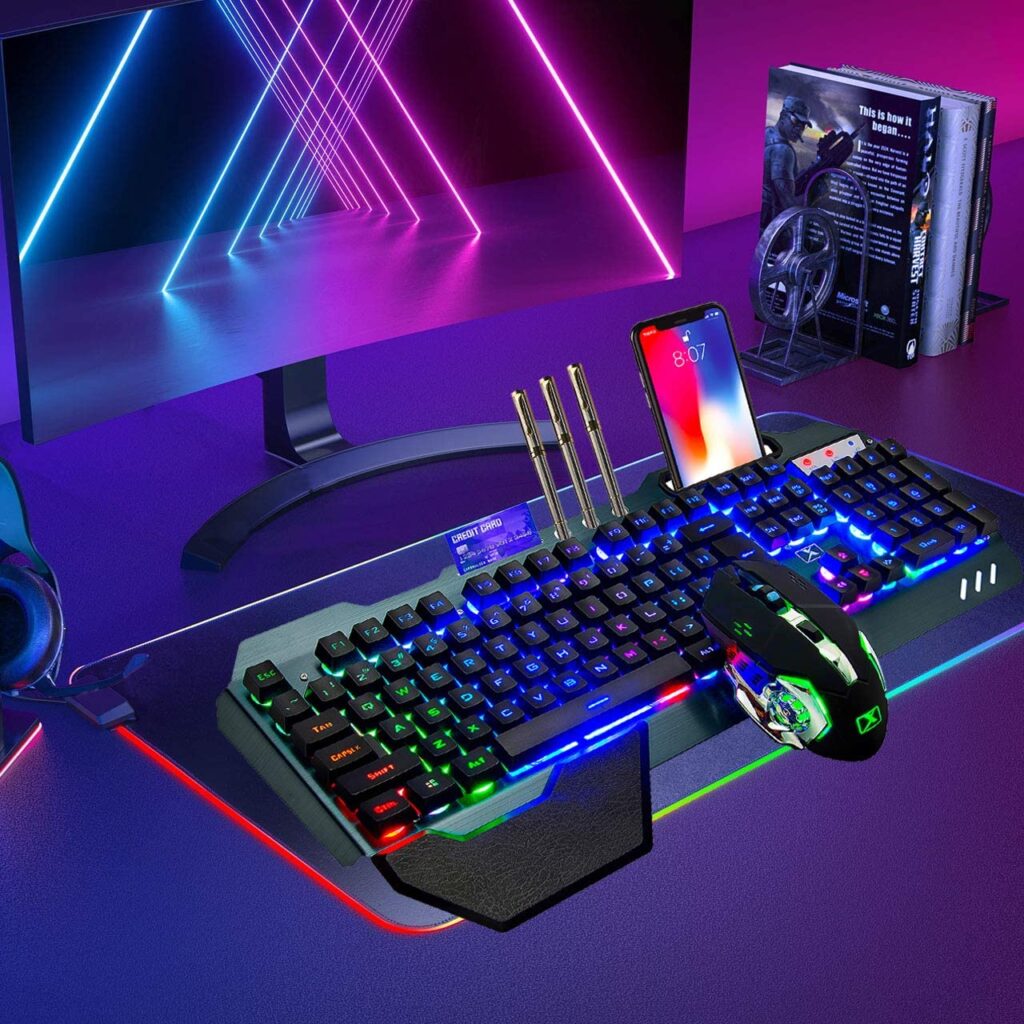 ---
This wireless keyboard and mouse combo have many features that dedicated gamers will know how to enjoy, all of which are tailored toward making the gaming experience the best it can be.
First of all, you get a full-size keyboard that is incredibly responsive, and both the keyboard and the mouse are completely plug and play, based on a 2.4G wireless transmission.
While still somewhat slower than standard peripherals with a cable, the response time is nothing to scoff at.
Another amazing feature is the great battery life. The keyboard and mouse both come with 3800mAh Battery Metal Panel, which is more than enough for a long gaming session.
Additionally, the shape of both of these peripherals is highly ergonomic, and the keyboard even comes with detachable hand rest and a mobile phone bracket, perfect for someone who likes putting their game's minimap on their phone or tends to get a lot of annoying social media notifications.
The keyboard is also rainbow backlit, with three different color schemes you can switch between freely.
But enough about the keyboard, let's talk about the mouse you get as a part of your deal.
It is a 7-color LED wireless gaming mouse that has customizable DPI settings in the range from 800 to 2400 DPI, with 4 options in total. This allows you to play a variety of different games using a single gaming mouse.
Additionally, the roller on this thing is quite good and a great option for anyone who uses it to adjust the camera view in third-person games.
Overall, I found this keyboard and mouse to be quite satisfying while testing them. While they do lag behind slightly in terms of response time when compared to sets with a cable, it isn't at all noticeable during a gaming session, and the benefits of the hand rest and the phone bracket cannot be denied.
2. Redragon S101
---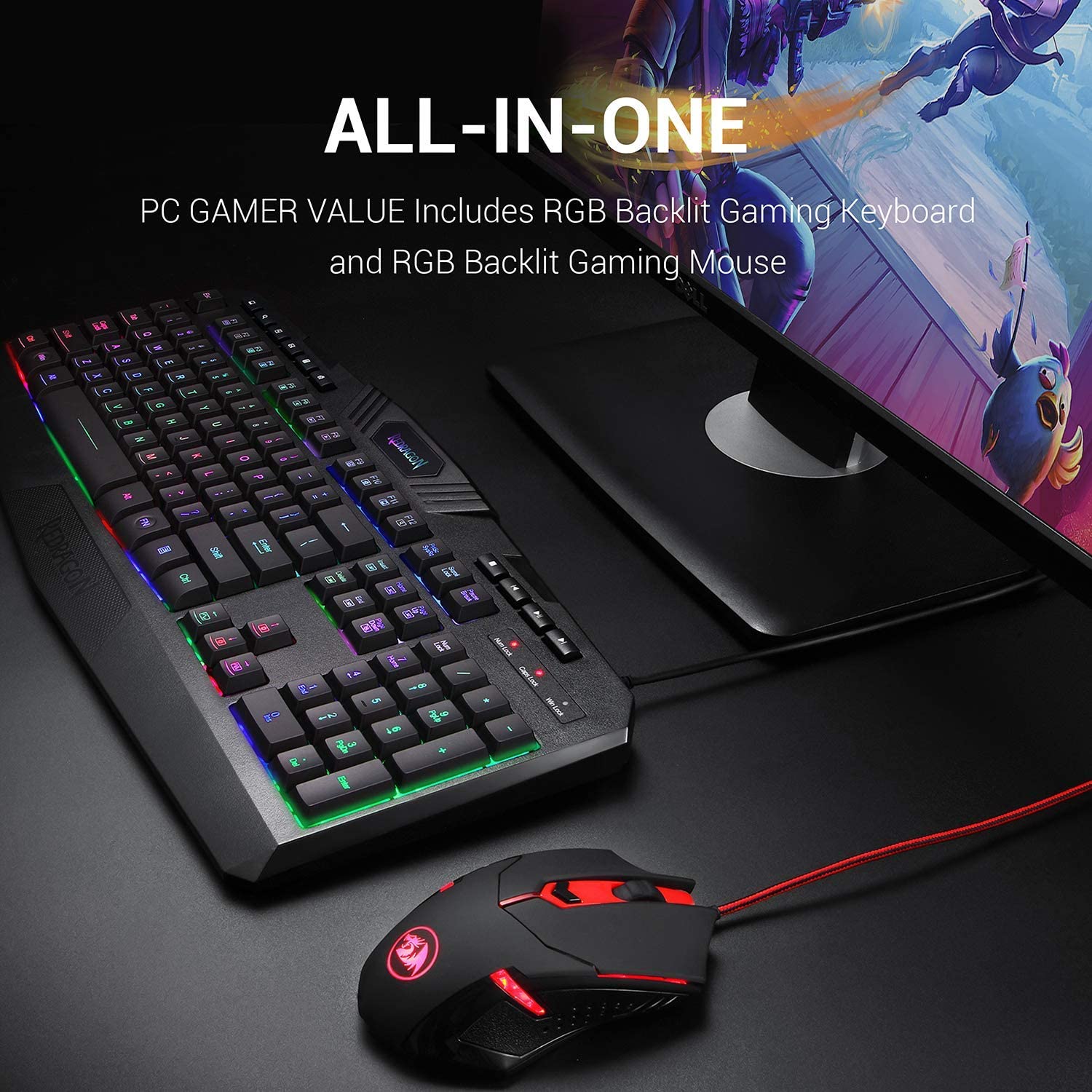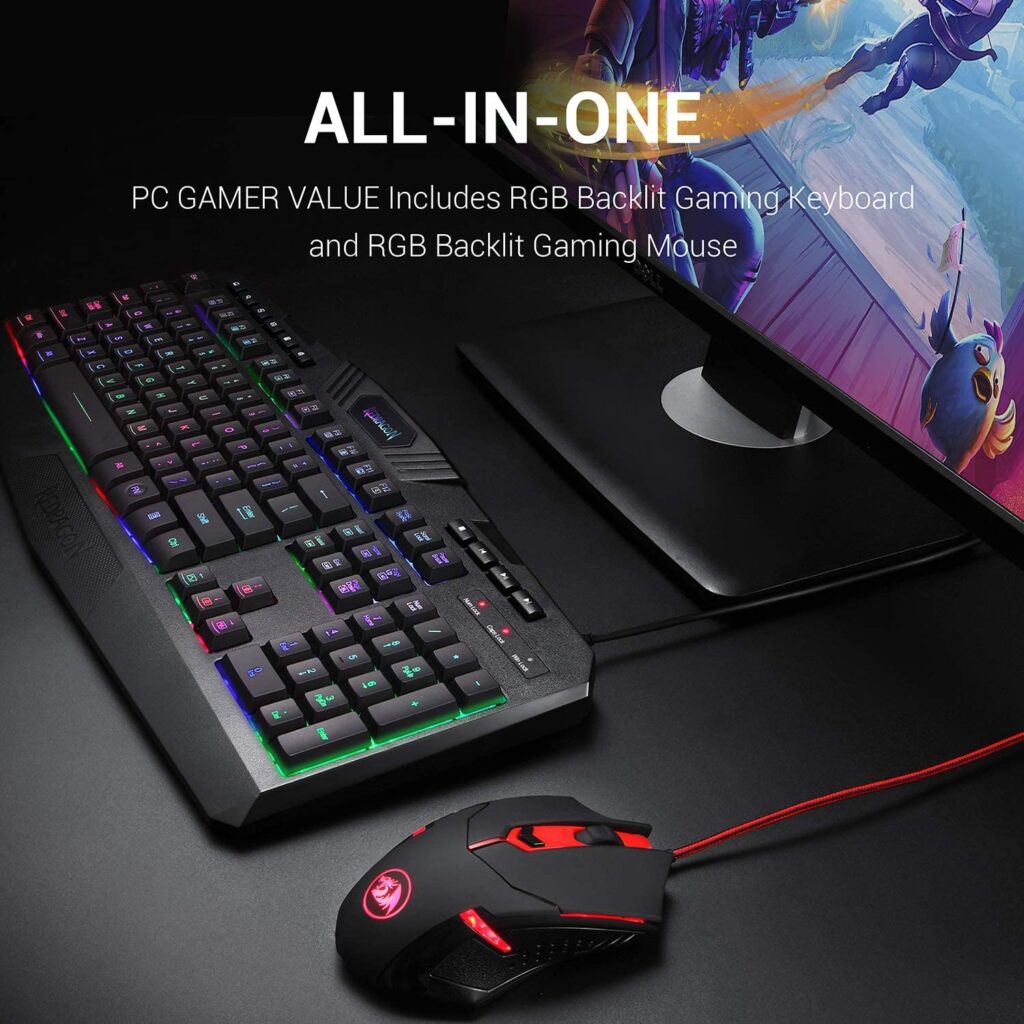 ---
Redragon is one of the most sought-after midrange gaming equipment manufacturers, so it should come as no surprise to find one of their products on this list.
This PC gaming keyboard and mouse combo consist of an excellent mechanical keyboard that is RGB backlit and features 4 lighting levels as well as 7 different colors to provide the best RGB backlighting experience.
In addition, the keyboard is suitable for both gaming and office work thanks to its highly ergonomic design, allowing you to use a single piece of equipment for both of these activities while remaining comfortable.
Another great feature of this keyboard is that it is somewhat water-resistant, so simply spilling a glass of your favorite drink over it won't cause it to malfunction. This, in addition to the wrist rest that comes with it, lets you be quite comfortable while working or gaming.
The keyboard comes with 10 dedicated media controls, as well as 12 FN+ multimedia keys, so you will have quite a few ways to customize your keyboard combos for both gaming and overall controls such as speaker volume, task manager, etc.
Moving onto the mouse, this piece of equipment is equally as good as the keyboard, featuring speeds up to 3200DPI with 4 different options you can choose from and a 30G weight tuning set that allows it to feel natural to a variety of users, especially if they are used to a heavier mouse.
Furthermore, the sensors and switches taking control of this device are top-notch, resulting in extreme responsiveness and great accuracy.
In the end, I believe that this combo is a great choice for anyone looking for a great gaming experience, especially at such a low price.
3. CORSAIR K55 RGB PRO + Harpoon RGB PRO
---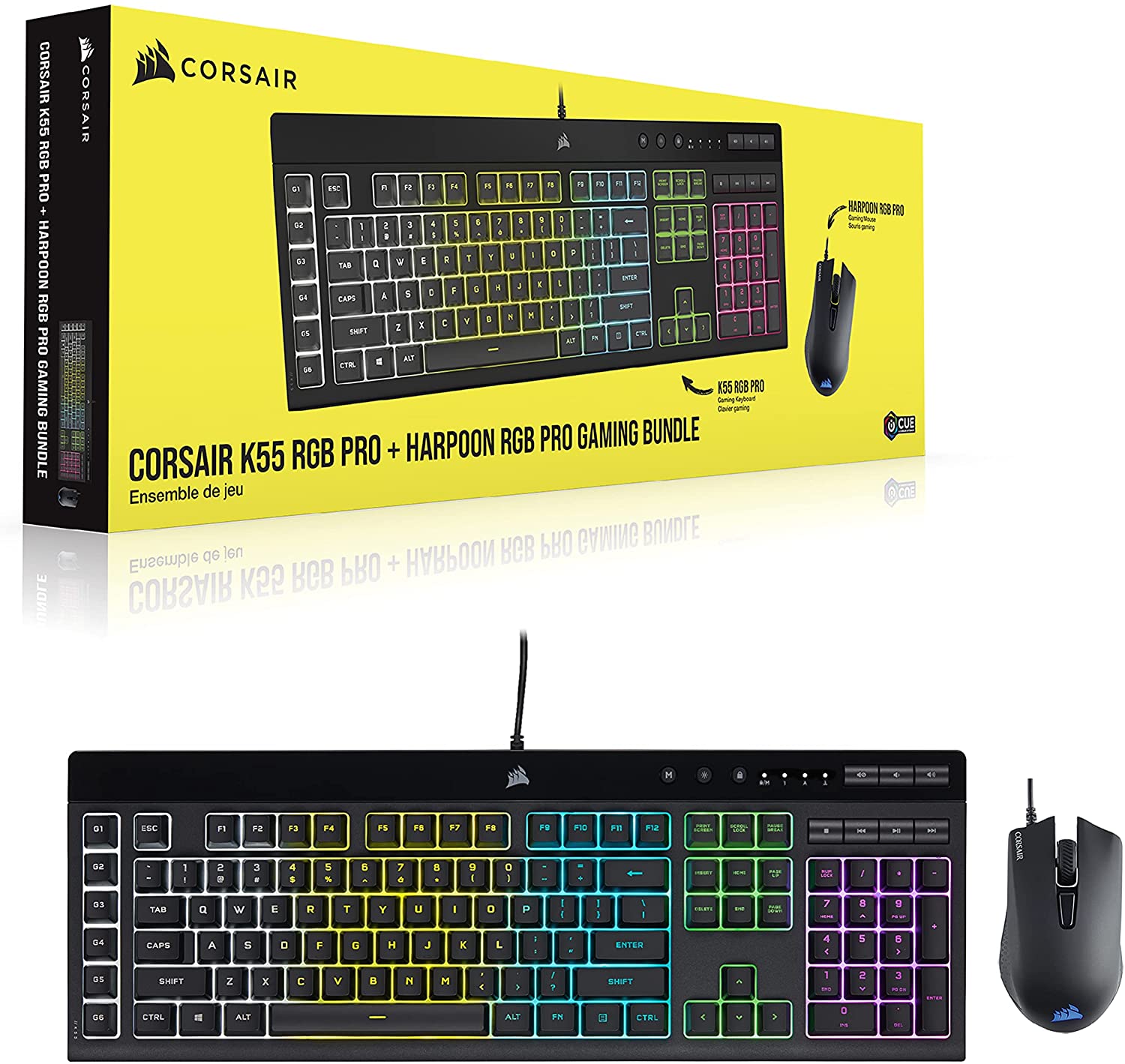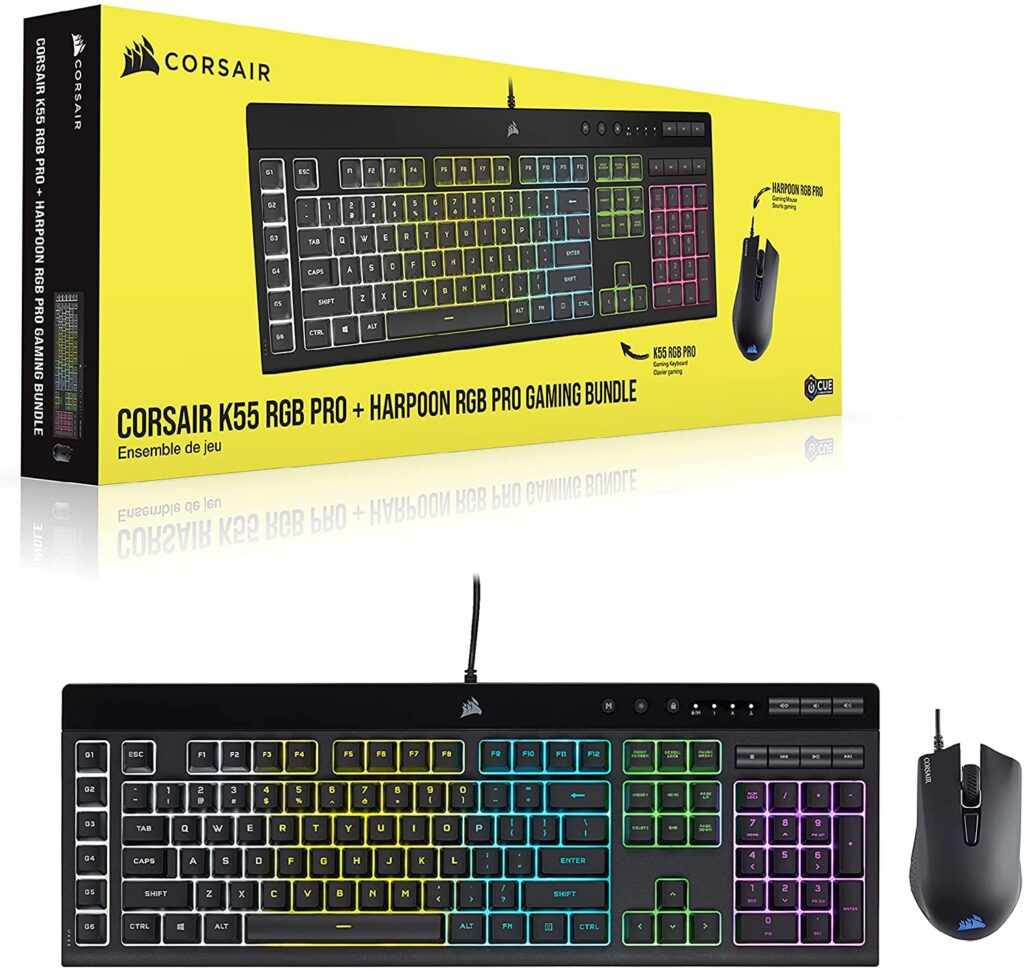 ---
One of the more popular brands when it comes to gaming keyboards and other equipment, corsair is known to provide a great experience for anyone looking to play their favorite games, no matter what genre they belong to.
This keyboard and mouse combo is all about that sweet gaming experience, providing you with a number of features that will make gaming easier and more enjoyable.
First of all, this full-size keyboard comes with 6 fully programmable macro keys, which can make your game experience a lot smoother and improve your reaction times by mapping the most important commands to a single key.
Furthermore, the five-zone backlight scheme of this keyboard looks great and allows you to easily see your keys, something that you will appreciate if you prefer gaming or typing in a dark space.
Additionally, the keyboard is highly dust and spill-resistant, so you won't have to worry about it getting dirty or no longer working simply because you knocked over a cup of coffee or cola.
Speaking of the other part of this combo, it is an excellent harpoon RGB pro mouse that has time and time again proved its reliability in giving the best game performance possible.
Its great build quality and response time make it a good choice for any gamer, especially with the Corsair ICEU software allowing for an even greater degree of customization.
Overall, I had great fun testing this keyboard and mouse combo, and I believe you will have fun, too, should you decide to purchase it.
4. MageGee Gaming Keyboard and Mouse
---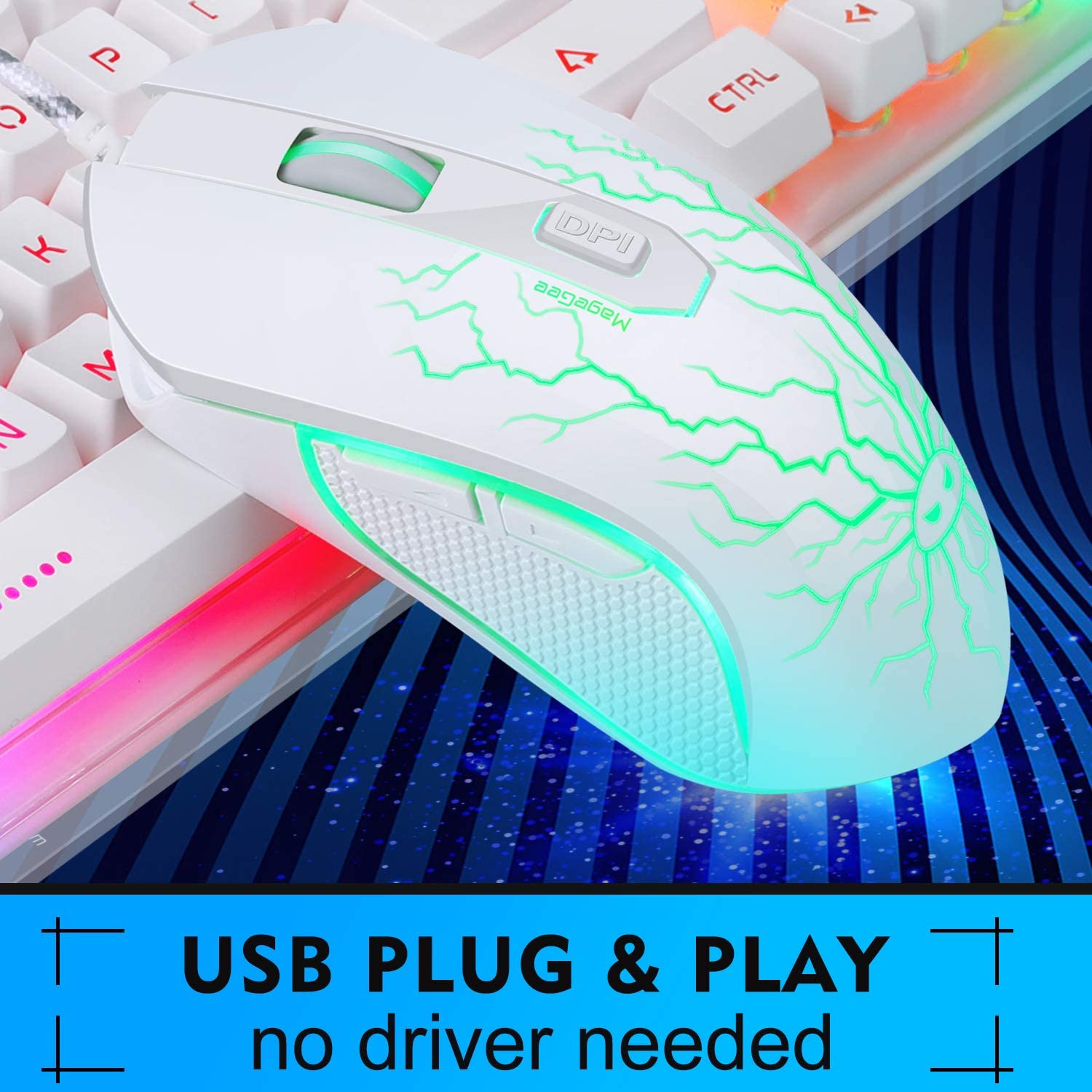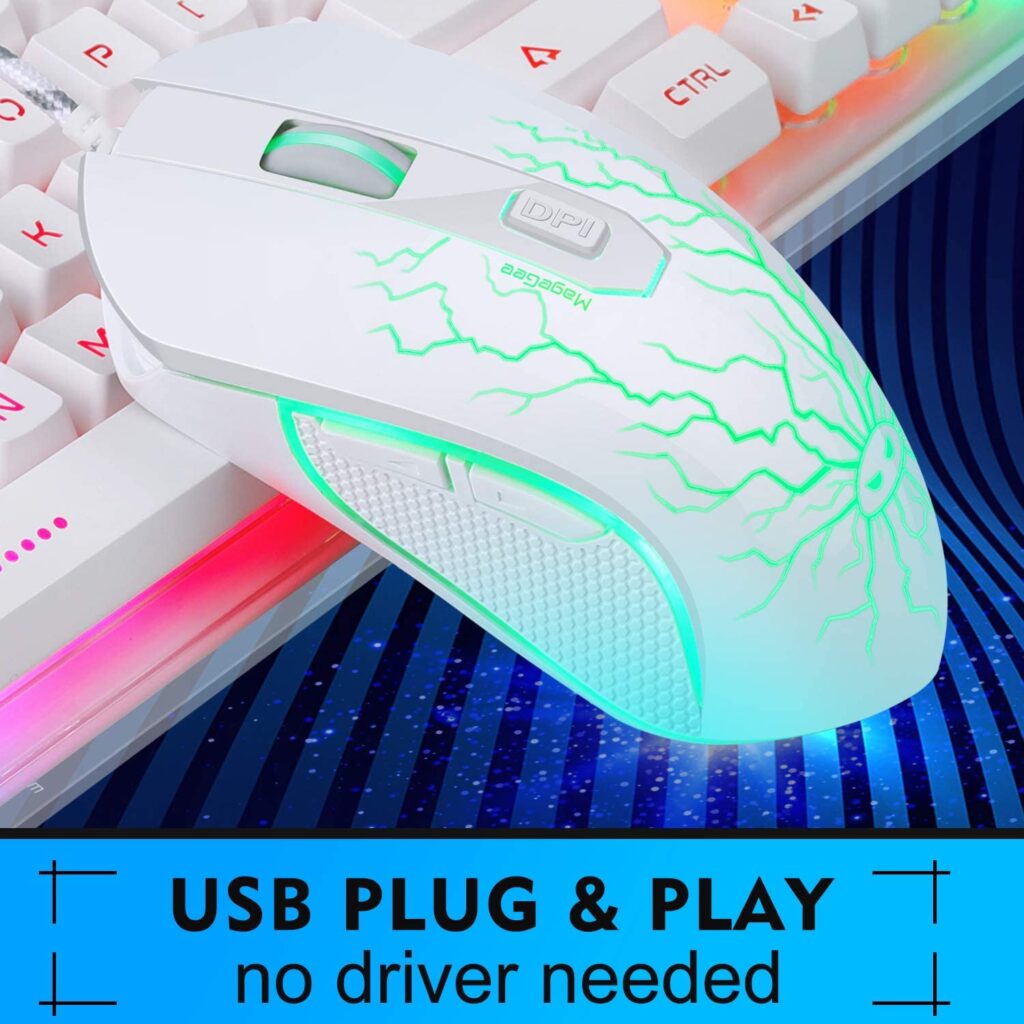 ---
This aesthetically very pleasing gaming keyboard and mouse set is also an excellent choice for any gamer due to its top-notch functionality, with a plethora of features that make it stand out from your run-of-the-mill gaming keyboards and cheap mouse options.
First of all, the keyboard has a standard full keyboard layout with 104 keys and all the f keys and number pad.
In addition, the nice and functional stand allows you to get a good position for your hands while typing, greatly reducing fatigue. This is further improved by the keyboard's ergonomic design.
Another good feature of this cable keyboard is that it is completely plugged in and played, with no software or other hurdles to cross before you can use it.
Finally, the multi-colored backlighting gives you a good aesthetic feeling and performance in the dark, and it can be switched off in case you don't need it.
The mouse is likewise very good. It comes with four sensitivity options up to 3200DPI and can be moved quickly over the surface while remaining quite accurate, which is an important feature for fast-paced PC gaming.
Overall, this 2.0 mouse and keyboard combo is very reliable, looks incredible, and provides excellent comfort to the user.
5. K57 RGB Wireless Keyboard + Harpoon RGB Wireless Mouse
---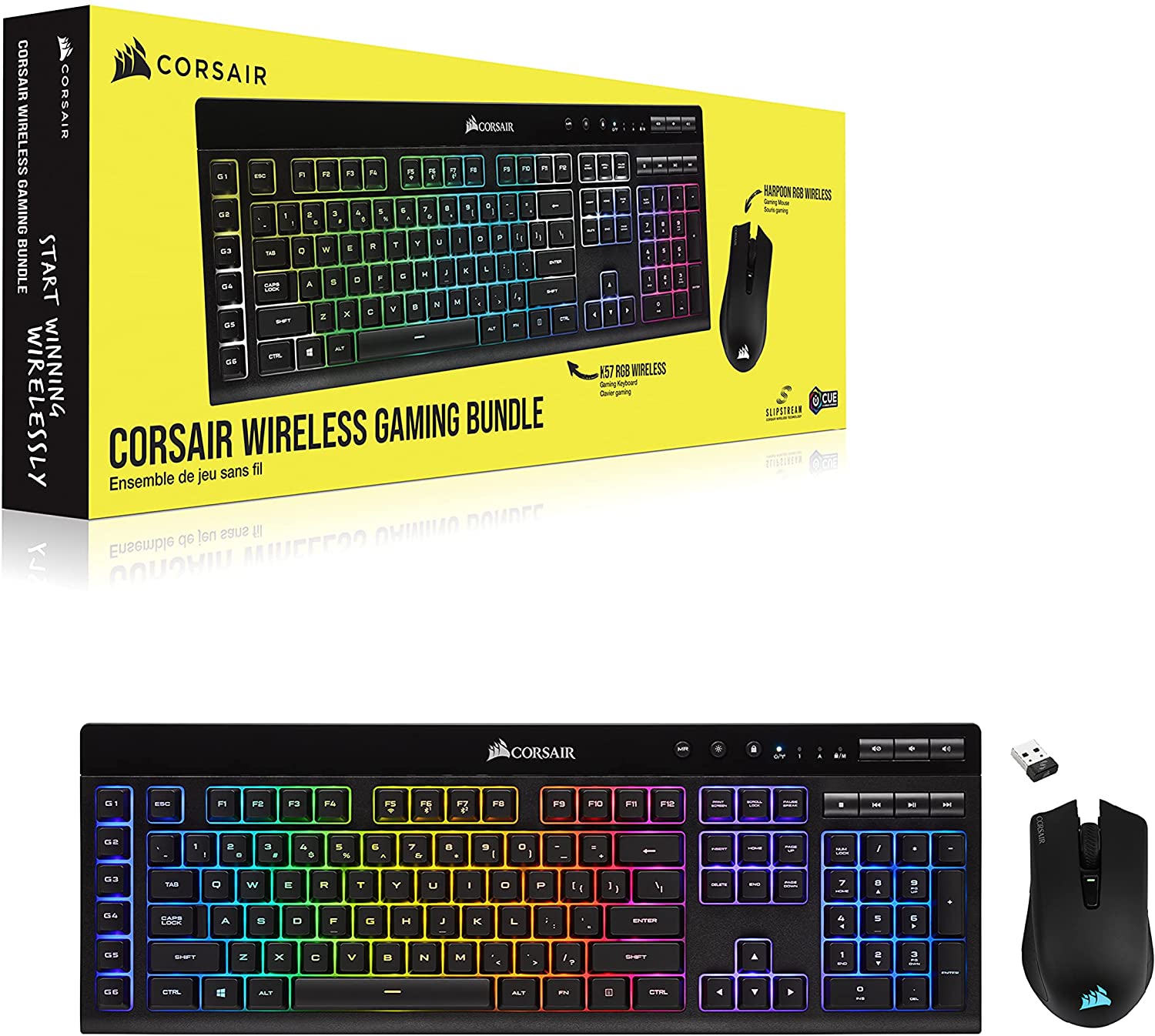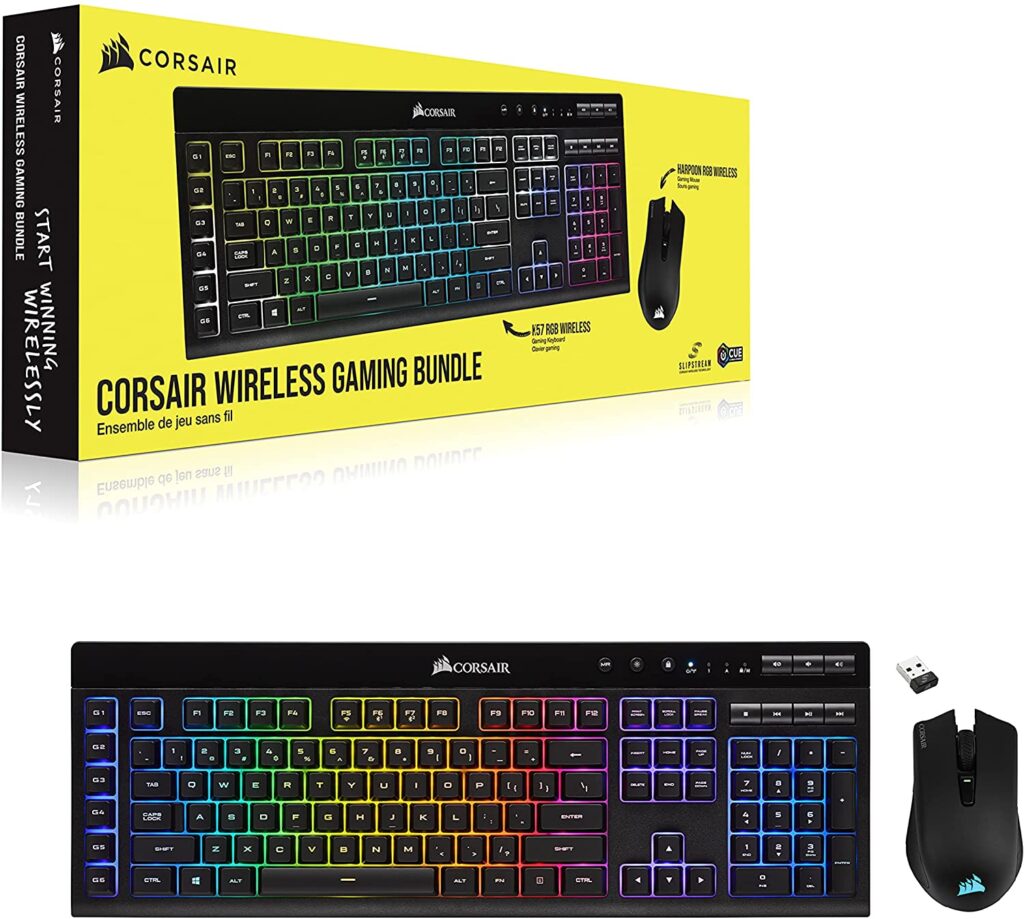 ---
What is it about Corsair peripherals that make gamers like them so much? This manufacturer makes some of the best keyboards on the market, and the mouse that comes as a part of this set is also great.
First of all, the keyboard comes with six programmable macro keys on the left side, as well as a set of dedicated media controls, both of which are extremely welcome and can be essential in fast-paced games.
The number pad is also present, as is the adjustable RGB lighting, with each key having its own light. The battery life is 175 hours, so you should be able to get about a week of gameplay out of your keyboard before needing to recharge.
Finally, this keyboard has a detachable hand rest that significantly reduces fatigue no matter what you do.
The mouse is likewise pretty decent and extremely lightweight, with only 99 grams of mass, so you can easily move it around. Still, it should be mentioned that this low mass doesn't impact its capabilities at all, as it has 6 additional buttons that can be programmed and a battery life of up to 60 hours.
6. FELICON Gaming Keyboard and Mouse
---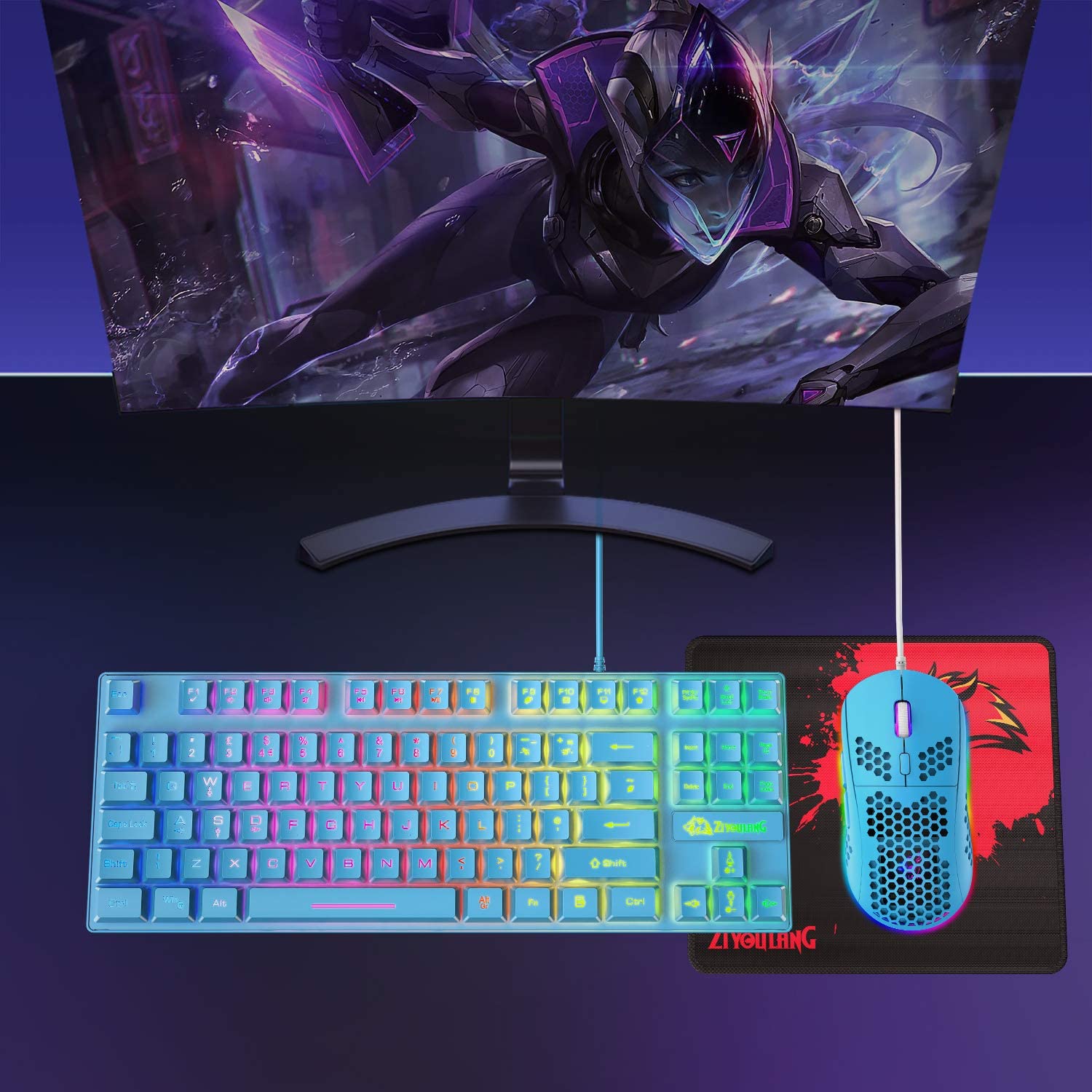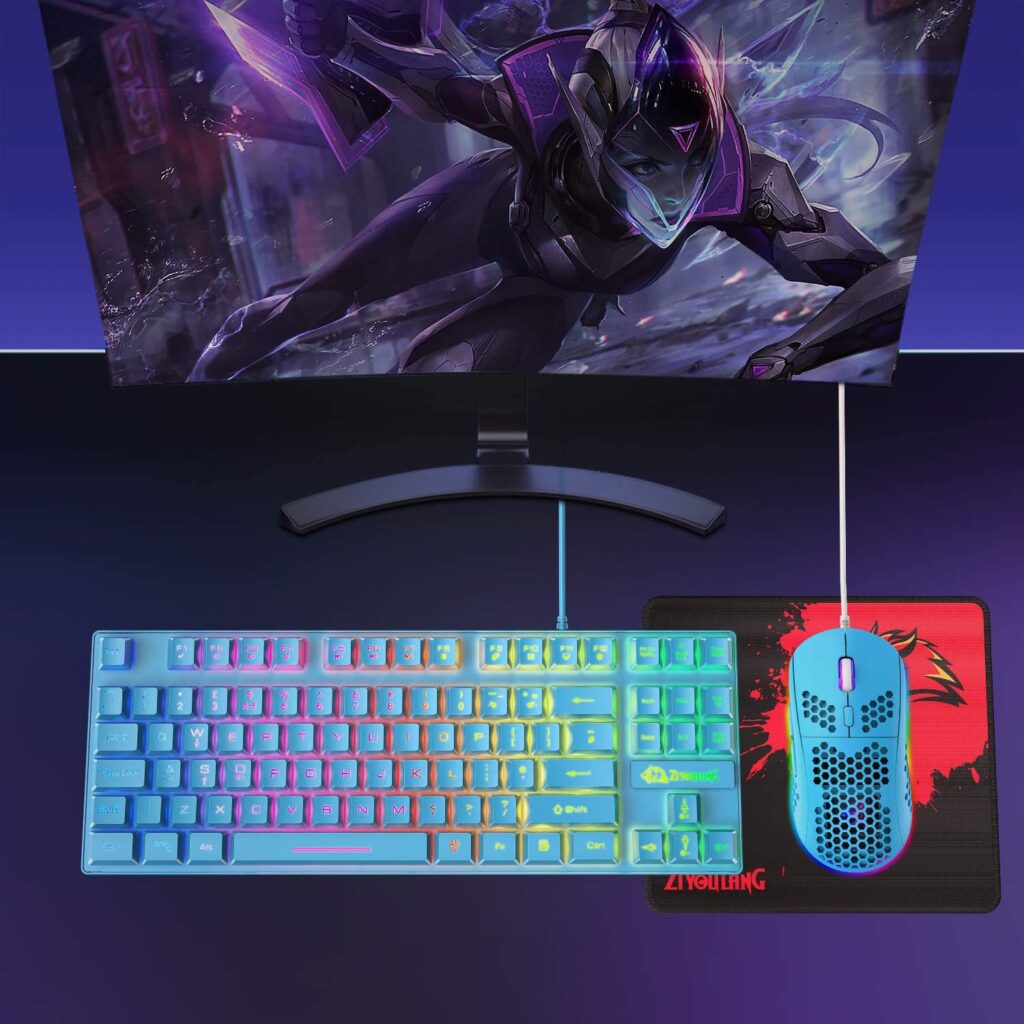 ---
This compact keyboard and mouse combo are so obviously designed for gaming, with great tactile feedback and more focus on gaming keys than full-sized keyboards would have.
It comes with 88 keys, cutting the number pad to be more space-friendly, and features a great build quality that allows for millions of key presses in its lifetime.
The presence of 12 multimedia keys is just one of the great features of this keyboard designed to save space. Additionally, the spill resistance and the adjustable rear feet allow you to relax and write comfortably for long periods of time without experiencing fatigue.
The mouse is likewise very high quality, with a great 6400DPI sensitivity that beats nearly all of its competition, several additional buttons, and overall high performance.
What must be mentioned is the perforated shape of this mouse, designed to reduce sweating and overheating and make the mouse lighter in hand, making it substantially better when it comes to long gaming sessions.
In the end, I believe this to be one of the mice and keyboard combos on the market, especially if you are a fan of compact keyboards or need a high DPI mouse.
7. ANZERWIN RGB Keyboard and Mouse
---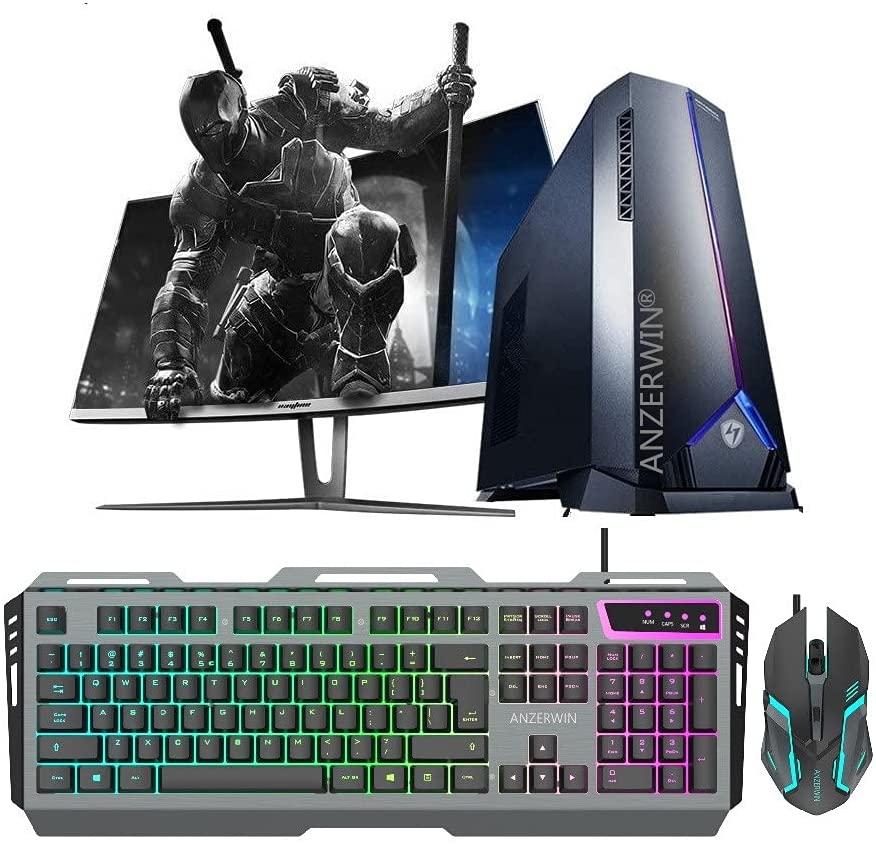 ---
The first of many gaming great features of this keyboard and mouse combo is the keyboard's metal frame. Not only that it makes it heavier and thus far more stable, but it also provides you with a much better feeling when using it.
Additionally, the LED lighting is very bright and fully programmable to specific keys, allowing you to color-code your keyboard any way you desire.
Furthermore, the keyboard is all but waterproof, eliminating many of the concerns you might have when it comes to spilling water or a drink on your keyboard.
The membrane switches also provide good tactile feedback when used, allowing you to feel comfortable while retaining fast typing speed.
The mouse is likewise great, with four DPI options that reach up to 3200 DPI, and the overall responsiveness and feeling when using it are great.
In the end, I believe this to be one of the better cheap metal membrane keys mouse and keyboard sets on the market. It has a satisfying click to it, a highly precise mouse, and is overall very pleasing to work with.
8. HAVIT Mechanical Keyboard and Mouse
---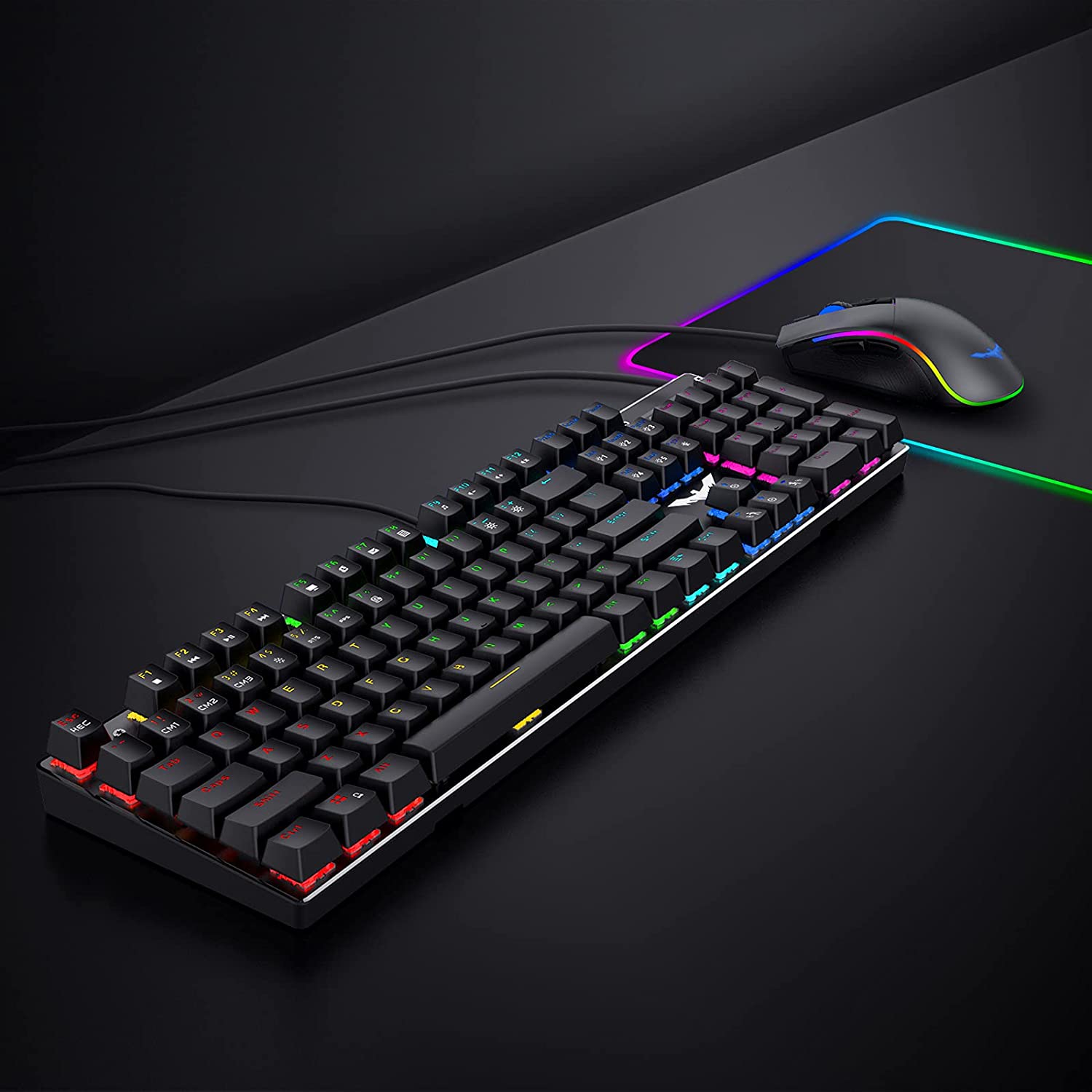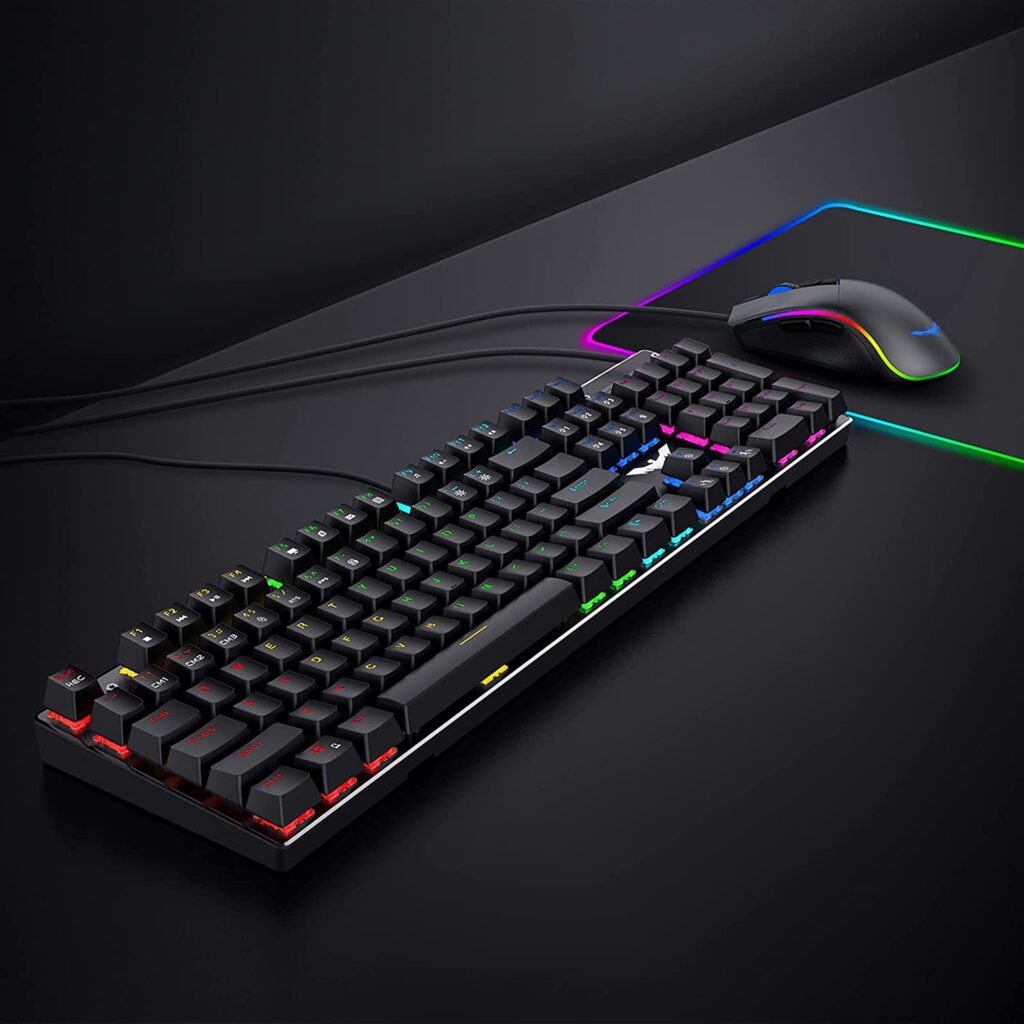 ---
This amazing gaming keyboard and mouse set is of very high build quality, with an incredible 21 different backlit modes for the keyboard and 7 for the mouse part of the combo.
This mechanical keyboard is full-sized, meaning that you will have all the keys you need for office work as well as for gaming, but unfortunately doesn't feature any macro or featured multimedia keys.
Another great feature is 100% anti-ghosting and full n key rollover, and a very satisfying click due to its blue switches. It does lack a wrist rest, however, so fatigue might be an issue during long gaming sessions.
The mouse, on the other hand, is nearly perfect in every aspect. It comes with 6 possible DPI options, capping at a quite high 4800 DPI, and is highly accurate, something that every PC gamer will know how to appreciate.
Overall, you are looking at a pretty high-quality budget keyboard and mouse combo, with plenty of customization options, even though some stuff has been cut out when compared to the more professional sets.
What to Look for in a Gaming Keyboard and Mouse Combo?
Materials
One of the most important things when it comes to gaming keyboard and mouse options is their durability, and to achieve that, you need your set to be made from high-quality materials.
Fortunately for you, each of the devices on this list has been tested for its durability, so they should be a safe purchase in this regard.
Comfort
If you are looking to work for long periods of time, then you will need a high-quality wrist rest and or a way to position your keyboard and mouse better.
The items on the list offer various options to this end, providing you with some great ways to keep yourself comfortable while typing and gaming.
Accuracy
In order for you to have the best gaming experience, both the keyboard and the mouse have to possess a certain level of accuracy.
For the mouse, this is usually measured by the DPI of the optical sensor; with keyboards, there are several factors to consider, all of which I have thoroughly tested before choosing the items to put on the list.
FAQ
What are the best gaming keyboard and mouse combo?
There are several ways to look at this question, depending on whether you want to purchase both at once or as separate deals. If you are leaning towards the former, check out this guide! In it, you will find some of the best keyboard and mouse combinations on the market.
What keyboard and mouse do pro gamers use?
There is no singular combination used by all the pro gamers. Instead, they will either use equipment provided by their sponsors or whichever set they feel suits them the best, and you should do so as well. Speaking of the best, our list is full of strong competitors for that position. Check it out!
What is the number 1 best gaming keyboard?
There is no singular answer to this question. Instead, we are looking at a number of options that can all be the best, depending on what you are looking for.
This leads to the importance of guides such as the one above. It can provide you with all the information you need to make the right choice of a keyboard and mouse.
Join our Discord Group. Ask questions, team up with fellow streamers, share memes, and more!