Although it may sound weird, a gaming chair is as important as any other thing.
Namely, as a gamer, you need the best possible equipment.
Otherwise, playing video games could become tiring.
However, apart from things directly related to gaming, there is another aspect that needs to be taken care of and that's your body.
Intense gaming sessions require a lot of sitting and that can have a detrimental impact on your back, spine, neck, etc.
For that reason, you need a comfortable and high-quality gaming chair as much as you need quality gaming equipment. That's why we tried to find what is the best gaming chair under 200 dollars for your needs.
Post 1 of 5 in the Room and Decoration
Best Chairs For Gaming Under $200
Full Guide & Reviews
I'm aware that it's not easy to pick a proper gaming chair and that's why I have decided to help you by writing this text.
So, in this text, I am going to present some of the most affordable and best gaming chairs on the market and your only job would be to read the text and then decide which chair is the most suitable for you, based on its preferences, pros, cons, price, and other aspects.
QUICK Review: Best Gaming Chairs Under $200
<!—INSERT CODE BLOCKS BELOW—>

X Rocker Wireless Audio Pedestal Office Gaming Chair

Made of sturdy materials
Provides an unbelievable gaming experience
Bass and volume can be controlled from the chair

Ergonomic design
It isn't squeaky
Neck and lumbar pillows

Heavy-duty gaming chair
Made of high-quality and high-density shaping foam
USB powered lumbar pillow
1. OFM ESS Collection Racing Style Bonded Leather Gaming Chair
---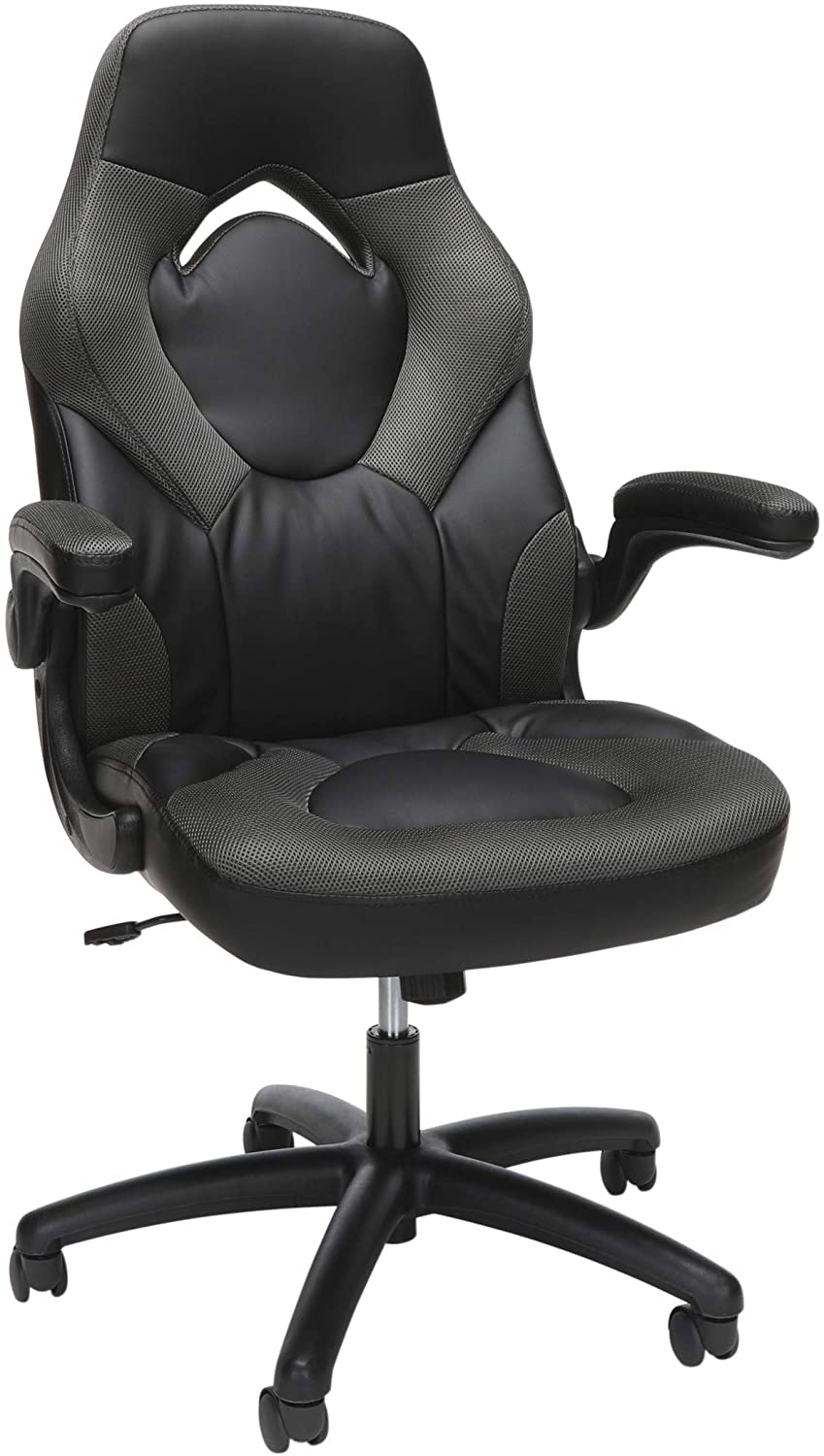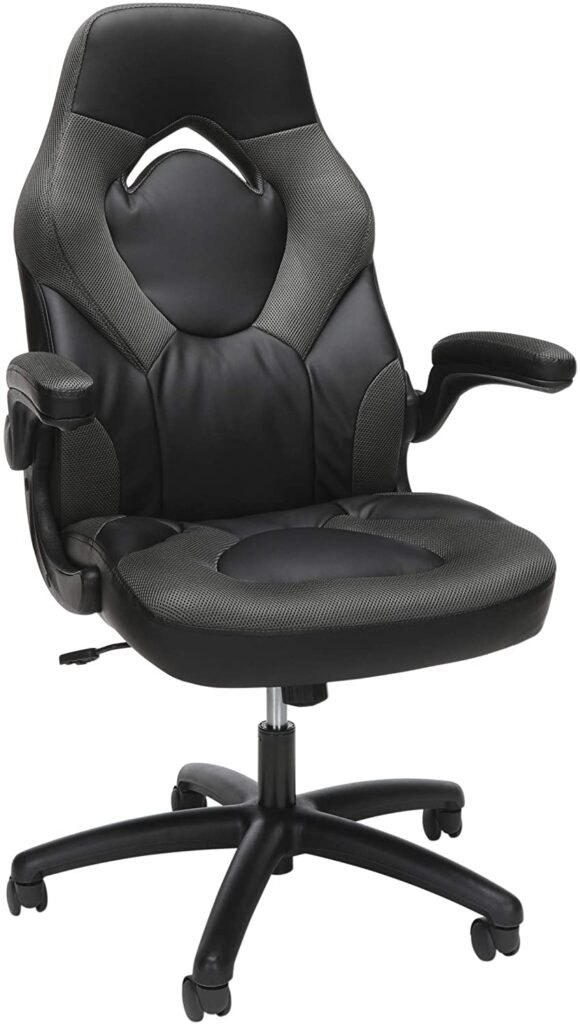 ---
This chair's main task, according to the manufacturer, is to be comfortable and it somewhat fulfills that task.
Namely, the OFM ESS Racing Style gaming chair has padding on the sitting part, a padded and adjustable headrest, and even padded arms, so, at a first glance, it really is supposed to provide great comfort to people who sit for a long time on a daily basis.
Additionally, the height can be adjusted and the chair can be tilted.
In terms of design, bonded leather looks very nice and the chair, in general, has a quite cool design so it would certainly fit in any gaming room, office, or any other room where you intend to keep it.
According to the manufacturer, the OFM ESS Racing Style gaming chair has a weight capacity of approximately 120 kg which is a very good capacity.
Hence, we can conclude that this chair is made to withstand a solid weight and be durable.
However, in reality, things are a little bit different.
OFM ESS Racing Style gaming chair is definitely very comfortable and that cannot be denied but, at the same time, its durability is very questionable.
Namely, many people argued that it tends to break after only a couple of months of use.
I've been using my chair for only a couple of weeks, but I've also noticed that it's gradually becoming more and more wobbly and unstable.
Another problematic thing about this chair is the fact that the seat cushion becomes very thin after some time and then it basically loses all the comfort that it's supposed to provide.
So, all in all, this is a budget gaming chair that can provide initial comfort, but it's not durable at all, and in my opinion ESS-3085 is not a good bargain.
2. RESPAWN 110 Chair
---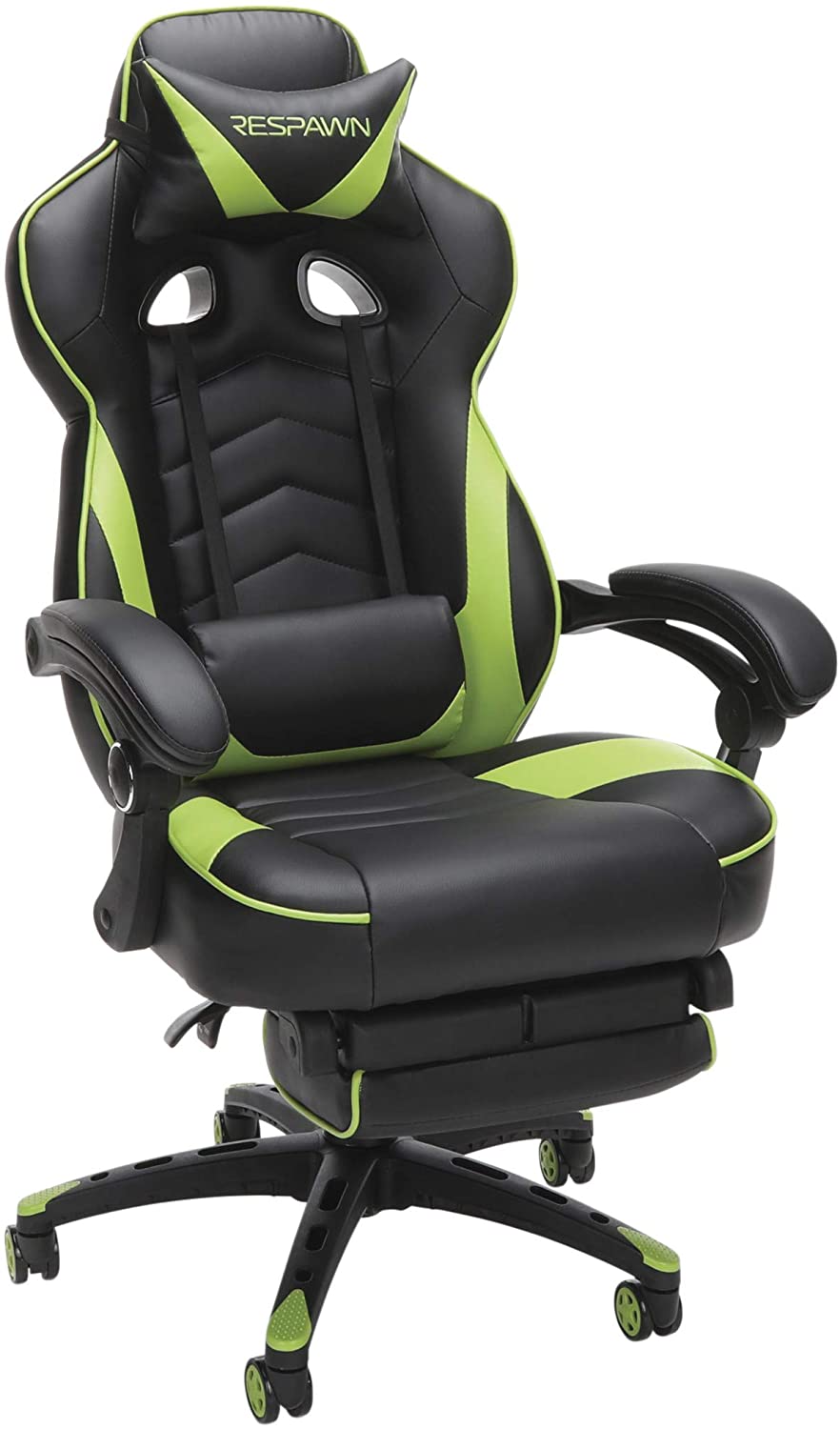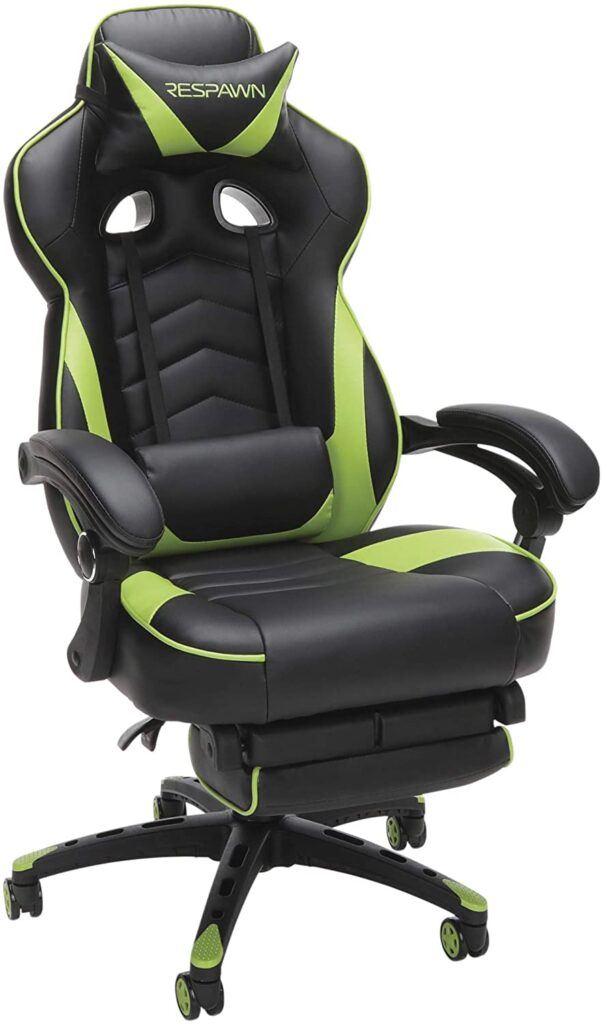 ---
The first thing that catches the eye when it comes to this particular chair is its design.
In my opinion, this is probably the chair with the nicest design on the entire list.
As for the assembling process, it's quite simple and it won't take you more than 15-20 minutes.
RESPAWN 110's weight capacity is pretty much the same as the previous chair's, about 120 kg.
When it comes to comfort, this ergonomic gaming chair has an integrated padded headrest and lumbar support, while the seat has segmented padding.
In terms of adjustability, RESPAWN 110 allows you to recline the backrest with a reclining range of 90°-155°.
Finally, an amazing thing that this chair has is a footrest and that feature really takes comfort to the next level.
Now, let's move on to the less interesting part and those are the cons.
Even though this chair is better than the previous one in terms of stability and durability, I have still experienced some looseness and the armrests have been especially wobbly.
Additionally, if you have a carpet in your room, it will be quite a challenge to move the chair on it since its wheels seem not to be ideal for that sort of surface.
As a final downside, I would mention that the armrests are not adjustable.
In conclusion, however, I have to say that this chair has an excellent price-quality relationship and that it's certainly a good bargain.
It provides a great level of comfort, looks really modern, and it's not expensive, so, all in all, it's a pretty good budget gaming chair.
3. Shuanghu Gaming Chair
---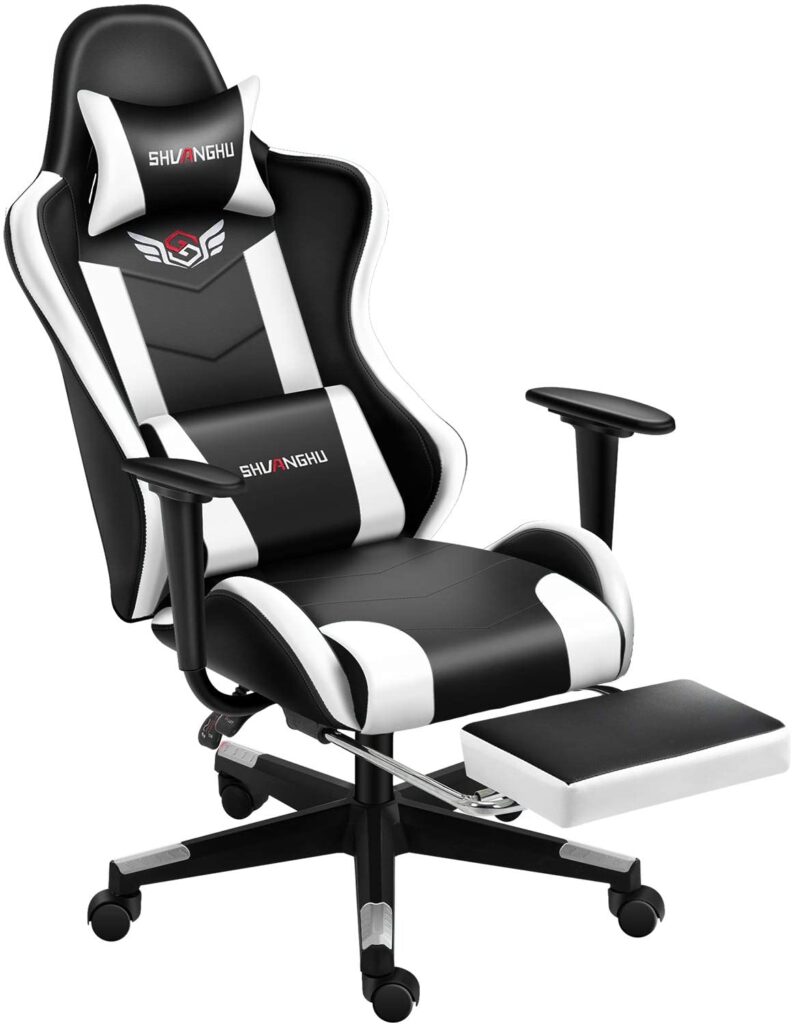 ---
Shuanghu gaming chair is another chair with an outstanding design that would fit in any gaming room or gaming setup whatsoever.
It is really easy to assemble and it's quite sturdy.
Just like the previous chair on the list, Shuanghu also has a retractable footrest which definitely provides even more comfort.
Apart from the footrest, there is a very comfortable seat cushion as well as a lumbar cushion and neck support pillow.
While the headrest and seat are excellent, the armrests have both one good and one bad feature.
A good feature is the fact that its width can be adjusted, so if you are more of a robust sort of man, you won't have any issues.
Just keep in mind that Shuanghu's weight capacity is around 135 kg.
The bad feature of this chair's armrest is that it cannot be adjusted in terms of height.
Shuanghu's reclining angle is between 90° and 150°.
In terms of durability and stability, this is the best PC gaming chair so far.
I have to admit that it doesn't loosen up easily and even when it does, just tighten several screws and you're good to go.
As for the other cons, there are no other major downsides so if you opt for this chair you'll get a sturdy, durable, and comfortable chair at a very reasonable price.
Hence, my conclusion would be that this chair is a good bargain and I would recommend it to everyone.
4. Darkecho Gaming Chair
---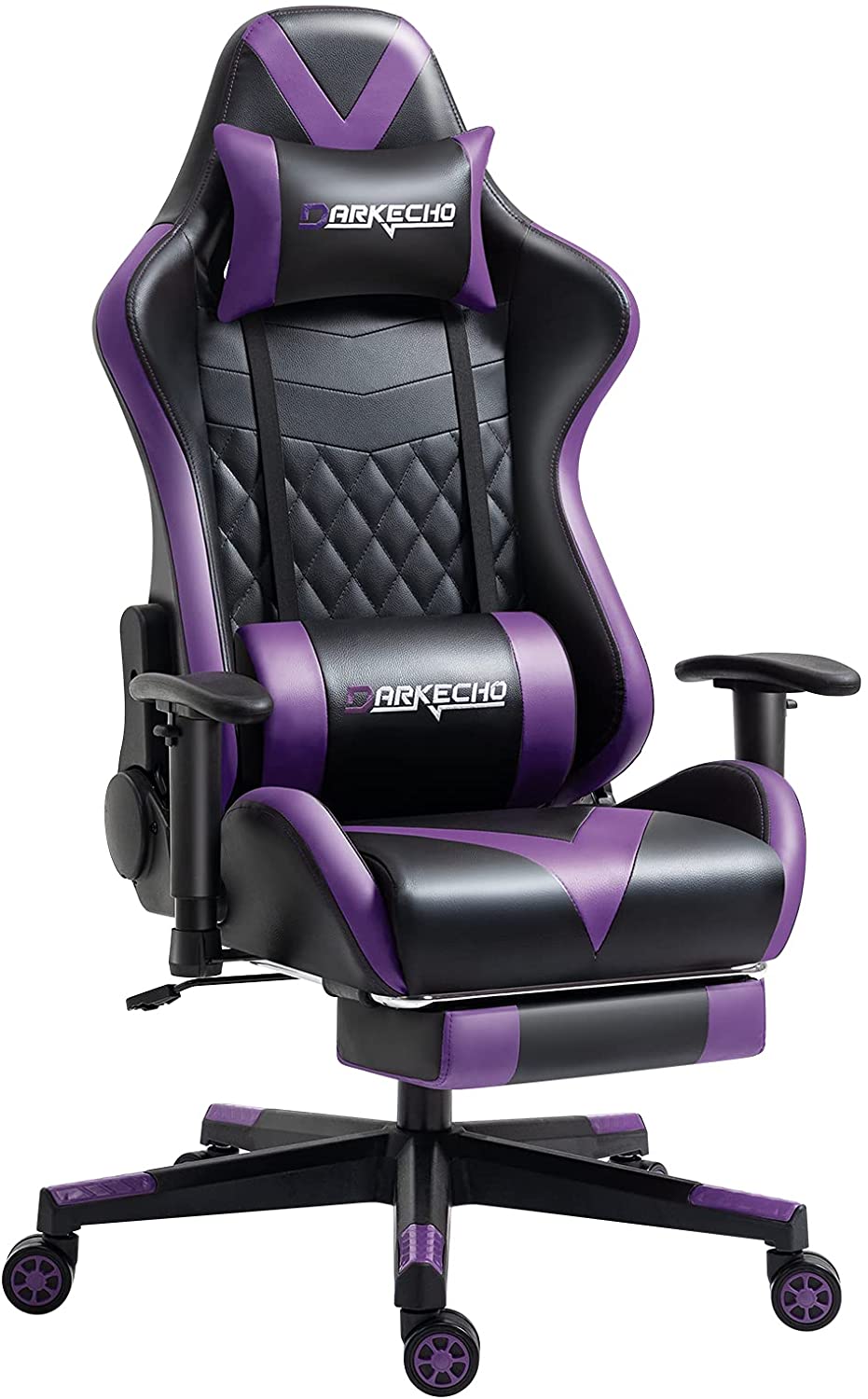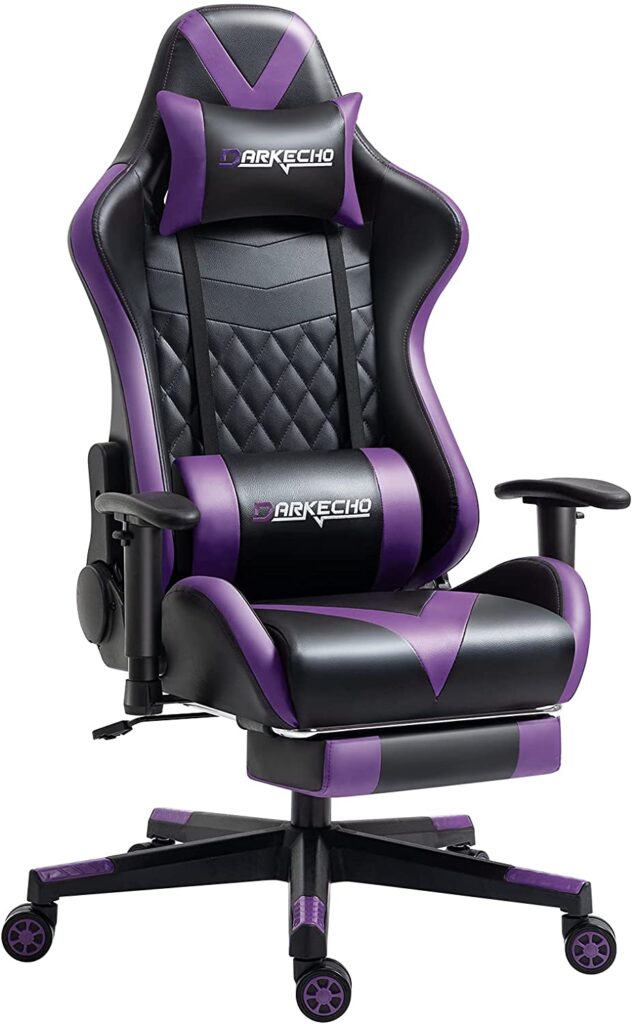 ---
This ergonomic gaming chair has both the look and the effectiveness, and it's easy to assemble.
Namely, not only that it looks really amazing, but it also provides an enormous amount of comfort thanks to its ergonomic design.
First of all, there is a removable headrest pillow made of a special sort of foam so that it could provide more comfort to your neck and head.
There is also an adjustable lumbar support pillow whose main task is to disperse the pressure that's put on your back and your spine while sitting for a long time.
Additionally, this lumbar support pillow has one fascinating function.
Namely, it is USB powered and it has a massage function for reducing fatigue.
The footrest is retractable and the reclining angle goes from 90° to 155°.
The weight capacity of this Darkecho chair is around 135 kg.
The seat cushion is made of high-quality shaping foam with high density and the entire chair is practically one memory foam gaming chair.
Apart from that, it's covered with high-quality leather altogether.
As for the cons, the seat is slightly narrower than with some other chairs.
Apart from that, the headrest cushion is located too low, so big and tall gamers might feel some sort of discomfort and would probably need to remove it.
Other than that, there are no other significant downsides when it comes to this particular chair.
To sum up, this chair has some excellent features, provides great comfort, and, most importantly, is quite sturdy and durable.
Besides, its price is very reasonable, so the Darkecho PC gaming chair is one of my favorites on this list.
5. Soontrans Pink Gaming Chair
---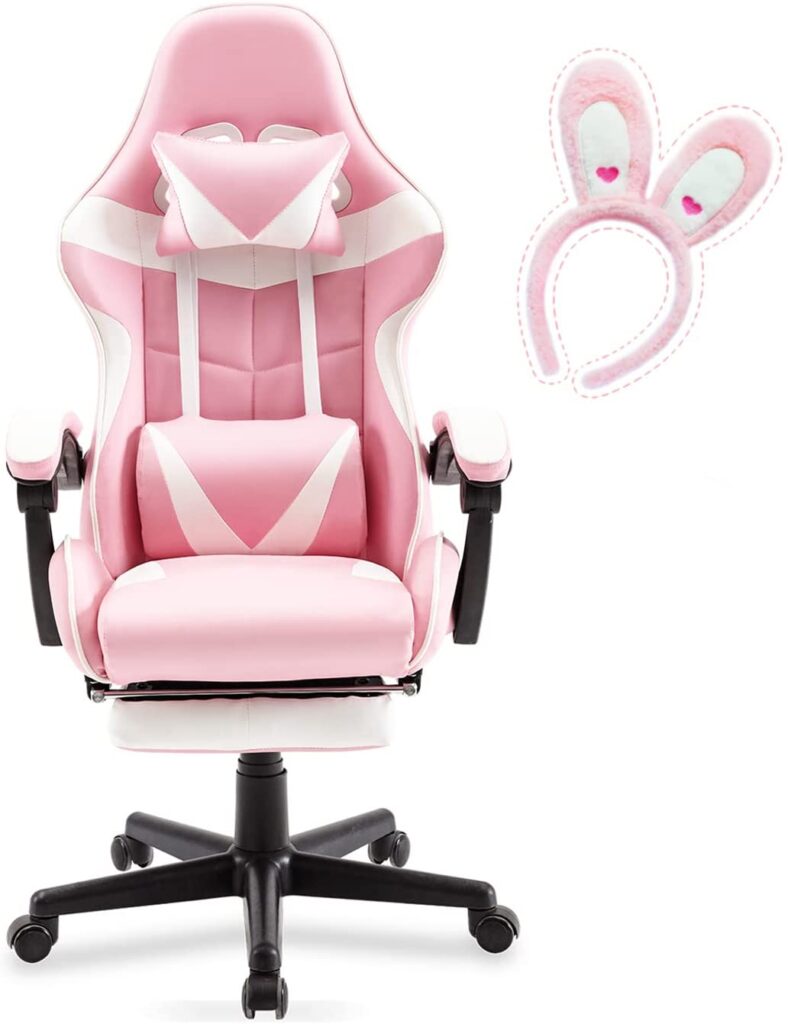 ---
This is another tall gaming chair with a very special and interesting design, especially for girls.
Nevertheless, if we exclude design, this chair still has a lot to offer.
First of all, the seat height can be adjusted and the chair has a 360° swivel.
The reclining angle has a range between 90° and 160° and the chair has an additional lumbar support pillow as well as a headrest cushion, both made of quality shape foam.
There is also a retractable footrest so in terms of comfort and design this chair seems to be very good.
However, although it has a weight capacity of around 110 kg this chair is at a high risk of damage if someone with more than 80 kg sits.
Namely, it becomes unstable and wobbly after some time and the seat is quite narrow.
So, if we take both these features and the design into consideration, the conclusion is clear.
This chair is more suitable for children or teenagers than for adults.
Apart from that, the chair is very comfortable and affordable, but compared to the previous chair on this list it is a worse option in my opinion.
6. X Rocker Wireless Audio Pedestal Office Gaming Chair
---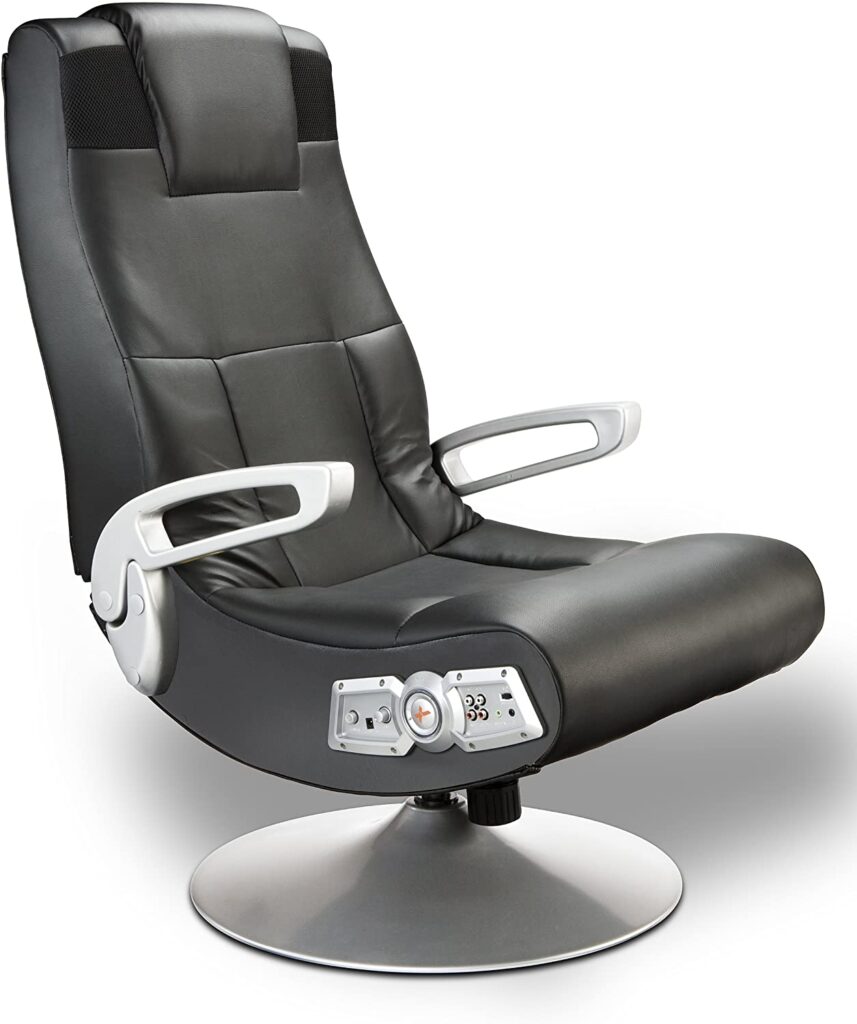 ---
Unlike some previous chairs from this list, the X Rocker gaming chair has a quite simple and plain design.
However, when it comes to all the other important features, X Rocker is amazing.
It provides excellent comfort even though there are no additional cushions and pillows.
Its armrests and base are made of strong and sturdy materials and I can assure you that it's very durable.
Because of that, the chair itself weighs almost 20 kg and since there are no wheels, it's not as mobile as some other PC gaming chairs on the list.
In case you want to store this chair, it's good to know that the backrest can be simply folded forward for easier storage.
Nevertheless, neither comfort nor mobility is the most important feature of this chair.
That place is reserved for two speakers located in the headrest area.
These speakers have a 4-inch bass-heavy subwoofer and are going to take your gaming to a whole new level.
Apart from the speakers, there are also input and output jacks that can be used for connecting to some audio sources or other PC gaming chairs.
The volume and bass of the speakers are controlled directly from the chair by using buttons that can be found on it.
Finally, the chair is compatible with all sorts of systems, devices, and consoles as well as with DVDs, Blu-rays, CDs, MP3 players, and TVs.
In conclusion, this chair is probably the best so far on the list.
Not only that it provides great comfort to its users, but it also provides them an outstanding gaming experience thanks to the speakers implemented in it and all that at an unbelievably affordable price.
7. KCREAM Gaming Chair
---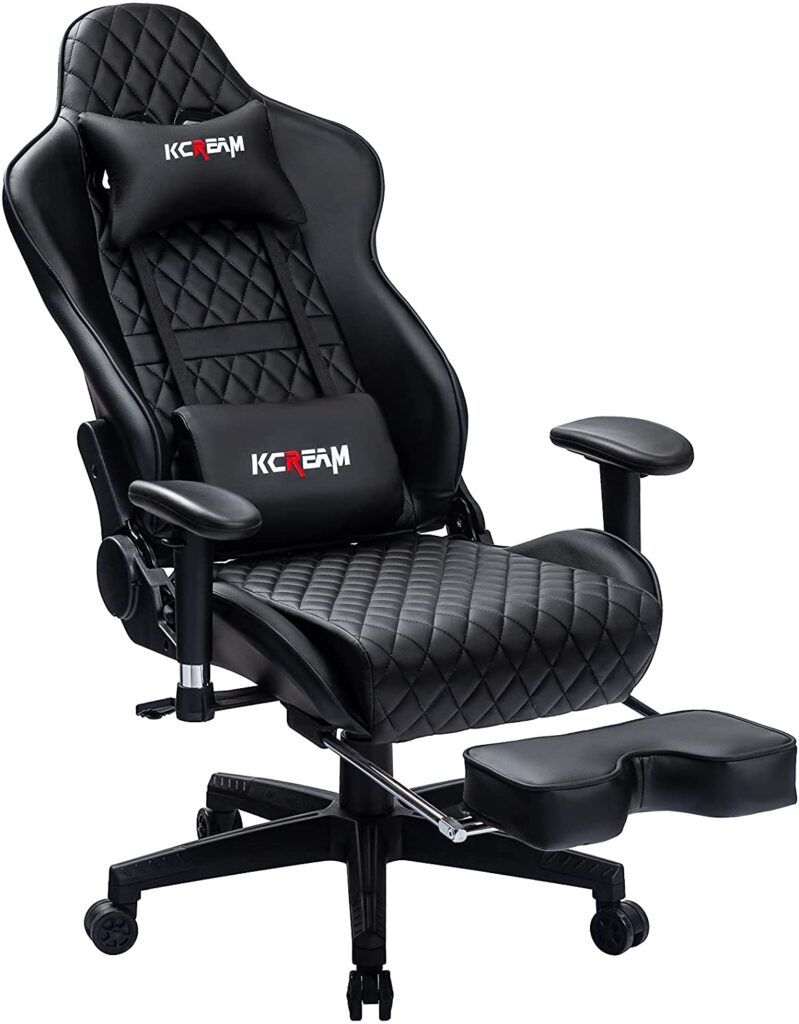 ---
Firstly, the KCREAM chair is easy to assemble and it shouldn't take you more than half an hour.
Both the seat cushion and the adjustable backrest have excellent padding and make this ergonomic gaming chair very comfortable.
Unlike some previous PC gaming chairs on the list, this chair has pretty wide armrests and, hence, is suitable for bigger people as well and its maximum weight capacity is around 125 kg.
Most gaming chairs have wheels for movement and the majority of them make that awful squeaky noise while moving.
But not this one.
KCREAM chair is quite silent so there won't be any squeaky distractions.
The armrests are wide and have a soft coating while the backrest reclines from 90° to 165°.
However, although wide, the armrests are quite short and that feature starts bothering you especially when the backrest is reclined.
Additionally, there is also a retracting footrest that is somewhat wobbly so I can say that it's a bit worse in terms of quality than the footrests on other chairs on the list.
A lumbar pillow can be connected to your laptop via USB cable and it has 2 massage modes.
As the only downside apart from short armrests, I would mention that the seat depth is around 60cm and that can be somewhat problematic for people shorter than 170cm.
But all in all, excellent price-quality relationship, great mobility and functionality, massaging pillows, and amazing comfort.
Definitely, my recommendation if you are looking for a budget gaming chair.
8. Ferghana Gaming Chair
---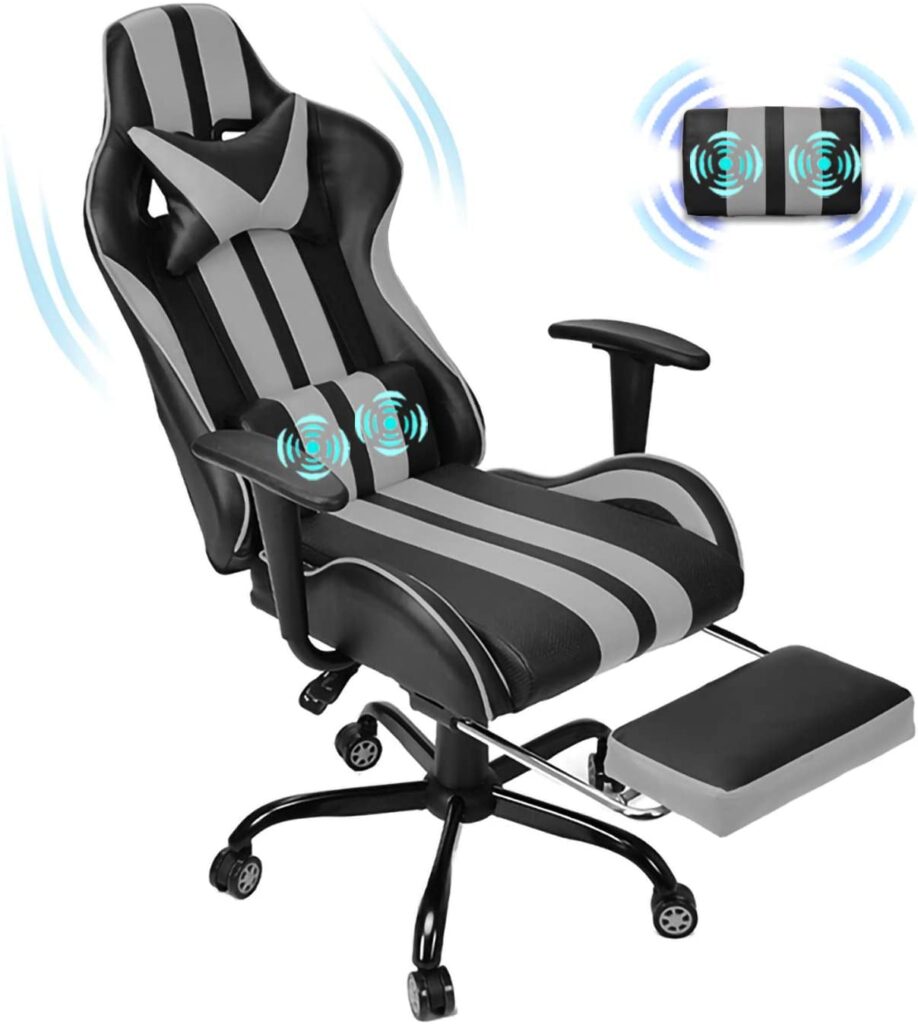 ---
In terms of design, this chair is one of the coolest on the list since its design reminds me of speed and racing, so we could say that this is sort of a race car style chair, so to speak.
Only high-quality materials were used for making this ergonomic gaming chair.
The leather coating is waterproof and durable while all the cushions and pillows are made of high-density shaping foam.
As for the possible adjustments, there is a 360° swivel, reclining backrest (90°-160°), removable and adjustable headrest pillow, and retractable footrest.
Additionally, there is a massaging lumbar cushion, connectible via USB and if you are a fan of vibrating massages, this massage might really reduce your fatigue.
The chair is very sturdy and durable thanks to the strong materials it was made of.
At the same time, wheels give it an excellent level of mobility.
The weight capacity of this Ferghana chair is between 118 and 136 kilograms.
The assembling is very simple and the chair is even partially assembled when you get it, and it is available in 7 colors (black, yellow, pink, green, red, blue, and grey).
When it comes to downsides, even though it's very comfortable, this chair's seat is quite narrow, so it's not the luckiest option for more robust people.
Additionally, the armrests are completely fixed so there's no adjustment option and, apart from that, the armrests tend to get wobbly after some time as well.
Finally, although the Ferghana chair is quite mobile, it makes a squeaky noise that annoys everyone.
So, in conclusion, a solid option at a fair price, but definitely not the best on the list.
9. Hbada Gaming Chair
---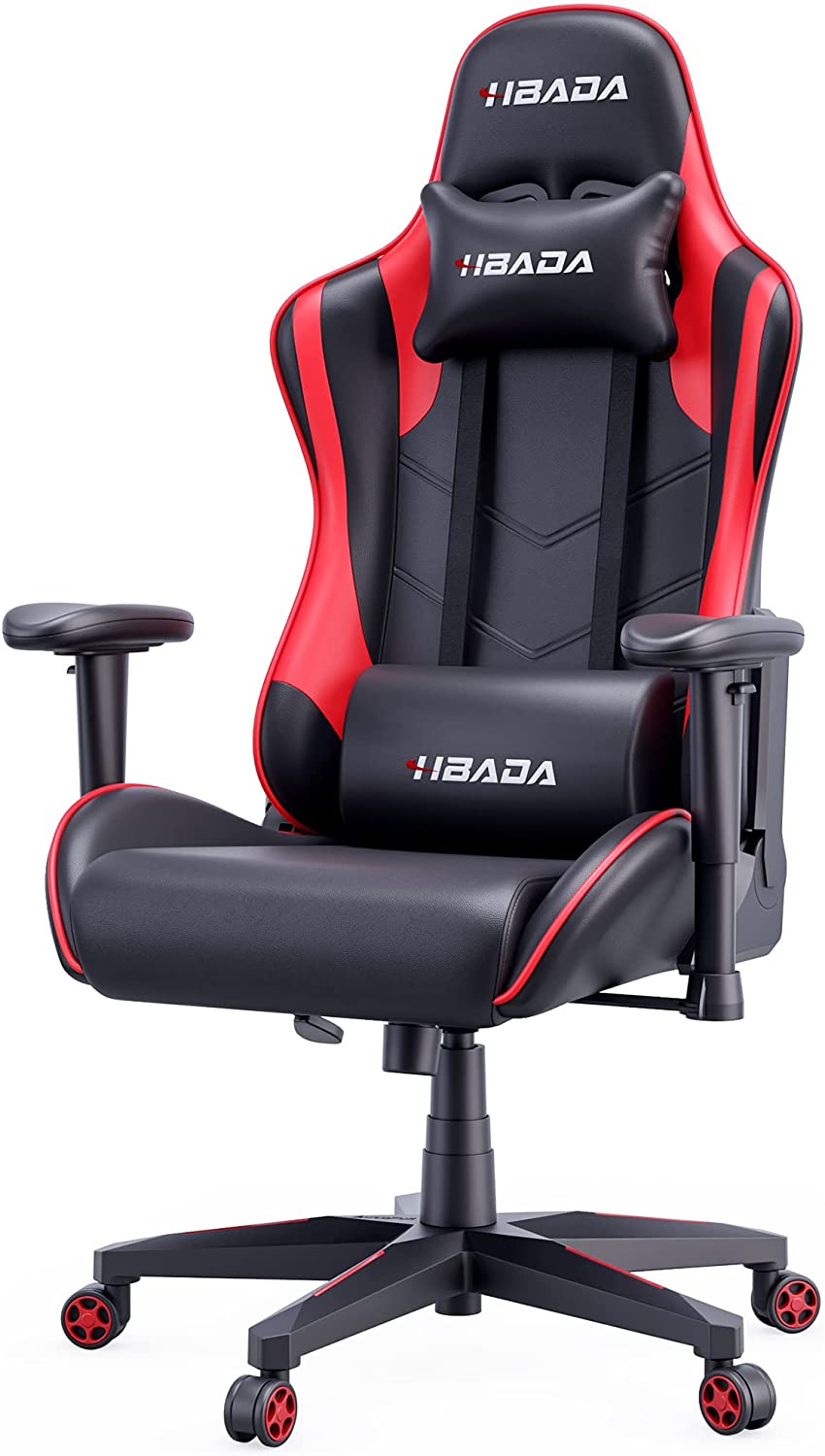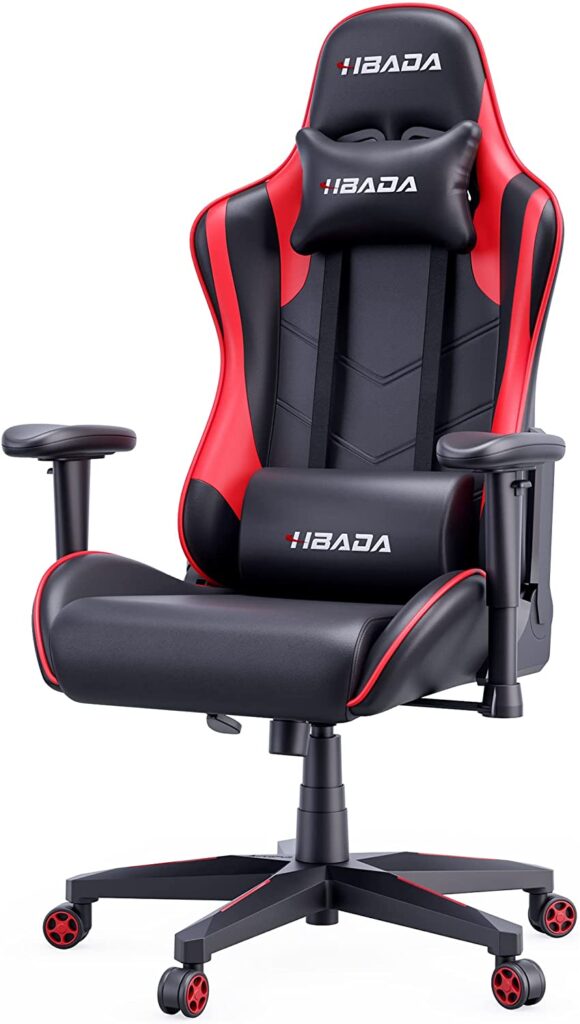 ---
When making this chair Hbada really put an accent on comfort.
This chair has a strong metal frame so it would be heavy-duty.
On the other hand, Hbada used high-quality leather for cushions and pillows.
Subsequently, the seat cushion is very thick whereas the backrest is wider than usual.
All that to ensure maximum comfort.
This chair's wheels are silent and provide a 360° swivel and the chair itself is so strong that its maximum weight capacity is around 150 kg.
Both the backrest and the armrests are adjustable and the assembling is simple and doesn't take more than 30 minutes or require any additional knowledge or skills.
The headrest pillow is very comfortable but can be removed if you don't find it necessary.
The backrest can recline from 90° to 155° and, unlike some previous budget gaming chairs this chair is stable even when reclined.
As the only significant con, I would mention high seat edges which can be problematic for some people.
All in all, you get excellent quality at a reasonable price and this chair is definitely among the best budget gaming chairs on the list.
10. YSSOA Video Game Chair
---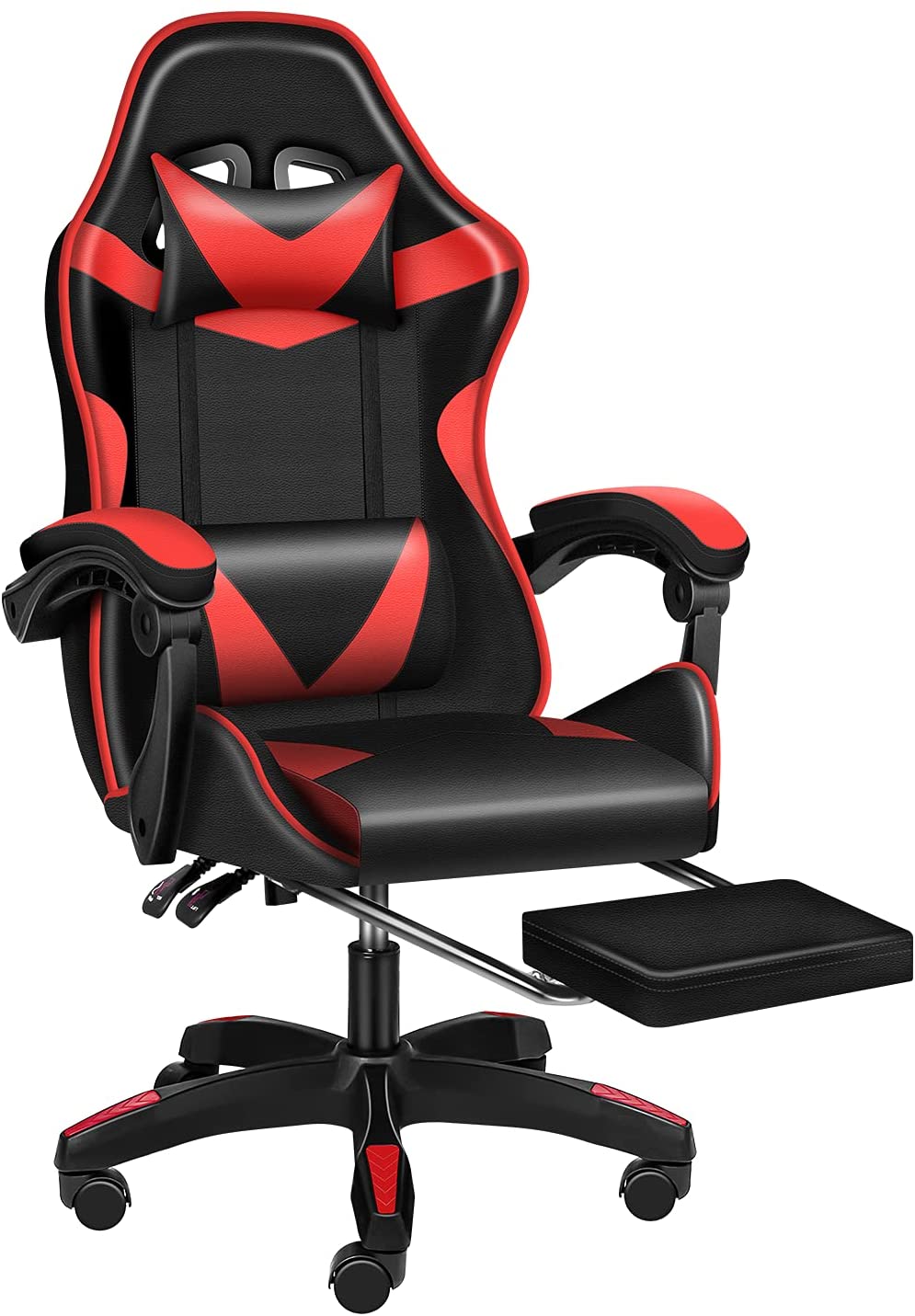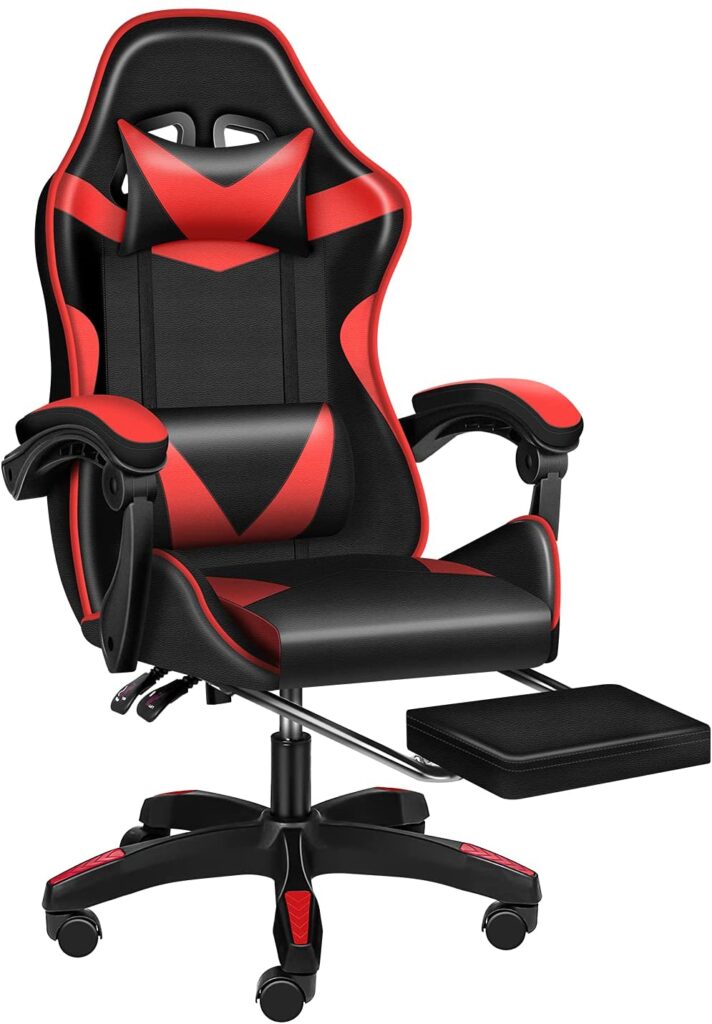 ---
First of all, this chair has a very cool and modern design and I think everyone would be satisfied when it comes to design.
Both armrests and backrest are ergonomic while the backrest is specifically designed to provide lumbar support to your body.
Additionally, the backrest reclines from 90° to 120°, which is, honestly, a slight decline over other chairs on the list whose usual maximum reclining is around 155°.
A removable headrest and lumbar pillow are included and all the pillows and cushions are made of high-density sponge whereas the chair has a sturdy metal frame in order to obtain sturdiness and stability.
The footrest is retractable as usual and the chair is very easy to assemble and you won't need more than 15 minutes for that.
The seat height is adjustable and there is a 360° swivel.
As for the downsides of the YSSOA Video Gaming Chair, the initial flaw is its size.
It is smaller than many gaming chairs on the list and that makes me think that it was perhaps specifically created for children rather than for adults.
Consequently, the chair seems to be very wobbly and unstable each time a bigger person sits.
Finally, the wheels are not as mobile as they should be and they make an unpleasant squeaky sound.
Conclusion
All the analyses and reviews in this "Best gaming chair under 200" text are based on thorough research and personal experience.
My goal was to make a useful text that would help people who were planning to purchase a new gaming chair and I hope I fulfilled it.
Finally, my verdict is that the best budget gaming chair on this list is X Rocker Wireless Audio Pedestal Gaming Office Chair.
FAQ
What Is The Cheapest Price For A Gaming Chair?
Most gaming chairs from the list are priced between $150 and 200$.
There are of course even cheaper models but their quality is very questionable.
In my opinion, the minimal amount of money that you would need to pay in order to get a possibly good gaming chair (so not certainly, only possibly) is at least $100.
What Is The Difference Between A Gaming Chair And An Office Chair?
Well, standard office chairs are usually made to enhance productivity and they strictly focus on ergonomic support, while quality gaming chairs strive to provide comfort and enhance creativity and fun.
That's why gaming chairs usually have some colorful and eye-catching designs while traditional office chairs are usually black.
Colorfulness, in this case, represents a source of creativity, while all those colors would probably mostly be distractions in the office.
What Should I Look For On A Best Gaming Chair Under 200 Dollars?
The main thing you need when it comes to a gaming chair is comfort.
You want it to be comfortable, and highly adjustable, with quality cushions and pillows.
In addition, look for a large gaming chair with neck and lumbar support, large and adjustable armrests as well as a footrest.
The backrest reclining should go from 90° to approximately 160° and the weight capacity should be determined based on your weight.
Of course, everyone wants the most affordable price and you have some excellent examples of a good bargain on this list.
Finally, check out the design and pick a chair that you consider the prettiest and that suits you best.
Join our Discord Group. Ask questions, team up with fellow streamers, share memes, and more!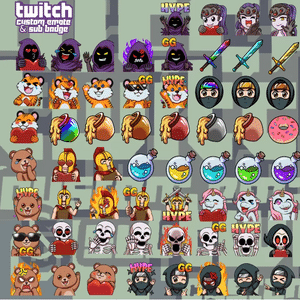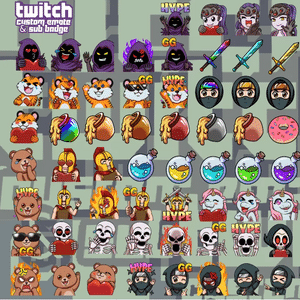 Claim for FREE:
FREE Emote PACKS
A book on growing your audience